Houston Astros Team Health Report: 2013 Injury Risk for Every Starter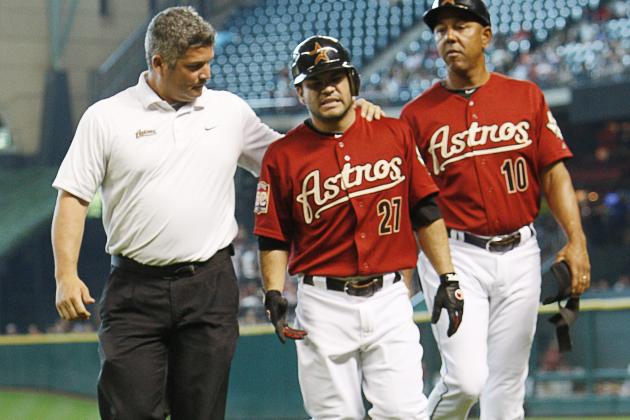 Bob Levey/Getty Images
Nathan Lucero is greater than one Altuve.
Will Carroll has produced an annual Team Health Report for each MLB team for 12 years. The report gives risk ratings for every player in the expected starting lineup and starting rotation, plus two relievers. A proprietary formula sets a baseline according to a player's age and position. It is adjusted by 12 factors, including injury history, team history and expected workload.
This risk rating is classified into three tiers—red (high risk), yellow (medium risk) and green (lower risk). It should be used as a guideline and is about probability, not prediction. To learn more about how the Team Health Reports are devised, click on this article.
2012 Rank: 9th best of 30 teams in DL days and dollars lost
Biggest Injury: Jed Lowrie, $5 million lost value
Head Athletic Trainer: Nathan Lucero
This is the last of the 30 reports that I wrote this year. I saved it for last purposefully, because at the start of this process, running the numbers through the server for the first time, I had no idea what to expect from the Houston Astros.
I still don't.
While I can look at the ratings and projections and everything else about the Houston Astros, I have no feel at all for this team. Under general manager Jeff Luhnow, the Astros have collected a lot of people from inside and outside the game. They're looking at everything in a fresh way while not rocking the boat too much just yet.
Injury management is an interesting factor. As a team building through the draft and international signings, Houston has financial incentive to do poorly. I think the Astros would be angry if they won 65 games and lost the picks and extra signing pool that the collective bargaining agreement would otherwise provide them.
Does a team that's intentionally bad care about health? Certainly, it would want to take a long-term approach with players. That can be as much about keeping a mediocre regular healthy in order to keep a younger player on the farm as it is normal injury management.
The Astros are going to be interesting to watch in a car-crash, can't-look-away kind of way to be sure, but if you get a chance to glance at what's happening medically, you might get a better look at the future.
Click ahead for the Astros. Here are links to all the teams' reports.
Will Carroll is the Lead Writer for sports medicine at Bleacher Report. He has written about sports injuries and related topics for 12 years.
Begin Slideshow

»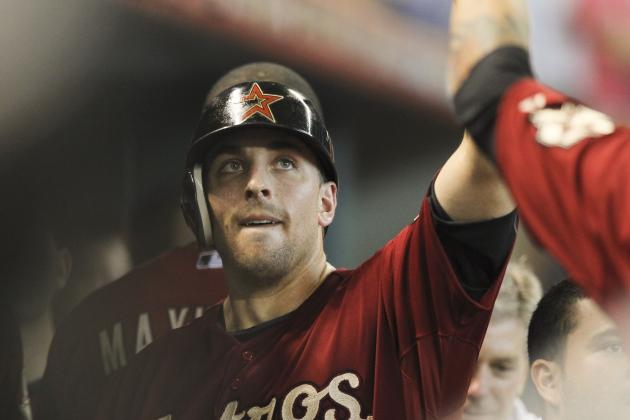 Bob Levey/Getty Images

Jason Castro came back from an ACL injury that kept him out for all of 2011 and had more problems with the knee during the 2012 season. When he was able to play, he wasn't that good, but the Astros can hope there's still room for improvement. The biggest question is, if he does improve, how many games should he play?
A 25-year-old catcher with a significant knee problem is going to be enough for the red rating, but Castro doesn't have much in the way of positives aside from potential. There's nothing pushing him from behind, but there's no net if he falls again, or outright fails.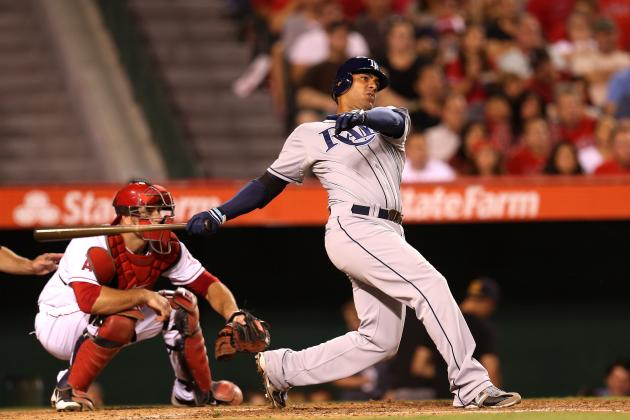 Stephen Dunn/Getty Images

Strictly from a health standpoint, bringing in a guy like Carlos Pena makes a lot of sense for this team. Pena is a sure thing for 135 or more games and comes on a cheap one-year deal. If he hits a bunch of home runs, great. If he doesn't, well, the team's not winning anyway.
Pena's stunning 2007 season in Tampa intrigues me. Pena always had power, but was traded from club to club because the production never met the potential. Finally rescued by the new-look Rays, he pounded out almost 50 homers out of the blue. Since then, he hasn't approached that number.
What's surprising is that I've never heard someone suggest steroids about Pena. Pena's a likeable Latino, but so is Jose Bautista, and his similar surge still gets questions. There have been fluky one-year power spikes for as long as there's been baseball, but our selective moral outrage at steroids seems reserved for awards and records, not players.
David Banks/Getty Images

The Team Health Report System gets a bit confused by the 22-year-old Jose Altuve. It has nothing to do with his 5'5" height and more to do with whether he's established himself. He went through five levels in two years while his 2012 was a pretty solid and healthy season at the big league level. There's not many like that aside from Stephen Strasburg and...oh.
The better comparison would be that Altuve was ready from the lower level and went to the majors, the way Albert Pujols or Rafael Furcal did. Furcal's not the worst comparison in the world, but you can see why The System looks at Altuve and kind of shrugs its shoulders. The unknown is a risk, and that's largely why it's keeping him in the mid tier.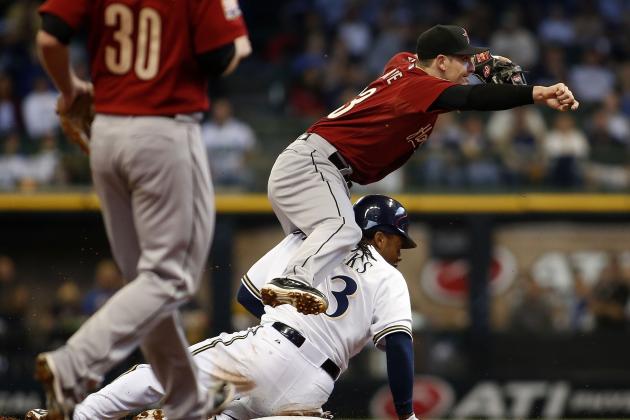 Mark Hirsch/Getty Images

Tyler Greene is yellow. Sad, really. Greene has the leg up on the shortstop job and the leadoff job after the trade of Jed Lowrie. Lowrie's a better player but has proven again and again he can't stay healthy as a regular. He's better cast as a utility guy rather than the best hitter on the team.
Greene has some speed, but projects better as a platoon guy. He would have paired nicely with Lowrie. The System doesn't like Marwin Gonzalez much either and thinks either would be overtaxed by the full-time role. Even in combination, both remain in the yellow tier. There's some upside here since no one ever really knows if someone can handle a major league load until they do it year after year, along with the speed.
Note that Greene is almost 30, not some kid fresh off the farm. It's not like he was blocked by great players in St. Louis, so whatever upside there is has limits.
J. Meric/Getty Images

Matt Dominguez was a nice return for a Carlos Lee rental. He's still young and has some upside. The issue is, of course, that he hasn't established himself. He's bounced up and down between the bigs and Triple-A a couple of times, but his health history is pretty clear.
If he can hit at Houston—he had an odd home/road split in limited action last year—he'll be a solid enough third baseman. If he can just hit a bit more, there are scouts that think he could shift to second base or shortstop, which could have additional value. He'll have plenty of shots no matter which position this year if he can stay healthy.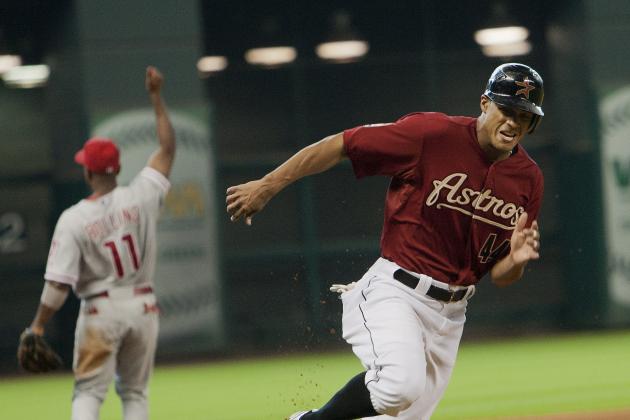 Bob Levey/Getty Images

J.D. Martinez might have been a year early. A born DH with no speed, he struggled through a season in the NL, dealing with adjustment and injury issues. He got absolutely exposed his second time around the league, but still had good power.
He ended the season with a fractured hand, then had to have more work done after a setback that has various explanations, but sounds like he fell on it. That happens. He should be back in LF, but splitting time with Chris Carter, who's another born DH but a little better in the field. Martinez's red is a low yellow largely based on his broken hand. If that's cleared up, he's still not good, but he's at least beyond that.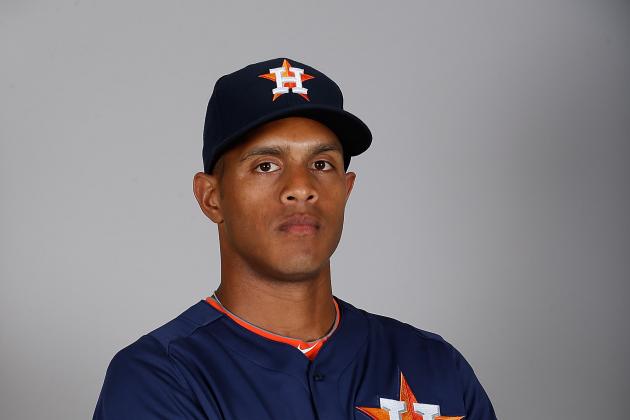 J. Meric/Getty Images

Justin Maxwell was once a touted prospect with the Washington Nationals, but he was bypassed by Bryce Harper and a few more. That left him a nice waiver claim for the Astros. He led the team with 18 homers last season.
The Astros won't leave well enough alone and have Maxwell slotted for center field. The deep and oddly constructed field in Minute Maid has a slightly elevated risk over other ballparks, but Maxwell would be tested by any deep center field, stupid hill or not. If he can play more at the corners, he's not that big of a risk.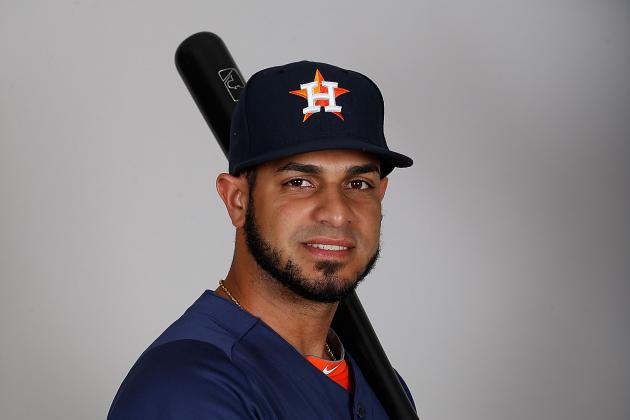 J. Meric/Getty Images

Fernando Martinez is another failed prospect that the Astros grabbed on the cheap. He fought some injuries, including some downright strange ones that had the rumor mill buzzing. It kept him from getting enough at-bats to keep himself out of the yellow.
Assuming he holds the starting job through spring training, Martinez shouldn't be too challenged physically aside from his knee issues. For a guy as young as Martinez to have the recurrent knee problems doesn't bode well. Long-term issues like this tend to show up slowly and get worse insidiously. That could be years from now, even with the minor issues he's had, so even the very low red seems a bit high for this year.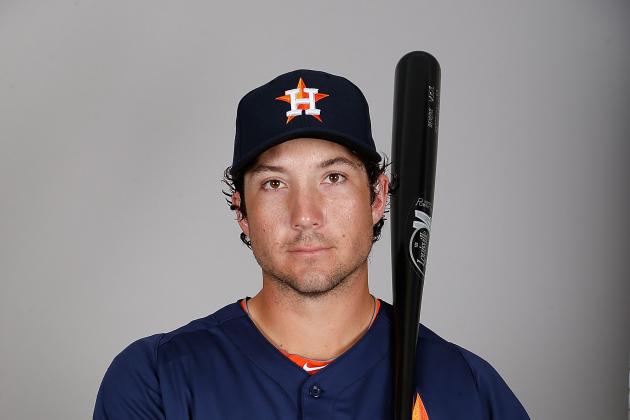 J. Meric/Getty Images

The DH position was made for a guy like Brett Wallace, or at least that was the thought. Wallace is glove challenged everywhere his teams have tried him, but he was drafted and touted as a pure hitter. That part hasn't shown up in the bigs, so now he's a DH that struggles with the bat. That's not ideal.
If Wallace can get his bat up to speed, he should be able to hold onto the DH slot and help the team by subtracting his glove. If not, he mixes in with several other players like Chris Carter who would be better off only bringing bats to the stadium.
It gets worse when Jonathan Singleton gets off suspension and pushes his way to the bigs. While many expect the 50-game loss to set Singleton back, the marijuana suspension can often force a major league team to push a player up. The differences in how the majors and minors handle pot can push some players up to avoid a second or third suspension.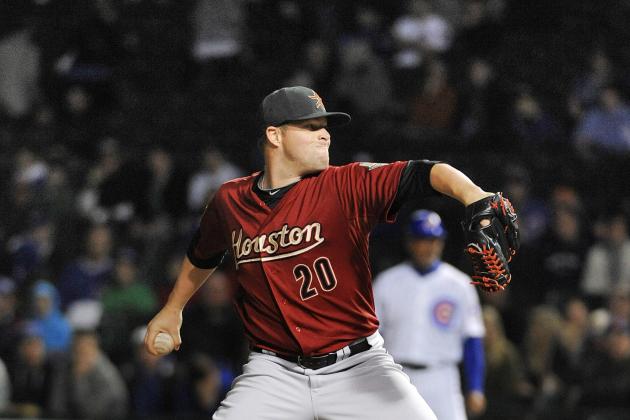 David Banks/Getty Images

Bud Norris missed several starts with lots of little things—a blister, a foot injury from a come backer—and one bigger thing, an interrelated hip and knee injury. It held his innings down in the season where the Astros expected Norris to make a big leap forward.
Norris needs to make that step forward, which is tough to do if he keeps melting down on the mound. Big innings just crush Norris and cause him to overthrow, which puts him at more risk. It's understandable, given how bad his team and the defense has been, but it's only going to get worse this year. There's still some upside, but Norris isn't young, and the team isn't going to help him much.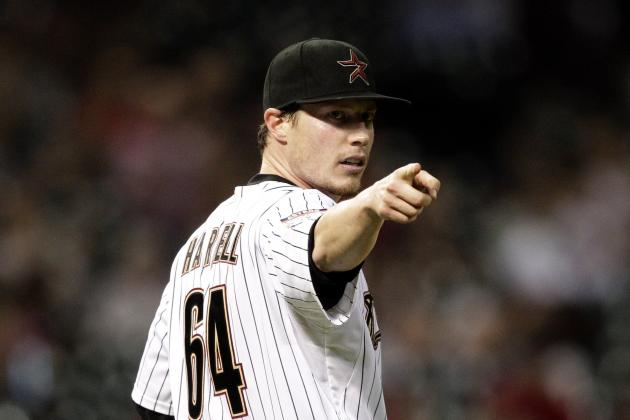 Bob Levey/Getty Images

Lucas Harrell went from a blocked pitcher in the White Sox organization to the best pitcher in the Astros organization pretty quickly. He led the team in most categories, but the team is most concerned with his innings. It needs someone to take those 193 innings again this year, and Harrell is the most likely.
It was a big jump in innings and role for Harrell, but he didn't struggle with it much. He was throwing well by the end of the season despite the increase. He's not a stuff guy or a finesse guy, but just grinds. The biggest downside is that he's very inefficient, lacking any sort of consistent approach. That pumps his pitch count up and pulls him early, which can tax an already-weak pen.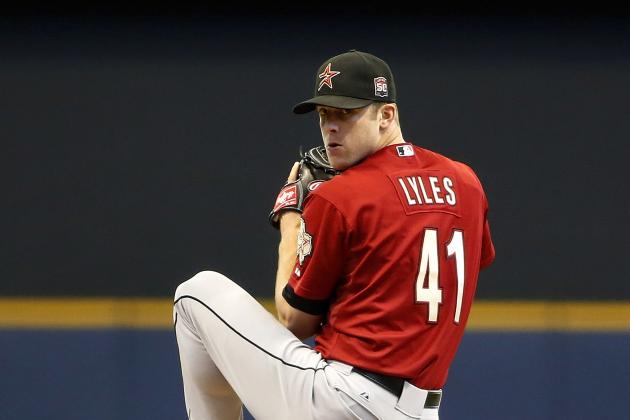 Mark Hirsch/Getty Images

If the Astros had any other good option, Jordan Lyles wouldn't be here. He was pushed aggressively through the minors and at the age of 22; most organizations would step back and let him work things out in Oklahoma (Triple-A). The Astros are strapped for innings, and even though Lyles will push to go much over 150, that's about the best they've got right now.
Lyles' stuff has degraded since he was a supplemental pick a couple of years back. Inefficiency and a lack of both in-game and seasonal stamina means Lyles has a lot of work to be even a back-of-the-rotation starter. If he's really the No. 3, we'll see just how bad things get when he opens the season at home against the Texas Rangers.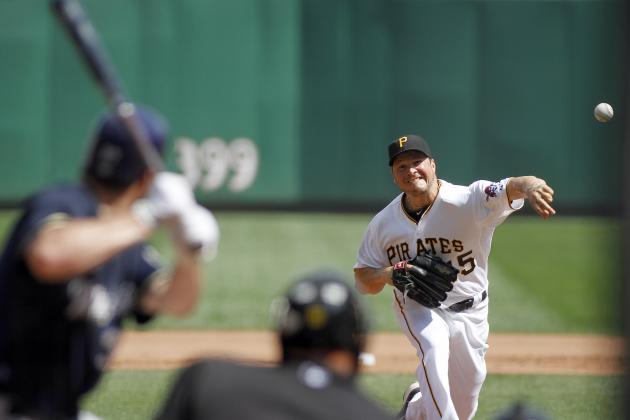 Justin K. Aller/Getty Images

Erik Bedard was a nice gamble last year, along with A.J. Burnett, for Pittsburgh. Relatively cheap, the two starters gave Pittsburgh a shot at getting solid production while keeping its younger pitchers on track. It worked to some extent, though only Burnett was good. Bedard gave innings.
That's the plan for Bedard this year in Houston. He'll have more of a shot to go deeper, since it's unlikely he'll be bad enough to pitch his way out of the rotation. If he's healthy, or even good, he becomes good trade bait as well. Bedard's injury history is extensive, so he could break down at any time. Watch his early season velocity for indication as to whether he can hold up even half of a season.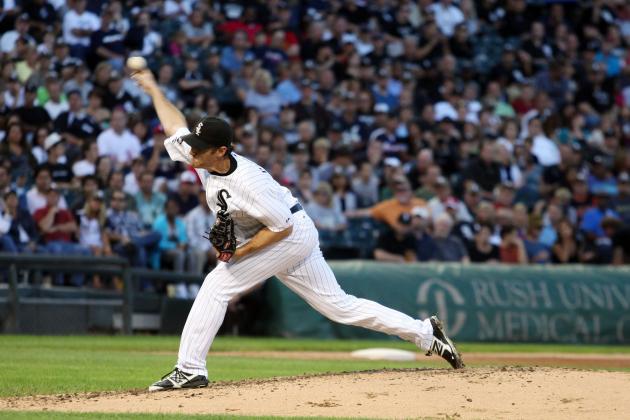 Tasos Katopodis/Getty Images

Phil Humber had that amazing day where everything was on, his defense worked and he put his name down in baseball history books. Not just a no-hitter, but a perfect game—no one can take that from Humber, and they shouldn't.
What you have to understand is that aside from that one magic day, Humber stunk. He only lasted 102 innings for the White Sox before they dumped him. He's not likely to do much better in Houston, but the hope is that introducing him as "perfect game Phil" might fool some of its fans, at least until they see him pitch. Getting 150 innings out of him would be a win.
The risk rating here is probably overstated. Humber's career lines look to be filled with injury, but mostly it's just that he can't hold the spot in the rotation and is removed. Humber should have that happen again about midseason if Jarred Cosart or Brad Peacock are ready.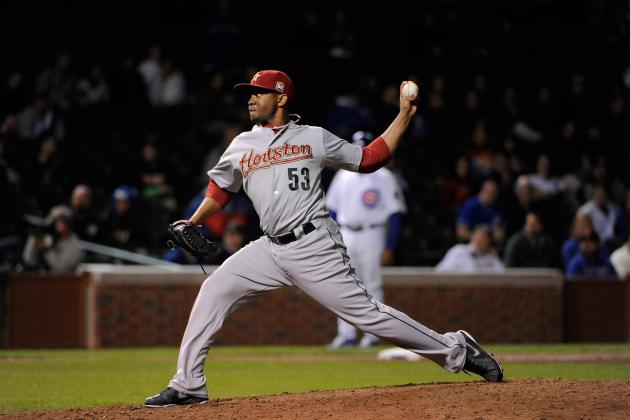 David Banks/Getty Images

Wesley Wright is more than just a LOOGY, though he's fine in that role. He seems to thrive on workload, using his efficiency and easy motion to get him through whatever his managers have tossed his way. They'll need that and more like that in the Houston pen this season.
Wright leads a cheap bullpen that will be more than just mix and match, but up and down. Instead of being a six- or seven-man pen, Bo Porter and Doug Brocail are going to have to think about Oklahoma City as an extension of the bullpen, wearing out I-35 faster than they wear out arms.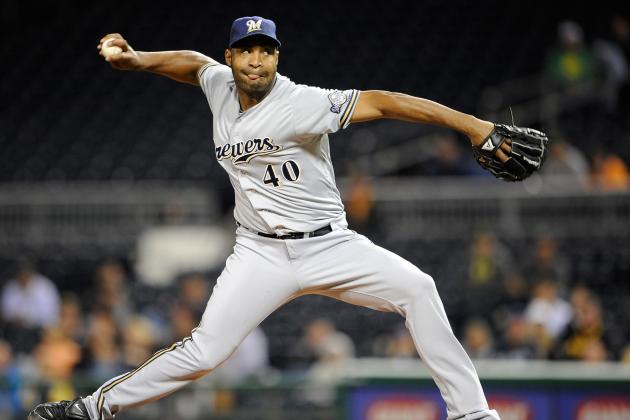 Joe Sargent/Getty Images

Jose Veras lost his control last year in Milwaukee, but not his dominance. He's wildly effective at times, but also maddening. The K rate makes him seem like a good option for a closer, but on a young team that won't get many wins, let alone many save opportunities, every blown save is going to be amplified, because it will likely be the difference between bookmarking a pair of four-game losing streaks and having a 10-game one dominating the Houston media.
Veras has never really been able to hold a job, and when he does, he often has trouble with his elbow that makes him unavailable. The elbow has held up for a couple years without sheering off some chips, so the Astros have to hope that holds or they'll have to turn to a young arm like Rhiner Cruz, who has a lot of the same wild qualities as Veras.