New York Yankees Team Health Report: 2013 Injury Risk for Every Starter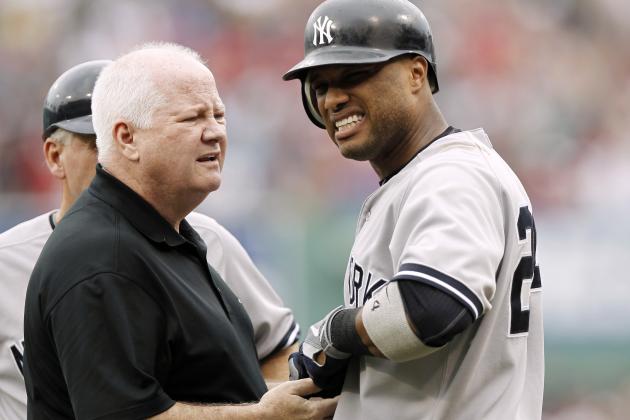 Winslow Townson/Getty Images
Steve Donuhue is there to hold his players hands when needed.
Will Carroll has produced an annual Team Health Report for each MLB team for 12 years. The report gives risk ratings for every player in the expected starting lineup and starting rotation, plus two relievers. A proprietary formula sets a baseline according to a player's age and position. It is adjusted by 12 factors, including injury history, team history and expected workload.
This risk rating is classified into three tiers—red (high risk), yellow (medium risk) and green (lower risk). It should be used as a guideline and is about probability, not prediction. To learn more about how the Team Health Reports are devised, click on this article.
2012 Rank: 28th best of 30 teams in DL days and dollars lost
Biggest Injury: Michael Pineda, $10.5 million lost value
Head Athletic Trainer: Steve Donohue
The Yankees went into last season without longtime athletic trainer Gene Monahan, who retired in 2011. While their ranking isn't exactly good, it's not bad given what Steve Donahue and Mark Littlefield had to work with.
The freak injury to Mariano Rivera weighs heavily here, while keeping Alex Rodriguez and Derek Jeter healthy for most of 2012 doesn't show up. They'll start in the hole, with Rodriguez out at least half the season.
The quick, simple return of Jeter from ankle surgery is a better measure of the kind of thing this staff can do. Flat out, they rehab well.
That bodes well for Rivera and CC Sabathia, who is coming off minor elbow surgery. Getting both into their normal roles is key for this team, but it will be more important to handle maintenance on Jeter, Mark Teixeira and Curtis Granderson. Everyone on the team seemed to be run down by October, and that's not something we've seen from the Yankees before.
This team may not be spending money like it did back in Big Stein's era, but it's never held a medical advantage. (Yes, the Yankees did have a small one for a bit, as they were one of the early teams to understand the predictability of Tommy John rehab, signing players like Jon Lieber at a lower cost.) Instead, the Yankees have thrown their wallet around to get past any injuries and accepted high risk players.
It's worked, more or less, but at some point, this team is going to either need to get lucky and stay just healthy enough, or the Yankees are going to have to get serious about team health in a much different way.
Click ahead for the Yankees. Here are links to all the teams' health reports.
Will Carroll is the Lead Writer for Sports Medicine at Bleacher Report. He has written about sports injuries and related topics for 12 years. His column is called "the industry standard" by Hall of Famer Peter Gammons.
Begin Slideshow

»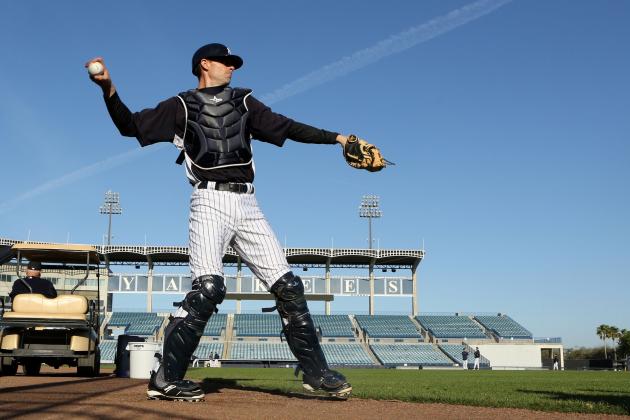 The Star-Ledger-USA TODAY Sports

Chris Stewart is caught in that no man's land of The System. It doesn't believe he can handle the full load of a starting catcher, but it doesn't believe that he'll get the full load either. Of course, The System doesn't know that Brian Cashman is committed to keeping Austin Romine in Scranton (Triple-A) for at least the first half of the season.
Stewart will split time with Francisco Cervelli. While he's no more or less risky than any other catcher, he's 31 years old and has only one season in his pro career with more than 300 at-bats. He'll be extended quickly no matter how much the pitching staff likes him.
Anything over 400 at-bats would push Stewart (or Cervelli) into the red zone.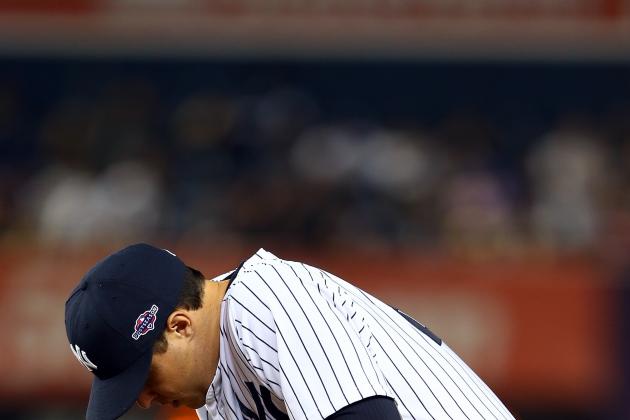 Elsa/Getty Images

Old and overpaid? Sure, if you say so, Mark Teixeira.
The calf strain did more damage to Teixeira and the Yankees than any overshift did, but a full offseason of rest should help. Still, missing 30-plus games for the first time in his career as he hits his mid-thirties is more than a worry, it's a typical pattern.
There shouldn't be anything chronic here, and if I said that Teixeira at 33 was turning into Jeff Bagwell, is that such a bad thing? Bagwell played to age 37 despite his degenerative shoulder issue and should be in the Hall of Fame.
While there's some risk, the upside is still there in Teixeira to have several more star-level seasons if he gets back to his normal health.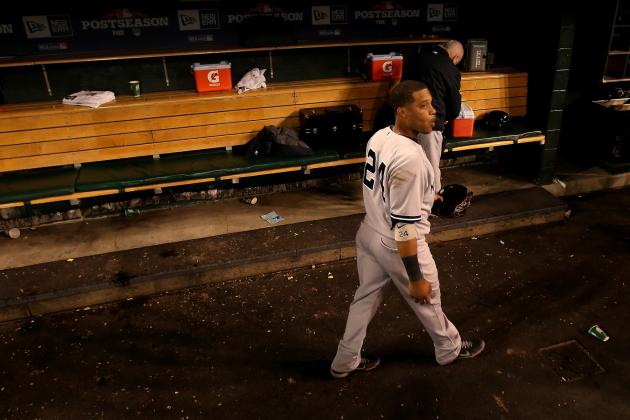 Jonathan Daniel/Getty Images

Robinson Cano enters his walk year as healthy as any elite player in the game. Even playing a premium defensive position doesn't seem to affect him.
There's always some worry that a player on the verge of a big payday will get a bit cautious, like the short-timers in war movies. But there's very little evidence for that as a larger pattern.
Cano's injury history is almost nonexistent. Scouts around the league praise both his work ethic and the ease with which he plays the game. He has an argument for the crown as best player in baseball. He should be gone in the first five picks of every fantasy format.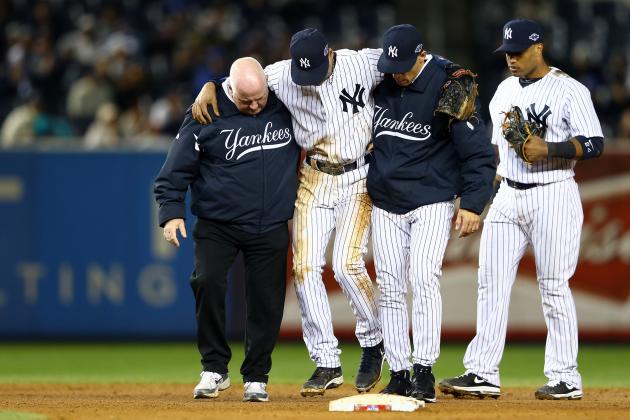 Al Bello/Getty Images

Yes, despite a broken ankle and offseason surgery, Derek Jeter comes in at just a yellow—and a pretty low yellow at that.
Jeter is not expected to miss any time at the start of the season, but the ankle does offer some risk, especially early in the season. The Yankees could shift some of his playing time to DH, which would help.
But Jeter has resisted moves before and seems likely to again. He seems motivated by challenges, whether it's getting to 3000 hits, coming back from a bad season or, now, overcoming an injury.
Jeter is unique—an aging player at a premium defensive position. He's risky, but not nearly as much as most would guess.
The important principle here is that bones heal. Bones do heal, predictably and normally. They are easily checked by simple imaging, and new technologies have decreased the time it takes for bones to heal.
Jeter had little or no ligament involvement and no complications. His early spring workouts are a big plus, and it looks as if this issue messed up his offseason plans, but not his march towards Cooperstown.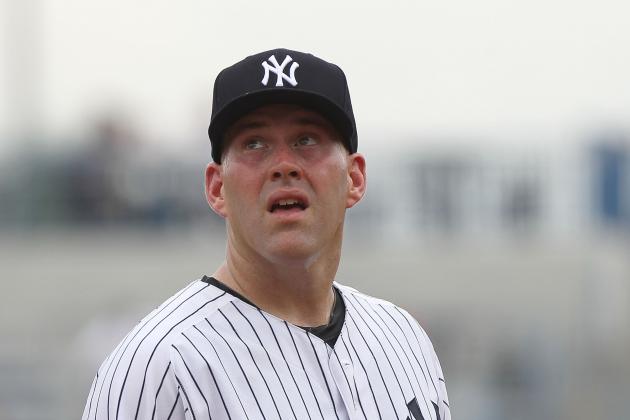 Kim Klement-USA TODAY Sports
This is never going to not look weird.
RED
PED scandal or not, Alex Rodriguez will miss at least the first half of the season after hip surgery. Brian Cashman hinted in a recent interview with WFAN that Rodriguez might not be back all year, but there's no other case in the admittedly small history of this operation where there was that significant a setback. I'd expect Rodriguez to come back much as he did in 2009 after surgery on the other hip, with the qualifiers of age and potential other distractions.
The big plus for Rodriguez is that the hip itself might be to blame for his numbers in 2012. If that's corrected, he could have a surge. If his power numbers go up, no one's going to think it was the hip, however.
YELLOW
Kevin Youkilis comes in to take over 3B in Rodriguez's absence, to spot out Mark Teixeira in the second half and to provide a constant annoyance to Boston fans. Youkilis revived himself somewhat in Chicago last season after Bobby Valentine got way into Youk's head early on.
He's still got some stroke in the bat, but he was never the elite bat that people made him out to be. He's relatively durable and the Yankees are good at spotting people out.
The upside here might be former Youkilis teammate Mike Lowell, who had a bit of a late-career surge.
The yellow is mostly on age, but The System doesn't know about the Valentine clubhouse and sees the early-season struggles as sign of injury. Youkilis isn't risk-free, but he could be good value.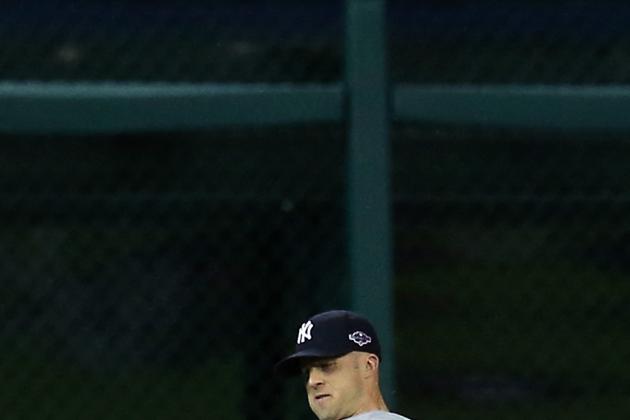 Jonathan Daniel/Getty Images

This is another yellow that people will question. I'm sure some guy with a Boston accent is saying things that would make his mother blush right now, convinced I'm some Yankee homer who's out to get his beloved Sox.
Instead, I offer up this explanation because Brett Gardner is an object lesson in injury perception.
To anyone who doesn't watch this closely, Gardner missed most of last season with an elbow injury. He tried to come back a couple times, only to have severe setbacks each time he was close. After he finally elected to have surgery, he was able to come back in time to show he was healthy.
Surgery. Healthy. Played.
There's your three keys as to why he's yellow. Gardner came back from surgery and showed he was healthy. Most of his value is in his legs, not his arm, and those are not only healthy, we have to assume now that they're rested. He'll also have a bigger role on the team after Nick Swisher left, but not one that should overtax him.
Gardner is not without risk, but he's not overly risky. His rating lands right in the middle of the yellow, which is where he should be. Seeing him go back up near 50 steals again shouldn't surprise anyone. Shifting to CF would add to the risk slightly.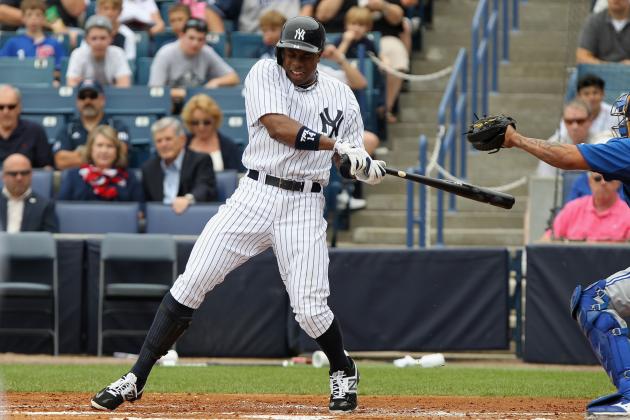 Kim Klement-USA TODAY Sports

Curtis Granderson is the kind of player scouts love to talk about. He's athletic, but not too athletic. He's easy but never lazy. He's wiry strong, not "steroid strong," as one old scout I talk with has taken to calling some players.
Granderson does have some odd dips in his stat line, but only 2010 had injuries as a significant contributing factor to those drops. He's not a speed player, but if he were profiled that way, he'd be fine, with no history of leg injuries.
There is some worry here with the unexplained drop-off in speed numbers, but that could be a number of things. The usual answer is that a player's role changes or that the manager changes. Neither of those happened, though Joe Girardi could just be a bit more conservative with Granderson.
With the talk of shifting Granderson to left, it could be simple aging or something that requires more maintenance. It is definitely something to watch for, despite the green rating.
(Update: So, of course, in the first week of spring training games, Granderson was hit by a pitch and has fractured his forearm. He will miss eight to 10 weeks.)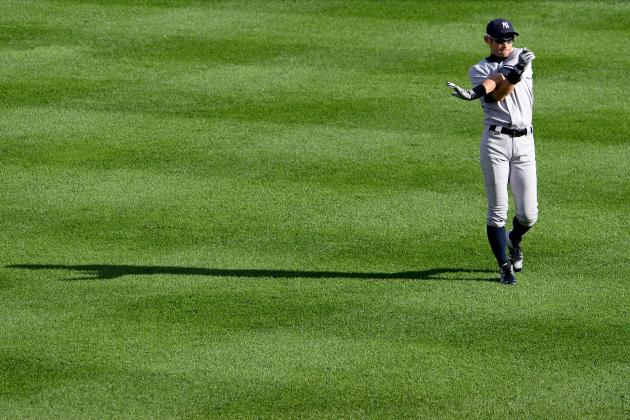 Jason Miller/Getty Images

Ichiro Suzuki may be my favorite myth. There was a time he was my favorite player to watch, but as he ages, the myths are more fun. His legendary All-Star speeches. His inscrutably Zen answers to media questions. His continued insistence that he could pitch.
With his health, there's a story, and for once, it's not just Ichiro mythology. From a Time profile his rookie year, we learn two interesting facts about Ichiro's methods:
Instead, Wilson and his teammates have marveled at Ichiro's one-of-a-kind approach. Between pitches in right field, Ichiro puts on a calisthenics clinic. If he's not rolling his shoulders, he's stretching his quads. If he's not stretching his quads, he's bending at the waist and touching his toes. When he sits at his locker, Ichiro methodically rubs a 15-cm wooden stick up and down the sides and the bottoms of his feet. "It's for pressure points," he says through an interpreter. "If your feet are healthy, you're healthy." In an effort to keep his vision sharp, Ichiro rarely watches television for extended periods without wearing sunglasses. Before every game a Mariners trainer gives him a massage.
Looking at Ichiro's amazing health, even at age 39, it makes me wonder: Why does no one else have a stick like that?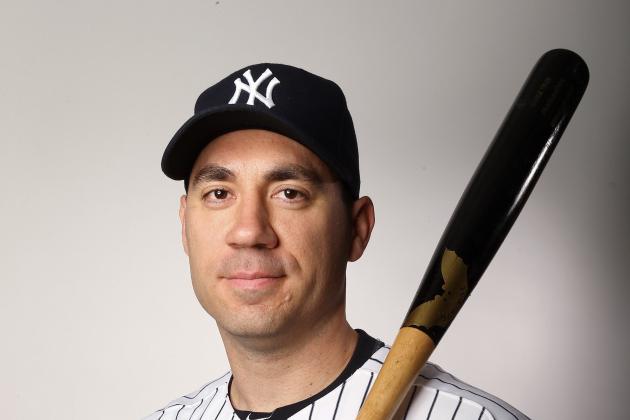 Elsa/Getty Images

Travis Hafner's signing was met with a lot of "huh?" from Yankees fans. Hafner hasn't been healthy since 2007, and even then, it was an aberration. Ignore all that and take it as a sign.
Hafner might just be a last-minute lottery ticket, the kind of free agent that teams take to camp, hope he stays just healthy enough to pay off and, if he doesn't, well, no one remembers anyway.
To me, Hafner is a sign that the Yankees are confident in Derek Jeter.
My thought all winter had been that Jeter's insistence that he would be back by Opening Day was easily parsed. Jeter never said he'd be at SS on Opening Day, just playing. If he was at DH, he would still be back.
If the Yankees think Jeter's not going to need the DH slot regularly, they can afford a pure DH like Hafner. And if he only lasts half a season until Alex Rodriguez is back, I call that one a win for Brian Cashman and the Yankees medical staff. That said, I don't think Hafner can last that long, and neither does The System.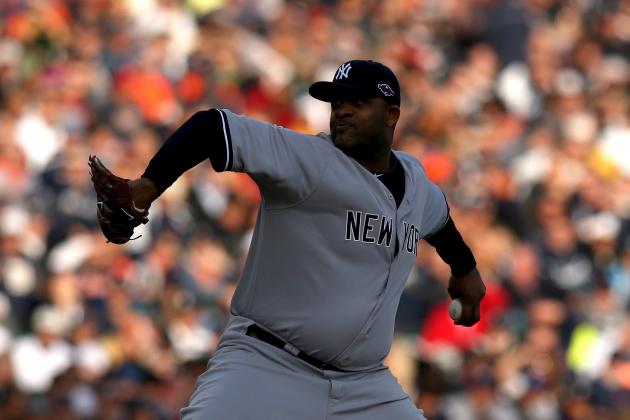 Jonathan Daniel/Getty Images

The Big Man is nearly yellow, but his long history of health and the relatively minor nature of his elbow problem keep him just this side of the line.
CC Sabathia had bone spurs and chips removed from his pitching elbow after the season, the first where he missed starts due to arm problem since very early in his career.
Sabathia's work with the American Sports Medicine Institute is well-documented during those early days, and his self-awareness of his pitching mechanics and his body have helped keep him going. His size is unusual, but the delivery is very repeatable and "easy." (There's a big difference between "easy" and "lazy" in the scouting vernacular. The former is very good, while the latter is very, very bad.)
Expect Sabathia to put up another great and dependable year at the top of the Yankees' rotation. At the same time, expect (or at least hope) that Joe Girardi will keep a closer eye on his workload.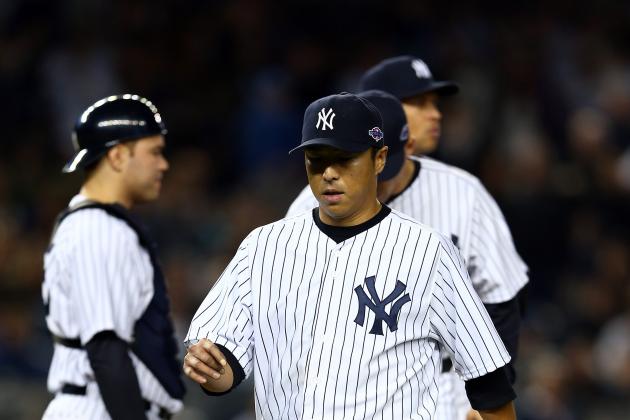 Elsa/Getty Images

Take 2010's litany of strange injuries off of his resume and Hiroki Kuroda would be a sure green. He's solidly in the low-risk category anyway, though the Yankees are smart to go year to year with a pitcher going into his age-38 season.
Add in his low-effort delivery, consistent pitches, solid command and control, and you have everything you want in a mid-rotation starter. If there's any worry here, it's merely the workload combined with his age.
While his average velocity has held steady over the PitchFX era, he does have some days where he just doesn't have his good stuff. Eventually, days turn into weeks and Kuroda stops being an asset.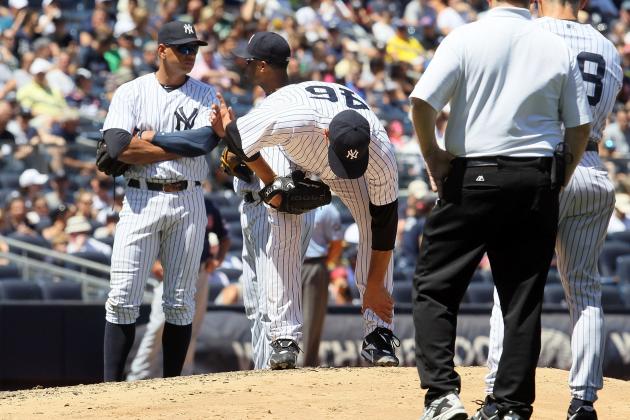 Jim McIsaac/Getty Images

This seems low.
Andy Pettitte, an admitted HGH user, came back after a year off from baseball and pitched well before being injured by a comebacker. It took longer than expected to return from the broken leg, but the arm and mechanics appear to be intact. As I often say, bones heal, so the leg isn't that big an issue going forward.
Unfortunately, there's no indication whether he can handle a full season's workload at this point. He'll be 41 at midseason. Maybe he should have taken a page out of Roger Clemens' book and come back midseason. That'd be a nice birthday present, and you have to think Suzyn Waldman might lose her mind again. (Sorry, Suzyn, but that clip never gets old.)
The System puts more weight on Pettitte's injury history than I do. I think the workload will be too much for him to make it a full season, but in short bursts or even as a placeholder, a team could do a lot worse than Pettitte.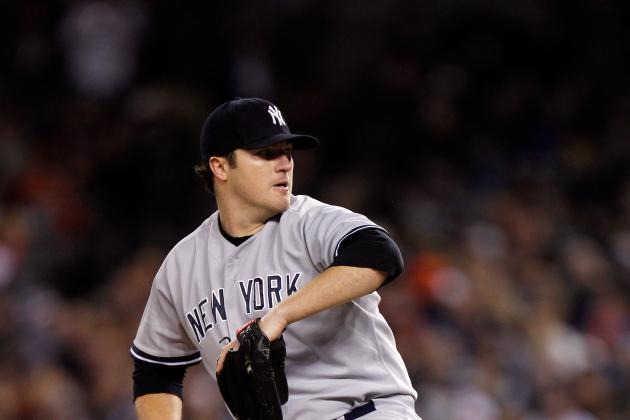 Gregory Shamus/Getty Images

Phil Hughes is still just 26, so there's the chance he still turns into the No. 2 starter he was projected to be. The Yankees didn't whipsaw him from the rotation to the 'pen the way they did with Joba Chamberlain, but Hughes never had the major mechanical concerns that Chamberlain did either.
Hughes' only concern now is staying healthy. He was derailed early in his career by a significant hamstring strain and was awful in 2011 due to some sort of shoulder injury that was never described as more than fatigue. (Sources tell me it was a rotator cuff strain caused by the late-season fatigue in 2010.)
He bounced back well in 2012 and showed more pitchability and maturity on the mound. His velocity wasn't all the way back, but some of that seemed to be a more conscious effort to conserve his energy. The average velocity was held down by less max-effort pitches. That's a positive that The System doesn't see.
Hughes ends up a high (almost red) yellow risk. That's about right from my view, but I wouldn't dock him too much on your draft board since that risk is balanced by the wins the Yankees are likely to put up for even a mid-rotation starter.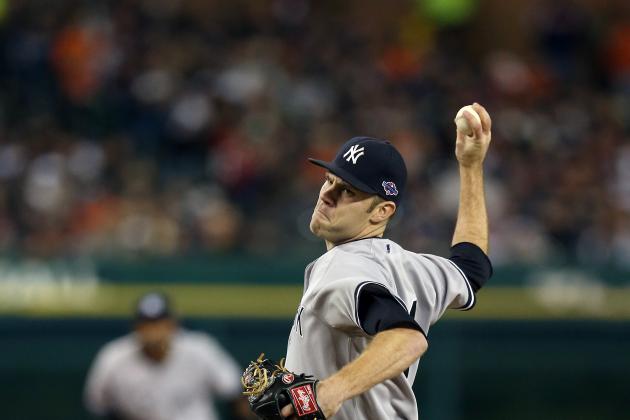 Jonathan Daniel/Getty Images

David Phelps is the top option for the back of the rotation heading into spring training, but The System is not convinced he'll hold onto it. STEAMER, my favorite projection engine, has Phelps projected for only 79 innings. If he goes to 120, he'll stay yellow, but anything above that puts him into the red, even with the new lighter adjustments for innings increases.
Behind him, Ivan Nova is the first option, but Michael Pineda is the first hope. If Pineda is able to come back from his shoulder surgery and contribute anything this season, it would be a huge addition and potentially a difference-maker in the tight AL East.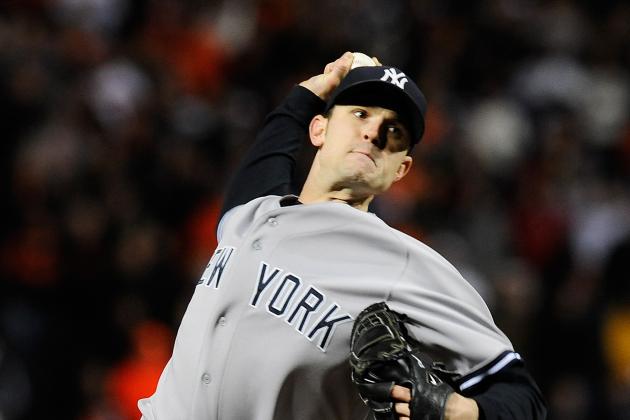 Patrick McDermott/Getty Images

David Robertson occupied this setup role last year, but it wasn't for Mariano Rivera. With Rafael Soriano headed south to Washington, Robertson stays in his role and perhaps gets a bit of an upgrade. He could now be the closer of the future, as well as the closer in waiting.
Robertson's oblique strain cost him the chance to put up save numbers last year, but everything else was positive. There's some concern about his workload, but Joe Girardi has seemed a bit more conscious of that the past two seasons with both starters and relievers.
Watch Robertson's command (walk rates and K/BB ratio) for indications that he has his sometimes stuttery mechanics under control.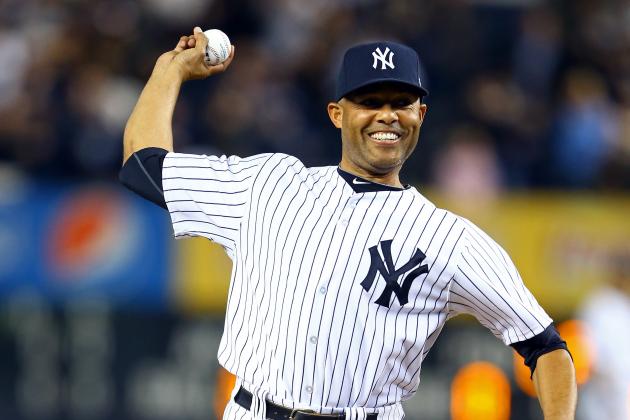 Al Bello/Getty Images

Every year, I'm forced to explain the red rating that Mariano Rivera gets.
For much of his career, Rivera would have one period where he'd come up sore, hit the DL and come back with that same hammer-of-god cutter. The System sees DL stints, not unhittable pitches. Call it a blind spot if you will, but it's been accurate.
Last year was not a normal year for Rivera. His freak knee injury ended his season, but there were signs he was close to a return last year. Brian Cashman actually got angry at Rivera's medical advisers for leaking to the press that it was possible. He didn't come back, but it was a good sign.
Rivera's value comes down to whether or not he shows up each day with that cutter. He says it was a miracle, but hitters that have faced it use much more derogatory terms. As long as Rivera has that pitch, he'll be able to do his job.
Except for that one period where he'll probably get a bit tired. That keeps him red, OK?