Cincinnati Reds Team Health Report: 2013 Injury Risk on Every Starter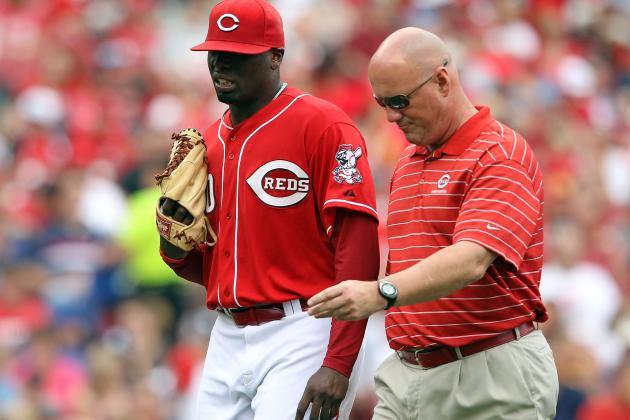 Andy Lyons/Getty Images
Paul Lessard helps a player back to the dugout.
Will Carroll has produced an annual Team Health Report for each MLB team for 12 years. The report gives risk ratings for every player in the expected starting lineup and starting rotation, plus two relievers. A proprietary formula sets a baseline according to a player's age and position. It is adjusted by 12 factors, including injury history, team history and expected workload.
This risk rating is classified into three tiers—red (high risk), yellow (medium risk) and green (lower risk). It should be used as a guideline and is about probability, not prediction. To learn more about how the Team Health Reports are devised, click on this article.
2012 Rank: 1st out of 30 teams in DL days and dollars lost
Biggest Injury: Joey Votto, $8.9 million lost value
Head Athletic Trainer: Paul Lessard
Injuries happen in sports. It's the nature of the beast. Having physically gifted and rigorously tuned men or women pushing themselves as hard as they can over the course of a season is going to take its toll, and sometimes there is little anyone can do to prevent it. But to simply look at that landscape, throw up one's hands and weep for the inevitable injuries that cannot be prevented would be quitter talk.
The Cincinnati Reds used to struggle mightily with injuries, having about 1,000 days lost to players on the disabled list was commonplace prior to 2010. The arrival of current athletic trainer Paul Lessard changed that, dropping the team's averaged missed days down under 700, which puts them consistently among the best in Major League Baseball.
One of the reasons Lessard, Dr. Tim Kremchek and the rest of the Reds medical staff were presented with the Martin-Monahan Award for the best medical staff in baseball is how quickly he was able to bring the Reds not only up to average but even ahead of the curve. It takes more than one man to change a team's culture, and Lessard has been fortunate to have a team built around such stalwarts as Jay Bruce and Brandon Phillips, but it is still an impressive feat to take a team's weakness and make it a strength so quickly.
Looking ahead, while Lessard and his staff won't have too many particularly injury-prone players to deal with, they will have a rather unique challenge given the team's plans to convert Aroldis Chapman to a starter. There isn't a pattern to follow, and other than concerns about fatigue, there's no specific injury that Chapman is predisposed to, which makes Lessard's challenge greater.
The added workload is going to tax his body—that much is sure—but whether it pushes him all the way to the disabled list may well come down to Lessard's ability to diagnose and treat smaller injuries before they have the chance to become major ones. Fortunately for Chapman and his teammates, the team's medical staff is well suited to just that task.
This report was written with the assistance of Dan Wade. You can read more of Dan's work at SI.com and Fangraphs.
Click ahead for the Reds. Here are links to all the teams' reports.
Will Carroll is the Lead Writer for Sports Medicine at Bleacher Report. He has written about sports injuries and related topics for 12 years. His column is called "the industry standard" by Hall of Famer Peter Gammons.
Begin Slideshow

»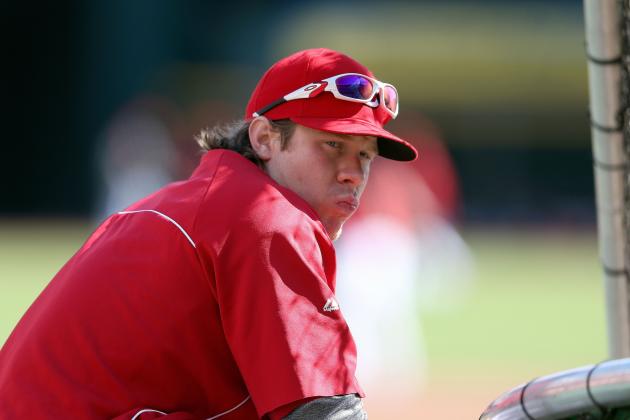 Andy Lyons/Getty Images

Pity Ryan Hanigan, who despite being offensively competent and an above-average receiver, has always had to split time with another Reds catcher. First it was Ramon Hernandez, and now it's Devin Mesoraco. Hanigan threw out nearly half of would-be base stealers, which helped him reach his highest WAR ever despite having his worst offensive season since 2009.
At 32, he's on the older side for catchers, in which case the split workload probably works in his favor in a way it didn't a few years ago. Irrespective, other than a fractured hand in 2010 and a concussion in 2009, Hanigan has been remarkably healthy even given his abridged playing time. Those knocks, however, are exactly the types of injuries that fall under the category of "Perils of Catching." Other position players simply aren't as vulnerable to them as catchers are, which is why Hanigan gets a yellow rating.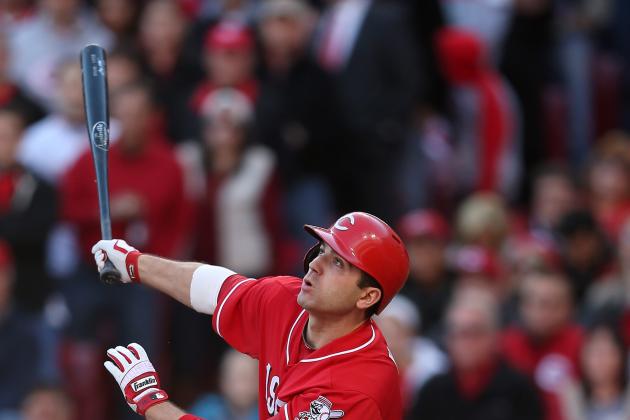 Andy Lyons/Getty Images

When he tore his medial meniscus on July 15, Votto was hitting an incredible .342/.465/.604 with 14 HR, and while his line after his return was still a staggering .316/.505/.421, something was clearly missing. Votto's greatest skill is his ability to get on base, but he complements it with ample power, something he lacked through the Reds' last 25 games and into the playoffs where he did not have a single extra-base hit.
Votto wasn't necessarily rushed back, but the offseason break will have allowed him to get his legs back in shape, which should bring back the power he seemed to have misplaced while on the DL. This was just Votto's second trip to the DL in his career, and he should be 100 percent healthy when the season opens.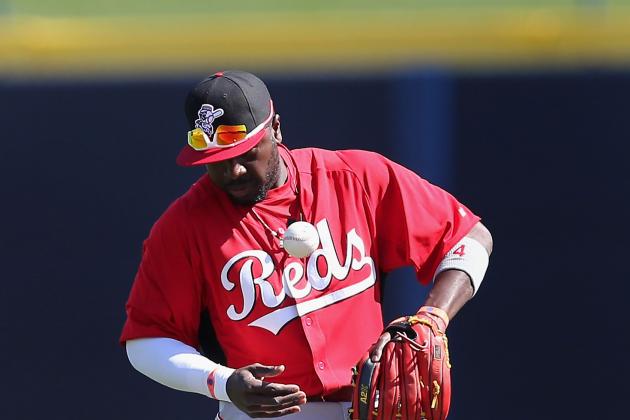 Christian Petersen/Getty Images

Brandon Phillips might not have Prince Fielder's reputation for durability, but he has his own rather impressive streak going: Phillips has played in at least 140 games every season since 2006. It's a testament to his ability to play though smaller injuries, his luck in avoiding a serious traumatic injury and his skill as a player since no manager is going to pencil in a terrible player game after game.
I'm a lot more worried about @datdudeBP saying something dumb on Twitter than I am about his health, even with his back turned to "datplayDP."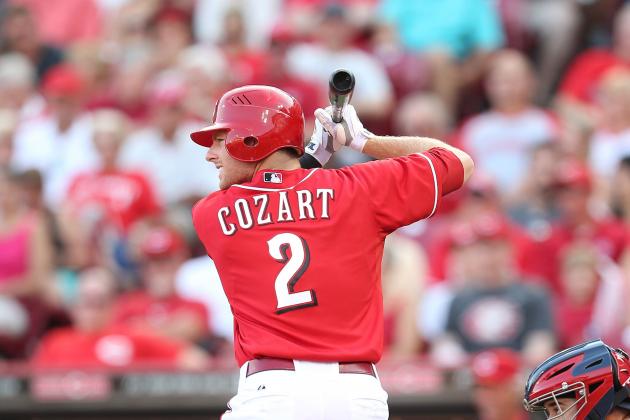 Andy Lyons/Getty Images

The elbow injury that cut short Zack Cozart's 2011 season was the type of freak accident that makes projecting injuries exceedingly difficult. It was also the rare opportunity for a position player to undergo the same Tommy John surgery that is normally reserved for pitchers. While pitchers normally miss a full season when they have a torn UCL repaired, Cozart was back after missing just over two months, and he showed no ill effects from having gone under the knife.
Having a season-ending injury like that in his first full season gives The System reason to believe he might have trouble going forward, but without any lingering effects from that injury or any other current issues, another freak collision remains the most likely reason Cozart would miss more time.
Better, Cozart won't be miscast again as a leadoff hitter, and the organization seems committed to him, trading off Didi Gregorius and shifting Billy Hamilton to center field in Louisville (Triple-A). If Cozart is healthy, he's a solid shortstop if not exciting.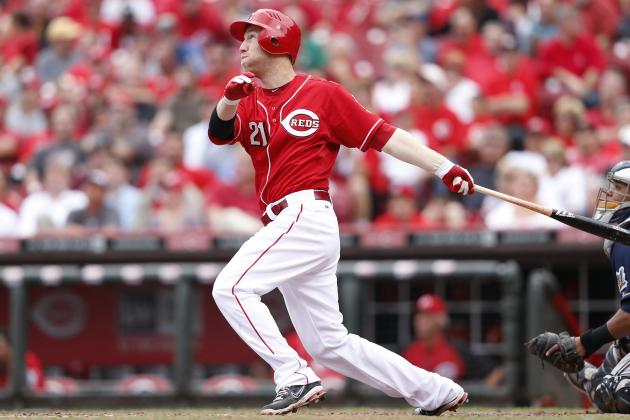 Joe Robbins/Getty Images

Scott Rolen looks to be on his way out of baseball—though it won't be a sure thing until he officially retires—but the Reds have decided to move forward with Todd Frazier whether Rolen wants to play another season or not.
Frazier gave the Reds 128 games of well above-league-average production, spelling Rolen at third base as well as taking over for Votto at first when necessary. He may be undervalued because of the bigger names around him, but Frazier has the potential to be every bit as valuable to the Reds as almost anyone outside of Votto.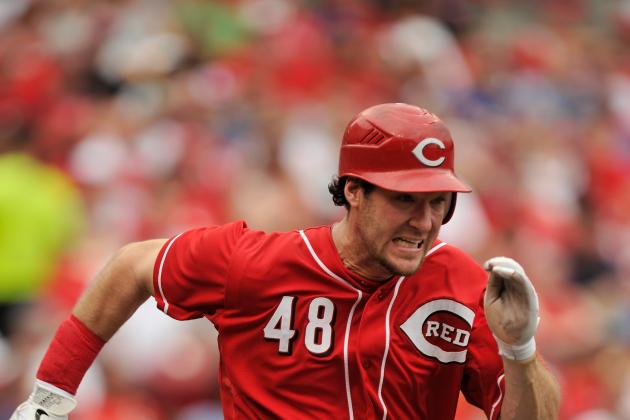 Jamie Sabau/Getty Images

After battling a number of smaller-but-persistent injuries, Ryan Ludwick finally avoided the disabled list for the first time since 2008, and it showed in his production. Ludwick was about 33 percent better than the league-average hitter; it was the second-best mark of his career. The first was set in—no surprises here—2008, his last healthy season.
Still, the injury specter is now something Ludwick will have to prove he's over, and given the Reds' outfield depth, he may not really get a chance to do so. With Chris Heisey and Xavier Paul waiting in the wings, if Ludwick isn't 100 percent healthy, the team may simply choose to sit him rather than have him work through it.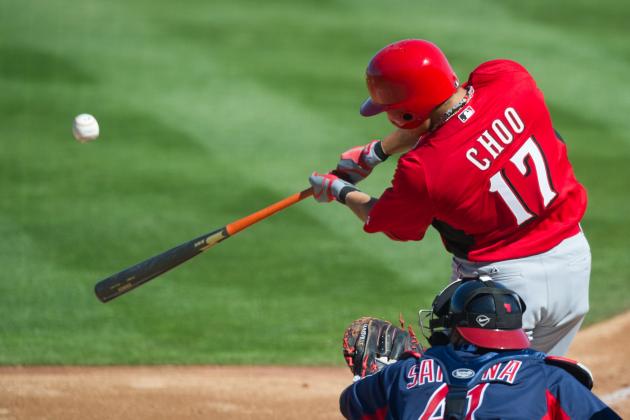 Rob Tringali/Getty Images

Shin-Soo Choo solves the Reds' biggest issue and cost them a SS prospect, all without blocking their best prospect. That's masterful work by Walt Jocketty. Choo is a rental player, but precisely the right one for that one year.
Choo has always been a bit injury prone but always small things. Obliques, thumb sprains and the like are his norm, though he does have the triangular Tommy John scar on his elbow, which is an oddity for a position player. The Reds excel with this kind of player, as they showed with Scott Rolen over the past couple of seasons.
Choo's a high yellow risk, but even there, there's solid backup and Billy Hamilton on the horizon. In front of this lineup, Choo could put up huge runs totals if his OBP stays at normal levels.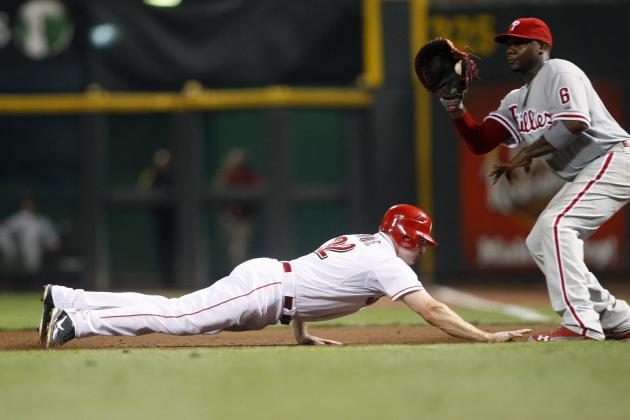 John Grieshop/Getty Images

Consistency, thy name is Jay Bruce. Three straight seasons of 148 games or more and three straight seasons with an OPS over .810 have made Bruce a mainstay in the Reds' lineup. He's still two seasons away from his theoretical peak, which makes his ability to hit and hit without stopping all the more impressive.
If he were to add another 30 to 40 points of OPS to his already strong production, he and Votto would certainly challenge Miguel Cabrera and Prince Fielder for the best middle of the order pair in baseball.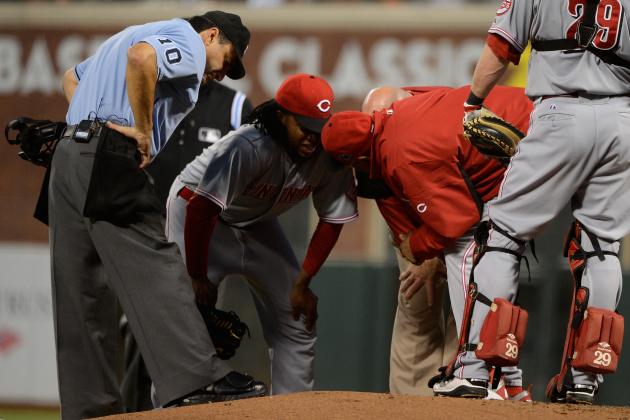 Thearon W. Henderson/Getty Images

The pitching talent in the National League is so deep it's entirely possible that, despite finishing fourth in the Cy Young Award voting, Johnny Cueto is underrated. Other than biceps irritation in 2011, he's been healthy, and when he's been healthy, he's been productive.
Well, there is that oblique strain that threw the Reds' rotation off in the playoffs last year. It was bad timing more than a bad injury, but those are the kind of things that good teams overcome. It does point to just how key Cueto is to the success of this team and the makeup of the rotation behind him.
Projecting Cueto to be even better than he was last year is a tough ask, but he's still at an age where incremental improvements do happen. What remains to be seen is if the changes in his pitch selection he made last season will tax his elbow in a problematic way. Nothing jumps out as a red flag in his usage, but any change can trigger a sympathetic issue if the body isn't prepared for it.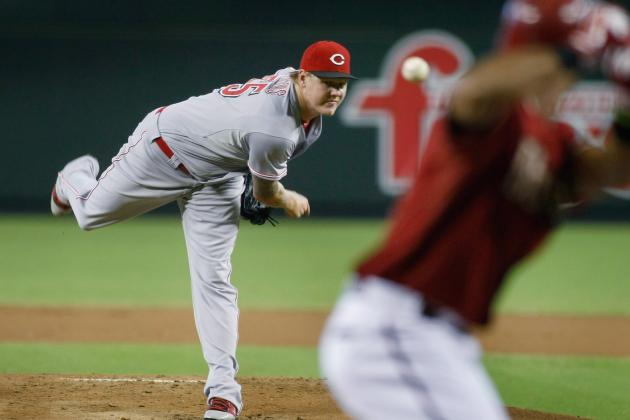 Ralph Freso/Getty Images

Interestingly, Mat Latos has been placed on the disabled list in two of the past three seasons, yet has made 31 or more starts every season since he became a full-time starter in 2010. It is mildly worrisome that he went from having oblique trouble in 2010 to having a strained shoulder in 2011, but neither injury was particularly severe. They were on opposite sides of his body, and he suffered no further trouble in 2012.
That Latos was able to adjust so well from an extreme pitchers' park in San Diego to the bandbox in Cincinnati bodes well for him going forward. He's just 25, has a great track record already and looks healthy enough to improve on his already-solid base.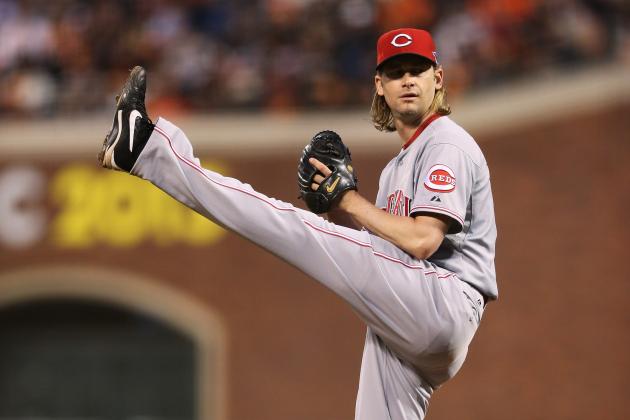 Jeff Gross/Getty Images

His performance for the Reds has been inconsistent, though until 2011 he was typically no worse than league average, but one thing Bronson Arroyo has always been is available. The fewest number of innings he has thrown for the Reds is 199, and he has never made fewer than 32 starts. He'll be 36 this year. Age will begin to take its toll sooner or later, but the fact that he's not fighting off any nagging injuries or fighting mono will give him an advantage staying in the rotation for at least this season.
The other thing with Arroyo that really intrigues me is that Rockette leg kick he has on every windup. It is a move that shows a great deal of flexibility and consistency. I'm curious as to how he developed it and why no one else has tried it. Arroyo is one of the guys I would love to see a biomechanical analysis on, just to see what that weird looking kick really does.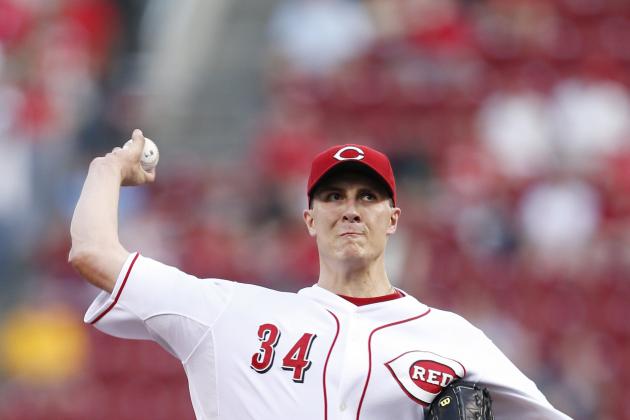 Joe Robbins/Getty Images

This rating is all about Homer Bailey's right shoulder. It has been inflamed (2010), impinged (2011) and sprained (2011) all in the last three seasons, which means something is amiss. He finally looked like he had put the pieces together in 2012—not coincidentally, he also avoided the DL all season—and a recurrence of his shoulder trouble could spell disaster for him.
Aroldis Chapman is the biggest unknown for the Reds this season, but Bailey might be their highest risk pitcher because of his history of shoulder ailments.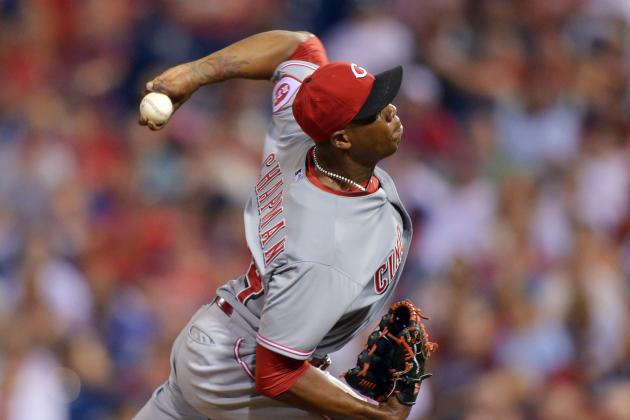 Drew Hallowell/Getty Images

The track from starter to closer is a well-worn trail indeed, especially if it includes pitchers who were starters in the minors before becoming major league relievers. The reverse path is, well, sparsely traveled. John Smoltz was probably the most successful of those who tried to do what Chapman is doing, but betting on anyone following Smoltz's example as well as he set it is a sucker bet.
As of November, the Reds were planning on limiting Chapman's innings, and while a fixed number hasn't been put forward, pitching coach Bryan Price said he was hoping to get 25 to 30 starts out of him. If he averages six innings per outing, that puts him at no fewer than 150 innings or more than double the 71.2 innings he threw last year, and even more than the 135 innings he has thrown in his three professional seasons so far.
Innings increases aren't a guarantee for injury, but Chapman is a max-effort pitcher already and will need to be conscious of how he is feeling both during his starts and after. It will take a team effort involving Chapman, Price, Baker and Lessard to keep Chapman from missing a few starts due to simple fatigue, but even if he only makes 20 to 25 starts instead of the 25 to 30 they're hoping, he'll likely still be more valuable than if he were closing.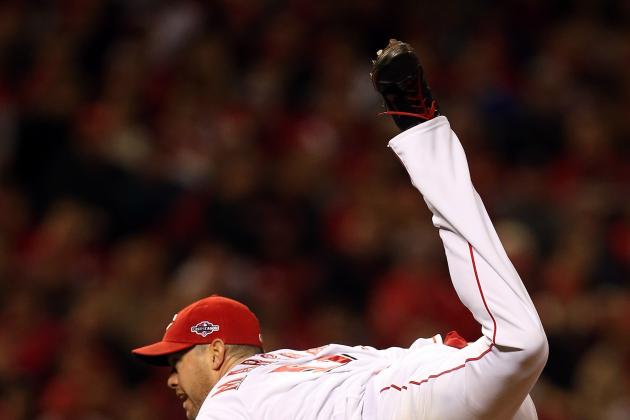 Jonathan Daniel/Getty Images

If Woody Allen is right and 80 percent of success is just showing up, then Sean Marshall is well on his way to being a successful reliever. Since converting to the bullpen full time, Marshall has appeared in 80, 78 and 73 games; in fact, since 2010, no pitcher has appeared in more games than Marshall. Simply put, when he's called, Marshall shows up.
After years of being a setup man, this may well be the season that Marshall gets a real chance to close. The former closer, Chapman, looks set to join the rotation and the man acquired at the deadline last year, Jonathan Broxton, is only a year removed from missing most of the 2011 season. Whether they need him for the eighth inning or the ninth, the Reds can take comfort in knowing that Marshall will show up.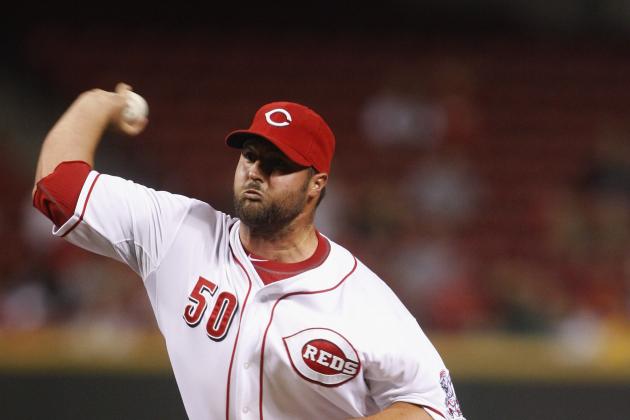 John Grieshop/Getty Images

If 2012 was any indication, then Broxton is no longer the pitcher he was prior to missing most of the 2011 season with loose bodies and bone spurs in his elbow. Broxton's calling card with the Dodgers was striking out about 30 percent of the hitters he faced and walking about 10 percent. In 2012, he struck out far fewer—just shy of 19 percent—but he also walked just seven percent. He's still nothing resembling a control pitcher, but Broxton looks like he's coping with some velocity loss by actually pitching on the edge of the strike zone rather than trying to overpower hitters.
With respect to his 2011 injuries, Broxton was probably at a greater risk for complications last season than he is this year. He's still under 30, and while he has lost the upper-90s velocity on his fastball the way he used to have, perhaps the change will force him into becoming a more well-rounded pitcher.