Texas Rangers Team Health Report: 2013 Injury Risk for Every Starter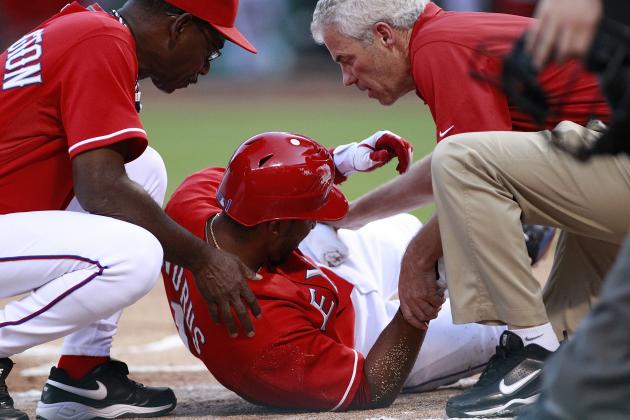 Rick Yeatts/Getty Images
Ron Washington, Elvis Andrus and Jamie Reed
Will Carroll has produced an annual Team Health Report for each MLB team for 12 years. The report gives risk ratings for every player in the expected starting lineup and starting rotation, plus two relievers. A proprietary formula sets a baseline according to a player's age and position. It is adjusted by 12 factors, including injury history, team history and expected workload.
This risk rating is classified into three tiers—red (high risk), yellow (medium risk) and green (lower risk). It should be used as a guideline and is about probability, not prediction. To learn more about how the Team Health Reports are devised, click on this article.
2012 Rank: 2nd-best of 30 teams in DL days and dollars lost
Biggest Injury: Colby Lewis, $6.4 million lost value
Head Athletic Trainer: Jamie Reed
No team was more thankful for Major League Baseball's playoff expansion than the Rangers, who would have missed the postseason last year following an epic fall from the top in the second half of the season.
Was it bad luck, poor management, a wave of fatigue or all of the above? Have no doubt that Jon Daniels and his staff took a hard look at every area of the organization in a quest to answer all those questions and more.
Fatigue was evident, as both positional players and pitchers appeared to wear down as the season progressed. All-Stars Mike Napoli and Josh Hamilton then left in free agency, and the Texas front office were surprisingly quiet in the offseason.
The Rangers are going to go an increasingly contrarian route, going with their young players rather than using them as trade bait. No team is filled with MLB-ready prospects the way that the Rangers are, and keeping the young pitchers like Martin Perez will be a real task. It's worse when you consider that as many as three regular players will be in their first full season at the MLB level.
There is also the task of bringing back Neftali Feliz, who should be back at midseason, while helping Joakim Soria integrate himself into the bullpen. Both are coming back from Tommy John surgery, while Colby Lewis could have a similar midseason impact after forearm surgery.
What we don't see with the Rangers is any sort of indication that the pitch count rejection that they touted so strongly a couple seasons ago is having any effect. The team is not showing higher pitch counts at any level, on a peak or average basis, and the injuries seem to be in line with the results prior to the purported philosophical change.
They will continue to rely on head athletic trainer Jamie Reed to revitalize a team that felt the effects of two deep playoff runs. Reed will also be asked to keep an aging group of veterans as healthy as possible while integrating several promising players into the fold. His value is clear in that the team can bring in players like Soria and Joe Nathan with confidence. Reed's value will be even clearer if he can keep this team healthy and put them back in the playoffs in 2013.
This Team Health Report was written with the assistance of Jeff Stotts, ATC. You can read Jeff's work at Rotowire.com.
Click ahead for the Rangers. Here are links to all the teams' reports.
Will Carroll is the Lead Writer for Sports Medicine at Bleacher Report. He has written about sports injuries and related topics for 12 years. His column is called "the industry standard" by Hall of Famer Peter Gammons.
Begin Slideshow

»
Rob Tringali/Getty Images

It's rare that a veteran catcher puts together his best season in his 15th year behind the plate, but Pierzynski did just that last season, collecting career highs in home runs, RBI, slugging percentage and OPS. Moving to Arlington should help hold those up some, even if he comes back to more normal levels. He should be healthy enough to at least give it a good shot.
Despite catching over 1,000 innings in 11 consecutive seasons, he's managed to stay healthy. The presence of Geovany Soto should help ease Pierzynski's load as well. There's no real rhyme or reason to catchers that can stay healthy into their mid-30s, but there tends to be a very sharp cliff when the bad things start happening.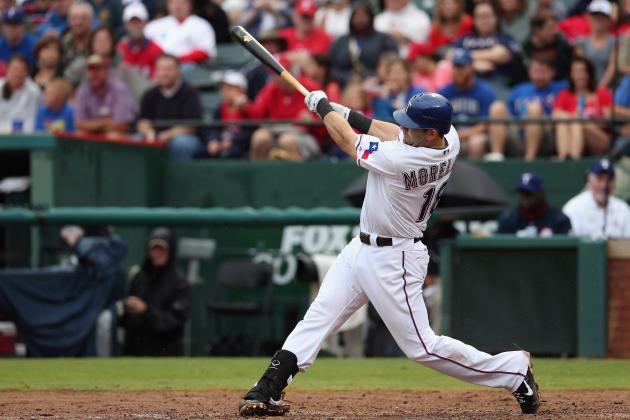 Ronald Martinez/Getty Images

Everything dropped off for Mitch Moreland last season except his health. With Mike Napoli gone and Lance Berkman expected to play 1B only in an emergency (or a National League park), Moreland gets the first shot at holding down 1B.
It could be a short leash, with Berkman there, as well as Mike Olt and Ian Kinsler perhaps getting pushed over by Jurickson Profar. We'll see if pressure makes or breaks Moreland. He'd be green even if he was expected to go 500-600 at-bats.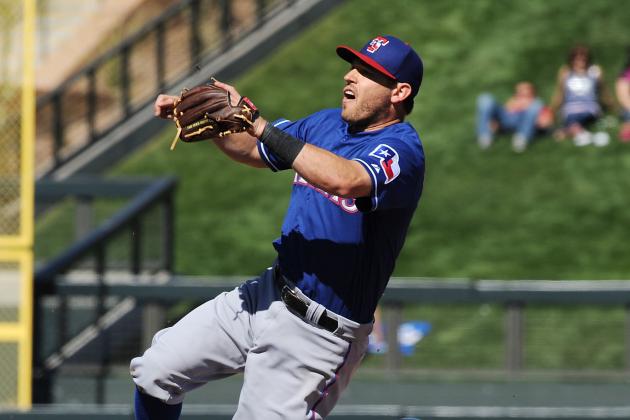 Norm Hall/Getty Images

Kinsler was one of the main culprits of Texas' collapse in the second half of last season, and fatigue may have had something to do with it. He was a part of two deep postseason runs and has appeared in more games over the last two years than in any other point in his career. That's a plus, though the age is starting to climb into a range where it becomes an issue
He will remain at second base despite Jurickson Profar waiting in the wings. Kinsler's potential shift over to first base would help his risk rating over the next five years a lot more than it would in 2013.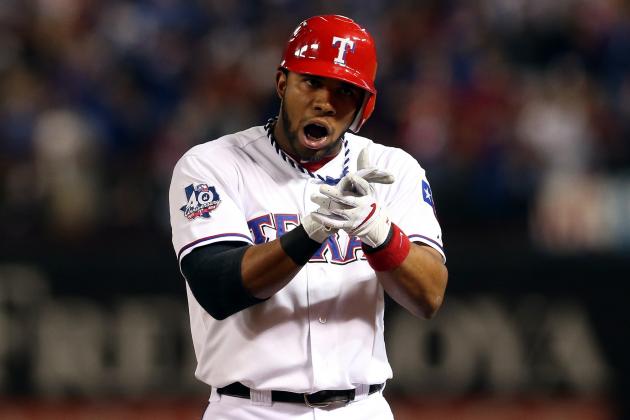 Ronald Martinez/Getty Images

Elvis Andrus has steadily increased his games played since joining the Rangers, topping out last season with 158 games played. His defensive prowess and ability to avoid the disabled list make him a valuable asset. He's lacking in power, but he's as consistent as they come.
Having a solid backup is actually a positive for Andrus since Ron Washington will be encouraged to give Jurickson Profar more playing time than the normal bench player (assuming he doesn't start the season down in Round Rock). It could cost Andrus some counting stats, but it will help him stay fresher.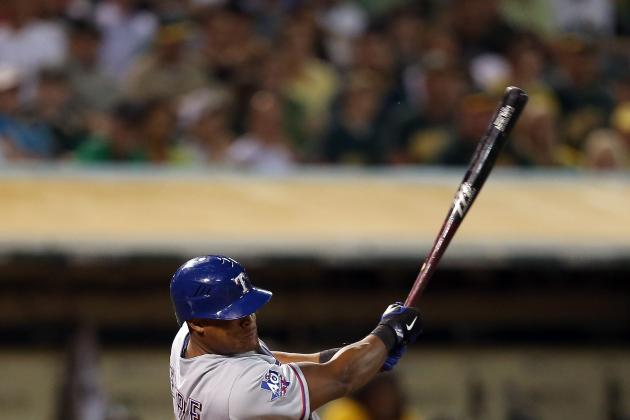 Ezra Shaw/Getty Images

Arguably Texas' toughest player (just don't touch his head), Beltre appeared 156 games for Texas—his most since 2006—despite a hamstring strain, left shoulder strain and a curious stomach ailment. He elected not to undergo surgery to remove scar tissue from a previous operation, fearing a second procedure could result in similar problems down the road.
The biggest negative for Beltre is not the recurrent abdominal issue but his advancing age. The System is overstating it a little, I believe, since there's no sign he's lost a step or any bat speed.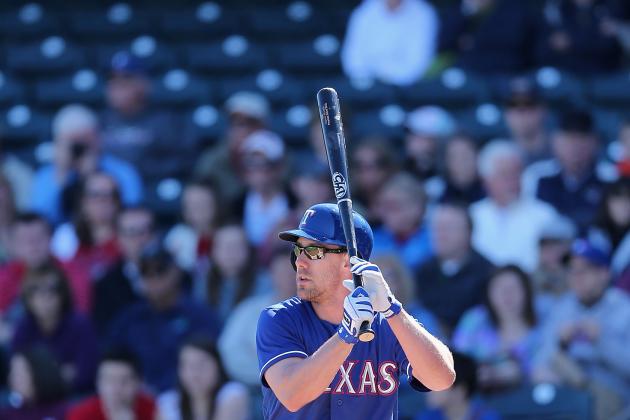 Christian Petersen/Getty Images

David Murphy walks to the plate to an anthemic contemporary Christian song titled "This Is Not Where I Belong." It's an odd choice since Texas' fourth OF role is precisely where he belongs. He'll shift to more or less of a full-time role this season, penciled in for LF.
Defensively, Murphy could play CF just as well, so expect Ron Washington to mix and match things a bit more than most "starting LFers" would expect. The System thinks the likely end product looks more like a three-and-a-half OF rather than a fourth.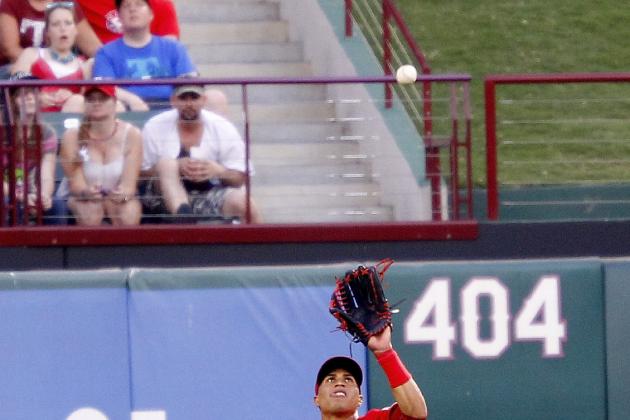 Rick Yeatts/Getty Images

The System isn't sure what to make of Leonys Martin. It's not alone. The Cuban isn't as speedy or even as athletic as many expected, and he hasn't advanced as quickly either. He'll start the spring fighting for the CF slot. While Craig Gentry is more of a known quantity, he doesn't have the upside of Martin.
Martin does have a tendency to get hurt at the wrong times. A thumb injury early last season really cost him the chance to establish himself. The drop in steals and other speed numbers are more worrisome.
The yellow rating is a bit overblown, given how much backup that Texas has in CF. Besides Gentry, David Murphy could shift over, Leury Garcia could become a super-utility guy and Jurickson Profar could see some OF time as the Rangers look for at-bats for him.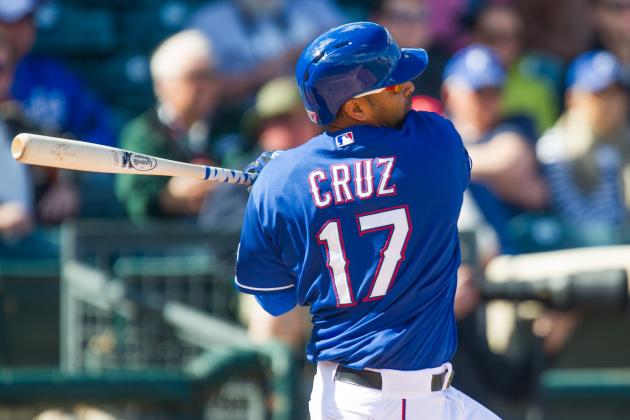 Rob Tringali/Getty Images

Texas had plenty to worry about with Cruz before the PED allegations surfaced, particularly his chronically injured legs. Despite playing in a career-best 159 games last season, Cruz still battled Achilles and hamstring problems and was benched when the team traveled to Toronto to spare his legs from having to endure the unforgiving turf.
Again, there's plenty of depth that would keep Cruz from playing a similar workload, but he is now much more the only sure power in the Rangers' lineup. Adrian Beltre and a healthy Lance Berkman could help replace the power lost when Mike Napoli and Josh Hamilton left, but Cruz is the key. Jamie Reed will have to keep a close eye on him this season.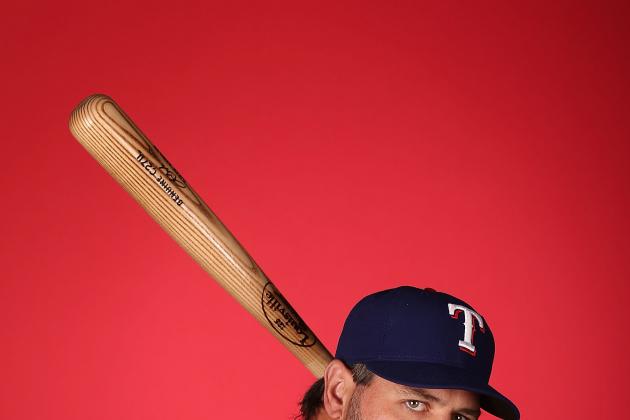 Christian Petersen/Getty Images

No surprise here. The surprise was that the Rangers were so willing to buy Lance Berkman out of retirement despite a lot of internal options, including Mike Olt.
Berkman had just 81 at-bats in 2012 after a comeback campaign in 2011. Multiple knee surgeries on his right knee were the primary culprit but a calf injury also played a role. It's a classic cascade injury that the Cardinals couldn't seem to avoid.
Berkman has had multiple surgeries on both knees and even a shift to DH won't guarantee he remains healthy. If Mitch Moreland can hold down the 1B slot, Ron Washington won't be too tempted to push Berkman out to the field. Even in National League parks, we have to hope that Jamie Reed goes Chuck Testa on Washington if he starts writing Berkman's name down.
Rick Yeatts/Getty Images

Darvish held up well in his first year in the MLB, making a seamless transition from Japan. He did have several minor muscle issues, though, including neck stiffness that caused him to miss a start. He was a bit up and down as he made adjustments, but he didn't seem to fatigue too much by the end of the season. Those adjustments are likely to continue as he learns the league.
One of the big keys to his success is first pitch strikes. His pitch efficiency became a bit of an issue even in this day and age of six-inning starts. We'll see if another year of experience or the influence of A.J. Pierzynski come into play.
He's not your prototypical second-year pitcher given his overseas experience, so there's an elevated bit of risk as he continues to shoulder a heavier workload. He could always switch to the knuckleball he practices with on off-days if things get out of hand.
Christian Petersen/Getty Images

Despite a terrible mustache and some questions about his maturity, many believed Derek Holland would take the next step toward becoming an ace after his strong showing in the 2011 World Series. However shoulder fatigue in June resulted in a midseason DL stint. Consistency remains an issue as well.
He'll take part in the World Baseball Classic, but will remain under team supervision. Greg Maddux, special assistant to the team and brother of Rangers pitching coach Mike Maddux, will serve as the pitching coach for Team USA.
Maddux has taken a special interest in Holland, and the extra time seems to have paid some dividends. If Holland can get the same kind of consistency that Matt Harrison has, he'll be a better pitcher due to better stuff and some serious deception in his delivery.
Then again, if Holland had a horn sticking out of his forehead, he'd be a unicorn.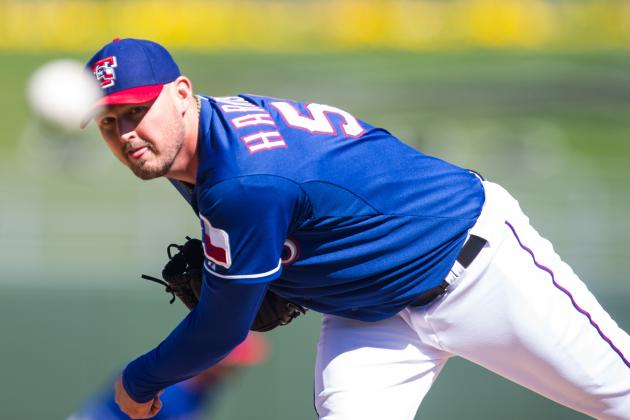 Rob Tringali/Getty Images

Harrison got the long-term deal this offseason in large part because he's the most predictable of the Rangers pitchers. His development has been slow and steady and, more so than Derek Holland, Harrison appears to have a bit of Greg Maddux creeping into his makeup and his mechanics.
Expect Harrison to keep his consistent 92 mph fastball coming from the left side, to take the ball to the tune of 200 innings and to generally build on what he did last season and the season before. He doesn't have an ace's stuff, but he's consistent and predictable, and being a solid No. 2 for a contender is hardly an insult.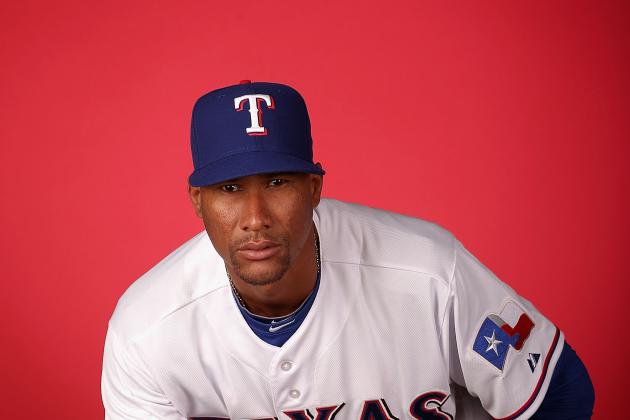 Christian Petersen/Getty Images

Alexi Ogando's role with Texas has fluctuated multiple times throughout his career as he has shuffled between the bullpen and a starting spot in the rotation. He enters the year as a starter despite experiencing biceps discomfort near the conclusion of last season.
The Rangers are counting on Ogando to lock down a position in the bullpen. If nothing else, they need a half-season placeholder, though even their best prospects behind Martin Perez might need more time than that.
His pitch arsenal is not expansive, as he really only throws a fastball and a slider. An increase in innings and an over-reliance on two pitches could leave his shoulder and elbow at risk for injury.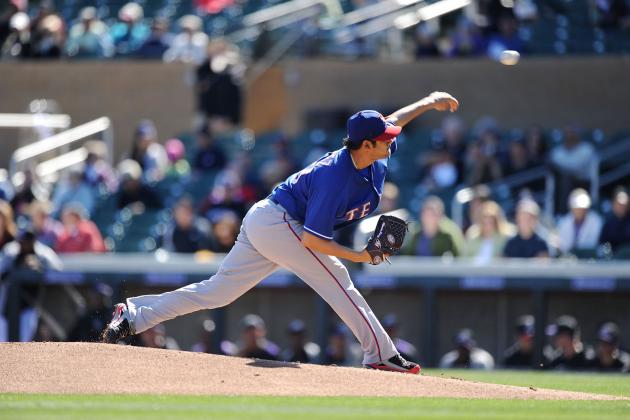 Norm Hall/Getty Images

Martin Perez's biggest concern is that he's likely to get the five slot from the opening of camp until...well, see, that's the worry. Perez didn't put things together again, even at Round Rock (AAA). Control continues to be a problem even though the stuff is still top notch.
For those that keep waiting on Perez to put it all together, I'd ask when he did that in the first place. He hasn't dominated any level since 2009, and expecting him to get better as he moves up in competition and stress level usually doesn't work.
Most projections don't have Perez making it past 100 innings, but if he doesn't, Jon Daniels will have to hope that Colby Lewis and/or Neftali Feliz are back quickly.
If there's a positive, it's that Perez hasn't had any arm injuries. He's still rated as a prospect by most, and his health has given him another bite at the apple of moving from potential to production.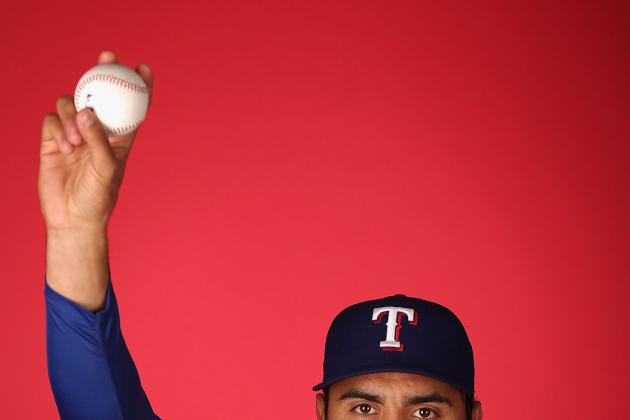 Christian Petersen/Getty Images

This is a bit of a gimme red, with Soria starting the season on the shelf. The two-time All-Star reliever sat out the 2012 season recovering from Tommy John on his right elbow. He is hoping to return by June and bolster the Texas bullpen. That will be more than a year past his surgery, so seeing him back earlier wouldn't be a big surprise.
He'll be out there with Joe Nathan, who did pretty much the same thing and is expected to take over the closer role when Nathan leaves. Nathan also came back from elbow reconstruction. So too has Neftali Feliz, who is about three months behind Soria on the rehab clock, but not as far back as it would seem.
In addition to his elbow woes, Soria has previously battled rotator cuff problems in his throwing shoulder, elevating his level of risk just a tad more. While rehabbing from Tommy John surgery is about as routine as it comes now, there's always a bit of a learning curve.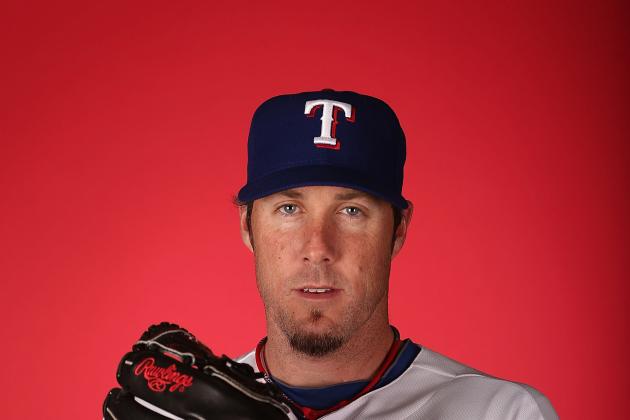 Christian Petersen/Getty Images

Two years removed from Tommy John, Joe Nathan put together a remarkable comeback with the Rangers. He did show signs of fatigue as the season progressed, however, and at age 38, the veteran could be in line for some regression.
Nathan hasn't been dominant in the role, but he has been steady. He's pitched a bit more than most people are used to seeing from a closer, and his savvy has kept him effective through fatigue and poor stretches.
The worry is that, at least in the first half, before Joakim Soria and Neftali Feliz come back, Nathan won't have a lot of late-inning help. Tanner Scheppers and Jason Frasor aren't exactly closers in waiting.