Oakland Athletics Team Health Report: 2013 Injury Risk for Every Starter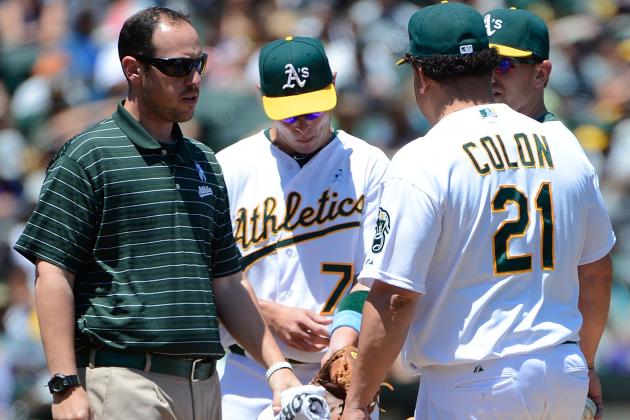 Thearon W. Henderson/Getty Images

Will Carroll has produced an annual Team Health Report for each MLB team for 12 years. The report gives risk ratings for every player in the expected starting lineup and starting rotation, plus two relievers. A proprietary formula sets a baseline according to a player's age and position. It is adjusted by 12 factors, including injury history, team history and expected workload.
This risk rating is classified into three tiers—red (high risk), yellow (medium risk) and green (lower risk). It should be used as a guideline and is about probability, not prediction. To learn more about how the Team Health Reports are devised, click on this article.
2012 Rank: 21th best of 30 teams in DL days and dollars lost
Biggest Injury: Scott Sizemore, $5.5 million lost value
Head Athletic Trainer: Nick Paparesta
The Oakland Athletics made a change in their medical staff, going to young former Rays assistant Nick Paparesta. The changes since then have been positive, with the A's getting results that are somewhat disguised by the lingering effects of an overreliance on young pitchers.
The data shows that just over 50 percent of pitchers will go on the DL in a given three-year period. The numbers aren't good in one-year samples either. Young pitchers break down at an even higher rate, and when those are elbow or shoulder injuries, as the A's have seen far too many of, they can really rack up the days lost quickly and across seasons, as happened with Brett Anderson.
The A's have been forced down this path due to their economic situation, as well as their pathologic need for contrarianism. There was an interesting shift with one trade, bringing in Jarrod Parker for another young and talented pitcher in Trevor Cahill. The pitchers are comparable, and the difference in salary and even team control is negligible.
The real difference is that Parker was coming off Tommy John surgery and Cahill has been healthy. To look at it another way, Parker's already had his and maybe Cahill hasn't. This is the kind of arbitrage advantage that Billy Beane and David Forst are always looking for, and this one might have been influenced by the new medical staff.
The team is never going to be pristine. Health is very costly in terms of acquisition, but it's cheap in terms of medical staff, research and the other "soft costs" that teams tend to skimp on. The biggest budget for a medical staff might approach that of a fifth-round pick's bonus now.
In Europe, some of the top football clubs have a rule: They spend one Euro on sports science for every 100 Euros they spend on payroll. The A's could do that, easily, and bring on the next Moneyball.
Click ahead for the A's. Here are links to all the teams' reports.
Will Carroll is the Lead Writer for Sports Medicine at Bleacher Report. He has written about sports injuries and related topics for 12 years. His column is called "the industry standard" by Hall of Famer Peter Gammons.
Begin Slideshow

»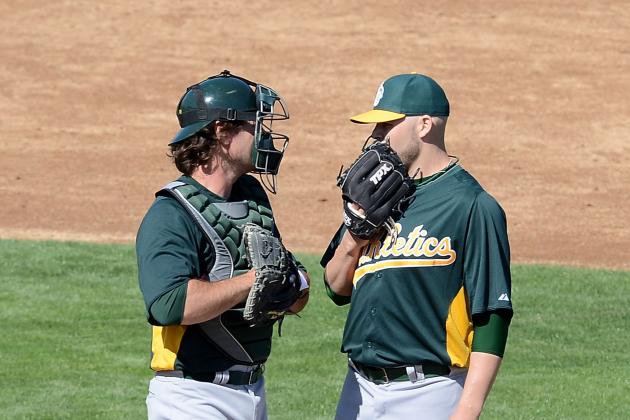 Jennifer Stewart/Getty Images

John Jaso has always been more a hitter than a catcher. That's not a bad thing in an organization that's willing to try things. He doesn't do everything well, but he does the kind of things that people think the A's focus on well enough that most people will be fooled.
He could be overexposed at catcher, as last year he spent more time at DH despite Jesus Montero having a less-than-stellar reputation defensively. Jaso isn't as bad as some people might think, but he's clearly a player who needs his bat to carry his glove.
Too much workload could unbalance things, and Derek Norris' development could honestly help the overall position value, if not Jaso's value in isolation. The A's don't care how they get there, but maximizing a thin position like catcher is a pretty good start.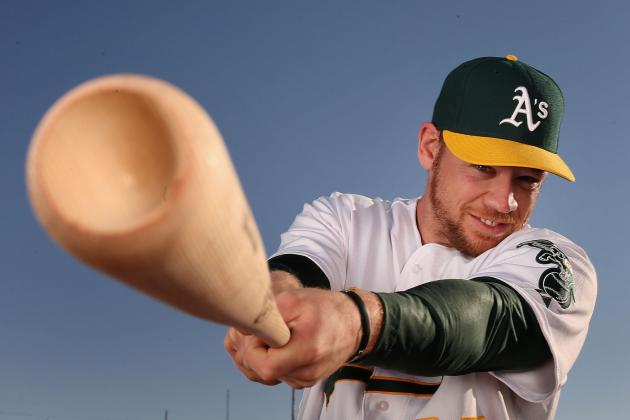 Christian Petersen/Getty Images

There's something happening in Indianapolis. I'm not going to make the town out to be more than it is, which is pretty good, but at Victory Field, there's some good baseball happening. It's easy to see players like Andrew McCutchen and Starling Marte coming through and helping, but there's some less obvious help coming out of town. Jose Bautista was a utility guy who went on to be an All-Star, and Brandon Moss might be the next one.
Moss' 2012 was partially being in the right place at the right time and part taking the chance as it came to him. He was a nice part of their late-season surge that pushed them past the Texas Rangers. Moss is cheap production, even if he doesn't stay on the same level as last year, which is part of the thing about the A's. If something doesn't work, they'll adjust quickly.
Moss is relatively durable if you look over his history, but he's never done it over a full season in the bigs, so the rating is fair.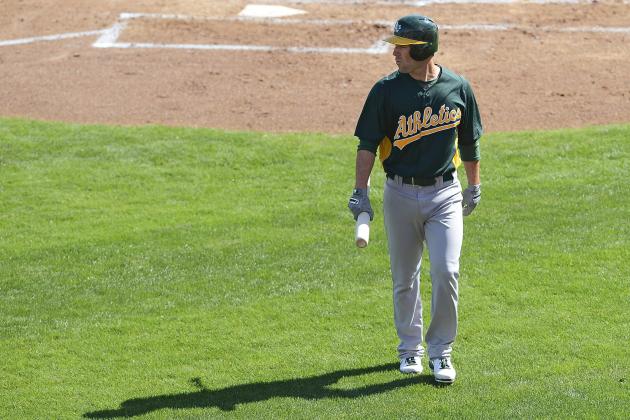 Jennifer Stewart/Getty Images

Scott Sizemore's rating is going to surprise a lot of people. Well, not a lot. Most don't know who Sizemore is, and even those who follow the A's will be surprised not to see Jemile Weeks listed here. Sizemore comes off a year lost to an ACL reconstruction, but the operation works. Sizemore might not be Adrian Peterson, but there's no reason to think he can't get back to the same level with all the time and rehab work.
Sizemore might lose a bit of speed and range, which could put his position in a bit more jeopardy, though Weeks didn't lock down the position in his absence. The solid backup gives Sizemore a bit more rest and will keep him out of some situations that might overtax him. The raw counting stats might suffer, but Sizemore is in as good a situation as he'd find post-surgery.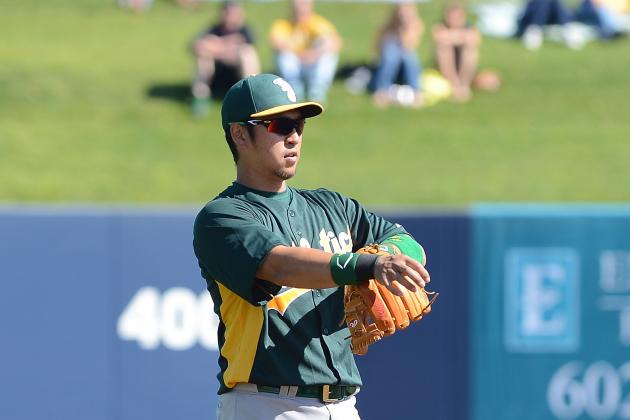 Jennifer Stewart/Getty Images

Comparisons for Japanese players are always a dangerous thing. It's hard enough to translate stats, let alone get a real scouting comp, but Hiroyuki Nakajima is an easy one. He's a plus hitter, a decent enough fielder who makes the big plays and a clubhouse leader. He's the Japanese Derek Jeter.
Assuming that Nakajima can translate normally and stick at shortstop, he's a very good risk—the kind of cheap upside that the A's love to find. There's nothing in his injury history that's very worrying, but Japanese position players have a very bad record of coming over and staying healthy in their first years. Subjectively, Nakajima shouldn't have those issues, but The System is a stickler for details.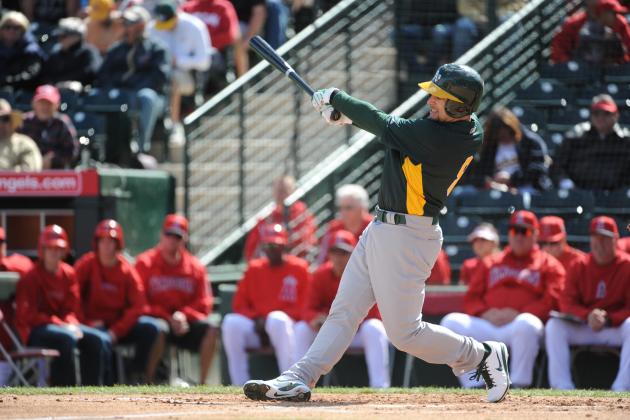 Rich Pilling/Getty Images

Jed Lowrie came into A's camp saying he thought he was an everyday shortstop. There's no evidence to suggest he can stay healthy enough to do that. The A's brought him in to be a utility guy with a chance to win the weak third baseman's job. Maybe he could sneak into the shortstop job if Nakajima fails, but this is the kind of thing that the A's do. They give themselves options.
Lowrie has never been healthy at any point in his career. Whether major or minor, something keeps him from being healthy. He's good in between, and given the right role and backup, he could be very useful for this sort of team. Asking him to carry more than 400 at-bats is setting everyone up for failure.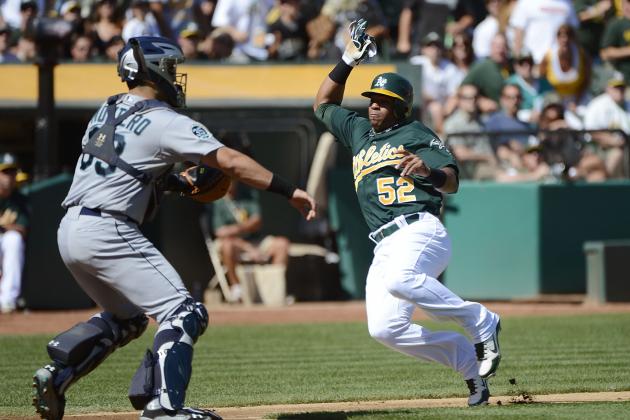 Thearon W. Henderson/Getty Images

Yoenis Cespedes actually lived up to the hype. Maybe not to the ridiculous video and the well-seeded marketing campaign that Cespedes' agents put together before he surprisingly signed with the A's, but he is a legitimate player. The one skill he doesn't have seems to be health, but there's even some upside there.
Cespedes will get a full offseason in the A's program, so instead of jumping cars and roasting pigs, he's focused on functional strength and flexibility. The nagging injuries that sidelined him at times might respond to this and give him even more production, but there's certainly no downside here. The improvement will come in the raw stats rather than any sort of development, and that will require keeping him on the field for more games.
Health may not be able to be learned, but maybe it can be forced.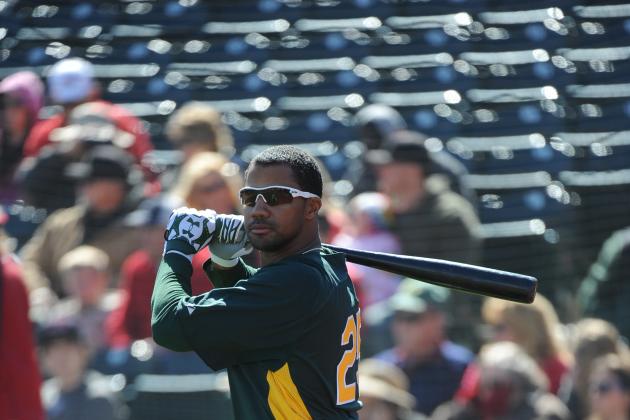 Rich Pilling/Getty Images

Injuries crushed the season of Chris Young, and there were actually signs of improvement or at least living up to his potential prior to that. He crashed off a wall—walls always win that battle—and when he came back had some leg problems, but prior to that, there was enough production to think that he could help this A's team.
On the surface of it, he gets knocked a bit for shifting to a team with a significantly lower ranking, but as I said in the intro, the A's have made big leaps. They're not on par with Ken Crenshaw's Diamondbacks just yet, but this could be a nice test. Maybe Paparesta's crew can squeeze the potential out of Young by keeping him just healthy enough.
If not, Coco Crisp is still around, and the A's wouldn't hesitate to go to Michael Choice if that gave them the best chance.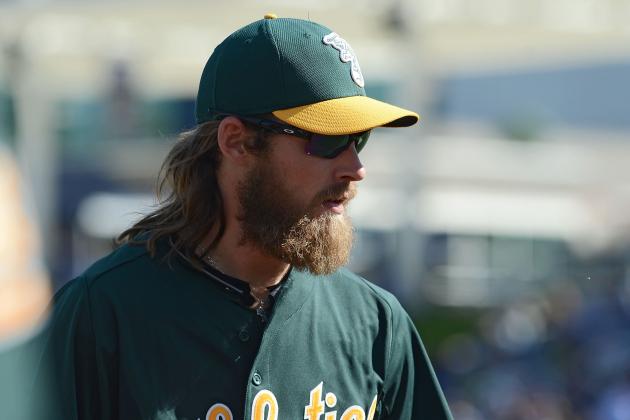 Jennifer Stewart/Getty Images
Jayson Werth? No.
The System still isn't sure that Josh Reddick is ready for a full-time outfield job at this level, but his bat says otherwise. Reddick looks to be a brilliant deal for Beane, flipping an injury-prone reliever for an everyday player who suddenly showed power in his first real chance at a full-time role.
The System loves that he showed no signs of fatigue, actually peaking in the heart of the A's surge to the division title. There's a lot of uncertainty about whether he can sustain this level of performance, but there's no reason to think he can't stay healthy enough to find out.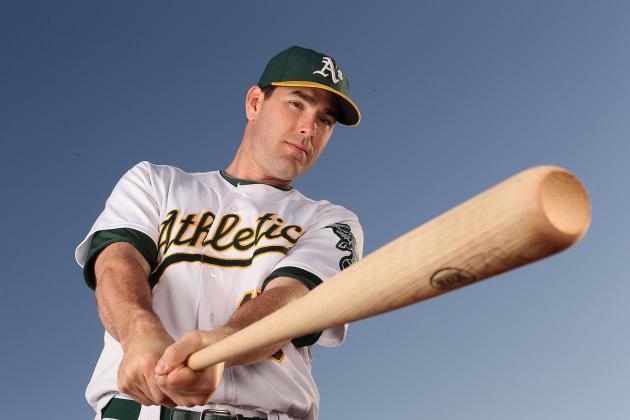 Christian Petersen/Getty Images

Seth Smith is the DH by default, which seems like a malpractice for the position. The A's have always lacked a bit of creativity at the position, but it's hard to fault them for something that the league has largely done in concert. The best argument against the DH being in the NL is not the strategy or the pitcher's hitting inabilities, but the inability of the AL teams in finding good hitters to take the roles.
Smith is a fine fourth outfielder, but his upside is a nice platoon side. He's not the kind of bat-only player or defensive liability that should maximize the slot. Somewhere in the minors, there's a slugger who should never wear a glove or a speedster who takes terrible routes to the ball. Of all teams, the A's should be a bit more creative.
The inability of the game to find ways to get a guy like Mauro Gomez or Kyle Jensen up to the majors makes me wonder. Maybe MLB needs to take a look at the soccer world and consider giving up the Rule 5 for the player loan.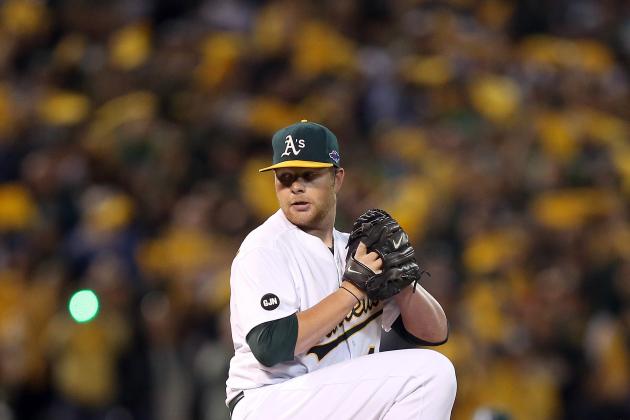 Ezra Shaw/Getty Images

Brett Anderson personifies the current Athletics pitching approach. They collect young talented arms, push them aggressively through the minors and hope that they have enough to get through the season without pushing them too far. That process has worked to a point, but the scar on Anderson's elbow shows the downside.
Anderson came back strong last year, putting up six good starts and helping the A's get the division title down the stretch. It's a good base to work from, even if it was cut short by an oblique strain. Anderson's command will need work, but a full offseason and normal spring should help him get back to his previous level. If so, he'll quickly become the ace that the team lacked last season.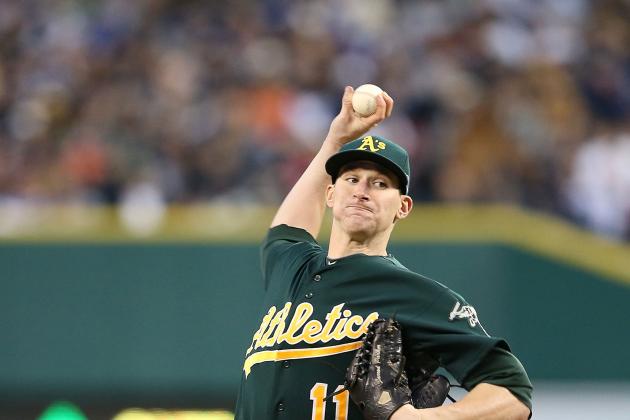 Leon Halip/Getty Images

There was nothing but positives for Jarrod Parker in 2012. After making his debut, Parker improved steadily. He made good adjustments, trusted his stuff and showed he was fully back from his Tommy John surgery in 2010. His season could be a preview of what Brett Anderson can do in 2013.
Parker's command was the biggest indicator of success. Even when he showed signs of fatigue late in the year, there were still big positives as he pitched more than threw and focused on pitch efficiency. He's young, has an injury history, but there's few pitchers with more potential in the game. A slight increase in K rate could make him an elite starter as soon as this season.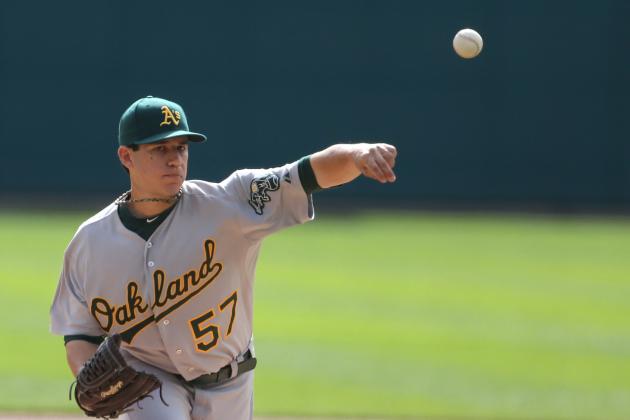 Leon Halip/Getty Images

Tommy Milone is a finesse pitcher who lets hitters beat themselves by hitting his pitch. He can't overpower guys or blow them away when he needs to, which can lead to some big innings and big pitch counts. He's helped by the home park due to his fly-ball tendencies as well.
None of that should change in 2013 and maturity tends to help pitchers like this. He'll be very comfortable at the 190- to 200-inning mark and is the perfect type of pitcher for the back of this rotation. The worry and the risk is that he either tries to do too much or that he's not dominant enough to lock down the position from one of the other, younger, more talented pitchers in the organization. One of the most ready names, A.J. Cole, was traded away, so there's a bit more certainty.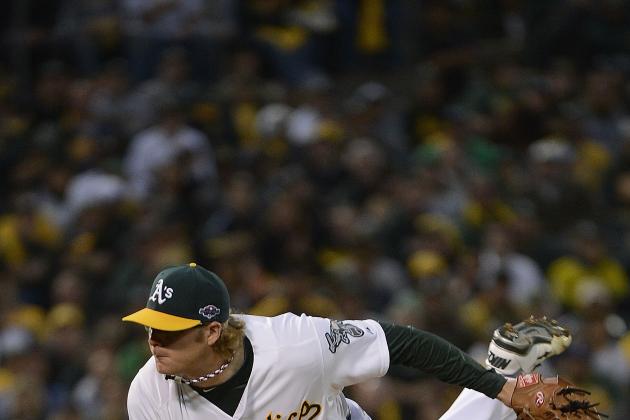 Thearon W. Henderson/Getty Images

A.J. Griffin had a nice season. He did well in the minors, parlayed that into a starting chance when he filled in due to injury and held the position. He was a bit taxed, but showed good stuff into the playoffs.
The big worry with Griffin is that he's a right-hander with a fastball under 90 mph. Try to find a pitcher in recent memory that has succeeded with that kind of stuff. R.A. Dickey aside, there's not much there. Maybe Griffin is the exception to that rule, but there's a reason. Some is on the hitters and some is that guys who live there tend to be max-effort pitchers who have no margin of error.
That's risky without even discussing the chance that Griffin has to battle Dan Straily and others for his rotation slot. Straily doesn't have much more on his fastball, but he pairs that little bit extra with a lot more movement. Part of Griffin's risk is the chance he's in the minors.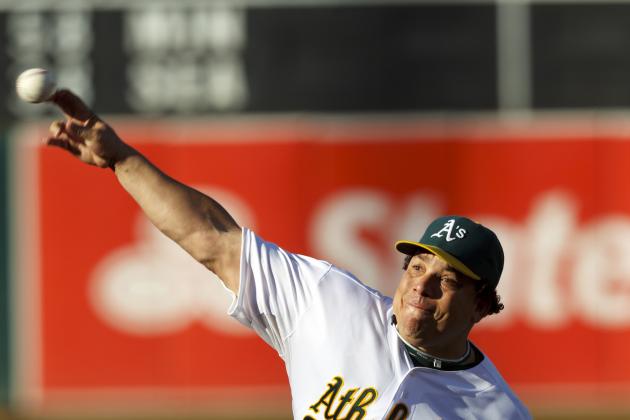 Jason O. Watson/Getty Images

Bartolo Colon will miss one start while he finishes out his drug suspension. How many more starts he gets will depend on whether the testosterone and other substances he was alleged to be taking helped with his recovery. Colon will be on the "accelerated program" of additional tests due to his positive, so we'll know quickly and can assume that he's clean this season.
If Colon can handle things without a chemical assist, he'll have to up the K rate. He hasn't gone more that 165 innings in a season since 2005, but he didn't seem too far off the levels he had set after taking the 2010 season off. Colon's a cheap gamble for a relatively stable asset—back of the rotation stuff that will allow the A's some time to juggle and monitor the younger pitchers.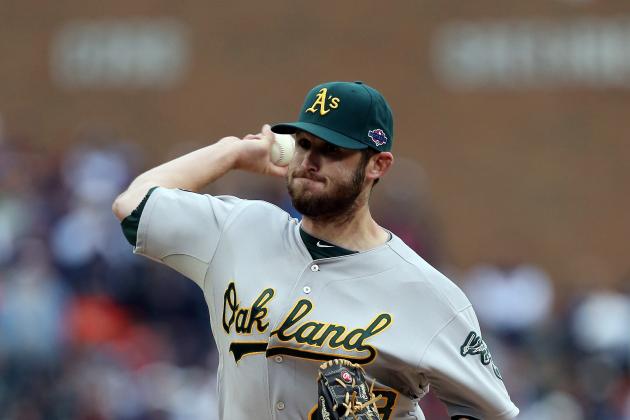 Leon Halip/Getty Images

Ryan Cook exploded on batters in 2012, showing four plus pitches and an unusual delivery. That Tom House style shouldn't have surprised people since Cook comes out of USC. The hard splitter and sweeping slider could be a tough repertoire, but Cook commands it well and has consistent mechanics.
The worry, aside from the pitches, is the workload. Cook didn't seem to lose much as the season went on, but he hasn't established himself as the kind of guy who can do it game after game and season after season. He's a mid-level yellow rating, which seems about right for a hard-throwing rookie reliever under the injury nexus.
Ezra Shaw/Getty Images

These ratings are first run in late December and finalized in mid-February. I try not to adjust them too much and once published, they do not change. I think they need to stand on their own if they can be analyzed and checked the way that projection engines are.
That said, the knee surgery that Grant Balfour had at the start of spring training doesn't change his rating anyway. The scope may not cost him much more than a few weeks, and it's not like Balfour was working up to bigger innings. He's an intense, max-effort guy who can get completely out of whack, mentally and mechanically, so he requires a deft touch by catcher and by pitching coach.
He's been relatively healthy over his career, much of it with Nick Paparesta handling his maintenance. It's worked well for Balfour, and it should again this year, though the A's have a deep enough pen that he might have a shorter leash than most closers.