Baltimore Orioles Team Health Report: 2013 Injury Risk for Every Starter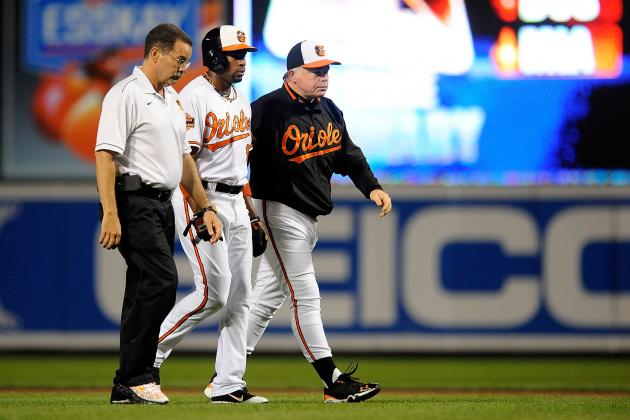 Patrick McDermott/Getty Images
Richie Bancells and Buck Showalter bring a player back to the dugout.
Will Carroll has produced an annual Team Health Report for each MLB team for 12 years. The report gives risk ratings for every player in the expected starting lineup and starting rotation, plus two relievers. A proprietary formula sets a baseline according to a player's age and position. It is adjusted by 12 factors, including injury history, team history and expected workload.
This risk rating is classified into three tiers: red (high risk), yellow (medium risk) and green (lower risk). It should be used as a guideline and is about probability, not prediction. To learn more about how the Team Health Reports are devised, click on this article.
2012 Rank: 23th best of 30 teams in DL days and dollars lost
Biggest Injury: Jason Hammel, $4.7 million lost value
Head Athletic Trainer: Richie Bancells
The Orioles surged to relevance last year—a surprise team much like the Athletics or the late-2000s Rays. Like most unexpected surges, it was a good story, but finding the underlying cause is often difficult. The Orioles had a ridiculous record in one-run games, but while that's nice and easy, we know that it's seldom the whole story.
The A's and Rays had a foundation of success built on team health, but the O's? Not so much. The Orioles have tended to be in this range of the injury stats for the entire time we have good statistics. (I've often wanted to go back and dig into the Earl Weaver era's health, but have yet to have time to do that. Sadly, there's no injury equivalent to Baseball-Reference.)
Over the last decade, the Orioles have burned through a lot of players in search of a Moneyball-esque combination of talent/upside and low cost/control. While others went the route of trying to find an advantage in statistics or scouting, the Orioles just tried to wing it. The results were pretty much as expected.
That's not to say that Richie Bancells and his staff aren't hard-working or even good. That couldn't be farther from the truth. Bancells is one of the deans of the field now, universally regarded as a leader in the field, and is the longtime president of PBATS (Professional Baseball Athletic Trainers Society).
He just hasn't been given much to work with. When he has, though, the Orioles have been pretty good. Give Tom Colicchio or Bobby Flay mediocre ingredients and maybe they can make something good, but they probably can't make something great.
One of the stories of the spring has been the influence of Brady Anderson. The former player is now the VP of baseball operations and has focused on strength and conditioning. The Orioles are reported to have as many as five strength coaches in camp this spring, so we'll have to see what kind of result they get. They're certainly not taking the simple "baseball approach" with a lot of emphasis on heavy lifting.
The Orioles seem to be changing. From top to bottom, there's something of a plan now. But that could be derailed by many things—the capricious nature of ownership, a player revolt or a run of injuries that takes the team back to the bottom of the division.
Bancells and his staff might have the most controllable of those tasks, and it's key to the long-term success of the Orioles that they get better results with that.
Click forward for the Orioles. Here are links to all the teams' reports.
Will Carroll is the Lead Writer for Sports Medicine at Bleacher Report. He has written about sports injuries and related topics for 12 years. His column is called "the industry standard" by Hall of Famer Peter Gammons.
Begin Slideshow

»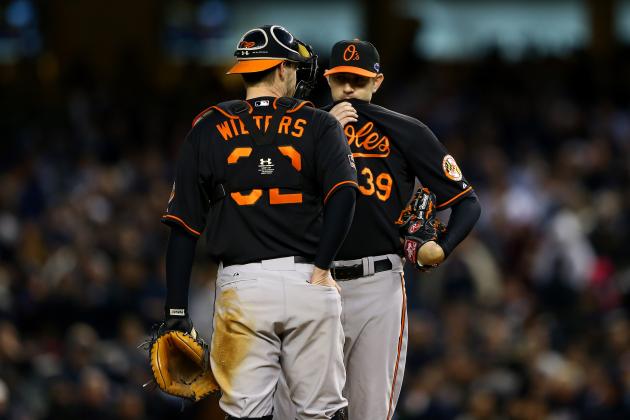 Al Bello/Getty Images

Matt Wieters might not have been the next great player or lived up to the Chuck Norris-style jokes about his talent, but he did quietly turn into a very good catcher. He's not likely to do much more than he's done, the 1.000 OPS days left far behind in Bowie (AA).
But he doesn't have to. He's a good hitting, great fielding catcher with durability in the peak of his career. A .260/25/100 season isn't MVP caliber, but then again, a couple of Crash Davis' duck snorts and seeing-eye grounders could make him a .300 hitter, which would be Buster Posey.
A player with talent and durability gets chances those with just talent don't have. Wieters is worth seeing what those chances get him.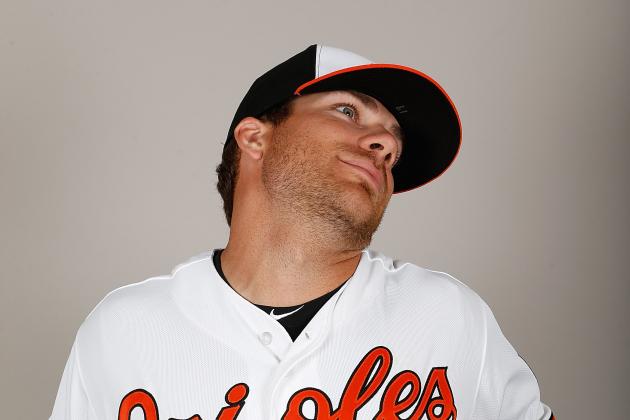 J. Meric/Getty Images

Chris Davis isn't Dave Kingman, but he is subject to both long balls and long slumps. It's those slumps that make it tough to call him an elite power hitter, but he's not bad either. His season had a strange shape last year, but ending up at .270 with 33 homers means that everything evened out and then some.
Like Wieters, Davis stays healthy enough to get the peaks to go along with the valleys. He's still young, showed a pretty good glove in the outfield that gives him a bit more versatility for Buck Showalter and he could even find a bit more power and consistency as he grows more comfortable in his role.
Plus, how can you not root for a guy who does that on picture day.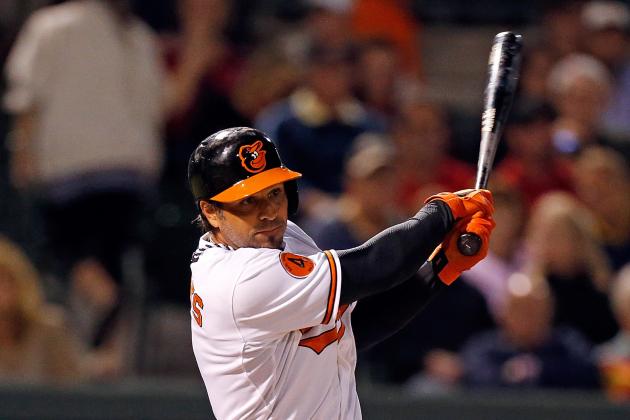 J. Meric/Getty Images

Everything that Matt Wieters and Chris Davis are is everything that Brian Roberts are not. He's not young anymore. He's not healthy and hasn't been in a long time. It's not even clear he can still play baseball at this level, as he's been recovering from concussions and other various injuries since 2009.
One of the hardest things to do in baseball is to see a player in the now. Roberts was good—really good—not long ago. It's not wrong to give him a chance to get healthy and show what he can do, but it is wrong to count on him to do that and return to level.
In 2013, we're not likely to see that 2009 Roberts. His red rating is less about risk and more about reality. There's just no real chance he stays healthy this season.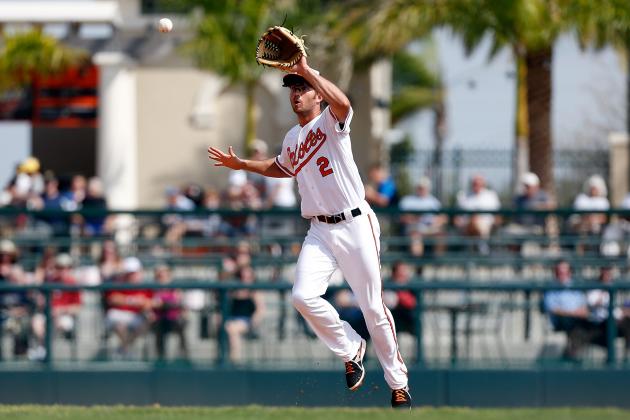 J. Meric/Getty Images

J.J. Hardy's career statistics are stark. When healthy, he's very good. He's got good range and hands, as well as a plus power bat at a position where that's become less and less a part of the tool set in the last decade. When he's not healthy, well, that's happened about half the time in his career and held his perceived value down.
Hardy was intended as more than a placeholder for Manny Machado, but not much more. That Machado forced his way up and forced the team's hand isn't on Hardy at all. Keeping Hardy healthy is a big feather in the cap of Bancells and the medical staff. If they can do it again, the team has a leg up on staying in contention again.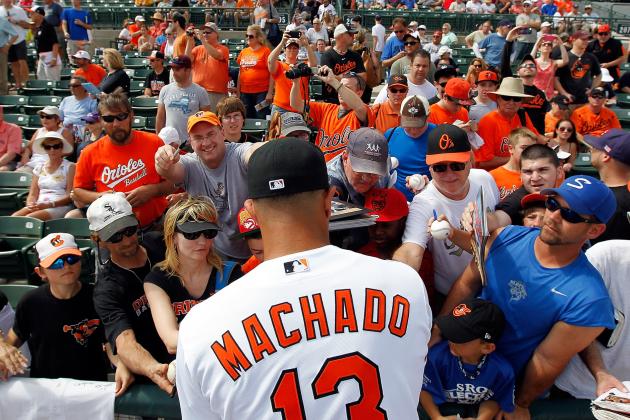 J. Meric/Getty Images

Manny Machado was hidden a bit last year by the debuts of Mike Trout and Bryce Harper. But at 20 and holding his own at a new position, Machado has every bit the star potential of those players.
It's also those things that give him a yellow risk rating. He's young, he's at a new position and he hasn't done it over a full season.
There are some worrisome signs from the offseason, where Machado dealt with meningitis and a stomach disorder, but those don't factor into The System's rankings. It just reminds us that Machado is human and subject to the same kind of vagaries of life as the rest of us, right down to acid reflux.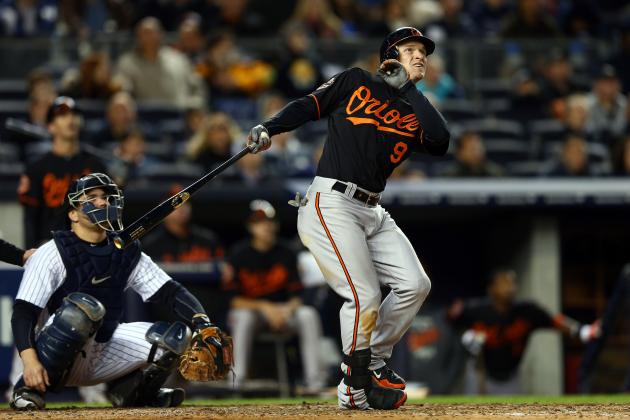 Elsa/Getty Images

Nate McLouth is the personification of everything that is right and wrong with the Orioles. Picked up for nothing, McLouth turned back into the pesky, high-effort player that was seen early on in Pittsburgh. His overall numbers aren't great, but the timing of them helped turn him into a fan favorite.
McLouth is the kind of cheap player that the Orioles have grabbed over and over. Sure, one of them might turn into a McLouth or a Miguel Gonzalez, but anyone who said that this waiver claim would become a full-time starter is lying.
McLouth is healthy enough to handle the outfield role, but Nolan Reimold probably isn't. In a perfect world, they'd split left field while leaving McLouth to work as the fourth outfielder. Reimold's neck probably won't allow him to go much beyond halftime this season.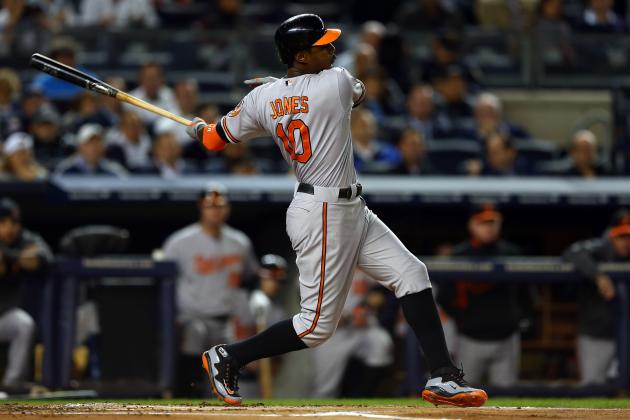 Elsa/Getty Images

A prospect maven once said that Adam Jones was better than Willie Mays. Even in his best season, which is very likely the one we just saw, Jones isn't in Mays' league. That's not to say that he isn't good, though. He is, and he's durable too, which makes him even more valuable to the Orioles.
Jones played in all 162 games last season, which gave him the boost in counting stats and opportunities to make the superficial numbers all go up. He could do it again for the next couple years at a very reasonable cost. He's the kind of player that any team could build around, and the Orioles are smart for doing so.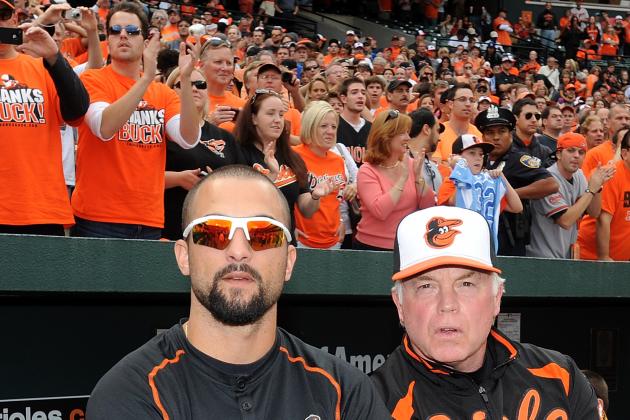 Greg Fiume/Getty Images

Does one bad season with a couple traumatic injuries change that Nick Markakis has been very durable over the course of his career? No, but it could be the start of a trend. The System likes the comeback chances for a player like this, knowing that the broken thumb doesn't normally get re-broken in the "lightning doesn't strike twice" kind of way.
At age 29, Markakis is very likely to get back on the path of being a durable and above-average outfielder who can play 160 games and push a .300 average. There's a lot to be said for that even if it doesn't make him a star.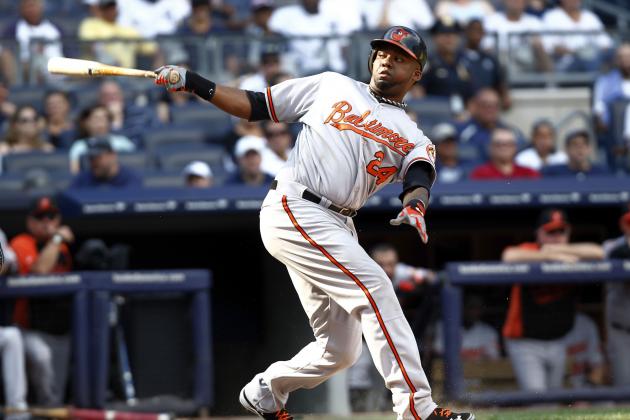 Jeff Zelevansky/Getty Images

Wilson Betemit lost the last two months of the season to a wrist injury, but that's not enough to push him into the yellow tier. As a platoon guy, Betemit won't play enough to run into huge problems, and Manny Machado's emergence will keep him off the field and locked into DH.
Betemit doesn't seem the DH type, but while he's not the poor-running, no-glove slugger who most envision, it's precisely what that role is supposed to be. Betemit wouldn't be playing if not for that slot.
There's questions about who will be the other half of the DH platoon, but as long as there is one, Betemit should be both healthy and functional in the slot. He could be overexposed on both counts if he's pushed too much against lefties or back in the field due to other injuries.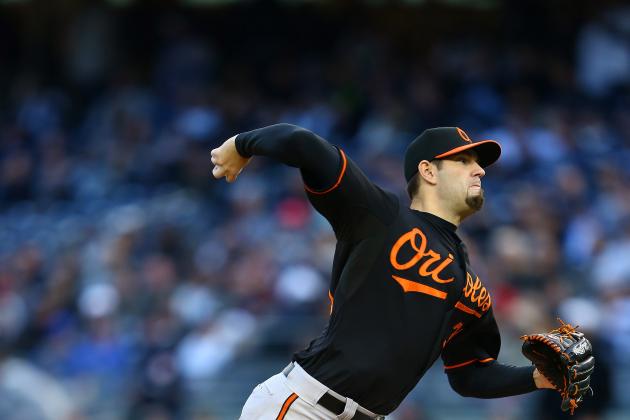 Al Bello/Getty Images

Spoiler Alert: Dylan Bundy is not listed in the next five starters.
That's the real problem here.
Jason Hammel is a nice enough pitcher, but there's no one in baseball that will tell you he's a better pitcher, right now, than Dylan Bundy. Prorating Hammel's numbers out to 160 innings gives him decent numbers, but even that isn't significantly better than what Bundy could do on a very low innings limit.
Bundy's likely to start in Bowie (AA), which isn't Hammel's fault. It's all on the Orioles and a lack of creativity.
Hammel was good enough, using his slider to raise his K rate, but he broke down in September. He didn't have offseason knee surgery as expected, which is a positive in that he didn't have surgery but a negative in that it could recur quickly. If it does, or if Hammel slides back to his normal K rates for whatever reason, the O's rotation gets really young, really quick, which can be dangerous for injury rates.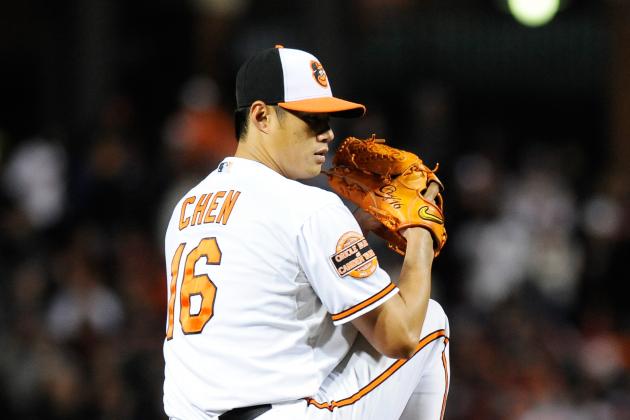 Patrick McDermott/Getty Images

Wei-Yin Chen was brought in as a secondary pitcher, but an injury to Tsuyoshi Wada pushed him into the rotation. He held the spot well and was a good league-average pitcher, keeping the team in games and showing solid durability and adjustments throughout the season.
He shouldn't be taxed by the workload, but the home run rate at the end of the season does indicate some fatigue and Chen's risk isn't low. This is probably a bit overstated as a mid-level yellow, but given that even that makes him the least risky O's starter has to be major cause for concern.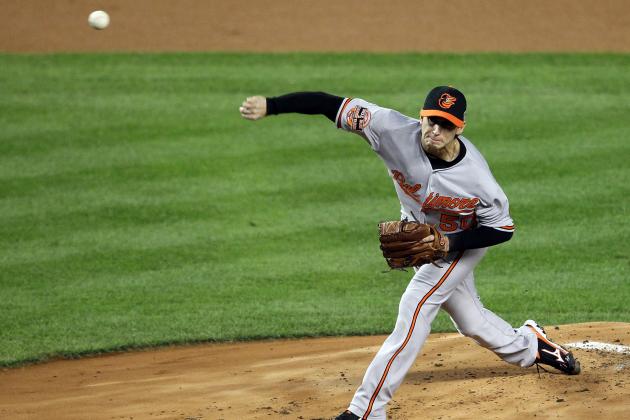 Alex Trautwig/Getty Images

Four of the Orioles' five projected starters are red-level risks. Miguel Gonzalez has the highest risk rating of all of them, but he's also got the highest ceiling. Gonzalez came back from Tommy John surgery with all of his velocity, and quick adjustments from director of pitching development Rick Peterson gave him a lot more control than he's ever shown.
Gonzalez did show some fatigue and will have to prove that he can consolidate the gains he made last season while holding up over the course of a full season. That's tough, especially for someone with a significant injury history and no real track record.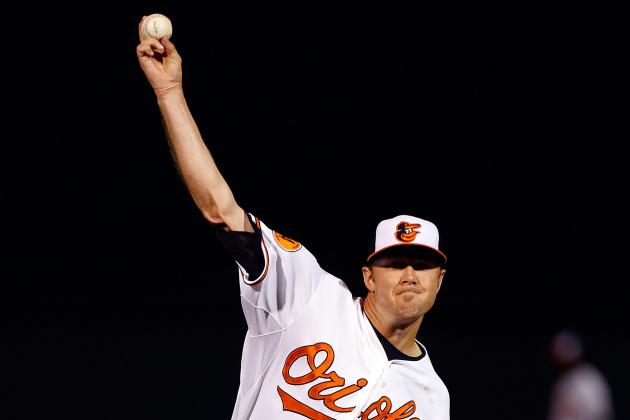 J. Meric/Getty Images

Chris Tillman was once thought to be one of the young guns of the Orioles. Along with Brian Matusz, Jake Arrieta and Zach Britton, the Orioles were going to be set for the better part of a decade.
Knowing how pitchers develop, getting half of them to succeed at the major league level was more likely. But instead, none of them developed and only Tillman has a lock on a rotation spot.
Relying on young pitchers is difficult. Relying on a crop of young pitchers is folly. The Orioles are not alone. The Pirates did the same with Zach Duke, Paul Maholm and Tom Gorzelanny, but again, the vagaries of pitching development gave about the same result.
Tillman is still young enough to be the Paul Maholm of this group, but he'll have to do it now or do it somewhere else. The big health concern is that he's always shown signs of fatigue shortly after crossing the 100-inning mark, so expecting a full season out of him is folly.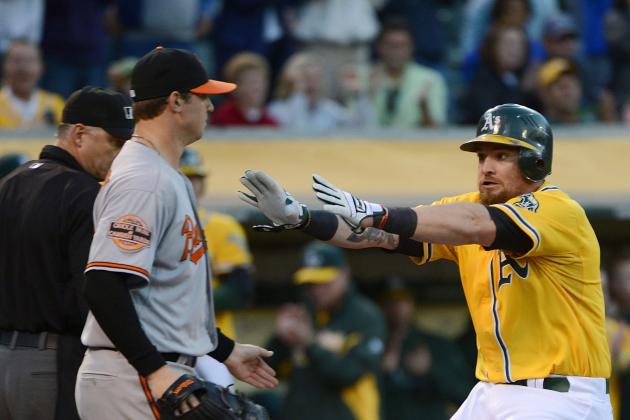 Thearon W. Henderson/Getty Images

The O's have about six candidates for this slot, including Tommy Hunter and Jair Jurrjens, if his knees are healthy. Zach Britton is a lefty with good stuff but a bad shoulder. If he could stay healthy, he's the best fit for this rotation, though he's never been able to stay healthy.
So, if he can't lock the five slot down and the team isn't set up (or inclined) to go to a four-man rotation, is there another way?
Of course.
Let's call this a four-plus-man rotation. The top four pitch normally and then the five slot goes to whichever swingman was freshest and offered the best matchups.
Britton, Hunter, Brian Matusz and Jake Arrieta could all factor in there, as could Dylan Bundy. Bundy's pitch counts could be closely monitored out of the 'pen while allowing him the chance to start. For that kind of arrangement, the Orioles could do it tomorrow without any adjustments other than to the front-end construction of their bullpen.
Go ahead. Tell me why it wouldn't work.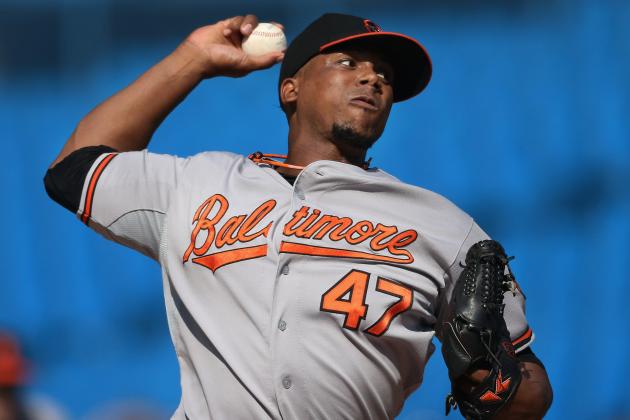 Tom Szczerbowski/Getty Images

Another former Ranger, Pedro Strop is a hard fastball/slider reliever who looks to have the stuff to close, if not the control. There's no secondary pitch and not much subtlety to what he does. He throws the ball and challenges the hitter to do something with it.
He did show signs of wear in the second half, even while holding his velocity. That could mean internal adjustments and muscular recruitments that have longer-term consequences.
Strop deserves more of a watch than this green signifies, I think, but he's still very predictable up to the point where something breaks.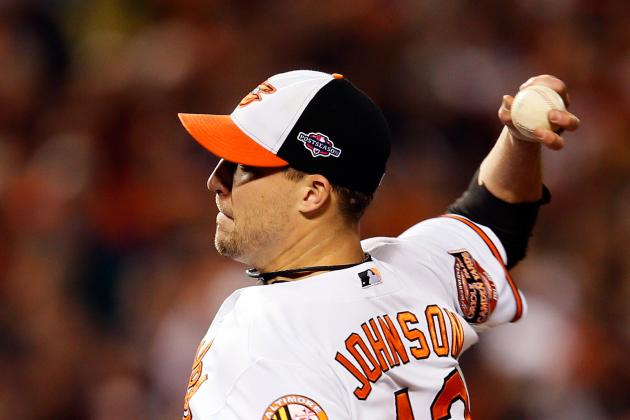 Rob Carr/Getty Images

Jim Johnson is an interesting test case. He lost much of 2010 to an elbow injury, then came back to show an improved command and better peripherals in 2011. That got him the closer role in 2012. His 51 saves last season were the product of the incredible run of luck that the Orioles had in 2012 and can't be counted on, but if you believe that teams and players make their own luck, maybe Johnson made his.
He doesn't throw especially hard, but hitters hate facing his hard stuff that hits all four corners and breaks late. He keeps the ball down in most situations and forces a lot of grounders, which also reduces the number of homers he gives up. His K rate is surprising given the stuff, but he's effective which is what counts. The elbow has held up pretty well, which is a credit to the medical staff and to Johnson for keeping it that way.