Los Angeles Dodgers Team Health Report: 2013 Injury Risk for Every Starter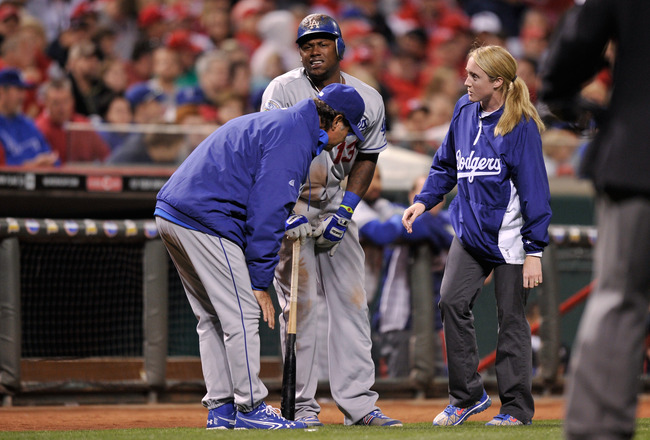 Don Mattingly and Nancy Patterson Check Their Player
Jamie Sabau/Getty Images
Will Carroll has produced an annual Team Health Report for each MLB team for 12 years. The report gives risk ratings for every player in the expected starting lineup and starting rotation, plus two relievers. A proprietary formula sets a baseline according to a player's age and position. It is adjusted by 12 factors, including injury history, team history and expected workload.
This risk rating is classified into three tiers—red (high risk), yellow (medium risk) and green (lower risk). It should be used as a guideline and is about probability, not prediction. To learn more about how the Team Health Reports are devised, click on this article.
2012 Rank: 27th-best of 30 teams in DL days and dollars lost
Biggest Injury: Matt Kemp, $6.1 million lost value
Head Athletic Trainer: Sue Falsone
The Dodgers have done a lot of spending over the last year, taking the Guggenheim billions and changing everything. Bringing in Gerry Hunsicker to act as consigliere, the same role he took in the rise of the Rays, gives Dodgers fans even more hope.
But the money they spent on research started under Frank McCourt. Sue Falsone took over the training room in order to let Stan Conte do more of the research and big-picture research that could give the Dodgers the medical advantage they had in the days of Frank Jobe.
The downside is that long-term research doesn't have short-term results. The Dodgers have taken on a lot of risk while Ned Colletti has been in charge, chasing big names more than healthy players.
One of the things that I've tried to do over the years, but have yet to find an accurate method for, is to measure the accepted risk and compare that to actual results. It's one thing to say that a team finished 27th in days and dollars lost, as the Dodgers did, but it would be far better to say that the team finished 200 days below expected days lost.
The Dodgers have been, over the past five years, a team that should have been in the bottom of these rankings. In 2010, every Dodger starter was a red risk, and they finished the season having to use 10 different starters. They ended up at nearly .500, so it wasn't a big detriment to the team on the field, which sounds like a win for the medical staff.
This Dodgers team doesn't have nearly the risk of past teams. Simply put, the Dodgers bought some health. They are far from risk free, but even players like Carl Crawford and Mark Ellis are known risks. The team has smartly backed them up well, so even another injury won't derail the team.
Measuring risk is difficult and often inaccurate in its effect. While I work to improve that, the Dodgers are one of few teams spending money on the research that may make that kind of statistical analysis a moot point.
Click ahead for the Dodgers. Here are links to all the teams' reports.
Will Carroll is the Lead Writer for Sports Medicine at Bleacher Report. He has written about sports injuries and related topics for 12 years. His column is called "the industry standard" by Hall of Famer Peter Gammons.
C A.J. Ellis (RED)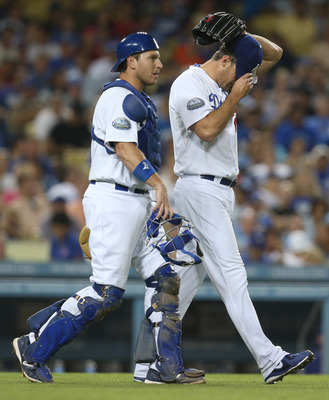 Stephen Dunn/Getty Images
A.J. Ellis is risky, mostly because The System doesn't believe he can handle the workload and doesn't see anyone behind him to take on that load. With all the money the Dodgers are spending, it's ended up a "stars and scrubs" kind of mix at a couple positions.
That can work, but a breakdown at one of those positions gets interesting. On the one hand, it's relatively easy to replace an Ellis-type, a near-replacement-level catcher. On the other, Ellis is the best the team has available and a trade gets tougher when your opponents have you over a barrel.
Offseason knee surgery isn't uncommon for an older catcher like Ellis, but seeing him drop off in both power numbers and playing time is likely this season. If you don't mind a reach, Tim Federowicz could end up a better player by the end of the season, but only if he's not overtaxed by the workload.
1B Adrian Gonzalez (GREEN)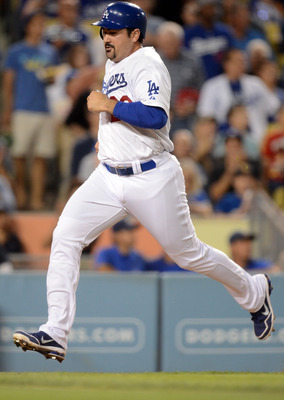 Harry How/Getty Images
Adrian Gonzalez never took advantage of Fenway Park the way that many thought he would. Instead, he was a victim of unreasonable expectations and the full-on meltdown of the 2012 Sox season. All that aside, he was productive both before and after the deal.
Park effects don't affect health much, so Gonzalez should continue to be a steady influence in the middle of any lineup. There were some rumblings about his lower back in Boston, so watch for that or the often telling sore hamstrings.
2B Mark Ellis (RED)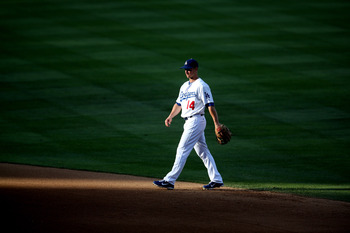 Stephen Dunn/Getty Images
Mark Ellis is a nice scrap-heap find, but he's 35 and has only two seasons with over 130 games played. Injuries have derailed his career from the time it started, but the Dodgers have plenty of decent backups if Don Mattingly can figure out how to properly use them.
Losing playing time could actually end up a positive for Ellis, who could have better stats over 100 healthy games than he might over 120 or 130. The problem with that is that Ellis has always seemed to have traumatic injuries that cost him. Coming back from what appeared to be a devastating knee injury last season was a nice story, but it's been a story too often told about Ellis.
As a starting 2B, he's a very high-risk player, and as a platoon with Skip Schumaker or Nick Punto (or both), he's just another older player struggling to stay in the middle infield.
SS Hanley Ramirez (YELLOW)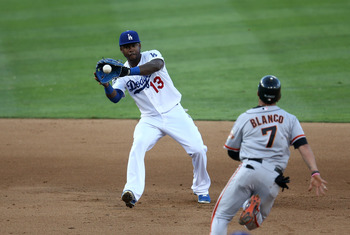 Stephen Dunn/Getty Images
The System doesn't know that Hanley Ramirez had more problems with his shoulder during Winter Ball. If it did, Ramirez would be up into the red. His chronic problems with the shoulders were supposed to have been corrected by surgery, so a recurrence now is a major concern.
Sticking at SS, as he appears to be now with the Dodgers, raises his risk slightly, but not so much that the Dodgers would be better served with him at 3B from a health standpoint. Dee Gordon hasn't forced the Dodgers to make that decision yet, though Luis Cruz is not going to turn into Jose Bautista either.
Ramirez is probably past his peak, but if he can just stay healthy...well, we've been saying that for years. The talent is still there, but it's too risky to think he'll be the perennial elite player we thought he was just a couple years back.
3B Luis Cruz (GREEN)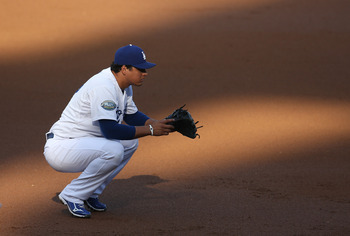 Stephen Dunn/Getty Images
Luiz Cruz kind of profiles like Jose Bautista—an aging ex-Pirate farmhand who bloomed late. Unfortunately for the Dodgers, Cruz's blooming wasn't power but BABIP, which tends to be unsustainable.
Cruz's injury history is pretty unremarkable, but The System does worry a bit about the fact that he's never done it over the course of a major league season. There's definitely some fatigue risk here, though the Dodgers should have plenty of options for backing him up, if not replacing him.
LF Carl Crawford (RED)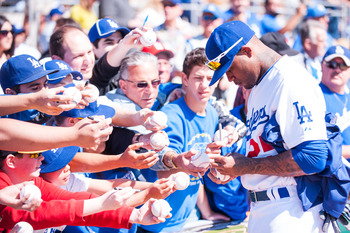 Rob Tringali/Getty Images
Carl Crawford's time in Boston was defined by a contract and injuries that made it impossible for him to live up to that contract. We'll have to see if he gets the chance in Los Angeles.
Crawford is coming off Tommy John surgery, which takes less time for a position player, even an outfielder, to return from than a pitcher. Crawford should be at or near full go when spring training opens.
Third base coaches will test his arm early and often, but there's an easy adjustment for this that we've seen all the way back to Luis Gonzalez and Albert Pujols. The SS comes further out for the cut and Hanley Ramirez has enough arm to handle this.
The bigger issue is whether or not Crawford's pop is gone. Between the elbow and the lingering wrist injuries of the two previous seasons, there could be some issues. There's just not evidence to say one way or the other, and an unknown is a huge risk. We should get more info on that early in the spring.
The positive side is that Crawford's legs have been fine and should be rested. He's fast, but he's never been a huge base stealer. It would be a very odd career pattern if he shifted his game that way, but it's possible if he needs to find things he can still do.
CF Matt Kemp (YELLOW)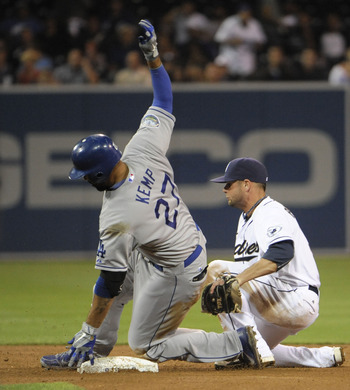 Denis Poroy/Getty Images
Matt Kemp is coming off a season that, by his standards, was down. He followed up an MVP-caliber campaign with one that was beset by injuries. He had offseason shoulder surgery on his non-throwing shoulder, but it was the hamstring strain that impacted him most.
The Dodgers worked hard to keep him on the field and productive, but the hamstring injury took away significant speed and range, and it appeared to affect his swing mechanics. He's had plenty of time to heal up, but there's a significant chance that he'll lose some speed over this and perhaps see this go chronic.
If Kemp is healthy and back to his normal level, he'll be one of the best players in the game. The risk that you see here is that he's not going to be the 40/40 superstar again.
RF Andre Ethier (GREEN)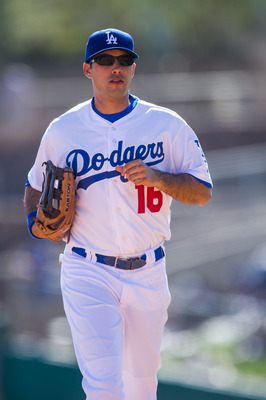 Rob Tringali/Getty Images
Aside from minor traumatic injuries, Andre Ethier has been healthy over his career. There's some warning signs, but none that The System seems overly concerned about. The biggest issue is his complete collapse against lefties, but there's no injury that suddenly saps the ability to hit southpaws.
The Dodgers put big money into Ethier (and, well, everything, it seems), so they think he'll decline slowly. It's a reasonable gamble given his health and relative consistency.
SP Clayton Kershaw (YELLOW)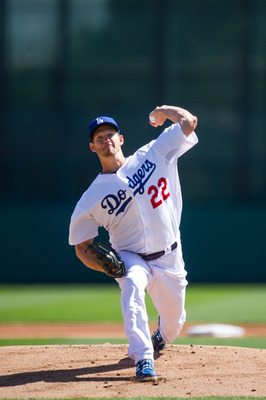 Rob Tringali/Getty Images
Clayton Kershaw is as talented as they come, but there's some significant risks here. How he and the Dodgers medical staff respond to them might decide whether Guggenheim has bought itself a champion and whether Kershaw becomes the first $200 million pitcher.
Kershaw might have won the Cy Young Award last season were it not for a hip problem that plagued him over the last month. There was discussion about surgery on his landing leg, but the team and Kershaw elected to go with a strengthening program. Early reports are good, but any sort of hip impingement could cause subtle changes in his mechanics, which could put pressure on that golden arm. The Dodgers will be watching this closely.
Kershaw also has a pretty high innings total for someone still under age-25. He's never been mishandled or abused, but high innings totals below the injury nexus are still a cause for concern. Any young pitcher is risky. Remember that just over half of all starting pitchers will hit the DL in any three-year period. With Kershaw, the risk does not outweigh the reward—or even come close.
SP Zack Greinke (GREEN)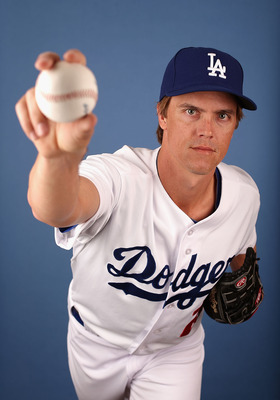 Christian Petersen/Getty Images
Zack Greinke has no significant injury history. If you can keep him off the basketball court, he's as much of a sure thing as any ace-level pitcher. His easy delivery and ability to command his pitches helps, but there seems to be something more.
There are possibly apocryphal tales about Greinke calling out his catcher, saying a number and then hitting it on the radar gun. There are confirmed reports from scouts and others that show just how much Greinke can vary his pitches, a kind of proprioception that is rare and speaks to a special control of his mechanics.
Greinke should be healthy this season and profiles as the best SP2 in the National League.
SP Josh Beckett (YELLOW)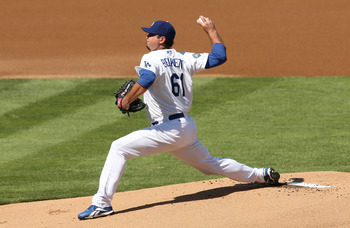 Stephen Dunn/Getty Images
One of the biggest changes in this year's ratings is the inclusion of pitch velocity data. The PitchFX system that MLB graciously released into the wild gives us insight into what pitchers are actually doing, bringing us one step closer to actual fatigue data.
Bill Petti has done good work on this, showing that velocity drops tend to portend injuries. Josh Beckett was down over 1.5 mph, and given his varied injury history, it's certainly not a good sign. Beckett does adjust well, though, as he did to a mild back strain.
Beckett's blister problems kept him from taking on a big workload as a youngster, but we'll have to see just how much that puts on the back end of his career. Beckett's health and effectiveness could well be the pivot point for the Dodgers' rotation. If he's healthy and good, this team could be unbeatable.
SP Hyun-Jin Ryu (RED)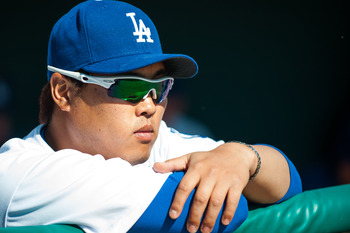 Rob Tringali/Getty Images
The Dodgers' new Korean star is a complete unknown. Hyun-Jin Ryu's injury history from Korea is unknown, and there's no comparable Korean pitcher to work from. Using Japanese players seems reasonable, but it's not done at a high confidence level. All we know for sure is his workload and his international successes.
The red rating is nothing more than uncertainty. There is no risk like the unknown, a reminder that pitching is inherently unpredictable. I have a very low degree of confidence in this individual rating, but no one I have spoken with has better methodology or information that would lead to a better one.
SP Chad Billingsley (RED)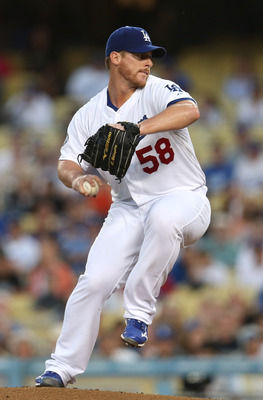 Stephen Dunn/Getty Images
The System has long gone against Chad Billingsley, to the point that I was often called biased against the pitcher. The risk in Billingsley has been borne out time and again, last year most notably.
Billingsley suffered a low-grade tear of his UCL, the ligament replaced in Tommy John surgery. The ligament was right on the edge of needing replacement, so the Dodgers tried platelet-rich plasma therapy in hopes of avoiding the surgery. They've had success with this procedure in the past, and this one seems to be going well.
While the elbow seems healthy now, it's still very risky. It's unclear if this was an insidious injury that will reemerge with workload or if this was a one-time trauma. (It's usually the former.) Add that risk on top of all the other concerns about Billingsley, and he's a clear red rating.
RP Kenley Jansen (YELLOW)
Scott Cunningham/Getty Images
It's pretty amazing that a guy who had heart issues the last two season is even playing, let alone a yellow risk. Kenley Jansen had a cardiac ablation in the offseason, which has a very good record of curing the problem. He's shown no issues this offseason and is on track to come back to his set-up role.
He has closer stuff, but his control issues aren't unusual for a converted catcher. Worse, there's a high record of arm problems for these type of players. The theory is that their arms haven't had time to make adjustments to the forces, often leading to injury.
Jansen's rating is significantly lower than most would expect, but The System admittedly doesn't deal with many heart issues. It's essentially ignoring the problem based on the surgery and all the risk is in his arm.
CL Brandon League (YELLOW)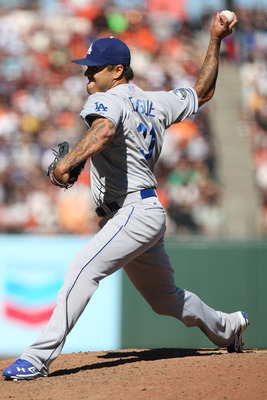 Tony Medina/Getty Images
If you've got a couple billion dollars handy, you can give out $22 million dollar contracts to the likes of Brandon League and not worry too much.
League has been solid the last couple years after a shoulder injury nearly derailed him early.
That shoulder injury came in Toronto, a place where they haven't been able to keep pitchers healthy in a long time. Read that THR for more on that, but it's almost at a point where a pitcher leaving Toronto gains an automatic level-up for the change. League definitely has risk, but a low yellow seems very fair.
Keep Reading