Pittsburgh Pirates Team Health Report: 2013 Injury Risk for Every Starter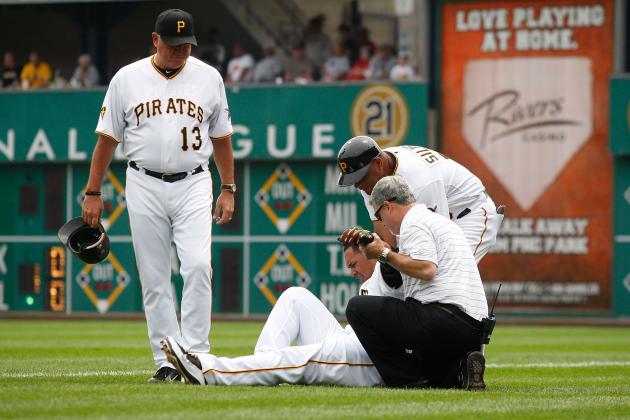 Jared Wickerham/Getty Images
Clint Hurdle looks on as Ben Potenziano does his job.
Will Carroll has produced an annual Team Health Report for each MLB team for 12 years. The report gives risk ratings for every player in the expected starting lineup and starting rotation, plus two relievers. A proprietary formula sets a baseline according to a player's age and position. It is adjusted by 12 factors, including injury history, team history and expected workload.
This risk rating is classified into three tiers—red (high risk), yellow (medium risk) and green (lower risk). It should be used as a guideline and is about probability, not prediction. To learn more about how the Team Health Reports are devised, click on this article.
2012 Rank: 5th of 30 teams in DL days and dollars lost
Biggest Injury: Charlie Morton, $5.4 million lost value
Head Athletic Trainer: Todd Tomczyk
The Pittsburgh Pirates took a lot of flack over their "Navy SEAL training program." You know, like the one that the Philadelphia Eagles are adopting, actually hiring a strength coach who worked with the SEALs at Little Creek. Fitness as boot camp and fitness as a sport, such as the phenomenally successful Crossfit franchise, is widespread.
Baseball moves at a glacial pace, and while I can't agree with all the things that the Pirates tried to do with their "SEAL program," it's a far cry from the Junction Boys or even the kind of things Rick Pitino regularly does in practice at Louisville. In fact, over 100 teams plus several U,S, Olympic teams use similar drills to what the Pirates did. None took the same kind of flak from their media.
Just the idea that a baseball team would try something new is difficult. This is a sport that resisted weightlifting into the mid-80s and that still doesn't have a strength and conditioning coach at every level. A crusade like the one that's been undertaken against this program is nearly Luddite, which is the problem with most of baseball.
The Pirates' run of losing seasons is nearly old enough to drink, so I'm down for anything short of genetic manipulation if it means the Pirates might have a chance at .500 or, god forbid, a playoff run. Instead, new thinking gets the high hat, whether it's an algorithm or an all-out workout by moonlight.
Indeed, this is the problem. The Pirates didn't win after trying something new. Baseball is a win-now sport, and there's less patience in Pittsburgh than anywhere. Win, and scribes will trip over themselves to find a storyline or to find a chemistry tale that explains it all. Baseball needs less chemistry crap and a lot more good old-fashioned research, but without wins, it's ignored. Moneyball is derided by many as nothing but a good movie because the A's don't have a ring.
Nothing's going to work until something does. There won't be stories about what happened in 2010 or 2001 even though they could well have as much to do with winning as something that happened just now and fits onto the front page nicely.
If the Pirates are to win, the tipping point may have already happened, but we won't see it and will likely forget it. No one noticed that the Pirates were in the top 10 when it came to injury stats either, because once again, it didn't translate to wins.
Yet.
Click ahead for the Pirates. Here are links to all the teams' reports.
Will Carroll is the Lead Writer for Sports Medicine at Bleacher Report. He has written about sports injuries and related topics for 12 years. His column is called "the industry standard" by Hall of Famer Peter Gammons.
Begin Slideshow

»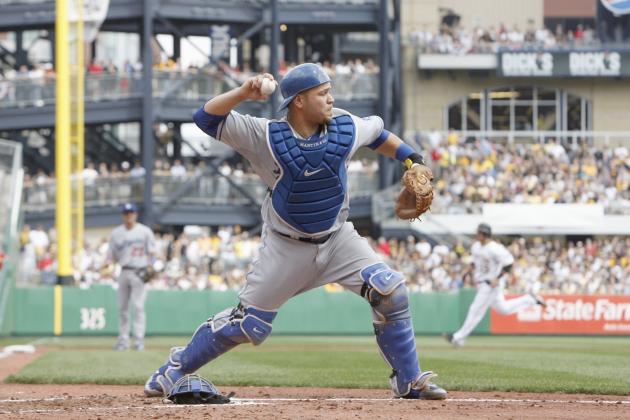 Gregory Shamus/Getty Images

Russell Martin was a bit of a headscratcher when signed by the Pirates. His traumatic hip issue, his struggles handling pitching while in Los Angeles and the inability to occasionally DH all seemed to work against Martin.
Or at least that's what most thought.
The problem is, none of those are true. Martin's hip injury was an odd one, a hip labrum tear that was caused by a traumatic event rather than the normal insidious wear-down. He came back and had no issues. He did DH some when making his return, but that was the New York Yankees being cautious—something that, in retrospect, they might not have needed to do.
As for the handling, well, I won't get into the debate about catcher ERA or the value of framing. I'll just say that you should never take the story given to you for granted, especially when it comes to catchers.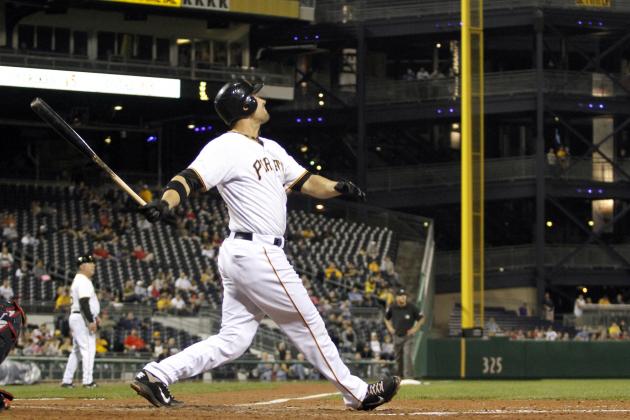 Justin K. Aller/Getty Images

A couple of years ago, I was down in Bradenton, Fla. I was early, watching the workouts at a time where the press isn't usually there. It was the players, the ushers and me. One of the ushers, an old-timer, watched Garrett Jones launching bombs into the palm trees and said, "Big guy isn't he?" I nodded. "He reminds me of Dave Parker," he said.
We had a good conversation, but the Parker comparison stuck with me. I looked them up on Baseball Reference when I got home and darned if they aren't almost the same size.
Jones isn't Dave Parker, who was almost Hall of Fame caliber. He's good, a bit more versatile and athletic than you'd get from looking at him, but isn't the kind of player who is going to win championships either. He shifts to first base this year, which isn't enough to move him past green.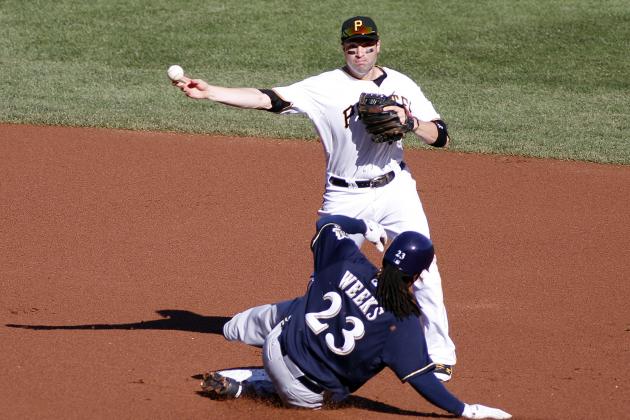 Justin K. Aller/Getty Images

Neil Walker was stuck in Indianapolis so long, he joked about running for mayor. Now, he could do that in Pittsburgh. The hometown boy has made good, but can he get healthy enough to help the team get over the .500 hump?
Walker avoided surgery this offseason, but the herniated disk is hanging over him like the sword of Damocles. The slightest twist or bad step could set off a bad series of events. There's not a great backup beyond the hope that Jordy Mercer or Chase d'Arnaud can do what Walker did—make the best of an opportunity.
Walker is a very solid red risk, someone who should be watched every second of spring training. Any loss of power or issues he has with trunk mobility in the field should tell you to stay away from him. Some players do "get religion" with a mild back injury—Vlad Guerrero comes to mind—and stay productive. The Pirates' season might hinge on how Walker does with this in the longer term.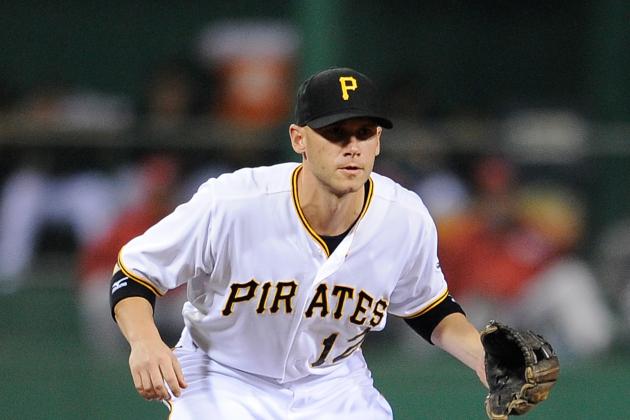 Joe Sargent/Getty Images

Dan Fox is the "smart guy" in the Pirates front office. (There are lots of smart guys, but Dan is well-known as a top stathead.) I've often almost asked Dan what the heck his team sees in Clint Barmes, but at least he stays healthy.
At 33, The System is a bit worried about his age and position, as well as whether he can hold on to a starting job. Barmes' drop-off on offense could lead to Mercer or d'Arnaud getting a chance, but honestly, they're not much of an upgrade if at all. The Pirates will have to hope that Barmes gets a bit better or at least a bit streakier while staying as healthy again this year.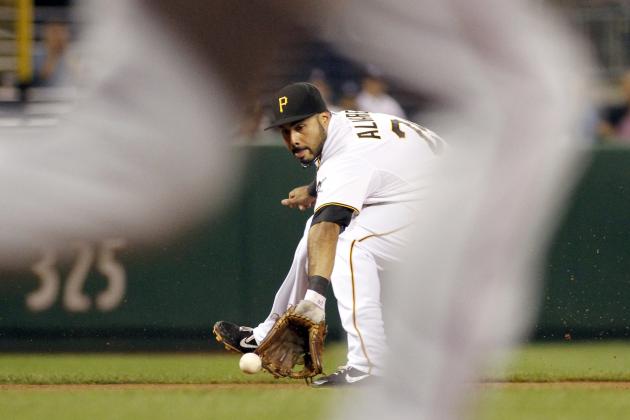 Justin K. Aller/Getty Images
This might be the coolest picture I've seen all THR season.
Pedro Alvarez has never become the hitter the Pirates expected. He's good, if oddly streaky, and with the weirdest set of splits you've ever seen. He's not going to be a superstar, but he doesn't have to be on this team. He can be the power behind Andrew McCutchen, and with just one good season, the disappointments would tumble just in time to cash in on his potential.
Alvarez has often faced questions about his conditioning, but overall his health has been good. The yellow is a product of his very strange lines in 2010 and 2011, while his 2012 is much more reasonable an expectation for next season. Alvarez does have some risk, to be sure, but little of it is about his health.
If Alvarez has a healthy season, it wouldn't surprise me at all to see him put up one of those Alex Gordon-2011 kind of "out of nowhere" lines.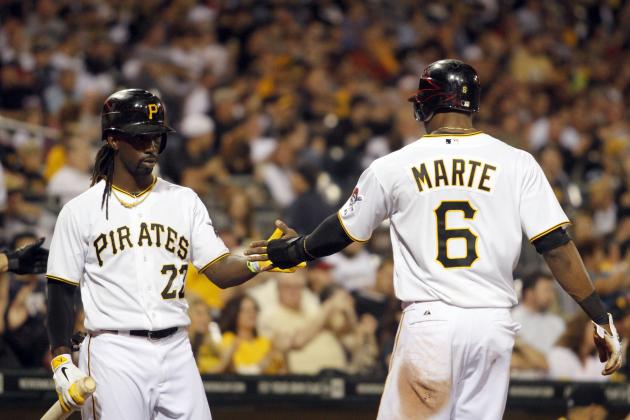 Justin K. Aller/Getty Images
Peanut Butter, meet Jelly
Starling Marte is a high green, almost entirely on the fact that he hasn't proven himself at the major league level and because he does profile as something of a speed player. He's hardly one dimensional, with some power and a better eye than most expect. His dominance of the Dominican League could be a harbinger, after hitting .521 there.
The downside here is that he plays in the odd outfield at PNC, where left field is as expansive as center field. He also plays really hard despite his talent and has a tendency to have small injuries. He put up good numbers in limited time in Pittsburgh, but he also had a strained oblique there.
Marte could be a star—the guy to pair with Andrew McCutchen for the next decade. He could also be the latest flameout in a long run of prospects that never stuck for Pittsburgh. I'd bet far more on the former having seen him in Indianapolis, and in my fantasy drafts, you'll often see me put my money where my Marte is.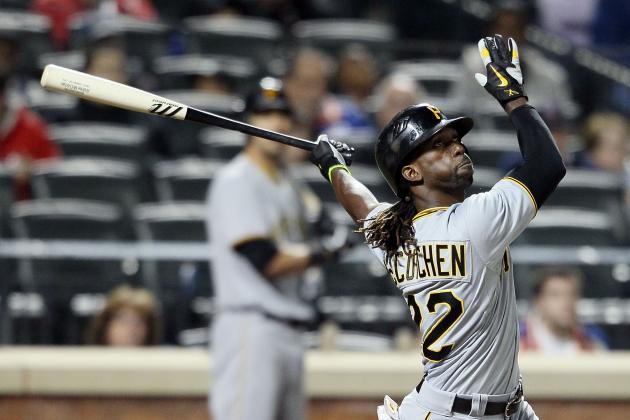 Alex Trautwig/Getty Images

McCutchen put up his claim for "best center fielder in the game" again last season. Matt Kemp might have a bit more power and more willingness to show his speed on the bases, but McCutchen has health on his side. He's played near-max games at every level he's played in every season in the pros.
At 26, there's still room for him to grow his power a bit, and he could even improve the stellar .327 average he put up last season. There's not really much McCutchen can't do out there, except single-handedly win games. He deserves more help, and if he ever gets hit, he'll put up a decent claim for "best player in baseball."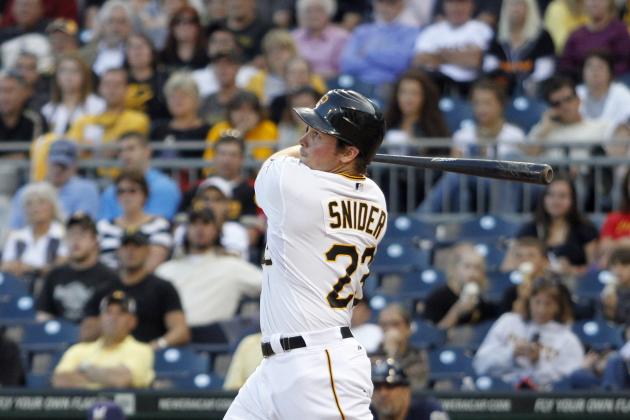 Justin K. Aller/Getty Images

Travis Snider came to Pittsburgh in something of an odd trade. It was a change-of-scenery deal, swapping Snider for Brad Lincoln, who actually introduced himself as "the guy drafted ahead of Tim Lincecum." Seriously. Snider is an all-bat player who fit perfectly in the cramped right field at PNC.
Snider didn't show that the change helped him, and he didn't add power to a lineup that desperately needed it. There's some suggestion that a lingering hamstring strain limited that power, but his...well, let's call it unique body type often lends itself to lingering issues.
Snider is still young enough to have his bat show up and help the Pirates, but he's got to stay healthy. A full offseason and spring with the Pirates medical staff could be a real catalyst.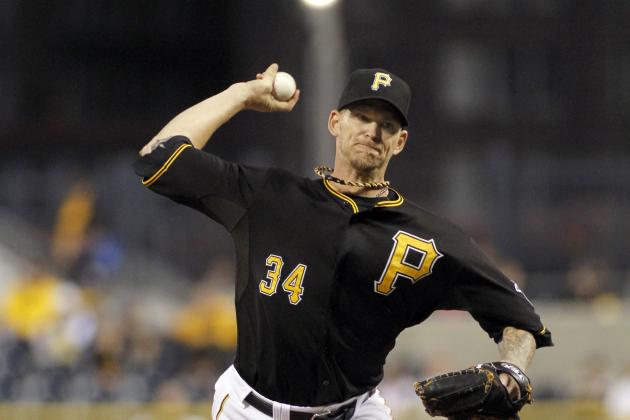 Justin K. Aller/Getty Images

A.J. Burnett has been defined more by what he's not than what he is. He's never really been an ace. He's never really been a guy who wants to be an ace. He's not a guy who wants to do much more than pitch, and when he's right, he's really good at it.
He takes some heat because he does worry about his arm, the result of early abuse with the Marlins, and because that experience still seems to have taken some of the love of the game so many want to see from their team's players.
Outside of New York, Burnett is better. There are lots of pitchers like that, and aside from the freak incident in the spring where he was injured by a bouncing bunt, Burnett was healthy.
Some will point out that he's pitching for a contract again and seems to do well in those years, but if so, the Pirates will take it. Don't expect a big step forward, but the green often means consistency. That's seldom been said about Burnett, but at this stage in his career, it's true.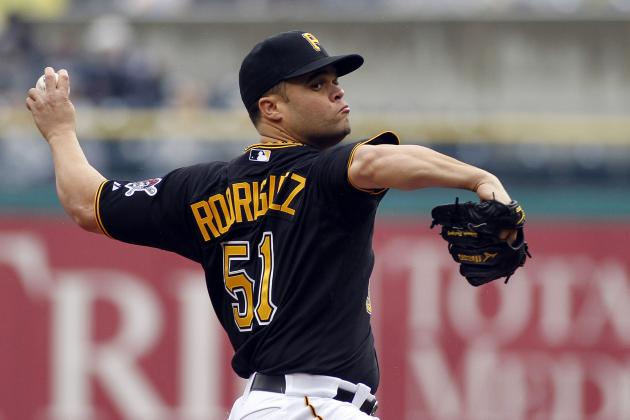 Justin K. Aller/Getty Images

Wandy Rodriguez isn't going to wow anyone with his numbers, but as a consistent and stable starter, he was a nice upgrade for a low price. The downside is that it took him a couple games to settle in despite staying in the division, which matched up well with the Pirates' downturn. He pitched in a World Series early in his career, so it shouldn't be that he can't take pressure.
Rodriguez gets a chance to establish himself again, though if all goes right for the Buccos, he'll be a No. 3 or No. 4 starter by the end of the season and not a No. 2. That's no knock on Rodriguez, but shows the hope that James McDonald and Gerrit Cole come on as expected. If they do and Rodriguez once again puts up his normal levels, it's a huge plus for the Pirates.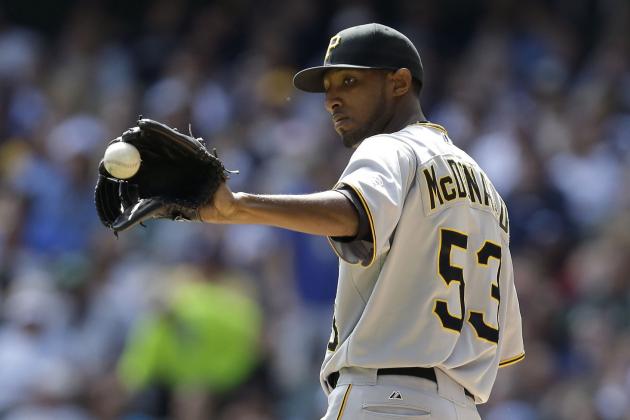 Mike McGinnis/Getty Images

The All-Star break is an arbitrary end point, but McDonald seemed to forget how to pitch about that time. His filthy slider got clean, and his clock, that got cleaned too, by hitters of all types and pedigrees. He wasn't hurt, he didn't lose velocity...he just lost it—plain and simple.
If he can find it again, even for just the first half, he can be a solid player. The downside risk there is that he runs into that same wall, is nothing more than a backend placeholder and Gerrit Cole steps in for him midseason. If McDonald stays broken and can't hold his rotation spot, then the depth issues get a bit more problematic for Clint Hurdle.
Despite the red, I'm a bit more positive than The System is for McDonald. It focuses more on him going bad in the second half, while I note that he never stopped pitching. He just stopped pitching well. Injured pitchers don't do that.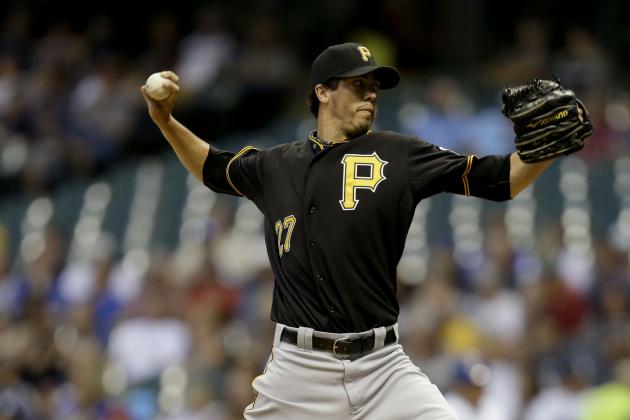 Mike McGinnis/Getty Images

It's a bit of a surprise that Jeff Karstens is back with the Bucs, but he's kind of the devil they know. He had all sorts of health issues last season, focused on his shoulder at the start and his hip at the end. In between, he was average at best.
It's hard to see any sort of improvement, in health or performance, for 2013, and that's exactly what The System sees. Inertia works and over and over, players prove that past performance does predict future results.
Karstens is a placeholder at best and an indictment of their pitching development at worst. There's a bit of a "donut hole" that will begin to fill as Cole, Jameson Taillon and Luis Heredia get closer to PNC. Expect Karstens to be gone by the time the second one of those arrives in town.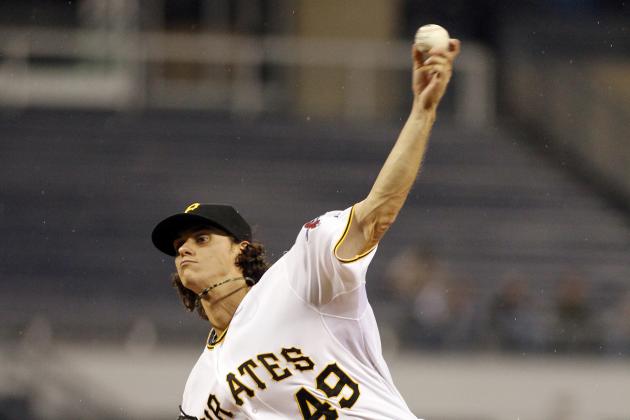 Justin K. Aller/Getty Images

Jeff Locke is one of those pitchers that might not get many shots. He's a good pitcher that is often the victim of one bad inning. He's got good velocity, but he lacks pitchability. He can miss bats, but he can't put batters away. Even being lefty hasn't helped him as much as most.
The expectation is that Locke is a placeholder, though for who remains to be seen. Francisco Liriano is a lottery ticket coming back from a freakish broken arm. Cole isn't far away, but it remains to be seen if he can be an effective starter despite his velocity.
Locke's yellow is based mostly on his major league inefficiencies, but there is some upside here. At worst, he becomes a swingman or even a LOOGY. I think this yellow overstates the injury risk and is showing a bit more of the uncertainty of his rotation slot.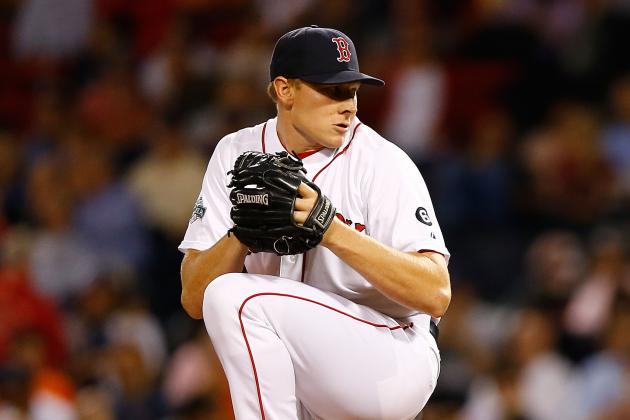 Jared Wickerham/Getty Images

Mark Melancon melted down in Boston, giving up his closer shot quickly and cleanly. A quick trip to Pawtucket righted his mechanics, but he never reclaimed the role. The Sox sent him away, and there's the hope that getting away from that freak show will help. I don't see how it can hurt, though the Pirates media can be pretty nasty itself.
Melancon was never injured, just bad. He'll hope that the health stays and all the problems go in 2013. If so, he could see some save opportunities in an unsettled pen.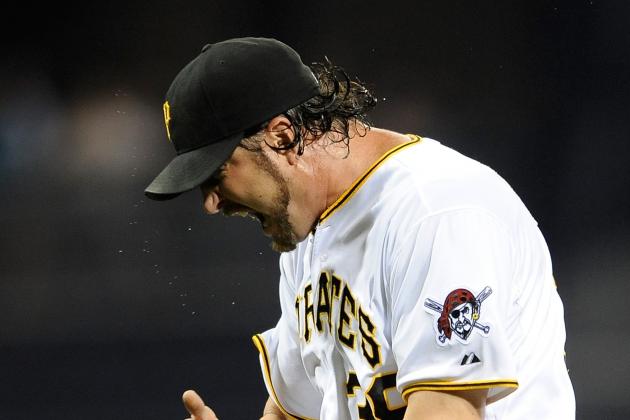 Joe Sargent/Getty Images

I spoke to Clint Hurdle a couple weeks back, and while he didn't come right out and say it, I think he's being a bit sabermetric about his closer. Jason Grilli isn't a bad pitcher and this late-career renaissance makes for a nice story. He was doing marketing and SEO work just a couple years ago and is a sneaky-good Twitter follow.
He's not the prototypical closer, and Hurdle knows it. Grilli can handle the ninth inning and the "closer role," which opens up Mark Melancon and perhaps Bryan Morris for those key situations in the seventh and eighth. Bill James once advocated this kind of bullpen usage, even if it's not "aesthetically pleasing." Hurdle, backed by the smart guys in the Pirates front office, could make it work.
This yellow is mostly based on Grilli's inconsistent career and age. I'm not terribly worried. and there's plenty of options if he does happen to come up injured.