New York Mets Team Health Report: 2013 Injury Risk for Every Starter
Ray Ramirez checks an injured player on field
Jim McIsaac/Getty Images
Will Carroll has produced an annual Team Health Report for each MLB team for 12 years. The report gives risk ratings for every player in the expected starting lineup and starting rotation, plus two relievers. A proprietary formula sets a baseline according to a player's age and position. It is adjusted by 12 factors, including injury history, team history and expected workload.
This risk rating is classified into three tiers—red (high risk), yellow (medium risk) and green (lower risk). It should be used as a guideline for your favorite team or fantasy baseball draft and is about probability, not prediction. To learn more about how the Team Health Reports are devised, click on this article.
2012 Rank: 17th best of 30 teams in DL days and dollars lost
Biggest Injury of 2012: Dillon Gee, $4 million lost value
Head Athletic Trainer: Ray Ramirez
The Mets had one of the worst seasons, if not the worst, in the history of baseball just five years ago. They didn't just come in last; they were the Cleveland Spiders of injury stats. The surprising thing is that while lots around the team changed, the medical staff didn't. Ray Ramirez was there before and after that season, which suggests that the people making the decisions and the new people that made another set of decisions all agreed that that one season was a fluke.
Ramirez and his staff couldn't stop something that happened, but since then, they've shown that the biggest part to blame was the talent on the field. The Mets suffered a combination of the kind of injuries that happen once a decade—like what happened with David Wright with a fluke back injury—and the kind of problems that can happen in an unlucky year.
The stats were never that bad before or since. They've been in line with expectations, based on some experimental tools I'm working with. Injury stats themselves are interesting; days and dollars lost are real, while injury cost and risk ratings give a look into the more functional effect on a team. The next step would be to be able to measure the difference between a team's expected risk and what the actual loss was.
We're not there yet, but at that point we'll know just how bad that one horrible season was and how much better they were the next five years.
This slideshow gives an injury-risk rating for each member of the Mets' lineup and rotation, plus two relievers. As explained above, each player is classified as red (high risk), yellow (medium risk) or green (low risk).
Click ahead for the Mets. Here are links to all the teams' reports.
Will Carroll is the lead writer for sports medicine at Bleacher Report. He has written about sports injuries and related topics for 12 years.
C John Buck (GREEN)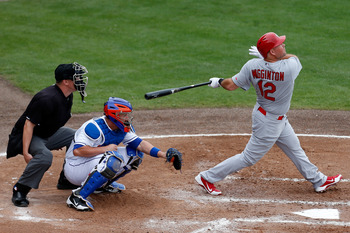 Chris Trotman/Getty Images
John Buck's a solid enough catcher. He was flipped from Florida to Toronto and then to New York to caddy for Travis d'Arnaud. If all goes to plan, Buck will be a good enough catcher and d'Arnaud will get a couple of months in Vegas (AAA). Rough life. I recommend Craftsteak in the MGM.
By May, Buck goes back to being a backup and shouldn't be overtaxed by the starting role. Then again, if d'Arnaud's not ready, Buck is going to be vastly overexposed.
1B Ike Davis (RED)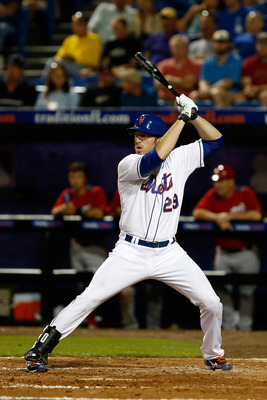 Chris Trotman/Getty Images
Ike Davis had a very weird season. The Team Health Report System thinks his Valley Fever explains the first half, while most around baseball think the change in batting stance explains the second half. I'd side more with the latter, which makes the red rating a bit overstated and gives Davis a chance to be the power-hitting 1B they thought they were getting.
There's still a lot of risk here, both from health and performance sides, but there's enough upside that Davis could end up having another inconsistent season. Watch to see if he can avoid the small injuries that have too often turned into something bigger.
2B Daniel Murphy (GREEN)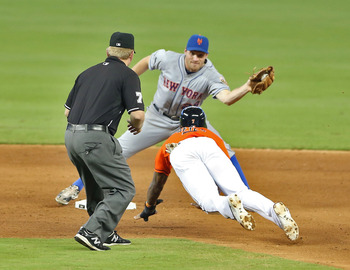 Marc Serota/Getty Images
Daniel Murphy was good enough to keep his job on a bad team. That's probably the case for this year as well. He's also healthy, which is important for this kind of player on this kind of team. On a good team, he'd be platooned with someone or even pushed into a utility role.
There's no one on the roster or even on the horizon that will push Murphy from this role, so take the health, the decent production and accept it for what it is. His improving defense is also an interesting case that's been noted around the league. Several teams, most notably the Cardinals, have experimented with pushing players up the defensive spectrum without serious injury issues. We could see more of it around the league.
SS Ruben Tejada (YELLOW)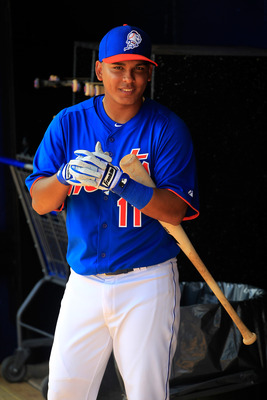 Chris Trotman/Getty Images
Ruben Tejada was hoped to be just adequate as a replacement for Jose Reyes. Instead, he was pretty good and pretty healthy. The big worry is the quad strain that happened midseason. He hadn't run before that despite what projects as good speed. There's not likely any upside there.
Tejada's not a star, but like much of this roster, he's good enough to hold the position until the Mets find someone better. There's not really a prospect on the horizon, so expect Tejada to hold that role for at least another year. He could use a better backup as The System thinks that he'll have these kind of nagging injuries at anything over 350 at-bats.
3B David Wright (GREEN)
Chris Trotman/Getty Images
David Wright is the kind of player that you want to do a long-term deal with. He's productive, popular, but most of all healthy. He's had one major injury in his career, the quirky back injury that cost him part of 2011. He came back very well and showed no signs of the problem in 2012. Prior to that, he was able to mostly avoid anything, including traumatic injuries.
He's not young, he's not Derek Jeter, and he's not going to carry a team on his own. As a symbol, his signing is nice, but it's also good to recognize that given finite resources, the Mets made the right decision. Jose Reyes is good but risky, while Wright is good and significantly less risky. More decisions like this and a little bit of luck could mean that Wright is on a winning team before this contract expires.
LF Lucas Duda (YELLOW)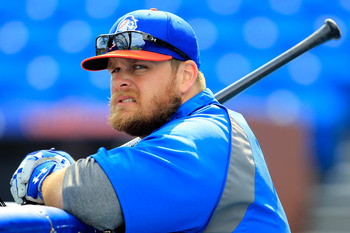 Chris Trotman/Getty Images
Lucas Duda fell apart in 2012, letting his offensive struggles bleed into his defense. Even a trip to the minors didn't fix the issues. On top of that, Duda injured his wrist moving furniture. While it does seem that he's over it, anything that might affect his power early could push Duda out of the starting role.
Watch for any sign that the power is back in early spring. Like several other players on this team, he'll get more chances than most because there's not a player on the roster or close that is a better option.
RF Mike Baxter (RED)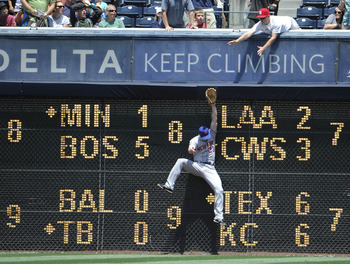 Denis Poroy/Getty Images
No-hitters are hard on pitchers. There's a stress beyond the normal high pitch counts that is attributed to the stress and adrenaline that inevitably accompany even one that gets broken up late. They're not normally hard on outfielders, but with Mike Baxter, it was and it's directly attributable to the status of the game. Baxter sold out completely on a dive to make a spectacular catch on a liner. He broke his collarbone and damaged his sternum as well, costing him two months.
Even after coming back, Baxter showed the effects of the injury. A full offseason should clear that up, but Baxter will have to show he can handle his half of a platoon with Collin Cowgill. The reduced at-bats should help him stay healthy, but the kind of dive that saved a no-hitter is something that often recurs in other "hustle" plays. Traumatic injuries are never predictable, but they can be probable.
CF Kirk Nieuwenhuis (RED)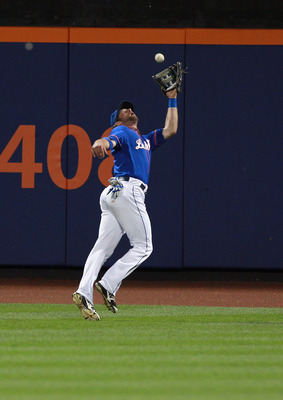 Mike Stobe/Getty Images
Kirk Nieuwenhuis isn't locked in to centerfield, but if healthy, he'll get the first shot. He was overmatched last season, missing on a lot of pitchers and showing just adequate defense. Surgery to correct plantar fasciitis should help, but that's an injury that can recur even after it is released. Nieuwenhuis will have to prove he's ready to play, even on a part-time basis.
The Mets have some options beyond him, including Marlon Byrd, signed to a minor league deal and pending a decision on whether his suspension has actually been served, he could end up in the mix in CF. Jordany Valdespin is better suited as a fourth OF, but has some upside.
SP Johan Santana (RED)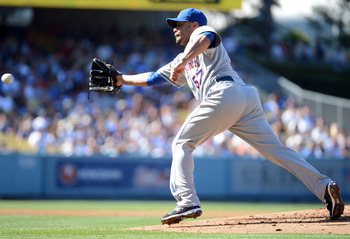 Harry How/Getty Images
No-hitters are hard on pitchers, and Johan Santana is the latest data point on that. He went 134 pitches in that no-no, and it was more the stress of the pitches than the raw count. Prior to that, it looked like Santana was becoming the ace of old. After it, he faltered and then popped up with an ankle injury and then a back injury that ended things.
Santana's mileage is higher than his age indicates, and while he could have a couple more good seasons, he'll have to do it in the way that Pedro Martinez did with his late-career surge. He'll have to do the same thing and rebuild himself as a pitcher. The slider still works, but Santana needs a team that can spot him in, get him out early and maintain him. Another 10 good starts and Sandy Alderson should find a contender where Santana could have all that and a shot at a ring.
SP Jon Niese (GREEN)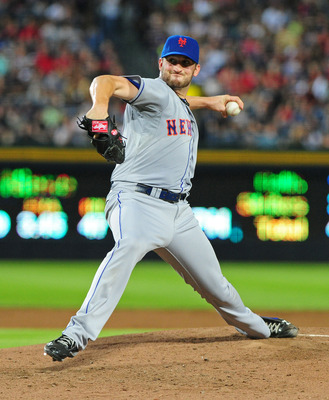 Scott Cunningham/Getty Images
Jon Niese was scheduled to have a cardiac ablation, a procedure that can correct mild arrhythmia. Doctors determined that Niese didn't need it, so the problem could recur. It's a very minor procedure with good outcomes, so it's a bit of a surprise that it wasn't done.
That's about the only risk for Niese. He made huge improvements last season, largely built on the success of his cutter as both an out pitch and one that he got hitters to chase. Niese should be able to get back to the 190-inning mark, which is a bigger deal than most think. His raw numbers might not look like an improvement, but from a health standpoint, pitch efficiency and getting back to 190 innings are really all that matters.
SP Dillon Gee (RED)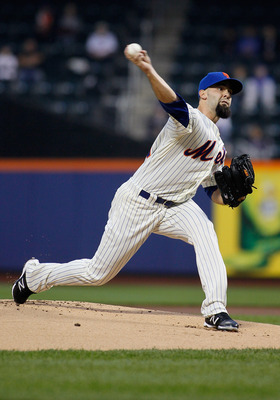 Mike Stobe/Getty Images
Dillion Gee lost half his season after surgery to repair an artery. A blood clot didn't just threaten his career, but his life. There's some recurrence risk here and question about the near-term shoulder weakness. Until he proves he's back and shows both stamina and the ability to recover, he's very risky.
The downside of having this as an off-season system is that there are certain binary conditions, either on or off, and Gee should be able to show that quickly in camp. The System doesn't get to see that, but you do. In situations like this, be willing to say the rating needs to be used hand in hand with new information and common sense to work best.
SP Matt Harvey (YELLOW)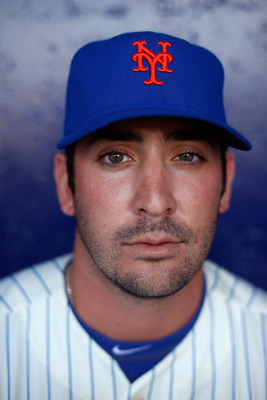 Chris Trotman/Getty Images
Matt Harvey came in halfway through the season and showed why he might be the future ace for the Mets. The risk in Harvey is only that he is still young (age-24) and is reliant on a curve. Curveball-reliant pitchers tend to be very durable or very fragile; there's no middle ground. Harvey has a good and repeatable delivery, which is a definite positive.
The major concerns here are age and type, but both are a little bit overstated. The Mets can afford to be cautious, but not overcautious, with Harvey as he goes through his first full season.
SP Shaun Marcum (YELLOW)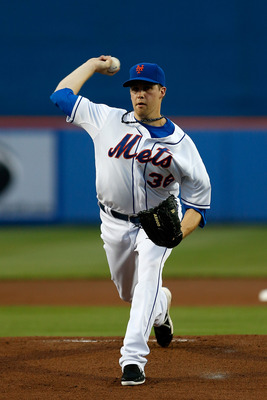 Chris Trotman/Getty Images
Marcum missed a couple months with an elbow injury, one that cropped up just as he's coming out of the Tommy John honeymoon. With an incentive laden contract, Marcum has the incentive to pitch well and the Mets get almost all the upside.
If the elbow crops up, even for just a bit, he'll miss the incentives, which start at 120 innings. If he makes it up over 170, he'll be exactly what the Mets need to buy time for the younger pitchers. The downside is that he's only had two of those in his career. The better bet is to project him for the lower 120-inning mark and take anything he gives you over and above it.
(UPDATE: Marcum is having arm problems and has been shut down for at least a week in late February.)
RP Bobby Parnell (YELLOW)
Elsa/Getty Images
Bobby Parnell is going to start the season as the closer, but only because Frank Francisco is still dealing with elbow issues. Parnell has closers stuff and handled the role very well at the end of last season. Many were surprised that the job isn't his without the asterisk and why the Mets flirted with Brian Wilson.
The Mets are appearing to go with Francisco due to his salary and the hope that they could showcase him for trade. Parnell is fine in the setup role, willing to bide his time and put up solid enough numbers. He probably won't put up 25-30 saves, but his hard, tailing stuff has the potential to do that if the job stays his.
CL Frank Francisco (RED)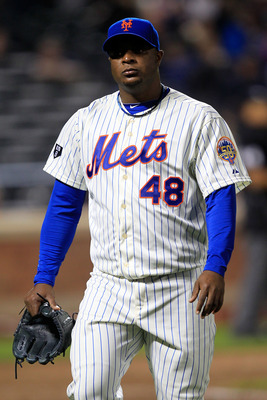 Chris Trotman/Getty Images
Frank Francisco tanked hard in 2012 but holds on to the closer role in name, at least. He's not ready to start spring training, and it remains to be seen whether or not he'll have time enough to work his way into shape by the start of the season.
Bobby Parnell will take the closer role if Francisco is unable to go or if he's not able to go on back-to-back days. The upside for the Mets is that Francisco comes back, has a good month or so and can be shopped. Last year's closer market, even with a bunch of injuries, was very thin; Francisco has so many known issues that the return won't likely be much.
The control vanished at the same time that the elbow injury popped up. Control is often an indicator of an injury, as the loss of proprioception impacts the release point consistency. One complicating factor here is a knee problem. While minor, that could have also changed the mechanics and release point. Fixing one problem is bad enough, but two is nearly impossible for a pitcher that is inconsistent when healthy.
Keep Reading