Cleveland Indians Team Health Report: 2013 Injury Risk for Every Starter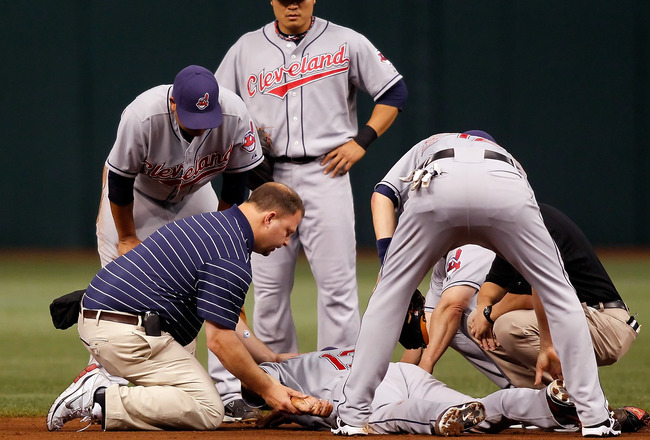 Jeff Desjardins checking on an injured player.
J. Meric/Getty Images
Will Carroll has produced an annual Team Health Report for each MLB team for 12 years. The report gives risk ratings for every player in the expected starting lineup and starting rotation, plus two relievers. A proprietary formula sets a baseline according to a player's age and position. It is adjusted by 12 factors, including injury history, team history and expected workload.
This risk rating is classified into three tiers—red (high risk), yellow (medium risk) and green (lower risk). It should be used as a guideline and is about probability, not prediction. To learn more about how the Team Health Reports are devised, click on this article.
2012 Rank: 14th best of 30 teams in DL days and dollars lost
Biggest Injury: Rafael Perez, $1.9 million
Head Athletic Trainer: Lonnie Soloff
The Cleveland Indians had a rather eventful offseason by bringing in fresh faces, while letting go some of the past. Gone are the days of Grady Sizemore and Travis Hafner—two talented but extremely injury prone players. They are replaced with consistent solid contributors with little injury risks in Nick Swisher and Mark Reynolds. Think of it as production over potential.
The front office has shifted from more of a high risk high ceiling lineup to a low risk low ceiling lineup. This is arguably a better team than the ones fielded in the past few years because of the consistency and low injury risk of most players on the roster. This is evident in the subtraction of many injury prone players, the Indians have gone from 7 "red flag" players going into the 2010 season, to just 2 this season.
There are questions about the Indians' data-driven methodology, mostly because it's lacked results. While the front office of the Indians is filled with some of the smartest guys around, including Keith Woolner, the creator of VORP, all the smarts in the world don't help a losing team. There's no suggestion yet that the front office is in danger, but getting a bit healthier might help the team.
Certainly, the team has been hamstrung by injuries. Sizemore might well be the symbol of the Indians' futility over the past couple seasons. The changes should reduce the days spent on the DL by players. Last season time spent on the DL by Indians players totaled about 800 days, putting the Indians right at the midpoint of the league, but there was a great deal of talent lost in that 800 days as well.
With the solid work of Lonnie Soloff and his staff (which has becoming prime ground for recruiting, including the new head trainers in Kansas City and Boston), the Indians should be among the healthiest teams in the league this coming season. Soloff is known for his rehab work in the past with Ken Griffrey Jr. and gives the team a real rehab advantage.
With the addition of veterans this offseason, Soloff's work should help them maximize their playing time. The more these new acquisitions are able to play, the higher chance these Indians have at a postseason in a division that might help them shoot for a Wild Card.
This report was prepared with the assistance of Richard Ke. Richard works as Will Carroll's research assistant and attends Washington University in St. Louis.
Click ahead for the Indians. Here are links to all the teams' reports.
Will Carroll is the Lead Writer for Sports Medicine at Bleacher Report. He has written about sports injuries and related topics for 12 years. His column is called "the industry standard" by Hall of Famer Peter Gammons.
C Carlos Santana (YELLOW)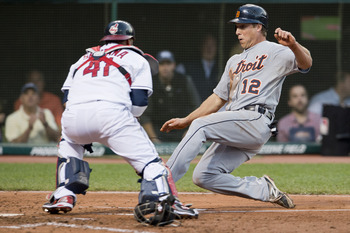 Jason Miller/Getty Images
New manager Terry Francona seems inclined to use Santana more of the time at catcher with some occasional stints at first base or DH. Santana had been shifting more of his work from behind the plate in something often referred to as the "Victor Martinez plan."
A shift back to more behind the plate may increase some everyday wear and tear and will definitely increase his risk, but Santana should be productive again after two strong years following the terrible knee injury he suffered in a plate collision.
1B Nick Swisher (GREEN)
Christian Petersen/Getty Images
Nick Swisher has been a reliable contributor year in and year out hovering at just about 150 games per season since 2006. This year should be no different as he anchors the Indians' lineup while shifting around between first base, outfield and DH. The risk is really no big deal, increasing a bit with OF time and reducing a bit with DH time.
The projections even things out, though how other produce and stay healthy is likely to influence it more than Swisher, who will be fine at any of the three positions or even some time in center field if needed, though the signing of Michael Bourn makes that much less likely.
2B Jason Kipnis (GREEN)
Christian Petersen/Getty Images
There are no signs of concern for Jason Kipnis as he has not had any health concerns in the majors or minors. He's more of a sign of how the Indians assess risk and durability. This kind of player, one with both upside and durability, is ideal and helps balance out more risky players.
If you believe in portfolio theory, Kipnis is the steady dividend paying stock, like a regional bank or a real estate company. He might not be as exciting as that new tech company, but spreading the risk is a good strategy whether you're running a hedge fund or running a baseball team. Then again, more and more, some people like Guggenheim are doing both.
SS Asdrubal Cabrera (RED)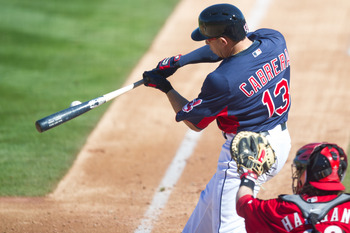 Rob Tringali/Getty Images
Wrist issues plagued Asdrubal Cabrera throughout the entire month of September. Because the DL is not used then, he didn't count against the days lost, though it may have been bothering him earlier. The Indians did deal with him very conservatively, likely due to their record and his long-term value.
Although MRIs turned up negative, his performance dropped significantly. Look to make sure he's showing some power, even gap power, in early spring training. There's no reason to think that an offseason of rest and treatment wouldn't clear this up, but it's good to get some positive indications that the problem is gone.
3B Lonnie Chisenhall (YELLOW)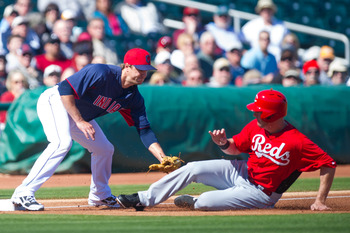 Rob Tringali/Getty Images
After missing much of the 2012 campaign because of a forearm injury, Lonnie Chisenhall was able to return for the last month of the season. Along with Kipnis, Chisenhall is one of the few players that have reached the bigs through the Indians' last few drafts. That's one of the reasons the team has slid. Losing him to injury doesn't help anyone, but it was a traumatic situation.
The yellow rating is more of a indicator that he hasn't yet established himself as a player at this level, but he looks to be healthy, and the everyday third baseman going into the season. A good full season of 135 or more games would help move this down into the green tier for next year and would be great for the Indians as well.
LF Michael Brantley (YELLOW)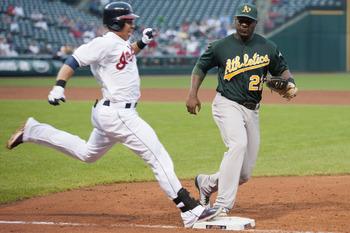 Jason Miller/Getty Images
Michael Brantley underwent sports hernia surgery early in the offseason, but underwent his normal offseason activities without any delays. He should be completely healthy going into spring training. Players normally come back from this kind of surgery in a matter of weeks, and there are seldom any kinds of limitations after they're back.
If Brantley played through the hernia, that does explain some of the loss of range and would be a positive indicator for his 2013 expectations. It also speaks well of the Indians medical staff that they could keep Brantley on the field and reasonably productive through the problem. A winning team is more likely to need this kind of medical advantage late in seasons.
CF Michael Bourn (GREEN)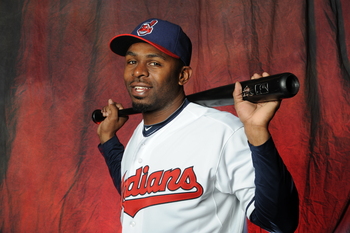 Rich Pilling/Getty Images
Michael Bourn, a surprise signing by the Indians, should man center field every day. He consistently plays over 150 games a season, missing very few games only due to minor ailments or rest. That makes him the rare speed player that has been healthy throughout his career. The lack of leg injuries indicates a slower decline phase, a big plus now that he is signed long term.
Of course, like any speed player, Bourn is always one hamstring strain or knee sprain away from losing most of his value. His injury history is a major positive, and the Indians are one of the organizations that understands how to assess and properly value that advantage.
RF Drew Stubbs (GREEN)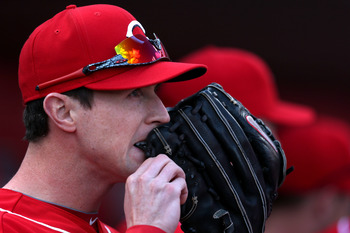 Jonathan Daniel/Getty Images
Since coming into the league, Drew Stubbs has only had one disabled-list stint, a slightly strained oblique from swinging at a pitch. That it hasn't recurred is a positive.
He should have no health concerns, but he has to bounce back from a down year to consistently stay on the field. A shift to right field should be something of a positive, though it will slightly increase his risk at the start of the season. He'll be learning a new field as well as a new position.
Stubbs will also have to deal with possibly inconsistent playing time and coming off the bench for the first time in his career. He'll share RF with Nick Swisher at the very least and a lack of production might cost him even more time. The organization has very little commitment to Stubbs, so a trade could come at any point, opening up the position for Swisher or even a gamble guy like Ben Francisco or Jeremy Hermida, who will be in camp this spring.
DH Mark Reynolds (GREEN)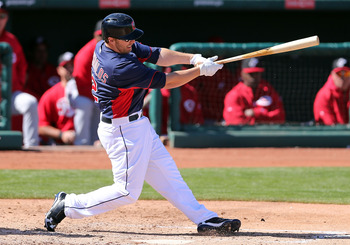 Christian Petersen/Getty Images
Mark Reynolds is yet another consistent player health wise, having gone to the disabled list only once in his career. He is slated to be the DH after serving as the everyday first baseman for the Oriole's last year. Without fielding duties, he should have a good chance of breaking 150 games played and the risk shouldn't be much if he shifts back to first base more.
Reynolds' versatility fits in well with this team, which will allow Terry Francona to mix and match depending on matchup without tying him to traditional platoons.
SP Ubaldo Jiminez (YELLOW)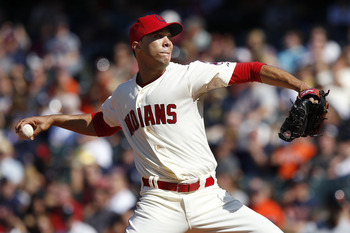 David Maxwell/Getty Images
Ubaldo Jimenez ended last season with a right ankle sprain but has generally made most of his starts. That's not necessarily a good thing. His performance has drastically fallen since the trade to Cleveland, so one has to wonder if he has suffered an injury. His average velocity has dropped almost 3.5 mph since his Cy Young contention year.
There's no evidence of injury, but the team hasn't been able to find anything else to fix. It may be some kind of mechanical flaw or a confidence issue, so a new staff and new voices may help shake out the talent that Jimenez still flashes.
SP Justin Masterson (GREEN)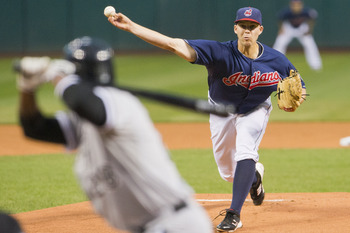 Jason Miller/Getty Images
Since becoming a full-time starter, Justin Masterson has appeared in 34 games per season. He eats up a lot of innings, pitching over 200 innings in the past couple of years. That should indicate that in the next few seasons, as an established arm, he should again pitch over 200 innings.
Masterson is an interesting health case study, since he is one of few pitchers that are reliant on a heavy sinker that have had no shoulder problems. Masterson's sinker has such movement that he does have command problems at times, and it appears that his ability to locate the pitch is the determinant of his success. Improvements around the infield should help as well.
SP Brett Myers (GREEN)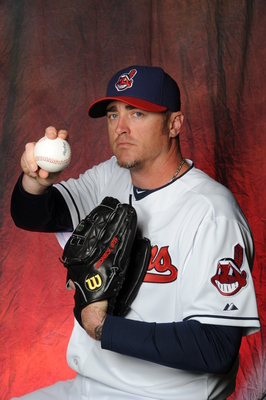 Rich Pilling/Getty Images
Brett Myers comes over from the Astros having closed for them, a gamble that didn't really pay off. The hope was that Myers could be flipped for prospects but even with all the early injuries to closers, the Astros couldn't get someone to bite.
Now, he is going back to the starting rotation for the Indians. He's made this kind of change before and after a year in the pen, the worry is only that he gets overextended at the extreme end of the season. The Indians know how to manage pitchers and fatigue, so this isn't a major risk for Myers.
SP Zach McAllister (YELLOW)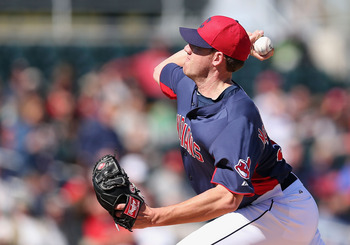 Christian Petersen/Getty Images
Despite the yellow rating, Zach McAllister should not have any problems staying on the field. In fact, this rating is overstated due to how it works. The System has a blind spot for minor league innings. It simply ignored them altogether since it cannot be matched to a good database of injuries. I've been working to get a new baseline for players that have been in the minor leagues and while it's not in use this year, it seems to come with a surprisingly higher start line, well into the yellow.
McAllister has gradually increased his workload throughout the minors and has not had any major injuries. He's a solid enough back of the rotation guy and should hold on to his position, even with someone like Daisuke Matsuzaka joining the club this spring. McAllister's stuff should see the benefit of the improved outfield defense more than any of his other rotation mates, who are much more ground-ball guys.
SP Trevor Bauer (RED)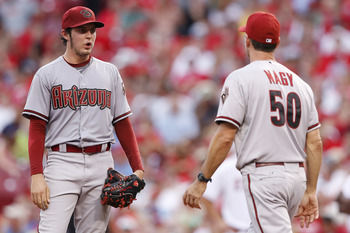 Joe Robbins/Getty Images
Calm down, long-toss advocates. The red rating here is not some personal affront to you or Trevor Bauer, so save the rants and let's look at the facts.
Bauer struggled during his short major league stint last year, though it appeared that fatigue and a mild groin strain might have had him at less than full-go. However, during the offseason he adjusted his pitching mechanics to avoid such injuries. You can see a great video of Bauer and his long, leveraged delivery here.
Even with the adjustment, an unorthodox delivery and training plan revolved around heavy arm usage along with a growing reputation for being difficult, especially with catchers, is a negative until he proves he can do it consistently at the big league level. Along with Dylan Bundy, Bauer is being held up as the prototype for a movement. The Indians will want him to focus on just being a good pitcher.
RP Vinnie Pestano (YELLOW)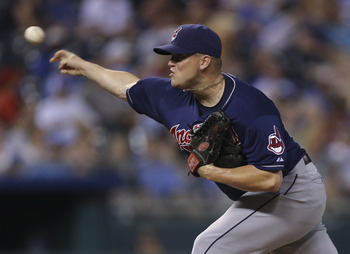 Ed Zurga/Getty Images
Vinnie Pestano has been solid in the setup role for the past two years while logging about 70 innings last year. Such heavy workload may raise some flags, but there's a lot of debate about what a heavy workload is for a reliever of this type. It should be a moot question, as there should be a more accurate measure internally. The Indians have worked toward this, and the success they've shown over the last couple seasons with their "Bullpen Mafia" would indicate there are some results.
Pestano has been generally healthy, and he is in the "best shape [he's] been in a long time" he told the press as he reported to spring training. Of course he is. The System just snickers at those kind of pronouncements and sticks to the facts.
CL Chris Perez (GREEN)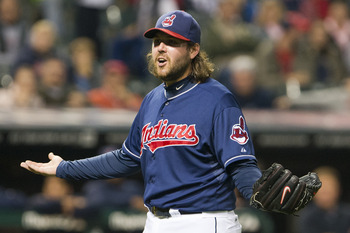 Jason Miller/Getty Images
Chris Perez is healthy, certainly healthier than his relationship with the fans of Cleveland. The fiery closer could get back in the good graces of the fans—and bring more of them back to The Jake—if he keeps pitching this way out of the closer role.
After a dip in velocity and K/9 in 2011, Perez bounced back for the 2012 season. He has been healthy throughout his career and next year should be no different now that he has regained his velocity. He should close the majority of save situations for the Indians in the upcoming season.
Keep Reading