Seattle Mariners Team Health Report: 2013 Injury Risk for Every Starter
Otto Greule Jr/Getty Images
Rick Griffin checks on a never-injured Ichiro.
Will Carroll has produced an annual Team Health Report for each MLB team for 12 years. The report gives risk ratings for every player in the expected starting lineup and starting rotation, plus two relievers. A proprietary formula sets a baseline according to a player's age and position. It is adjusted by 12 factors, including injury history, team history and expected workload.
This risk rating is classified into three tiers—red (high risk), yellow (medium risk) and green (lower risk). It should be used as a guideline and is about probability, not prediction. To learn more about how the Team Health Reports are devised, click on this article.
2012 Rank: 3rd best of 30 teams in DL days and dollars lost
Biggest Injury: Erasmo Ramirez, $1 million lost value
Head Athletic Trainer: Rick Griffin
The Mariners were a finalist for the Martin-Monahan Award because they had a plan and executed it well. Coming in to the season, the team had a very low-risk profile, despite a number of young players and a couple more risky players.
Taking on some risk, assuming the reward is sufficient, is a smart play. What a team doesn't want to do is load down the medical staff with a ton of risk, because that ends up overwhelming the staff and leading to a "death spiral."
But how did the Mariners get to this low-risk state in the first place?
A decade ago, the Mariners were an arm-shredding machine. About the only two pitchers left from those teams are Rafael Soriano and Matt Thornton, who are now both relievers and both have a scar on their elbows. Players like Gil Meche were able to play and play well at times, but there's lots of Ryan Anderson and Bobby Madritsch lying along the highway.
So, what changed?
From the outside, nothing. Sure, the team went from Bill Bavasi's old-school approach to Jack Zduriencik's newer, but still scout-driven, methodology. The team medical staff is largely the same. Same head athletic trainer, same physicians and orthos.
Things do change in baseball. People learn from their mistakes. It's seldom an easy lesson, but the Mariners and the people that were there in 2004 aren't really the same people as the ones in 2013. They've got a decade more experience and more than a few things they've learned along the way.
Click ahead for the Mariners. Here are links to all the teams' reports.
Will Carroll is the Lead Writer for Sports Medicine at Bleacher Report. He has written about sports injuries and related topics for 12 years. His column is called "the industry standard" by Hall of Famer Peter Gammons.
Begin Slideshow

»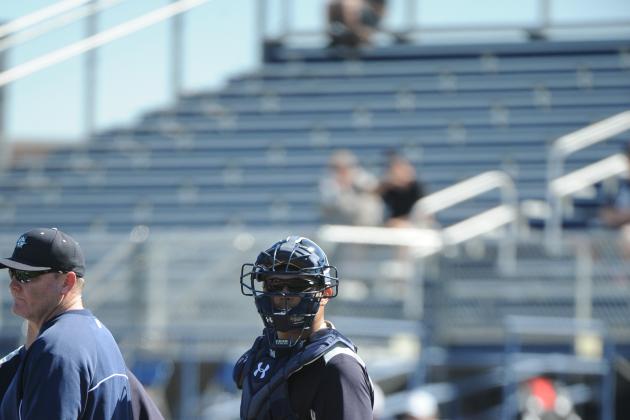 Rich Pilling/Getty Images

At this time last year, the thought was that Jesus Montero would be a full-time DH and maybe not even see the back of the plate. Instead, he ended up catching 56 games and having a decent rookie season at the plate. He certainly gave the M's more value that Michael Pineda did for the Yankees.
While Montero didn't meet all the expectations, it's his defense that is the most intriguing. The catcher position is the most risky on the field for obvious reasons, so exposing one of their best young hitters to that abuse is counterintuitive . The thing is, it gets him on the field at a normally weak offensive position.
If they can increase his time there, it opens the DH slot up for a player like Kendrys Morales, who is an even greater risk at a less risky position of 1B due to his injury history.
It's a calculated risk, but it's one that makes sense. The Mariners are willing to hedge against the possible lack of offensive upside by leveraging his defensive ability. It's risky, but it could pay off big. Montero won't be overexposed with Kelly Shoppach behind him for now and Mike Zunino very close to claiming the spot and pushing Montero to DH or 1B.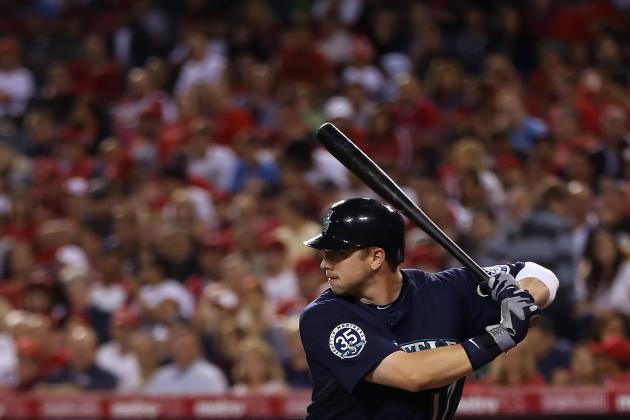 Jeff Gross/Getty Images

Justin Smoak is running out of chances to show that he's a legit major league hitter. Of course, he's been healthy enough to take all of those chances and more.
The Mariners have several other options, but none of them are great. Moving Mike Morse to 1B would expose Raul Ibanez in the field. Using Kendrys Morales at 1B would expose his ankle to more wear and tear.
If Smoak can hit enough—not even the big surge he had after coming back late last season—then that's the best scenario for the Mariners.
Smoak figures to be durable enough and would be helped by the breaks that the other players will likely give him along the way. He's green at the full-season level and more green if he's forced into something approaching halftime.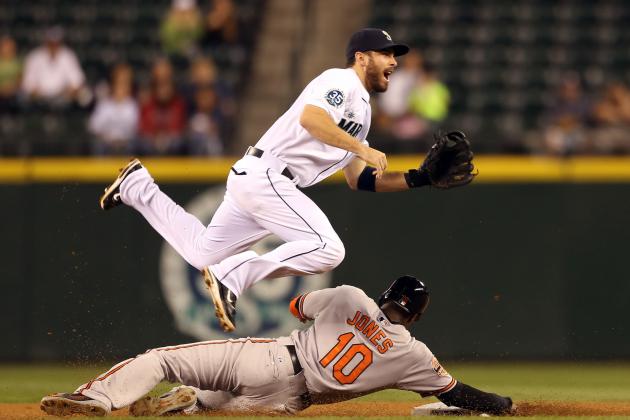 Otto Greule Jr/Getty Images

If Dustin Ackley's second season in the bigs can be blamed on his ankle, that'd be great. Ackley had bone spurs removed after the season, and it's an operation with a very high success rate. It's hard to blame all of his issues on the ankle, but there's hope.
Ackley struggled in nearly every aspect of his game, but did play over 150 games in spite of the known issue with his ankle. There's two sides to this: Did the M's push him through an injury that could have been taken care of earlier, or did they squeeze what little value out of him last year that they could?
The hope is that, by this time next year, it will all be forgotten and Ackley will put up numbers that are more in line with his high-pick status.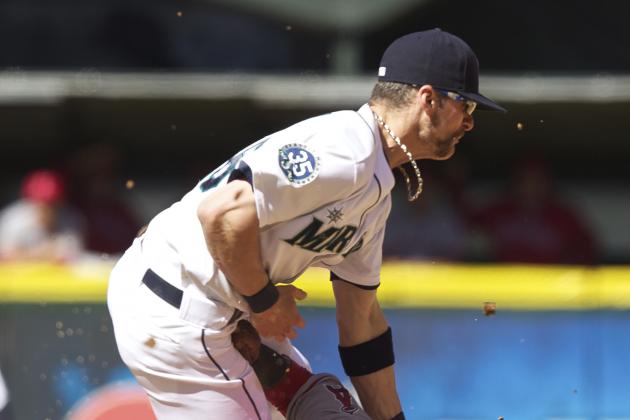 Stephen Brashear/Getty Images

Brendan Ryan also had bone spurs removed after the season, though his were in his elbow. "B Rabbit" is a plus-plus defender with very little offensive ability. His OPS was .555 last season, which is abysmal, but the defense is good enough that he ended up with a 1.7 WAR despite the offensive failings.
Ryan has been healthy, and his value is in the surety of his play, not the range, so he's not the typical quick/speed player in that respect.
Meanwhile, Nick Franklin is close to being ready, but he's the mirror of Ryan, with a plus bat and questionable range. They could end up a platoon by midseason, which limits Ryan's exposure.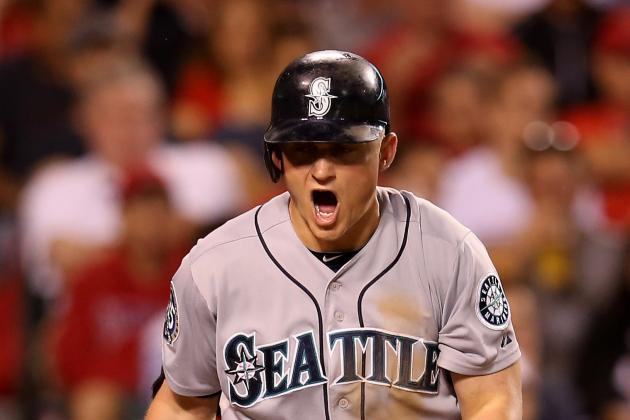 Stephen Dunn/Getty Images

Kyle Seager was a high spot for the M's last year. He locked down a position that the team had almost no depth at and hit for power, leading the team as the first player in several years to go over 20 homers. The fences moving in will help Seager some, but less than most since he could already reach them.
He did show solid durability and athleticism. The M's have considered shifting him to the middle infield in place of Brendan Ryan or Dustin Ackley, but they have other options there and almost nothing behind Seager. That's not such a bad thing with a healthy young player like Seager.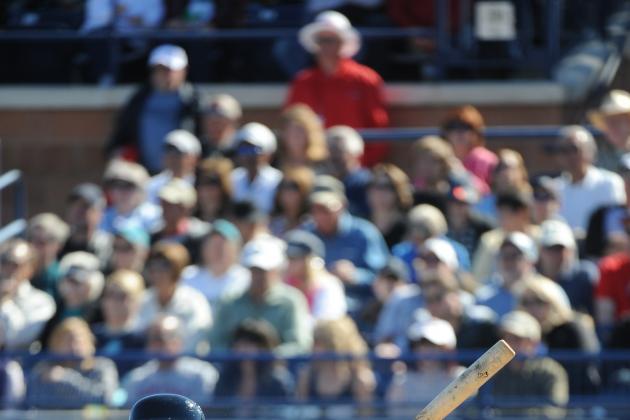 Rich Pilling/Getty Images

Morse's green rating is a bit deceptive and perhaps downright wrong. He has always had a history of muscular injuries, having a lat strain hurt him at the start of the season.
Morse is a big strong guy with a history of steroid use. While he has not tested positive in years, these are the kinds of injuries that go along with over-muscled players and a lack of flexibility.
Where Morse falls under the yellow line is due to the presence of Raul Ibanez and the likelihood that Morse plays at least part of the time at 1B or DH. Morse is not durable enough to be considered alongside other green risks, but he is powerful—something the Mariners are willing to balance against the risks.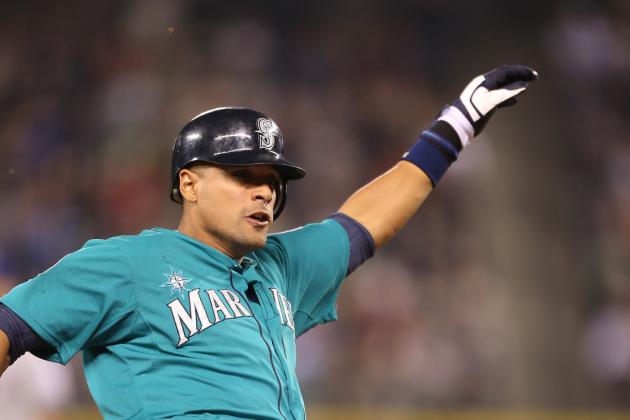 Otto Greule Jr/Getty Images

Franklin Gutierrez had his second straight lost season, and many are surprised he's getting a chance at a third in Seattle. His defense is top notch when healthy and assuming that he hasn't lost more to the injuries than we know now.
Gutierrez fought a debilitating gastrointestinal condition in 2011 and then a series of muscular problems in 2012. There may be some connection between the two, since he fought with weight and cramping at times. He topped off his injury list with a concussion as well.
If Gutierrez can play solid defense, the Mariners will give him the shot to show he can be healthy. If not, the situation gets a bit dicier, pushing Michael Saunders into CF and exposing Raul Ibanez to more time in left field.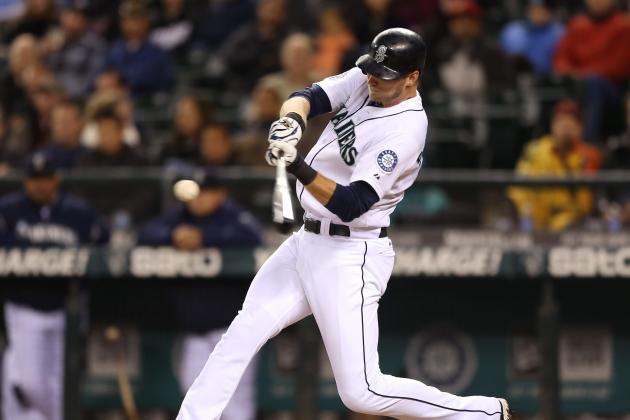 Otto Greule Jr/Getty Images

Saunders is an intriguing power/speed combo who came on when given the chance last season. A new approach at the plate helped, surprising everyone, including the Mariners. Saunders was healthy all season and could move to CF if necessary without increasing his risk.
He showed no real signs of wearing down in his first full season—a very positive sign for this one.
The slightly lower risk in RF is offset a bit by the new fences at Safeco. While it might help him get a few more homers this season, there's some risk as Saunders and the rest of the outfielders learn the play and layout of those fences.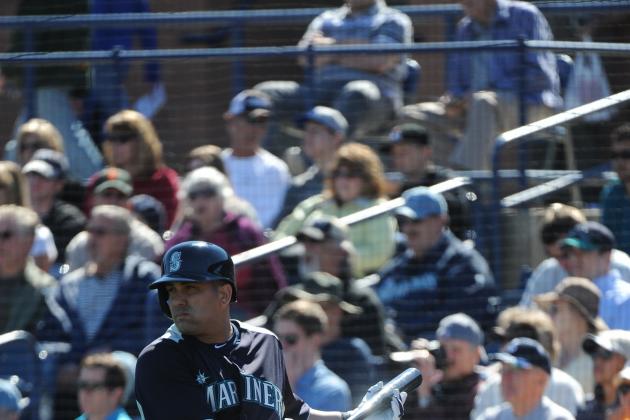 Rich Pilling/Getty Images

It took Kendrys Morales almost two full years to come back from one of the flukiest injuries you'll ever see. Injured initially during the celebration of a walk-off homer, Morales' ankle is still not healthy. He can play 1B, but his mobility is lacking and he has a hard time standing for long periods of time. The movement he needs to stay loose was called distracting by some of the pitchers, and he played less as the season went on.
Morales stayed healthy all year, sitting against some tough lefties. There's no sign that the ankle will cause mobility or speed issues, since Morales really didn't have those before the injury. His risk gets significantly increased the more he's at 1B, so the M's are hoping that Justin Smoak can stick at the position. Or they could shift Jesus Montero there more, Victor Martinez style.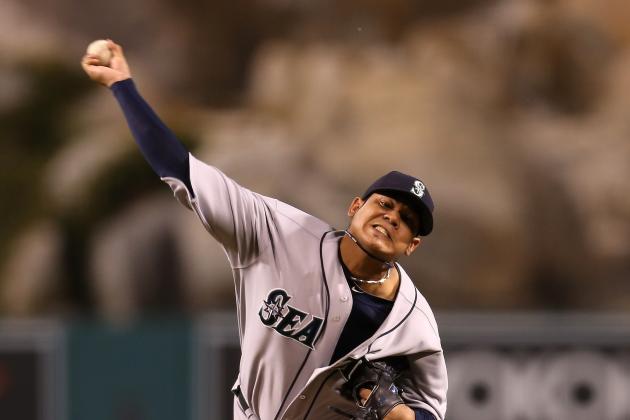 Stephen Dunn/Getty Images

As someone who has regularly doubted that Felix Hernandez could stay healthy, I have to look at that green rating with chagrin. But was I wrong to doubt?
It's one thing to wonder whether the Mariners organization could keep a young pitcher healthy. That really was a major doubt as Hernandez came up. But now the organization seems full of young pitching talent that is about to hit the majors, so that's clearly changed.
It's another thing, however, to wonder if Hernandez's mechanics, especially with that head flip to the side and the late timing, would cause him problems. Without knowing what the actual forces on the arm are through a biomechanical analysis, the kind of guess that I made seems reasonable and like common sense. Common sense doesn't work on exceptional pitchers.
Finally, if you're going to bet on either side of healthy or not healthy when it comes to any young pitcher putting up innings, the smart money is always on healthy. It's a coin flip at best, and given all the other factors seemingly stacked against Hernandez from the beginning, it's no wonder that I was among those not paying immediate fealty to King Felix.
All that aside, Hernandez earns this green. He's put up seven straight years of 190-plus-inning work while only missing a handful of starts. There's no arguing what he is even while contemplating the risks. This is the kind of player you give that kind of money to—a durable one.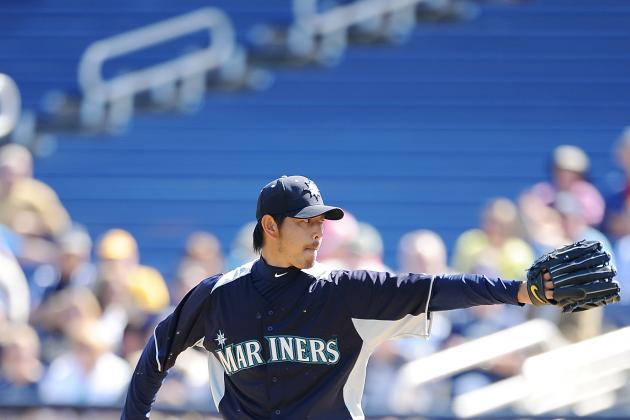 Norm Hall/Getty Images

Hisashi Iwakuma had a weird road to being the de facto No. 2 behind Felix Hernandez. Lost in the 'pen, Iwakuma didn't get a start until June. Once there, he showed good, deceptive stuff that helped him put up solid numbers and solidified him for the next couple seasons.
He's shown that he's over the shoulder issue that he dealt with his last year in Japan, and prior to that, he was very durable. That's a common pattern in Japan, with heavy usage there far more common, especially among younger pitchers. The reduced number of games and off days make it so most Japanese pitchers only pitch once a week, so it's tough to make apples to apples comparisons in that regard.
Iwakuma will be tested with a full season's workload, but with several young pitchers coming along, Iwakuma could be spotted out easily or pushed back to the bullpen if Danny Hultzen, James Paxton and Taijuan Walker are ready at any point this year or next.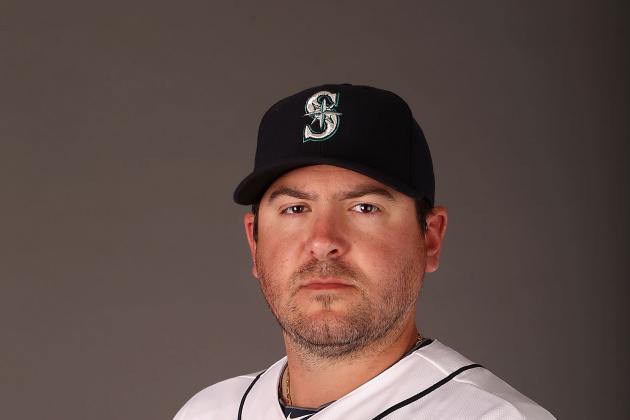 Christian Petersen/Getty Images

Joe Saunders is a durable finesse lefty who is a perfect placeholder for the Mariners. They have a lot of young pitching coming, but none of them are definitely ready now. In front of them, the M's will use short-term placeholders like Saunders who have some upside, some durability and can be easily shifted out or traded away.
Saunders went over the 190-inning mark five years in a row before last season, but his drop last year was due to trades not injuries. That's still a bit of a knock against him, and his peripherals show there may be a dropoff as well.
The M's aren't looking for him to do more than he's done in the past. The fences moving in might hurt some of his superficial numbers, but he hasn't been pitching in particularly pitching-friendly places up to this point. Everything is relative, even in baseball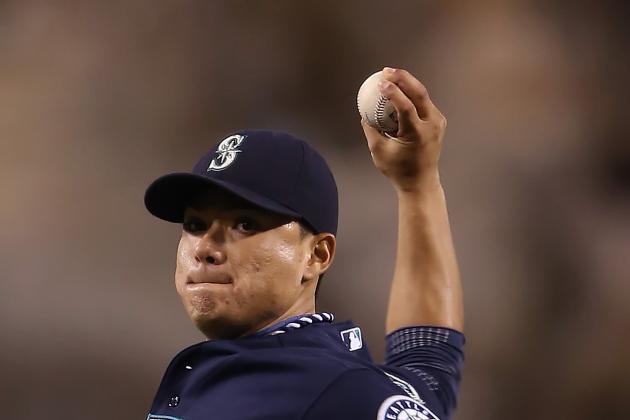 Jeff Gross/Getty Images

I just love the name "Erasmo."
Ramirez isn't one of the young and vaunted pitching prospects the Mariners are waiting on, but at age 21, he showed up anyway. By the end of the season, his heavy sinker had established him in the rotation, making him a valuable tool in the rotation. The sinker gets more valuable with the fences in and a solid defense, which the M's certainly have.
The big concern is durability, however. Ramirez had a flexor strain early last year, which is often an early warning sign for elbow problems. He came back and came back well, but it's definitely something to note. He only put up 120 innings between Tacoma (Triple-A) and Seattle last season, so pushing him out to 175 would be a stretch.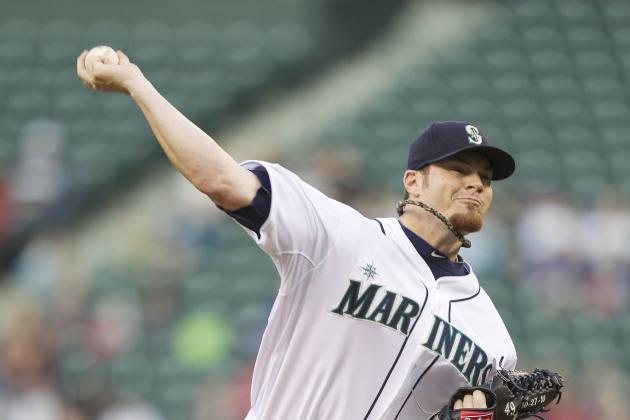 Stephen Brashear/Getty Images

Blake Beavan is a finesse righty who can't strike anyone out, relying on his command to keep hitters off balance.
If I'd written that sentence a few years back, when Beavan was the latest Texas flamethrower to come out of the draft, you'd have laughed at me and reminded me I am not a scout. Well, the were scouts got that one wrong. Beavan showed up and almost immediately lost a good deal of the 97 mph velocity he was drafted on. Trying to fix his mechanics cost him results.
Beavan still has the mechanical questions despite his solid command. He can get way out of whack due to his long frame—he's 6'7—and doesn't have enough stuff to sneak it by when he gets behind in the count or on the scoreboard. He will have to fight for his slot with comeback candidates Jon Garland and Jeremy Bonderman. Whoever gets it will be just a placeholder.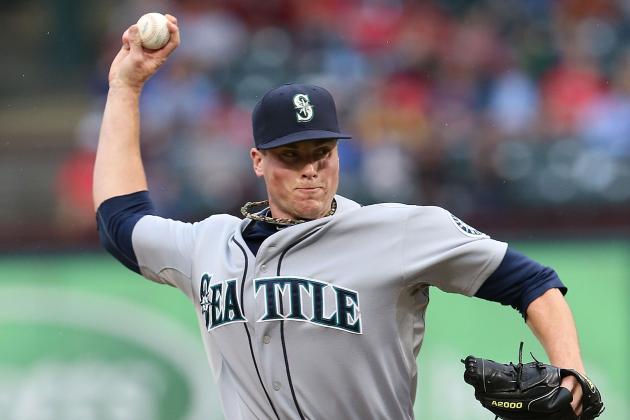 Ronald Martinez/Getty Images

Capps throws the ball really hard. His 98 mph average was among the league's top five, and a three-quarters delivery makes it come at the hitter from odd angles. He's not a fun guy to face. Prince Fielder once told me that it looked like the ball was coming right at him.
Capps is just 21 and is still developing as a pitcher. A change is a work in progress, but when it's on, it's a devastating pairing. He could get a shot at closing before long, though the Mariners bullpen will be something of a mix-and-match affair early in the season.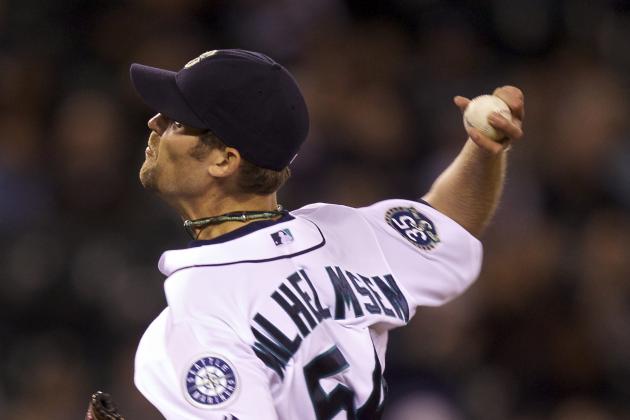 Stephen Brashear/Getty Images

Most bartenders can't throw 96. Tom Wilhelmson can, and that's why he's not bartending any more. With stories like his or John Axford's, you wonder why teams pay so much for closers.
Wilhelmsen showed no real issues with the workload he took last year or the closer's role. His odd career path confuses The System a little bit, so the risk, while real, might be a tad overstated.
This bullpen is pure heat, with three guys who average over 95 mph on their fastball, plus a couple other guys who can match up well with most lineups. We'll see if Eric Wedge can shorten games by going to the team's strength early without overworking the pen.