Colorado Rockies Team Health Report: 2013 Injury Risk for Every Starter
Jeff Zelevansky/Getty Images
Keith Dugger has to keep Troy Tulowitzki healthy this year.
Will Carroll has produced an annual Team Health Report for each MLB team for 12 years. The report gives risk ratings for every player in the expected starting lineup and starting rotation, plus two relievers. A proprietary formula sets a baseline according to a player's age and position. It is adjusted by 12 factors, including injury history, team history and expected workload.
This risk rating is classified into three tiers—red (high risk), yellow (medium risk) and green (lower risk). It should be used as a guideline and is about probability, not prediction. To learn more about how the Team Health Reports are devised, click on this article.
2012 Rank: 22nd of 30 teams in DL days and dollars lost
Biggest Injury: Jorge De La Rosa, $9.1 million lost value
Head Athletic Trainer: Keith Dugger
The Rockies experimented with the four-man rotation last season, but while I applaud trying things like this, I can't really give any kudos to desperation. That's all it was, but the realization that they didn't have five valid starting pitchers is one more teams could note.
While the Rockies' four-man was a strict system that didn't involve much in the way of preparation or science, it did show that it's not an immediate arm-shredder. Even in a group of pitchers that were ill-suited to this kind of rotation, it worked, more or less.
The Rockies won't continue with this, largely because Walt Weiss, the new manager, wasn't on board. Weiss is a blank slate as a manager, so we have to assume that he'll be a product of his past and likely a Tony La Russa disciple. That may work as a change from the twists and turns of Jim Tracy's style, but it probably won't win.
Worse, Weiss now has to deal with five, not four, risky pitchers. The team is in a unique situation here, with several different kinds of risk and paths to the 1,000 innings a team needs to get from it's starters. My guess is that the Rockies could set a record for the number of starting pitchers used this season. That's not a good thing.
The team has struggled with injuries and has never been able to really push toward the top of the health rankings. But that's not to say that the work done by Keith Dugger and his staff is substandard. Anything but, in fact, given the unique challenges of playing in Denver and the accepted risks that Dan O'Dowd not only brought in, but held on to.
Todd Helton's continued presence is an echo of Chipper Jones' latter years in Atlanta, without the production as a payoff. This team doesn't profile much better, meaning Dugger will be running hard just to stay in place. Anything less than perfection from the medical staff could have this team chasing the Astros in the fight for the first pick.
Click ahead for the Rockies. Here are links to all the teams' reports.
Will Carroll is the Lead Writer for Sports Medicine at Bleacher Report. He has written about sports injuries and related topics for 12 years. His column is called "the industry standard" by Hall of Famer Peter Gammons.
Begin Slideshow

»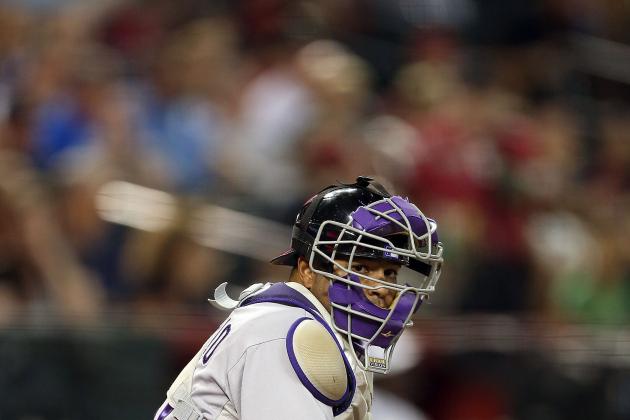 Christian Petersen/Getty Images

Wilin Rosario is a man for a time before auto-correct. He's something of a throwback as a catcher as well. He's thickly built, swings for the fences and struggles a bit behind the plate. He's precisely the type of guy that the DH spot was built for and the kind of catcher we haven't seen since early Mike Napoli.
Rosario is young and figures to get most of the catching load, though he does have an able backup in Ramon Hernandez. As long as he's not completely overworked, he's a relatively minor risk. He's been healthy throughout his minor league career, and he didn't suddenly get this body type.
If Rosario's power is for real and his contact rate isn't completely exploited, things are lookin up.
He can play on the corners as well. And with Todd Helton's increasing age and fragility, Rosario is likely to follow Napoli and Victor Martinez to 1B. If he's more a flash in the pan, it's easier to live with it while at catcher, damn the risk.
With a new manager at the helm, how Walt Weiss deals with Rosario might be one of our first insights into his style.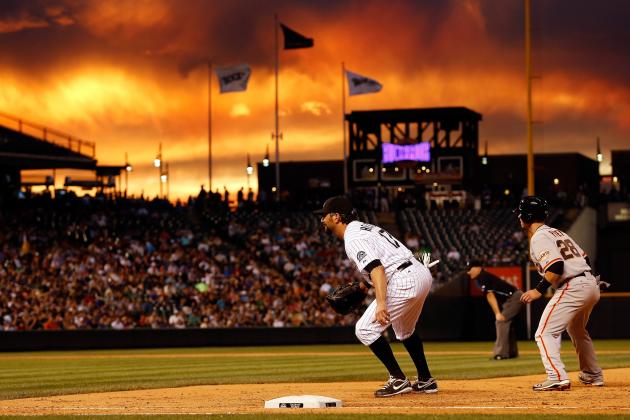 Doug Pensinger/Getty Images

Hip, back, knee or even just age—it all leads Todd Helton to a very deep shade of red. Add in some off-field issues, and Helton's inability to stay healthy might make him an early casualty of a losing season.
The biggest concern for him is the chronic back issues that he's had. He's been able to play through them due to brilliant maintenance and a higher degree of athleticism than most expect. (You have heard the stories about him being a QB with Peyton Manning, right?)
That the issues seem to be travelling to his hips indicates there may be some compensation going on, making running and even standing a problem. Surgery this offseason to correct damage inside the hip was the same kind Alex Rodriguez had this offseason. Chase Utley and others have also come back from it, so as long as Helton shows early ability in camp, we can cross that off the list of things to worry about.
Helton's more likely to have a season like 2012 than any of his glory days. Age catches up to all of us, but injuries make a ballplayer like Helton age faster.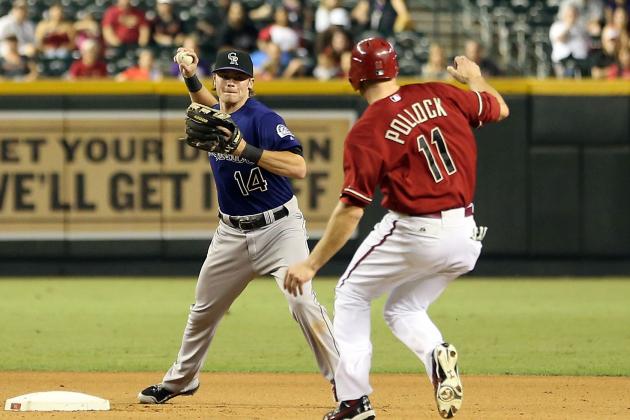 Christian Petersen/Getty Images

Josh Rutledge was a bright spot last season, filling in more or less ably for Troy Tulowitzki. His peripheral numbers weren't good and he got exposed a bit the second time around the league, but he's got good athleticism.
He'll need it, as Tulo's return pushes Rutledge over to the riskier side of the bag. These types of position change adjustments are very high initially, but they reduce quickly. It's the steep learning curve and the "think about it," as Clint Hurdle calls it, that causes problems, especially when opposing baserunners know they can rush throws and throw off footwork. Even athletic players have issues.
Rutledge has been otherwise healthy in his short career, so this yellow is one that might be a bit overstated. Thinking about this as an early season red and a late season green might be a bit more instructive. Rutledge would fit well as a good bench 2B or MI behind a more injury-prone but productive player like Chase Utley or Neil Walker.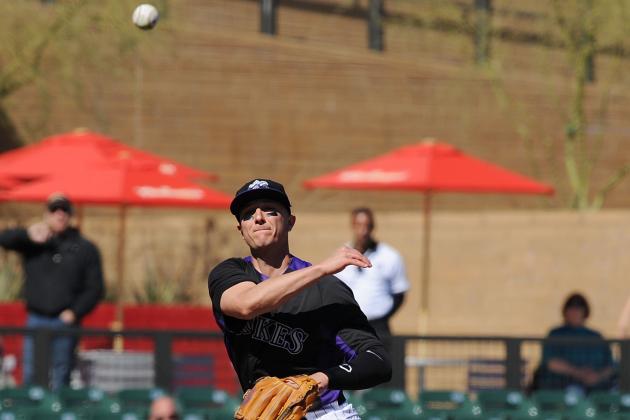 Norm Hall/Getty Images
Guess who grew up watching Derek Jeter?
It was a bad year for the Dirtbags. That's not an insult. Both Troy Tulowitzki and college teammate Evan Longoria both played at Long Beach State, where they proudly call their baseball team the Dirtbags. Both stars had tough years due to tough injuries, but Tulowitzki might have had it worse.
Tulowitzki tried to play through an extremely painful groin injury. A nerve was entrapped by scar tissue, itself the result of a significant muscle strain. A surgeon described that type of pain to me as "having a nail in there, a constant throbbing." Umm, no thanks.
Worse, it appeared that even after the surgery, Tulowitzki had some issues. This is likely much like his new Denver neighbor, Peyton Manning, who had to wait for the nerves coming out of his damaged neck to reactivate and then relearn some of his motion. Full strength might not come back, but it's usually close enough that it can be adjusted for.
We'll see whether this costs Tulowitzki any range, speed or power quickly. Watch him in camp for any sign that there's a drop-off. His days as an elite SS might be gone, but the market has weakened enough that he's still near the top at his division, even if he loses the steals.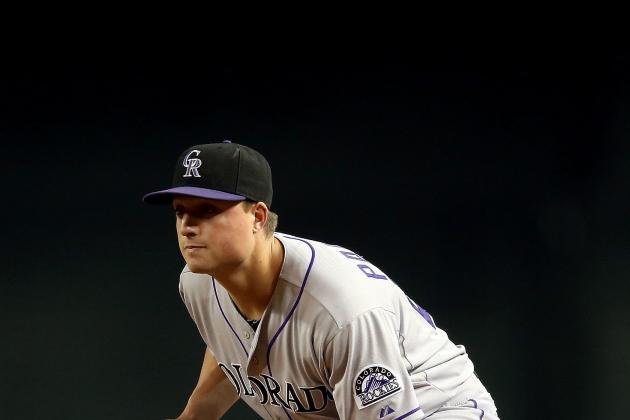 Christian Petersen/Getty Images

Jordan Pacheco is a very difficult player to profile. The Rockies play him on the infield corners, but he profiles more like a slap hitter. Then again, he's got some gap power, but average-at-best speed. Now, the Rockies are talking about shifting him to a catcher role in order to keep his bat in the lineup and maybe gain a roster advantage.
It's nice thinking, but Pacheco doesn't seem like the Buster Posey type, let alone a Brandon Inge type, either. He shouldn't catch so much, even in the most optimistic projections, that it truly affects his rating. But there is a great deal of new position risk in there as well. He's slightly riskier at 3B than he is at 1B, though both would be yellow risk, albeit at opposite ends of the range.
Mix it all up and you have a unique player without enough of a track record or injury history to make any strong adjustments. The strength of The System is that the actuarial baselines are large enough to make these risk ratings more than an educated guess. With a player like Pacheco, it's not much more.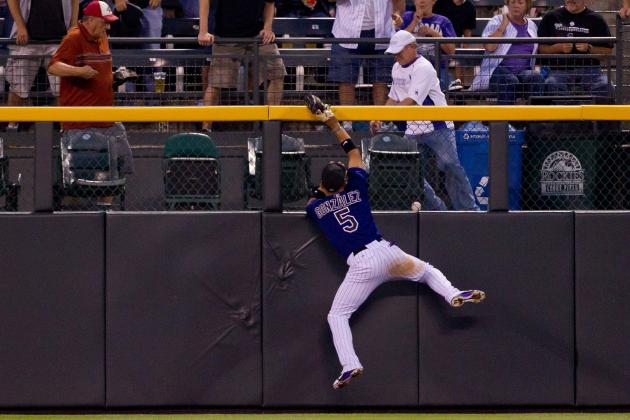 Justin Edmonds/Getty Images

A few years back, there was a discussion at one of the offseason medical conferences about a "Portfolio theory" of medical scheduling. Since it's clear that certain players on any team are more valuable than others, even critical to success, should extra time be spent on those, even at the detriment of lesser players?
If the Rockies bought into that theory, they'd spend a lot of time on Carlos Gonzalez. Gonzalez is so talented that he deserves a much better nickname. (Seriously, just shortening a name is not a nickname. "Wild Horse of the Osage" was a nickname. Even "Babe" was a nickname!)
Entering his peak, all that is keeping Gonzalez from superstardom and ridiculous stat lines is a tendency to have minor injuries. He ended last season with a severe hamstring strain, but has shown no issues this offseason and is confident enough that he'll play for Venezuela in the World Baseball Classic.
Gonzalez might be an interesting case for the effects of altitude and fatigue on players. Most of his injuries tend to come at or near the end of seasons. Weiss will need to monitor this and hope that the additional early-season workload of the WBC doesn't make that late-season injury come early.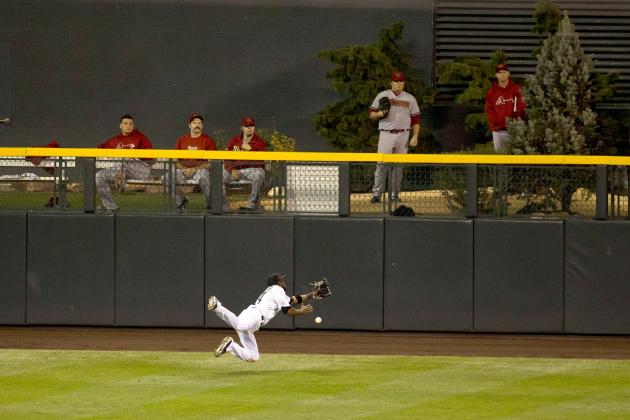 Justin Edmonds/Getty Images

There are times where I can see clear errors in The System. Dexter Fowler is one of them. It's less an error than an exception, as Fowler's stat line looks like one of a player who missed a few games here and there with injury but tends to avoid the DL.
The truth is that Fowler's confounded his managers and has been benched at times, even for much less talented players. He hit career numbers in games played last season, mostly because Jim Tracy couldn't think of anything else to do in CF. Fowler should do better with consistent playing time.
The injury risk for this kind of speed player is that losing even a step can cause a big tick down in everything that makes them valuable—steals, range, even batting average. Fowler has enough speed to lose a step and still have better-than-average ratings in all of those, even in the big CF of Coors.
Better, he's shown no real sign of having those kinds of leg problems, so take this yellow with a healthy grain of salt.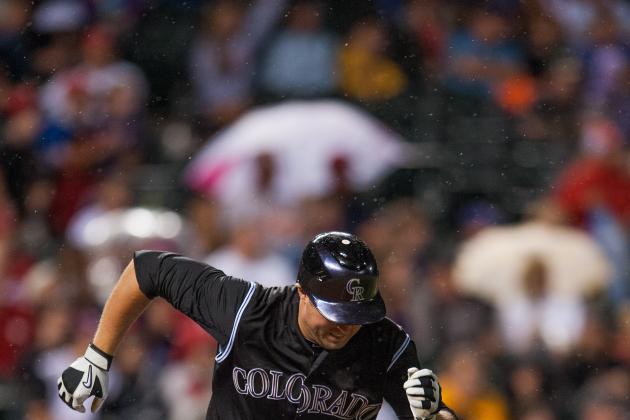 Dustin Bradford/Getty Images

New venue, so I get to tell this story again. I almost ended Michael Cuddyer's career before it started.
I was doing radio with my pal Greg Rakestraw from Victory Field, home of the Indianapolis Indians (Triple-A). The Rochester Red Wings were in town and the longtime Twins affiliate was loaded with prospects, including Justin Morneau and Cuddyer. We got a couple guys on the show, but Cuddyer was by far the best guest. He was funny, told good stories and was precisely the kind of guest you want to keep on the air.
By doing so, Cuddyer did miss his stretches. He finally left, jogging down the stairs to the field while his coach glared at us for keeping his prospect so long. I'm glad he didn't get to do more to us later, after Cuddyer had a major hamstring strain that night.
Cuddyer's young career overcame that episode and a lot more minor but chronic injuries. His bat carried him through and was enough to overcome his defensive deficiencies as well. The Rockies haven't tried pushing him up the defensive spectrum much, which probably helps.
He still has the occasional muscle strain, like the oblique that cost him time last year, so I'll blame genetics more than that one May afternoon in Indy for his yellow rating.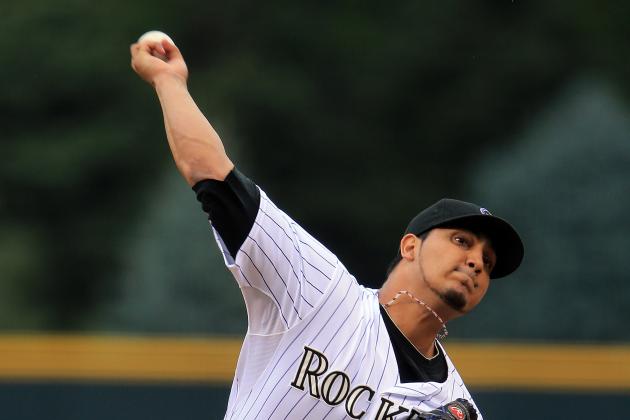 Doug Pensinger/Getty Images

Jhoulys Chacin is not a No. 1 starter in anything but name. The designation really doesn't matter for much of anything besides pride and Opening Day, but for the Rockies, it's just another sign. Chacin isn't an ace, but he is the best hope the Rockies have this season.
Every single one of the Rockies' five projected starters has a red rating this season. It happened before, with the 2010 Dodgers. That team ended up doing okay for itself, finishing a game under .500. The Dodgers did have to go through 10 different starting pitchers, though their top three made 30 or more starts. So it's hardly a death knell.
That staff had Hiroki Kuroda and a young Clayton Kershaw, plus Chad Billingsley, who I was just a year early on seeing a breakdown. Any of those would be the clear one here—Kershaw would be everywhere but Detroit—but the Rockies go with what they've got, in a traditional model again.
Chacin missed four months with a strained pectoral. While the pec is thought of (correctly) as a chest muscle, it attaches in the shoulder, which is where Chacin's problem was last season. He pitched well around it, but seeing him take 30 starts is a long shot. Power sinker pitchers like Chacin do not have a good health record.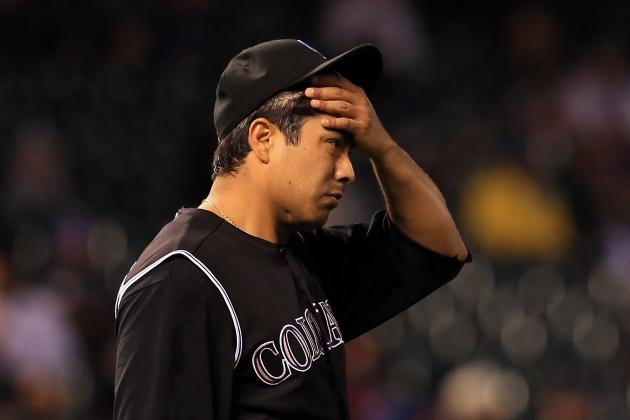 Doug Pensinger/Getty Images

Jorge De La Rosa came back, albeit a bit slower than expected, from Tommy John surgery. He was able to make three starts at the end of the 2012 season. They weren't good. He showed poor command, which was to be expected, but his velocity was off as well, leading to some serious home run issues.
De La Rosa passed on playing winter ball, despite the Rockies hoping that he'd knock some of the rust off with at least a few innings in Venezuela. He did work at the Rockies' complex in Arizona, so it's not like he was sitting around. At $11 million this season, the final year of his contract, everyone involved has to hope he puts up at least league average numbers.
That 2009 season is starting to look like a fluke, especially given that it's his only one with more than 150 innings. Expecting him to get there or above is something The System just doesn't see happening.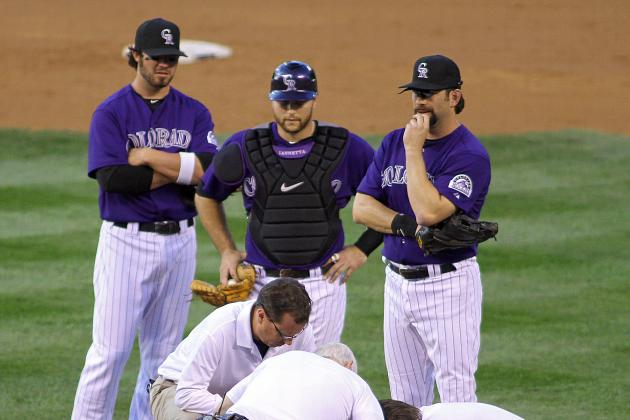 Marc Piscotty/Getty Images

Juan Nicasio is a heartwarming comeback story, but someone with "broken neck" in his recent injury history is going to be red.
Nicasio's lucky to be pitching at all. The comeback was short-lived, as what was thought to be relatively minor knee surgery turned out to be a microfracture.
The procedure, in which small holes are drilled into the surface of the bones around the knee joint in order to create blood flow and stimulate healing of cartilage, has had almost no success in baseball. It's odd, since football, basketball and other sports have seen significant success. Nicasio's procedure doesn't bode well, though we have to hope he has more success than players like Brian Giles and Chad Tracy.
If his knee holds up, Nicasio is still facing the fact that he hasn't been able to go more than 72 innings in any of the last three seasons. Even aggressive projections of 110 don't bode well for Nicasio or the Rockies, who need this story to have a happy ending—or at least a happy 2013.
Quick trivia: His nickname is "La Violencia." Pretty much says it all.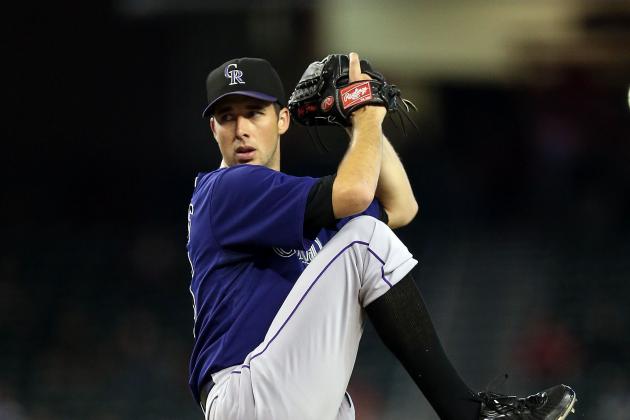 Christian Petersen/Getty Images

Power sinker pitchers like Jeff Francis just haven't stayed healthy. Brandon Webb is the most noted, but while Francis is still pitching, his shoulder bears the literal scars of that pitch. He still throws it over half the time, which is a reminder of the risk.
A power sinker is kind of like a screwball lite. ("Works Great! Shreds Shoulders!") The heavy pronation of the shoulder is not a normal mechanic. You can try this at home. Hold your arm out, like you are about to release the ball at the end of a pitch. Just as you are about to release, turn your thumb down—or, in the parlance of pitching coaches, "pour out the soda can." Feel how your humeral head turns in your shoulder. Now, imagine doing that much, much harder and over and over.
The Rockies are gambling that the sinker, a pitch that should help keep the ball in Coors Field, isn't going to blow up Jeff Francis' arm again. Francis did show some durability the past couple seasons, but he's still very risky.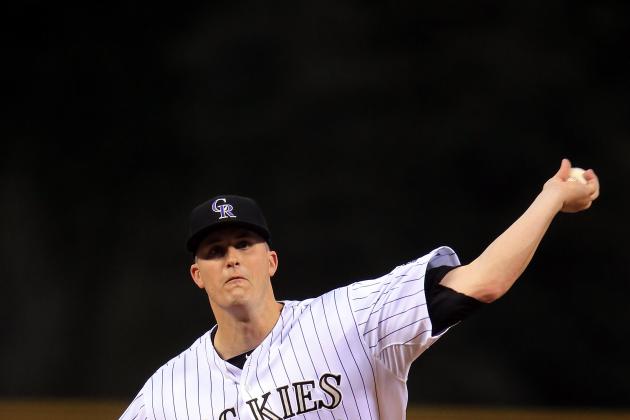 Doug Pensinger/Getty Images

Some trades are win-win. Others, like the deal that sent Ubaldo Jimenez to the Indians, seem lose-lose at this stage.
Jimenez wasn't the ace that Chris Antonetti thought he was trading for, but the Rockies haven't turned the return into much either. Drew Pomeranz lost his command and his put-away pitch in his rookie season, leading to inefficiencies that really cost him with the strict pitch counts.
That's not going to be in effect this season, but at age 24, the Rockies aren't going to let Pomeranz go well above 100 most nights. To do that, though, he has to get to it in the fifth or sixth, not the fourth.
He still has the best stuff on the staff and could still end up the best pitcher on the team by the end of spring training, but Walt Weiss is going to have to figure out how to get this guy through a full season without burning him out.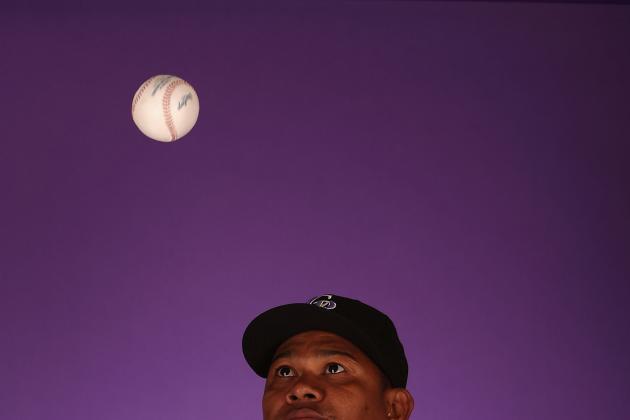 Christian Petersen/Getty Images

The Rockies' bullpen last year was better than its rotation. That's faint praise, but the move to the strict pitch count did show that they understood where their strength was. A quick hook could help Walt Weiss win some games since that's where the strength is again.
Wilton Lopez wasn't there for that workload. Instead, he was the closer for the worst team in baseball—a role that doesn't force any overwork or even much work. He'll shift to a setup role in Colorado, but shouldn't have much issue there.
The worry for Lopez is that his relatively heavy workload the past three seasons combines with a heavy need for workload in Colorado, overtaxing his arm and funky mechanics.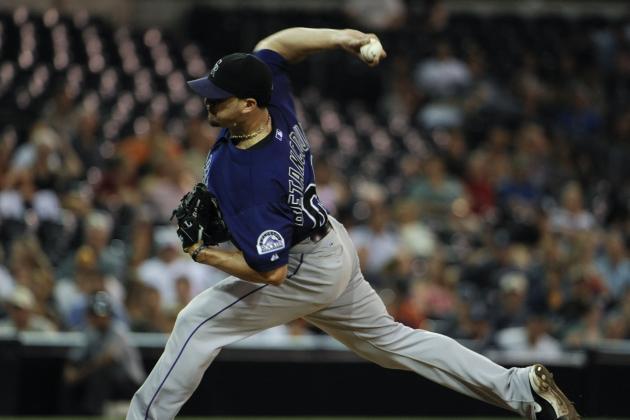 Denis Poroy/Getty Images

Rafael Betancourt is closer by default, but don't take that as a negative. He's likely been as valuable or more than most closers while toiling away as a late-inning reliever. His stuff works anywhere, even in Coors Field, but we don't know how he'll handle the long-term as a closer.
Again, the unknown that is Walt Weiss factors in. He does have holdover Jim Wright as pitching coach, but using Rene Lachemann as first base coach rather than bench coach is just weird. Lachemann was a longtime sidekick for Tony La Russa and is the kind of mind you'd want backstopping a new manager. Lachemann and his brother, Marcel, have long been innovators, especially with reliever usage.
Betancourt is on the low side of the yellow rating and is one of few players that might be hurt by a trade out of Planet Coors. Watch to see how Weiss uses him early on—strict usage would be a major negative.