Detroit Tigers Team Health Report: 2013 Injury Risk for Every Starter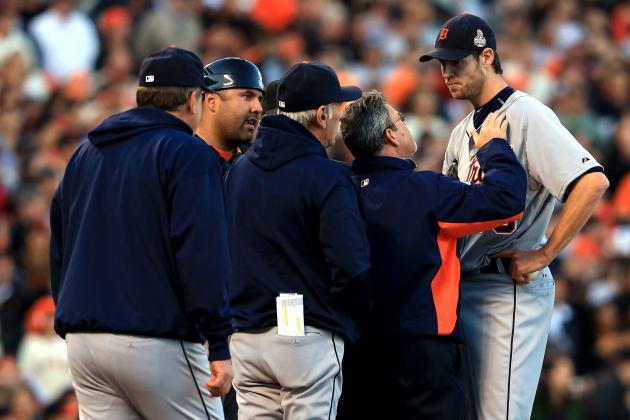 Doug Pensinger/Getty Images
Kevin Rand checks Doug Fister as Jim Leyland looks on.
Will Carroll has produced an annual Team Health Report for each MLB team for 12 years. The report gives risk ratings for every player in the expected starting lineup and starting rotation, plus two relievers. A proprietary formula sets a baseline according to a player's age and position. It is adjusted by 12 factors, including injury history, team history and expected workload.
This risk rating is classified into three tiers—red (high risk), yellow (medium risk) and green (lower risk). It should be used as a guideline and is about probability, not prediction. To learn more about how the Team Health Reports are devised, click on this article.
2012 Rank: 15th best of 30 teams in DL days and dollars lost
Biggest Injury: Victor Martinez, $15.4 million lost value
Head Athletic Trainer: Kevin Rand
Take Victor Martinez out of the Detroit Tigers' injury stats and the season looks a lot better. The Tigers medical staff didn't have any way of preventing Martinez's injury, but here it is making their season and a trip to the World Series look significantly worse than it really is.
The team smartly handled a number of situations, from integrating new players to managing the back of the rotation to the bullpen's late-season meltdown, all without significant injury. It'll have to do the same this season, bringing back Martinez and managing his knee as well as watching Bruce Rondon, the hard-throwing young closer. Keeping him from going the path of Joel Zumaya will be a big test. Pitchers that throw 100 mph do not have a good record of staying healthy.
One situation that many don't remember is the spring training injury to Miguel Cabrera. He was injured during a game when the ball came up and hit him in the face off the bat of Hunter Pence. The Oakley glasses he was wearing might have prevented a significant injury, but the management of the recovery was handled brilliantly. Few realize how close Cabrera came to missing a significant chunk of his Triple Crown season.
The Tigers continue to get close to the championship that the organization wants so badly for owner Mike Ilitch. Keeping the collected talent healthy through another long season is their best shot at getting another roll of the dice in October. Kevin Rand and his staff help give this team the best chance to do just that.
Click ahead for the Tigers. Here are links to all the teams' reports.
Will Carroll is the Lead Writer for Sports Medicine at Bleacher Report. He has written about sports injuries and related topics for 12 years. His column is called "the industry standard" by Hall of Famer Peter Gammons.
Begin Slideshow

»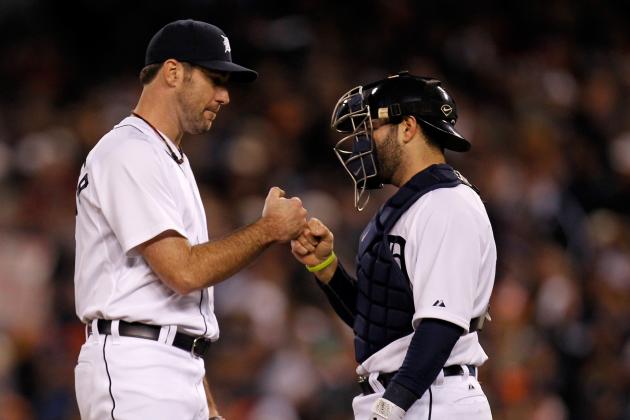 Gregory Shamus/Getty Images

Alex Avila is far more than the Assistant GM's kid. He's one of the better all-around catchers in the league and can be an offensive asset. The big worry here is the knee problems. Even with Gerald Laird behind him, Jim Leyland used Alex Avila a lot over the past couple seasons, and it appears to be wearing on him.
One interesting point a scout told me about Avila is that he evidently hits much worse on days after he has caught Justin Verlander, due to the force of his pitches. Why that would be more on days after rather than during is something I couldn't get a good explanation on. It does point to the more subtle problems of a catcher's production and value.
A quick check of this shows mixed results. While Avila does show a pronounced drop in production when he caught Verlander in 2012, there's no such drop in 2011. It's an interesting anecdote, but it doesn't seem like there's much there in reality, giving him a red rating.
Keeping Avila healthy, especially his knees, will be one of the key tasks for the Tigers medical staff. The success of it could be a bigger tip than most realize.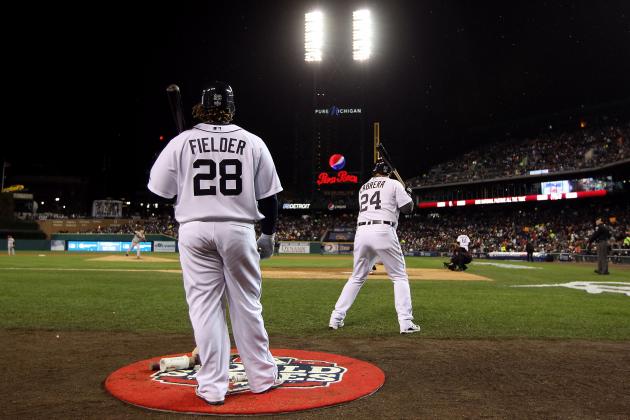 Ezra Shaw/Getty Images

Prince Fielder is perhaps the most durable player in the game right now. He likes playing all 162 games, and it's something of a challenge to himself. Fielder's preparation is legendary, but it also points to the athleticism that he has in contrast to how most perceive him. Like CC Sabathia, Fielder is surprisingly quick and flexible.
Fielder put up almost exactly what was expected of him once you account for park effects. A season to get comfortable and another season of working on cutting down his strikeouts could have Fielder reaching new levels and perhaps chasing an MVP trophy as well as a World Series ring.
Christian Petersen/Getty Images

Omar Infante ended the season with one of the most painful hand fractures you're going to see. A Santiago Casilla fastball rode in and caught him on the outside edge of the hand, fracturing the fifth metacarpal. His World Series was over on one pitch and his scream isn't going to be a good memory for anyone in Detroit.
Infante will be fine. The fracture has healed, but it was unnecessary. Players have been getting hit on the hands for a century, but few have done anything about it. Jeff Bagwell used a piece of foam superglued to the back of his batting gloves after he had his hand broken twice. Mike Lowell had a piece of hard plastic inside his gloves, which saved him more than once.
There are now gloves, like this pair from Evoshield, that could have prevented this injury in Infante and in others. Why this type of padding isn't universal is utterly beyond me. If I was in charge of a team, I wouldn't let my players bat without them, and if I was a parent, my child would definitely wear them.
And before you say "The Tigers might not know about this"—which is a lame excuse anyway—check the next slide. Jhonny Peralta is wearing a shin guard from Evoshield.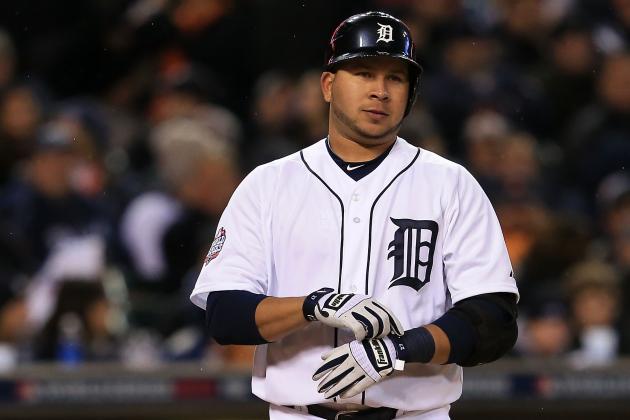 Doug Pensinger/Getty Images

Peralta is already a defensive liability at shortstop, but if his bat stays at 2012 levels, it won't matter that he's durable. He's played in 135 games or more every year of his career and seems to move with a grace that belies his size. He's not overly athletic or "toolsy" as scouts would say, but he's going to be out there every day with a consistency that has it's own value.
The Tigers don't have anyone on the near-term horizon to replace Peralta, but they showed with the Infante deal that they're willing to look outside as needed. Many will be watching to see if a player like J.J. Hardy comes available, which is much more reachable for the Tigers than someone like Elvis Andrus.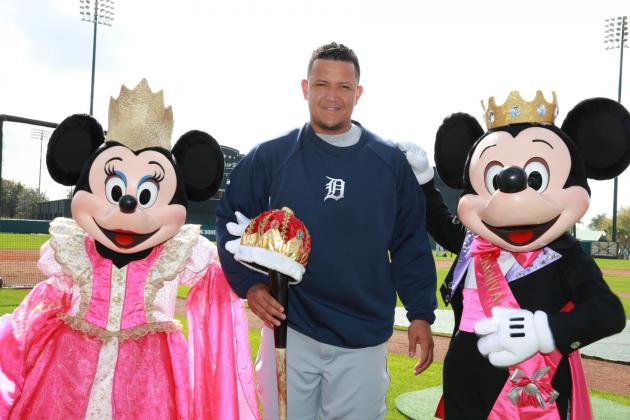 Handout/Getty Images
Cabrera actually got a crown for winning the Triple Crown.
Miguel Cabrera's size and athleticism don't work against him at the plate. In the field, it's another story. Cabrera was solid enough to make the move to third base work. He played 154 games in the field, so having the DH slot occupied by Victor Martinez shouldn't be a big shift in risk.
Cabrera escaped an eye injury during spring training, missing minimal time and having no apparent effect. That's really the only significant injury on Cabrera's file. He's played 150 games or more for the better part of a decade, and while he may seem risky, the results don't match up. The System has Cabrera as a low yellow rating, but I think that's too high.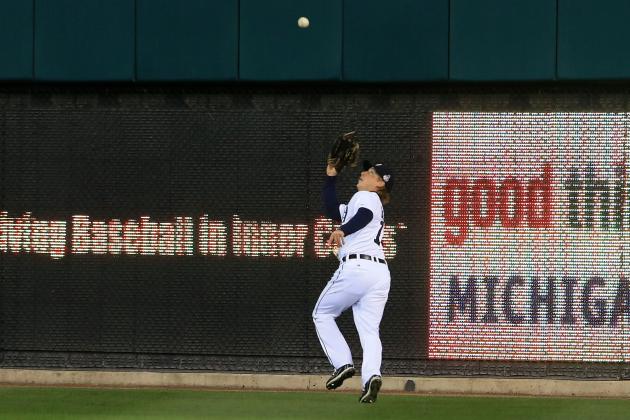 Doug Pensinger/Getty Images

Andy Dirks put up good enough numbers last season to get the nod in LF to start the season. Jim Leyland knows he needs more rest than most, as the Achilles injury that cost him two months showed, and that tougher lefties can not only dominate him, but affect his swing. Those things are easily adjusted for, but the grass is getting greener on the other side.
A player like Nick Castellanos, the Tigers' top prospect, has all the upside and more of Dirks and doesn't have those concerns. Castellanos likely needs some Toledo (Triple-A) time to make the transition from third base to the outfield, but Dirks is going to have to stay healthy and productive to keep his job for the full season.
Dirks' recurrent Achilles issues are his biggest risk, but the Tigers seemed to have a good handle on the management once they got him back from his extended DL trip. That should hold true again this year, especially if Dirks is in a stricter platoon.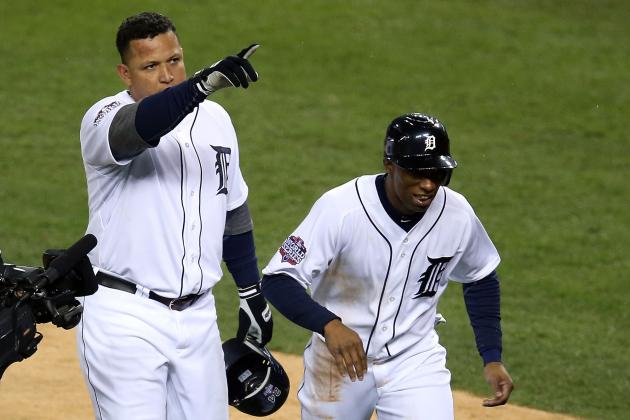 Christian Petersen/Getty Images
Austin Jackson in front of Miguel Cabrera is a good combo.
Austin Jackson is the prototype center fielder. He's rangy, athletic and has no single weakness in his game. On top of that, he's durable. Jackson could perhaps steal more or make a couple more highlight catches, but in doing so, he'd cost himself more wear and tear on his body. He's making the smart decision.
The more he's on the field and on base in front of the sluggers, the better the Tigers are.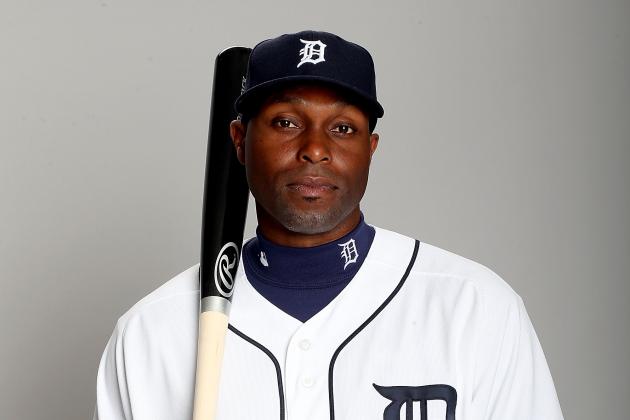 Matthew Stockman/Getty Images

Torii Hunter is a yellow mostly on age. Moving to the bigger Comerica outfield will off-set the full shift to right field, but Hunter has shown that he can stay healthy even as he gets older. There are some worries, as it seems Hunter needs a bit more time each year coming back from small injuries, like the mild groin strain he had in 2012. That's very common and very controllable.
Hunter will be expected to hit second in the lineup and play nearly every day for the Tigers, and he should be an upgrade over Brennan Boesch, who will make for a better fourth outfielder and spot starter when Hunter needs a rest. Expect Hunter to put up more or less the same season he did in 2012, adjusted for the park, but look for signs of decline like additional off-days or a drop in doubles.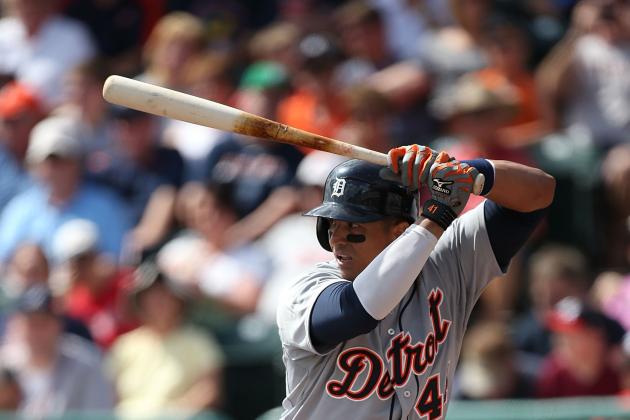 Leon Halip/Getty Images
Looks like Victor Martinez is wearing a brace on his left knee.
Victor Martinez has always had to deal with injuries. He injured his ACL in a workout accident prior to spring training, but in June, the Tigers let slip that Martinez had not had an ACL reconstruction. Instead, he had microfracture surgery. Despite this headline, that is not a less serious procedure and, in fact, raises huge questions about what happened and what to expect from Martinez this season.
While microfracture surgery has worked in football and basketball, as well as for skiers, who were the original reason for the surgery created by Dr. Richard Steadman, there hasn't been the same success in baseball. There's a very small sample size, but also no positives to play on. Martinez might be the first, but how he responds to this is a complete unknown. There are some early positives, but the risks are off the charts.
Martinez is the highest risk player in this year's set, despite playing at the lowest-risk position. That's a feat. If the Tigers medical staff keeps Martinez healthy and productive, they'll be ground breaking and likely the team's MVP.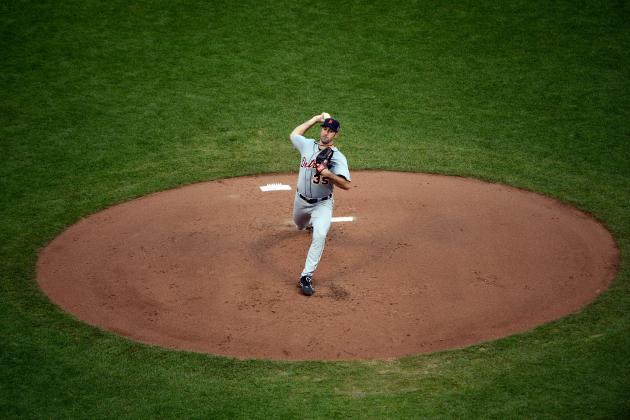 Thearon W. Henderson/Getty Images

When we talk about pitcher health, the conversation inevitably goes to Nolan Ryan, Bob Feller or Bob Gibson. We remember the exceptions, not the guys who lasted a year and had their arm blow up. Someday, we'll likely talk about Justin Verlander in the same way we do the other greats. He's durable on top of the dominance, which is rare to say the least.
Verlander put up his sixth straight year of 200-plus innings, going 266 if you include the playoffs. It's never hurt him before. He added a slider to the mix last season, but that didn't appear to have any negative impact on his durability either. Verlander is simply a special pitcher, one you treasure watching. The downside is that no one should be compared to him. He's just not the same as most of the others.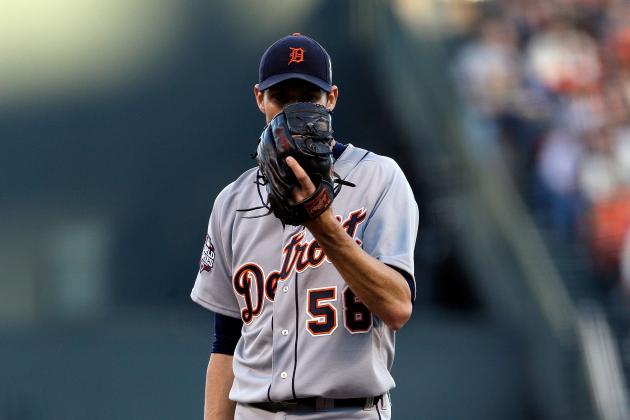 Pool/Getty Images

The rangy Doug Fister uses control and a mix of pitches to keep hitters off-balance. Despite his size—he's 6'8—he doesn't have an even average fastball, so he has to rely on his defense and his deception. The issues behind him didn't help some of his superficial numbers, but he's very solid.
Fister missed six starts with a rib issue, but he came back from it well and showed no signs of problems once it cleared up. He got lucky in the World Series, taking a comebacker off his head and having nothing worse than a concussion. It could have easily been a situation like Brandon McCarthy and proves that baseball needs to get pitcher head protection done sooner rather than later.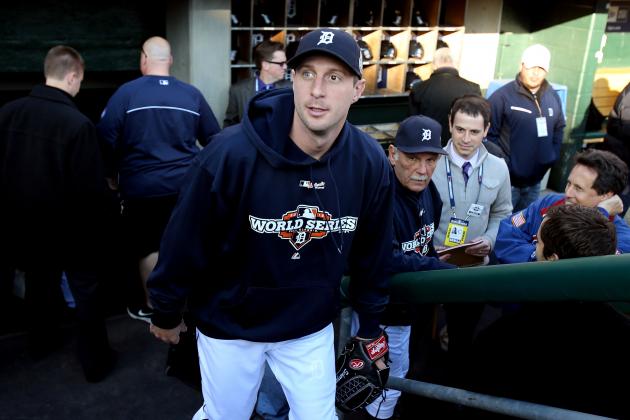 Jonathan Daniel/Getty Images

The System looks for signs that a pitcher fatigued, so that even good results and a nice stat line don't hide a problem. Except for Max Scherzer, that works well. Scherzer twisted his ankle in a celebration after the Tigers clinched their playoff spot, forcing him to miss his last start. He pitched in the playoffs and showed no problems. The System still dings him hard for that last start, and it pushes him just into the yellow.
Worse, that one missed start and some midseason efficiency issues put Scherzer just below the 190-inning mark. That line is a key metric, more important as a final hurdle for ace-level pitchers than the more commonly used and rounder 200-inning mark. Again, this is an issue, but it's one that comes with a suitable explanation in Scherzer's case.
I may not agree with The System at times, but I never, ever make single adjustments to the ratings. The edge cases, like this one, are things I address here in the comments and why just skimming over the colors isn't going to help as much. If you're reading this, you're one of the smart ones and will value Max Scherzer normally.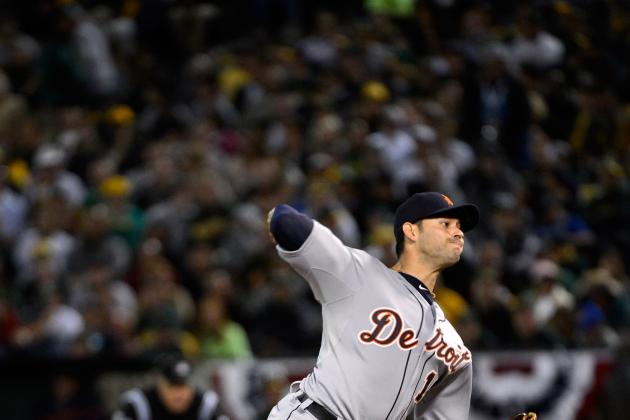 Thearon W. Henderson/Getty Images

Anibal Sanchez learned how to pitch last year. He was always good, perhaps not as good as he could have been had Joe Girardi not slagged him early on, but good. Last season, especially after coming to the Tigers, Sanchez really mixed his pitches well and had an easy, repeatable motion that almost lulled batters to sleep.
With three seasons around 195 innings, he's showing increased durability and vastly increased consistency. Whether that's worth $80 million is subject for debate elsewhere, but Sanchez should thank the doctors that put his shoulder back together. He's one of the few that come back from that kind of shoulder injury. That's he's durable now is even more amazing.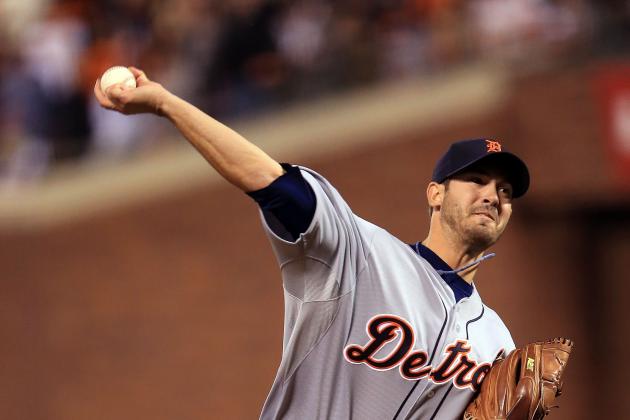 Doug Pensinger/Getty Images

I am not a doctor. I am also not a scout. Back in 2006, I saw Rick Porcello in a wood-bat league game and came away unimpressed. I actually liked the pitcher who pitched the second game of the doubleheader better. That was Anthony DeSclafani, who was in the big Blue Jays-Marlins deal and could be in the Marlins' rotation in the next couple of years, so I wasn't completely wrong.
It does point out just how young Porcello was. By the time his teammate cracks the rotation, Porcello will be edging up on free agency. Porcello showed some mild signs that he was putting things together, but the superficial signs aren't catching up. He's still got good stuff, good velocity and at 24 years old, he's got time too. The workload under the injury nexus isn't ideal, but the next couple years could show Porcello on a big upswing if he can keep his arm healthy.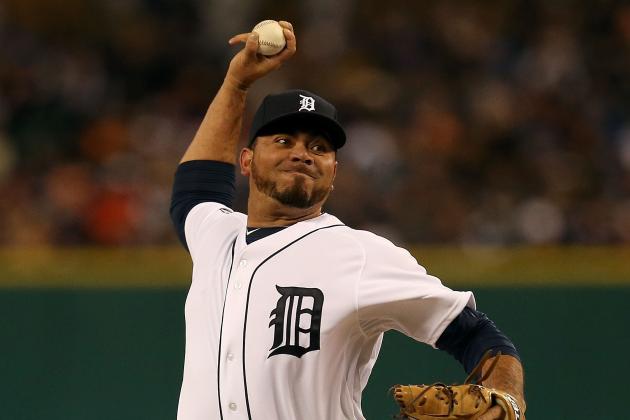 Jonathan Daniel/Getty Images

The closer role in Detroit is theoretically up for grabs, but Joaquin Benoit may have missed his best opportunity to lock down the role. When Jose Valverde melted down, Benoit couldn't hold the role and was passed over for Phil Coke. This year, he'll have to wait for Bruce Rondon to fail to get saves.
It doesn't mean he won't be useful for the Tigers. Benoit works well as a setup guy and got more of the key situations than Valverde did, doing it without the annoying antics. The big worry for Benoit is the loss of control in the second half. His velocity was fine, but the control vanished, spiking his walks. That kind of sudden control drop can be a harbinger of elbow problems, so this yellow is locked down on that.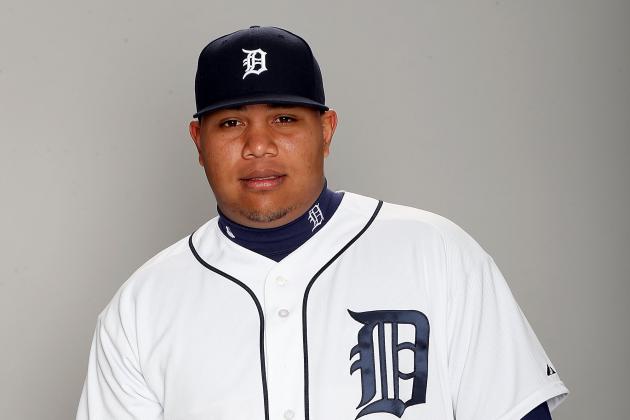 Matthew Stockman/Getty Images

Bruce Rondon throws 100 mph. That's really about all you need to know to understand the red rating here. Not many guys touch 100, let alone live there, and most of them come up with arm injuries. It's simply more force, and they tend to be max-effort guys. There are exceptions, but guys like Justin Verlander are exceptions to almost every rule there is.
Rondon will be given every chance to take the closer role this season. His stuff is ridiculous, with that heavy heater and a sharp power curve. The big Venezuelan is going to get lots of Joel Zumaya comparisons, both positively and negatively.