Chicago Cubs Team Health Report: 2013 Injury Risk for Every Starter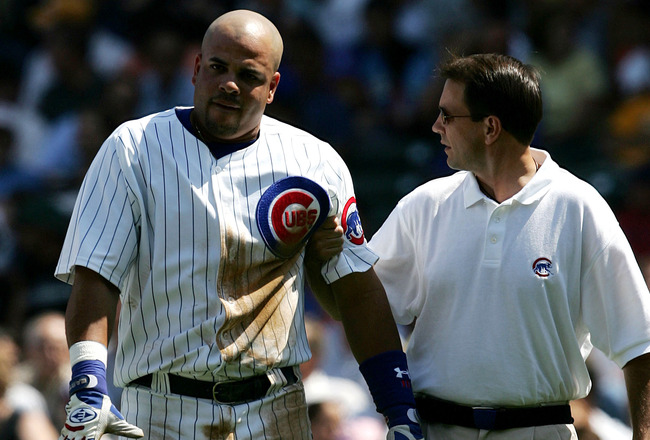 Mark O'Neal helps Aramis Ramirez off the field.
Jonathan Daniel/Getty Images
Will Carroll has produced an annual Team Health Report for each MLB team for 12 years. The report gives risk ratings for every player in the expected starting lineup and starting rotation, plus two relievers. A proprietary formula sets a baseline according to a player's age and position. It is adjusted by 12 factors, including injury history, team history and expected workload.
This risk rating is classified into three tiers—red (high risk), yellow (medium risk) and green (lower risk). It should be used as a guideline and is about probability, not prediction. To learn more about how the Team Health Reports are devised, click on this article.
2012 Rank: 13
Biggest Injury: Ryan Dempster, $3.7 million
Head Athletic Trainer: Mark O'Neal
The Chicago Cubs appear to finally be doing something about their biggest problem. No, it's not that century without a World Series title, though that's bad too. The biggest issue is the smallest training room.
Wrigley Field was built before such a thing had even been thought of. Most teams didn't have full-time athletic trainers until well into the 1960s, and even into the 1980s, there was no standard for how these people would be certified. Believe it or not, there remains one grandfathered head trainer who is not NATA-certified. There might be more of an issue if it wasn't Herm Schneider, the White Sox trainer who put up the best injury stats of 2001 to 2010.
I can remember my first time seeing the Wrigley Field training room, and as someone who more or less grew up in training rooms, it was a shock. It was about the size of the office for the athletic trainer that the Pittsburgh Pirates had built at their new PNC Park. The Wrigley Field training room was on par with a decent Division III school. Maybe. Except a lot older and darker.
There were none of the modern tools like anti-gravity treadmills or SwimEx machines. Cold lasers? You must be kidding. Still, the medical staffs have made do for the better part of 30 years with this renovated but still sub-standard facility.
Over the next few years, the renovations at Wrigley should get Mark O'Neal into the 21st century. As clubs have built new stadiums, one of the biggest effects has been on injury stats. There are still traumas, but maintenance gets a clear bump, and there's some evidence that prevention might be helped. This effect tends to be lasting, since new facilities tend to be a bit overbuilt.
If the Cubs can get that done about the same time as the roster rebuilding that Jed Hoyer is undertaking, maybe that whole winning the World Series thing could be next.
Click ahead for the Cubs. Here are links to all the teams' reports.
Will Carroll is the Lead Writer for Sports Medicine at Bleacher Report. He has written about sports injuries and related topics for 12 years. His column is called "the industry standard" by Hall of Famer Peter Gammons.
C Welington Castillo (YELLOW)
Rob Tringali/Getty Images
Welington Castillo is a high yellow, but as an unestablished catcher, the baseline isn't far off this. He's been healthy in a trio of seasons at Iowa (Triple-A), so he can handle the workload and the pitching staff. There are all the normal caveats about this kind of player at this position, but there are also some positives.
Given where the Cubs are in their rebuilding process and the players behind him, there's no reason to think that Castillo will be treated any differently that Geovany Soto was before him. He'll be given every chance to be productive until he gets expensive.
1B Anthony Rizzo (GREEN)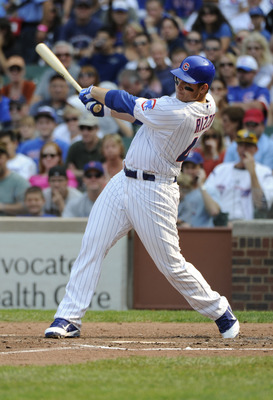 David Banks/Getty Images
Anthony Rizzo has all the right checkmarks heading into his first full season of major league play. He has two years where he split time between the minors and the big leagues, with no real weardown last season despite the longer season. He showed no real issues with power or major league pitching, even his second time around the league. He was certainly helped by the new home park.
With 30-plus home run power, good defense and almost no injury history, Rizzo is as sure a thing as a young player can be in the eyes of The System.
2B Darwin Barney (GREEN)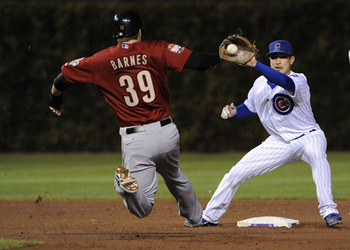 David Banks/Getty Images
Darwin Barney is good enough to hold his position just based on defense. That's even more important for a team with younger pitchers and that needs to win close games to avoid losing streaks. It's unlikely that he's going to get much better at bat, but again, he's healthy enough and good enough to get a lot more chances.
SS Starlin Castro (GREEN)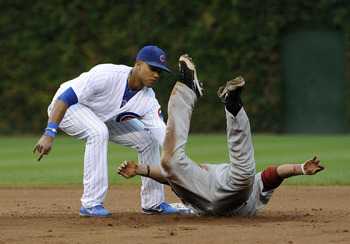 Someone please explain this picture.
David Banks/Getty Images
Starlin Castro didn't make a step forward at 22 years old, which could indicate that he's going to be at this level for a while. That's not a bad thing, especially if he stays healthy to go along with the steals and surprising power.
He's played more than 150 games per year the last three, which makes him very valuable as a defensive shortstop alone, but he's got a ton more production than that. The health is just the cherry on top of everything else.
3B Ian Stewart (RED)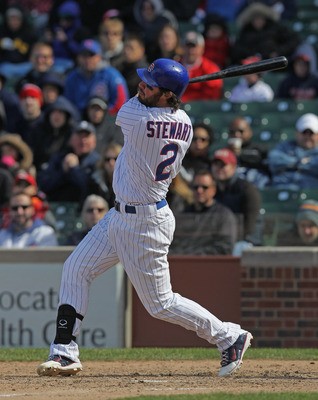 Jonathan Daniel/Getty Images
Ian Stewart's slow first half could be explained by the wrist surgery that cost him the second half. If so, there should be a bounceback to the numbers, but while he's shown more than he did last year, he's never shown consistency. It's that, as well as the injury history, that keeps him deeply in the red.
Add in the risk that any small injury opens up a window for Josh Vitters to get a second shot at the bigs and Stewart's low red is about right. Stewart has to show that his power is back to have a hope of holding the position and getting any sort of production out of the 2013 season.
LF Alfonso Soriano (YELLOW)
Ralph Freso/Getty Images
The speed is gone, but that's age and not injury. Alfonso Soriano is still productive enough to be a high-level outfielder without the steals, and Wrigley Field's left is easy enough to play in that he could play out the terms of his deal—two more years—and not hurt too much.
Soriano's 2009 knee surgery has held up and his numbers have been solid since then. The risk here is his age and the uncertainty of his status. The Cubs have handled Soriano's health very well, and a change might affect that negatively. Soriano has 10-5 rights, and as we've seen, players do seem to want to stick around the Cubs. It's a good lifestyle.
CF David DeJesus (YELLOW)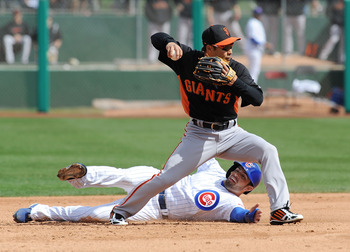 Norm Hall/Getty Images
At 33 years old, David DeJesus is what he is. He's a solid defender, a solid guy at the top of an order and doesn't have a big hole in his game in any area. He's been able to handle the leg injuries that took some of the speed and range by playing smart, so there's no reason to think that he can't do that again this season.
DeJesus's yellow rating is very low in the tier, though as he continues to age, a shift to either side of the outfield would be a big help. That likely won't happen with the Cubs, but DeJesus is the kind of player that could provide good cover for a younger player like Brett Jackson if he can make some progress.
RF Nate Schierholtz (YELLOW)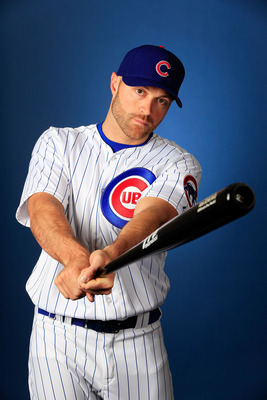 Jamie Squire/Getty Images
Nate Schierholtz is a nice, cheap platoon outfielder. The Cubs are holding a place for...well, someone. Until then, a Schierholtz platoon with Scott Hairston should work pretty well. Schierholtz has never put up big at-bat numbers, which makes his risk look a little higher. Pure platoon players are a weakness of The System.
There's no major health concerns with Schierholz, but he could be overexposed if Hairston gets injured or plays ineffectively. There's also the issue of Jorge Soler, who could be rushed up if he continues to make progress.
SP Matt Garza (YELLOW)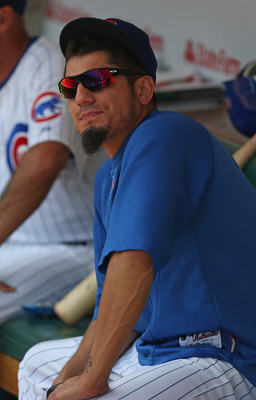 Jonathan Daniel/Getty Images
Matt Garza has an unusual elbow ligament. According to Garza, a childhood skateboarding accident led to scar formation over the ligament. That should make it stronger but in the kinetic chain, there's always a weak link. While the ligament stayed healthy, it turns out that the ligament was strong enough to start to pull away some bone.
The stress reaction was caught early, well before the bone avulsed (pulled away). Rest and treatment have Garza back to normal, though he's going to be very risky for the same type of incident if the forces that initially caused it continue to act on the elbow. There's no indication that they've done anything with that, like a biomechanical analysis or some kind of simple mechanical change.
Watch for Garza to be strong early in the season, but by his 10th or 12th start, we'll know a lot more. If the elbow holds up under a normal load and recovers well, that's a big plus, but it's very risky in getting to that knowledge.
SP Jeff Samardzija (GREEN)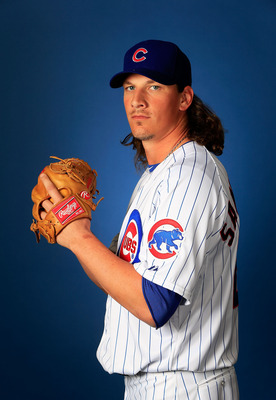 Jamie Squire/Getty Images
Jeff Samardzija succeeded beyond anyone's expectations in his first full year as a starter. His pitches actually got better as he worked, as did his command. His innings increase was controlled by an early shutdown, and at 28, he shouldn't be babied any more. If the changes from last year hold, he's a valid starting option with a couple more years of team control.
There is some concern about his mechanics, but they do add an element of deception on top of his stuff. They are consistent when he's on, but he can lose them. Last year, he kept losing his mechanics from turning into a long bad run, which is pretty mature.
SP Edwin Jackson (GREEN)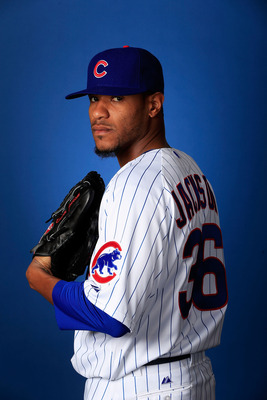 Jamie Squire/Getty Images
Edwin Jackson comes to his 30th team with... No, not really. It just seems that way. Jackson gets his first big contract and the concept of stability, but will the kind of things that keep getting him traded crop up? The contract isn't so big that he can't be dealt if it does go sideways.
He's healthy enough to put up 200 innings a season. The stuff is still plus, but he keeps doing just enough with it to be good, not great. Pitching coach after pitching coach hasn't been able to draw it out of him consistently, but he's been healthy enough to keep getting chances. This contract is likely to either make or break Jackson; either he improves with the stable ground beneath his feet or it's another big contract the Cubs will regret.
SP Scott Feldman (YELLOW)
Jamie Squire/Getty Images
Scott Feldman is a perfect swingman. He's got the stuff to succeed as a starter, if not the stamina, though that's a question he'll answer in August. If not, hey, the Cubs could use a swingman too. The workload is the worry, but Feldman's also had some surprising issues recovering while working as a starter too.
If the Cubs had a deeper staff, he would be a solid guy for the five-man skip role, but they don't. As he tires, he tends to lose command rather than velocity, so that's a signal to watch for.
SP Carlos Villanueva (YELLOW)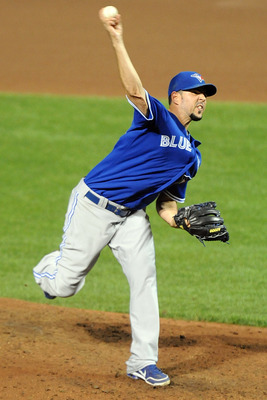 Mitchell Layton/Getty Images
Another swingman, the Cubs actually intend to use Carlos Villanueva in the long-relief role. He'll fight Travis Wood for the five slot in the spring while Scott Baker works to come back from Tommy John surgery. Baker is at the 11-month mark as spring training opens, so he shouldn't have too much time.
Villanueva has good enough stuff to hold the rotation slot, and if one of the other pitchers struggles, he gets a bit more time and look around—there's plenty of candidates for struggling. Villanueva is just the kind of pitcher the Cubs need at this point, but this is the kind of pitcher that you need a lot of. They have that in Villanueva, Wood and Baker. One of them will work out, but it's hard to say which one.
RP Kyuji Fujikawa (GREEN)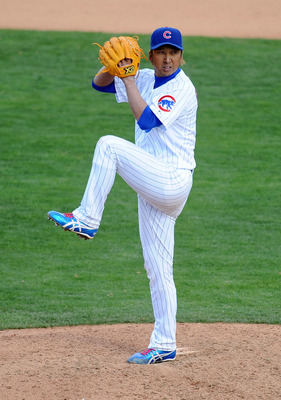 Norm Hall/Getty Images
Kyuji Fujikawa has been the best reliever in Japan for the last decade and ranks among the best of all time. The move to America wasn't a surprise, but the move to the Cubs was. His K-rate and control are better than Carlos Marmol's, but the translation to MLB might lop a bit off that. Control usually makes the trip, and that would be enough to get him the save chances if Carlos Marmol has another wild streak.
While starters can sometimes struggle with workload, it's not as bad for relievers. He shouldn't have any issues with recovery, since that part is the same on both sides of the Pacific. The more interesting thing is how his stuff works. Fujikawa features a fastball that scouts say rises and a splitter that drops. That sort of up-and-down stuff is seldom seen in MLB.
CL Carlos Marmol (YELLOW)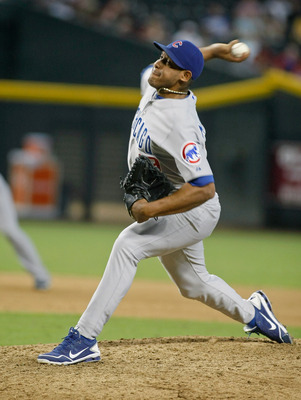 Ralph Freso/Getty Images
Marmol has great stuff and terrible mechanics. Actually, the term should be "inconsistent" since the biomechanics are an unknown. Marmol's velocity was back up, though his control and command didn't make the trip back from Iowa.
With Fujikawa signed to a relatively friendly contract, Marmol could be dealt. (The Cubs tried to deal him this offseason.) Even the slightest cold streak will push him out of the closer role, but some scouts are worried that his answer to that won't be to focus on the command, but to overthrow and put his arm in jeopardy.
Keep Reading