Miami Marlins Team Health Report: 2013 Injury Risk for Every Starter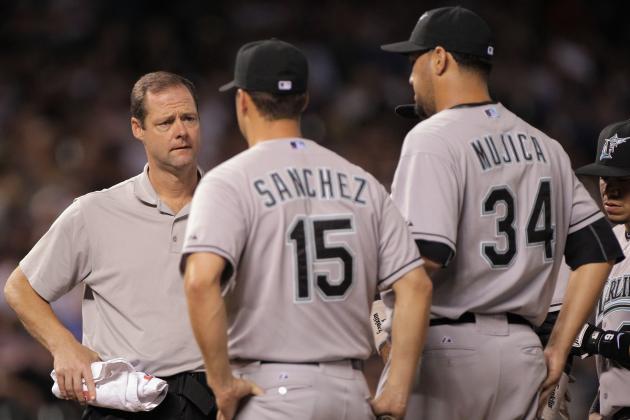 Doug Pensinger/Getty Images
Sean Cunningham comes to the mound to check his players.
Will Carroll has produced an annual Team Health Report for each MLB team for 12 years. The report gives risk ratings for every player in the expected starting lineup and starting rotation, plus two relievers. A proprietary formula sets a baseline according to a player's age and position. It is adjusted by 12 factors, including injury history, team history and expected workload.
This risk rating is classified into three tiers—red (high risk), yellow (medium risk) and green (lower risk). It should be used as a guideline and is about probability, not prediction. To learn more about how the Team Health Reports are devised, click on this article.
2012 Rank: 8th of 30 teams in DL days and dollars lost
Biggest Injury: Giancarlo Stanton, $5.2 million value lost
Head Athletic Trainer: Sean Cunningham
Who?
I'm a baseball guy first. It's the sport that truly has my heart, despite my upbringing. Even before I did this for a living, I pored over charts, stared at the back of baseball cards and can remember the day I found the Mann-Malin Guide in a Hastings. I have spent more hours on dirty, dusty fields than I can count and even more watching the game from every angle.
That's why I'm almost offended by the Marlins. It's not the fire-sale trade. It's not the stadium that will end up a financial debacle for the city. It's not even that center field Cthulhu out there that burns the retinas of anyone watching.
No, it's the fact that there's a major league team that makes me say "who?" when I go through the roster. This team might not be worse than last year's squad, a team that never came together despite being relatively healthy.
It was as bad as what happened in Boston, just with a lesser media presence.
It's not just me. When I make my calls to scouts and front-office types to help me put together the subjective part of the rankings, I'm used to hearing something like "Well, I haven't seen him much so can't say." With some of these Marlins, I got nothing but "who?" (The subjective part is a very small part and absent enough input, the adjustment zeroes out, so don't worry about this affecting things.)
The Marlins could, however, turn things around quickly. Once again, they've traded away expensive vets for a decent core of younger and mostly healthier players. The risks they have are mostly of the "hasn't established himself" variety, with only Placido Polanco as a purchased risk. He's cheap and might work out, so no big deal either way.
The Marlins are going to have to hope they can keep a no-name bunch as healthy as they did last year, while hoping everything else goes better. Good luck with that, guys.
Click ahead for the Marlins. Here are links to all the teams' reports.
Will Carroll is the Lead Writer for Sports Medicine at Bleacher Report. He has written about sports injuries and related topics for 12 years. His column is called "the industry standard" by Hall of Famer Peter Gammons.
Begin Slideshow

»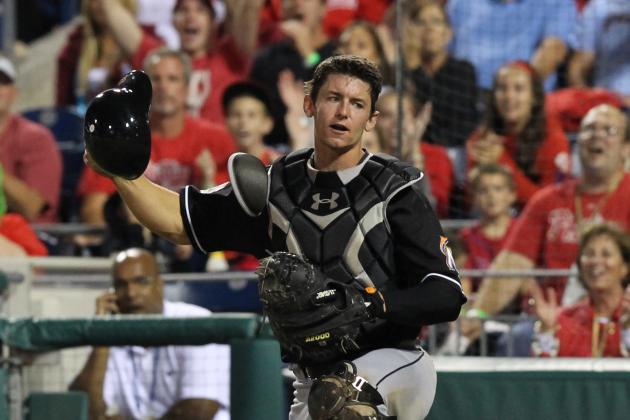 Hunter Martin/Getty Images

The Marlins look to go with the young Rob Brantly behind the plate this season. Part of the haul from the Tigers, Brantly had a reputation as a catch-and-throw guy, but has been decent with the bat. He's never gone above 450 at-bats in a pro season, so he's a prime candidate for fatigue in addition to the normal dangers of catching.
Jeff Mathis is a perfect backup here, so I'm not too worried about that part.
Any young catcher like Brantly starts out in the yellow, so this isn't a negative. In fact, Brantly has the makings of a very good catcher in the long term and one of the better returns that the Marlins got back in their deals. Add in that Mike Redmond should at the very least handle catchers well, it's an additional plus.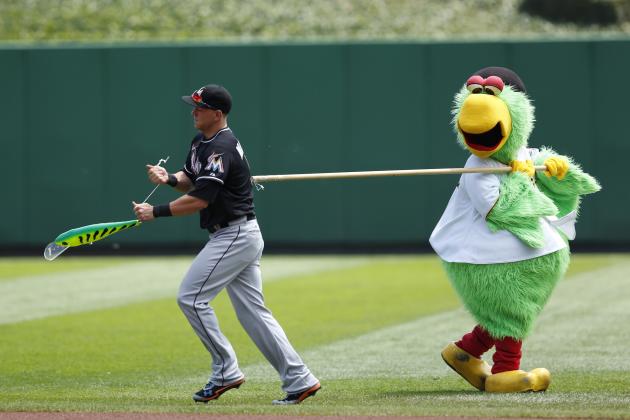 Joe Robbins/Getty Images

Logan Morrison is on his fourth manager during this knee injury, and the first three all seemed to lose patience with "LoMo" quickly. Jack McKeon is famous for forgetting names, but he knew enough about Morrison to tag him as "Twitter."
Morrison spent another offseason rehabbing from minor knee surgery and once again is way behind where he was expected to be. The Marlins traded almost everyone else on the team, but couldn't find a taker for Morrison, who they gladly would have dealt. If Morrison can come back and show that he's healthy, the Marlins will try again.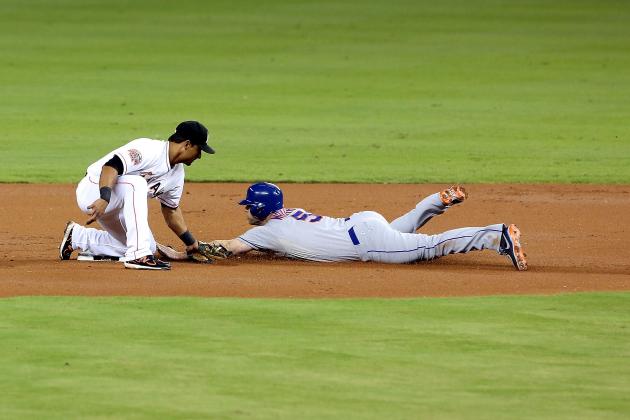 Marc Serota/Getty Images

Most scouts around the league still think Donovan Solano is a Quad-A player, a tweener that's doing nothing more than making the most of his chances. There are a couple who are seeing his versatility and baseball smarts and thinking he could stick.
Solano hit pretty well—though the peripherals don't support it—and seems to read pitchers well. Depending on where he hits, Solano could rack up surprising steal numbers. Solano's never played enough for The System to think he can make it through a full season without some sort of issue, but there's no defined risk here.
Solano's not so much a sleeper but more of the guy you shouldn't feel bad about picking when the thin second base crop is off the board. He could stay healthy and put up decent numbers in all five categories.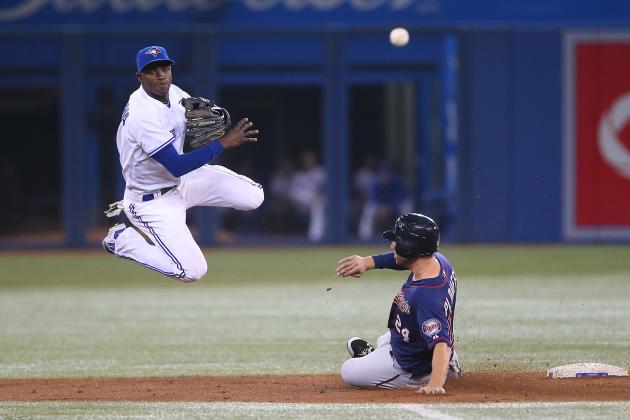 Tom Szczerbowski/Getty Images

Guys like Bob Smith never get hurt. It's always the Doug Mientkiewicz's and Jhoulys Chacin's who get hurt, leading me and my copy editors to shake our fists at the sky. By that measure, Adeiny Hechavarria is going to be risky.
He's actually been very healthy through the minors, building a rep as a defensive wizard. He'll take the starting job and hold it if he can hit just enough. The usual young-player-establishing-himself caveats apply, but add in that we have no read at all on how Mike Redmond will manage and it gets just a bit riskier.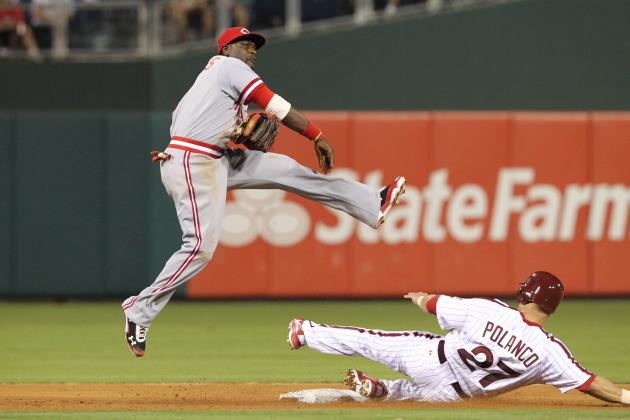 Hunter Martin/Getty Images

I don't think the Marlins believe that Placido Polanco will stay healthy all season. The back problems are the worst of it, but wrist and leg problems have limited him over the last couple seasons as well. Anything above 250 at-bats at his career levels would amount to a win. Polanco could help prevent overexposing Greg Dobbs, and yes, there's a guy calling himself Chone Figgins in the background too.
Polanco is the kind of risk that doesn't make a ton of sense on the surface, but the more you talk to people around the Marlins, the reasoning starts to become clear. Polanco can take some of the young players under his wing in a way that Mike Redmond can't, especially the Latin ones like Hechavarria and Solano. It would help if he led by example, but there's some value in clubhouse leader as well.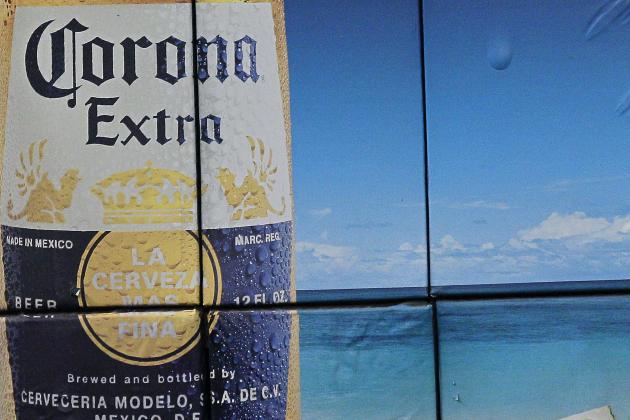 Bob Levey/Getty Images

If a team is going to stink—and the Marlins, as I said, might actually be better even after the trades—they should at least be exciting. Find a player who can capture the city's imagination or have a player who gives fans something to talk about.
The Marlins did that, grabbing Juan Pierre to play the role of Willie Mays Hayes. Even my favorite projection engine, STEAMER, saying that Pierre is only good for 21 steals doesn't dampen the concept. Pierre and Redmond don't need to deal with any sabermetric break-even here. Pierre has been healthy over his career and has the speed to get 60 bags again.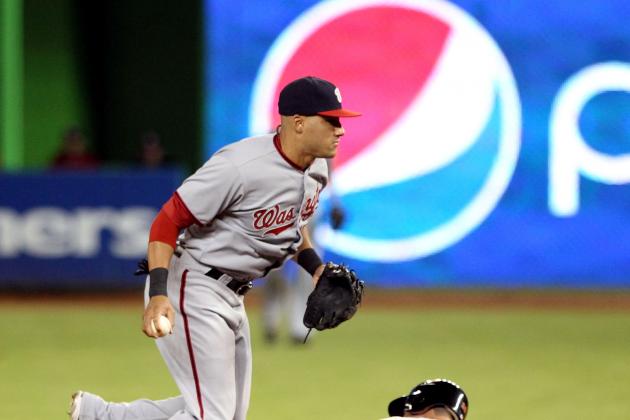 Marc Serota/Getty Images

The Marlins plan to get better and cheaper hinges on things like Justin Ruggiano. If his shoulder has healed up, if he can show the power he did last year and if he can hold up over a season, he's a plus for the team. At worst, he's a placeholder for Jake Marisnick, one of the young but not ready outfielders in the Marlins system.
Ruggiano has always been a fourth outfielder-type who could become Shane Victorino-like if he doesn't break down along the way. The System isn't ready to say he can, but it's not convinced he can't either.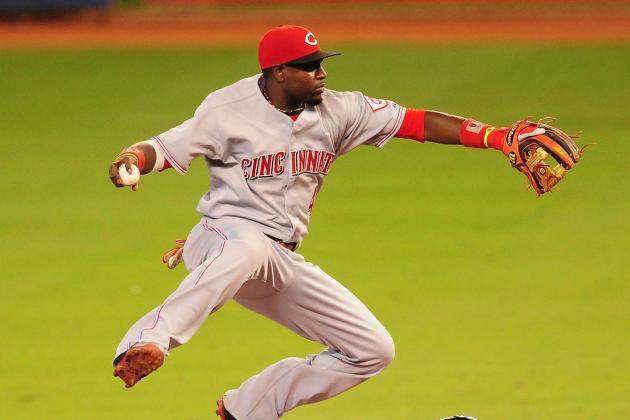 Jason Arnold/Getty Images

Giancarlo Stanton doesn't want to be in Miami. He's made that clear on several occasions, and if the rebuilding goes slower than expected, Stanton could give it a boost by bringing back a huge return in a deal. Then again, he could be the cornerstone the Marlins build around if they can convince him to stay.
Either way, he has to stay healthy, and that's been something of an issue for Stanton. The knee problem that cost him time last year was nothing to worry about, but for a guy with this kind of swing, back and shoulder issues, even the minor ones he's dealt with are a major concern. He's big, not fat, but even so, he'll need to make sure his back can hold up to those big, big swings.
No one has more power potential, but that kind of power comes with a lot of force. That kind of force, like a power pitcher, comes with risk.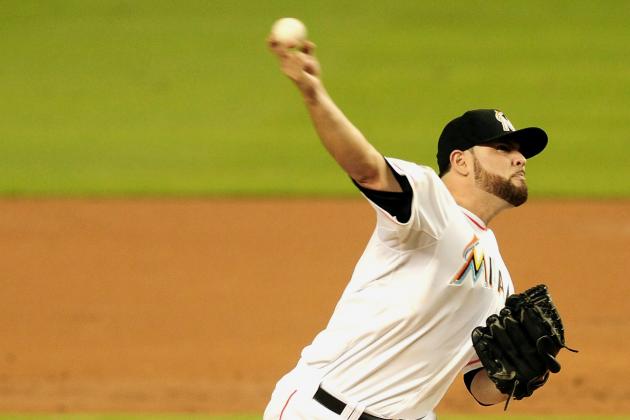 Jason Arnold/Getty Images

A rare combination of an unhappy player and declining skills, Nolasco is still the surest thing in the Marlins rotation. His numbers, especially his strikeouts-per-nine ratio, have been in decline over the last few seasons and even when it was high, his statline seldom matched the peripherals or the projections.
What he offers at this point is 180-200 league-average innings and hopefully a night that Mike Redmond can worry less about burning out the bullpen. Nolasco could have a nice first half and be a trade chip, much like Anibal Sanchez was last year. He's not as good and won't bring a return, but the velocity will need to stay up for anyone to have much interest.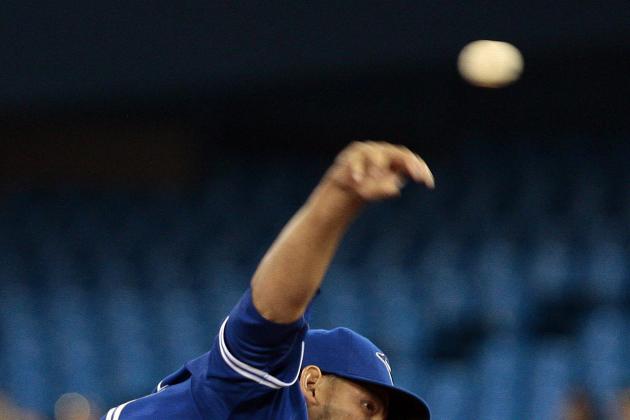 Abelimages/Getty Images

The System reads Henderson Alvarez's late-season decline as fatigue. There's an element of that in there, but it was really more the league adjusting to Alvarez's sinker and lack of a finishing pitch. He just doesn't miss enough bats. The defense behind him last year was good enough to make him look better than he was, and this year's might be better.
Alvarez coming up just short of 190 innings is an interesting mark. While many talk about 200 as the level where there's a separation, it's actually just slightly lower. An update of a study I did in 2003 has shown that the pitch-limited environment might have moved things down to 180, so this isn't a significant issue. What Alvarez has to do is show that he can get back to and surpass this level if he wants to hold a spot in the rotation long term.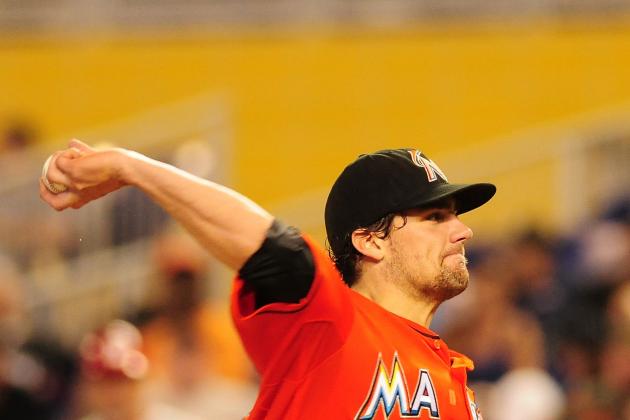 Jason Arnold/Getty Images

Nathan Eovaldi is the combination of a young, hard-throwing pitcher who lacks command that often shows up on a surgeon's table awaiting a new ligament. Eovaldi's going to have to find that command, all while doing it with a new team and pitching coach—while being expected to make a big innings jump.
There's the chance that it all comes together, which is why a team would take a chance on a guy like this; 95 mph heat doesn't grow on trees, nor is it teachable. The chance that he learns it and that he stays healthy enough to do it is why teams take chance after chance on these guys.
The one who succeeds is worth far more than the nine who fail.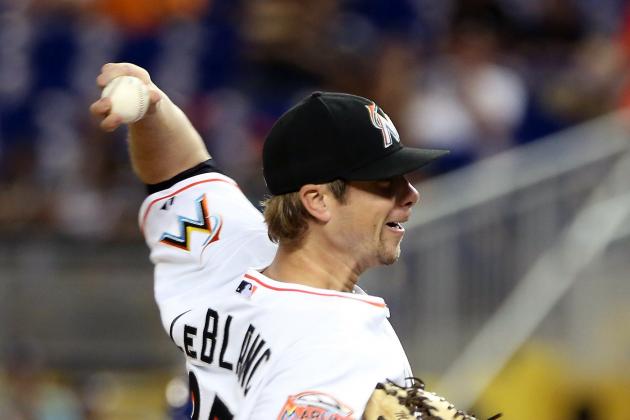 Marc Serota/Getty Images

Wade LeBlanc has classic lefty stuff, changing speeds, tossing junk and occasionally spinning a curve that can make guys from either side look stupid. He's decent enough in the back of a rotation or in the pen. He'd succeed most in a role that doesn't exist any more, though because of him and their situation, the Marlins would be an ideal team to try the four-man-plus swingman rotation.
LeBlanc's classic lefty stuff comes with classic lefty mechanics. It's not overpowering, but it's not easy either. He's not going to lose stuff when he fatigues; he'll lose command. Without that, he'll leave a big fastball or spin a cement mixer that heads straight for the Clevelander. By that point, the Marlins hope one of their young pitchers will be ready to step in.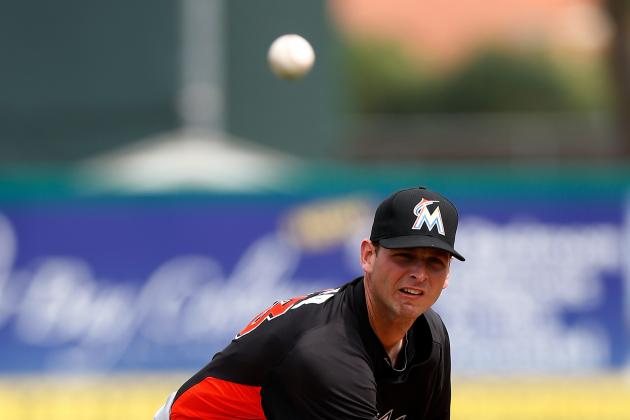 Chris Trotman/Getty Images

Tall, skinny, power stuff and...oh yeah, young. It's that last part that is the big worry about Turner. He profiles similarly to Rick Porcello, another Tiger-developed youngster with a similar frame and similar stuff. While Porcello hasn't gotten injured, he's fought his way through a couple years without making a step forward. One scout I spoke with who remembers Porcello as a Jersey youngster said he hasn't seen that kid since he made the majors. "He's fought so hard to stay in the rotation that he doesn't have anything left to help himself out."
The worry is that Turner is a bit raw for this role and could be overpowered, especially in a division full of solid hitters. Where the Marlins take him in regard to his breaking ball—he has both now, but most teams prefer a pitcher to pick one—and how they manage his workload will go a long way in how he plays this year and perhaps far beyond it.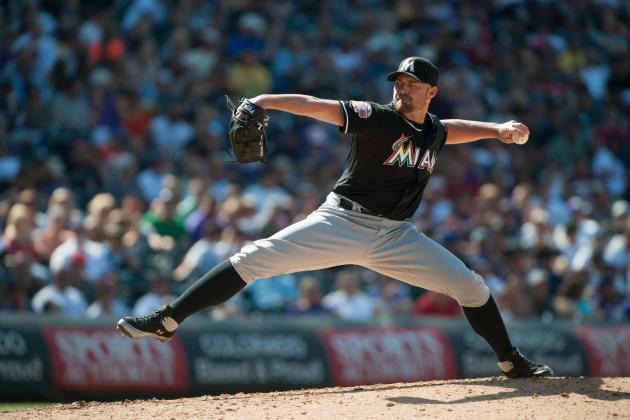 Dustin Bradford/Getty Images

Dunn is a power lefty whose slight drop in command numbers led to big drops in most of his value stats. He's more than a LOOGY, less than dominant and yet somehow the most trustworthy pitcher in the bullpen. Dunn's lefty slider is hard enough that it can give problems to anyone, and his mechanics are stable enough to allow him to throw it at almost any point.
If Dunn can tighten up the command again, getting hitters to stop spitting on the slider and waiting for the down-count fastball over the plate, he's good again. It's really that simple.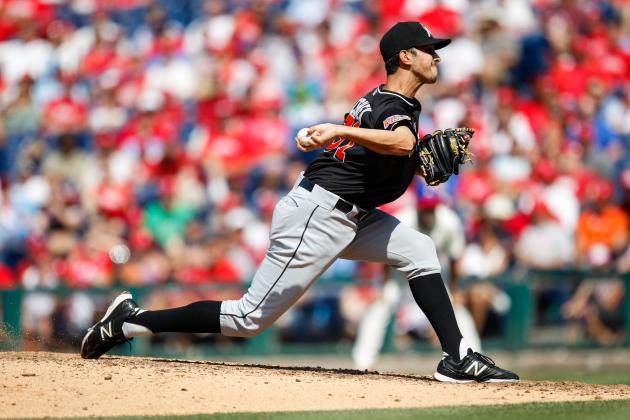 Brian Garfinkel/Getty Images

You'd be surprised at how many people think Steve Cishek's sidearm motion is "bad." There are a lot of sidearm pitchers, but most people are fooled by shoulder tilt. Go look at any picture of Roy Halladay or Pedro Martinez—Red Sox or Mets version—and the only reason they weren't called sidearmers is that "shoulder tilt" is somehow considered too tough to explain.
(Seriously. I once had someone at ESPN give me that exact sentence in 2006. I still have the email.)
Cishek proved he's not just a ROOGY, if such a thing exits, and that anyone with good enough stuff can be a closer. Expect Cishek to hold the role and add to the "closers are overrated" conversation as Exhibit 3 in the sabermetric case, behind John Axford and Tom Wilhelmson.
Will Carroll is the Lead Writer for Sports Medicine at Bleacher Report. He has written about sports injuries and related topics for 12 years. His column is called "the industry standard" by Hall of Famer Peter Gammons.