6 Reasons Why Tara Should Be IMPACT Wrestling's Knockouts Champion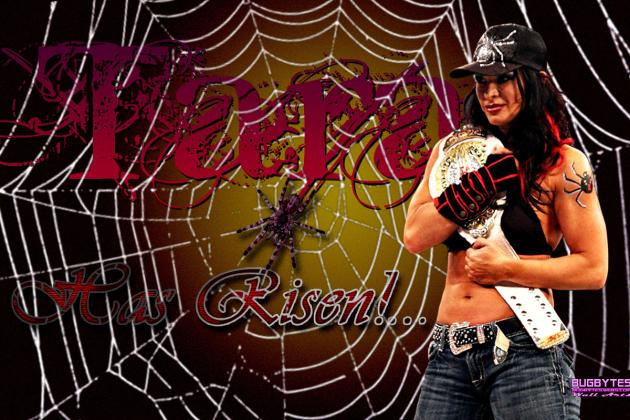 This past Thursday on IMPACT, Tara defeated Velvet Sky and Mickie James in a number one contender's match.
Tara is now in line for a championship match against Gail Kim come February 12 at Against All Odds.
Tara is a four-time Knockouts Champion and is looking to tie the record set by Angelina Love for most championship reigns. The last time Tara was champion was Bound For Glory 2010.
However, on the following episode of IMPACT Tara laid down for Madison Rayne who then went on to a record setting reign as Knockouts Champion (188 days).
With IMPACT tapings the day following BFG, Tara's reign technically lasted only one day.
Here are six reasons why Tara should win the Knockouts Championship at Against All Odds on February 12th.
After reading this, be sure to check out EnigmaticWrestling.com for more wrestling news, articles, opinions, live chats and debates.
Begin Slideshow

»
Let's just get the most obvious one out of the way.
Tara has been around the wrestling business since 2000. She is a former four-time Knockouts Champion, one-time Knockouts Tag Team Champion and a two-time WWE Women's Champion.
Tara is an in-ring veteran and at the age of 40, can still work a great match.
Tara has obviously gained a lot of experience throughout her years in the business and can be ranked amongst the best as far as female wrestling goes.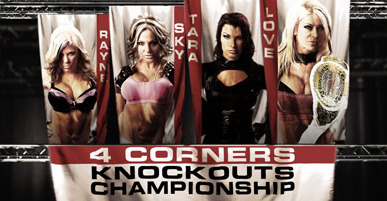 In 2010, Tara was mainly a lackey to Madison Rayne.
Tara was Madison's sidekick and helped her keep the Knockouts Championship at any means. Like I said earlier, Tara even laid down and gave the title to Madison.
After turning on Rayne and costing her the title, Tara slowly drifted towards tag team wrestling with Brooke Tessmacher. As the team of TnT, they became Knockouts Tag Team Champions.
Now, Tara can be considered a serious threat to the title because she's not carrying Madison Rayne's bags and she also just defeated two former champions in Velvet Sky and Mickie James.
This time around, Tara is free of Madison and has her sights set directly on Gail Kim and that Knockouts Championship.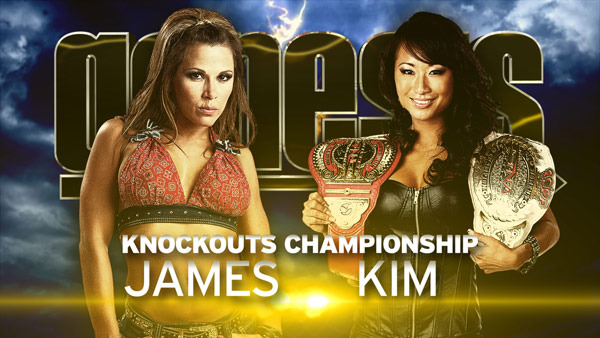 It feels like the Knockouts title scene has only consisted of Mickie James, Winter and Gail Kim for the longest time. It has been mostly Mickie and Winter since August of last year, until Bound For Glory rolled around.
At BFG, Velvet Sky became champion but lost the title in cheap fashion to Gail Kim at Turning Point. Now, Velvet has gotten mixed in with the rest of the Knockouts and isn't getting the exposure she needs to prove herself, once again, worthy of a championship reign.
At Final Resolution and Genesis, we've seen Mickie James and Gail Kim, once again, take up the Knockouts limelight.
Finally, Tara presents a fresh, new challenger in this championship race. We get a break from Mickie James and get treated by giving Tara the chance.
The Knockouts title scene has been too repetitive for such a talented group of women and hopefully Tara can help breakthrough that trend and pave the way for other Knockouts to get their chance.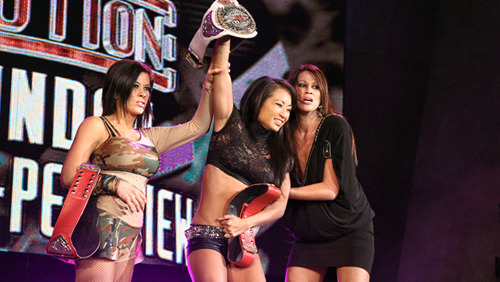 Don't get me wrong, I like Gail Kim and all but she is getting boring fast.
She is the Knockouts Champion and Knockouts Tag Team Champion. She hasn't worked a match on free TV since January 5th.
Everyone of her title defenses end the same way; she either gets disqualified or has Madison Rayne help her retain.
Gail's reign as champion is getting old quick and giving the title to Tara would definitely make things interesting again.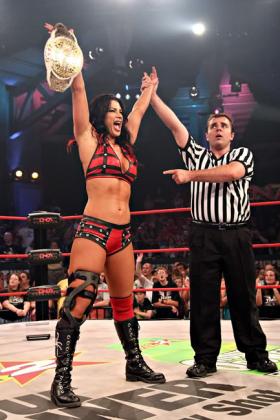 As I said before, Tara is a four-time champion. However, those title reigns were sub-par.
Tara defeated Angelina Love to see her first run as champ only last 24 days.
Tara's second reign came at Final Resolution 2009 after beating ODB. However, her reign would fall short at only 15 days.
At Genesis 2010, she finally caught a break by winning the title back from ODB and holding onto it for 78 days. Come October 2010, she has one of the worst reigns as champion, lasting only one day.
As you can see, Tara has only had one pretty good run as champion. One good reign out of four.
Tara deserves a good reign because....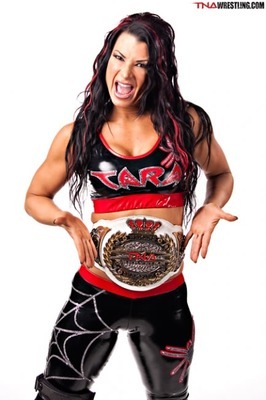 Two days before Against All Odds (February 10) Tara will turn 41 years old.
There's the possibility that this maybe her last hurrah as TNA Knockouts Champion. Only Tara nows when she'll call it a career, but you never know how much more shots she'll get.
Tara is the oldest Knockout on the roster and there's plenty of young women behind her that are capable of carrying the title.
With young Knockouts such as Madison Rayne (25), Brooke Tessmacher (27), Rosita (21), Velvet Sky (30) and Angelina Love (30) there's tough competition in the division and you can't honestly expect Tara to get much more opportunities at the belt with such talent.
There's your six reasons why Tara should be Knockouts Champion. I hope you liked this as a change of pace from Royal Rumble news, updates, predictions and live chats.
Next week is still to be decided. I make my selections based on results from IMPACT, simple as that.
More:
The British Invasion, Samoa Joe, Bobby Roode, Bully Ray, Kazarian, Austin Aries, Matt Morgan, Mr. Anderson, The Pope, Jeff Hardy, Generation Me, Velvet Sky