Best Moments from Strikeforce (2011-2012)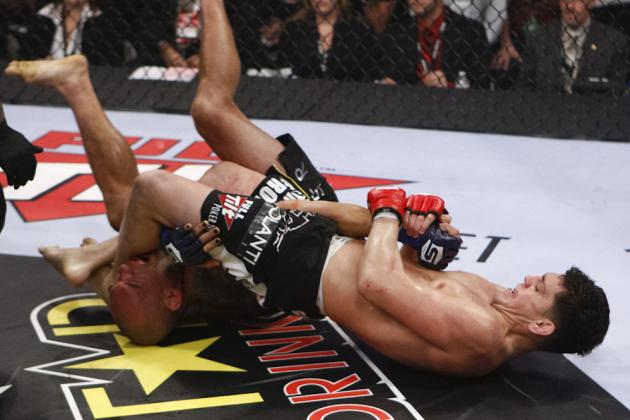 mmadiehards.com
When Nick Diaz was scheduled to defend his welterweight strap against Evangelista "Cyborg" Santos, many thought that he would shy away from striking and use his superior grappling to stifle his adversary.
Diaz is a stubborn man and decided to win every facet of the fight.
The Stockton bad boy ate some rough leg kicks, but used his unorthodox boxing to soften up the Brazilian. In the second round, he decided it was time to end the fight.
Diaz slapped one nifty armbar and earned a tap out from Santos.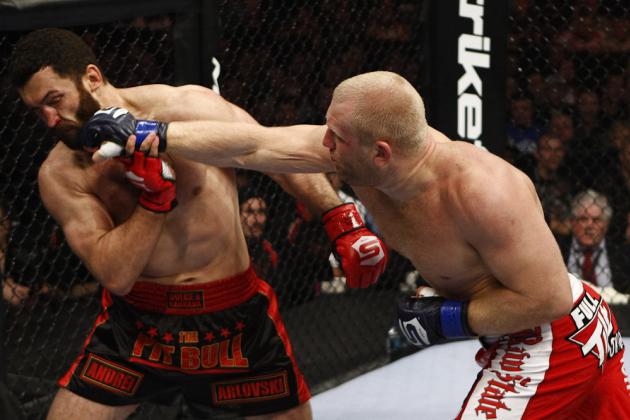 mmahawaii.com
Strikeforce: Fedor vs. Silva played host to the first two quarterfinals of the Strikeforce Heavyweight World Grand Prix. The first fight was highlighted by a vicious knockout.
About halfway through their striking affair, Sergei Kharitonov blasted Andrei Arlovski with a huge punch that dazed the former UFC champion. A couple shots later, Arlovski was out and Kharitonov made his way to the semifinals.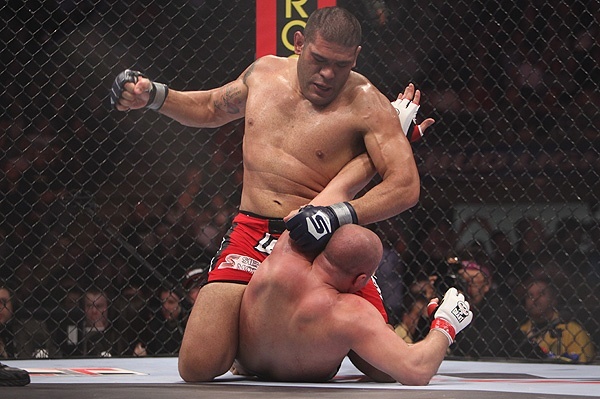 sherdog.com
Many people didn't give Antonio Silva a chance against Fedor Emelianenko, especially coming off an embarrassing upset like Fedor was against Fabricio Werdum. They expected the Russian to come out and put on a classic performance.
"Big Foot" didn't get the memo.
In a spectacular ass kicking, Silva manhandled the Russian legend and forced the doctor to stop the fight between the second and third round.
Silva was now a semifinalist.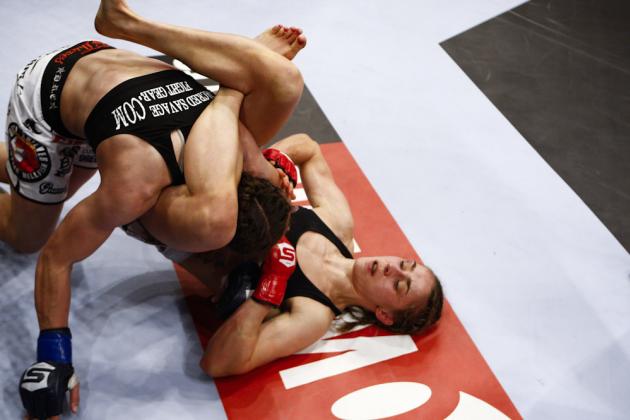 wombatsports.wordpress.com
Marloes Coenen was supposed to defend her title against Miesha Tate at Strikeforce: Henderson vs. Feijao. However, injury reared its ugly head and scratched that fight.
Luckily, Liz Carmouche was willing to step up and fight.
For the majority of four rounds, it looked like Carmouche would pull off an incredible upset, using her wrestling to stifle Coenen.
Then, Coenen used her superior submission skills and slapped on a fight-ending triangle choke.
This win would give her an anticipated matchup with Tate later down the road.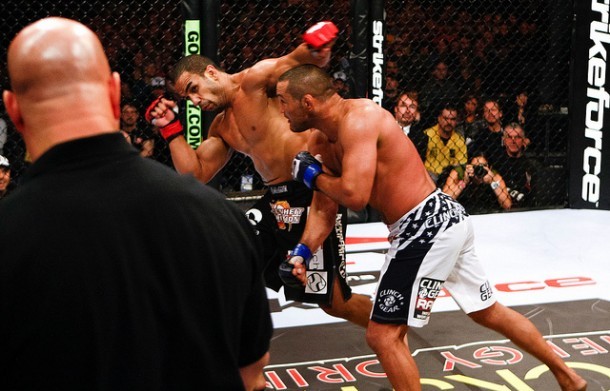 mmaconvert.com
Dan Henderson is a man amongst men. Literally, though, his right hand could replace America's nuclear arsenal, if needed.
He challenged for the light heavyweight strap at Strikeforce: Henderson vs. Feijao in a matchup that many people thought would be close.
After two rounds, it was all even. Early in the third, the "H-Bomb" made an appearance and put Feijao in a deep slumber.
The title was his.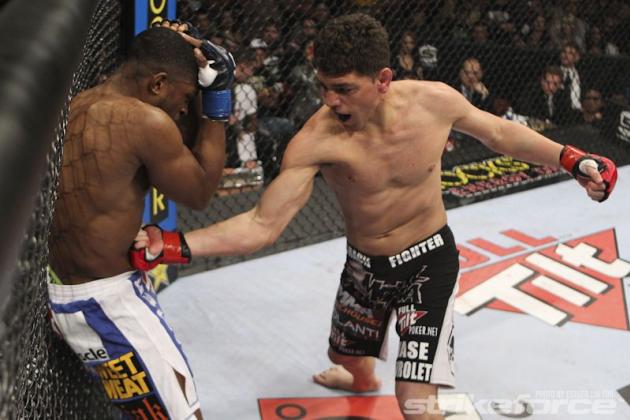 mma-roundup.blogspot.com
Their fight lasted only one round, but Nick Diaz and Paul Daley made it a show.
Between dropping each other several times and engaging in a wild brawl, Daley and Diaz did not disappoint. Daley's power could not overcome Diaz's tenacity in the end, and Diaz would earn a TKO stoppage with time winding down in the first round.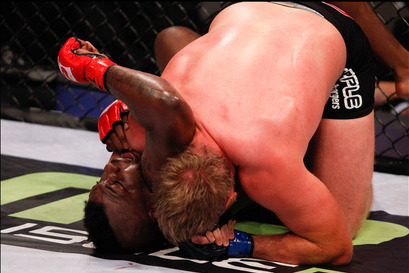 hbbjj.com
Brett Rogers vs. Josh Barnett was a classic striker vs. grappler matchup. In this case, grappling outclassed striking big time.
Rogers' power is always an "x-factor" in any fight, but Barnett didn't seem to care. He used takedowns and grinding top pressure to eventually tap Rogers with an arm-triangle choke.
Barnett cashed his ticket to the grand prix semifinals.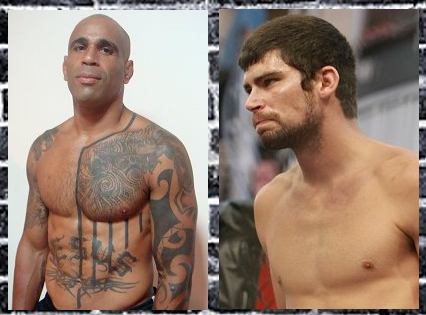 fightinginsider.com
This moment makes the list for two reasons.
The first reason is because of how shocked I was being in attendance. At the weigh-ins the day before, I remarked how scary Eduardo Pamplona looked and how skinny and average Tyler Stinson was.
Stinson shut my mouth, which leads to the second reason.
In just 15 seconds, Stinson demolished Pamplona with some vicious strikes that put the Brazilian out cold. It was a devastating knockout that put the crowd into a trance.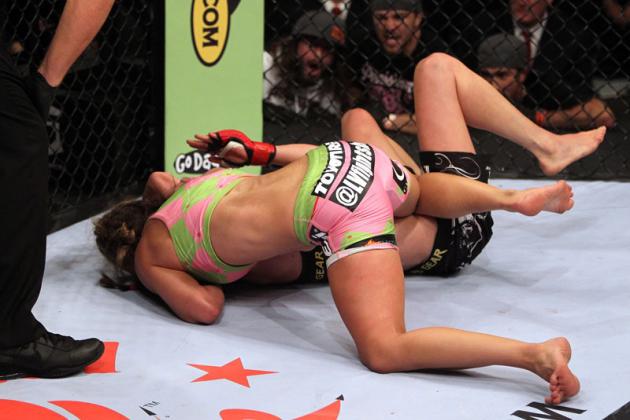 wombatsports.wordpress.com
The awaited matchup between Miesha Tate and Marloes Coenen finally went down at Strikeforce: Fedor vs. Henderson. It was an arduous ground battle.
Midway through the fourth round, Tate finally broke through Coenen's defenses on the ground and slapped on a tight arm-triangle choke.
It ended the fight and gave Tate the strap.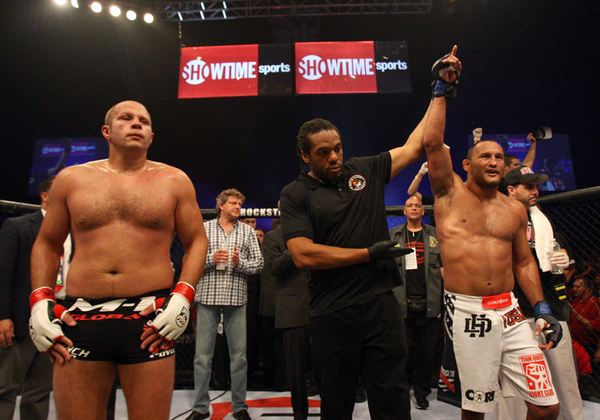 thewellversed.com
Not only was this a great moment in Strikeforce, but coming from someone who was live in attendance, it was one of the craziest things ever.
Legendary Russian Fedor Emelianenko took on American Dan Henderson in a "superfight" in Chicago, which people from the Pride era had speculated on for years.
In great fashion, both men threw down for one round before it was all done.
Both men were dropped, but the ending was crazy. Just as it looked like Fedor would finish off Henderson, the American slipped out the backdoor and blasted Emelianenko.
The Russian was out cold and Hendo stood victorious.
I was in a section of all Russian people, so when Henderson KO'ed Fedor, they all went silent while my buddy and I went crazy. The Russian people were not happy with us.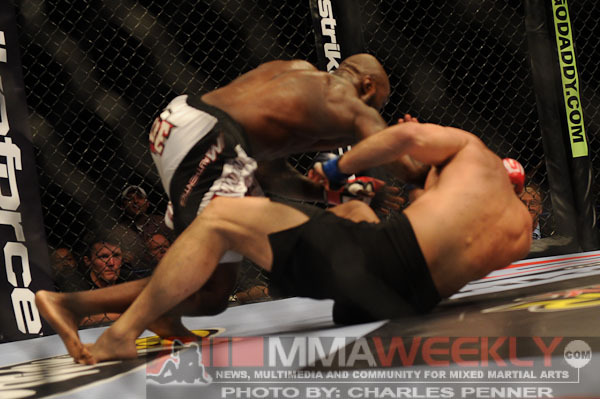 MMAweekly
Muhammed Lawal's matchup with Roger Gracie pinned wrestling against jiu-jitsu. Both men were proper representatives of their background, so this would be interesting.
Gracie would fall into a deep sleep, courtesy of the better overall game of Lawal. It was a big win for "King Mo" and a good learning experience for Gracie.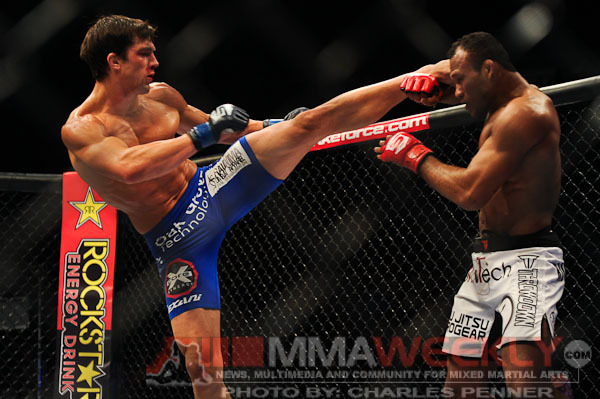 MMAweekly
Many people thought Ronaldo Souza was going to walk through Luke Rockhold with ease. They thought this was a gimme fight.
They were wrong.
Rockhold used his striking and good takedown defense to frustrate Souza for five rounds. The judges rewarded Rockhold with the Strikeforce Middleweight Championship.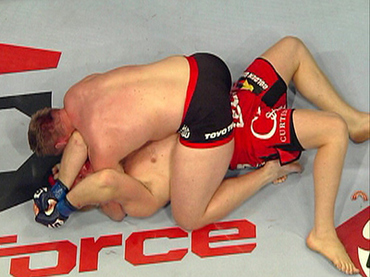 rt.com
The move that got Josh Barnett into the semifinals, the arm-triangle choke, also punched his ticket to the finals.
Taking on Russian striker Sergei Kharitonov, Barnett utilized a vastly superior ground game to defeat him with ease.
Then, Daniel Cormier made the most of an opportunity to replace Alistair Overeem in the semifinals of the grand prix to fight Antonio Silva.
Cormier battered Silva for less than a round, before mercifully downing the Brazilian with punches late in Round One.
The finals were now set, as Barnett would go on to face Cormier.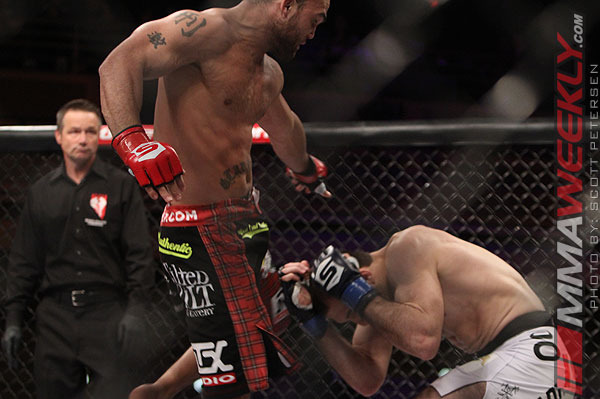 MMAweekly
Top prospect from Russia Adlan Amagov had a big opportunity at Strikeforce: Rockhold vs. Jardine when he met veteran Robbie Lawler.
Lawler wasn't ready for a changing of the guard.
Early on in the fight, it looked like Amagov was going to shoot in on Lawler. Perhaps out of instinct, Lawler threw a flying knee that put Amagov into another universe.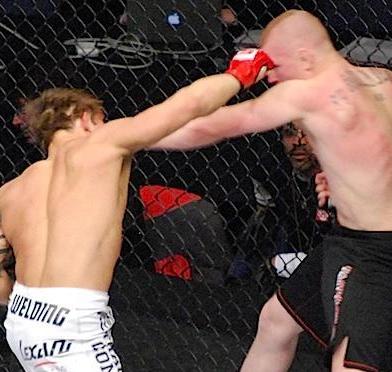 prommanow.com
There is not much that is particularly impressive or memorable about the fight, in general, but the fact that Roger Bowling beat down reported Neo-Nazi Brandon Saling was a good feeling to many.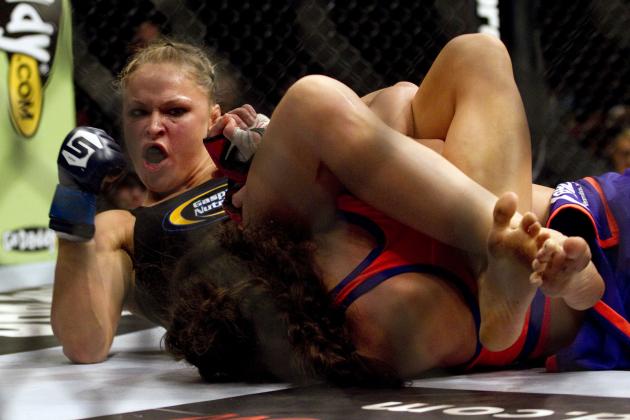 Greg Bartram-USA TODAY Sports

It is one of the biggest fights in women's MMA history and it main-evented a Strikeforce card.
Ronda Rousey was being billed as the next big thing, while Miesha Tate was the champion. Many thought Tate would be a tough fight for Rousey due to her wrestling background.
Less than a round later, Tate fell victim to a nasty armbar submission. Rousey dislocated Tate's elbow and took her title.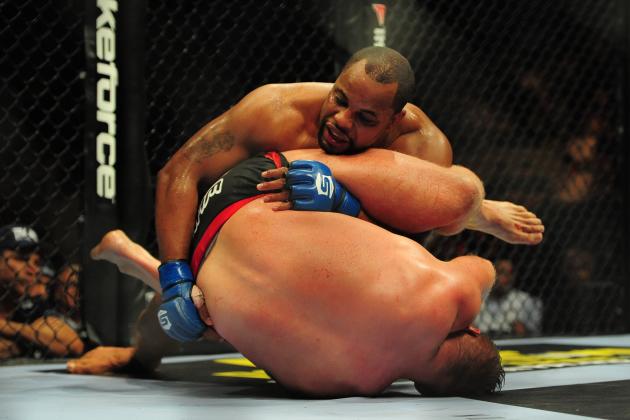 Kyle Terada-USA TODAY Sports

Daniel Cormier was not originally in the Strikeforce Heavyweight World Grand Prix. However, as a replacement, he showed that he was the best heavyweight in the company.
He fought and routed Josh Barnett in the finals of the tournament. Cormier left no doubts in the judges minds, sweeping two of the three scorecards en route to a unanimous decision.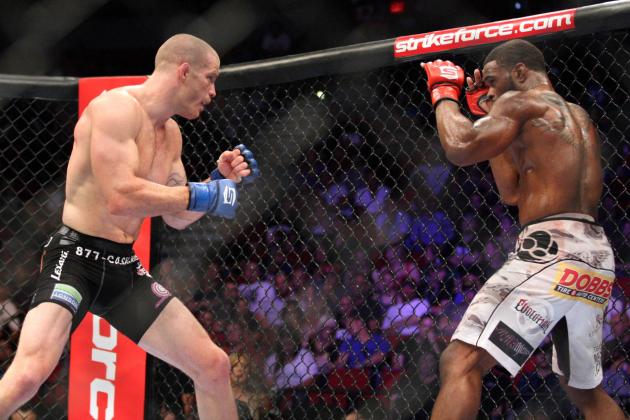 Scott Olmos-USA TODAY Sports

Nate Marquardt was an outcast from the UFC who had dropped to welterweight and signed with Strikeforce.
His first fight with the company had title implications.
Taking on notorious grinder Tyron Woodley, Marquardt used his superior all-around skills to outlast the wrestler. To finish Woodley off, Marquardt battered Woodley with punches and elbows in the fourth to claim the vacant 170-pound strap.
fcfighter.com
Had you told me that Ronaldo Souza would knock out Derek Brunson in 41 seconds at Strikeforce: Rousey vs. Kaufman, I would have said that you were crazy.
But, that actually happened.
Brunson came out over-aggressive and Souza used his developing striking to tag the wrestler. He followed up, but it didn't matter because he was out cold.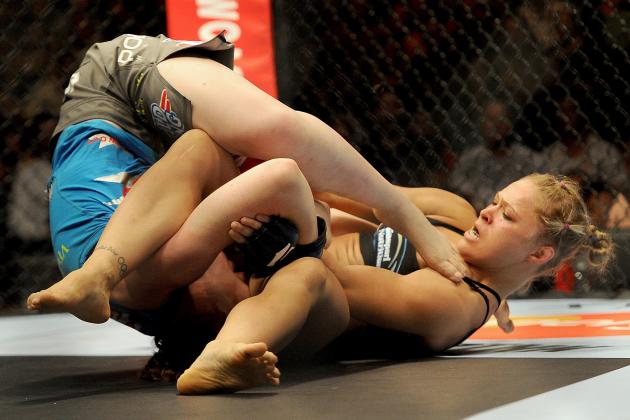 Jayne Kamin-Oncea-USA TODAY Sports

Can you guess how this fight ended?
If you guessed via armbar, you are correct. Your grand prize is the satisfaction of knowing that Ronda Rousey's tool of choice in the cage is the armbar.
In less than a minute, Rousey dragged Sarah Kaufman down and slapped on a fight-ending armbar. It was her last fight in Strikeforce, as the roster will move over to the UFC following this weekend's event in Oklahoma.