Best Moments from UFC 140-150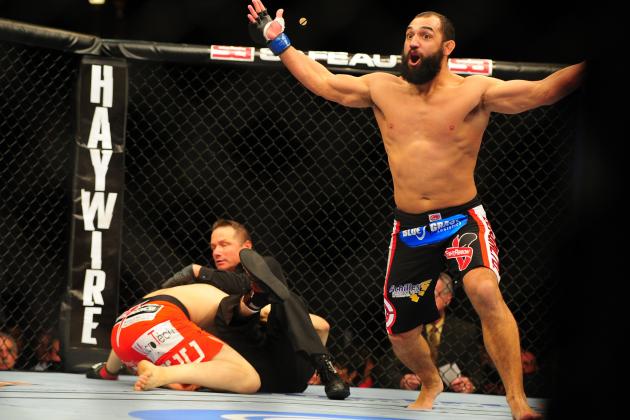 Mark J. Rebilas-USA TODAY Sports

Johny Hendricks came into his fight with Jon Fitch a heavy underdog, despite the fact that Fitch was coming off a long period of inactivity due to injury.
12 seconds changed everyone's view on Hendricks.
Not wasting any time, Hendricks drilled Fitch with a huge punch that put him to sleep. It was the biggest win of his budding career.
Mark J. Rebilas-USA TODAY Sports

Speaking of long layoffs, Brock Lesnar followed up his second battle with diverticulitis with a huge challenge in Alistair Overeem. This challenge would prove to be too much.
Overeem peppered Lesnar on the feet for less than a round. Then, Overeem nailed Lesnar in the liver with a kick, which led to an eventual referee stoppage.
This loss sent Lesnar into retirement.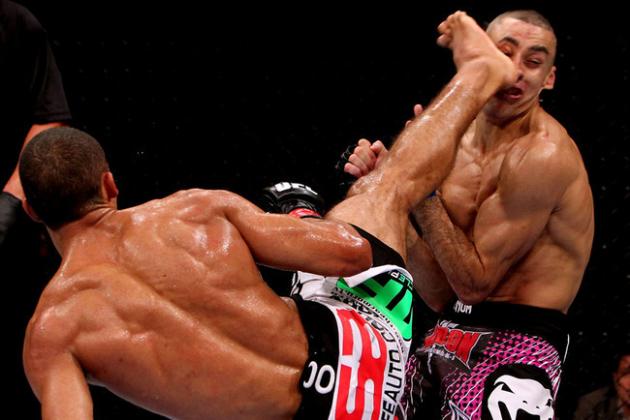 modernviolentgentlemen.com
It may be the most spectacular knockout in UFC history and it came on Brazilian soil. Edson Barboza reinvented the wheel kick (pun intended) when he put Terry Etim to sleep with the flashy kick.
Etim was as stiff as a board and out cold before he hit the mat.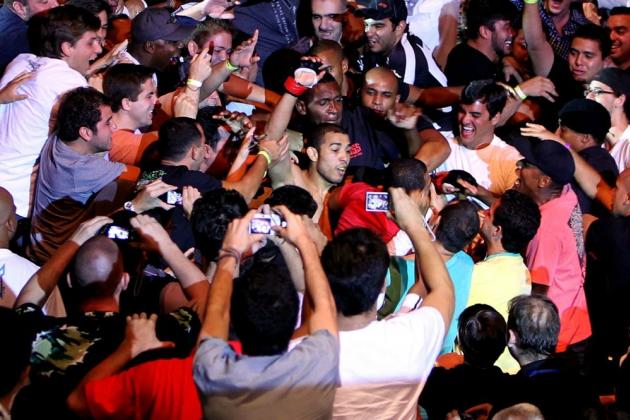 blogs.theprovince.com
I'm not sure what was better, Jose Aldo's knockout of Chad Mendes or his celebration following the fight.
Aldo put Mendes away with a beautiful knee to the dome. He then proceeded to crowd surf in celebration like he was at a Rammstein concert.
It made Dana White nervous, but was a great moment.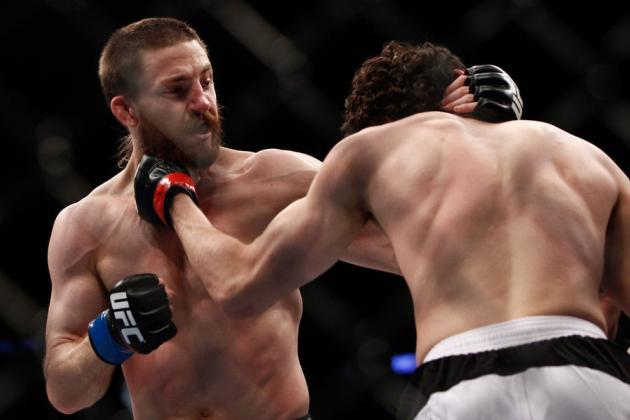 themmacorner.com
In what can only be described as an amazing debut, Nick Denis ended Joseph Sandoval's night in just over 20 seconds at UFC on FX 1.
Holding Sandoval's head and throwing brutal elbows from the standing position marked the entry to the UFC for "The Ninja of Love."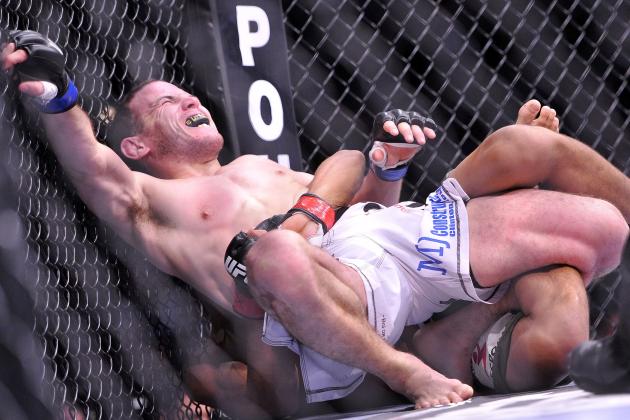 Mike Dinovo-USA TODAY Sports

The calf slicer is one of the most rarely used submissions in MMA. However, Charles Oliveira used one to put away Eric Wisely at UFC on Fox 2.
As good as the submission was, it was even more surprising to the audience. Needless to say, he earned himself a bonus for that brilliant move.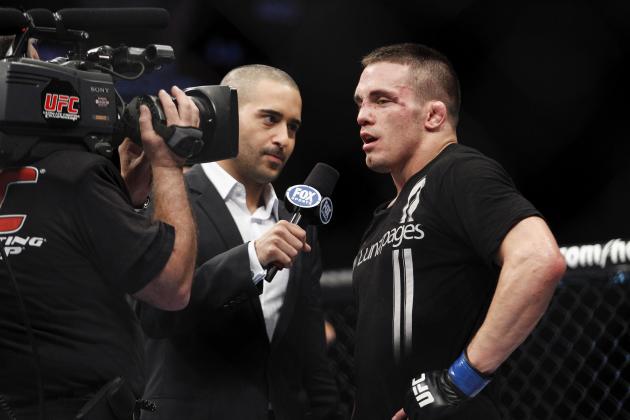 Matt Ryerson-USA TODAY Sports

Diego Sanchez is a warrior and always involved in exciting fights. Jake Ellenberger is a top welterweight that is more than willing to throwdown with anybody.
That was the recipe for an amazing main event at UFC on Fuel 1.
Ellenberger bloodied up Sanchez for most of the fight. He may have gassed a bit and then Sanchez made his comeback.
The fight went the distance and Ellenberger took a decision in a highly entertaining scrap.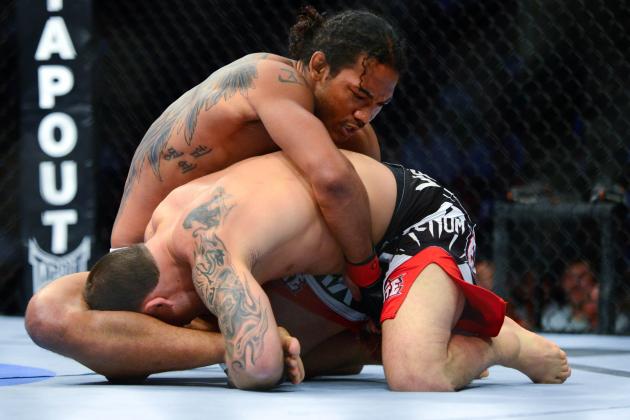 Ron Chenoy-USA TODAY Sports

The UFC's long-awaited return to Japan gave us one of the best fight cards of 2012, if not the best.
From Anthony Pettis to Mark Hunt to Tim Boetsch, the card provided great finishes and fights. It also provided a title change in the main event.
Benson Henderson was able to put away the resilient and skillful Frankie Edgar in an exciting fight. The event on a whole was brilliantly executed.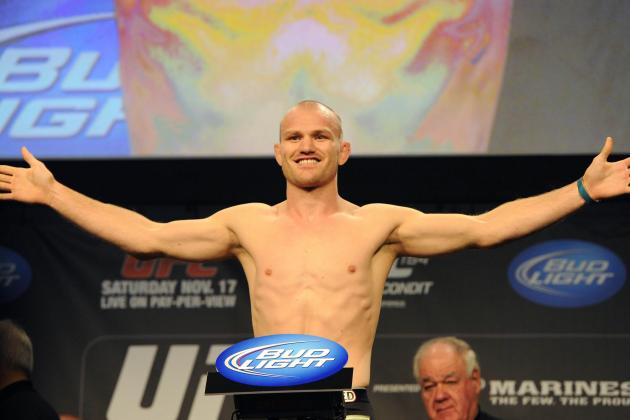 Eric Bolte-USA TODAY Sports

Time was running out on Martin Kampmann at UFC on FX 2 and it looked like he was going to be defeated by Thiago Alves.
One mistake was all it took for Kampmann to take advantage of and put away with dangerous Brazilian.
The Dane sunk in a guillotine choke that had Alves gasping for air. Kampmann pulled off the comeback in exciting fashion.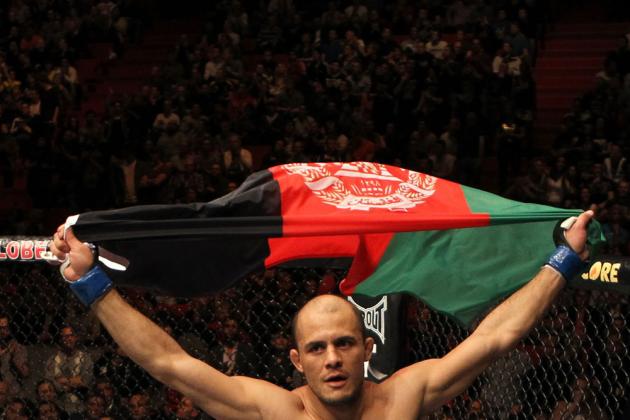 mmafrenzy.com
Siyar Bahadurzada was set to make his long-awaited debut at UFC on Fuel 2 in Sweden and boy did he make an immediate impact.
In under a minute, Bahadurzada landed a huge shot on Paulo Thiago that put the Brazilian clean out. It was a great debut for a guy who looks to be a stud at 170 pounds.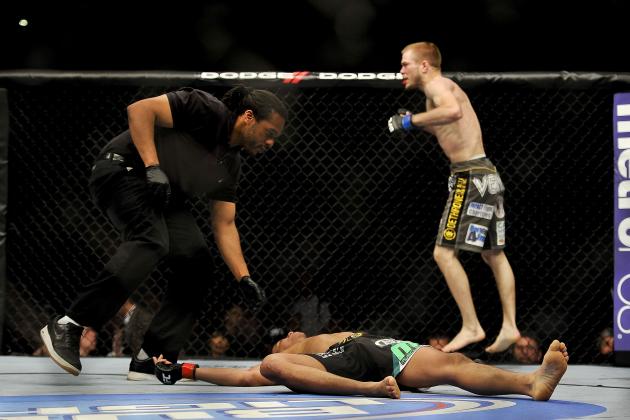 Paul Abell-USA TODAY Sports

Prospect Michael McDonald was not given much of a chance by the MMA world when he was matched up with wily veteran and legendary bantamweight Miguel Torres.
McDonald let his fists do his talking.
Early in the fight, McDonald caught Torres and put him into la-la land. It was a beauty of a knockout that ousted Torres from the UFC and put McDonald in the title picture.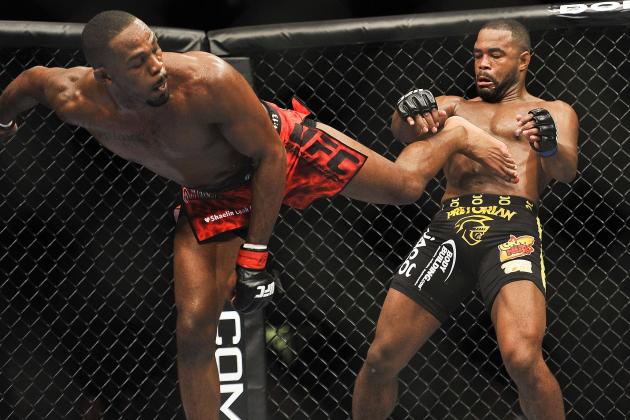 Paul Abell-USA TODAY Sports

It is one of the most personal and bitter rivalries in UFC history and it culminated in a fight at UFC 145 for the light heavyweight title.
Former running buddies Jon Jones and Rashad Evans did a bunch of talking leading up to this fight, but words don't win fights. Instead, Jones dominated Evans for five rounds and retained his title.
This was a huge test for Jones, who passed with flying colors.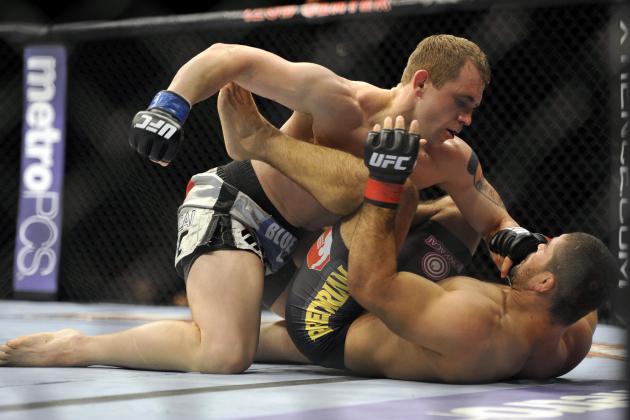 Joe Camporeale-USA TODAY Sports

It looked like Rousimar Palhares was about to win another fight with his patented leg lock. However, that brief hold would prove not to happen.
Belcher slipped out of the leg lock and proceeded to maul Palhares from the top position with elbows and punches. This savage beating that Belcher began to dish out culminated in a referee stoppage.
It was an impressive showing from the American.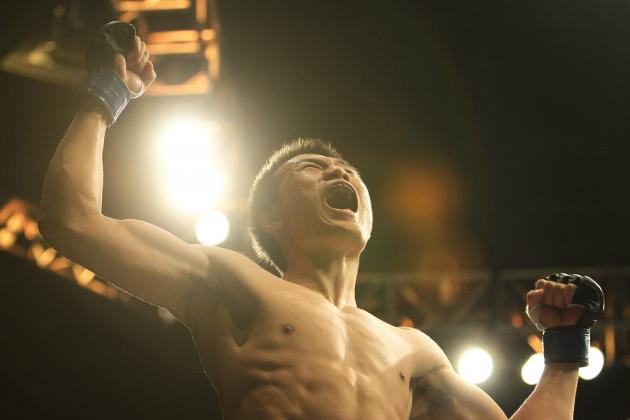 Tom Szczerbowski-USA TODAY Sports

The main event of UFC on Fuel 3 turned out to be an instant classic. It was a brawl that ended in amazing fashion.
Chan Sung Jung and Dustin Poirier delivered what was advertised. Simply, they put on a fight of the year candidate.
Then, Jung produced a submission of the year nominee when he used a d'arce choke to put away Poirier. The fight and finish was a real adrenaline pumper.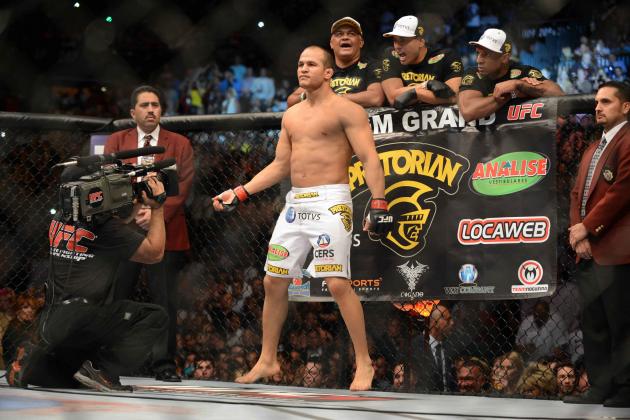 Ron Chenoy-USA TODAY Sports

UFC 146 was seen as a really hit-or-miss card going into it, due to the fact the main card was comprised of all heavyweights. Some feared it could lead to the big boys gassing out and putting on clunkers of fights.
That certainly was not the case.
Of the five fights, one was finished by submission and the other four were knockouts. The third round was never seen in any of these bouts.
It is another card that must be considered one of the best of 2012.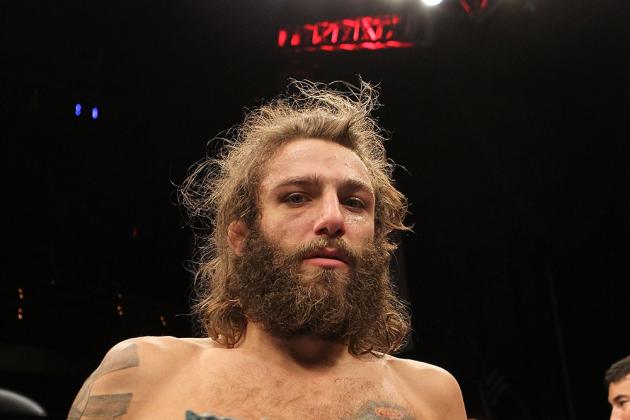 themmanews.com
There are few ways to cap off an Ultimate Fighter season as inspirationally as it ended for Michael Chiesa.
Earning his way into the house, Chiesa's father died while he was on the show. Chiesa was not there for his death, but was allowed to go home for the funeral.
He followed that up by running the table the rest of the season and defeating Al Iaquinta in the finale. His dream was achieved and his father looked down on him proudly from the heavens.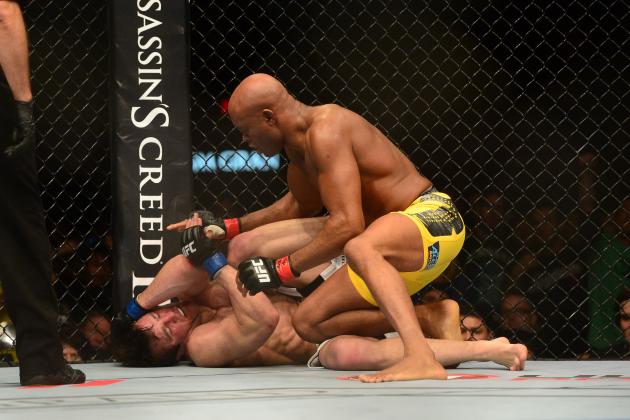 Mark J. Rebilas-USA TODAY Sports

It may be the biggest feud in UFC history and it came to an end at UFC 148.
Chael Sonnen came the closest to beating Anderson Silva in the UFC. He also was very disrespectful in the buildup of both of their encounters.
Silva was able to dispose of Sonnen quicker in the second meeting, using ground strikes to finish the fight. After that, the feud was basically squashed.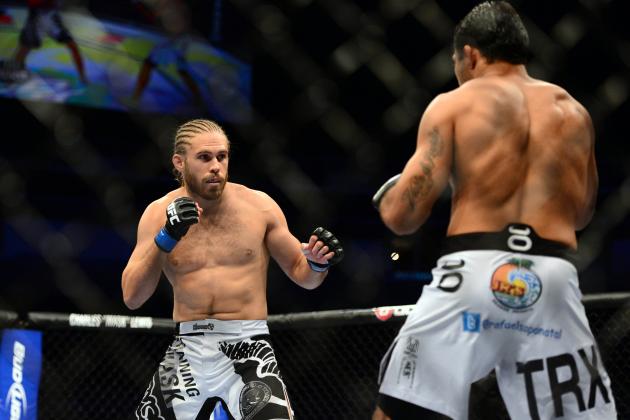 Kyle Terada-USA TODAY Sports

Rafael Natal made the mistake of gloating while still fighting his opponent. Andrew Craig capitalized on said mistake.
Natal was dominating Craig in their fight in every aspect of MMA. Then, he dropped his hands and got cocky.
Craig blitzed him with a nasty head kick that had Natal wondering what planet he was on.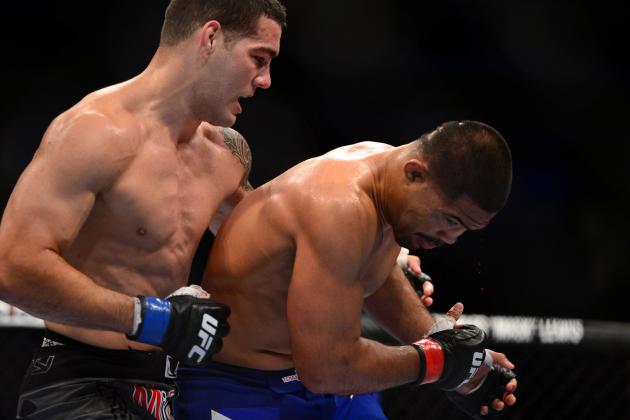 Kyle Terada-USA TODAY Sports

There were many fans who saw Chris Weidman as a submission wrestler and nothing else.
That changed when he manhandled Mark Munoz with some beautiful striking.
Weidman used a nasty overhand elbow in the standup to put Munoz out cold. The stoppage was late, but that doesn't erase the fact that Weidman announced his arrival as a top contender at middleweight.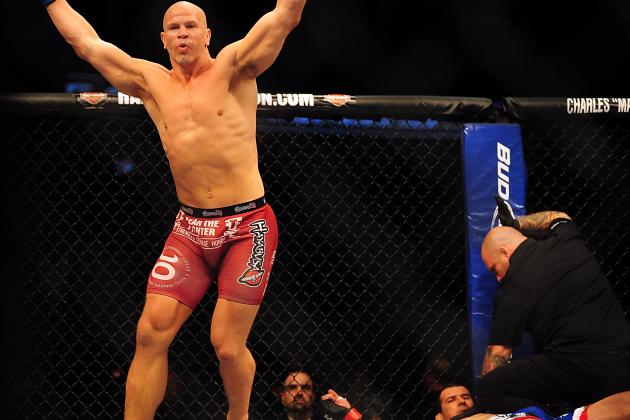 Anne-Marie Sorvin-USA TODAY Sports

Ryan Jimmo must not like working long, because his seven-second drubbing of Anthony Perosh at UFC 149 was a helluva debut.
He immediately blitzed the Australian grappler and impressed his home Canadian crowd. Not too shabby.
Gary A. Vasquez-USA TODAY Sports

Illness and injury kept Mike Swick from participating in the UFC for a very long time.
His return fight was very impressive to say the least.
Squaring off with DaMarques Johnson, Swick had the biggest fight of his career in the sense he had to prove he still had it. He certainly did that by destroying Johnson with a huge punch that put his lights out.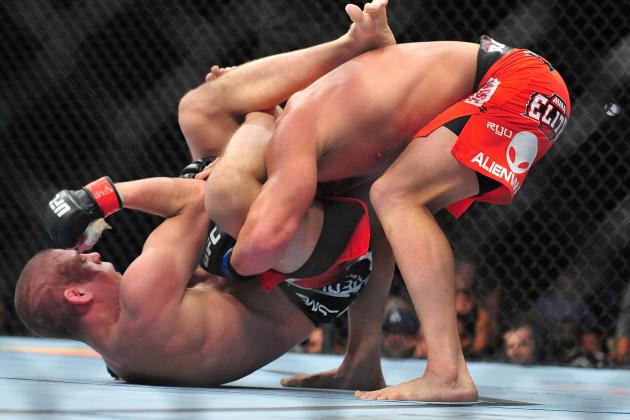 Gary A. Vasquez-USA TODAY Sports

Jamie Varner and Joe Lauzon's whole fight was fantastic at UFC on Fox 4. However, going into the third round, Lauzon was down on the scorecards.
In typical Lauzon fashion, he used his submission game to throw up a beautiful triangle choke on Varner. He tapped out the former WEC champ and earned a big comeback win.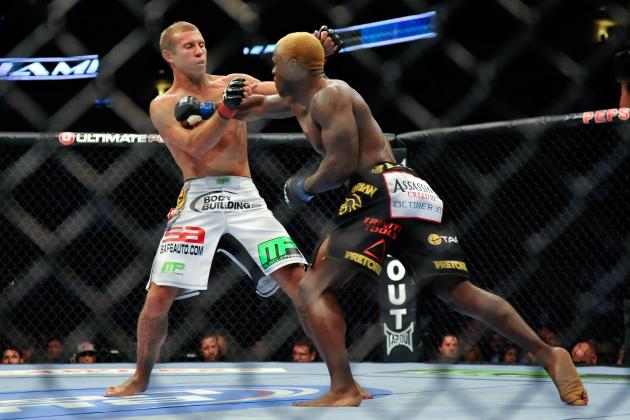 Ron Chenoy-USA TODAY Sports

Former training partners Melvin Guillard and Donald Cerrone met at UFC 150 in Cerrone's neck of the woods. The fight did not last long, but what we got was still great.
Both men came out firing. Guillard even hurt Cerrone with some powerful strikes.
Cerrone was hurt, but not out.
Then, Cerrone got his head back in the game and destroyed Guillard with a huge head kick. He followed up with punches, but Guillard was out.