Best Moments from UFC 90-100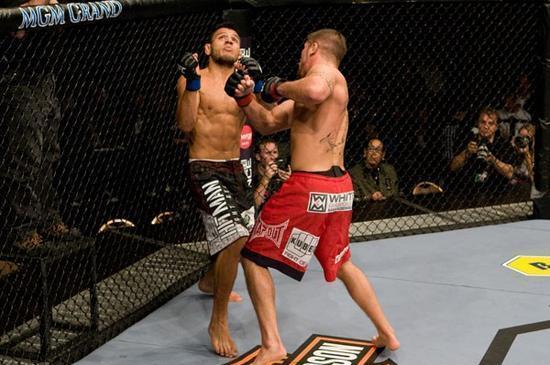 fanpop.com
Highly-touted lightweight Rafael dos Anjos made his UFC debut at UFC 91 and drew a young, tough Jeremy Stephens. It was not the debut dos Anjos was hoping for.
Early in the third and final round, Stephens connected on as brutal of an uppercut as any person could throw. The huge punch sent dos Anjos to sleep and Stephens onto highlight reels for years to come.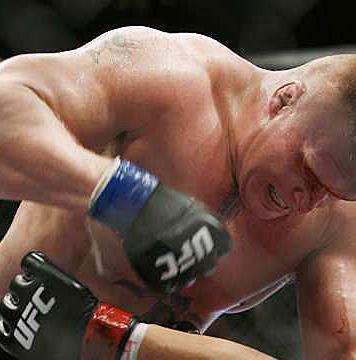 cagepotato.com
Many fans were left scratching their heads when Brock Lesnar, a former professional wrestler with a 1-1 UFC record, was given a title shot at heavyweight champ Randy Couture.
Boy, were those fans duped.
Lesnar fought Couture tough for two rounds, using his athleticism, speed and underrated all-around skills to drop Couture with a punch. He followed that up with some effective hammerfists to claim the UFC Heavyweight Championship.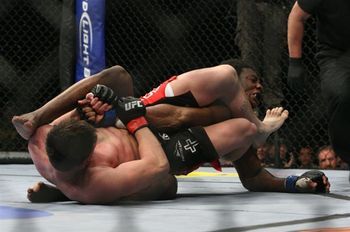 UFC Fight for the Troops was a "best moment" in itself, as the men and women of the armed forces were given a great night of fights. However, Steve Cantwell's ground game may have stole the show.
Cantwell fought a tough newcomer in Razak al-Hassan, an undefeated prospect that looked to be a tough customer.
With under a minute left in the first round, Cantwell caught al-Hassan in a nasty armbar that dislocated the newcomer's elbow, effectively giving Cantwell the victory.
It is a horrid site as much as it is a beautiful display of jiu-jitsu.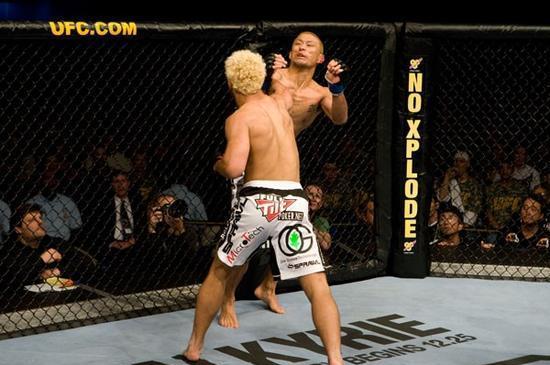 fanpop.com
In the main event of UFC Fight for the Troops, fans continued to see the evolution of Josh Koscheck's all-around game when he fought Yoshiyuki Yoshida.
About midway through the first round, Koscheck was stalking Yoshida against the cage. Koscheck threw a looping punch that clearly stunned Yoshida and had him out on his feet. One punch later to put the Japanese welterweight down, and Koscheck was victorious.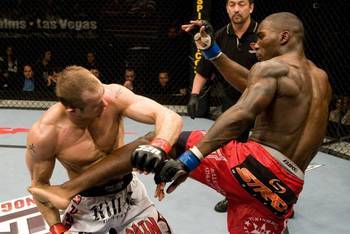 Anthony Johnson's first fight with Kevin Burns ended very controversially, as the fight ended due to repeated eye pokes by Burns. The controversial thing about it was that Burns had been warned, but still was given the victory.
When the two met again, Johnson made sure he got the job done definitively. He leveled Burns with a nasty head kick that put him down, effectively earning Johnson redemption.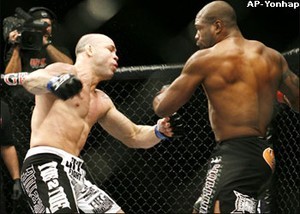 examiner.com
Wanderlei Silva and Quinton Jackson's feud in MMA is well-documented. Silva owned Jackson twice in Pride with brutal knockouts, but the UFC wanted to see a third encounter between the two at UFC 92.
The weigh-ins were highlighted by a near throwdown between the two rivals. If that wasn't crazy enough, I was sure someone was going to be murdered during the pre-fight staredown in the Octagon.
The fight didn't get past the first round. Silva threw a combination that was countered by a Jackson left hook that had "The Axe Murderer" out cold before he hit the mat.
Some unnecessary punches later, Jackson was the winner and pumping the crowd up with his trademark howl.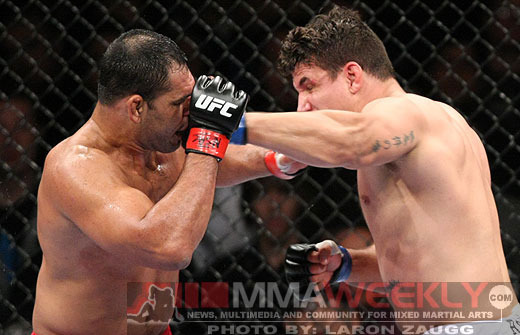 MMAweekly
An interim title was on the line in the heavyweight division at UFC 92, and opposing TUF coaches Frank Mir and Antonio Rodrigo Nogueira were set to fight for the strap.
Many gave Nogueira the all-around advantage, as his boxing was seen as superior, in addition to his world-class ground game. Fans were shocked at the proceeding events.
Mir completely outclassed Nogueira on the feet, outstriking the Brazilian legend. That night, Mir won the title, as well as earned the distinction of being the first man to finish Nogueira with strikes ever.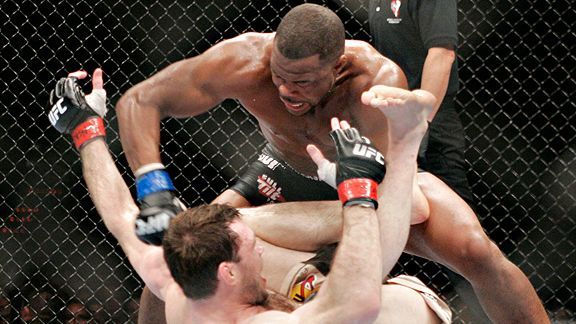 sports.espn.go.com
An intriguing main event at UFC 92 saw light heavyweight king Forrest Griffin defend his title against Rashad Evans. Two rounds in, all looked good for Griffin.
In the third, Evans turned up the heat and dropped Griffin to the ground. Some brutal ground and pound was the recipe to earning a referee stoppage, earning Evans the belt.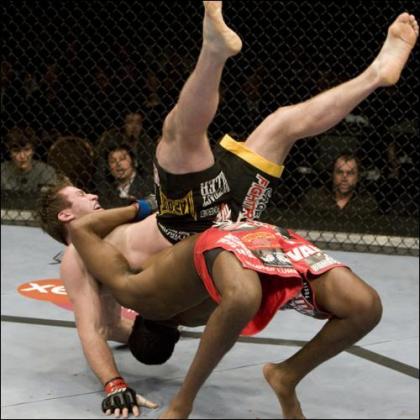 mmehfighter.com
A young kid named Jon Jones was just bursting onto the scene at this time, and UFC 94 saw him take on a difficult challenge in the form of Stephan Bonnar.
This is the fight were people began to notice the young Jones.
Using suplexes and spinning back elbows, for example, Jones dazzled the crowd and stunned his opponent. He would win by unanimous decision, but the bigger deal here was that he began creating a cult following.
lordn.wordpress.com
Brazilian brethren squared off at UFC 94, when Lyoto Machida took on Thiago Silva in a high stakes affair.
Machida was looking to be the next big thing, while Silva was also gaining momentum in the light heavyweight division.
With about a second left in the first round, Machida connected with a beauty of a punch that iced Silva. Some follow up punches and the bell later, the fight was waved off and Machida was the winner by knockout.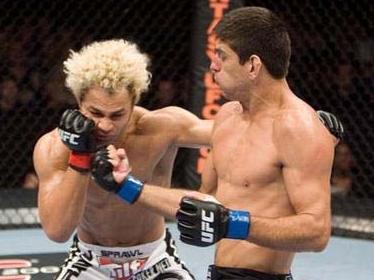 graciemag.com
Sometimes, things need to be kept to yourself until the fight is over. That is a lesson I am sure Joe Rogan learned at UFC 95.
Paulo Thiago was making his UFC debut against Josh Koscheck here and looking average at best. Rogan remarked that Thiago's striking looked sloppy and inferior to Koscheck's.
Soon after that was said, Thiago nailed Koscheck with a solid uppercut that put "Kos" to sleep. He argued the stoppage, but it was certain that the American was out.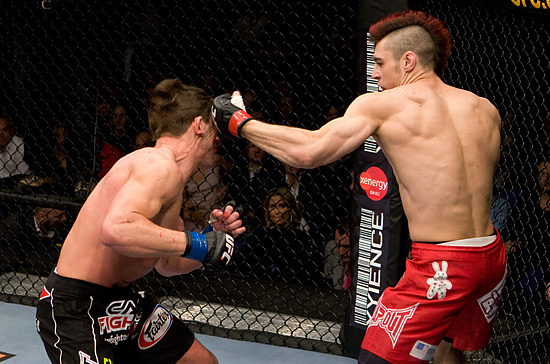 blogs.mirror.co.uk
The pre-fight talk for the Dan Hardy-Rory Markham made the ending result of their fight ironic.
Leading up to the fight, Markham remarked that Hardy didn't have knockout power and his punching power was weak. The cage door closed and Markham ate his words.
Just over a minute into the fight, Hardy connected with Markham's chin and put him to sleep. It thrilled the English crowd and shut Markham up.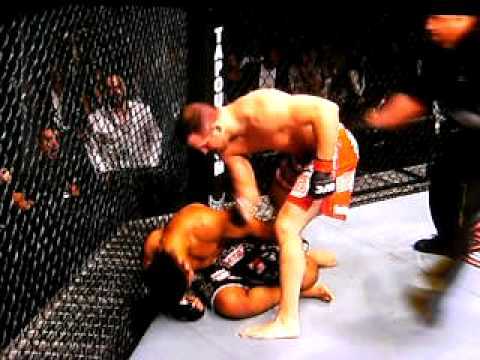 dipity.com
All fighters must develop into complete mixed martial artists, and Matt Hamill proved he had evolved at UFC 96. His unfortunate victim goes by the name of Mark Munoz.
Toward the end of the first round, Hamill hit a head kick out of nowhere that put Munoz into dreamland. It showed that Hamill wasn't just a wrestler.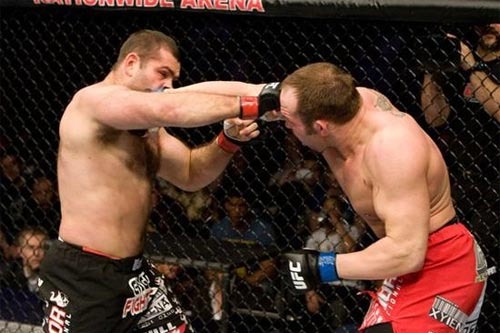 dipity.com
Shane Carwin had a big test in front of him at UFC 96 and that test was former top contender Gabriel Gonzaga. Carwin would continue his one-round fight streak.
Just over a minute into the fight, Gonzaga rocked Carwin and moved in for the kill. Carwin recovered and planted Gonzaga with a huge punch that had him out cold.
It was a good comeback.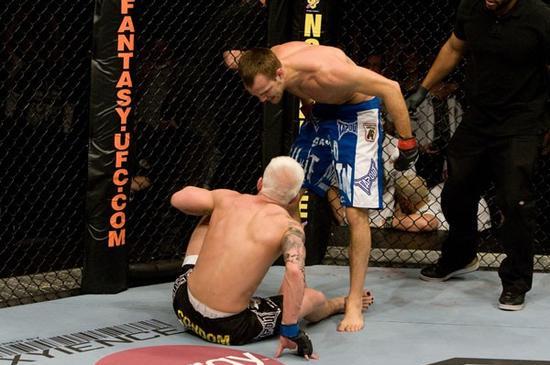 mmafight.com
Another instance of not backing up trash talk came at UFC Fight Night 18. Junie Browning made the statement that Cole Miller was overrated and that he would beat him.
It took less than two minutes, but Miller tapped Browning with a guillotine choke. After the tap, Miller stood over his victim and screamed, "Who's overrated now?"
It was a clear showing of dominance and proving words mean nothing.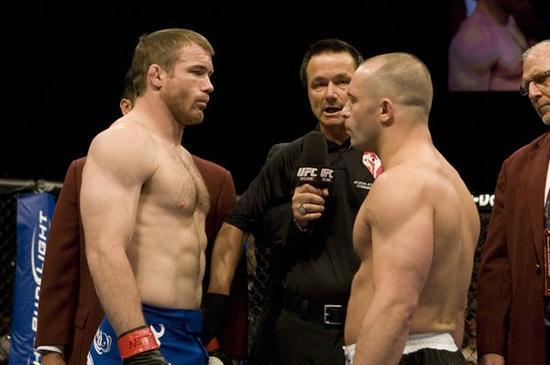 fanpop.com
Former TUF coaches Matt Hughes and Matt Serra had a long-standing rivalry that came full circle at UFC 98.
The two fought in a decent fight, with Hughes coming out on top. Like some fights do, the competition squashed their beef and they showed their sportsmanship after the fight.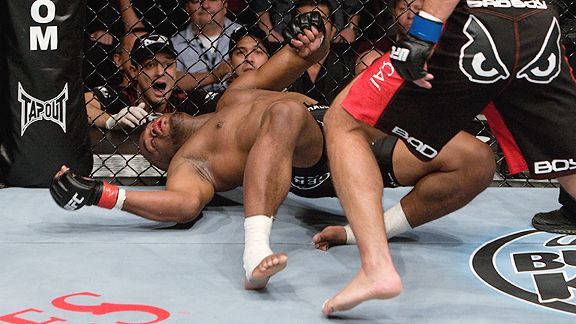 espn.go.com
Thanks to Quinton Jackson, we have a label to Rashad Evans' first blemish as an MMA fighter.
Evans defended his title against Lyoto Machida at UFC 98, but quickly found himself in a fight he was not comfortable in.
Toward the end of the second round, Machida blitzed Evans and started throwing devastating combinations. Eventually Evans could take no more and went to sleep in a very awkward way.
Or, as Jackson put it, Rashad did the stanky leg on the way down.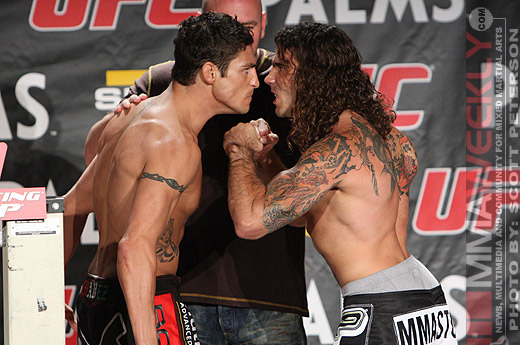 MMAweekly
Clay Guida's encounter with Diego Sanchez remains one of my favorite fights to this day, and for good reason.
The weigh-ins were intense, the pre-fight staredown in the Octagon was insane and the fight was pure energy. Both these guys were so jacked to fight each other that they came out throwing hands behind hands behind hands.
Sanchez leveled Guida with a head kick in the first round, but Guida survived. The ground fight was a war but neither man surrendered.
In the end, Sanchez won a decision that could have gone either way. But, the biggest winners were the fans.