Best Moments from UFC 130-140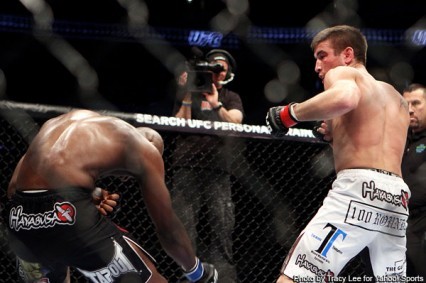 mmadiehards.com
UFC 131 was supposed to be remembered for its epic clash between heavyweight contenders Junior dos Santos and Shane Carwin, but one punch stole the show on the undercard.
Strikers Sam Stout and Yves Edwards were putting on a fun fight. Just as Edwards moved in for a punch, Stout hit a counter left that that had his opponent out cold and stiff as a board.
It is one of the best one-punch knockouts in UFC history.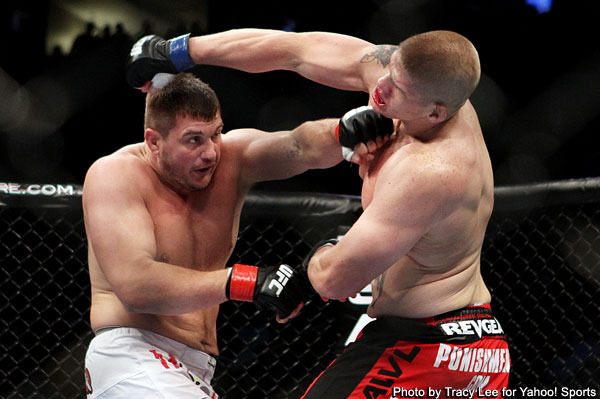 sports.yahoo.com
There are few things more boss in MMA than connecting with a knockout punch and walking away from the scene of the crime. At UFC Live 4 on Versus, Matt Mitrione did just that against Christian Morecraft.
Lighting up his opponent with fast combinations, Mitrione ended up hitting a combo that put Morecraft to sleep.
Instead of following up until the ref pulled him off, Mitrione walked off like he had just hit a game winning grand slam. It was awesome.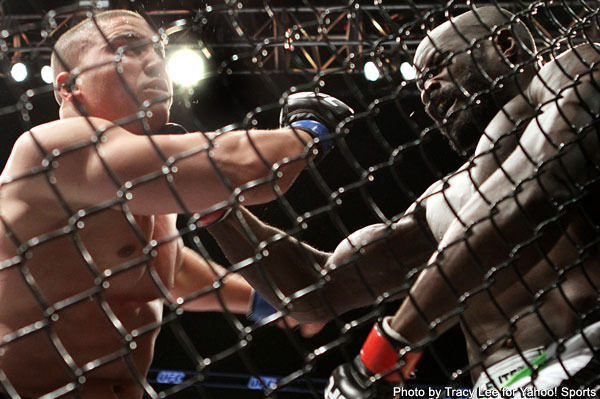 sports.yahoo.com
The fight between Pat Barry and Cheick Kongo promised to be a barnburner, and it did not disappoint.
Barry rocked Kongo on a number of occasions and looked to finish his opponent with follow up punches. Just when it looked like Barry would likely end it with one more punch, Kongo struck.
Kongo blasted Barry with a punch that stunned the stocky heavyweight and hit him one more time after that. Barry was out cold and audiences everywhere went nuts.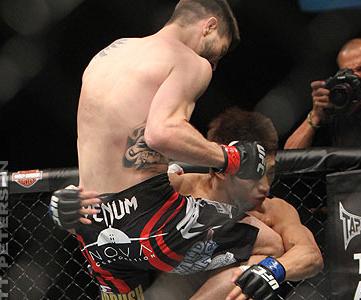 MMAweekly
Carlos Condit was bursting onto the scene as a top welterweight at this point in his career, and he faced a huge test in the form of Korean powerhouse Dong Hyun Kim.
Not afraid of Kim's takedowns, Condit used controlled aggression to work his strikes. He then threw a flying knee that would have derailed a train.
Kim was in la-la land against the fence as Condit threw multiple punches at the unconscious South Korean. It was a brutal display of striking on the part of "The Natural Born Killer."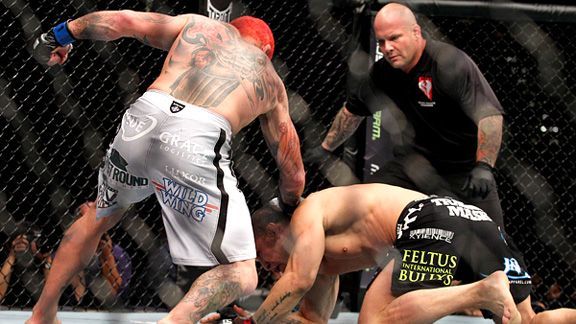 ufcbrazil.com.br
Admittedly, Chris Leben was nervous for his UFC 132 meeting with Wanderlei Silva. Luckily, those nerves did not show in the cage.
If you blinked, you missed it. Both men came out swinging, but only Leben would stay conscious between the two. It was a huge win for "The Crippler" and a big setback for "The Axe Murderer."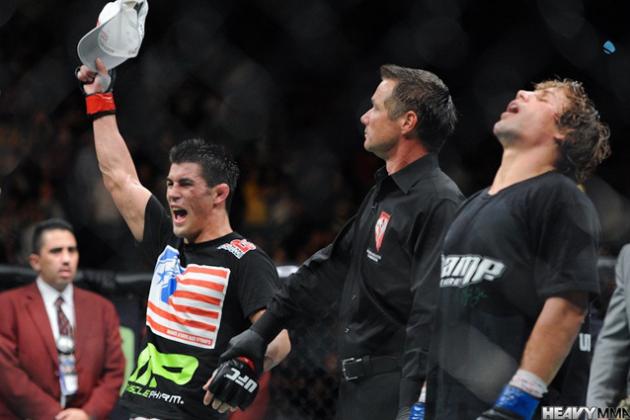 heavy.com
Urijah Faber, for once in his career, had a heated rivalry with somebody he disliked. That's almost weird to hear, I know.
Anyways, Faber and Cruz rematched at UFC 132 for the UFC Bantamweight title in what can be called an instant classic. Though it could have really gone either way, Cruz walked away with a decision, earning some retribution for earlier in his career.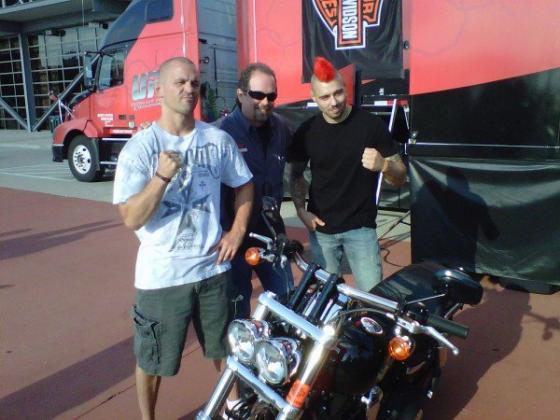 mmapundit.co.uk
Going into his fight with Dan Hardy, Chris Lytle announced that win or lose, he would be fighting his final match. Boy, did he make the most of this fight.
Hardy and Lytle put on a great fight for three rounds. The striking exchanges were nasty and fans were going nuts.
Hardy would end up shooting on Lytle, a big mistake on the Brit's part. Lytle would tap out Hardy with a guillotine, riding off into the sunset on a win.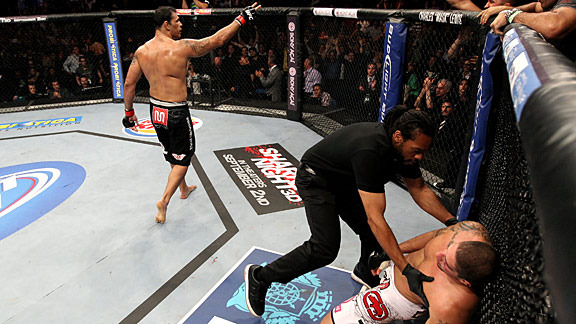 espn.go.com
The UFC's return to Brazil ended up being an amazing card in an amazing atmosphere. Antonio Rodrigo Nogueira got the audience buttered up for the main and co-main events of the night.
Taking on a surging heavyweight prospect in Brendan Schaub, Nogueira hit a combination that put Schaub on dream street against the fence.
It was a huge win for the legendary heavyweight.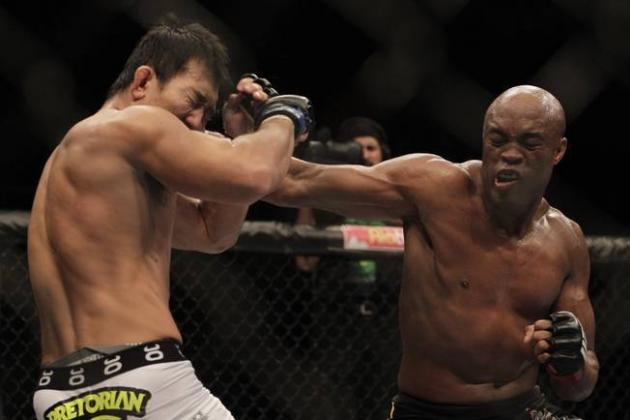 lasvegassun.com
Mauricio Rua and Anderson Silva came into UFC 134 facing opponents who handed them defeats. In front of their home crowd, they gained redemption.
Rua quickly knocked out Forrest Griffin, avenging one of the biggest upsets in UFC history.
As for Silva, he knocked out Yushin Okami, a man who owned a disqualification victory over Silva. He lit up the Japanese middleweight before finally finishing him.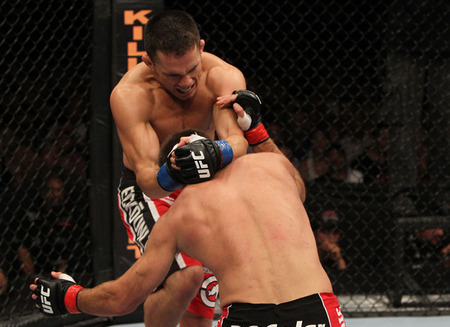 punch.ocregister.com
Jake Ellenberger was not given much of a chance against Jake Shields going into their meeting at UFC Fight Night 25. He proved the doubters wrong.
Ellenberger quickly put Shields in the Thai clinch and delivered some thunderous knees to his head. Shields was put down and out, earning Ellenberger the biggest win of his career.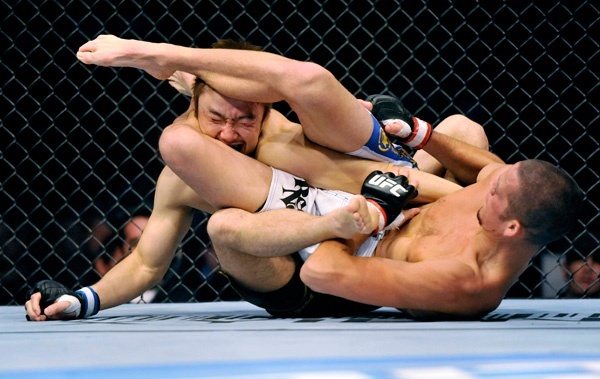 punch.ocregister.com
Many people said Nate Diaz needed to avoid striking with Takanori Gomi, or he could get his lights put out.
Boy, did Diaz not get that memo.
Diaz actually dominated the striking game before getting Gomi on the ground. There, he quickly tapped the Japanese star out with an armbar.
It was a very impressive showing.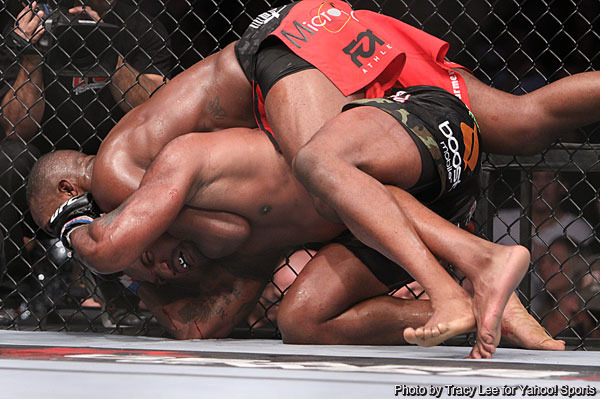 sports.yahoo.com
It is not easy to finish Quinton Jackson in a mixed martial arts fight. However, you know you are a top fighter when you not only dominate him, but choke him out.
Jon Jones did that at UFC 135 when he defended his light heavyweight strap against "Rampage." Jones thoroughly roughed up Jackson before finally choking him out with a rear-naked choke.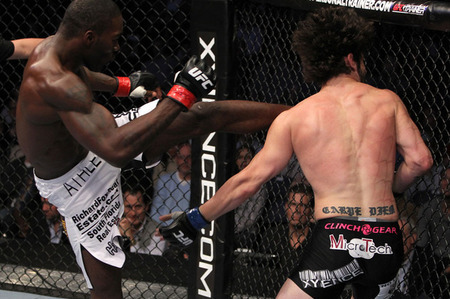 uatvonline.net
Anthony Johnson is like the new-age Mirko Cro Cop in that he has finished many opponents with head kicks. UFC Live 6 was one of those instances.
Fending off constant takedowns from Charlie Brenneman, Johnson battered the wrestler for a majority of the fight. Then, he turned the lights out on Brenneman with a brutal head kick.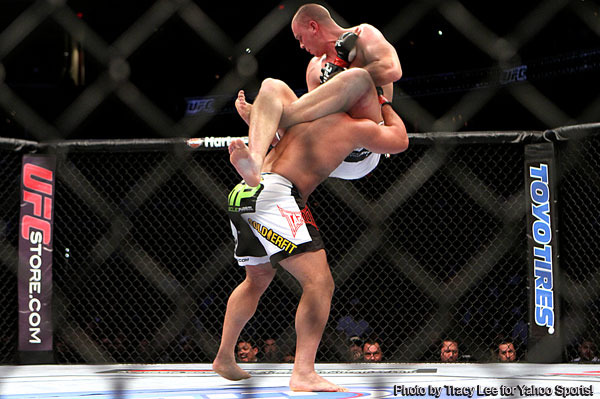 sports.yahoo.com
UFC Live 6 was a battle of short and stocky versus tall and lanky. It was David versus Goliath.
However, this time Goliath got the win.
The UFC's tallest heavyweight, Stefan Struve, met the shortest heavyweight in Pat Barry. There was some solid striking, but the ending really made the fight.
Struve put Barry in a triangle choke and held on for dear life as Barry tried to slam him through the canvas. Struve stayed safe and ended up choking out Barry.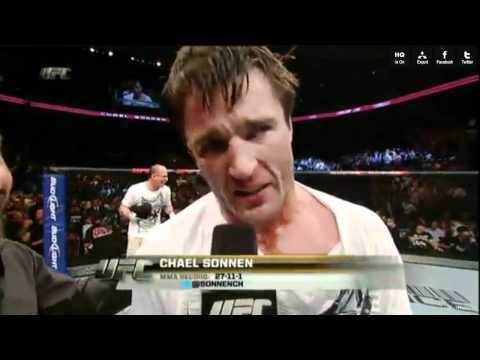 mattters.com
I don't know what was better at UFC 136: Chael Sonnen's domination of Brian Stann or his epic calling out of Anderson Silva.
After submitting Stann with an arm-triangle choke, Sonnen ignored Joe Rogan's post-fight questions with the greatest callout in UFC history:
Anderson Silva, you absolutely suck. Super Bowl weekend…the biggest rematch in the history of the business. I'm calling you out, Silva, but we're upping the stakes. I beat you, you leave the division. You beat me, I'll leave the UFC forever.
It didn't get any better than that.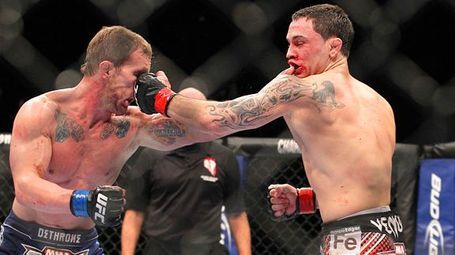 tazmma.wordpress.com
It is one of the most intense lightweight rivalries in UFC history. From a competition standpoint, Frankie Edgar and Gray Maynard always brought out the best in each other.
After a similar first round to their UFC 125 meeting, Edgar would come back and knock out Maynard later in the fight. He retained his belt and gained closure against Maynard.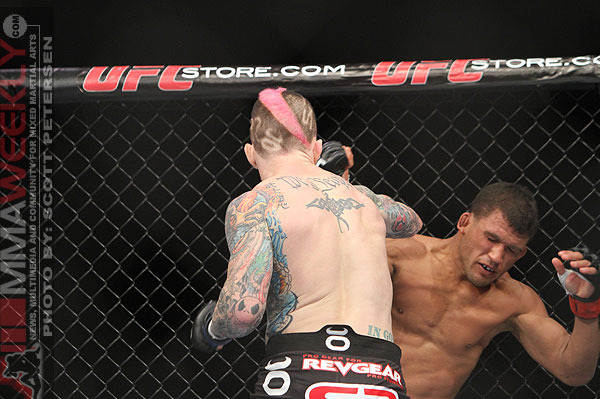 MMAweekly
Tyson Griffin missed weight for his featherweight bout against Bart Palaszewski at UFC 137. The Polish fighter made him pay dearly for that.
In a combination reminiscent of Chuck Liddell, Palaszewski demolished Griffin with some serious punches. It was a huge win that accelerated Palaszewski into the upper echelon of the UFC featherweight division.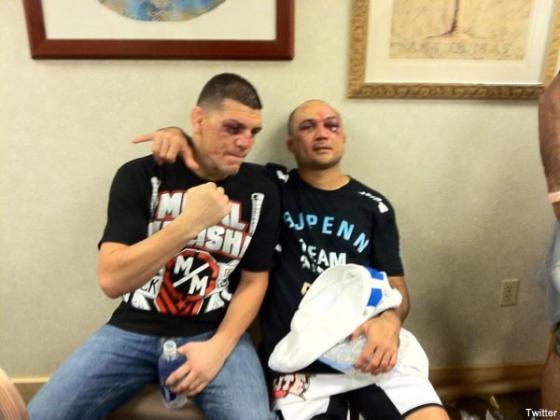 sports.yahoo.com
Judging from this picture alone, you can tell that Nick Diaz and BJ Penn threw down big time at UFC 137.
Their fight was a three-round war that saw Diaz batter Penn. Penn got in some good shots too, but it would be Diaz walking away with a decision.
It was entertaining to say the least.
themmacorner.com
It was a long time coming, but Junior dos Santos got his title shot at the first ever UFC on Fox event. He definitely made the most of his opportunity.
Just over a minute into the fight, dos Santos hit Cain Velasquez with a haymaker that stunned the champion. A couple ground strikes later and dos Santos was the new champion.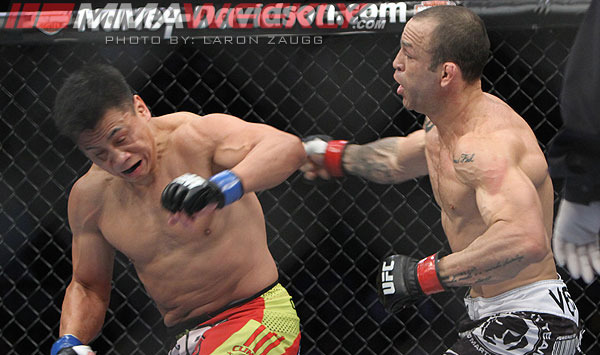 MMAweekly
It was a classic Wanderlei Silva performance at UFC 139 when he fought Cung Le. He took punishment but dished more out.
Le was throwing every strike imaginable at Silva before Silva broke his nose. Gassed from the broken nose, Le began to slow down and absorb more punishment from Wanderlei.
Silva eventually knocked out Le, likely saving his own job.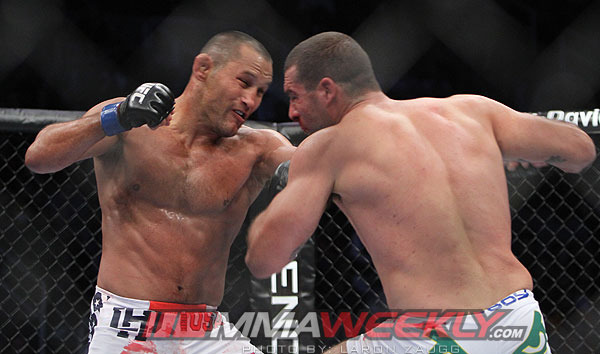 MMAweekly
In my humble opinion, Dan Henderson and Mauricio Rua at UFC 139 was the greatest fight in UFC history.
Both men showed incredible heart, chin and power. Neither man backed up an inch.
The amount of power punches landed and crazy ground work that occurred had fans everywhere going wild. If you weren't out of your seat for this fight, you may need to check your pulse.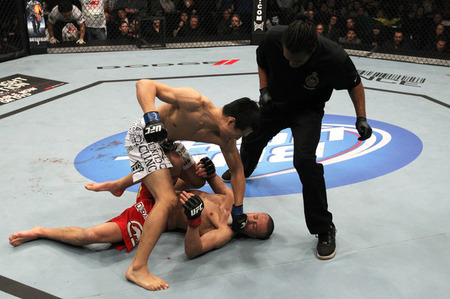 fightingwords.ca
Seven seconds. That was all Chan Sung Jung needed to put away Mark Hominick.
Hominick came out overly aggressive and paid for it immediately. It was a win that has propelled Jung to the top of the title talks in the UFC featherweight division.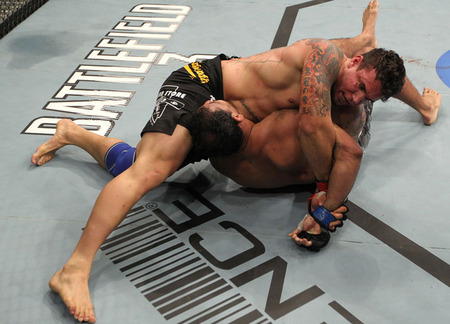 fortivita.wordpress.com
Tap or snap-it is a simple philosophy.
Antonio Rodrigo Nogueira was looking to avenge a loss from UFC 92 against Frank Mir. As it looked like he may not achieve that goal with his hands, he tried to submit the dazed American.
Whether out of pure instinct or skill, Mir would turn the tables and slap on a deep kimura. He snapped Nogueira's arm like a chicken bone, earning him the accolade of being the first man to ever knock out Nogueira, as well as submit him.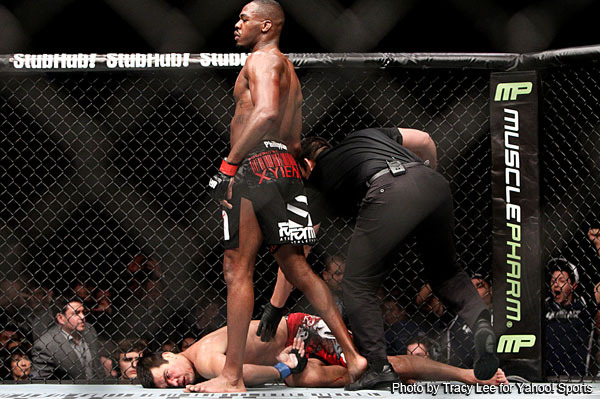 sports.yahoo.com
Lyoto Machida was seen as the man with the skill set to dethrone Jon Jones as the UFC Light Heavyweight Champion.
Jones showed in this fight why he is the undisputed king at 205 pounds.
After cutting Machida with a brutal elbow, Jones had physically shaken Machida. Not long after that, he threw on a modified guillotine choke that put "The Dragon" to sleep.
He then dropped him on his face and walked away from the unconscious heap that was Machida.