Best Moments from Strikeforce (2009-2010)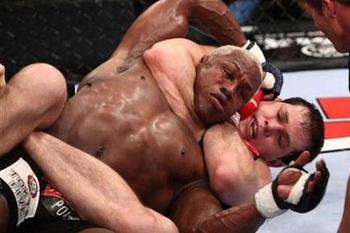 mmafrenzy.com
Melendez KOs Damm to Win Interim Title at Strikeforce: Shamrock vs. Diaz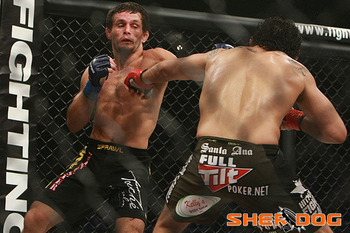 sherdog.com
The interim lightweight title was up for grabs, and former champion Gilbert Melendez was in the hunt to get his belt back.
Standing in his way was Rodrigo Damm. Damm was a Brazilian jiu-jitsu ace who likely would give Melendez a hassle on the ground.
Melendez would not let that happen, as he tagged Damm on the feet. Several follow-ups later and Damm was out cold.
Diaz Gives Pre-Fight Antics, Backs Up with Win over Shamrock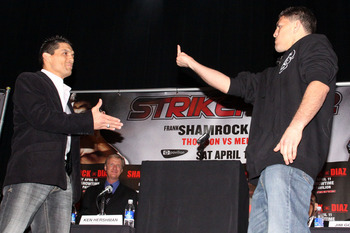 urdirt.com
Nick Diaz is never one to shy away from controversy, but the picture above shows his pre-fight thoughts for Frank Shamrock.
When fight time came, Diaz backed up his disrespect with a great performance against a legend. About midway through the second, Diaz was finishing Shamrock with strikes to continue his rise in the MMA world.
Rogers Shocks Arlovski at Strikeforce: Lawler vs. Shields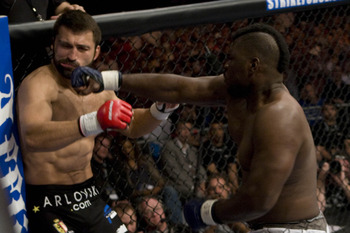 urdirt.com
Andrei Arlovski was a former UFC heavyweight champ. Brett Rogers was virtually an unknown in MMA.
This would be Rogers' coming-out party.
In just over 20 seconds, Rogers touched Arlovski's chin and put him down hard. It was a huge win for the young knockout artist and a huge loss for the legend.
Mousasi KOs Sobral to Win 205 Title at Strikeforce: Carano vs. Cyborg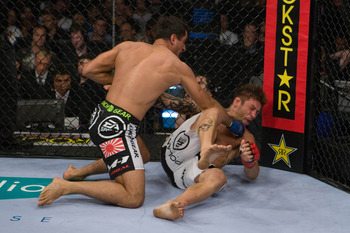 urdirt.com
Gegard Mousasi was a guy American fans were dying to see on U.S. soil. He would get his chance in a title fight against Renato Sobral.
All it took was 60 seconds for Mousasi to leave an impression on fans, as he blitzed Sobral for the knockout. He was now the Strikeforce light heavyweight champion.
'Cyborg' Manhandles Carano in First Female Main Event
zimbio.com
History was made in Strikeforce, as Gina Carano and Cris Santos were set to main-event a card. It was an important part of WMMA history.
The one round fight was a route, as Santos battered Carano unmercifully. With one second to spare, "Cyborg" would earn a TKO stoppage to become the women's champion.
Fedor Decapitates Rogers in Main Event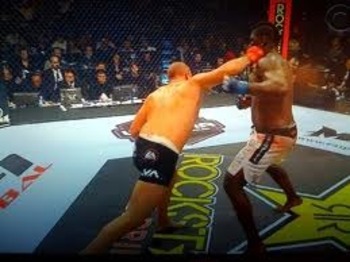 tvbythenumbers.zap2it.com
It was a punch that would destroyed a mastodon. It was one of the most powerful one-punch KOs ever witnessed in MMA.
Simply, it was Fedor Emelianenko downing Brett Rogers with extreme prejudice.
Smith Shocks Le at Strikeforce: Evolution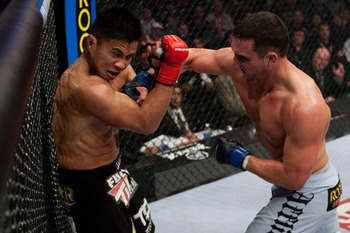 bloodyelbow.com
Many people saw the matchup between Cung Le and Scott Smith has a mismatch. Most thought Smith was a sacrificial lamb that would be dismantled.
Smith did not get that memo.
After weathering the storm, Smith came out in the third round possessed. He came on hard against the seemingly gassed Le and finished him with strikes.
It was a huge upset.
Lawler Gets Chopped Down at Legs, Scores One-Punch KO at Strikeforce: Miami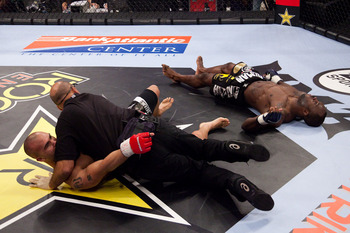 prommanow.com
Melvin Manhoef was tenderizing Robbie Lawler's legs. It looked like Lawler would not walk out of the cage, never mind win.
Then it happened.
Out of pure desperation, Lawler put everything he had into one punch. It landed on Manhoef and put him into a deep slumber.
Diaz KOs Zaromskis to Win Title at Strikeforce: Miami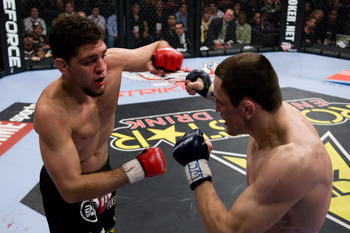 prommanow.com
Nick Diaz's title reign began in Miami, when he beat Marius Zaromskis for the inaugural title.
In under a round, Diaz showed who was the better striker by using his boxing against the Lithuanian. This win would lead to great title fights in the future.
Gracie Makes Debut, Chokes out Randleman at Strikeforce: Heavy Artillery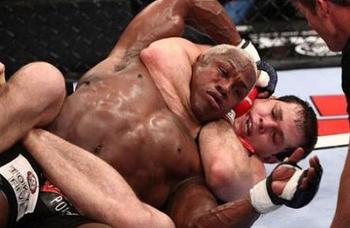 mmafrenzy.com
The much-anticipated debut of Roger Gracie was made at Strikeforce: Heavy Artillery, and in his way would be veteran wrestler Kevin Randleman.
Gracie showed whose grappling was superior, as he would secure a violent rear-naked choke. It showed that he could be a dangerous MMA adversary.
'Cyborg' Crushes Finney with Knee to the Body at Strikeforce: Fedor vs. Werdum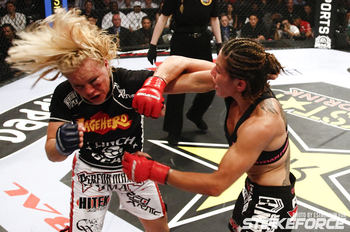 fighttime.net
Although many anticipated the main event of Strikeforce: Fedor vs. Werdum, there was a women's bout that ended violently before the main attraction came to fruition.
With her title on the line, Cris Santos showed her power and violence in ending her fight with Jan Finney with a knee to the body. It solidified that she was the best female in the world.
Le Gains Revenge on Smith at Strikeforce: Fedor vs. Werdum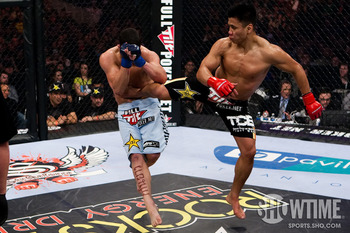 mmaconvert.com
Cung Le was looking to extract some revenge on Scott Smith, the man who upset him earlier in Strikeforce. This time, Le made sure he finished Smith.
Utilizing a nasty spinning back kick, Le crippled his opponent and jumped on the injured fighter. The ref was forced to stop the fight, earning Le his redemption.
Werdum Pulls off Upset for the Ages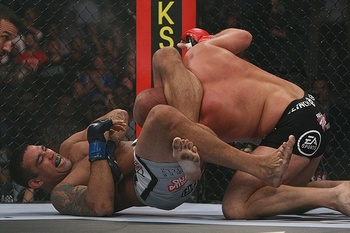 sherdog.com
All Fedor Emelianenko had to do to lose was make one astronomical mistake. That happened in the headliner of Strikeforce: Fedor vs. Werdum.
Fabricio Werdum would go down and Fedor followed him into his guard. That would prove to be his downfall, as Werdum showed his submission prowess by tapping the Russian legend with a triangle armbar.
It was possibly the biggest upset of all time.
Griggs Upsets Lashley at Strikeforce: Houston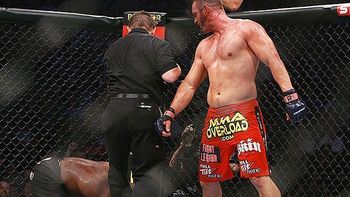 sports.espn.go.com
Bobby Lashley had a bunch of hype around him. He was a physical specimen whose WWE career gave him great popularity.
Unfortunately, his gas tank was shallow due to his large muscle mass.
Unheralded Chad Griggs took the fight with Lashley, likely as a sacrificial lamb to the rising star. He surely didn't get that memo, as he outlasted Lashley and made him quit in between rounds.
Noons KOs Gurgel at Buzzer, Again in Second Round at Strikeforce: Houston
metalmulisha.com
K.J. Noons was dominating the standup. As time expired in the first round, it appeared he had knocked out Jorge Gurgel.
The fight was not called and both men came out in the second. Gurgel still looked hurt and Noons mercifully finished him via KO in a weird yet entertaining bout.
Coenen Armbars Kaufman for the Title at Strikeforce: Diaz vs. Noons II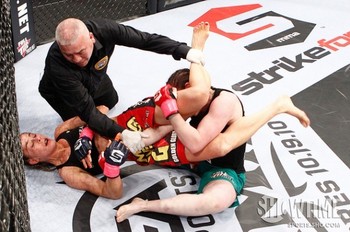 mmaconvert.com
Marloes Coenen has a dangerous ground game. Sarah Kaufman learned that the hard way.
In three rounds of entertainment, Coenen ended the intrigue with a beautiful armbar. It was a great win for the woman from Holland.
Diaz Redeems Himself with Win over Noons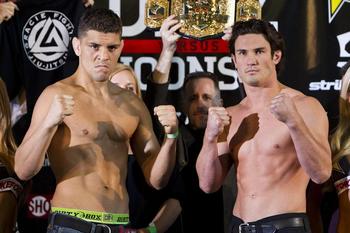 mmafrenzy.com
Elite XC saw K.J. Noons best Nick Diaz via doctor stoppage from a cut to win the title in that company.
In Strikeforce, Diaz returned the favor.
Over five rounds, Diaz repaid Noons for the loss he suffered in the defunct Elite XC. It was a big win and gave Diaz some closure.
Daley Flattens Smith at Strikeforce: Henderson vs. Babalu II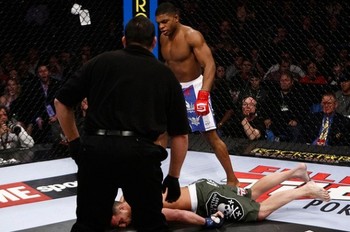 mmaconvert.com
There is nothing better than knocking a dude out who is coming forward and then they fall flat on their face.
Paul Daley must also be a fan of that.
As Scott Smith surged forward in a fight he was getting battered in, Daley nailed him with a nasty punch that put his lights out. It was a highlight reel KO for the British brawler.
Henderson Lays out Sobral in Rematch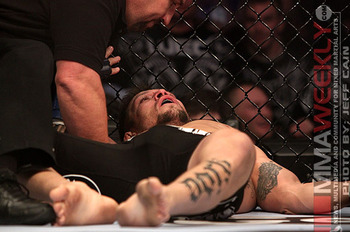 MMAweekly
Renato Sobral wanted to extract revenge from an earlier loss to Dan Henderson.
That would not happen in the headline of Strikeforce: Henderson vs. Babalu.
Henderson completely outclassed the Brazilian grappler and battered him with big punches. Eventually, Hendo would ware out Sobral and put him to sleep.
Keep Reading