All-Time AFC South Team: The Best Safety Seasons
May 31, 2012

Dilip Vishwanat/Getty Images
The AFC South has been around for 10 often-glorious years, and it's time to give the unappreciated division some love.
For the next few weeks, I'll be letting you vote on the all-time AFC South team. We'll be picking players and a coach based on their best single season from 2002 to 2011.
We started with the quarterbacks, moved on to the running backs, the wide receivers, tight ends, the offensive line, defensive tackles, defensive ends, linebackers and cornerbacks.
Today, the safeties are up.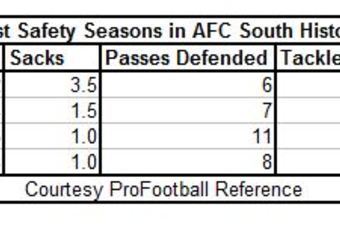 You can vote for the best. Voting runs through next week.
Marlon McCree 2002
McCree had a long and productive career as a safety, but his best season was his second. The Jaguars weren't very good, but McCree did manage to pick off six passes and defend 11 other throws. The team only managed six wins, and McCree would be off to the Texans the following year. McCree edged out Reggie Nelson for this spot.
Bob Sanders 2007
Sanders followed up his miracle return to the '06 Colts with an amazing season that landed him his second All-Pro award and garnered him the NFL's Defensive Player of the Year. Sanders had a "do a little bit of everything" season. He was dominant in the first game against the Titans, and made a huge stop of Maurice Jones-Drew on fourth down in Jacksonville.
Sanders always battled health issues, but managed to stay on the field for the entire season. The Colts won 13 games, though it would be the last time Sanders could play as many as seven games in a season.
Chris Hope 2008
Hope was a good player for a lot of years with the Titans, and went to the Pro Bowl for his play in 2008. He had four picks, a sack and 63 tackles as the Titans ripped off a surprise 13-3 record and a division championship. Hope had other fine seasons, like a five-pick campaign in 2005. He was outstanding against the run and good against the pass.
Bernard Pollard 2009
Pollard had a solid season cut just a little short because of injuries in 2009. In just 13 games, he posted 1.5 sacks, four picks, a forced fumble and 82 tackles. The Texans defense as a whole struggled, but Pollard managed to be productive. His efforts in both coverage and the run game lifted the team to its first winning record.