WWE Smackdown Results: Top 15 Moments from Last Night's Show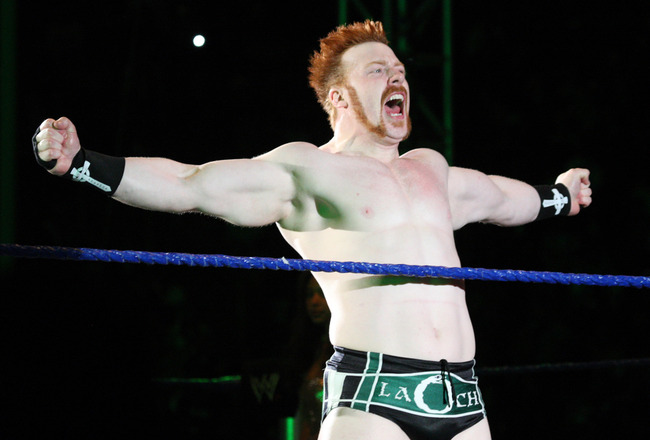 Gallo Images/Getty Images
WWE had an excellent WrestleMania last Sunday night. The following night's Raw was also very entertaining. Sadly, this week has not been able to keep up the momentum.

As positive as I am in life, last night's Smackdown was not very good. I am going to be nice here and give the Blue Brand a C- grade.

Why was this "special" so tough to sit through? Let's find out!
15. Damien Sandow Speaks
I wonder if he will use his theme song from Vengeance 2003.

Probably not...

Damien Sandow had another promo last night. He once again ended his speech with "You're welcome." I still think of Perry Saturn and Moppy when he says that.

Hopefully, the live crowds won't get any bright ideas!

Either way, I am very interested in this man. He seems like a great heel, but so many new talents are on television right now, I hope he stays out of the ring for a few more weeks.
14. Show and Rhodes
Cody and Dusty Rhodes always have fun segments together. This one seemed like nothing more than a filler segment.

Big Show came out and showed yet another embarrassing moment from Cody's past. It was from his "grooming tips" days.

I actually loved these videos, but I guess not many others did.

The crowd laughed. Dusty Rhodes danced, and we will see the Cody vs. Show feud continue.

Don't ask me why...


13. Duggan vs. Hunico
Why did this happen?

Hunico cut a nice promo before the match, but it meant nothing a few minutes later.

Slaughter came out to help Jim Duggan, and the faces clearly cheated in front of the referee. For some reason, this was cheered.

Everybody celebrated as if they had actually won.

Again, why did this happen?
12. Safety Comes First
WWE aired a "Don't try this at home" commercial during Smackdown.

They rarely show this on Raw anymore. Seeing it on Smackdown was a nice surprise.

I believe we should see this before (or during) every single WWE show. I have said it before, but safety comes first, folks!
11. Bob Orton Backstage
I love that video from 2005.

Seeing Randy Orton and his father backstage brought back good memories. The two fit well together, and it was certainly a "Blast from the Past."

That wasn't the only segment we saw from the locker room.
10. New Team?
Tyson Kidd and Heath Slater had a discussion backstage. It looked like Slater wanted to be Kidd's new tag team partner with Justin Gabriel out of action.

Well, I see no potential. Anything involving Slater will get a "fail" on my grading scale.

Jimmy Hart was there to support them, but this seemed like another filler segment.
9. Uso Twins Win
The Uso brothers defeated Slater and Kidd in a short match, but they were not even the focus here.

Mick Foley had come out to the commentary booth. Everybody joked about his last run as a commentator, as Jimmy Hart annoyed everyone at ringside.

This led to Foley taking out Hart.

Mick really needs to get away from the comedy character. He is fun and all, but his "intense" promos are absolutely amazing to watch.
8. Opening Segment
The beginning was fine.

Mean Gene Okerlund interviewing Sheamus was cool, but Mr. Excitement certainly had to get involved. He fined the World Champion and put him on permanent probation.

That just is an unneeded gimmick tagged to Sheamus moving forward.

Johnny Ace eventually made the main event match for later on in the evening.

It would be Sheamus and Mean Gene vs. Daniel Bryan and Alberto Del Rio.
7. Backstage Segment
Before the main event, we saw Sheamus and Gene have a little chat.

They all but said they would lose and didn't seem very confident.

I understand the concept, but I could have done without this. Sheamus is the World Heavyweight Champion, has been on a huge streak and rarely has ever shown fear.

Now he is afraid of facing both Bryan and Del Rio without much help?

Come on!

He (rightfully) beat Bryan in 18 seconds and didn't have many difficulties last week against Alberto. This whole segment seemed "off," especially when they talked about drinking after the show.

Could have just skipped this...
6. Ryback Dominates
I didn't like Tony Atlas using the term "squash" here. It was a pointless insider phrase thrown out there to garner a reaction. Job well done!

The man should have just laughed and done nothing else.

However, I did like a couple of the legends watching Ryback's match backstage. WWE did the same last week, and it really makes him seem like a major deal.

Ryback destroyed yet another local talent and looked excellent.
5. Henry vs. Orton
Mark Henry and Randy Orton had a great rivalry last year. Their matches were great, and I had no issues with seeing it once again last night.

The only problem is we didn't even get an official conclusion.

Did the referee count out Orton? Does Henry pick up yet another victory? Was the match just thrown out? Who knows?

Kane appeared on the screen with a fallen Bob Orton in front of him. Of course, Randy went to check on his father, only to get beat down by Kane as well.

This feud has not done much of anything, but as long as it ends with an RKO victory, I am fine.
4. My 'It' Girl
The Great Khali, Natalya and Alicia Fox battled the Bella Twins and Drew McIntyre.

Before the match started, Drew posed with the twins. It actually looked like a good fit. Of course, Drew walked off a minute later.

Who ended up getting the pin?

Not the future WWE Hall of Famer Khali.

Definitely not Nattie!

Certainly not the Bella twins.

No, it was my "it" girl Alicia Fox picking up the win for her team. The girl was fantastic, and it showed once again.

Afterwards, we were treated to an appearance from Mae Young. She kissed Khali, and everybody looked like they were having a good time.

This was one of the few quality segments last night.
3. Extra Notes
1. I really liked the Raw Rebound video this week. The production crew put over Brock Lesnar and John Cena's match at Extreme Rules and made it seem epic.

2. The live crowd in Virginia was dreadful. I am sorry. Monday night's audience was very disappointing, but this was much worse.

If you going to go and sit on your hands, why even bother? The other issue is I seem to remember a lot of quiet events from the same state.

WWE really should decide whether to return there or not in the future.

Of course, the "too smart" fans chanted Sexual Chocolate. They even tried to start up a few chants for Daniel Bryan when it was completely irrelevant.

Nice try! It was a fun week, but nothing was going to save this show.

3. Yet another live Smackdown special on Tuesday has gone by. Yet another less than stellar show from the Blue Brand has passed. Yet another poor television rating awaits WWE Wednesday afternoon.

Once again, going live does not help numbers. Being on Tuesday does not increase viewership. Having different themed shows certainly doesn't do anything.

I truly hope it is a long time before we see another live Smackdown on Tuesday night.
2. Main Event
Sheamus and Mean Gene defeated Daniel Bryan and Alberto Del Rio in less than five minutes.

Many will likely cry and whine over the finish, but it was the correct move. As I wrote about back in January, the Celtic Warrior needs to win nearly every single match for a long time.

Sheamus kicked Bryan and pinned him for the victory.

The legends all celebrated and beat up Ricardo Rodriguez.

After Sheamus (rightfully) defeats Daniel Bryan at Extreme Rules, Alberto Del Rio will be next in line for a World Title match. The two out of three falls stipulation at the PPV event is intriguing, though.

I have no doubts their match will entertain the Chicago audience. However, the city is a well-known rabid crowd, so I wish them both luck.
1. Piper's Pit
This was the best segment of the show, and it wasn't even close.

Roddy Piper is great when he is "on." Last night, he was definitely ready to go. Piper brought his best, and everybody else did, too!

AJ seems to be staying with Bryan for a little bit longer, but this won't end well for Bryan, no matter what.

Either she turns on him in a few weeks or he is moved back down to the mid-card after Extreme Rules.

This is a lose-lose situation for the "Yes Man" moving forward.

He and AJ have amazing chemistry, but Sheamus isn't losing his title. That is what makes this entire thing so great. The fans are just waiting for him to figure all this out, so the pay off will be that much better.

AJ leaves him, and Sheamus kicks his head off...

Follow Justin Watry on Twitter!

Keep Reading