NFL Week 12: Predictions and Storylines for the Full Schedule
November 26, 2011
Kevin C. Cox/Getty Images
Note: The quotes in this article are fictional.
Minnesota @ Atlanta (-9½)
The Falcons, 23-17 winners over the Tennessee Titans last week, are 6-4 and trail the New Orleans Saints by a game in the NFC South. Atlanta built a 23-3 lead last week before holding off a late Titans charge.
"In hindsight," Mike Smith said, "I should have kicked on 4th-and-1 against the Saints in Week 10. To remind myself of that, I haven't stopped kicking myself since making that decision. Losing 26-23 to the Saints also resulted in a sore 'behind.'"
Minnesota's Adrian Peterson went down in the first quarter of last week's 27-21 loss to the Raiders with an ankle injury. He is expected to miss at least one game.
"Any time a Viking goes down, it's news," Leslie Frazier said, "especially if it's on a boat. Maybe a cruise on Lake Minnetonka is exactly what Adrian needs, because once he gets off, the swelling will subside dramatically."
"In Adrian's absence, Toby Gerhart will see most of the carries. He's Peyton Hillis without the sore throat or the Madden NFL 12 cover. Hillis may be the 'Great White Hope,' but Gerhart is the 'Mighty White of (Stanford) U.'"
Atlanta wins, 30-17.
Cleveland @ Cincinnati (-7)
The Bengals have lost in consecutive weeks to the Pittsburgh Steelers and Baltimore Ravens to fall to 6-4, but still only trail those two foes by one game in the AFC North. They'll host the 4-6 Browns on Sunday at Paul Brown Stadium.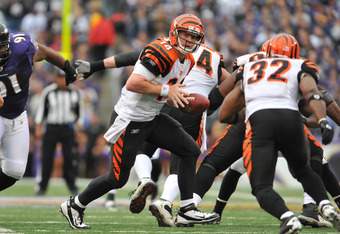 Larry French/Getty Images
"I don't like them, they don't like me," Bengals head coach Marvin Lewis said. "But now that Carson Palmer and Chad Ochocinco are elsewhere, I can direct my hatred in a more useful manner—towards the Browns. They may have the 'Dawg Pound,' but we have the 'Jungle.' Of course, the only thing 'wild' about the Bengals are our playoff chances."
The Browns beat the Jaguars 14-10 last week in Cleveland, thrilling the Dawg Pound with a goal-line stand from the one-yard line to preserve the victory.
"At 4-6," Browns head coach Pat Shurmur said, "it's not often we get to boast, but that goal-line stand was hot 'stuff.' Our defense did a great job of keeping the offense out of the end zone. Heck, our offense has done a great job of keeping the offense out of the end zone. They average 14 points a game. Even on a good day, our offense is 'average' at best."
Cedric Benson rushes for 134 yards and 2 touchdowns, and the Bengals defense corrals Colt McCoy.
Cincinnati wins, 28-13.
Tampa Bay @ Tennessee (-3½)
The Titans fell to 5-5, two games behind the AFC South-leading Texans, after last week's 23-17 loss in Atlanta, and will face the visiting Buccaneers without quarterback Matt Hasselbeck, who sprained his right elbow.
"Jake quickly proved to be our best passer," Tennessee head coach Mike Munchak said, "and could prove to be our best rusher in even less time. Chris Johnson managed only 13 yards on 12 carries last week. He hasn't 'managed' well all year. I even hear he's having a hard time 'managing' to live with himself."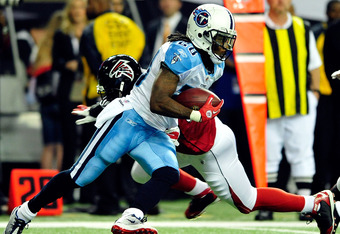 Grant Halverson/Getty Images
Tampa hung with the undefeated Packers in Green Bay before dropping a 35-26 decision. The Bucs out-gained Green Bay, but were done in by penalties and turnovers.
"We took the Packers to the brink of defeat," quarterback Josh Freeman said. "We certainly know how to get there."
Tampa running back LeGarrette Blount out-gains Johnson on a 27-yard run in the second quarter, but the Titans defense shuts him down thereafter. .
Tennessee wins, 27-21.
Arizona @ St. Louis (-3)
Arizona was manhandled 23-7 in San Francisco last week, dropping to 3-7 and 1-5 on the road. A win in St. Louis would keep the Cardinals out of the division basement.
"John Skelton had a 10.5 quarterback rating against the 49ers," Cardinals head coach Ken Whisenhunt said. "That's just awful, but not as awful as a locker defaced with red-lettered graffiti spelling 'Helton Skelton.' In the sad state of the quarterback situation in Arizona, a 10.5 rating may earn him the start this week."
The Rams lost to the Seahawks 24-7 and are in last place in the NFC West with a 2-8 record. Quarterback Sam Bradford was sacked five times and turned the ball over three times.
"I think both of these teams are looking for the same thing," Rams head coach Steve Spagnuolo said. "Consistency at quarterback? No, a replacement for Kurt Warner."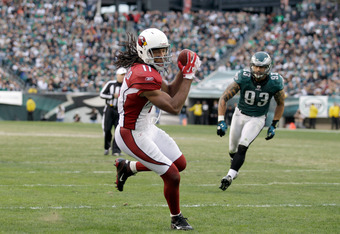 Rob Carr/Getty Images
Kevin Kolb returns to the lineup for the Cards and throws two touchdowns.
Arizona wins, 20-17.
Houston @ Jacksonville (+3½)
The Texans return from a bye week with a two-game lead in the AFC South and a tough trip to Jacksonville. Wide receiver Andre Johnson is back in the lineup after a hamstring injury sidelined him for five weeks, while quarterback Matt Leinart starts in place of Matt Schaub, who is out for the year with a foot injury.
"Leinart's in," Texans head coach Gary Kubiak said. "No, not in 'the hot tub with 10 bikini-clad chicks.' But in 'the starting lineup with 10 players who, unfortunately, are expecting a lasting relationship.' How Matt responds to fulfilling the desires of men may very well define our season.
"With Leinart in, we'll have to lean more heavily on our defense, which is ranked second in the league in total defense. With apologies to the Cowboys, 'Big D' is in Houston now."
The Jaguars suffered a heartbreaking 14-10 loss in Cleveland last week, failing to convert on four tries from the Cleveland one-yard line in the final minute. Jacksonville is 3-7, third in the AFC South.
"Luckily," Jaguars head coach Jack Del Rio said, "we're well-ahead of the 0-10 Colts. Indianapolis has kept us out of first place so often, it's only fair that, now, they're keeping us out of last place. Peyton Manning truly is an ambassador for the game."
Kubiak gives Leinart a playbook he can handle, with lots of run plays, screen passes and pictures of the Lingerie Football League All-Star team.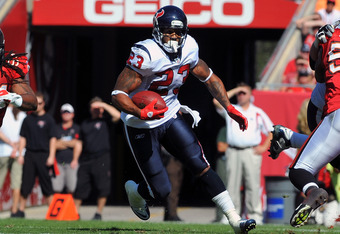 Al Messerschmidt/Getty Images
Houston wins, 27-9.
Buffalo @ NY Jets (-9)
The 5-5 Jets host the 5-5 Bills in a battle of two teams fading from the AFC East race. The Jets lost their second straight, 17-13 in Denver, on Tim Tebow's 20-yard touchdown run in the fourth quarter. Sunday's game at MetLife Stadium is a must-win game for quarterback Mark Sanchez and New York.
"It's hard not to be impressed by Tebow's exploits," Sanchez said, "but I'll try. He's obviously blessed with physical gifts most quarterbacks long for, and others they don't, like the ability to abstain from premarital sex. I'm sure he has tons of women throwing themselves at him. That's just what he needs. More incompletions for which he's responsible.
"Offensively, we are struggling. We have no big-play capabilities. Offensive coordinator Brian Schottenheimer gives me very little to work with. He's said the same of me."
The Bills have lost two straight, and the season's 4-1 start and Week 3 win over the Patriots are fading memories. Since signing a contract extension in late October, quarterback Ryan Fitzpatrick has played poorly, and the Bills are 1-3 in their last four games, averaging only 12 points per game.
"Are the Bills having 'second thoughts?'" Fitzpatrick said. "Indeed they are. If we beat the Jets, we'll be in second place.
"I find it funny that it took a $75,000 fine from the NFL for Rex Ryan to shut the 'f' up for saying 'Shut the 'f' up.'"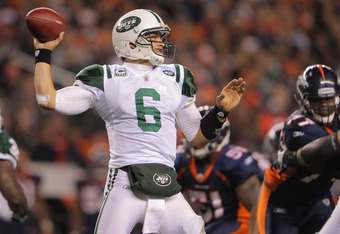 Doug Pensinger/Getty Images
Jets win, 27-13.
Carolina @ Indianapolis (+3½)
The 0-10 Colts, coming off a bye week, look for their first win of the year, and the 2-8 Panthers, fourth in the NFC South, appear to be possible victims.
"I hear Andrew Luck has decided not to enroll in classes for the spring semester," Colts head coach Jim Caldwell said. "That means Cam Newton won't be the only quarterback who stopped going to class on our minds this week."
The Panthers led the Lions 27-14 at halftime last week, but Carolina fell apart in the second half and lost 49-35. Newton threw a season-high four interceptions, and the Panthers lost their third straight.
"The Colts lead the 'Occupy Last Place' movement," Newton said. "And they're good at it, because they're not going anywhere."
Carolina wins, 28-16.
The surging Seahawks have won their last two and appear on pace to match last year's 7-9 record, which gave them the NFC West title. That record won't win the West this year, but it will surely be good for second place.
"I doubt the NFL keeps records of this," Seahawks head coach Pete Carroll said, "but we will surely go down as the team that clinched second place earlier than any team in league history.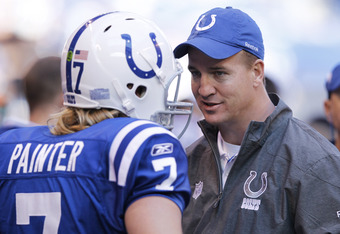 Joe Robbins/Getty Images
"As for Mike Shanahan, he experiences the same problem that I face—a weekly decision of a quarterback that causes daily pains. Here in Seattle, out west, it helps to listen to my favorite Pearl Jam song, 'Better Man,' and think of my favorite actor, Slim Pickens, while making that decision."
Seattle wins, 24-13.
Chicago @ Oakland (-3½)
The Bears turned away the Chargers 31-20 last week, winning their fifth straight game as Jay Cutler outplayed Philip Rivers in a quarterback battle. However, Cutler broke his right thumb and may be sidelined for the rest of the season.
"I'm devastated," Cutler said. "This injury may legitimately keep me out of the NFC championship game. I was looking forward to running the AFC West gauntlet. Rivers one week, and Carson Palmer the next. It just doesn't get any easier, until I get Tim Tebow and Denver on December 11. I have one thing in common with Tebow. I got ran out of Denver. Tebow 'runs out' of Denver, as well."
The Raiders took an important road win, knocking off the Vikings 27-21 in Minnesota. Oakland is now 6-4 and holds a one-game lead over the Broncos in the AFC West.
"In light of Cutler's injury," Raiders head coach Hue Jackson said, "I give a 'thumbs down' to the officiating crew that called last week's game in Minnesota. They should be demoted. If those same calls were to be made in the Black Hole, the officials, ironically, would be awarded with police escorts."
Chicago wins, 23-20.
New England @ Philadelphia (+4)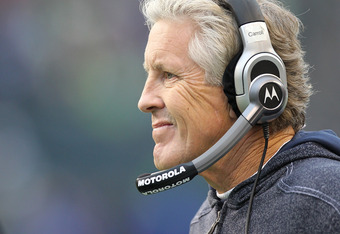 Otto Greule Jr/Getty Images
Quarterback Vince Young, starting for the injured Michael Vick, was the unlikely hero in the Eagles' 17-10 win over the New York Giants last Sunday night. Young threw the game-winning touchdown pass to Riley Cooper late in the fourth quarter.
"Vince did everything we asked of him," Eagles head coach Andy Reid said, "plus one thing we've asked of Michael Vick: Win a game in the fourth quarter. In light of Vince's infamous Wonderlic score, he's gone from zero to hero. Vince never retook the Wonderlic. He was 'one and done,' but that won't apply to his quarterbacking duties. Vince will be back."
The Pats pummeled the Kansas City Chiefs 34-3 last week behind an opportunistic defense and tight end Rob Gronkowski, who had two touchdown receptions.
"Gronkowski is my No. 1 receiver," said Patriots quarterback Tom Brady. "I call him 'Pole Position.' I expect a big game from Gronk. I doubt the Eagles have an answer for him, but I bet they have questions, like 'When do you become a free agent, because we'd probably like to make you one of our nine prized acquisitions some day.'"
LeSean McCoy rushes for 124 yards and two scores, and Brady's late magic is cut short by an Asante Samuel interception.
Philadelphia wins, 31-27.
Denver @ San Diego (-6½)
Tim Tebow's 20-yard touchdown scamper gave the Broncos a 17-13 win over the favored Jets last Thursday, and now Denver is on the cusp of the AFC West lead. At 5-5, Denver trails the Raiders by only one game.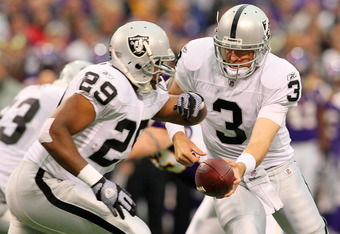 Adam Bettcher/Getty Images
"There're a lot of former Bronco quarterbacks in the news," Tebow said. "Kyle Orton's been released, and Jake Plummer ridiculed my relationship with Jesus Christ. I would say Plummer's going to Hell. But I think he may already be there—he's been doomed to a life of professional handball. That must be Hell."
Two late Philip Rivers interceptions spelled doom for San Diego in Chicago last week, as the Chargers lost 31-20, suffering their fifth straight defeat. San Diego is 4-6 and needs a win to have any chance at the division crown.
"Tebow is truly a 'throwback' player," Rivers said. "He's set offense back 20 years. But I think it's time we stop persecuting Tebow and just accept him. Hey, isn't that what they said about Jesus? Give Tebow his due. He's won four of his last five games. I haven't won any of my last five games. I can't guarantee victory, but I can guarantee that we won't be releasing our second-string quarterback."
San Diego wins, 23-20.
Pittsburgh @ Kansas City (+10½)
The Steelers are tied for the AFC North with a 7-3 record, although the Ravens own the head-to-head tiebreaker. After a Week 11 bye, Pittsburgh kicks off the stretch run at Arrowhead Stadium, home of the 4-6 Chiefs.
"I used the bye week to meet with Roger Goodell," Steelers head coach Mike Tomlin said, "to discuss what I feel are some unfair fines levied against my players for illegal hits. Instead of shaking the commissioner's hand, I bowed to him. He accused me of leading with my head, and the meeting was over."
The Chiefs took a 3-0 lead in New England last week, then surrendered 34 unanswered points in a 34-3 loss. Kansas City is 4-6, two games behind the Raiders in the AFC West.
Nick Laham/Getty Images
"If there is one place where it's okay to be 4-6," Todd Haley said, "it's the AFC West. Even in last place, you're well within striking distance. However, as a coach of a last-place team, you're well within 'firing range.'"
Pittsburgh wins, 30-10.
NY Giants @ New Orleans (-6½)
If the Giants are to end their two-game slide, they'll have to do so in New Orleans, where the NFC South-leading Saints are 4-0. New York lost 17-10 to the Eagles last week, sliding into a tie with the Cowboys in the East while letting Philly back into the division race.
"We were embarrassed at home," Giants head coach Tom Coughlin said, "and those Eagles scored a cheap shot on Eli Manning that went unpunished. Heck, we can't defend ourselves, much less other teams. I think Victor Cruz said it best when he stated 'I won't stand for that.' Sure, he was hugging the floor because of gunfire, but still, it's a message we can all appreciate."
The Saints lead the NFC South with a 7-3 record and enjoyed a bye week of rest, relaxation and fond recollection of the Falcons ill-fated decision to gamble on fourth down.
"We call Mike Smith 'Fourth and Goat,'" Saints head coach Sean Payton said. "One bad decision probably cost the Falcons a game. I'm not sure how many bad decisions it will take to cost the Packers six games, but I'm guessing it's quite a few. That may be the only way we avoid a January trip to Lambeau."
New Orleans wins, 30-27.