NFL: Week 2 Predictions
September 16, 2011
Rob Carr/Getty Images
Note: the quotes in this article are fictional.
Seattle @ Pittsburgh (-12½)
It's a rematch of Super Bowl XL as the Steelers try to rebound from last week's 35-7 loss in Baltimore, Pittsburgh's worst loss since "The Fish That Saved Pittsburgh" era. The Steelers turned the ball over seven times, including five by Ben Roethlisberger.
"Most observers were right," Ben Roethlisberger said. "Last week's game in Baltimore was a defensive struggle, except only our defense struggled. Indeed, we got our asses handed to us. Me? I don't mind ass being handed to me, as long as it's not my own. And speaking of asses being handed out, as a young, rich, privileged athlete, that's exactly how I used to get it before my prearranged marriage changed things."
A tall order for the Seahawks lies ahead, as they confront an embarrassed Steelers squad anxious to right their ship. Pete Carroll knows his motivational skills will be in demand to prepare his team for what is sure to be a fired up Pittsburgh team.
"It's one thing to fear the Steelers," Carroll said. "It's another to respect them. We do both. Sure, it's quite a task playing an angry Pittsburgh team at home after an emotional division loss, with their pride bruised. But I've faced bigger obstacles, like facing the NCAA in absentia. Like that day, I think I'd rather be elsewhere during this one. I don't expect Mike Tomlin to hold anything back. After the game, I do expect I'll be saying to Tomlin, 'What's your deal?'"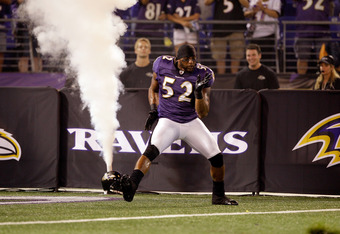 Rob Carr/Getty Images
The Steelers force a Tarvaris Jackson fumble on the third play from scrimmage, Roethlisberger cashes in quickly with a 35-yard touchdown strike to Mike Wallace, and the rout is on.
Three more Jackson turnovers later, Carroll wishes "Tarvaris" was his heartburn medication and not his quarterback.
Pittsburgh wins 31-13.
Baltimore @ Tennessee (+4)
Fresh off signing a $53 million contract extension, Chris Johnson rushed for a measly 24 yards on nine carries in the Titans 16-14 loss to the Jaguars this week. It certainly won't be easier against a Ravens defense that forced seven Pittsburgh turnovers in pounding the Steelers 35-7.
"It's hard to run when your pockets are this heavy," Johnson said. "I stole a quote from former teammate Kerry Collins when I said 'I'm loaded.' The Titans now know very well that it's much easier to validate a check than it is to validate a contract. Should I pull an 'Albert Haynesworth' and do nothing else, I'll have earned the nickname 'Stash and Dash.'"
The Ravens 2011 campaign took off with flying colors—black and blue—in last week's 35-7 drubbing of the Steelers. Baltimore forced seven turnovers, including five by Ben Roethlisberger, and the Ravens will look to harass Matt Hasselbeck in similar fashion.
"Last week," Joe Flacco said, "we made a statement. This week, we're going to punctuate it, with a question mark, because after the game, everyone will be asking, 'How can you beat the Steelers by 28, and the Titans by only 13?'"
The Ravens will dominate from the start, as Ray Lewis leads his teammates in a pre-game speech dripping with such intensity that it sends chills down their spines, as well as that of Eddie George. Lewis then correctly calls 'heads' at the coin toss, which the intimidated Seahawk's captains interpret more as a threat to their safety than a choice of a coin side.
"We want the ball and we're gonna score," quoth the Raven, with a nod to Tennessee captain Hasselbeck.
Baltimore wins 25-12.
Jacksonville @ NY Jets (-10)
The Jaguars fared well without David Garrard, as Luke McCown was an efficient 17-of-24 for 175 yards in the Jags' 16-14 win over Tennessee last week.
"Luke played like a man," Jack Del Rio said. "And he dresses like one, too. Unlike Mark Sanchez, you would never see Luke in a men's fashion magazine, if for no other reason than he's never been asked to appear in one. I've never been taken aback more by a 'spread' offense. Sanchez puts the 'Q' in GQ. He simply overdid it. You know you've gone too far when Joe Namath is asking you for kisses."
The Jets scored 17 fourth quarter points to stun the Cowboys 27-24. Isaiah Trufant's return of a blocked point tied it at 24, and Nick Folk won it with a 50-yard field goal with 27 seconds left.
"Don't forget about Plaxico Burress's fourth quarter touchdown catch that started the flurry," Sanchez said. "We call that play the 'post bail' route. Plaxico's performance has validated our decision to sign him after his release from jail. He made a great move to get open. I always knew that if Plaxico could get 'outside,' he could do some damage."
Prior to kickoff, Sanchez texts an anonymous photo to Rex Ryan of Sanchez in a pair of black, high-heeled shoes, and asks Ryan to meet him in the housekeeping closet. Ryan, his foot-fetish jones at full throttle, rushes to the closet, where a note awaits saying "You just bit on a 'pump' fake.'" Ryan takes the prank good-naturedly, and benches Sanchez for the game's first series.
Upon returning, Sanchez and the Jets establish the running game behind Shonn Greene, who piles up 109 yards on the ground. Later, Sanchez runs play-action to perfection, and finds Santonio Holmes for a fourth-quarter score that puts the game away.
New York wins 28-13.
Arizona @ Washington (-4)
The Redskins could go 2-0 with a win over the Cardinals, a team that surrendered 422 yards passing to rookie Cam Newton last week. With a win, and a Philadelphia loss, Washington would sit all alone atop the NFC East.
"This team is rallying behind Rex Grossman," said Mike Shanahan. "Our motto is 'We believe.' More specifically, 'We believe ... that we will need a new motto as soon as Rex regresses.'"
Kevin Kolb's debut as a Cardinal was a success, as he passed for 309 yards and two touchdowns in Arizona's win over Carolina.
"Kevin Kolb fever is sweeping the desert," Kolb said. "Even Arizona's Hispanic population adores me. They call me 'K-Pass-a.' I'm what's happening. My motivation is to make the Eagles regret trading me. But I don't regret for a second going from the Eagles to the Cardinals. Philly 'flipped a bird,' and so can I."
Washington wins 24-17.
Oakland @ Buffalo (-4)
The teams of the NFL's oldest owners meet, when 82-year-old Al Davis' Raiders travel to Buffalo to face the Bills of 92-year-old Ralph Wilson. The Bills smashed the Chiefs 41-7 last week and look to go 2-0 against the AFC West.
"Al and Ralph have certainly battled before," said Chan Gailey. "Ralph's longevity is amazing. What's most amazing is that Ralph is a full 10 years older than Al, yet he's only 92. You'd think he'd be at least 110, or dead.
"But enough about those geezers. Let's talk about the 1-0 Bills, who are a force to be reckoned with. I've got a bunch of hard-working guys whom I like to call the 'Chain Gang.' Despite what the general public thinks, the Bills are not playing for second."
The Raiders beat the Broncos in Denver 23-20 last Monday night, Oakland's fourth straight win in Denver. In that game, Sebastian Janikowski booted a 63-yard field goal, tying the NFL record.
"What a kick by Sebastian," said Hue Jackson. "I'm not sure that kick clears the crossbar had it not been kicked in Denver. Sebastian likes his air clear and dry, and his women hazy and moist."
The Raiders rush for 191 yards on the ground, and Janikowski boots a 45-yard field goal into an arousing stiff wind.
Oakland wins 24-20.
Two of the NFL's young, up-and-coming coaches face off in Minnesota, when Raheem Morris's Bucs face Leslie Frazier's Vikings in Mall of America Field, the NFL's only indoor stadium where avalanches are possible.
"Raheem and Leslie?" Jared Allen asked. "What is this? A Soul Train couple's 'Spotlight Dance?' If so, give my regards to Don Cornelius.
"We'll need a little more out of Donovan McNabb's than the 39 yards passing he managed in last week's 24-17 loss to the Chargers. His predecessor, Brett Favre, made his share of comebacks. But we need Donovan to do him one better, and make an in-season comeback. Donovan needs to step it up. Otherwise, we'll be forced to do something drastic. Get Favre out of retirement? Heavens no. Something with far fewer implications—sacrificing a 'Christian.' Christian Ponder is McNabb's backup and, apparently, he needs the work."
The Bucs fell in Detroit 27-20, but the NFL week was not a total disaster. All four NFC South teams lost, so they will all begin Week 2 on even terms.
"That's good to know," Josh Freeman said. "I'm quite surprised by the fate of the South. If you would have told me at the beginning of the year that one division would start the season winless, I would have guessed the NFC West. I also would have guessed that the West's first win would come in Week 5."
The Bucs race to a fast start, as Freeman finds Mike Williams for a score on their first possession. On the Vikes' first possession, defensive tackle Gerald McCoy knocks the stuffing out of McNabb, literally, as McNabb's pre-game meal consisted of some turkey and dressing, which has the public address announcer asking for "cleanup on the 23 yard line."
Tampa Bay wins 26-21.
Chicago @ New Orleans (-7)
With Marques Colston's broken collarbone sustained in last week's loss at Green Bay, rumors have been swirling about the possibility of Randy Moss signing with the Saints. The Saints, of course, have denied any contact with Moss.
"Let me state the obvious," said Sean Payton. "Randy Moss is no Saint. If he was, he'd be 'St. Elsewhere.' To further hammer home my point, let me take a page from Sugar Ray Leonard—Roberto Duran II, which took place right here in the Superdome, and say 'No Moss.'"
The Bears looked very much like last year's NFC North champs in handily dispatching the Falcons 30-12 last week. On Sunday, in the "Big Easy," they'll look to go 2-0 against the NFC South's best.
"Lance Briggs sets the tone for this team," Matt Forte said. "Every year, he complains of being under-appreciated. That feeling rubs off on us, because we're always under-appreciated. So we strive to prove them wrong. Jay Cutler is a perfect example. We're hoping he can put this team on his back and carry us again. There's no doubt he can do it. Last year, after excusing himself from the NFC championship game, he was 'ridden' by everybody."
Drew Brees picks apart the Bear defense, and the Saints defense redeems itself by forcing three Cutler turnovers.
New Orleans withstands a late Chicago flurry, but holds on the win 32-27.
Green Bay @ Carolina (+10)
In a losing effort, Cam Newton passed for 422 yards and two touchdowns, breaking the NFL record for most passing yards by a rookie in his debut, easily outpacing Otto Graham's 346 yards. Newton also tied Matthew Stafford's record for yardage by a rookie in a game.
"422 yards and two scores?" Charles Woodson said. "Wow. He looked like Drew Brees out there. More specifically, he looked like Drew Brees, against us, in our September 8th opener.
"But thank goodness Newton only tied Stafford's record. Stafford's already had enough things broken; he doesn't need yet another."
The Panthers defense will be charged with stopping Aaron Rodgers without defensive anchor Jon Beason, who is out for the season with a torn Achilles tendon. Carolina gave up 397 yards to Arizona, and will have to keep Rodgers in check to have a chance.
"There's only one defense that dictates how many points we put on the board," Rodgers said, "and that's our own. Great defenses don't give up 34 points. And great defenses don't give up 422 yards passing to a rookie. Newton was impressive. Heck, he's a man among men. But we've got his number."
Newton finds the going much tougher, as the Packers blitz him mercilessly. He does, however, earn a great deal of respect when he repels a Woodson sack attempt with a stiff-armed Heisman pose, then scrambles and finds DeAngelo Williams for a late score that cuts the Panther deficit to 17 late in the fourth quarter.
Green Bay wins 34-17.
Cleveland @ Indianapolis (+1)
After last week's 34-7 loss in Houston, Peyton Manning's value to the Colts is even more evident. Kerry Collins was un-Manning-like, going 16 for 31 for 197 yards, one touchdown, and two lost fumbles.
"Let's not condemn Collins just yet," said Jim Caldwell. "He hasn't had an easy time filling Peyton's shoes. Why, Collins may be the first 'replacement' player to cross a picket line condemning his actions in a non-strike year. That takes courage, my friend."
The Browns took their first lump in the tough AFC North, falling 27-17 at home to the underdog Bengals. Even with Peyton Manning on the sidelines, winning in Indianapolis is still a daunting task for the Browns, as well as the Colts.
"I can't win games by myself," McCoy said. "The following statement doesn't apply to Manning, but it does to me: 'One 'Colt' does not make a team.'
"The crowd at Lucas Oil Stadium is always loud. They'll likely be screaming their heads off, and/or screaming for the head of Collins. Obviously, Collins is worth less than Manning. Collins, in fact, may be just plain worthless."
The Colts add some new "wrinkles" to their offense, which is what a lot of people said when they signed Collins as a backup. But these new wrinkles involve a lot more rushing plays, some wildcat formations, reverses and option passes. Anything to get the ball out of Collins' right arm.
Indianapolis wins 27-23.
Kansas City @ Detroit (-8)
So far, so good for the Lions. One game into the season and Detroit is undefeated, quarterback Matthew Stafford is not on the injury list and Matt Millen remains far, far removed from the operations of the team.
"I think Stafford deserves a pat on the back," said Ndamukong Suh. "But not from me. That's libel to draw a roughing penalty from some lightweight, buggy-whip-armed official who thinks I have anger management issues. Well, I don't have anger management issues; I only have one."
The Chiefs look to rebound from a devastating 41-7 loss at Arrowhead Stadium to the Bills. The sting of the loss continued to reverberate, as the team learned on Monday that safety Eric Berry was lost for the season with a torn ACL.
"They say the Bills like to 'circle the wagons,'" Todd Haley said. "Well, they certainly did just that, circling those wagons until they had lapped us several times. Suddenly, the playoffs seem like a distant memory. But we're not discouraged. We'll go out and fight our hardest. It's like one coach said once, 'You play to win the game.' Fortunately, my team doesn't need to hear that, because they learned that basic concept of football by the age of two."
Detroit wins 28-24.
Dallas @ San Francisco (+3)
The Cowboys saw a near-win vanish when Tony Romo was intercepted by Darrelle Revis with less than a minute left. Nick Folk's field goal won it, and Romo was left to ponder what might have been.
"I take full responsibility for the loss," Romo said. "In addition to the interception, I lost a fumble at the Jets two-yard line earlier. Apparently, I handle pressure like a field goal snap in Seattle. But Jerry Jones said I played one of best games he's ever seen of me. He called me 'outstanding.' Jerry's 'got my back.' Maybe a little too much of it, but he's got it nonetheless."
The 49ers, under new head coach Jim Harbaugh, vanquished the Seahawks behind a solid game from Alex Smith, and a spectacular one from Ted Ginn, who zapped the Seahawks with two return touchdowns, one on a kickoff, the other on a punt.
"Is any one surprised by Ginn?" Harbaugh said. "Ohio State had to give back wins, so it makes sense that Ginn, an OSU alum, made 'returns' of his own."
The Cowboys kick away from Ginn, DeMarcus Ware sacks Alex Smith twice. Romo throws for 258 yards and two touchdowns.
Dallas wins 27-17.
Cincinnati @ Denver (-4)
The Bengals made do just fine without Carson Palmer, as Andy Dalton started, and Bruce Gradkowski finished, in a 27-17 win in Cleveland. Cedric Benson rushed for 121 yards and a score to power the Bengals.
"I allowed Cedric to skip two days of practice," Marvin Lewis said. "That's time off for good behavior."
One game into the season, and already there's quarterback controversy in Denver. Kyle Orton's play Monday night against the Raiders was unsatisfactory, and Broncos fans were heard chanting "Te-bo! Te-Bow!", which sounds a lot like "He blows! He blows!" and may very well be the first time in history fans have chanted for a third-stringer.
"Fans were chanting Tebow's name in Mile High Stadium?" John Fox said. "I guess that's a 'higher calling.' Sorry, Jesus freaks. Orton is the starter."
Denver wins 22-15.
Houston @ Miami (+3)
Even without running back (and fantasy darling) Arian Foster, the Texans rolled over the Colts 34-7 as Derrick Ward and Ben Tate combined for 155 yards and 2 touchdowns on the ground. Foster is expected to play when the Texans travel to Miami to challenge the 0-1 Dolphins.
"How do you know you've made it big in the NFL?" Foster said. "When fans are asking you to sign a picture of your hamstring. I see nothing wrong with posing for pictures in GQ magazine, just as I see nothing wrong with appearing in Fantasy Bust magazine, as long as it's the Fantasy Bust issue that's not in the sports section."
The Miami offense showed up last Monday against the Patriots, as Chad Henne threw for 416 yards and rushed for 59 more. The Dolphins defense was elsewhere, surrendering a whopping 622 yards in total offense.
"That was 'Miami Viscera,'" Tony Sparano said. "The fans in Miami didn't bother shouting 'Defense! Defense!' That's because our defense wasn't on the field long enough to hear it."
The Miami defense shows up this time, at least those players that haven't been released. Chad Henne throws for two scores, and Reggie Bush returns a punt for a score.
Miami wins 34-31.
San Diego @ New England (-7)
Are the Patriots prepared to face a Chargers team that is already in midseason form? San Diego out-gained the Vikings by 220 yards last week, and posted 21 more first downs, yet still only won by seven.
"Say what you will," said Philip Rivers, "but we regard ourselves as the best team in the league, more or less. That's because we do more than enough to win, and usually win by less than you'd expect."
The Chargers' defense will likely see more than the 39 yards passing they surrendered last week, as Tom Brady exploded for 517 yards and four touchdowns, against a Miami defense that had no answers for the Patriot offense.
"I'm the face of the NFL," Brady said. "Peyton Manning is the neck, Michael Vick is the feet and Ryan Leaf was the 'waste.' Rivers has the tools, but he has nowhere to put them."
Brady throws for 274 and two scores, while Rivers passes for 301 and three scores. San Diego's kicker Nick Novak misses a 45-yard field goal as time expires.
Patriots win, 30-27.
Philadelphia @ Atlanta (+1)
There will be no welcome mat for Michael Vick when he makes his return to Atlanta on Sunday. He and the Eagles take on a Falcon team smarting from a lopsided, physical loss in Chicago last week.
"Who says you can never go home again?" Vick said. "I'll tell you who—bankruptcy lawyers. But I expect a heroes' welcome when I enter the Georgia Dome. Note, that's a heroes' welcome, as opposed to a hero's welcome, because none off those people think I'm a hero. But I think all of those people who paid big money just to come boo me are my heroes."
The Falcons looked sloppy in a 30-12 loss to the Bears. Receiver Roddy White felt so bad about his performance that he apologized for it.
"We're so sorry," White said. "That goes out to our biggest fan, Uncle Albert."
Vick is kept in check, shadowed by a number of Falcons defenders throughout the day. Michael Turner rushes for 110 yards and two touchdowns.
Atlanta wins 26-23.
St. Louis @ NY Giants (-4½)
Pity the poor Rams. In last week's loss to the Eagles, St. Louis starters Sam Bradford, Steven Jackson, Jason Smith, Danny Amendola and Ron Bartell were all injured, with Amendola and Bartell likely out for the season. Jackson won't play Monday due to an injured quadricep, but Bradford is expected to play.
"Our injury list is long and distinguished," Steve Spagnuolo said. "And so's my Johnson. In this case, counting 'sheep' doesn't help me sleep at all."
The Giants were thoroughly outclassed by the Redskins in a 28-14 loss at FedEx Field, and Rex Grossman outplayed Eli Manning, who was 19-of-32 for 268 yards and a quarterback rating of 70.8.
"It was strange being the only Manning on an NFL field last Sunday," Manning said. "I really feel for Peyton and those injured Rams. Luckily, doctors haven't ruled me out of Monday's contest. Keep in mind, if you asked doctors who are also Giants fans, you're likely to get a different answer.
"Okay, so I'm not in a class with Tom Brady. But I would say I am in a class with Sam Bradford. Our genetic makeup is similar. He's got Indian in him; after four sacks and countless hits from the 'Skins last week, I've got Indian on me. That's offensive, which is more than I can say about our ability to move the ball."
New York wins, 27-20.