The Los Angeles Clippers' 105-93 victory over their intracity rivals may have been a bit closer than anticipated for much of the night, especially given the absences of two notable names. Kobe Bryant needed to sit out the second half of a back-to-back for the Los Angeles Lakers, while Blake Griffin continued to wear street clothes—this time because of his recently fractured right hand.
But (relatively) close or not, the win still allowed the Clippers' biggest stars to shine rather brightly against an inferior opponent. Chris Paul and DeAndre Jordan certainly wouldn't put their Friday night performances atop their 2015-16 resumes, but they each helped prove once more that they can keep LAC afloat while Griffin continues to rehab.
Jordan was a non-factor on the offensive end, but he filled a more important role for the No. 4 team in the Western Conference. We're not just talking about his 17 rebounds, because the uber-athletic center owned the interior in the half-court set, contesting countless hosts and forcing the Lakers to operate from the perimeter too frequently.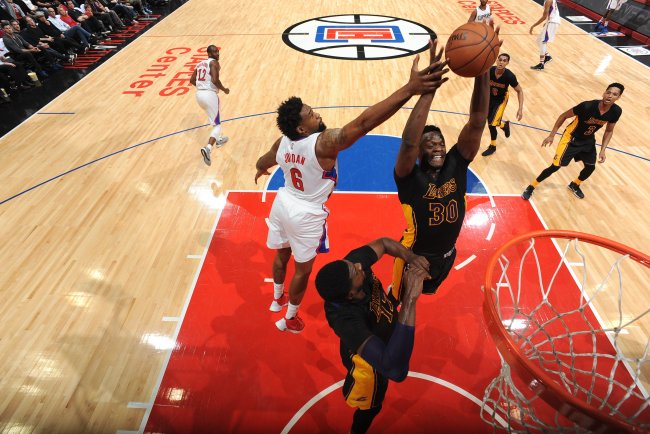 Andrew D. Bernstein/Getty Images
The big man is in the midst of another fantastic defensive campaign, and NBA.com's SportVU data showed that he entered this latest victory holding his foes to 45.7 percent shooting at the rim. Jordan is one of just 13 players challenging at least eight shots per game in the relevant area, and Rudy Gobert, Serge Ibaka and Pau Gasol are the only members of that group keeping the opposition to a lower percentage.
That interior prowess was on display again Friday night, even if Jordan only recorded a single rejection. That came when he swatted away a Roy Hibbert shot with quite a bit of emphasis:
A few possessions later, he stuck with the Lakers center through a series of ball fakes and provided a heavy contest that forced the rock off the back of the iron. It's this play that's even more notable, since Jordan has seemingly realized that he can make a sizable impact even without making physical contact with the orange sphere.
Gaudy block totals, it should be noted, do not always equal great defensive play.
Since Griffin last played on Christmas Day against these same Lakers, Jordan's individual defensive rating has been a stellar 101, and he was below 90 in each of the two games leading up toward this 12-point victory. He's taken on the increased defensive responsibilities quite nicely—a big reason the Clippers are still within sniffing distance of the West's No. 3 seed.
But Jordan couldn't do it alone. Paul has been doing quite a bit of heavy lifting from the point, and this outing against the Lakers just added to the highlight reel.
As a distributor, the All-Star 1-guard got off to a quick start, recording five assists on five consecutive possessions in the opening period:
He also got involved as a scorer, most notably when he calmly drained a walk-up triple at the end of the shot clock to give the Clippers a one-point lead in the third quarter. That was followed up by a floater in the lane that swished through the nylon with nary a ripple, once again demonstrating Paul's ability to take over a game at the most opportune moments.
He finished with 27 points and seven assists, but it was his knack for controlling the proceedings and providing the Clippers with timely boosts that truly underscored his value.
His dribbling skills were still fun too:
Paul's name is no longer bandied about in discussions about the league's best floor general. Stephen Curry currently has a stranglehold on that crown, and Russell Westbrook is widely viewed as the primary challenger. Strange as it may seem, Paul is more likely to be mentioned with the second tier of point guards these days, even if his production as of late indicates that's a mistake.
Since Griffin's last outing, the 30-year-old has been the primary reason the Clippers have refused to sink down the standings in their half of the NBA. He's averaged 20 points, 4.8 rebounds, 10.8 assists and 2.1 steals while shooting 44.5 percent from the field and 41.4 percent from three-point territory, leaving little doubt he's fully capable of controlling a game while a fellow superstar is absent.
As long as he and Jordan are both healthy and on the court, LAC remains a squad that can keep pace with most of the Western Conference, and it only helps when the bench gets going. That's by no means a guarantee, but the victory over the fellow Tinseltown representatives did see Austin Rivers thrive in transition and Lance Stephenson score 16 points on 6-of-7 shooting.
Against a tougher foe, that could certainly come in handy. But given the level Paul and Jordan have reached without Griffin, the Clippers have already ensured no one on their upcoming schedule should overlook them.
Karl-Anthony Towns Building ROY Case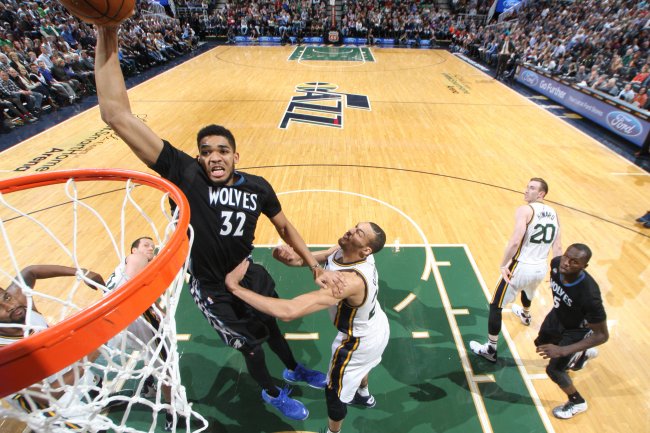 Melissa Majchrzak/Getty Images
Though it wasn't enough for the Minnesota Timberwolves to avoid a 103-90 loss at the hands of the Utah Jazz, Karl-Anthony Towns added another massive performance to his ever-growing resume. Against the terrific interior defense of Rudy Gobert and Derrick Favors, he exploded for a career-best 32 points to go along with 12 rebounds, one assist, one steal and one block.
Not since Kevin Durant has a player so young gone for at least 30 and 10, per SportsCenter's Twitter feed:
Karl-Anthony Towns is the youngest player to have 30 Pts & 10 Reb in a game since Kevin Durant in 2008. pic.twitter.com/kTZbe2JszU

— SportsCenter (@SportsCenter) January 30, 2016
But that's not all.
During the 2015-16 campaign, only eight other players have recorded at least 32 points, 12 boards, a steal and a block during a single outing: DeMarcus Cousins, Anthony Davis, Andre Drummond, Durant, Derrick Favors, Paul George, Dwight Howard and LeBron James. Still only 20 years old, Towns is easily the youngest of the bunch.
It gets better.
Towns was about as efficient as it gets on Friday night, knocking down 13 of his 17 shots from the field, one of his two deep tries and all five of his shots from the charity stripe. So let's add that criterion into the mix. How many players this season have gone for 32 points, 12 rebounds, a steal and a block without taking more than 17 shots from the field?
Prior to Towns' latest exploits, Dwight Howard was the only one. Throughout the last decade, Carlos Boozer, Cousins, Drummond, Tim Duncan, Durant, Blake Griffin, Howard, Yao Ming, Greg Monroe, Marcus Morris, Zach Randolph, Jason Richardson and Amar'e Stoudemire were the only members of a 13-man club.
And the last time someone made the cut while playing one of their first 50 career games? That would be David Robinson, all the way back in 1990. Since 1983-84, Robinson and Michael Jordan are the only members of that group.
Towns is brushing shoulders with some pretty impressive company—as if he weren't already by entering the loss to Utah with per-game averages of 16.1 points, 9.8 rebounds, 1.4 assists, 0.7 steals and 1.8 blocks while shooting 53.3 percent from the field and 37.8 percent from downtown.
Kevin Love Validating Tyronn Lue
Gregory Shamus/Getty Images
All-Star rosters were finalized Thursday, and it only took one day for Cleveland Cavaliers head coach Tyronn Lue to put his displeasure on display prior to a 114-106 victory over the Detroit Pistons.
"I just thought, in this league it's always been about winning and winning has always been rewarded," Lue said about Kevin Love being left off the Eastern Conference roster, per ESPN.com's Dave McMenamin. "Being No. 1 in the East and Kevin being one of four guys in the NBA to average a double-double on a winning team, I've just never seen being a first-place team and getting one guy in. I've never seen that before."
First, let's put aside the irony of the man who replaced David Blatt at the helm of the East's No. 1 seed claiming that the league always rewards winning.
Love has endured his fair share of struggles this year, but he's also been the subject of some unfair criticism. Even if he's not posting numbers that hearken back to his work for the Minnesota Timberwolves, he's having a solid offensive season for the Cavs and has actually posted the best defensive results of his career.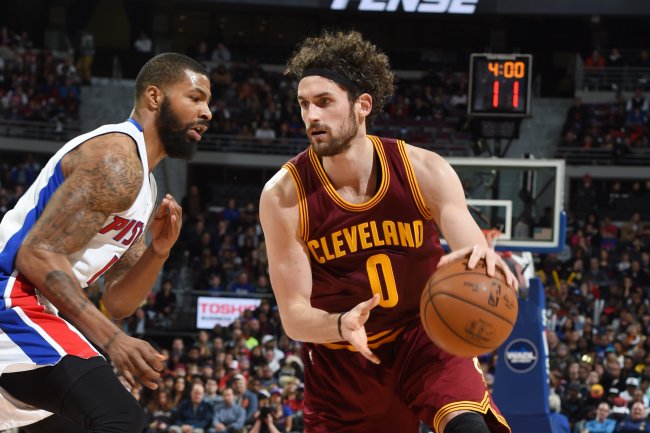 Allen Einstein/Getty Images
According to defensive box plus/minus (DBPM), Love is helping Cleveland prevent 1.6 more points per 100 possessions than an average defender would; he's never before posted a DBPM higher than 2013-14's 1.2. ESPN.com's defensive real plus/minus (DRPM) also gives him a positive score and leaves him trailing only 13 players at his position.
That's one of the reasons my total-points-added metric (TPA, which is explained in full throughout this article) thinks Lue was oh-so-close to being correct. If the All-Star rosters were determined solely on individual merit, he'd be the first alternate, only barely missing out on the final reserve slot to Chris Bosh:
Now that the actual All-Star teams are out, here's what TPA thinks they should have been: pic.twitter.com/JWBBNlSn56

— Adam Fromal (@fromal09) January 29, 2016
On Friday night, Love decided to validate his new coach.
In the road win over the Pistons, he logged 29 points, six rebounds, three assists and a goose egg in the turnover column. The power forward went 9-of-19 from the field and drained five shots from beyond the three-point arc en route to one of his best showings of the season—certainly his best since Kyrie Irving returned to the lineup and took away even more touches.
This was the aggressive Love the Cavs need to see on a consistent basis. Especially early in the proceedings, he was looking for his shot whenever possible and quickly caught fire from the perimeter.
If this becomes a trend, Cleveland will only gain more of a cushion in the Eastern Conference standings. Given the nagging presence of the streaking Toronto Raptors, every little bit helps.
Having Healthy Guards Helps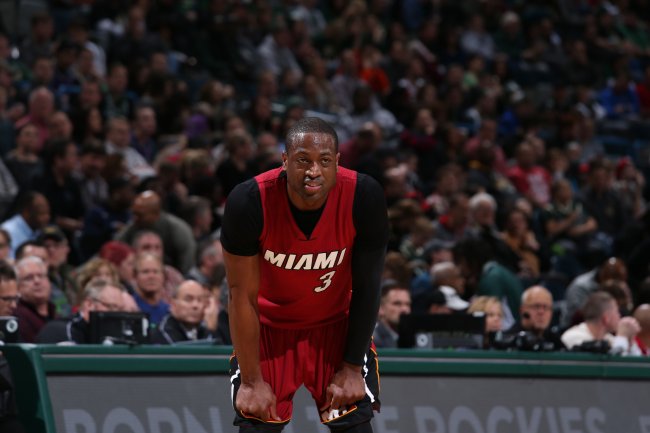 Gary Dineen/Getty Images
The Miami Heat have been rather inconsistent this season, but there's nothing like having a full stable of guards at your disposal to get things going. Granted, this was a matchup against a struggling Milwaukee Bucks squad that was playing without the services of Hassan Whiteside, but it still felt like a step in the right direction for the South Beach residents.
In the 107-103 victory, Dwyane Wade turned back the clock and recorded 24 points, four rebounds, seven assists, three steals and three blocks. None was more important than his go-ahead elbow jumper in the final minute:
That might not be a slashing dunk through the teeth of the defense, but it still felt like vintage Wade. He controlled the tempo beautifully, got to his spot and drained the crunch-time jumper before closing the game out with four free throws.
All that was missing was a pump-fake to get his man in the air.
Goran Dragic was also active and engaged, especially early in the proceedings when he helped set a tone with his willingness to share the ball. The Slovenian guard ended up recording eight dimes, but his impact went beyond those assists. As NBA.com's Couper Moorhead noted, the offense flowed when he made his return from the strained left calf:
Well, Dragic comes back and the Heat have as good a 6 minutes of offensive basketball as they've had in 2016.

— Couper Moorhead (@CoupNBA) January 30, 2016
The Heat will ultimately rise as far as the guards can take them.
Chris Bosh is a deserving All-Star and has often served as the stabilizing force in Miami, while Whiteside's rim protection has been quite helpful to the winning cause. But it's the starting backcourt duo that has such immense upside.
Despite the close nature of the contest with Milwaukee, that was on full display Friday night.
Usual Suspects Shine in OKC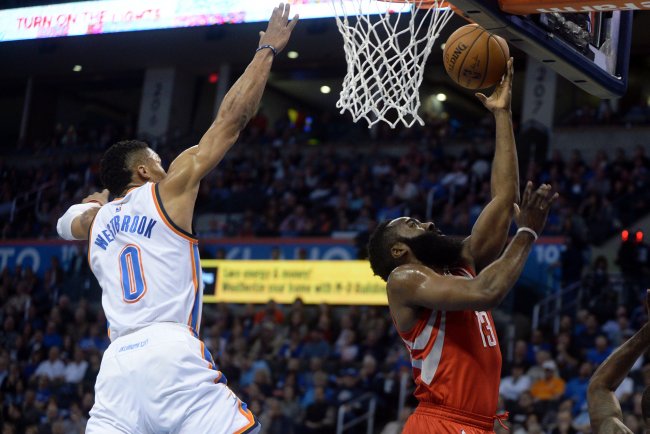 Mark D. Smith-USA TODAY Sports
When James Harden suits up against his old team, there isn't much doubt which players will enjoy big games. The bearded shooting guard seems bound and determined to exact some sort of revenge against the Oklahoma City Thunder for the infamous 2012 trade, but Kevin Durant and Russell Westbrook are always up for a clash with their former running mate.
Such was the case on Jan. 29, as the Thunder enjoyed a second-half surge that resulted in a 116-108 victory—no doubt aided by the absence of Dwight Howard, who was ejected in the third quarter after receiving his second technical foul of the night.
Harden went for 33 points, seven rebounds, seven assists, two steals and a block, but he couldn't carry his squad to victory. Though he succeeded in his efforts to spend plenty of time at the charity stripe, Durant's defense on him during the final two periods was fantastic. Especially in the fourth, the 2-guard was blanketed by his opponent's longer arms and often proved unable to get the ball in an advantageous position.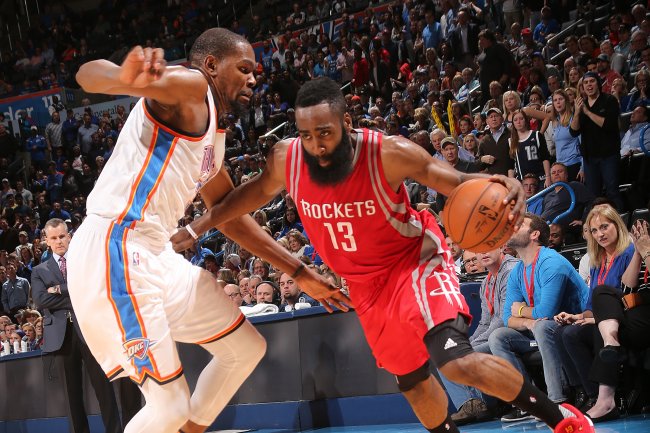 Layne Murdoch/Getty Images
For that reason—well, in addition to his 33 points, 12 rebounds, three assists, one steal and one block—Durant must be viewed as the player of the marquee matchup. His shot chart on the night was particularly insane:
Kevin Durant (33P/12R) had his 8th game this season with 30+ points and 10+ rebounds (2nd in @NBA). Shot chart: pic.twitter.com/IlVDt0dope

— NBA.com/Stats (@nbastats) January 30, 2016
Westbrook's contained a little more red. But despite his 9-of-21 shooting performance and eight turnovers, he managed to record his sixth triple-double of the season, exploding for 26 points, 10 rebounds and 14 assists of his own.
The Thunder's dynamic duo continues to defy the traditional Batman/Robin notations. It's never clear who the alpha dog is at any given point in time.
That ambiguity is working quite nicely for OKC. Entering the game, they were outscoring opponents by 8.2 points per 100 possessions. After the victory, they're still on pace to break into the 60-win club.
Since the Utah Jazz, Seattle SuperSonics and Los Angeles Lakers won at least 60 games in 1997-98, no conference has produced three 60-win teams during the same season. If the Thunder keep seeing their stars shine like this, that streak could soon end.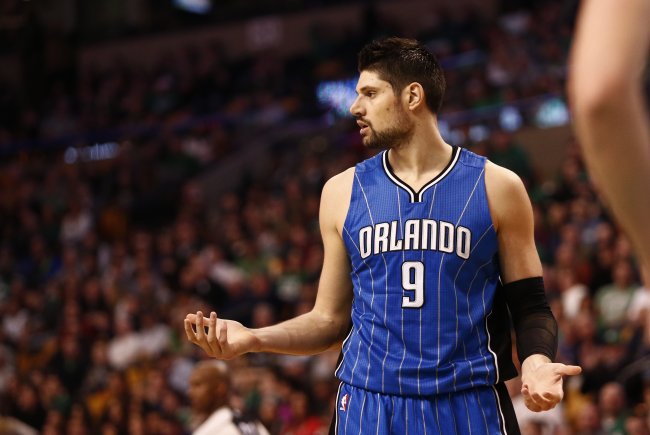 Mark L. Baer-USA TODAY Sports
What's happened to head coach Scott Skiles and his young Orlando Magic?
Early in the season, the squad was outperforming even the most optimistic outlooks behind a suffocating defense that worked as a cohesive unit and allowed Nikola Vucevic to cover a limited amount of space. But lately, teams have figured out how to get Vucevic off the blocks, which opens up too many lanes around the hoop and forces the Orlando defense to crumble.
The Boston Celtics were the latest to exploit this weakness, logging 50 points in the paint during their 113-94 victory. Both the bigs and the guards were constantly on the attack, probing the defense for driving lanes and knocking down outside shots when the opportunities presented themselves.
Unfortunately for Orlando, the team's defensive rating is just going to continue trending in the wrong direction, which it's already been doing for quite some time:
This is not what you want to see from a team with so many young contributors filling major roles. The Magic should be gaining chemistry and gradually improving as they grow more experienced, but they're backsliding and proving that this rebuilding process could take a bit more time.
There are still plenty of opportunities for Orlando to get back on track, but another lottery finish is looking increasingly likely.
Bright Spots in the Desert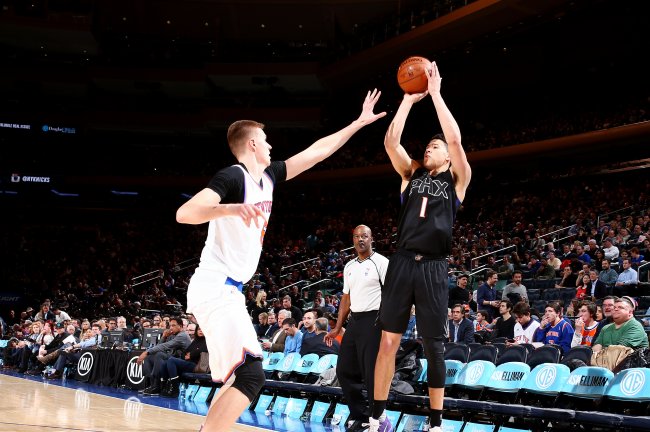 Nathaniel S. Butler/Getty Images
After the Phoenix Suns allowed five different members of the New York Knicks to hit double figures during a 102-84 loss, we could easily focus on all the negatives. This team remains a mess, and its only victory in the last 10 outings came on an Archie Goodwin game-winner against the Atlanta Hawks on Jan. 23.
But despite the 18-point margin, the Suns did have a few bright spots in the rotation. And we're not just talking about Goodwin's thunderous slam over the outstretched arms of Kristaps Porzingis:
Devin Booker, who is still only 19 years old and remains the youngest player in the Association, continued to show off a fantastic shooting stroke. He entered this contest averaging 16.8 points in January while shooting 44.6 percent from the field and 33.9 percent from downtown, but those numbers will only go up after he dropped a 21-spot on an 8-of-15 showing.
T.J. Warren didn't spend an inordinate amount of time on the floor, but he made those 20 minutes count with 12 points, two rebounds and an assist. It's amazing how he continues to score from anywhere—he knocked down a corner three, thrived from mid-range and attacked the basket with aplomb Friday night.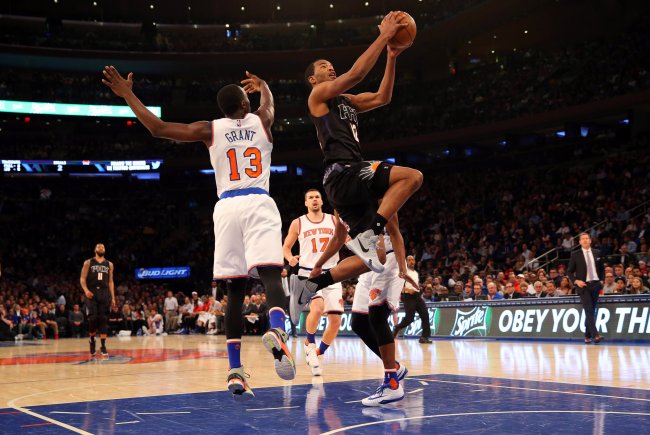 Anthony Gruppuso-USA TODAY Sports
Jordan McRae also qualifies, as the recent D-League call-up recorded 12 points, two rebounds, four assists and a steal in his 25 minutes of run. It's a far cry from the 61-point outburst that gave him the attention needed to sign a 10-day contract, but this is exactly the type of productive outing he needs to turn a brief opportunity into a long-term one at the sport's highest level.
This season may be a miserable one for Phoenix faithful, but at least there are a few shoulders to pin the hopes of the franchise upon. McRae isn't there yet, but Booker is sure starting to look the part of a potential star.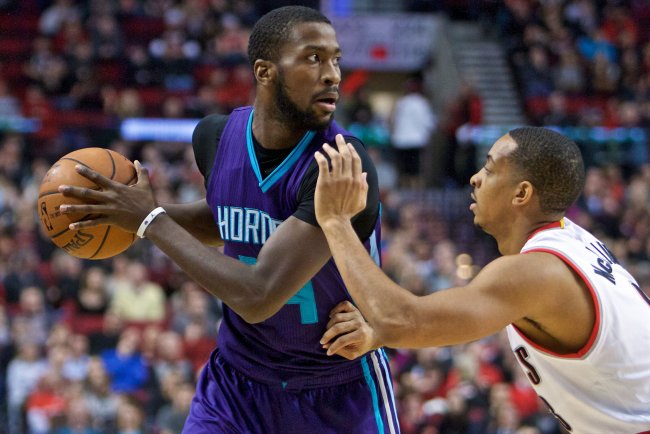 Craig Mitchelldyer-USA TODAY Sports
Welcome Back, MKG
Remember when Michael Kidd-Gilchrist underwent offseason surgery for a torn labrum and was expected to miss most of the season? It seemed there was a significant chance he could sit out the entire campaign, letting his shoulder heal so that he'd be fully ready to go for 2016-17.
So much for that.
Though it came in a 109-91 loss to the Portland Trail Blazers, the 22-year-old small forward managed to make his debut before the All-Star break, and he recorded 13 points, seven rebounds and an assist in 34 minutes of action.
Talk about a quick recovery.
Adam Fromal covers the NBA for Bleacher Report. Follow him on Twitter @fromal09.
Unless otherwise indicated, all stats are from Basketball-Reference.com or Adam's own databases and are current heading into games on Jan. 29.