Power Ranking Houston Texans' 2013 Schedule from Easiest to Hardest Games
USA TODAY Sports

Congratulations, Houston Texans!
Your reward for winning the AFC South and a playoff game in the wild-card round for the second year in a row is a 2013 schedule that includes six teams who also made the playoffs as well as both Super Bowl contestants.
The trade-off for getting to meet your new nemesis the New England Patriots at home is facing both Baltimore and San Francisco on the road. Throw in Denver and Seattle in addition to a pair of matchups against division rival Indianapolis, and it all looks pretty tough at first glance.
Based on an opponent win-loss percentage of 47.3, this schedule is tied with Buffalo and the Kansas City Chiefs for 27th. It helps to have both 2-14 teams from 2012 on the docket—the Jacksonville Jaguars and Kansas City Chiefs.
The toughest part is the following three-game stretch: Baltimore, the home game vs.Seattle and the away game at San Francisco. It is conceivable that the Texans could be 3-2 or even 2-3 after their first five, a far cry from the 5-0 start of 2012.
The order of each slide corresponds to the relative difficulty of each game. The easiest is Jacksonville in Week 12, the hardest is the New England Patriots in Week 13. There are back-to-back slides for division opponents, which assumes little will change with these teams over the course of the season.
Based on 2012 and how the Texans swooned down the stretch, that may end up being a faulty assumption. If this team fails to improve as the weeks roll on, do not expect this year to end any differently than the last.
Begin Slideshow

»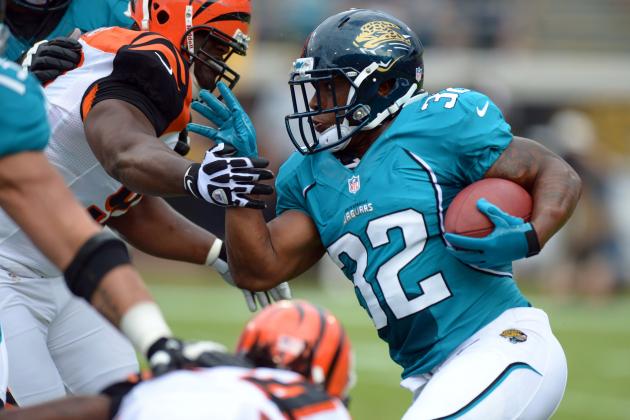 Jake Roth-USA TODAY Sports
Maurice Jones-Drew
The first game in 2013 against the Jaguars is the bottom slice of bread in a Patriots sandwich. New England awaits the Texans next week, so it helps to have this gimme-game to warm-up.
The Texans could look past Jacksonville and end up in another shootout like the 43-37 OT win in 2012. This is possible but not likely to occur two years running.
The Jaguars are still the dregs of the AFC South, what with an uncertain quarterback situation and a no-name head coach in his first year.
Maybe the draft will put Geno Smith under center instead of Blaine Gabbert, but the surrounding cast is largely unchanged. There were no notable free agents signed, and former Seattle Seahawks DC Gus Bradley is working with a roster stocked with the least talent in the league.
Should Bradley decide to select someone other that Smith with the second-overall pick, then maybe Chad Henne will take over the starting QB job. No matter who leads the offense, Jacksonville is rebuilding once again—which makes this home game a virtual lock for Houston.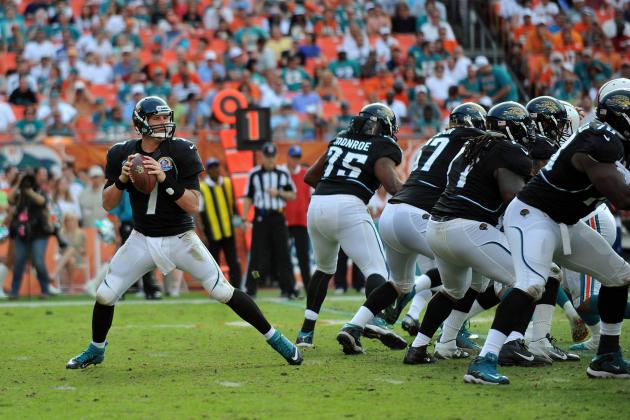 USA TODAY Sports
Chad Henne
Jacksonville now faces Houston at home, perhaps after another debilitating defeat to New England.
If Maurice Jones-Drew enters the 2013 campaign with his broken foot completely healed, he will still be the focus of the offense. But a couple of things will be working against him.
His BFF and former lead blocker FB Greg Jones is now a member of today's opponent. The man who has led the way for him during his remarkable career is gone at a time when most running backs start to slip.
Jones-Drew has played for seven seasons and has over 1,000 carries over the last four years. He may be the most productive player under 5'8" in NFL history, but how much longer can he produce at such a high level?
RB Justin Forsett came over from Houston as a free agent but is a backup and third-down specialist. He is nice addition for the Jaguars but hardly an equitable trade for a monster fullback like Jones.
At this point of the season, the defense is not in any better shape. The secondary was decimated by releases and free-agent losses in the offseason, standout LB Daryl Smith was not re-signed, and everyone left is still adapting to a new system.
Regardless of how the Patriots' game turned out, this should still be a laughable one for the Texans.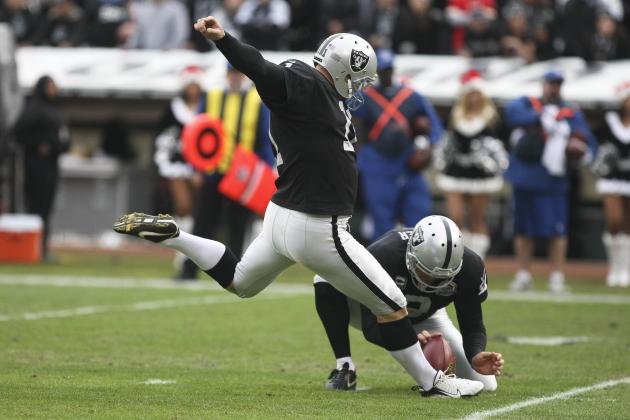 USA TODAY Sports
Sebastian Janikowski
Raiders head coach Dennis Allen should have spoken with Ken Whisenhunt, who used to hold the same position with the Arizona Cardinals.
Whisenhunt would have advised Allen of the risks that accompany a free-agent quarterback who built his flimsy reputation on a handful of games. That way, Oakland fans would not be accusing Matt Flynn of being the next Kevin Kolb.
As a quarterback, Flynn is not just unproven. He is totally unsuited to the vertical passing attack that has been a hallmark of the Raiders for decades. On top of this miscasting, the offense has a one reliable running back in Marcel Reece, one reliable receiver in TE Brandon Myers and a mediocre offensive line.
The Raiders do have a true offensive weapon in kicker Sebastian Janikowski, who still has a howitzer for a right leg at 34. But he gets far too many chances to show just how strong it is.
The defense in 2012 was even worse than the offense, and it lost ILB Rolando McClain and CB Michael Huff to free agency.
Its best weapon for maintaining field position was punter Shane Lechler, another free-agent loss who happens to be kicking into the net on the opposite sideline this game, preparing to keep Oakland pinned in its own territory—another reason why Houston should have an all-time record of 6-2 against the Raiders after the final gun sounds.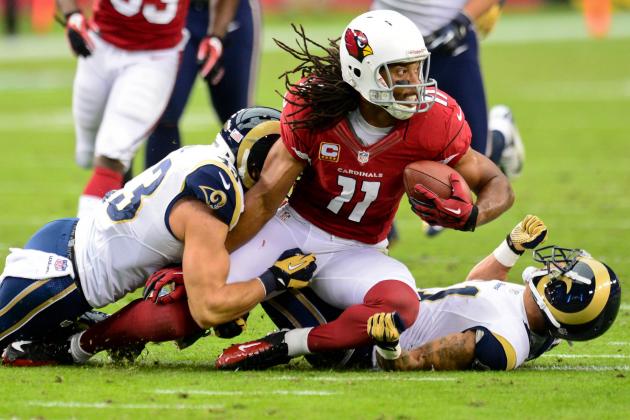 Matt Kartozian-USA TODAY Sports
Larry Fitzgerald
After guiding the Indianapolis Colts through the troubled waters of Chuck Pagano's leukemia, Bruce Arians takes on an even more daunting task as the Cardinals' new head coach. When he took the job, it must have come with the understanding UFA QB Kevin Kolb would not be re-signed.
So, Matt Flynn leaves the Seahawks to join the Raiders, who trade Carson Palmer to the Cardinals for a seventh-round pick and a bag of Doritos. There were not any chips involved in the actual trade but swapping a seventh-round pick for a sixth-rounder as part of the deal feels like the equivalent. Pro Football Talk said it best:
Palmer-to-Cardinals trade finally finished, for next to nothing wp.me/p14QSB-81Mr

— ProFootballTalk (@ProFootballTalk) April 2, 2013
Palmer leaves one team trying to reverse its free fall to another in the same condition. Arizona started out 2012 with four straight wins, only to net just one more victory in its last 12 games. The worst offensive line in the league may have sealed the Cardinals' fate.
A new quarterback should expect management to revamp the offensive line to protect him. But the only move GM Steve Keim has made was to sign Chilo Rachal from the Chicago Bears, a bottom-rung OG. Palmer may have changed his address but may not have halted the downward slide of his career.
On the other hand, the defense in the desert is has a host of gifted players with LB Daryl Washington, DE Calais Campbell, FS Kerry Rhodes and CB Patrick Peterson. The defense was second in interceptions with 22, and it would have ranked higher overall if the offense could have held up its end of the bargain.
The Texans have not played in Arizona since 2005, the year they went 2-14 and received the Mario Williams pick in return. They will get closer to reversing those numbers after this one goes in the win column.
USA TODAY Sports
Jake Locker
The Titans have decided the keys to the car now belong to Jake Locker alone. The third-year QB will no longer have to look over his shoulder at old pro Matt Hasselbeck, who signed with Indianapolis.
Ryan Fitzpatrick is the backup QB now and poses less of a threat to Locker's supremacy. This will hopefully boost the starting quarterback's confidence, as they try to turn him into the next read-option phenomenon.
The offense appears to be fully equipped with all the necessary accessories. It boasts an above-average running back in Chris Johnson, multiple receivers headed by top 2012 rookie Kendall Wright and a strong offensive line bolstered by the signing of LG Andy Levitre.
The flip side is the defense, which cannot be much worse than last season when it allowed the most points in the league. Adding free agents ILB Moise Fokou and SS Bernard Pollard will do little to change things.
GM Ruston Webster could use the draft to acquire any one of the unpolished defensive ends available in the first round, such as Barkevious Mingo, Ziggy Ansah or Cornelius Carradine.
A better strategy would be to pick the brain of WR Kevin Walter, who came to Tennessee after seven seasons in Houston. He might be able to give enough insights into the Texans' offense to shift the balance in this game.
Then again, Gary Kubiak is so consistent (some say predictable) in his play-calling that Titans head coach Mike Munchak and his staff are not going to learn anything new. Or change the winning outcome of Houston's home opener.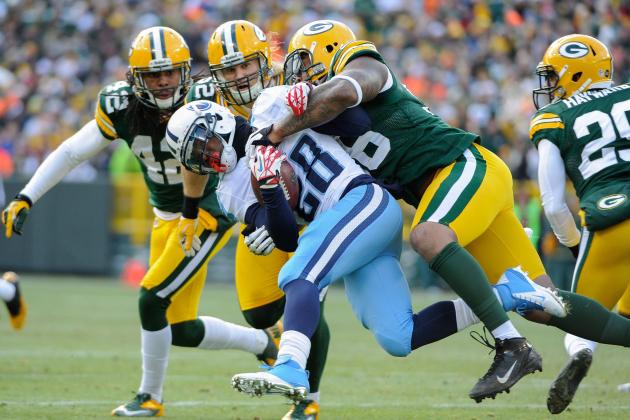 Benny Sieu-USA TODAY Sports
Chris Johnson
Houston ends the 2013 season on the road, hopefully in a proper postseason position. This means a first-round bye or home-field advantage throughout the playoffs.
Tennessee might be facing a different scenario, trying to figure out which players deserve to be on the roster in 2014. So each coach could approach this game with different goals.
If the Texans are jockeying for playoff placement, their starters could play more than just the opening quarter. This contest would then play out like any other game. If their fate has already been decided, the first string will ride the pine early on.
If the Titans' season is a replay of 2012, Mike Munchak may be fighting for his coaching life. Owner Bud Adams is 90 years old and wants to hold a Lombardi Trophy before he meets his maker. Munchak could be hunting for offensive coordinator openings if his team does not close out the season in winning fashion.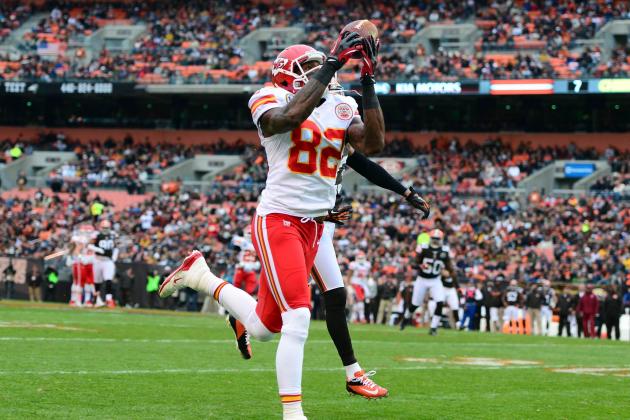 Andrew Weber-USA TODAY Sports
Dwayne Bowe
The parade of new head coaches continues with Andy Reid assuming the head role with the Chiefs. He inherits a team who was less than the sum of its parts in 2012.
Having a quarterback like Matt Cassel already places your offense behind the curve. Cassel could be the poster boy for one-hit wonders who cash in based on a limited body of work. He was let go in the offseason and replaced by Alex Smith.
Smith was good enough to lead San Francisco to the 2012 NFC Championship Game, but last season, he was supplanted by the more versatile Colin Kaepernick in Week 10. Is Smith equipped to lead Reid's version of the West Coast offense?
The offense is already stocked with RB Jamaal Charles, WR Dwayne Bowe and some new parts in WR Donnie Avery and TE Anthony Fasano via free agency. The offensive line led a running game that averaged 4.8 yards per carry but allowed 40 sacks.
Can a new coach, offensive system and quarterback pump up a passing attack that only recorded eight TDs last season? Inquiring Chiefs fans demand an answer, and it better be the right one.
The same holds true for the Kansas City defense. It has three Pro Bowlers in SS Eric Berry, LBs Derrick Johnson and Tamba Hali and another double-digit sack artist in Justin Houston. The flaws are in the defensive line and most of the other secondary positions.
This is the last game before the Texans bye week. It also follows the tough stretch of Baltimore, Seattle, San Francisco and a St. Louis team who could be on the way up.
Houston could be ready to take out its frustrations on Kansas City or just lick its wounds before taking some time off. The Texans could establish whether they are contenders or pretenders heading into the second half of the season.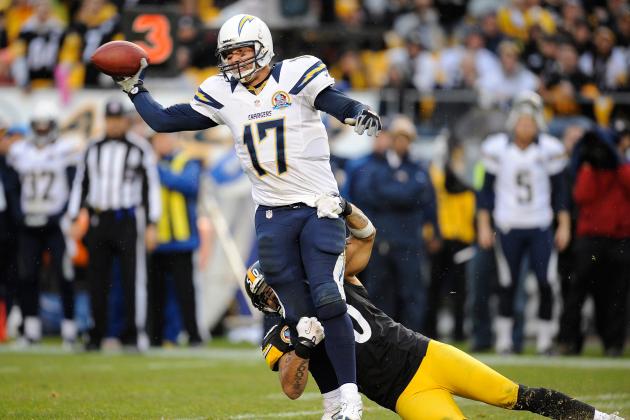 Joe Sargent/Getty Images
Phillip Rivers
All the hallmarks of an exciting opener are here: the kickoff to a promising season, a national TV audience—and all on Monday Night Football.
Who could complain?
That could be anyone who noticed the starting time is 9:20 p.m. CT, which represents a challenge to the body clocks of both players and viewers alike. It's a game that could end around 1 a.m., creating a horde of football zombies at work come Tuesday morning.
This assessment may be a bit extreme, but this is not the way to demonstrate the Texans are now a team of nationwide interest. Most fans would prefer not to have to tune into the last game of opening week.
Enough about the setting, time to focus on the opponent. San Diego is another team trying to open a new chapter by hiring a new coach.
He is Mike McCoy, who supposedly is a fix-it man when it comes to quarterbacks. The task ahead of him is to have Phillip Rivers finally reach his potential at the ripe age of 31.
Rivers will not improve in any appreciable way until his offensive line can reduce its sacks from the 49 it surrendered in 2012. Losing its best blocker in RG Louis Vasquez will not help matters. Mike Mayock of NFL.com, in his Pre-Draft Conference Call, succinctly described their offensive line situation: "It's a mess."
There are some decent receivers on hand named Malcolm Floyd, Antonio Gates and Danario Alexander. They are backed up by a running game that scored just four TDs all year.
The defense did what it could to maintain respectability in its 7-9 season, but many of its biggest contributors are either unsigned UFAs or have joined other teams. This list is as long as any in the NFL and is headed by OLB Shaun Phillips, the defense's top sack man. CB Antoine Cason, NT Aubrayo Franklin, CB Quentin Jammer and SS Corey Lynch are some other notable names.
This may be the latest kickoff in the short history of the Texans franchise. Houston should be able to make short work of this bunch, even if the team has to stay up past its bedtime to get it done.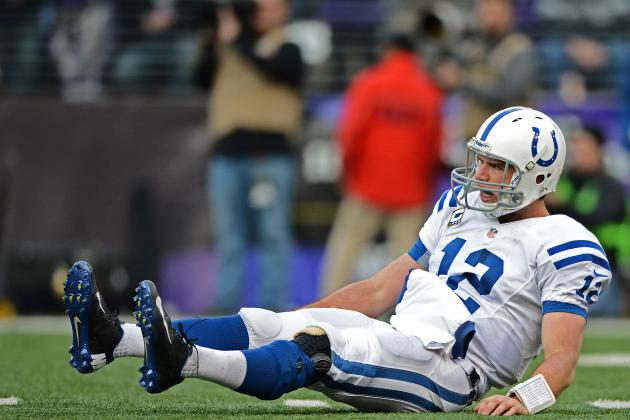 Patrick Smith/Getty Images
Andrew Luck
After what Chuck Pagano went through to beat leukemia, he must feel like a new man. With only the final three games as head coach in his inaugural season, he enters his second campaign with some catching up to do.
Pagano takes full control of an 11-5 playoff team who, by most statistics, should be more like 8-8. It is rare when a turnover differential of minus-12 leads to a postseason berth.
Offensive coordinator Bruce Arians anchored the team in his absence, then used that success to become the headman with the Arizona Cardinals. The new OC, Pep Hamilton, will try to increase the passer rating of Andrew Luck with some "No Coast Offense" principles while decreasing the 41 sacks he suffered as a rookie.
Gosder Cherilus of the Detroit Lions will be the new RT and has been joined by OG Donald Thomas from the New England Patriots to remedy this predicament. It will take more than improved protection to cut down on the 18 interceptions thrown by Luck.
The Texans have taken the last three home games against the Colts after winning only one out of the prior eight meetings. Coming off its bye week, Houston will be fresh and ready to make it four in a row.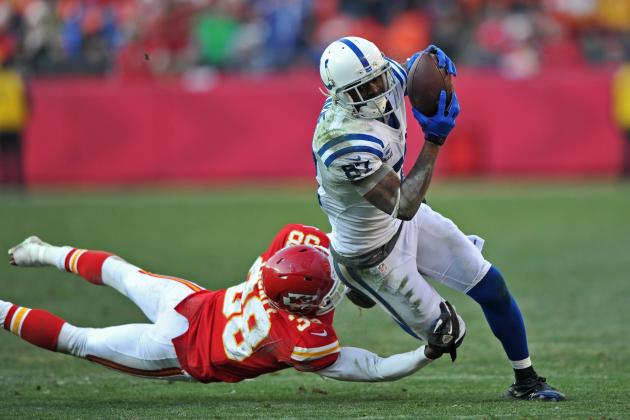 Peter Aiken/Getty Images
Reggie Wayne
While the balance of this rivalry has been slowly shifting in the Texans' favor, they have never beaten the Colts at home in 11 tries.
In 2012, Houston played a season-ending stinker in Indy, where a win would have locked up the top AFC playoff slot. What can be done to break this shameful string of setbacks?
Even if Chuck Pagano manages to smooth out the rough edges on his offense, there is no hiding the cracks in his defense. The franchise leader in sacks, Dwight Freeney, will not be returning. As a Green Bay Packer in 2012, new OLB Erik Walden was the lowest-ranked man at his spot by Pro Football Focus (subscription required).

Ricky Jean-Francois and Aubrayo Franklin were brought in to help out on the DL, but Jean-Francois is to up-and-down, and Franklin is 33 and has to be kept on a low snap count. Their only serviceable cornerback is Darius Butler, and there is not a decent safety on the entire roster.
The Texans will be coming off a Thursday game in Jacksonville that will give them some extra down time. So just like their first game versus the Colts after their bye week, they should be rested and ready to finally leave Circle City with a win to their name.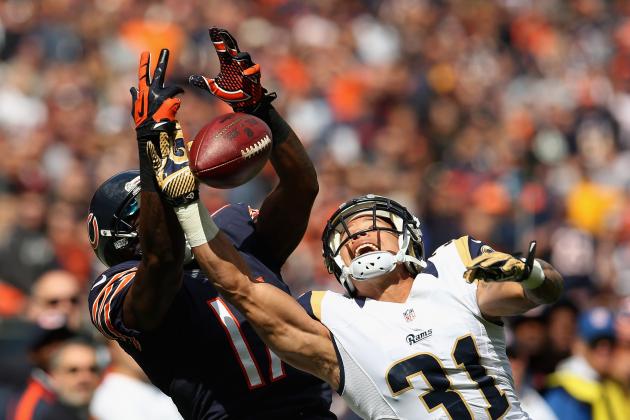 Jonathan Daniel/Getty Images
Cortland Finnegan
This one looked like a possible home loss when the Texans' 2013 opponents were announced. A mere 20 points turned four games in St. Louis into losses in 2012, and they tied the NFC champion 49ers. Winning three of those heartbreakers would have put them in the playoffs.
Then free agency hit the Rams like a twister dropping out of a wall cloud.
An offense that was ready to assert itself lost its two best receivers in Danny Amendola and Brandon Gibson in addition to the franchise leader in rushing, Steven Jackson.
Jared Cook was a free agent TE signee who could make up for their absence. Wide receivers Brian Quick and Chris Givens were rookies last year, and neither are ready to shoulder the role of starter.
But the Rams have made no other significant moves to shore things up. They have two first-round draft picks, one of which may be used on Alabama running back Eddie Lacy. Perhaps the other will bring in one of the many big-time receivers available like Robert Woods, Terrance Williams or DeAndre Hopkins.
The defense was not ranked highly but has abundant talent. From defensive ends Chris Long and Robert Quinn, to MLB James Laurinaitis, to cornerbacks Cortland Finnegan and Trumaine Johnson, it was first in sacks and fourth in passing touchdowns allowed.
Rams head coach Jeff Fisher had the Texans' number for many years, running up a 5-13 advantage over them. So long as Andre Johnson stays on the field and does not use Cortland Finnegan as an Everlast bag, this one will stay close enough to be anyone's game.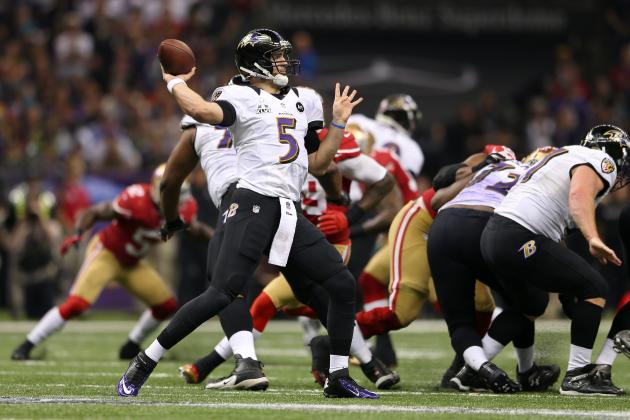 Mike Ehrmann/Getty Images
Joe Flacco
It would have been a treat to watch Super Bowl XLVII with a member of Houston's pro football team. As the Baltimore Ravens were celebrating amidst the hugs and confetti, I wonder how many Texans stood up and proclaimed, "We beat their butts by 30 America!"

Will that make any difference this season? That game represents their only conquest of Baltimore, and they have never won on the Ravens' home turf.
In the process of turning Super Bowl MVP Joe Flacco into the highest-paid player in football, the Ravens had to trade leading receiver Anquan Boldin and forfeit Dannell Ellerbe, Paul Kruger and Ed Reed to free agency. They also lost emotional leader Ray Lewis to retirement.
GM Ozzie Newsome managed to replace the departed with MLB Rolando McClain, DE Elvis Dumervil and CB Michael Huff. The Ravens' roster may look different, but it is far from depleted.
They still have Ray Rice, Torrey Smith, Dennis Pitta, Haloti Ngata and Lardarius Webb. The Ravens area of greatest concern should be their offensive line, which was retooled on the fly late in 2012. Bryant McKinnie was moved to left tackle in the process but remains an unsigned UFA at this point.
The Texans managed to sack Flacco four times in their initial win over the Ravens. An unsettled O-line will look like fresh meat to J.J. Watt and friends. But it could be a long afternoon if the Bulls on Parade let the Ravens' QB look like he's worth very penny.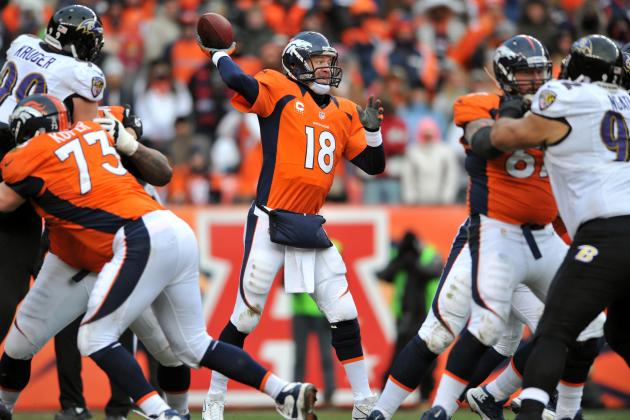 Dustin Bradford/Getty Images
Peyton Manning
Whatever criticism Texans' QB Matt Schaub has endured in the offseason, most fans agree his best game of 2012 was the win over the Broncos in Denver. The haters say Schaub's weak arm benefited from the thin air, while the more nuanced opinion is that he took full advantage of a suspect secondary.
Dominique Rodgers-Cromartie came over from Philadelphia to correct things, but he really was not very good in an Eagles' uniform. The Broncos' pass rush will miss Elvis Dumervil due to the failure to re-sign him in a fax machine mix-up.
Wes Welker joining a receiving corps of Eric Decker, Demaryius Thomas and Brandon Stokley makes you wonder if there are enough balls to go around. If any quarterback can figure out how to keep his pass catchers happy, it is the always dangerous Peyton Manning.
The running game does not look as solid, with 31-year old Willis McGahee coming off an MCL injury. Backup RB Knowshon Moreno started out hot with over 100 yards in his first two games filling in for McGahee, but he fizzled as the season wound down, having only 164 over the last three games.
Manning has had his way with the Texans over the years, but he did lose his last game in Reliant to open the 2010 season. However, that was with a Colts team on the downslide, not with a balanced outfit like these Broncos.
If Schaub out-duels Peyton a second time, maybe the haters will realize it was the man and not the mountains who beat Denver last year.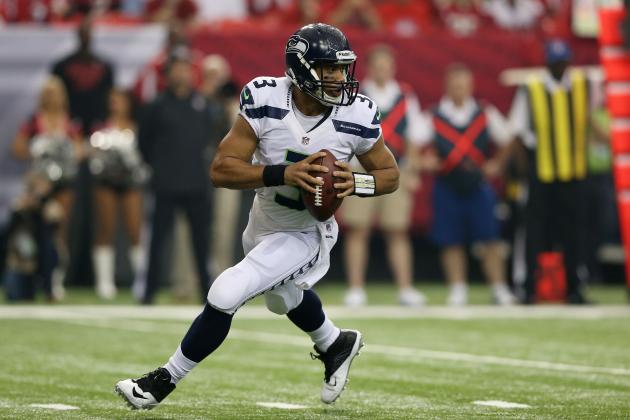 Streeter Lecka/Getty Images
Russell Wilson
The Texans meet the Seahawks and the 49ers in their next two games. Both teams have killer defenses and ridiculously mobile quarterbacks.
Will 5'11" Russell Wilson have the No. 2 TD percentage in the league and still be second-leading rusher on Seahawks in 2013? He led a very efficient offense last season, which was 27th in passing yards, and he still had 27 touchdown passes.
Marshawn Lynch was as much the centerpiece of the offense with almost 1,600 rushing yards. A reliable rushing game combined with a potent defense is a strategy the Texans both understand and emulate.
The Seahawks were not great at rushing the passer with only 36 sacks. Their 18 interceptions on the year were good but not spectacular. All they did was keep the other guys out of the end zone better than anyone else. They only allowed only 245 points, an average of 15.3 per game.
They also started the best pair of cornerbacks in the league, Richard Sherman and Brandon Browner. This is also the only pair where each stands 6'3". If the NFL is now a passing league, they are two of the biggest obstacles in getting the ball downfield, period.
Quarterbacks with quick feet and good pocket awareness will drive any defense crazy. But all that running around comes at price, which can be measured in the health of your most critical offensive player.
Wilson may be small, but he was not hard to find and was sacked 33 times in 2012. If the Texans can keep their lane discipline on defense and put just enough pressure on Wilson, he may wish he were as tall the cornerbacks on his team.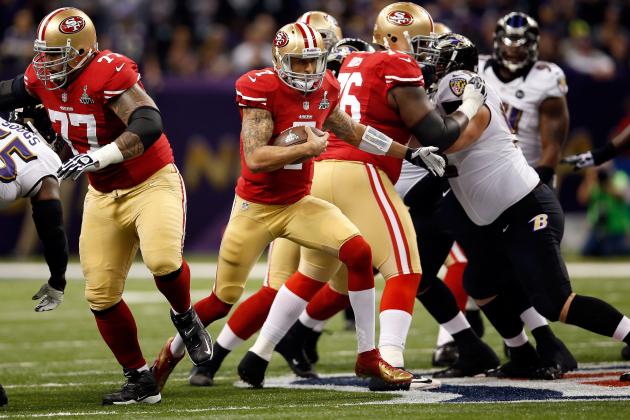 Chris Graythen/Getty Images
Colin Kaepernick
The 49ers are built along the same lines as the Seahawks. They rely on a staunch defense, stout running game and quarterbacks who refuse to stay in the pocket.
Like Russell Wilson, Colin Kaepernick is another quarterback who is the No. 2 rusher on his team. At 6'5" and 235 pounds, he seems more physically suited to the risks.
Frank Gore is almost as productive as Marshawn Lynch, but San Francisco has the better receivers in Michael Crabtree, Mario Manningham and Vernon Davis.
Their similarities to Seattle are striking, with their sacks (38) and interceptions (14) being almost identical. Points allowed are the only stat that really counts, and they were just 28 points behind top-ranked Seattle.
The primary difference is the strength of the front seven for the 49ers. Their linebackers, led by Patrick Willis, Navorro Bowman and Aldon Smith, are unsurpassed. However, they did lose both their nose tackles, Ricky Jean-Francois and Isaac Sopoaga, to free agency.
This interior vulnerability may be the one thing the Texans can hammer away at. If Brandon Brooks can establish himself as the answer at RG and FB Greg Jones can provide the inline blocking that was lacking in 2012, Houston can use Arian Foster and Ben Tate to beat San Francisco at its own game.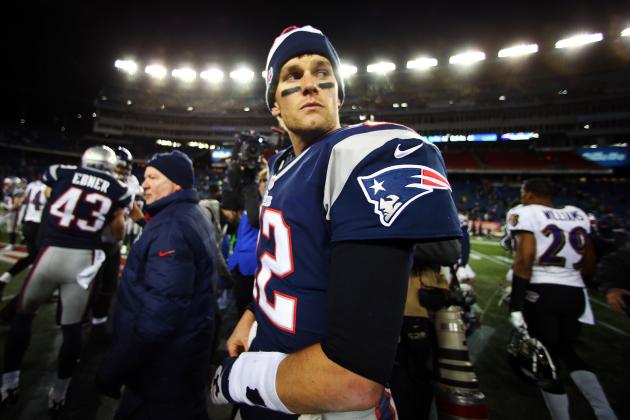 Elsa/Getty Images
Tom Brady
This is the look the Texans want to see on Tom Brady's face—the same one he had when he lost to the Ravens in the AFC Championship Game. What will it take to make this happen?
The Patriots' quarterback and leader will have to stare down Ed Reed once again, a man Brady tried to karate kick during said game. Was it the frustration of losing twice to Baltimore in 2012, the second time costing another trip to the Super Bowl?
It will take more than a safety destined for the Hall of Fame to bail out Houston. Its defense must use something other than its 3-3-5 look of man coverage on the outside and receivers and a safety on the slot receiver 60 percent of the time.
Cornerbacks Brice McCain and/or Brandon Harris will be assigned to Wes Welker doppelganger Danny Amendola. They will have to use some zone packages to keep Brady out of his rhythm and foil his pre-snap reads.
The offense will have to treat Bill Belichick and his make-do defensive system as the barely average performer it is and not as an appendage to a up-tempo offense that is its worst nightmare.
Playing New England at Reliant is supposed to give the home team the edge. In this case, the edge that must be gained is not physical but psychological. When James Casey dropped a sure-scoring pass in the first quarter of the Divisional Round in the 2013 playoffs, that edge was lost.
Until the Texans can make a early mistake and not have it sabotage the rest of the game, the Patriots will remain their toughest opponent.