2013 Dallas Cowboys Schedule: Game-by-Game Predictions, Info & Analysis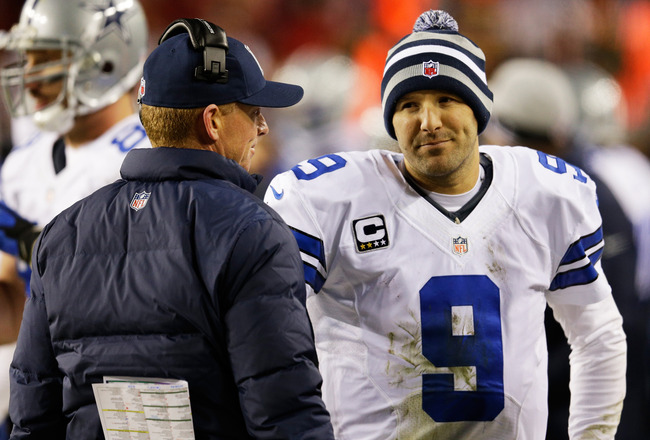 Rob Carr/Getty Images
We've known the 13 opponents the Dallas Cowboys will face in 2013 for several months, but it doesn't feel real until the actual schedule is put into place.
Now that the 2013 regular-season schedule has been finalized and made public by the NFL, we have a chance go through and count the wins, just as many of us have done since we were in grade school.
Here's a look at Dallas' full 17-week schedule, along with analysis and predictions.
Week 1: Cowboys vs. Giants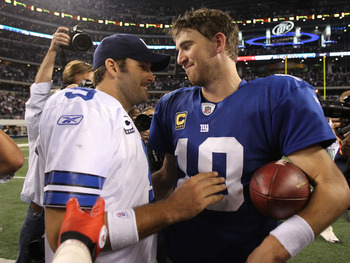 Matthew Emmons-USA TODAY Sports
Kickoff time and network: Sunday, Sept. 8 at 8:30 p.m. ET on NBC
Dallas has lost four consecutive one-score games at home to the Giants. All came in rather heart-breaking fashion in high-scoring matchups. The Cowboys still managed to split the season series with the G-Men last year thanks to an opening-night victory over Big Blue at MetLife, but they're definitely snakebitten against New York at Cowboys Stadium.
The Dallas offense didn't find a groove and get hot last year until it had completed its season series with the Giants, so New York's defense, which ranked 28th last year against the pass, could have its hands full with Dez Bryant, Miles Austin and Co.
Remember: The Cowboys would have beaten the Giants in their home matchup last year had Bryant's finger not landed out of bounds on what should have been a game-winning touchdown grab.
Prediction: Cowboys 35, Giants 34
I have no doubt this will be another close, high-scoring and extremely entertaining matchup, but the Cowboys have improved since these teams last met. The odds favor them finally notching a home victory over their division rival.
Week 2: Cowboys at Chiefs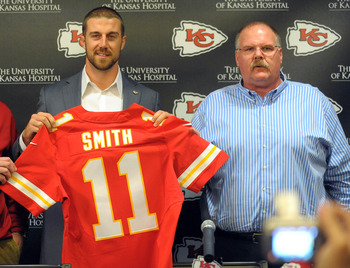 Denny Medley-USA TODAY Sports
Kickoff time and network: Sunday, Sept. 15 at 1 p.m. ET on Fox
This could be a real dangerous game for the Cowboys. On the road at Arrowhead against a team that is far more talented than its 2012 record would have you believe. Not only did the Chiefs send six guys to the Pro Bowl despite finishing with the worst record in football, but in 2013 they'll have Alex Smith at quarterback and whoever the No. 1 overall pick is playing a key role.
Throw in that new head coach Andy Reid knows this Dallas team extremely well and this is the kind of game the Cowboys could be destined to lose, especially early in the season.
Prediction: Chiefs 20, Cowboys 17
The Chiefs lack depth and are prone to injury, but that shouldn't be a factor this early. They come up with the upset in their home opener.
Week 3: Cowboys vs. Rams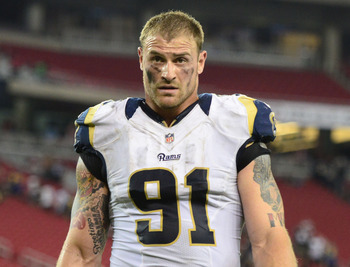 Mark J. Rebilas-USA TODAY Sports
Kickoff time and network: Sunday, Sept. 22 at 1 p.m. ET on Fox
The Rams won four of their final six games in 2012 and earned a win and a tie in their two matchups with eventual NFC champion San Francisco. St. Louis is also unbeaten in its last four road games, so the Cowboys can't afford to slip up here at home.
The key for Dallas will be to avoid being abused by an unheralded but extremely potent Rams pass rush. Chris Long and Robert Quinn can bring the heat for a defensive front that had the highest sack percentage in the NFL last season, according to Pro Football Reference.
If second-year corner Janoris Jenkins steps it up in coverage in 2013, he and Cortland Finnegan could become a superb duo. And if all of those parts are working together, the 'Boys could be in for a surprisingly long day here.
Prediction: Cowboys 21, Rams 20
This would have been a trap game earlier in the year, but they won't lose to both the Chiefs and Rams in September. Sigh of relief here.
Week 4: Cowboys at Chargers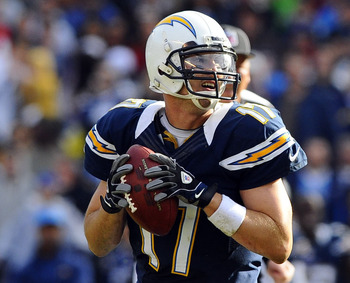 Christopher Hanewinckel-USA TODAY Sports
Kickoff time and network: Sunday, Sept. 29 at 4:25 p.m. ET on Fox
The Chargers have only gone 8-8 at home the last two seasons, with Philip Rivers throwing 17 interceptions and posting a mediocre passer rating of 86.8 in those games. And while we don't know right now if Dallas will have a winning record in 2013, it's interesting that the Chargers have lost five of their last six home games to teams that finished above .500.
It doesn't appear as though this San Diego team got any better in free agency, so while a new regime could reinvigorate the franchise, the odds are still in favor of the Chargers being an inconsistent and unreliable team in 2013.
Prediction: Cowboys 24, Chargers 20
The Cowboys have an edge here, albeit a slight one two time zones over. With little history to go on, I'm giving them the one-score victory.
Week 5: Cowboys vs. Broncos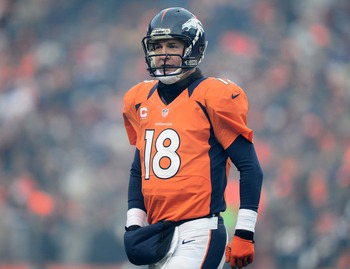 Mark J. Rebilas-USA TODAY Sports
Kickoff time and network: Sunday, Oct. 6 at 4:25 p.m. ET on CBS
The Cowboys have plenty of tough, playoff-worthy teams coming to Dallas next season, but the toughest might be the Broncos, who added Wes Welker to Peyton Manning's offensive arsenal in free agency and are an early Super Bowl favorite.
A lot of pressure will be put on that talented Dallas secondary in this game. Can Brandon Carr live up to his contract in 2013? Can Morris Claiborne become the star the 'Boys were hoping for when they gave away their top two picks of the 2012 draft for him? They invested in those two guys for games like these against quarterbacks like Peyton Manning and receivers like Demaryius Thomas, Eric Decker and Welker.
That offensive line will also have its hands full with Von Miller, who will likely be the strongest individual pass-rushing threat Dallas deals with all year. Who the Cowboys start at right tackle could have a huge impact on what happens in a game like this.
Prediction: Broncos 26, Cowboys 23
I think Dallas sticks around with the Broncos, but Denver's still the better team here.
Week 6: Cowboys vs. Redskins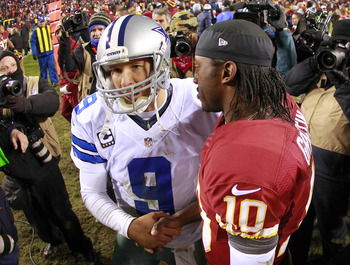 Geoff Burke-USA TODAY Sports
Kickoff time and network: Sunday, Oct. 13 at 8:30 p.m. ET on NBC
No easy game in the NFC East nowadays. The Redskins were picked on for a long time, but now they've become arguably the best all-around team in the division. The Cowboys are well aware, having lost to Washington twice in 2012, including in the do-or-die season finale.
It'll be interesting to see how Monte Kiffin's defense defends Robert Griffin III and the Washington read-option, because Rob Ryan had quite a lot trouble with said scheme last season. DeMarcus Ware will of course be the key as the Cowboys' top pass-rusher. He'll have to be on top of his game and exhibit some extreme discipline and focus to avoid being embarrassed again by RG3.
That's assuming, of course, that RG3 is able to be RG3. We don't know how healthy he'll be at this stage of the game, and we can't even know for sure if he'll be back yet. Everything changes if the Redskins don't have their franchise quarterback under center.
Prediction: Cowboys 24, Redskins 23
Just going with my gut on this one. I think the Cowboys get some revenge for that season finale, with the defense coming to play.
Week 7: Cowboys at Eagles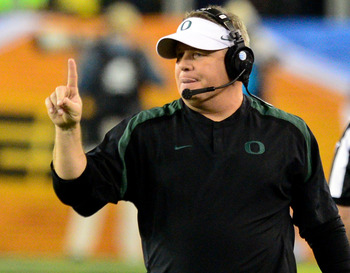 Matt Kartozian-USA TODAY Sports
Kickoff time and network: Sunday, Oct. 20 at 1 p.m. ET on Fox
You can't spend too much time looking at past matchups between these division rivals because the Eagles are going to be such a different team with Chip Kelly running the show in 2013. The defense is receiving a complete makeover and, while the starting quarterback could again be Michael Vick, the offense should have a whole new feel.
Thus, the Cowboys should expect to face a much bigger challenge from Philly next year. They put up a total of 76 points on that mess of a defense in two matchups last year, winning both games, but Philadelphia will have four new starters in the secondary and could be a lot more dangerous on offense if the offensive line can stay healthy this time around.
Remember: The Eagles lost 80 percent of the starting line to injury last year, yet Philadelphia still managed to finish in the top half of the league in terms of rushing and passing yards per game.
Prediction: Eagles 24, Cowboys 21
Bad timing for the Cowboys against an Eagles team returning home and due for a victory.
Week 8: Cowboys at Lions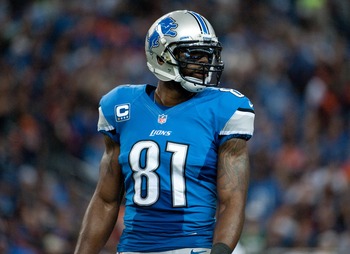 Tim Fuller-USA TODAY Sports
Kickoff time and network: Sunday, Oct. 27 at 1 p.m. ET on Fox
This will be the ultimate test for that Brandon Carr/Morris Claiborne duo in Year 2 in Dallas. The Lions might have only been 2-6 at home last year, but they still put fear into defensive coordinators worldwide with Calvin Johnson, who broke the single-season record for receiving yards in 2012.
Johnson had eight catches and scored two touchdowns when the Lions beat the 'Boys in Dallas two years ago, but the real issue that day was that Tony Romo threw three second-half interceptions in one of the worst performances of his career.
A lot has changed since then, but another difference is that this game will be played in the Motor City.
Prediction: Cowboys 27, Lions 23
I think we got proof in 2012 that Detroit can't just get by with Johnson, and Dallas' D might be good enough to hold him in check. I'm still not convinced the Lions are as good as they were in 2011 or as bad as they were in 2012, but that still probably leaves them behind the Cowboys.
Week 9: Cowboys vs. Vikings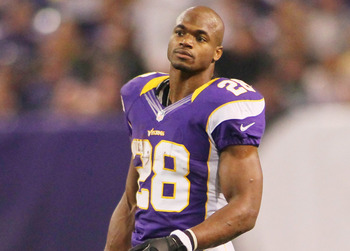 Andy King/Getty Images
Kickoff time and network: Sunday, Nov. 3 at 1 p.m. ET on Fox
It's no secret that the key to beating the Minnesota Vikings is stopping Adrian Peterson, who ran for over 2,000 yards while less than 100 percent in 2012. Dallas' defense may have struggled against the run on paper last year, giving up 4.5 yards per carry, but the Cowboys were so banged up on that side of the ball that those numbers are deceiving.
If Sean Lee and Bruce Carter can make it to this game healthy, the 'Boys will have a real chance to limit Peterson and force Christian Ponder (or maybe even Matt Cassel) to throw against their strong pass rush and improving secondary.
With Lee and Carter healthy during the first six games in 2012, Dallas only surrendered 4.0 yards per rushing attempt on defense, but then Lee went down and soon Carter joined him on IR and everything went to hell.
Of course, Tony Romo could also have his hands full with Jared Allen and a very strong defense. This could be a very good matchup
Prediction: Cowboys 24, Vikings 21
Minnesota was only 3-5 on the road despite making the playoffs last year, and I still think the Cowboys are the better overall team here.
Week 10: Cowboys at Saints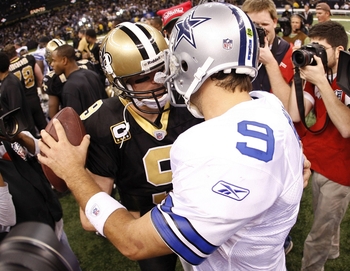 Chris Graythen/Getty Images
Kickoff time and network: Sunday, Nov. 10 at 8:30 p.m. ET on NBC
Ever since Dallas spoiled the Saints' pursuit of a perfect season in December of 2009, New Orleans has had the Cowboys' number, scoring 64 points in victories over "America's Team" in 2010 and 2012.
The most recent loss came in overtime at Cowboys Stadium in Week 16 of last season. On that day, the depleted Dallas defense was simply worn down by Drew Brees and his multitude of offensive weapons. But it's tough to use that game to draw any conclusions about this one when you consider that Dallas still managed to take the Saints to overtime despite not having Sean Lee, Bruce Carter and Jay Ratliff.
This one is one the road, and while that Saints team was a bit of a mess, Sean Payton is back and order could be restored in the Bayou in 2013. This'll be a tough game for Jason Garrett's squad.
Prediction: Saints 35, Cowboys 28
Both teams are going to be better, but the Saints have still scored a league-high 575 points the last two seasons at home. Dallas might lose another track meet, especially after 10 weeks without a break.
Bye Week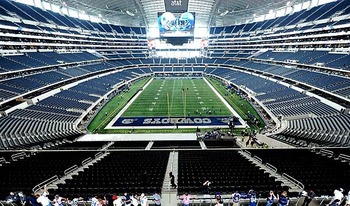 ImageSlides.com
Coming out of their bye week last year, the Cowboys lost a close, hard-fought road game to the Ravens. They've now lost three straight games directly following the bye.
Week 12: Cowboys at Giants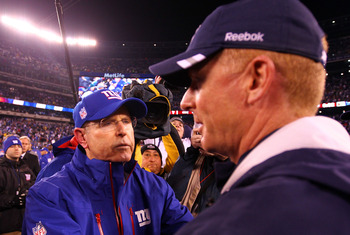 Al Bello/Getty Images
Kickoff time and network: Sunday, Nov. 24 at 4:25 p.m. ET on Fox
The Cowboys shocked the Giants at MetLife Stadium in their prime-time season opener last year, and they also surprised the G-Men with Jon Kitna leading the way in a November 2010 victory at Giants Stadium.
If the Cowboys are going to make it three wins in New York in a four-year span, they'll have to be superb again in coverage against Eli Manning and Co. They shut Manning down in last year's two meetings and outplayed Big Blue on both occasions, settling for a split after a heart-breaking loss at home in late-October.
That secondary could be even better with Monte Kiffin making his mark and Morris Claiborne in his second season, so they're going to have a chance here.
Prediction: Cowboys 30, Giants 20
The Giants have lost 10 of their 15 November games since 2009. The Cowboys luck out with the schedule.
Week 13: Cowboys vs. Raiders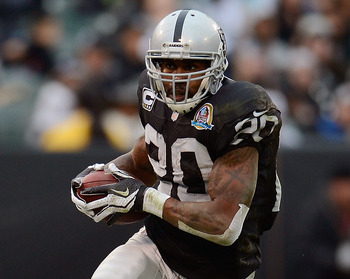 Thearon W. Henderson/Getty Images
Kickoff time and network: Thursday, Nov. 28 at 4:30 p.m. ET on CBS
Considering that the Raiders' only road victory in 2012 came against the league's worst team in Kansas City, this year's Thanksgiving Day home game should be a walk in the park for the Cowboys. But Dallas' iffy run defense will have to be healthy and on its game if Darren McFadden has things together, and Matt Flynn at least gives Oakland some mystery under center.
The Raiders still have some huge holes on defense for Tony Romo and Co. to exploit. Who will cover Dez Bryant and Miles Austin? New corners Tracy Porter and Mike Jenkins (yeah, that Mike Jenkins) aren't exactly scaring anybody.
Oakland, though, seems to have a big game against a superior team once or twice every year. So while the Raiders aren't the Cowboys' biggest concern, this could be a trap.
Prediction: Cowboys 27, Raiders 13
I'm betting against that happening, just because I think a healthy Dallas offense can light it up against an Oakland D that gave up 27.7 points per game in 2012 and didn't get substantially better in the offseason. Plus, the 'Boys are well-rested for a short week at home.
Week 14: Cowboys at Bears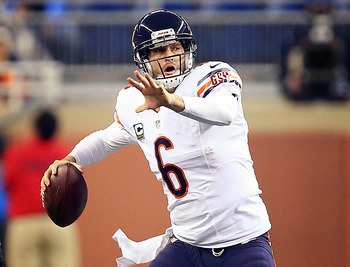 Mike Carter-USA TODAY Sports
Kickoff time and network: Monday, Dec. 9 at 8:30 p.m. ET on ESPN
The Bears have only gone 5-3 at home in each of the last two seasons, which is good but not great for a very talented team. So this is a winnable road game for Dallas, especially when you consider that the Bears lost five of their last six games in 2011 and five of their last eight in 2012.
The Cowboys drew the Bears earlier in the 2012 campaign, and the results were disastrous as they were blown out in one of the sloppiest performances of the year. A lot changed for both teams later, and now the 'Boys have a chance to reveal just how far they've come since that ugly performance.
Prediction: Cowboys 23, Bears 20
I do think this is a different Dallas team, but I still think they're going to have trouble with that Chicago D on the road. They still pull it out, beating the Bears for the first time in three tries.
Week 15: Cowboys vs. Packers
Kirby Lee-USA TODAY Sports
Kickoff time and network: Sunday, Dec. 15 at 4:25 p.m. ET on Fox
This is a big game for the Cowboys, because it represents a chance for them to show how far they've come from rock bottom. Your memory might have blocked this out, but allow me to remind you that the 'Boys were crushed 45-7 by this Green Bay team in the final game of the Wade Phillips era in 2010.
This one will be at home, and they'll have Tony Romo under center instead of Jon Kitna, but they'll still be facing the NFL's all-time highest-rated quarterback in Aaron Rodgers.
If the Cowboys want to believe they can go toe-to-toe with anybody in the NFC, this is the most important home game on the schedule. A strong showing at Cowboys Stadium against one of the best all-around teams in the league would send a message.
Green Bay was 7-1 on the road in 2011 but only 4-4 away from home last year. The Packers are always a tough out, but this is a game the Cowboys have to win.
Prediction: Cowboys 30, Packers 28
At home, I give Dallas a slight edge over a Green Bay team that is better overall but still possessing some clear flaws, which were highlighted in last year's playoffs. This is an instance in which DeMarco Murray can carry the 'Boys to victory.
Week 16: Cowboys at Redskins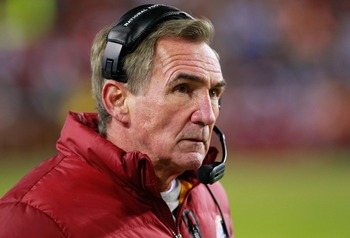 Geoff Burke-USA TODAY Sports
Kickoff time and network: Sunday, Dec. 22 at 1 p.m. ET on Fox
We know stopping Robert Griffin III is the true goal when playing Washington, but the Cowboys can't overlook the fact that the 'Skins are balanced. Alfred Morris was the league's second-leading rusher in 2012 and he's the kind of player that might only get better going forward.
This 'Skins team proved in their Week 17 victory over this Dallas team last year that they can win even when Griffin isn't playing lights-out, so Dallas' run D better have it together up front.
One other thing to consider here is that the Redskins didn't have top pass-rusher Brian Orakpo for either of their matchups with Dallas last year—and yet they still won both games. The Cowboys' mediocre offensive line could be in for a long day against that Orakpo/Ryan Kerrigan duo.
Prediction: Redskins 24, Cowboys 21
You saw how badly Dallas was outplayed in that 2012 finale. Yes, the 'Boys were banged up in that game, but the 'Skins were banged up all season, too.
Week 17: Cowboys vs. Eagles
Ronald Martinez/Getty Images
Kickoff time and network: Sunday, Dec. 29 at 1 p.m. ET on Fox
The way I've been projecting the schedules for both teams involved, this game might not matter. I think that favors the Eagles, who would have nothing to lose, but I'm going to break it down here as if it matters for both squads.
The Eagles were only 2-6 on the road last year, but the Cowboys are just 5-7 at home against divisional opponents since Cowboys Stadium opened in 2009. Plus, Philly had its best offensive output of 2012 when it was in Dallas, putting 33 points on the board. So I think this is another close matchup.
Prediction: Cowboys 27, Eagles 20
But really, in Week 17, who knows....
Final Predictions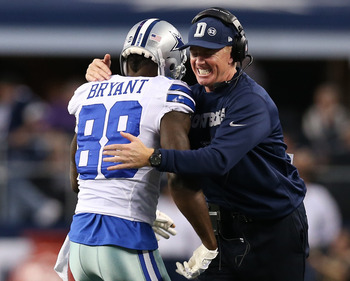 USA TODAY Sports
Final record: 11-5
Eleven wins might be pushing it. When projecting the season broadly, I'd probably lean toward nine or 10 wins for Dallas. But the 'Boys do have the easiest sked in the division, and I've been saying for quite a while that they're the most talented team in the NFC East. I'd imagine the division will be extremely close again this year, but I still think they're the early favorite.
* I accidentally had the wrong score for the Bears game, and then compounded my mistake by thinking I had the overall record wrong. Now everything is accurate, with Dallas having 11 wins, one of which comes against the Bears. My apologies for the confusion.
Keep Reading

Dallas Cowboys: Like this team?