Seahawks vs 49ers: 10 Keys to the Game for Seattle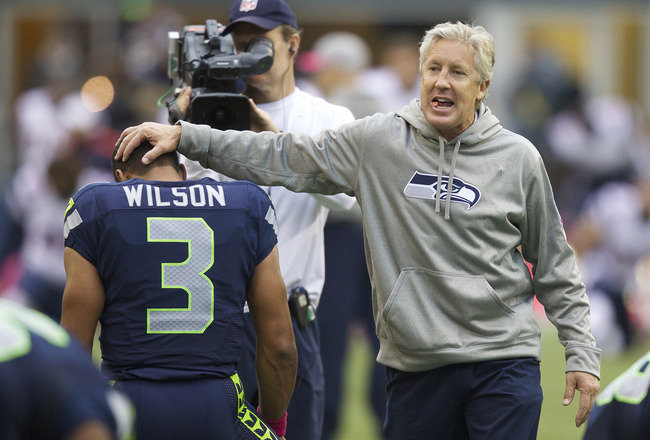 Stephen Brashear/Getty Images
The Seattle Seahawks' win against the New England Patriots on Sunday was a validation, not a coronation.
It validates that the 'Hawks are a team that may have their ups and downs, but they're certainly capable of hanging with and beating the NFL's best.
At the same time, the Hawks can't afford to let the emotional high of Sunday's win spill over similar to their poor followup in St. Louis against the Rams after their controversial win against the Packers on Monday Night Football a few weeks back.
Yes, the door is open for the "Hawks to take advantage and wrestle control of the division on Thursday night. However, in order to be the best, you need to beat the best.
Make no mistake, the defending NFC West Champion San Francisco 49ers will be done licking their wounds by kickoff following a crushing defeat at the hands of the New York Giants this past weekend, ready to pick up where they left off as one of the NFL's more dominant teams.
In order for the 'Hawks to emerge victorious, here are this week's 10 keys to the game against the 49ers.
Kick 'Em While They're Down?
Brian Bahr/Getty Images
Let's face facts, like him or not, Jim Harbaugh looks to be a coach for a long time in the NFL, and in some ways, that's what makes Sunday's 26-3 loss at home to the Giants so shocking.
Going into this game, the defending Super Bowl Champions looked like they would be the team getting hammered, but instead ended up doing the hammering by putting up 26 uncontested points on the 49ers.
With this being a short week, one has to wonder, "How will the Niners respond?"
Will they come out fuming or still a bit stung?
Will they press to make plays, or will they act as if nothing happened?
As Seattle Times writer Larry Stone reported, odds are, the Niners will come back strong:
In their year-plus under coach Jim Harbaugh, the 49ers have lost just four regular-season games. In the four games that followed, they've won them all by a combined 93-11 score, forcing 14 turnovers and not allowing a single touchdown.
That doesn't bode well for the Seahawks, but you never know.
Regardless of which 49er team shows up, the 'Hawks have to be prepared and make a statement of their own, as this game has serious divisional implications.
Follow the Big Blueprint: Part 1...Defense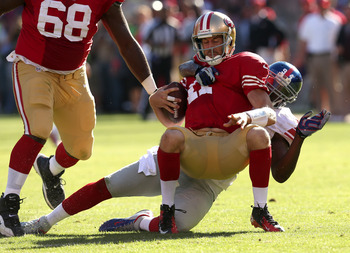 Stephen Dunn/Getty Images
In preparation for this week, it might not hurt to take a look and see exactly what the New York Giants did so well to beat the 49ers in the first place.
Fortunately, Big Blue left the Seahawks a perfectly good blueprint on how to do it.
Until Sunday, the 49ers looked invincible, if not the best team in football.
Then the Giants made Alex Smith look human, as Sports Illustrated's Peter King explained:
The Giants sacked the quarterback six times and forced Alex Smith into some bad throws downfield, including three interceptions. He's been a smart quarterback all year, but it's hard to be smart and productive with Jason Pierre-Paul breathing down your neck.
Last year, it was maddening to see Smith against the 'Hawks on Christmas Eve basically have his way with all day to pass. There were entire series during that game where Smith literally had enough time to make a sandwich, pay his bills and walk the dog.
It's at times like this that you can only hope that Bruce Irvin and Chris Clemons especially are studying all the film they can to make up for the mistakes of the past.
If the 'Hawks can get to Smith, it should certainly help make life easier for the guys on the other side of the ball.
Follow the Big Blueprint: Part 2: Offense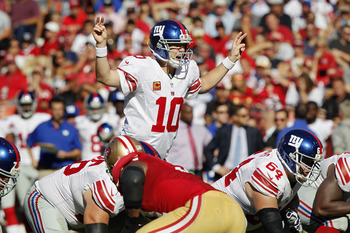 Brian Bahr/Getty Images
I'll be honest, I like Eli Manning.
Win or lose, Eli just does his thing and doesn't seem to care what anyone thinks about him.
In a way, it has to be liberating, especially when your older brother is Peyton Manning, to have the world doubt you at every turn and simply know that you have not one, but two Super Bowl rings.
So what does this have to do with the 'Hawks' strategy on Thursday night?
Leave it to Eli to break down the 49ers in the simplest of terms to Sports Illustrated's Peter King after the Giants' win:
"The offensive line did a great job in establishing the line of scrimmage,'' Manning said. "I didn't want a game where we threw it 64 times again. [Manning had 64 pass drops in the NFC title game last year, taking six sacks and seven additional knockdowns.] That's not the way you want to play this team. You can't live in the shotgun against them. You mix up some quick [passes] with the runs, and that gives you a chance.''
If you ask me, that's good to know, especially for Russell Wilson and the offense.
Russell Wilson Comes Alive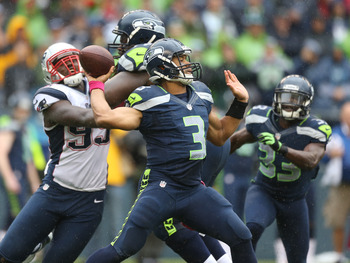 Otto Greule Jr/Getty Images
Speaking of Wilson, Sunday's performance should certainly help any remaining Seahawk fans that remained undecided this election year on whether to support him or Matt Flynn for the starting job.
After weeks of several mixed performances, Wilson at last let loose with the kind of day that got him the starting gig in the first place.
Michael Silver at Yahoo! Sports summed up Wilson's day quite well by stating:
By season's end, Wilson's 16-of-27, 293-yard, three-touchdown, no-interception performance may carry an even greater significance than Sunday's vanquishing of the defending AFC champs. Given Seattle's stifling defense and strong rushing attack, Wilson's ability to make prolific plays in the passing game could be the ingredient that opens up the Seahawks' offense and makes them legitimate contenders in 2012.

If Wilson's teammates have their way, the kid whose unlikely ascent to the starting job was a heartwarming training-camp story will be unleashed to deliver daggers of the sort that dealt a piercing blow to Bill Belichick, Tom Brady and the gang.
But will he be unleashed again against the 49ers?
If Wilson takes a page from the book of Eli and avoids any crucial mistakes, he could once again steal the show.
Still, I'm not quite ready to discount the Niners' stellar defense after last week. This group is tough as nails, and with players like All-Pro linebacker Patrick Willis leading the charge, they could make life difficult for Wilson Thursday night.
While you can argue whether New England has a good defense, there is little argument that the Niners are better, especially their front seven.
The Offensive Line Faces Their Toughest Test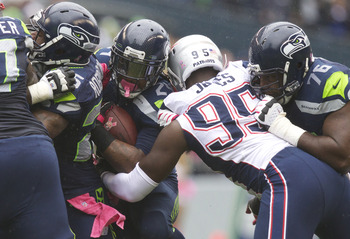 Stephen Brashear/Getty Images
Speaking of the 49ers front seven, can the 'Hawks offensive line contain them?
It would seem that the key will be whether the 'Hawks can properly shift gears between passing and throwing the football, which boils down to two questions.
1. Can they give Russell Wilson enough time and space to throw?
I have serious doubts as to whether Wilson will be able to dance out of trouble like he did against the Patriots on Sunday near the end of first quarter by taking a 3rd-and-4 and turning it into a first down to keep the 'Hawks alive.
2. Perhaps just as important is whether they can give Marshawn Lynch enough time and space to run?
New England, for all intents and purposes, kept "Beast Mode" under wraps with 41 yards on 15 carries.
Of course, that doesn't matter now given the 'Hawks won, but against the Niners, the team will probably need to lean on him a bit more.
Patrick Willis Meets Marshawn Lynch And...Robert Turbin?
Steven Bisig-US PRESSWIRE
It would seem that 49ers linebacker Patrick Willis is eager to stop Marshawn Lynch on Thursday night, according to Janie McCauley of the Associated Press, but also offers some pretty high praise as well:
''He runs the ball hard, a very elusive guy,'' Willis said Tuesday. ''He's a very hard tackle. We're going to have to have everybody swarming to the ball and not expecting one guy to make the play. He's by far one of the best running backs in the league and will be one of the best backs we face all year long. We've got to face him twice.''
For the 'Hawks, it makes sense to get back to basics and run the ball again with Beast leading the way, especially against the Niners' front seven.
And yet?
While everyone will be closely watching this matchup, I have to wonder whether the 'Hawks will finally put rookie Robert Turbin to work?
Turbin thus far has been pretty quiet this season, but could he help the Seahawks underneath to help serve as a safety valve for Russell Wilson and a change of pace for Marshawn Lynch?
Every so often, we've seen flashes of a promising young player waiting to break out. I'm not sure if it will be this week, but at some point this season, he's going to step up.
Receivers Continue to Step Up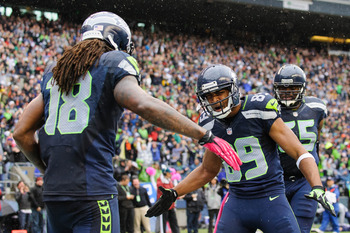 Steven Bisig-US PRESSWIRE
While we're discussing breakout performances, wasn't it nice to see the 'Hawks receivers coming up big against the Patriots?
So far this season, we had seen Sidney Rice, Golden Tate and even tight end Zach Miller make a few nice catches, but last year's breakout star, Doug Baldwin, looked like he was heading the way of Mike Williams prior to Sunday's game.
Hopefully, his three-catch performance for 74 yards and a touchdown was the turning point for him this season.
Add in Braylon Edwards' acrobatic touchdown, and perhaps the 'Hawks receiving corp isn't quite the disaster we had envisioned?
I still think this group has a ways to go, but if Russell Wilson gets time to throw and they can get separation against the 49ers secondary just a few times, the 'Hawks might be able to move the chains effectively enough to get the win.
Contain Vernon Davis
Brian Bahr/Getty Images
For the second straight week, the 'Hawks get to cover one of the NFL's best tight ends in Vernon Davis.
This past weekend, the 'Hawks did a serviceable job against Rob Gronkowski and Aaron Hernandez, limiting them to a combined 12 catches for 90 yards and a touchdown.
Not bad, but when you consider that Wes Welker and Brandon Lloyd added another 16 catches for 218 yards and that Tom Brady threw for 388 in total on the day, it leaves much to be desired.
This week, the 'Hawks will need to start with focusing on Davis, who fortunately, the New York Giants also took care of, as Sports Illustrated's Chris Burke describes:
3. The Giants did a number on Vernon Davis: Davis was a major headache for the Giants in last year's NFC title game, but New York did perhaps the best job of any team in 2011 stopping the Patriots' Rob Gronkowski/Aaron Hernandez duo. They found similar success Sunday in a rematch with Davis, and did so by interchanging their looks against him.

On one San Francisco first quarter possession, for example, the Giants used Stevie Brown, Corey Webster and Jacquian Williams in man-coverage on Davis, then later chipped him at the line and released him into a zone. He appeared to be one of the main focuses for the Giants' defensive game plan, and their approach worked wonders as Davis caught just two passes for 13 yards prior to a meaningless 24-yard grab late.
Unlike last week, in addition to Davis, the 'Hawks will also need to do a better job with the Niners wideouts, namely Michael Crabtree, Mario Manningham and perhaps even Randy Moss.
While I doubt that Alex Smith will be able to light up the 'Hawks secondary in the same fashion as Tom Brady, all he needs to do is make enough plays to make a difference.
Just Play the Game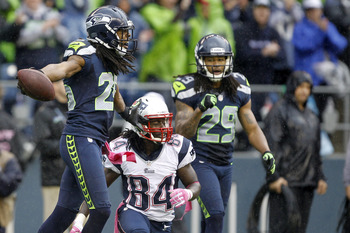 Joe Nicholson-US PRESSWIRE
One more note on the 'Hawks secondary, they really need to go about their business and avoid the off-field drama.
The whole story with Richard Sherman jawing with Tom Brady makes for good theater, but honestly, I find it tedious regardless of who started it, finished it or what not.
Understand I don't care much for Brady and I believe that Sherman is one of the Seahawks' best players, but let's be honest, Sherman got lucky with the 'Hawks rallying back to win. It's not like he intercepted Brady and returned it for the game-winning touchdown.
If the 'Hawks lost on Sunday, this wouldn't even be a story, as it would seem highly unlikely that Tom Brady would be going around boasting that he got the best of Richard Sherman.
It's great that Sherman plays with a fair degree of cockiness, and in time, he may become the NFL's elite shutdown corner with the talent to back it up. Until then, though...just play the game.
Blood, Guts and Frank Gore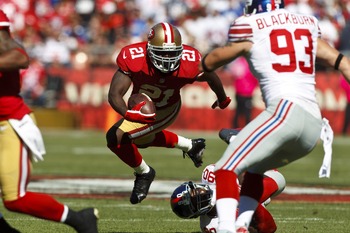 Jason O. Watson/Getty Images
So what's this matchup going to come down to?
As much as both teams like to think they can pass, the winner will probably be decided by which team controls the clock and, by extension, the ground game.
Running back Frank Gore is the man to keep an eye on for the Niners. If he can generate yardage against the 'Hawks front line, it could make for a long and frustrating night where the Niners dictate the pace of the game.
What worries me is that the Seahawks have yet to piece together an all-around impressive performance this season on the road and may struggle to follow up on their win against New England.
Meanwhile at home, during a short week, following a painful loss to a team that seems to own them, I think the Niners come out fired up, especially against a club that looks to steal its thunder along with the division.
Thursday night, both teams will come out fighting ,and for the first half, the two will slug it out, but eventually, the Niners will win out 23-9 by establishing just enough of a lead to then grind the clock, with Gore doing the dirty work.
Keep Reading

Seattle Seahawks: Like this team?