2012 NFL Mock Draft Round 2: Biggest Steals Who Will Be Picked in Round 2
April 27, 2012

Jeff Gross/Getty Images
Depending on what city you live in, the second round at this year's NFL draft might be even more exciting than the first.
Several organizations have multiple picks, such as the St. Louis Rams, Denver Broncos, Philadelphia Eagles, Baltimore Ravens and New England Patriots.
And believe me, there are a lot of studs to be had on the second day of the draft. Let's take a closer look at a few of those players.
33. St. Louis Rams: Stephen Hill, WR (Georgia Tech)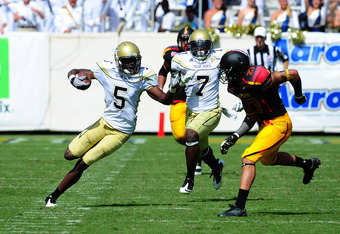 Scott Cunningham/Getty Images
Sam Bradford needs weapons, plain and simple, and with the Cleveland Browns likely to select a wide receiver with the 37th pick, the Rams need to select the guy they want here.
For my money, that man should be Hill.
Sure, he's a bit raw and comes from a limited passing scheme at Georgia Tech. But his combination of size and speed is compelling, and he has the potential to become one of the most dangerous deep threats in the NFL.
The Rams could be getting a potential star here. Hill should be the pick.
34. Indianapolis Colts: Coby Fleener, TE (Stanford)
Andrew Luck gets his favorite target from Stanford to help ease the transition in Indianapolis. Plus, the Colts need weapons, so this pick makes a lot sense on multiple fronts.
35. Baltimore Ravens: Cordy Glenn, OG (Georgia)
Glenn could play either guard or right tackle for the Ravens, and will provide the line with a much-needed upgrade.
36. Denver Broncos: Jerel Worthy, DT (Michigan State)
Priority numero uno for the Broncos should be improving the interior of the defensive line. Worthy fits the bill.
37. Cleveland Browns: Reuben Randle, WR (LSU)
The Browns came into this draft needing to improve the offense. With Trent Richardson, Brandon Weeden and now Randle in town, they handled that need in a big way.
38. Jacksonville Jaguars: Vinny Curry, DE (Marshall)
They took care of a glaring need at wide receiver. With another glaring need at defensive end, the Jags will add Curry, a force off the edge.
39. St Louis Rams: Janoris Jenkins, CB (North Alabama)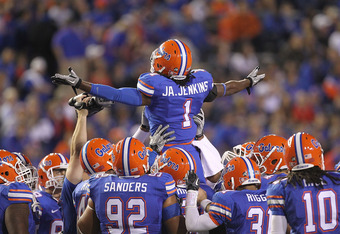 Mike Ehrmann/Getty Images
The Rams need an upgrade at corner, and Jenkins may be the second best cornerback in this entire draft.
Seriously, he has that much talent.
If Jeff Fisher and company feel they can look past the off-field and maturity issues and help the young man become a solid professional, they could end up with the steal of the draft and a future Pro Bowler. It's a risk, but it's a risk that could be worthwhile for a team out there.
Don't be surprised if that team is the Rams.
40. Carolina Panthers: Devon Still, DT (Penn State)
I believed improving the interior of the Panthers defensive line would be the team's first priority. I was wrong, and the team got a stud in Luke Kuechly. They'll get another in Still.
41. Buffalo Bills: Jonathan Martin, OT (Stanford)
The Bills need a left tackle for the future. They'll count their lucky stars that Martin falls to them at this point in the second round.
42. Miami Dolphins: Alshon Jeffery, WR (South Carolina)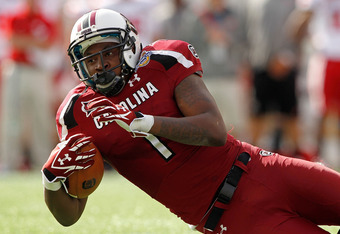 Mike Ehrmann/Getty Images
Brandon Marshall who?
I love Jeffery, and I think he could end up being the best wide receiver in this class. He's a big, physical receiver with excellent ball skills, and he'll become a fast favorite of Ryan Tannehill when the youngster gets the nod later this season.
The Dolphins were a bit of a joke this offseason, but they may have eradicated that with two picks early that could change the course of their offense for the better.
43. Seattle Seahawks: Mychal Kendricks, LB (California)
The focus on defense continues. Kendricks motor and tackling prowess will make him an instant impact player for the Seahawks.
44. Kansas City Chiefs: Lavonte David, LB (Nebraska)
He may be slightly undersized, but he plays like a missile and should be a nasty complement to Derrick Johnson in Kansas City's 3-4 defense. Some may feel like he's a better fit for the 4-3, but the Chiefs will feel comfortable playing him in the 3-4.
45. St. Louis Rams: Peter Konz, G/C (Wisconsin)
Konz will be moved to guard to help solidify the line. Alongside free agent signing Scott Wells, Konz will add stability to the core of St. Louis offensive front.
46. Philadelphia Eagles: Zach Brown, LB (North Carolina)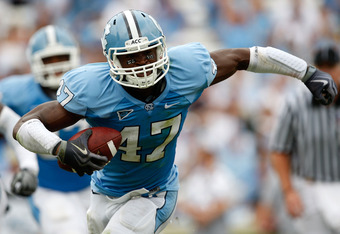 Streeter Lecka/Getty Images
Will the real Zach Brown please stand up?
On one hand, Brown is a freakish athlete, solid tackler and an excellent sideline-to-sideline 'backer. He'll be excellent at covering tight ends at the next level, and his explosiveness will help him quickly recover even if he makes a slow read.
On the other hand, there are questions about his football IQ and some folks feel he is an underachiever.
There will be those who wonder if he is physical enough to play downfield in Philadelphia's Wide 9 scheme, but I believe his athleticism and versatility will give the Eagles a lot of options on defense.
The Eagles have done well finding elite talent in the second round of the draft in recent years (DeSean Jackson, LeSean McCoy), and I believe they'll get the most out of Brown's immense potential.
47. New York Jets: Courtney Upshaw, OLB (Alabama)
The surprising drop finally ends for Upshaw, and he finds a home as an edge rusher in Rex Ryan's aggressive 3-4 scheme. Coples and Upshaw are boom or bust picks, but if they boom the Jets defense add a much-needed infusion of talent early in this draft.
48. New England Patriots: Trumaine Johnson, CB (Montana)
They seriously bolstered the linebacker group in the first round. They'll add a much-needed upgrade to the secondary in the second.
49. San Diego Chargers: George Iloka, S (Boise State)
They got one of the steals of the draft when they landed Melvin Ingram in the first round. They'll bolster the safety position in Round 2.
50. Chicago Bears: Mike Adams, OT (Ohio State)
Jay Cutler thanks you for this pick, Chicago.
51. Philadelphia Eagles: Brandon Boykin, CB (Georgia)
Boykin looks like a solid option as a slot corner, and could be a nice upgrade for the Eagles in the nickel. Plus, he could become the team's kick and punt returner next season.
52. Tennessee Titans: Alameda Ta'amu, DT (Washington)
The Titans need to bolster their run defense. This pick makes a lot of sense for the squad.
53. Cincinnati Bengals: Mohamad Sanu, WR (Rutgers)
The perfect complement to the big-play A.J. Green on the outside.
54. Detroit Lions: Josh Robinson, CB (Central Florida)
The Lions take care of a big need and bolster the secondary with this selection.
55. Atlanta Falcons: Andre Branch, DE (Clemson)
John Abraham is 34. The team will select the pass rusher of the future here and take Branch.
56. Pittsburgh Steelers: Bobby Massie, OT (Ole Miss)
The reconstruction of the Steelers' offensive line continues. And Ben Roethlisberger is quite happy with that development.
57. Denver Broncos: LaMichael James, RB (Oregon)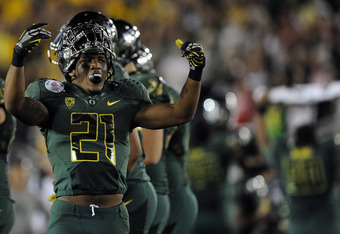 Harry How/Getty Images
The perfect scat back to add with Peyton Manning taking the helm, James is a big play waiting to happen every time he touches the ball.
He won't be an every-down back, but how many of those are left in the NFL anyway?
James' ability to catch passes out of the backfield and make defenders miss in space will make him a fun player to watch. The Broncos went defense with the first pick; with this selection, they'll make their offense a whole lot more exciting.
58. Houston Texans: Chris Givens, WR (Wake Forest)
Givens is a solid, well-rounded receiver and will fit into the Texans' offense nicely.
59. Green Bay Packers: Ben Jones, G (Georgia)
Could also play center for the team in the future, and will add depth to Green Bay's line.
60. Baltimore Ravens: Brandon Thompson, DT (Clemson)
He'll add depth to Baltimore's defensive line, and is versatile enough to play either nose tackle or defensive end for the team.
61. San Francisco 49ers: Amini Silatolu, G (Midwestern State)
The loss of Adam Snyder makes this a smart pick, even if Silatolu is a bit of a project.
62. New England Patriots: Lamar Miller, RB (Miami)
This is great value at this selection, and gives the Patriots an explosive option at the running back position. He's too good to pass up here.
63. New York Giants: Kelechi Osemele, G (Iowa State)
The Giants drafted running back David Wilson, but they weren't very good at run-blocking last season. Osemele will help in that department.

Hit me up on Twitter—my tweets always hit the spot, like Philip Humber.