Cincinnati Bengals 2012 NFL Draft Picks: Grades, Results and Analysis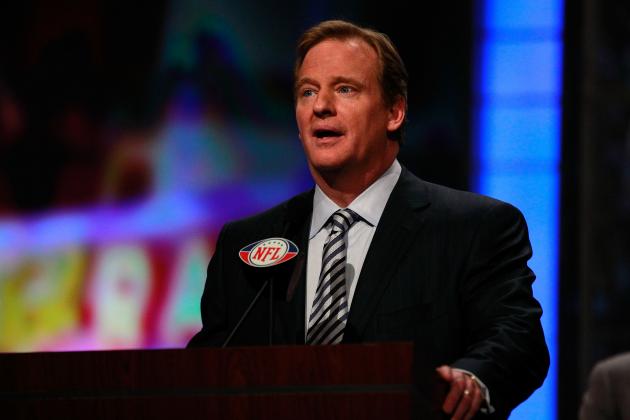 Chris Trotman/Getty Images
Roger Goodell is ready for the NFL Draft; are you?
If you want comprehensive information and real-time analysis of all nine of the Cincinnati Bengals' 2012 NFL draft selections, you're in the right place.
Starting Thursday night and through the end of the action on Saturday, every pick will be updated, dissected and graded right here, as it happens, closing with a thorough wrap-up of the Bengals' entire draft haul.
So set a bookmark, have your refresh button tuned up and check back here early and often for the best live coverage of the Cincinnati Bengals' 2012 NFL draft anywhere on the web.
Begin Slideshow

»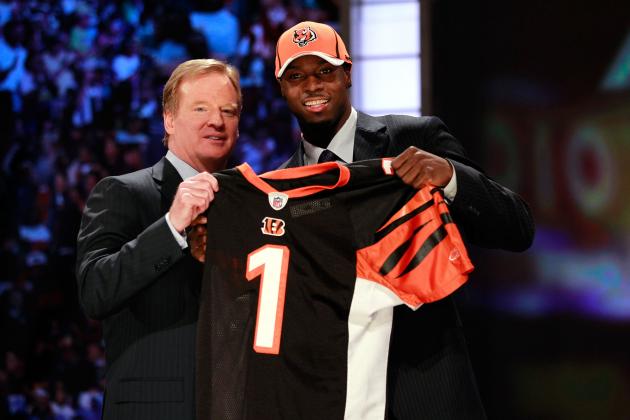 Chris Trotman/Getty Images
In 2011, the Bengals selected WR A.J. Green with their first-round pick; getting QB Andy Dalton was a second-round steal
The Cincinnati Bengals had perfect placement going into the first round of the draft, with the 17th and 21st overall picks allowing them to grab a pair of top-tier players.
There were a few directions they were able to go with these two picks, including offensive line, wide receiver and cornerback.
Instead of grabbing top-rated offensive guard David DeCastro at No. 17, they took the last, best available cornerback on the board, Alabama's Dre Kirkpatrick.
The Bengals, likely seeing the glut of offensive line talent still on the board, traded their 21st overall pick with the New England Patriots for their No. 27 and their No. 93 3rd round pick. Their gamble paid off, landing Wisconsin guard Kevin Zeitler, meeting a need with some high-rated talent, though it resulted in them missing out on DeCastro, who went at 24 to the rival Pittsburgh Steelers.
In the second day, it seemed as though Cincy would likely grab a speedy receiver (or even perhaps a running back) in Rounds 2 or 3, or perhaps work to boost its safety and pass-rush depth. Instead, in the second round, the Bengals chose to improve their run defense, selecting Penn State defensive lineman Devon Still 53rd overall.
In round three, they went even further to help out their run-stopping ability, taking Brandon Thompson from Clemson 93rd overall. Prior to that, the Bengals were able to get their much-coveted possession receiver in Rutgers' Mohamed Sanu, whose slide into the late third made him a must-grab for the team.
The Bengals have the most complete young roster heading into the weekend's events. This draft gives them a chance to get creative, build depth and put together a squad that could be among the league's best for seasons to come.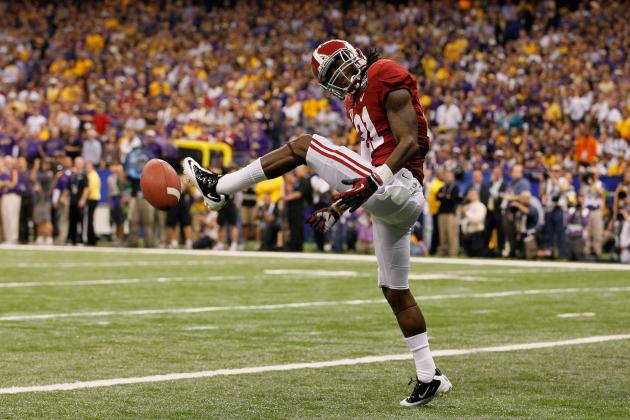 Kevin C. Cox/Getty Images
It took a season, but the Bengals finally snagged their heir apparent to Johnathan Joseph
With so many of the top cornerbacks going early on in the first round, it seemed as though the Cincinnati Bengals' chances to finally get a viable replacement for Johnathan Joseph this season were all but dashed.
Thanks to a brief run on pass rushers and the aftermath of a number of first round trades, however, the Bengals were able to land the last best corner this year, Alabama's Dre Kirkpatrick.
He's physical, fast and able to shut down even the most challenging receivers. He's exactly the player the Bengals needed here (barring an ability to land Stephon Gilmore) and it makes sense the Bengals took him over offensive guard David DeCastro, who was still on the board with the pick.
Kirkpatrick is a player where need and talent certainly line up. The Bengals remained patient, didn't trade up and got exactly who they required. This had all the makings of a strong draft class for the Bengals and they certainly got onto the right foot with their first of two round one selections.
Grade: A+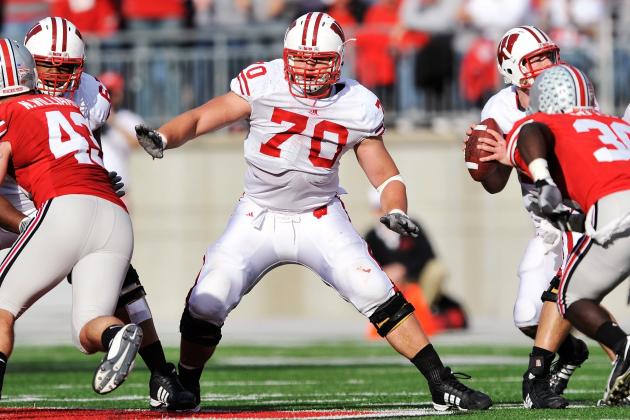 Jamie Sabau/Getty Images
When in doubt, always take the Wisconsin offensive lineman
The Cincinnati Bengals got more than just an offensive line consolation prize when they traded down with the New England Patriots and landed Wisconsin guard Kevin Zeitler—they got a much-needed instant starter.
So far, the Bengals have hit home runs in the draft. They've managed to meet needs while still getting clearly the best players still available.
Wisconsin is the breeding ground for top offensive line talent. With the Bengals clearly putting greater attention on their ground game this year, bringing on a top blocker like Zeitler will aid in that effort. Further protecting quarterback Andy Dalton doesn't hurt either.
Grade: A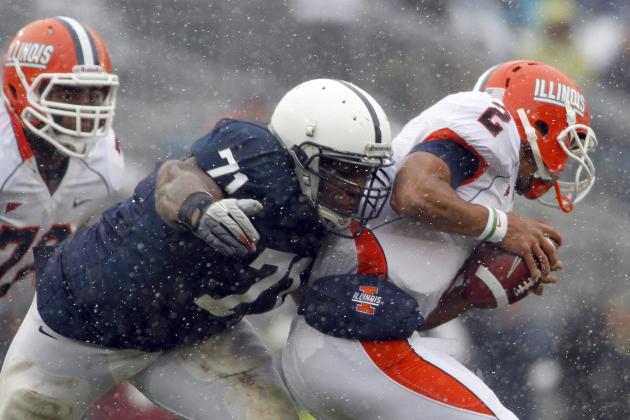 Justin K. Aller/Getty Images
Stopping the run is an area the Bengals need to strengthen and Devon Still clearly does this.
The Cincinnati Bengals shockingly did not take a wide receiver (or running back) in the second round and instead went on the other side of the ball, selecting Penn State defensive tackle Devon Still with their second-round, 53rd-overall pick.
Still is a run-stopping specialist, who loves to physically engage with offensive linemen. He's not a pass rusher, to be sure, but his dominating presence will certainly help the Bengals immediately.
Defensive line depth is important for the Bengals this year, who still seem to be finding their identity on that side of the ball. Still is a surprising pick, but that doesn't make him a bad one. Looks like the Bengals' designs are on a receiver they can get in a later round.
Grade: B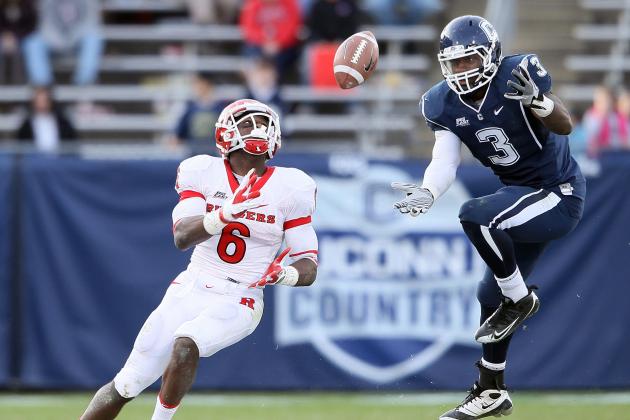 Elsa/Getty Images
The Bengals needed at WR and Mohamed Sanu meets their needs perfectly
The Cincinnati Bengals got their possession receiver in the third round, taking Rutgers' Mohamed Sanu 83rd overall. Sanu fell much farther than initially anticipated, which benefited the Bengals immensely. They get a guaranteed starter here at a value price.
Sanu, at 6'2" 218 pounds, possesses prototypical size, but does lack a bit in speed. That doesn't harm his ability to be a solid red-zone target for quarterback Andy Dalton and he should be able to pull coverage off of A.J. Green, which only makes the Bengals' passing game that much more dangerous.
He will have to work better on getting separation from defenders in the NFL, but his football acumen at least gives him a leg up over other prospects. He's no No. 1 receiver, but the Bengals don't need him to be. This was an intelligent pick, to be sure. He may also be able to contribute on special teams.
Grade: A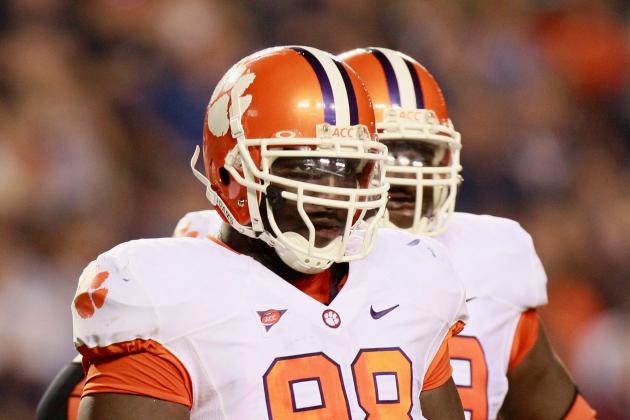 Kevin C. Cox/Getty Images
I'm intimidated just looking at him.
The Cincinnati Bengals took Senior Bowl standout Brandon Thompson in their final pick of the second draft day. Thompson is a steal—he could have easily gone in the second round if more teams were in the market for a defensive tackle.
Thompson is a fabulous run defender who is also quite capable of collapsing the pocket. He can take on two offensive linemen at a time and get penetration in the backfield with seemingly little effort. He's got an outstanding work ethic both in the classroom and weight room, which clearly shows on the field.
He won't be useful in the pass rush, but that's not a problem—the Bengals clearly didn't take him to do so. It's going to be hard for running backs to get past him, and with division rival Cleveland Browns taking Trent Richardson in the first round, that's a major benefit.
Thompson needs some coaching up to be sure, but the skills he brings to the table make it almost certain he will be in the starting rotation in 2012 and will become a full-time player within a season.
Grade: B+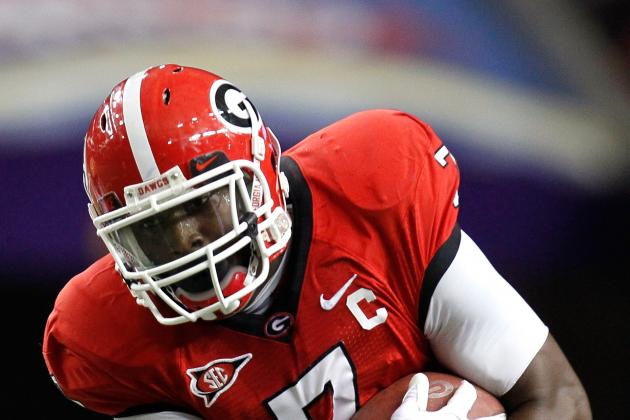 Kevin C. Cox/Getty Images
The Bengals continue to hit home runs with their draft, taking TE Orson Charles in Round 4
The Cincinnati Bengals certainly needed another tight end on the roster—before today, their TE corps was Jermaine Gresham and that's it, full stop. The team surely got themselves quite the steal in the fourth round, taking Georgia's Orson Charles.
Charles is an elite pass-catching tight end who is also an enthusiastic and talented blocker. He's a versatile playmaker who is guaranteed to be a touchdown threat every time he's targeted and should become a favorite weapon for quarterback Andy Dalton.
This is an exceptional pickup, with the Bengals meeting a serious need with some serious talent. The leadership, the work ethic and the pure talent will make him a leader in Cincinnati.
Grade: A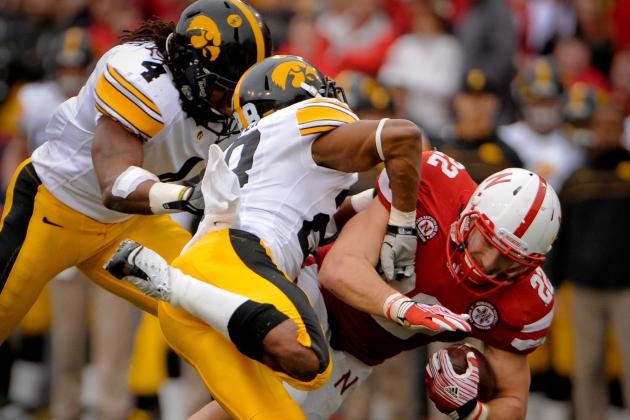 Eric Francis/Getty Images
Iowa produces great cornerbacks, so Prater could develop into something special for Cincy
The Bengals need to build some depth in the secondary this offseason, and they clearly did so with their fifth-round selection of cornerback Shaun Prater out of Iowa.
Prater is a solid zone corner who can also play man if needed, he's athletic, and was an All-Big 10 selection in 2011. It's a depth add, to be sure, and Prater's a long-term project, but Iowa consistently produces great secondary players so he could surely see some time on the field in the future.
Grade: B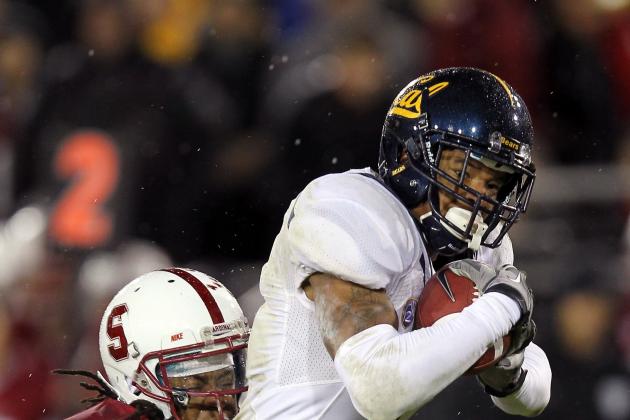 Ezra Shaw/Getty Images
Marvin Jones just made a scary Bengals receiving corps that much better
In a pick the Cincinnati Bengals got in trade from the New England Patriots for wide receiver Chad Ochocinco, the team selected another wide receiver, Marvin Jones from California.
Jones could easily pan out just as well or better for the Bengals than Ocho. Jones is athletic, an excellent route runner who can get separation from defenders easily. He has great hands and rarely drops a pass, but he needs improvement in his run blocking and he doesn't have long-term speed.
This is a steal for the Bengals—Jones could have easily gone in the third round. He'll take a leadership role in Cincinnati and should be on the field from day one.
Grade: A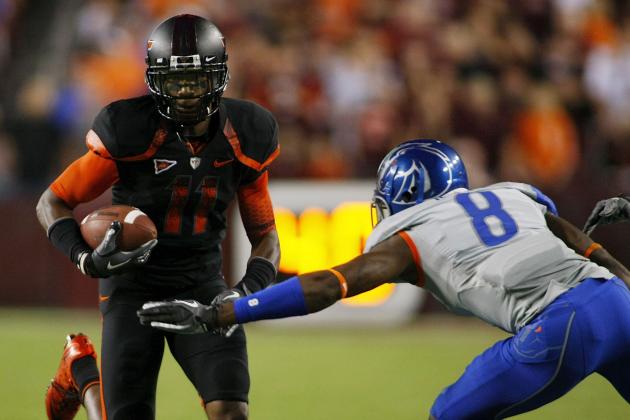 Geoff Burke/Getty Images
Sorry buddy, you're not getting past George Iloka
The Bengals made a perfect selection with their third of three fifth-round picks, taking Boise State safety George Iloka 167th overall.
Iloka doesn't have the kind of high-level speed that most teams want from a safety, however he's perfect for the way the Bengals approach the position. He's big, physical and an excellent tackler. This is a major area of need for Cincinnati and they were able to get the exact right player at the exact right pick.
There's nothing not to love about Iloka to the Bengals, and it's yet another piece of what's shaping up to be a spotless draft for the team this year.
Grade: A
Scott Halleran/Getty Images
Dan Harron is a utility running back who fits well in the Bengals' committee
The Bengals wrapped up their 2012 NFL Draft by not venturing far out of state lines, selecting Ohio State running back Dan Herron 191st overall.
Cincinnati was thought to be headed into the season with a three-headed committee of backs, leading me to think they would have landed a running back in an earlier round.
However, Herron fits the mold of the exact back they needed to complement BenJarvus Green-Ellis and Bernard Scott—smaller, but adequately fast, with blocking skills and good receiving skills.
In a three-man offensive backfield, Herron should have his fair share of touches, but it's clear that the Bengals didn't seem to need a speedster in this draft. He's unremarkable, which would have been a problem if the Bengals wanted to run with only him, but in the trio, he's a good fit.
Grade: B-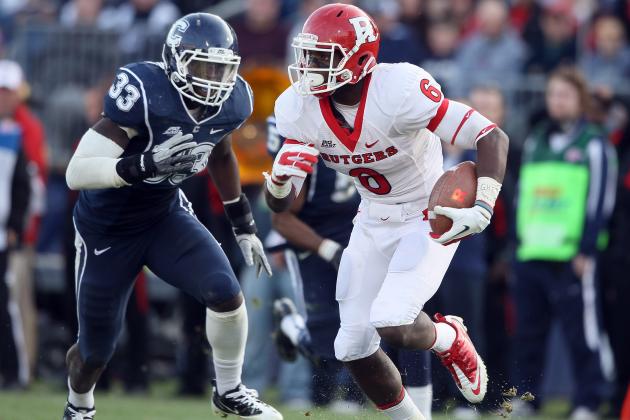 Elsa/Getty Images
Mohamed Sanu is one of two WRs the Bengals drafted this year; this should be one scary aerial offense
Round 1: CB Dre Kirkpatrick, Alabama, A+
Finally, the Bengals have found the replacement for Johathan Joseph.
Round 1: OG Kevin Zeitler, Wisconsin, A
Bengals traded down and missed out on David DeCastro, but Kevin Zeitler is no consolation prize—he's the real deal.
Round 2: DT Devon Still, Penn State, B
Still will help immensely at stopping the run.
Round 3: WR Mohamed Sanu, Rutgers, A
Sanu is a perfect possession receiver to pair up with A.J. Green, and will be a major red-zone target.
Round 3: DT Brandon Thompson, Clemson, B+
The Bengals give more attention to the defensive line and their ability to stop the run.
Round 4: TE Orson Charles, Georgia, A

Orson Charles is a talent receiver who takes pride in his blocking. Should be a beast in Cincy.
Round 5: CB Sean Prater, Iowa, B
You can never go wrong with a member of the Iowa secondary.
Round 5: WR Marvin Jones, California, A
A steal in round five, Marvin Jones has the speed and hands to make a huge impact immediately.
Round 5: S George Iloka, Boise State, A
George Iloka fits the mold of a Bengals safety; should be an interesting competition for the starting spot this year.
Round 6: RB Dan Herron, Ohio State, B-
Dan Herron is nothing special, but he's a good fit as part of the Bengals' three-headed running attack.
Overall Draft Grade: A+