Cleveland Cavaliers 2010-11 Season Review: Anderson Varejao, "Thor"
December 13, 2011
Writer's Note: This is the final installment of a 15-part series where I review the 2010-11 season of each of the Cavaliers players. Each player will be titled with one of this summer's movies for a little added fun. I couldn't think of any better order to do this so I'm going alphabetically. Today: Anderson Varejao. Up Next: The Season!
The longest drawn out series in history is finally coming to a close.
Thank goodness for the lockout otherwise I'd have never gotten this thing in before the season started.
Throughout this series I've used superhero movies as titles for several players: X-Men First Class for Daniel Gibson, Green Lantern for Luke Harangody and Captain America for Byron Scott. (Sports might be my first love, but superheroes are definitely my second.)
If we look at the Cavaliers basketball team as a band of superheroes, like the Avengers maybe, who is the most forgotten, but vital of those heroes?
On the Avengers it's certainly not Iron Man, he's too dynamic. It's not Captain America, he's the leader who came first. There's no way it's Spider-Man (even though he's not in the movie), he's way too famous. And it can't be the Hulk who is, after all, giant and green and angry.
The answer is Thor.
Marvel Comics even overshadowed him by releasing his movie early in the summer and then putting out two other more popular films.
If Thor, who is really awesome actually, is the forgotten Avenger then Anderson Varejao is the forgotten Cavalier. (Also, if there was a guy on the Cavs who could be mistaken for a Norse god, it would definitely be Varejao.)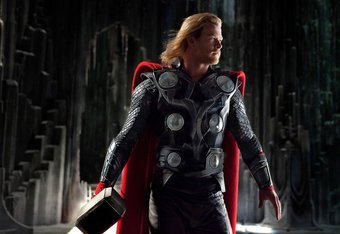 Part of this is probably because he only played in 31 games this past year before going down for the season with injury.
But last year Varejao was having his best statistical season ever. Every major stat was up: 32.1 MPG, 9.7 RPG, 1.2 BPG, 9.1 PPG.
Also, according to 82games.com's Simple Rating, he was the second-best player on the Cavs last year behind only Baron Davis and only one of three players to finish with a positive rating (Daniel Gibson was the other).
I could go on with stats upon stats, but any Cavs fan will tell you that Varejao's value is not measured in simple numbers.
There was an obvious drop in overall team play after Varejao went down for the season. He might not be a star player, but he is certainly a guy who makes the team go.
Many national writers who recognize Varejao's true greatness lament the fact that he's stuck playing on a crappy team when he could be a major contributor to a contender.
Which leads me to my biggest point about Varejao and how he fits into the team concept. And this also bears out some similarities to Thor as well.
Like Thor, Varejao can be a decent player on his own, but never truly great. Both Thor and Varejao's true greatness comes when they are involved in the team concept.
Unfortunately, the Cavs right now are a little like Thor's team from Asgard that is pretty good at defeating giant ice monsters. Thor is the best "player" on that team, much like Varejao is probably the best player on the Cavs.
But the greatest team will be the Avengers, when Thor's greatness is still there but yet only about the No. 3 or 4 guy on the team. That's where you want Anderson Varejao to be.
It can be fun for a while if he's your best player and you'll win some games. But if you want to be great then he cannot be your best player.
I think that within time Kyrie Irving will take over as the best player on the Cavs. Davis and Antawn Jamison are definitely not in this team's long-term plans.
I hope that Tristan Thompson can develop into a player that is better than Varejao. I have my doubts but I'll reserve judgment until I see him play first.
All that said, I'm thrilled to have Varejao back in Cleveland.
Let's hope he brings the hammer!
You can follow Benjamin Flack on Twitter @ClevelandFlack.
If you missed any of the previous reviews you can follow the links here: Baron Davis, Semih Erden, Christian Eyenga, Alonzo Gee, Daniel Gibson, Joey Graham, Luke Harangody, Omri Casspi, Manny Harris, Ryan Hollins, Antawn Jamison, Samardo Samuels, Byron Scott, Ramon Sessions.