NFL Week 13: Predictions and Storylines for the Full Schedule
December 1, 2011
Rich Schultz/Getty Images
Note: The quotes in this article are fictional.
Philadelphia @ Seattle (+2 1/2)
The Philadelphia Eagles were all but eliminated from the playoff race after a humbling 38-20 loss to the New England Patriots last Sunday in Philadelphia. Philly is 4-7 (1-5 at home) and three games behind the Dallas Cowboys in the NFC East.
"Philly fans are calling for my head," head coach Andy Reid said. "I'm not going anywhere. Unlike opponents, Eagles fans don't always get their way in Philadelphia. Otherwise, Dave 'The Hammer' Schultz would be head coach. And Dr. J would be quarterback. And DeSean Jackson would have hands of glue, and not stone."
The Seattle Seahawks had their two-game winning streak snapped, losing to the Washington Redskins 23-17 in Seattle. Seattle is still mathematically alive in the NFC West race due to San Francisco's loss to Baltimore on Thanksgiving night.
"Could this be my chance to get revenge on Vince Young?" head coach Pete Carroll said. "Young famously beat me and my USC Trojans in the 2006 national championship game. I don't know which hurt worse: losing a national championship because of Young, or losing a title because of Reggie Bush.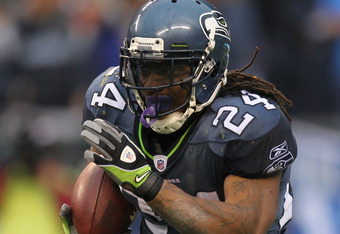 Otto Greule Jr/Getty Images
"Despite our troubles this year, I see a lot of similarities between this team and last year's NFC West championship team. One, we'll have a losing record. And two, we'll be 'home' for the playoffs."
Neither the Eagles nor the Seahawks have anything for which to play. They may have feathers on their helmets, but there are none in their caps.
Seattle wins 19-17.
Oakland @ Miami (-1)
The Miami Dolphins took the Cowboys to the limit on Thanksgiving afternoon, falling on Dan Bailey's 28-yard field goal as time expired. The loss ended Miami's three-game winning streak and left them 3-8.
"I think the Cowboys are overrated," head coach Tony Sparano said, "and not much different than the teams we've already played this year. I firmly believe if we played Dallas ten times, we'd win three, after losing the first seven."
The Oakland Raiders beat the Jay Cutler-less Chicago Bears 25-20 last week, maintaining their lead in the AFC West. The Raiders lead the surging Denver Broncos by one game with a tough road trip to Miami upcoming.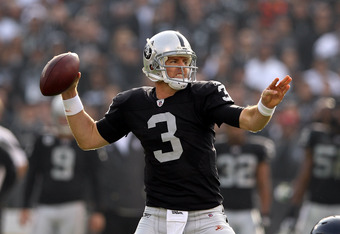 Ezra Shaw/Getty Images
"We'd like to keep Tim Tebow and the Broncos at arm's length," quarterback Carson Palmer said. "God forbid the Broncos win the AFC West and make the playoffs. Then we'd never hear the end of it, because there must be a god.
"Now I understand the Chargers and Nick Novak are making a case for becoming the AFC West's bad boys. That's our title. We, not you, Nick Novak, are 'No. 1.'"
Miami wins 20-19.
Kansas City @ Chicago (-9)
In their first game without Jay Cutler, the Bears lost 25-20 in Oakland, as backup quarterback Caleb Hanie threw three interceptions. If Chicago is to secure a wild-card playoff berth, they'll have to do it with Hanie in charge.
"I've made lemonade out of lemons before," offensive coordinator Mike Martz said. "And I can make 'do' out of 'doo doo.' You can't spell 'Caleb' without 'able.'"
Like the Bears, the Kansas City Chiefs have quarterback issues. In the wake of Matt Cassel's hand injury, backup Tyler Palko has been error-prone.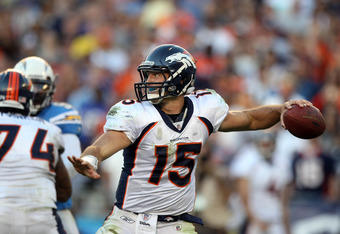 Donald Miralle/Getty Images
"Not only has Palko been shaky, at best," head coach Todd Haley said, "he is shaky, at his best. But help is on the way. Former Chicago Bear and Denver Bronco Kyle Orton might see some action. Orton can't escape the shadows of the most hated quarterback in the NFL, Jay Cutler, and the most loved quarterback in the NFL, Tim Tebow. That leaves Orton somewhere 'in between,' which perfectly describes his quarterbacking skills."
Before the game, the Chiefs get a pep talk from mini-Herman Edwards, who urges them to play bigger than themselves, and drink Coors Light.
The Chiefs hang tough early, but the Bears pull away late and win 20-9.
Denver @ Minnesota (-3)
Tim Tebow is now 5-1 as a starter after the Broncos beat the Chargers 16-13 in overtime last week to remain one game behind the 7-4 Raiders in the AFC West. Tebow Fever continues to sweep the nation, mop up the competition and clean up in jersey sales.
"Yet some people still insist," head coach John Fox said, "on calling him a 'scrub.' Say what you will about Tebow, but he delivers, time and time again. Package delivery companies take note---endorsement opportunities abound. For example: 'UPS! He Did It Again!' Or "Fed Ex: When It Absolutely, Positively Has To Be There On The Ground."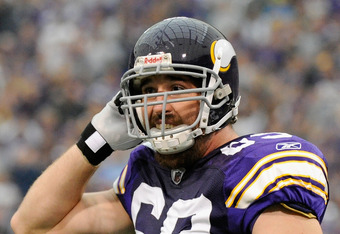 Hannah Foslien/Getty Images
The Minnesota Vikings will counter Tebow with rookie quarterback Christian Ponder, who is 1-4 as a starter.
"I'm more qualified than anyone," Ponder said, "to say I'm more 'Christian' than Tebow. And, as a traditional NFL passer, I'm also qualified to say that calling Tebow a 'passer' is a characterization of biblical distortions. But give the Denver coaching staff and Tebow credit. They've given him a play book he can work with. He's made their jobs a lot easier."
Can the Vikings figure out the Denver offense? Of course. Even a child could. But stopping it? That's different. It takes an adult. And Jared Allen is an adult. Allen wallops Tebow on a quarterback keeper out of the wishbone formation, leaving the Denver signal-caller woozy. Tebow sits for a few plays, but returns with a vengeance, as his "end of daze" signifies the "end of days" for the Vikings.
Denver wins 24-16.
Tennessee @ Buffalo (-1 1/2)
The Tennessee Titans beat the Tampa Bay Buccaneers last week 23-17 to remain two games behind the 8-3 Houston Texans in the AFC South. Chris Johnson rushed for 190 yards on 23 carries, and the Titans will need a similar performance against the Buffalo Bills.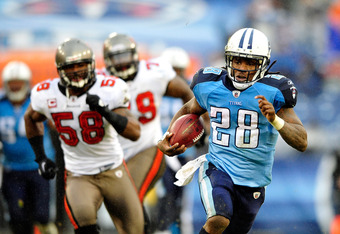 Grant Halverson/Getty Images
"We've been waiting for Chris to pull his weight around here," head coach Mike Munchak said. "If you would have told Johnson that 'slack' was a check, he would have 'picked it up' long ago.
"Now, we're in the same position Chris was during his holdout. This time, though, we're the ones saying 'We want more.'"
The Bills lost their fourth in a row, 28-24 to the New York Jets, but that was only the second-biggest story of the game. Bills receiver Stevie Johnson, after a second-quarter touchdown, celebrated by mocking Plaxico Burress' self-inflicted gunshot injury.
"I call that the 'Johnson and Johnson' celebration," Johnson said. "That didn't hurt me in the groin, but it will hurt me in the wallet. I've since apologized to Burress. It takes a big man to say he's wrong. It takes balls to admit a mistake, and I think Burress can appreciate that more than anyone."
Tennessee wins 27-24.
NY Jets @ Washington (+3)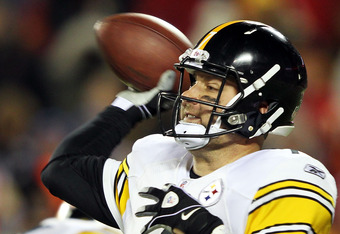 Jamie Squire/Getty Images
Mark Sanchez threw for four touchdowns, a career high, and the Jets beat the Bills 28-24 to break a two-game losing streak. The Jets improved to 6-5 but may have to win out to have any chance in what is sure to be a competitive race for the AFC's wild-card spots.
"Rex Ryan knows how to push my buttons," Sanchez said. "And I know how to push his—with my toes. I take full responsibility for our turnaround. I gave Rex the silent treatment. That's exactly what this team needs—less talk."
The Redskins broke a six-game losing streak with a come-from-behind 23-17 win in Seattle. After a 3-1 start, the 'Skins are now 4-7, tied for last in the NFC East.
"Before the season's start," quarterback Rex Grossman said, "I predicted the Redskins would win the NFC East. I was wrong about that, but I was right about one thing, and that is that I'm unpredictable."
New York wins 24-20.
Cincinnati @ Pittsburgh (-8)
The Pittsburgh Steelers offense was anything but impressive in a 13-9 win in Kansas City last Sunday night, but their defense came through, limiting the Chiefs to three field goals. Ben Roethlisberger was hampered by a broken right thumb, which is likely to bother him for the remainder of the year.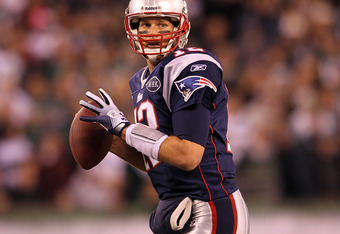 Nick Laham/Getty Images
"The thumb is really sore," Roethlisberger said, "and there's very little that can be done to improve its condition. It's like the ring finger of a wife in a hypothetical sham marriage—you can put anything on it, but it doesn't change anything."
If the Cincinnati Bengals are to make a case for the AFC North title, they'll need to beat the Steelers. To do so, they'll need solid games from the triumvirate of Andy Dalton, A.J. Green and Cedric Benson.
"To win," head coach Marvin Lewis said, "we need to have success running and passing the ball. We need to keep our balance. I'm not sure who'll have a harder time doing that on Sunday—us or Troy Polamalu."
Steelers win 21-17.
Indianapolis @ New England (-21)
The Patriots hammered the Eagles 38-20 last week in Philadelphia, and now turn their attention to the Colts for what would normally be one of the most anticipated games of the season. In Peyton Manning's absence, however, it is just another game, yet one the Pats need to win to maintain their comfortable lead in the AFC East.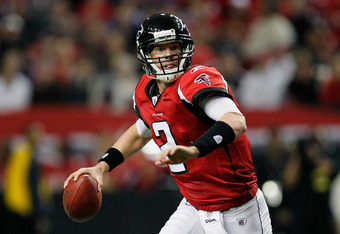 Kevin C. Cox/Getty Images
"This will be just like old times," Tom Brady said. "In most of our past games with the Colts, Manning could do little more than stand and watch.
"Many fans had this game circled on their calendars, but with Manning's injury and Indy's struggles, it was yanked from the Sunday night schedule. In flex-game parlance, that's called a 'circle jerk.'"
The Colts are now 0-11 after a 27-19 loss to the Carolina Panthers in Indianapolis last week. Barring an amazing turnaround, the Colts appear headed towards securing the No. 1 pick in next year's NFL draft, in which they'll likely select Stanford's Andrew Luck.
"There are those that say we're 'tanking' to hold on to the first pick," head coach Jim Caldwell said. "Let me just respond to those accusations by saying, with a wink of the eye, that there is 'no Luck involved.'"
Dan Orlovsky will start at quarterback for the Colts, making his first start since the 2008 season, when he played for the 0-16 Detroit Lions. As was the case then, he will come out firing "blanks."
New England wins 30-17.
Atlanta @ Houston (+1)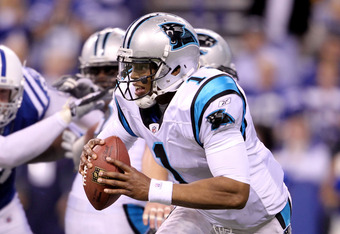 Andy Lyons/Getty Images
The Texans 20-13 win over the Jacksonville Jaguars last week was a costly triumph, as quarterback Matt Leinart, in for Matt Schaub, broke his collarbone and was lost for the year. Now Houston's hopes in the stretch run, and hopefully playoffs, may rest on the shoulders of third-stringer T.J. Yates.
"That's a scary thought," head coach Gary Kubiak said, "and one that resulted in 'Brett Favre as a Texan' rumors. I'm sure we could have lured Favre out of retirement, especially with a text message labeled 'Proposition?'
"But Favre is out, and Jake Delhomme is in. We signed Delhomme to back up Yates. We already have two great advocates for our running game—Arian Foster and Ben Tate. Now we have two more—Yates and Delhomme."
The Atlanta Falcons remained hot on the tails of the division-leading New Orleans Saints, beating the Vikings 24-14 in Minnesota.
"It certainly hasn't been a good year for Matts in the NFL," head coach Mike Smith said. "Matt Cassel, Matt Schaub and Matt Leinart have all gone down to injury. God forbid if Matt Ryan gets hurt, because that will be a 'fourth down,' and I want to avoid those at all costs."
Houston rides its ground game, defense and home crowd to a 27-24 win.
Carolina @ Tampa Bay (-3)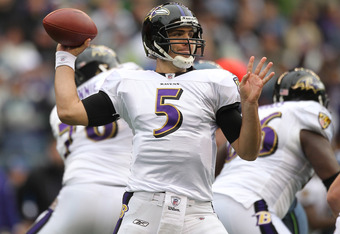 Otto Greule Jr/Getty Images
The 3-8 Panthers face the 4-7 Buccaneers in a battle at the bottom of the NFC South standings. The Panthers beat the winless Colts last week, while the Bucs dropped a 23-17 decision to the Titans.
"From what I hear," quarterback Cam Newton said, "I understand it's a big deal when the Panthers head south to Tampa. And an even bigger deal when Panthers cheerleaders go down there.
"Just like two Panthers cheerleaders in a Tampa bar bathroom stall, it's also a tight fit at the bottom of the South standings. And the two parties involved are up to 'no good.'"
The Bucs have lost five in a row, all to teams currently in the hunt for a playoff spot. Tampa's schedule eases considerably with the Panthers coming to town, followed by a trip to face the 3-8 Jaguars next week.
"I hear the Jags are saying the same thing," head coach Raheem Morris said. "It's a tough time to be a coach in the state of Florida, or the University of Syracuse. Jacksonville owner Wayne Weaver fired his coach and sold the team on the same day. He got rid of the old Jack; now he's got some new 'jack.'"
Tampa wins 30-24.
Baltimore @ Cleveland (+6 1/2)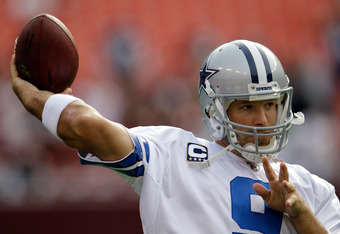 Rob Carr/Getty Images
The Ravens sacked Alex Smith nine times on their way to a dominating 16-6 win over the 49ers on Thanksgiving night. Baltimore is 8-3, with all three losses coming on the road after big home victories.
"We've won two games without Ray Lewis," said running back Ray Rice. "Even more amazingly, we've won eight with Joe Flacco."
The Cleveland Browns four wins this year have come against teams with a combined 10 wins. Cleveland closes the year with four of its remaining five games against AFC North rivals Baltimore and Pittsburgh.
"It's going to be cold and rainy in Cleveland," quarterback Colt McCoy said. "That's the kind of weather ready-made for a big, white, bruising back with something to prove. Let me know if you know of one."
Who's more likely to keep the Browns in the game, McCoy or Flacco? Flacco throws an early interception but comes back with two passing scores, one to Ray Rice, the other to Anquan Boldin.
Baltimore wins 24-13.
Dallas @ Arizona (+6)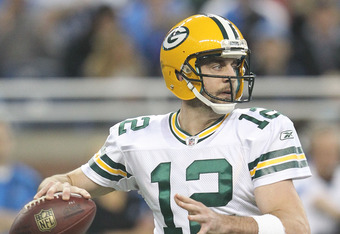 Leon Halip/Getty Images
The NFC East race looks to be a two-team race between the Cowboys and the New York Giants, who meet twice in the season's final four weeks. Dallas edged the Dolphins 20-19 on Thanksgiving to improve to 7-4, one game ahead of the Giants.
"Here in Dallas," Tony Romo said, "we do just enough to get by. This year, with the success of the Packers and 49ers, that still won't be enough to get bye.
"The NFC East champion likely won't be decided until the last week of the season. Therein lies the playoff motto for the NFC East: 'Late entry, early exit.'"
The Arizona Cardinals won for only the fourth time this year, beating the St. Louis Rams 23-20 in St. Louis. Beanie Wells had 228 yards rushing and a touchdown, and Patrick Peterson returned a punt for a touchdown to lead the Cards.
"Big games like that from Beanie are few and far between," head coach Ken Whisenhunt said. "We call him 'H.G.,' because he's invisible most of the time."
Are the Cowboys due for a letdown? Aren't they always? And with the Giants facing the unbeatable Packers, Romo and company can afford to be.
Dallas battles back from an early deficit and takes a 29-17 win.
Green Bay @ NY Giants (+10)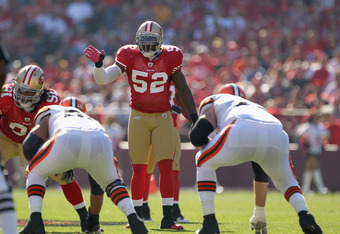 Ezra Shaw/Getty Images
The Packers put their 11-0 record on the line against the Giants in MetLife Stadium, where the Giants are 3-2. Green Bay won their Thanksgiving Day showdown with the Detroit Lions, 27-15, behind 307 yards passing and two touchdowns from Aaron Rodgers.
"You just never know what you'll get with the Giants in MetLife Stadium," Aaron Rodgers said. "Will it be the team that beat the Patriots, or the team that lost to the Seahawks? Apparently, there are two teams that play in MetLife Stadium. Three counting the Jets.
The Giants are on a three-game skid that has seen their two-game lead in the NFC East evaporate. After a 49-24 blowout loss in New Orleans, the G-Men trail the Cowboys by a game.
"One week after facing the 2009 Super Bowl champs," Tom Coughlin said, "we get the 2010 Super Bowl champs. Therefore, I can honestly say that 'Things are getting better.' But not our running game. We're quite adept at getting run out of stadiums; we just can't run in them."
Rodgers throws for 182 yards and two scores in the first half, as the Packers get a leg up early on the Giants and hold on for the win.
Green Bay wins 31-20.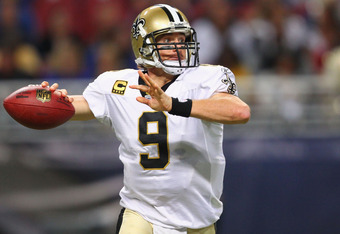 Dilip Vishwanat/Getty Images
St. Louis @ San Francisco (-13 1/2)
The 49ers look to rebound after Thanksgiving night's 16-6 loss in Baltimore, and the 2-9 Rams don't appear to pose much of a threat. With a win and Seattle and Arizona losses, San Francisco would lock up the NFC West division crown.
"Losing to Baltimore was a humbling experience," head coach Jim Harbaugh said. "But we proved we can hang with the best. Now, with four of our five remaining games against teams in the NFC West, we'll see if we can hang with the 'least.'"
The Rams have scored fewer points than all but one team in the league and average fewer than 13 points per game. The 49ers surrender only 14.6 points per game.
"I guess we'll find out what's more immovable," head coach Steve Spagnuolo said. "San Fran's defense, or our offense."
San Francisco wins 31-14.
Detroit @ New Orleans (-8)
The Lions will be without Ndamukong Suh, who was suspended two games for stomping on Green Bay offensive lineman Evan Dietrich-Smith in Detroit's 27-15 Thanksgiving Day loss to the Packers.
"Ndamukong is not a dirty player," head coach Jim Schwartz said. "That stomp was a Twister game gone very wrong—right foot on green. Ndamukong just has an odd way of donating to charity. In his defense, he did call Roger Goodell to apologize. It appears that Suh's apologies are much like his behavior—unacceptable.
"But I think we'll rally as a team without Suh. Without Ndamukong, we have no choice but to 'step up.'"
New Orleans wins 36-27.
San Diego @ Jacksonville (+1 1/2)
The San Diego Chargers struggles continued, as an early 10-0 lead over the Broncos turned into a demoralizing 16-13 overtime loss. Nick Novak missed the potential game-winning 53-yard field goal, and San Diego lost its sixth straight game.
"Just before the kick," Novak said, "you may have seen me relieving myself on the sidelines, under a table stocked with Gatorade 'P' Series. Or so it appeared. Actually, in honor of that great quarterback in Denver, I was 'Te-going.'
"But let's face it. The real bladder control issue here is Norv Turner's, because he's really 'got to go.'"
The Jaguars fired head coach Jack Del Rio on Tuesday after a 3-8 start. Del Rio was 69-73 in nine seasons in Jacksonville.
"Del Rio had to see this coming," Jaguars owner Wayne Weaver said. "I did, because I've been searching for his replacement for three years now. You know it's time for a change when your coach is referred to around town as 'Jack 'L' Rio.'"
Jacksonville picks a fine time to win one for Del Rio, but they do.
Jaguars win 16-14.