NFL Week 7: Predictions and Storylines for Each Game on the Schedule
October 20, 2011
Doug Pensinger/Getty Images
Note: The quotes in this article are fictional.
San Diego @ NY Jets (E)
The 4-1 Chargers are rested after a bye week, and they will travel to MetLife Stadium to face the Jets, who ended a three-game losing streak with a 24-6 win over the Dolphins last Monday.
"There's nothing wrong with an October trip to the Meadowlands," said Philip Rivers. "It's those January trips the Jets make to Quallcomm Stadium that are a problem. But this is not the Jets teams of old. Their confidence is shaken. The only 'swagger' they wear now is Old Spice, and they still stink. I'll do the trash-talking on Sunday, and I'll start by making a guarantee---than Rex Ryan will make a guarantee."
The Jets need a win to keep up with the Patriots, the AFC East pacesetters with a 5-1 record. New York's Monday night win capped off a week in which many people, players included, questioned the team's commitment.
"That's unacceptable," Rex Ryan said. "Nobody points fingers around here except me, and any acquaintance of Antonio Cromartie seeking child support. Unfortunately, determining culpability on the field isn't as easy as a paternity test. Joe Namath says I'm 'too nice?' Well, he's right. For our mediocre 3-3 record, I'm giving everybody credit."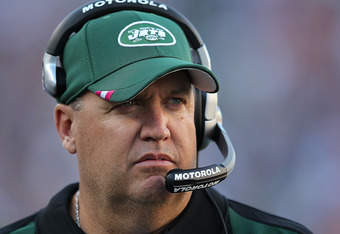 Jim Rogash/Getty Images
Hours before Sunday's kickoff, controversial photos of Rivers surface in the obscure Christian fashion magazine Je(sus)Q. In the spread, Rivers is seen wearing sensible khakis, accented with a Bible belt, and a cotton polo shirt. The uproar is over minutes later after a complaint from Mark Sanchez results in the mags being yanked from the newsstands.
San Diego's Vincent Jackson is matched up with Darrelle Revis, and gets stuck on "Revis Island," which limits Rivers' options. However, Malcolm Floyd visits "Cromartie Island," and as Cromartie's well-branched family tree can attest, everybody and her sister, once on "Cromartie Island," easily gets off.
Rivers throws for 246 yards and two scores to Floyd. San Diego wins 26-22.
Houston @ Tennessee (-3)
The Titans emerged from their bye week with sole possession of the AFC South lead after the Texans lost in Baltimore last week. With a win on Sunday at LP Field, the Titans would own the outright lead in the South.
"It's great when you can do nothing and still 'win,'" Chris Johnson said. "I should know. It's the only thing I've done well this year. My yards per rush average is not much to speak of, but it's way better than my yards per dollar average."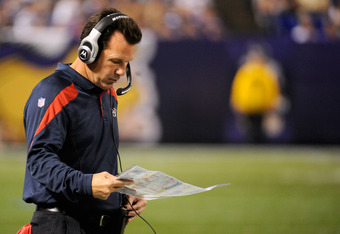 Hannah Foslien/Getty Images
After a 2-0 start, the Texans are 1-3 in their last four games, their latest loss a 29-14 defeat at the hands of the Ravens. However, with a win in Tennessee, Houston would again be on top of the AFC South.
"Does this team lack toughness?" Gary Kubiak said. "If a team is a reflection of their coach, then the answer is 'yes.' I can only 'go to war' one way, and that's with a deck of cards. Maybe I need to be more like Jim Harbaugh and Jim Schwartz and be more passionate. If we win, maybe I'll grab a handful of Mike Munchak's backside and tussle his hair, and see if that makes me a 'players' coach' in the eyes of onlookers."
Johnson breaks a hundred (dollar bill at a downtown Nashville strip club after the game), after rushing for 98 yards and a score. But a gutsy effort from Matt Schaub, who plays with a sore knee, leads the Texans to the win.
Houston wins 24-23.
Washington @ Carolina (-3)
After playing within himself for the first four weeks of the season, Rex Grossman finally played up to expectations, throwing four interceptions in Washington's 20-13 loss to the Eagles. Grossman was benched in in the fourth quarter in favor of John Beck, who led the 'Skins to their only touchdown.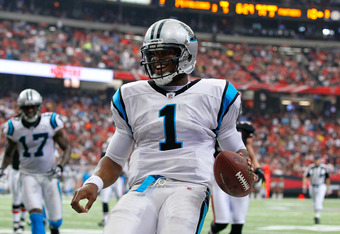 Kevin C. Cox/Getty Images
"That was the sorriest imitation of a quarterback I've ever seen," Mike Shanahan said. "That makes Grossman 'Rex In Affect.'
"No one ever said Rex was a 'game-changer. He's not. He's a 'season-changer.' That doesn't mean he's not my starter. I still have to evaluate game tape. If Rex hires an Academy Award-winning editor to edit the tape, then he may have a good chance to start."
The Panthers fell to 1-5 after last week's 31-17 loss in Atlanta. There's mounting frustration in Charlotte, and quarterback Cam Newton has not been afraid to express it.
"I may be a rookie," Cam Newton said, "but I'm not afraid to look a teammate in the eye and say, 'Yes, I did accept money to play at Auburn. And I also accepted money to play at Carolina. However, unlike many of my teammates, I've earned it. At both places.' If that's not leadership, then I don't know what is."
Beck gets the start, because Grossman is a "Loser," baby.
The Redskins bounce back and win 23-20 behind a gritty defensive effort that forces three turnovers.
Chicago @ Tampa Bay (-1 1/2)
The Bucs bounced back from week 5's humiliating 48-3 loss to the 49ers with a gutsy 26-20 win over the Saints last week, which put Tampa on top in the NFC South. They'll take on the 3-3 Bears in London's Wembley Stadium.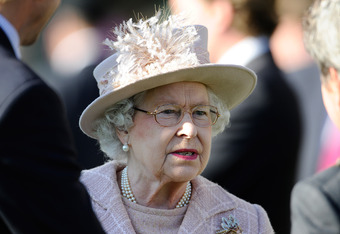 Alan Crowhurst/Getty Images
"Our lopsided loss to the 49ers was an aberration," Raheem Morris said, "much like Trent Dilfer with a Super Bowl ring, or Warren Sapp without a dip, or Jay Cutler with time to throw.
"We've played in London before, so we'll feel right at home. So at home, in fact, that the British royals have renamed their residence 'Buc-ingham Palace' for the week. Personally, I'm excited to meet Queen Elizabeth. I've never been with a Queen. She's never been with a black man. We could kill two birds with one stone if she'd allow be the honor of 'nighting' her. She is so money, and so monarchy."
Jay Cutler finds the going tough against the Buccaneers defense. Four sacks and two turnovers later, Tampa leaves the country with a 24-17 win.
Seattle @ Cleveland (-3)
The 2-3 Seahawks head to Cleveland's Dawg Pound, where the 2-3 Browns await. Seattle is second in the NFC West behind the 5-1 49ers, who, if the regular-season ended today, would have a playoff bye.
"If the playoffs ended today," Pete Carroll said, "the 49ers would win the division with five wins, just two less that we had last year in our 7-9, division-winning campaign. It's not often you can compliment a team for running away with the division, in week 7.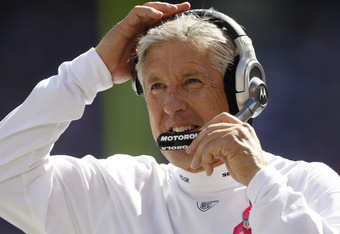 Rich Schultz/Getty Images
"I'm surprised that Jim Harbaugh took the time to stop patting himself on the back to pat someone else on the back. Jim Schwartz should be honored. I've had my run-ins with Harbaugh before. Once, after his Stanford team ran up the score on my USC team, I famously asked him 'What's your deal?' About a year-and-a-half later I found out---five years, $25 million. That's chump change. USC would have paid me that to leave had I not resigned."
The Browns are 2-3 after last week's 24-17 loss in Oakland, and are the only team in the AFC North with a losing record, good for last in the North and second in the NFC West.
"So, Pete Carroll is recruiting Lebron James?" said Pat Shurmur. "Carroll is the perfect man for the job. After all, he's recruited pro athletes for an amateur team before. And this is no different. There might not be an NBA season, which people probably wouldn't notice until after the Super Bowl, so it's possible James could join the team in some capacity. If he does, let's just hope ESPN doesn't make his signing a one-hour special."
Cleveland wins 23-16.
Atlanta @ Detroit (-4 1/2)
The Lions are no longer undefeated after the visiting 49ers and confident coach Jim Harbaugh vanquished Detroit 25-19 at Ford Field last Sunday. The Lions will face another team with an upset on their minds when the Falcons visit.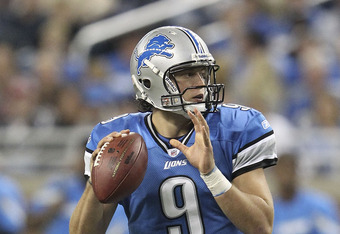 Leon Halip/Getty Images
"I like my hand like I like my martinis," Schwartz said. "Shaken, not stirred. I think it was obvious that after a loss in such an intense game, a handshake and a pat on the back was not what I needed. What I really needed was a hug. I came from Tennessee, birthplace of Elvis Presley. If I could get Presley to give Harbaugh a message, the King would sing 'Love Me Tender.'"
The Falcons leaned on workhorse running back Michael Turner to power past the Panthers 31-17 last week. As San Francisco showed, a power running game is one of the keys to beating the Lions.
"Detroit can expect heavy does of Turner," Mike Smith said, "and equally heavy doses of 'MSG,' which is the substance, totally legal, known as 'Mike Smith Goading' Jim Schwartz into a meltdown."
Turner powers for 110 yards and a score, and Matt Ryan throws for two touchdowns. Matt Bryant's 39-yard field goal gives the Falcons a 30-27 win.
After the game, Smith joy buzzes Schwartz in the post-game handshake, sending Schwartz stumbling off the field in a rage.
Denver @ Miami (-3)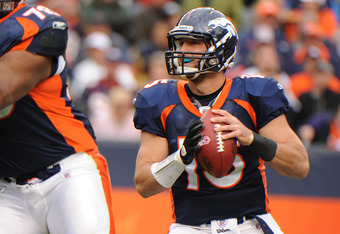 Bart Young/Getty Images
John Fox could abstain no longer from starting Tim Tebow, so Tebow's bible-thumping exuberance will be on display when the Broncos head to Miami to face the winless Dolphins. Tebow will start in front of Kyle Orton, who was inconsistent in Denver's first four games.
"Denver fans expecting a miracle," Tebow said, "may be disappointed, or just stupid. But have faith, Tebow Nation. Given that the city of Miami has a ridiculously low water table, I could conceivably walk on water after a good thunderstorm. What you're likely to see, however, is something equally as rare as a miracle, but not nearly as impressive. That would be my patented jump-pass, the most un-NFL maneuver in the NFL."
The 0-5 Dolphins are a team in need, although a savior is well down the list, after quarterback, coach, running back and mentally-stable wide receiver. Miami could manage only two field goals in last Monday's 24-6 loss to the Jets.
"First the good news," Tony Sparano said. "We've got a five-game losing streak. The bad news: that may just be the first of possibly three five-game losing streaks this year."
Brandon Marshall goes off against his former team, with seven catches for 147 yards and two scores. Tebow doesn't walk on water, and is only moderately successful running on grass.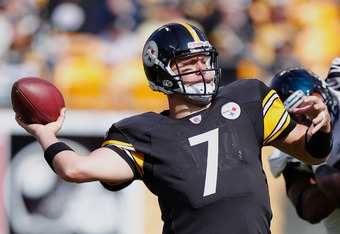 Gregory Shamus/Getty Images
Miami wins 26-21.
Pittsburgh @ Arizona (+4)
It's a rematch of Super Bowl 43, when the Steelers beat the Cardinals 27-23 in Tampa. While the Steelers are still led by Ben Roethlisberger and an attacking defense, the Cardinals bear little resemblance to 2008's NFC champions.
"That was then," Ken Whisenhunt said. "This is now. And, judging by Kevin Kolb's play, now is not a good time. If you've been paying attention to Kolb, you're obviously in the same boat as the Cardinals organization---you've been 'paying' too much for Kolb.
"I understand Ben Roethlisberger has fond memories of Arizona, particularly Lake Havasu during Spring Break 2002. Things won't be as hospitable for him this time."
The Steelers faced a surprisingly tough Jaguars team last week at Heinz Field, building a quick 17-0 lead and holding on for a 17-13 win. Pittsburgh is 4-2 and trails the Ravens in the AFC North.
"I don't think we'll be meeting the Cardinals in the Super Bowl this year," Mike Tomlin said. "In fact, I doubt we'll be meeting any team there."
The fired-up Cardinals erupt early, racing to a 13-0 lead. But the Steelers, led by Roethlisberger, come back late to take a 24-21 lead. Ryan Clark picks off Kolb to end the game.
Kansas City @ Oakland (-3 1/2)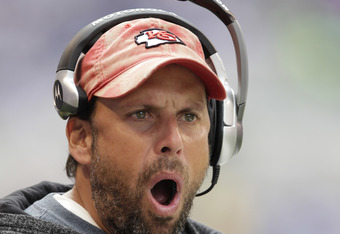 John Sommers II/Getty Images
AFC West rivals collide when the Chiefs invade O.co Coliseum, also known as the "'O' Hole," but more familiarly as the "Black Hole." Kansas City seeks their third win of the year after an 0-3 start.
"And I'm more familiarly known as the 'A Hole,'" Todd Haley said. "Or, at least to Matt Cassel. Matt and I have our differences, and one similarity—we're both only decent at what we do. I try to be respectful of my criticisms. Therefore, we practice a unique 'coach-quarterback privilege,' in which I don't tell anyone he's worth a damn.
"I hear that the Raiders need a quarterback. Big deal. When haven't the Raiders needed a quarterback? They've won Super Bowls without quarterbacks."
The Raiders beat the Browns 24-17 last week, but lost quarterback Jason Campbell for the year due to a broken collarbone. On Tuesday, Oakland acquired Carson Palmer in a trade with Cincinnati for two first-round picks.
"I never thought this would happen," Palmer said. "I didn't think Mike Brown would budge from his position. As it is, I'm going from one 'Black Hole' to another. I'd like to thank Brown for allowing this to happen. But mostly, I'd like to thank Andy Dalton for allowing this to happen."
Raiders win 22-15.
Green Bay @ Minnesota (+9 1/2)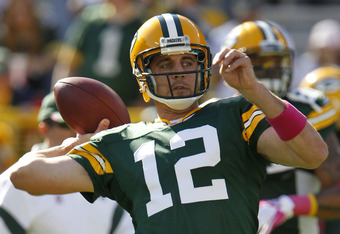 Matt Ludtke/Getty Images
After a 310-yard, three touchdown performance in a 24-3 win over the Rams, Aaron Rodgers has 17 TD passes on the year, putting him on pace to break Tom Brady's NFL record of 50.
"What's the difference between Brett Favre's shadow and that of Tom Brady?" Aaron Rodgers said. "Brady's leaves at sundown. Anyway, we're not looking past the Vikings to our Thanksgiving showdown with the Lions in Detroit. We can feast now, and feast later."
The Vikings are a disappointing 1-5 after Sunday night's 33-10 loss in Chicago. Adrian Peterson was held to 39 yards on the ground, and Donovan McNabb was again ineffective, held to 179 yards passing against a Bears defense that sacked him five times.
"Maybe signing a $100 million contract extension wasn't such a good idea," Peterson said. "Alas, I'm locked in to a five-year deal, and the trade deadline has passed as well. In essence, nothing has changed, because I have nowhere to run."
As the team's captains meet at midfield, the roof of the Mall Of America collapses under the weight of Vikings fan lowered expectations. Luckily, that means it drops only a few inches, and no one is hurt, or notices, for that matter. The Packers win the toss, and elect to receive, and elect to win.
Rodgers throws for 378 yards and four touchdowns, and Green Bay wins 35-20.
St. Louis @ Dallas (-10 1/2)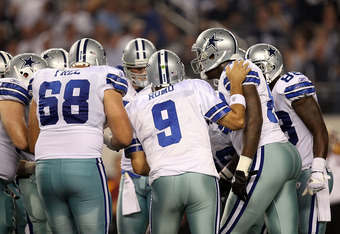 Ronald Martinez/Getty Images
The Rams managed a paltry three points in last week's 24-3 loss in Green Bay, adding to the misery of an 0-5 start. The Rams are averaging an NFL-low 9.2 points per game, decent for a backup power forward, but not in the offensive-minded NFL.
"That's 'Lloyd' with two 'L's,'" Steve Spagnuolo said. "And this team welcomes anything with fewer 'L's' than we.
"I think we've conceded the division to the 49ers. But that doesn't mean we can't improve our standing in the West. Third place seems like a reasonable goal. If we achieve that, we can comfortably call ourselves the 'Greatest 'Show' On Earth.'"
The Cowboys had the Patriots on the ropes last week, leading 16-13 late before Tom Brady engineered a game-winning touchdown drive. Dallas had the ball, a 16-13 lead, and full knowledge of Tom Brady's late-game brilliance, yet head coach Jason Garrett still chose the conservative route, with three running plays.
"That's Garrett's 'Puss' And Boots' game plan," Jerry Jones said, "which involved overly-safe play-calling that resulted mostly in field goals. Garrett essentially took the balls out of Tony Romo's hands. If Romo's balls aren't in his own hands, then they should be in mine."
If someone's not angry with Romo, then they're angry with Garrett, or Jones. Wisely, the 'Boys try a different approach, and get angry with their opponent.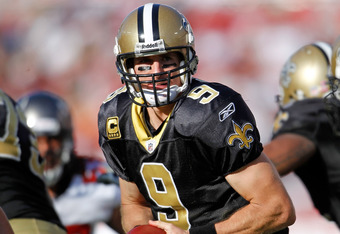 J. Meric/Getty Images
Dallas wins 27-13.
While a Curtis Painter-Drew Brees matchup at quarterback doesn't remotely compare to a Manning-Brees matchup, it is better than a Curtis Painter-Andy Dalton contest, which fans were treated to last week in Cincinnati.
"Curtis has learned what it takes to be an NFL starter," Jim Caldwell said. "That should serve him well next year, when he learns what it takes to be an NFL third-stringer, behind Peyton Manning and Andrew Luck. In actuality, we should call him 'Curtis Primer,' because pretty soon, he won't be seen again."
The Saints lost a physical 26-20 NFC South showdown in Tampa last week. In that game, New Orleans head coach Sean Payton broke his leg when he was hit by Saints' tight end Jimmy Graham.
"Coach got 'Plaxico Burress-ed,'" Drew Brees explained. "In other words, he was injured with a 'self'-inflicted wound."
Prior to the game, Manning gives Painter his one-sentence scouting report of the New Orleans defense: "Beware the slant to Reggie Wayne."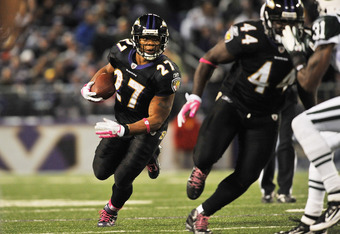 Larry French/Getty Images
New Orleans wins 30-23.
Baltimore @ Jacksonville (+9)
Rookie quarterback Blaine Gabbert faces the intimidating Ravens defense just one week after taking on Pittsburgh's unit in a 17-13 Jaguars loss in Pittsburgh. Baltimore ranks third in the league in total defense, while the Steelers hold the top spot.
"That's what I call a 'trial by fire,'" Jack Del Rio said. "And if we don't start winning soon, Wayne Weaver will fire me without trial, or hesitation.
"I hear John Gruden signed a five-year extension to remain with Monday Night Football. I wonder if Ron Jaworski will be around for five more years. Probably not. Five more years of biting his tongue, and he won't have one left."
Baltimore wins 23-12.