How Long Will It Take Philadelphia 76ers to Complete Rebuild?
Use your ← → (arrow) keys to browse more stories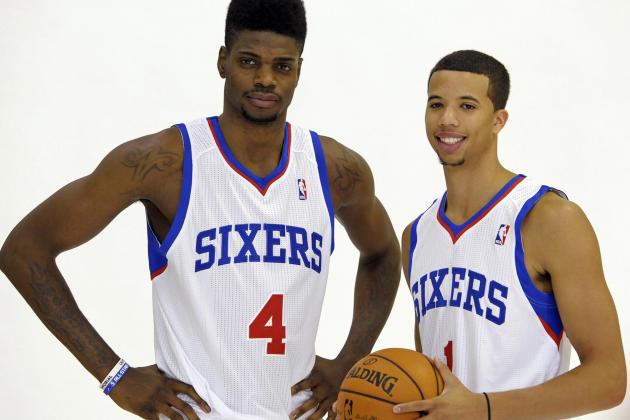 Eric Hartline-USA TODAY Sports
Nerlens Noel and Michael Carter-Williams are giving Sixers fans reason for long-term hope.
When the Philadelphia 76ers traded away All-Star point guard Jrue Holiday on the night of the 2013 NBA draft, it appeared to be the beginning of a long, painful rebuild.
Depending on how the chips fall this spring, that process may not take nearly as long as expected.
SB Nation's Tom Ziller expounded upon the Sixers' "new one-year rebuild" back on Jan. 3:
Hinkie has basically squeezed three years of a deep rebuild into one. Assuming Noel comes in strong and the 2014 draft works out properly, the Sixers could be good as soon as next season.

Think about it: unless the Pelicans make the playoffs ... the Sixers will have four lottery picks in two years, with one of those likely to be very high in one of the best drafts of the past decade. To get that many lottery picks, you usually need to be awful for multiple seasons.
So long as the New Orleans Pelicans don't strike lottery gold, Ziller's optimism is not misplaced. A core of Michael Carter-Williams, Nerlens Noel and two 2014 lottery picks would give the Sixers one of the brightest young foundations in the league.
As noted by Michael Levin of Liberty Ballers, this would be the closest replication to date of the Oklahoma City Thunder model, which entailed drafting Kevin Durant second in 2007, Russell Westbrook fourth in 2008, Serge Ibaka 24th in 2008 and James Harden third in 2009.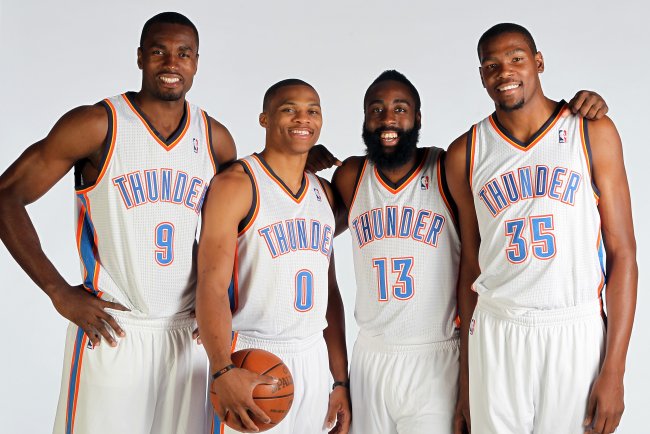 Layne Murdoch/Getty Images
Locking up four budding young stars on rookie contracts would set the stage for Philadelphia's takeover of the Atlantic Division for years to come.
The question is, assuming the Pelicans don't win the lottery, how quickly can the Sixers begin their ascent?
Based on the Sixers' projected cap room, Ziller believes it could happen as soon as the 2014-15 season. Assuming Jason Richardson opts into his player option, the team will have just under $28.5 million in cap space already committed for 2014-15, per Spotrac.com.
Below, here's what the Sixers' cap situation looks like:
| | | |
| --- | --- | --- |
| | 2014-15 Salary | Status |
| Thaddeus Young | $9,410,869 | Guaranteed |
| Jason Richardson | $6,601,125 | Player Option |
| Nerlens Noel | $3,315,120 | Guaranteed |
| Michael Carter-Williams | $2,300,040 | Guaranteed |
| Tony Wroten | $1,210,080 | Guaranteed |
| Arnett Moultrie | $1,136,160 | Guaranteed |
| James Anderson | $981,084 | Unguaranteed |
| Elliot Williams | $981,084 | Unguaranteed |
| Lorenzo Brown | $816,482 | Unguaranteed |
| Brandon Davies | $816,482 | Unguaranteed |
| Hollis Thompson | $816,482 | Unguaranteed |
| TOTAL | $28,385,008 | |
Spotrac.com
Add in the first-year salaries of the two lottery picks—variable based on which picks the Sixers land, but likely between $4-6 million—and the Sixers should be somewhere around $32-33 million in committed cap space.
Per ESPN salary-cap expert Larry Coon, the league's projected cap line for 2014-15 is $62.1 million. That would leave Philadelphia with right around $30 million in cap space during the 2014 offseason, assuming the team allows Evan Turner, Lavoy Allen and Spencer Hawes to walk as free agents.
That's not chump change. If Philadelphia's front office so desires, the team could be one of the major players in a free-agency period that might include LeBron James, Carmelo Anthony, Chris Bosh, Dwyane Wade and Dirk Nowitzki, among others.
Hence Ziller's optimism:
If Hinkie pulls it off -- that is, if he wants the Sixers to be good in 2014-15 instead of lagging behind to get another high pick -- he could rewrite the book on what rebuilding means. It doesn't have to be self-exile in the cellar for three or more years. Just one opportunistic disaster of a season is all you need if you play your cards right.
Does Hinkie intend on making major splashes during the upcoming free-agency period? Unless he's able to miraculously land LeBron, there's reason to be skeptical.
For one, as noted by Levin, the Sixers still owe a lottery-protected first-round pick to the Miami Heat as a result of the Arnett Moultrie draft-day trade in 2012. If Philadelphia makes the playoffs in 2014 or 2015, Miami will receive the team's first-rounder; otherwise, the Heat receive the Sixers' 2015 and 2016 second-round picks.
The 2015 draft class likely won't possess the same knock-your-socks-off star talent as the 2014 class, but there's a legitimate incentive for the Sixers to stay out of the playoffs for the next two seasons. If Philadelphia finds itself on the border of the playoffs late in the 2014-15 season, a last-second tankfest isn't out of the question, a la the Golden State Warriors in 2011-12.
On a more fundamental level, Hinkie and coach Brett Brown both appear to be pragmatists. They didn't go into this rebuilding process expecting a quick-and-easy fix.
During Brown's introductory press conference in August 2013, he acknowledged the harsh reality of his current situation: "We all know that the pain of rebuilding is real. We all will experience it. It isn't something that happens quickly. ... There needs to be a tolerance, there needs to be a patience."
Those aren't the words of a man expecting an expedited rebuilding process. He and Hinkie are in this for the long haul.
After all, the Thunder didn't suddenly transform into contenders overnight. From 2006-07 through 2008-09, they went 31-51, 20-62 and 23-59, respectively.
In Durant's third season (2009-10), the team finally began to take off, finishing 50-32 and losing in the first round of the Western Conference playoffs to the Los Angeles Lakers. In 2010-11, the Thunder advanced to the conference finals before falling to the Dallas Mavericks, then made it all the way to the NBA Finals the next season.
If Philadelphia hopes to follow a similar timeline, the team would miss the playoffs in 2014 and 2015 before starting its ascent during the 2015-16 season. By 2017-18, the Sixers could be legitimate championship contenders, right as LeBron James and Carmelo Anthony reach their mid-30s.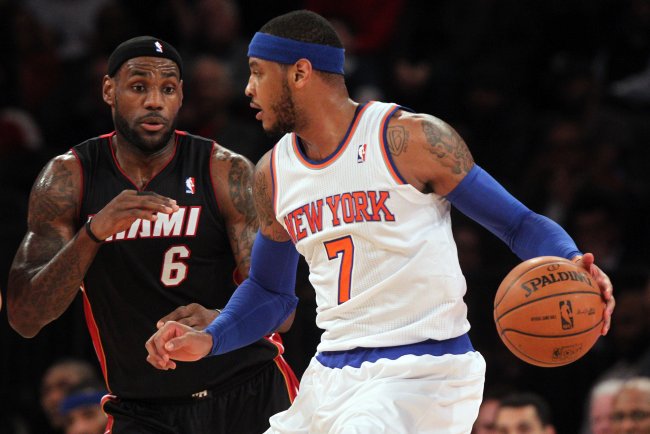 Brad Penner-USA TODAY Sports
When watching the Sixers give up a league-high 110.9 points per game, a one-year rebuild might seem appetizing. Splurging on a high-profile free agent in the 2014 offseason would likely expedite the rebuilding process. Given the relative weakness of the Eastern Conference, that could be enough to push the team into the 2015 playoffs.
That's not in line with the M.O. of Philadelphia's new leadership, though.
Instead, a three-year rebuild appears to be the most likely course of action for the Sixers. They wouldn't have to ship off a first-round pick to Miami in 2014 or 2015, allowing them to add another potential building block for cheap. It also gives Philly's young players an extra year to get acclimated to the rigors of the NBA's 82-game schedule, dissuading concerns about the "rookie wall" for Noel and the two 2014 first-round picks.
Once the 2015 offseason rolls around, the core of MCW, Noel and the two 2014 first-rounders should be enough to entice two potential free agents.
Even if the Sixers can't land someone like Kevin Love, LaMarcus Aldridge or Marc Gasol, signing a second-tier free agent to a reasonable contract (Paul Millsap, perhaps?) could prove equally beneficial.
A three-year slow build isn't as sexy as a one-year rise from the ashes, but that's the media's problem, not Hinkie's.
He only needs to focus on building a long-term championship contender, no matter how long it takes.