Power Ranking the Top 15 Quarterbacks in Fantasy Football for 2013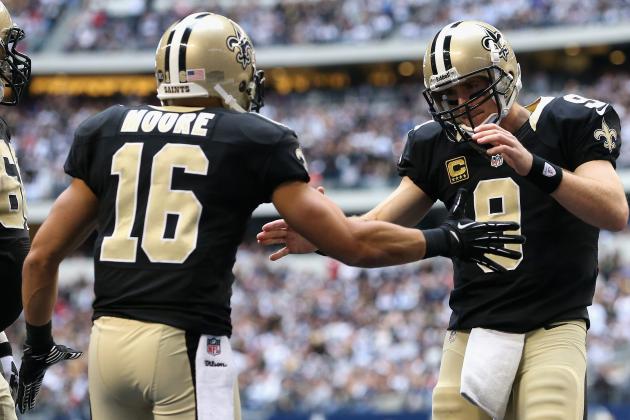 Ronald Martinez/Getty Images
Drew Brees (right) is one of the premier fantasy football quarterbacks.
The fantasy football season is fast approaching and it's time to start setting your targets for who to draft on your team.
In this edition, we reveal our predictions for the top 15 fantasy football quarterbacks. We take into account more than just passing yards and touchdowns. A quarterback's schedule, receiving corps and history all got factored into these rankings.
Start the slideshow below and we'll give you a surprise in the No. 15 spot.
Begin Slideshow

»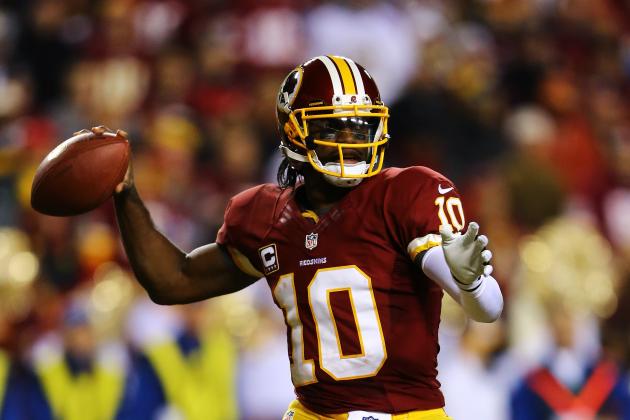 Al Bello/Getty Images
RG III comes in at 15th in our power rankings.
It's going to be a shock for some to see Robert Griffin III all the way down in the 15th spot. Yes, there is the issue of his recovery from knee surgery on his ACL and LCL, which can impact his mobility.
Knee issues aside, Griffin had some issues that showed inconsistency. Here's how. Griffin rang up 3200 passing yards with 20 touchdowns and five interceptions.
The numbers look good, but when you go deeper, something sticks out. He had two great games against Philadelphia and then Dallas on Thanksgiving (504 passing yards, 8 TDs, 1 INT).
But if you take those away, he never threw for more than two touchdowns in a game. He also broke the 250-yard barrier three times in the other games.
On the ground, RG III did his damage in the early season. He scored six rushing touchdowns in the first six games of the season and then was held out of the end zone until Week 17. That made his value drop a little bit as teams were able to be better prepared for him and keep him out of the end zone.
Add to his inconsistent play a potential sophomore slump and a shaky receiving corps (Pierre Garcon, Fred Davis, Donte Stallworth, Devery Henderson, et al.) and it all lands RG III in this spot.
Prediction: 3,058 passing yards, 18 touchdowns, 11 interceptions; 476 rushing yards, 5 touchdowns.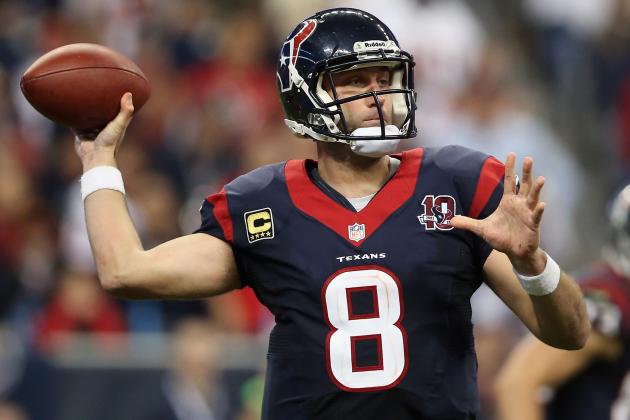 Ronald Martinez/Getty Images
Schaub has two great weapons in fantasy.
Houston quarterback Matt Schaub comes in at the No. 14 spot in our rankings, thanks largely due to his two top targets. Those are wide receiver Andre Johnson and stud running back Arian Foster. Tight end Owen Daniels contributes to a solid but lesser extent.
Schaub, like Griffin, had a pair of spectacular games last season but then a set of mediocre ones as well. Schaub lit up Denver in Week 3 with 290 yards and four touchdowns.
Then again, he had a poor game throwing for just 95 yards and a touchdown on a soggy night in Chicago on Week 9. Thankfully, he followed it up with 527 yards and five touchdowns in an overtime shootout with Jacksonville.
Schaub has better weapons that are more consistent than Griffin does, which is why he is ahead of him. The knock on Schaub is that he went down the drain when it mattered the most for his owners--the fantasy playoffs.
He threw for 926 yards with just one touchdown and three interceptions in the final four games of the season.
Prediction: 3,829 passing yards, 20 touchdowns, 14 interceptions.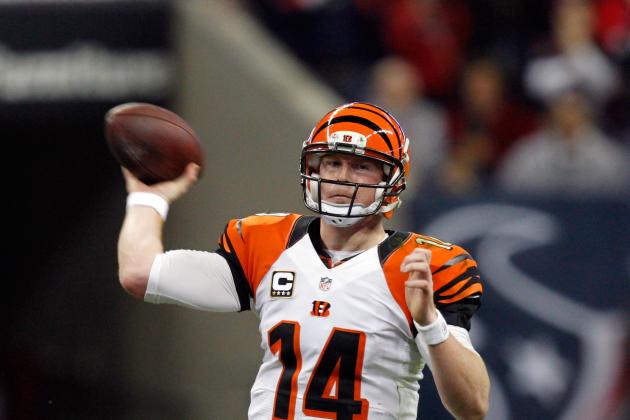 Bob Levey/Getty Images
The "Red Rifle" fired to one of the game's best receivers.
Checking in at the 13th spot is Andy Dalton of the Cincinnati Bengals. The third-year quarterback put up a solid season with 3,669 yards and 27 touchdowns with 16 interceptions.
Dalton was able to pick apart the teams with weak defenses but struggled with the tougher ones. For example, he put up 839 yards and nine touchdowns in three games against the Giants, Kansas City and Oakland in the month of November. He also threw for at least 315 yards and three touchdowns in each of the division games against Cleveland.
He also struggled in a midseason game at Pittsburgh where he threw for a paltry 105 yards with one touchdown and an interception.
Dalton has AJ Green on the receiving end of his passes and their connection is undeniable. Tight ends Jermaine Gresham and Tyler Eifert should give Green additional threats in the passing game.
Add to that a solid 1-2 punch on the ground with BenJarvus Green-Ellis and Giovani Bernard, and Dalton should be solid again in 2013.
Prediction: 3,923 yards, 30 touchdowns, 14 interceptions; 131 rushing yards, 4 touchdowns.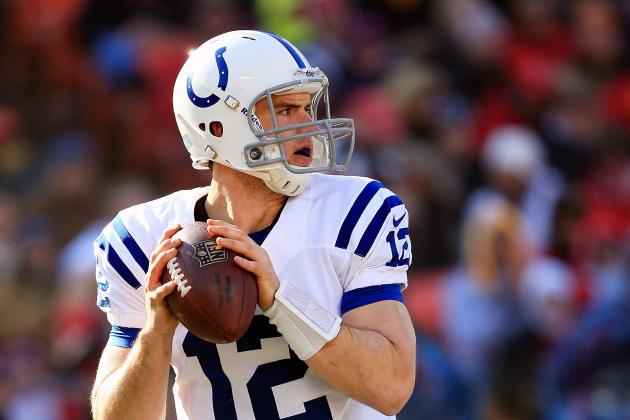 Jamie Squire/Getty Images
Luck had a strong rookie season for the Colts.
Andrew Luck had an impressive rookie season with the Colts. He threw for 4,374 yards and 23 touchdowns with 18 interceptions. Luck also added 255 rushing yards and five touchdowns as well.
Luck looks like he could have another season just like that with Reggie Wayne leading the way as his top wide receiver. T.Y. Hilton should provide a nice complementary threat as well, and Darius Heyward-Bey will give Luck a fast target downfield.
The only concern on Luck is that he faltered late in the season as he failed to break 210 yards in any of the final four games, but he threw for six touchdowns in those games. Don't count on him to carry a team with his feet either, as he didn't score a rushing touchdown past the November win at Jacksonville.
Now that teams know what to expect from him, he might not live up to the lofty numbers he put up last season. The Colts take on the AFC West and the NFC West, where strong defenses await them.
Prediction: 3,912 yards, 21 touchdowns, 20 interceptions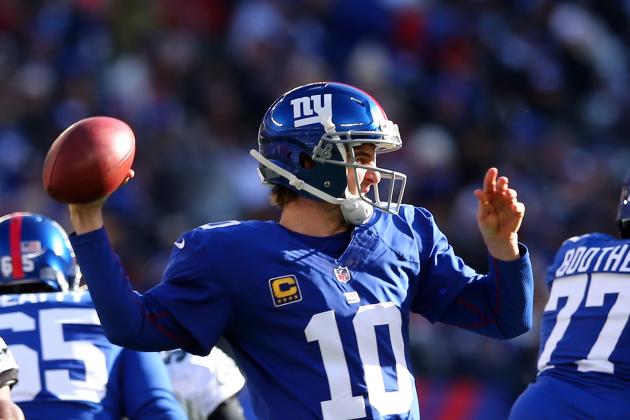 Elsa/Getty Images
Manning checks in at #11 on these rankings.
Eli Manning comes in 11th in the rankings. He has a pretty good pair of receivers in Victor Cruz and Hakeem Nicks, which helps him to this spot. The potential is there for him to have a good season with those two, and Rueben Randle should also contribute from the slot for the Giants.
Last season, Manning was a disappointment in the fantasy playoffs with 311 yards, one touchdown and two interceptions in two games. He then frustrated his owners with a 208-yard, five-touchdown game against the Eagles in Week 17 when most fantasy seasons were over.
Manning has the chance to get off to a good start with his first four games coming against Dallas, Denver, Carolina and Kansas City.
The Giants take on the Redskins twice in December and Manning put up 617 yards with two touchdowns and two interceptions against his divisional foes, so he might be able to sustain consistent production all season.
Projection: 3,688 yards, 24 touchdowns, 11 interceptions.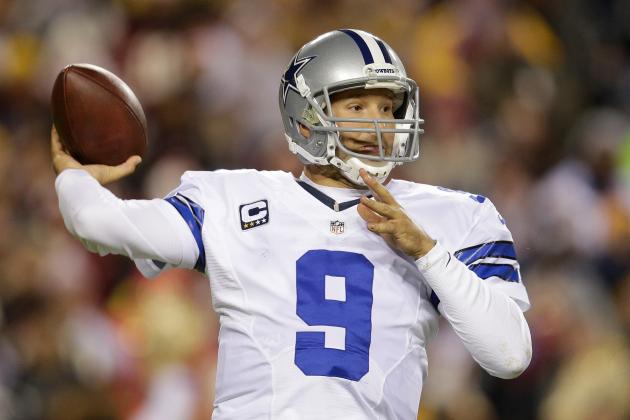 Rob Carr/Getty Images
Romo finished third in the league in passing yards last season.
Tony Romo finished third in the league in passing last season with 4,903 yards. When he has Dez Bryant, Jason Witten and Miles Austin to catch passes, Romo has three solid options in the passing game.
He threw a touchdown in every game except for the Week 3 win over Tampa Bay. The interceptions held Romo back last season, as he tossed 19 of them. Keep in mind that 12 of them came in three games (three against Washington, four against the Giants and five against Chicago).
He's finished as a top-eight quarterback in three of the last four seasons in fantasy football, but he may fall a little short of that this season due to the rise of the mobile quarterbacks later in the rankings. His inconsistencies can be frustrating to deal with and make some owners shy away.
Projections: 4,002 yards, 27 touchdowns, 19 interceptions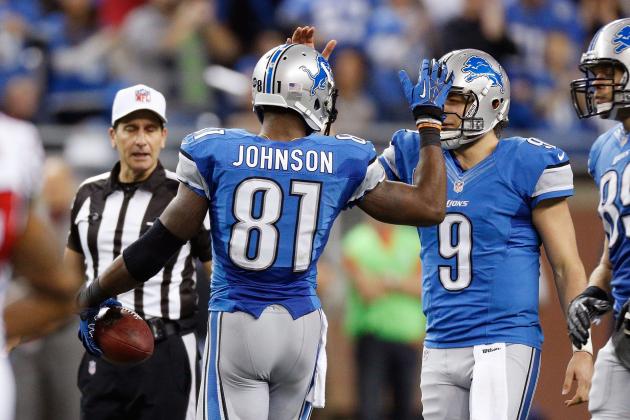 Gregory Shamus/Getty Images
Matthew Stafford (right) and Calvin Johnson are one of the best QB-WR duos in the league.
Matthew Stafford gets the same spot as his jersey number and it's not for the obvious reasons. Yes, Calvin Johnson is an incredible player who finished with a record-setting 1,964 yards but just five touchdowns. There's so much more that gives Stafford his value.
Stafford gets additional production from both of his tight ends, as Brandon Pettigrew and Tony Scheffler each added more than 500 yards last season. When you toss in the newly acquired Reggie Bush, Stafford has weapons all over the field.
The Lions will need to solidify their WR2 spot to see who can try and take some of the coverage off of Johnson. Nate Burleson has the early lead on grabbing the spot opposite Johnson.
Stafford has thrown the ball 1,390 times over the last two seasons and put it up 727 times last season. Some of them are bound to end up in receptions, and he should put up solid numbers again based solely on volume. And Calvin Johnson.
Prediction: 4,392 yards, 27 touchdowns, 18 interceptions.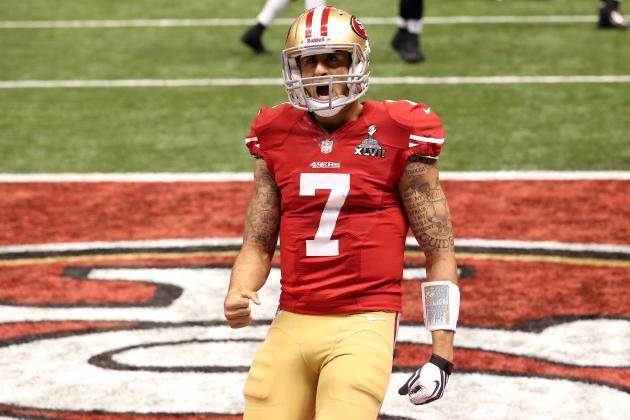 Ronald Martinez/Getty Images
Kaepernick celebrates a touchdown in the Super Bowl.
Colin Kaepernick led the 49ers all the way to the Super Bowl but fell just short of winning a world title. Despite that and losing Michael Crabtree to a torn Achilles' tendon, he still comes in at No. 8 in the rankings.
He had five games of seven starts with at least 18 fantasy points last season. Kaepernick can beat you with his arm and his legs, which makes him a rare commodity in fantasy.
Two things hold him back from being higher up on the rankings.We have yet to see how Kaepernick performs over an entire season. His numbers from last year, when computed over a whole season, look great (4,146 passing yards, 23 touchdowns, seven interceptions; 948 rushing yards and 11 touchdowns).
When you put it all together, he has the skill to succeed in fantasy. Add to that some easy games on paper (Arizona, Tennessee and Jacksonville in London before their bye) and he is primed for success in 2013.
Projections: 4,018 yards, 22 touchdowns, 11 interceptions; 696 rushing yards, 9 touchdowns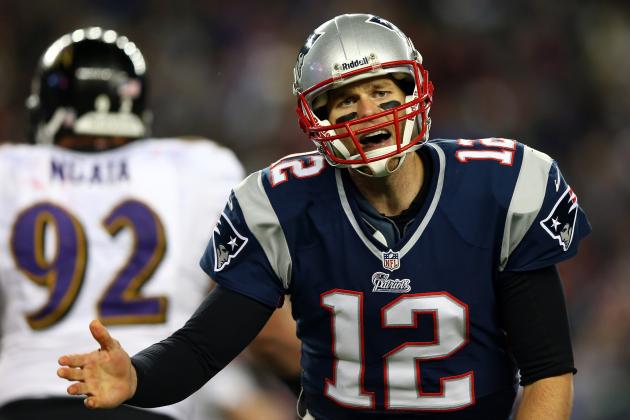 Elsa/Getty Images
Brady fits in at the seventh spot of these rankings
Tom Brady is seventh and it is not a typo. Brady has been on the pedestal of elite fantasy quarterbacks year in and year out. It looks like 2013 won't be one of those years.
Wes Welker is gone. Rob Gronkowski has undergone multiple surgeries this offseason. He's optimistic to be back for Week 1, but nothing is for certain with his recovery.
Brandon Lloyd is currently a free agent, so the Patriots might be without their top three receivers from a year ago. That's 21 touchdowns and 3,055 yards that are injured or departed from the New England roster.
So who's going to catch Brady's passes? Aaron Hernandez is still there and Danny Amendola came over from St. Louis in the offseason. Both players missed several weeks last season with injuries, so that vulnerability still exists.
Danny Woodhead jumped ship for San Diego, so the Patriots also lost their top pass-catching back.
Instead, it falls to Aaron Dobson, Josh Boyce and Donald Jones to carry the torch at the wide receiver position. We've seen Brady undergo changes in his receivers before and he's still performed well.
Projections: 4,222 yards, 36 touchdowns, 13 interceptions.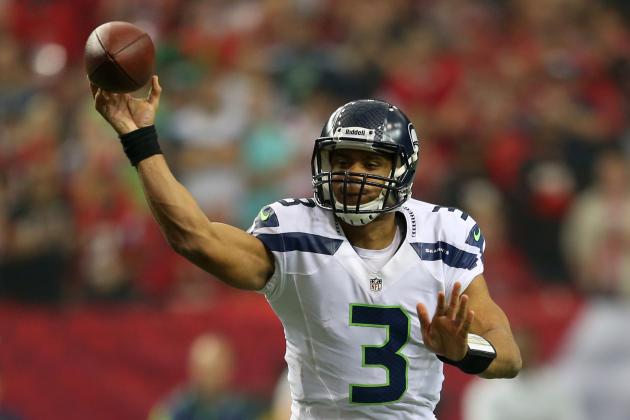 Mike Ehrmann/Getty Images
Wilson got a big weapon in Percy Harvin.
Russell Wilson comes in sixth in the rankings. He has that mobility that can change a game, but look for him to be more of a pure passer in 2013.
The Seahawks added Percy Harvin to their lineup and Wilson gets the benefit of having a top wide receiver to add to his offensive attack. Harvin will fit nicely with Sidney Rice and Doug Baldwin as wide receivers.
Add to that Marshawn Lynch in the backfield, and Wilson won't have as much pressure to run as he did last season.
Wilson finished last season with 3,118 yards, 26 touchdowns and 10 interceptions. He also added 94 carries for 489 yards and four touchdowns. Look for his passing numbers to go up with Harvin there and rushing numbers to fall back a little.
Projections: 3,422 yards, 29 touchdowns, 12 interceptions; 386 yards rushing, six touchdowns.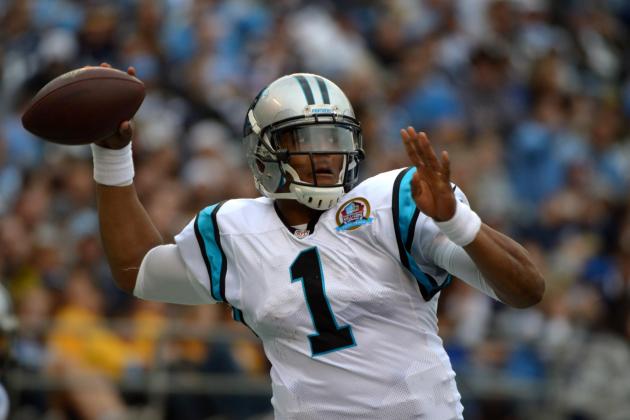 Donald Miralle/Getty Images
Newton is one of the best dual-threat quarterbacks in the game.
Cam Newton leads the pack of mobile quarterbacks and comes in at fifth in these power rankings. Newton led the Panthers in passing and rushing in 2012 and should do it again in 2013.
Newton showed improvement in his intermediate passing game but still needs to minimize turnovers to bump his value even higher. Of course, the fact he ran for 741 yards, a 5.8 yard per carry average and eight touchdowns last season is a major reason why people think so highly of him.
Newton should be able to perform just as well as last season but it's hard to see more of him in the passing game without having a solid WR2 who can contribute consistently.
Steve Smith finished with 1,174 yards receiving but only four touchdowns. Tight end Greg Olsen rolled up 843 yards and a team-best five touchdowns. After Brandon LaFell's four touchdowns and 677 yards, the Panthers have a sharp drop-off in the receiving corps.
Projections: 3,782 passing yards, 21 touchdowns, 16 interceptions; 812 rushing yards, 11 touchdowns.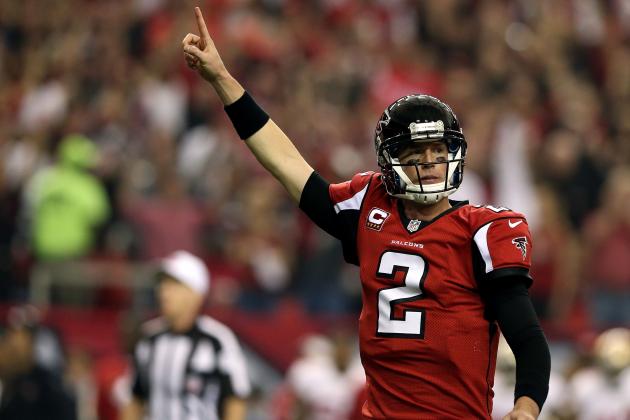 Streeter Lecka/Getty Images
Matt Ryan's fantasy value is going up.
Matt Ryan broke out with a career season last year. He posted personal bests in yardage with 4,719, completion percentage at 68.6 percent and touchdowns with 32. And he might even be better this season.
Atlanta jettisoned Michael Turner and picked up a younger, stronger Steven Jackson from the Rams to replace him with. Jackson has long since been used out of the backfield as a pass-catching back in addition to his pounding style on the ground.
Add Jackson to the mix with Roddy White, Julio Jones and Tony Gonzalez and you have a recipe for fantasy success in Atlanta.
Projections: 4,822 yards, 36 touchdowns, 8 interceptions.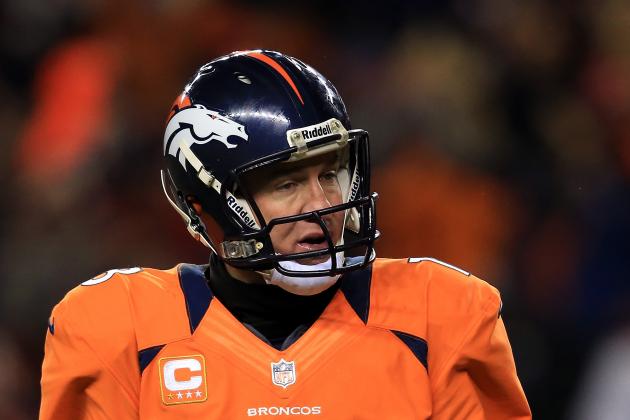 Doug Pensinger/Getty Images
Manning has weapons all over the field at his disposal.
Peyton Manning comes in third in these power rankings with good reason. He has Demarius Thomas (1,434 yards and 10 touchdowns) and Eric Decker (1,064 yards and 13 touchdowns) back again.
In addition, they added Wes Welker from New England (1,354 yards and six touchdowns) and Manning may have the best set of receivers in the league.
He showed last season that his age was not a factor and he has one of the best offensive lines in the league to protect him. Add to that the potential of rookie Montee Ball in the backfield and Denver will be piling up the points in 2013.
Projections: 4,908 yards, 42 touchdowns, 10 interceptions.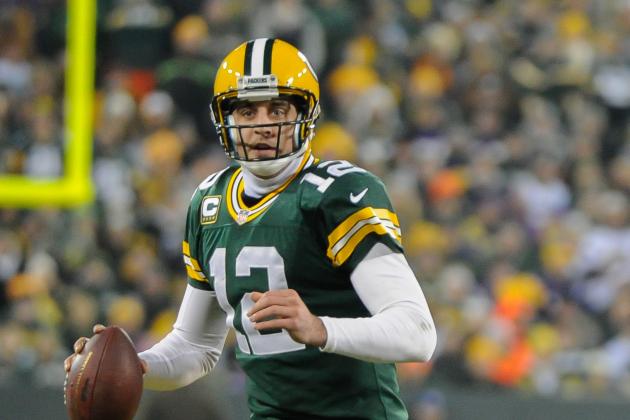 USA TODAY Sports
Rodgers is one of the premier passing options in the game.
You say the name Aaron Rodgers and the eyes of his fantasy owners light up. Part of it is his consistency year-over-year and the rest of it is that he can go off and post eye-popping numbers any given week.
He lit up Houston for 338 yards and six touchdowns last October. Rodgers was gold in the playoffs with 998 yards and 11 total touchdowns (10 passing) in the final three games of the NFL season.
Add in Jordy Nelson (745 yards, seven touchdowns), Randall Cobb (954 yards, eight touchdowns) and James Jones (784 yards and a league-best 14 touchdowns) and Rodgers has the tools to repeat his 2012 figures again in 2013.
If tight end Jermichael Finley can improve upon his numbers from last season (667 yards and two touchdowns), Rodgers might wind up as the No. 1 quarterback in fantasy.
Green Bay might also have a ground game to speak of as well with rookies Eddie Lacy and Johnathan Franklin competing for the starting job. That could open up the outside receivers with man coverage.
About the only thing against Rodgers is that his final two games are tough as the Packers take on Pittsburgh and Chicago in Weeks 16 and 17.
Projections: 5,118 yards, 43 touchdowns, 10 interceptions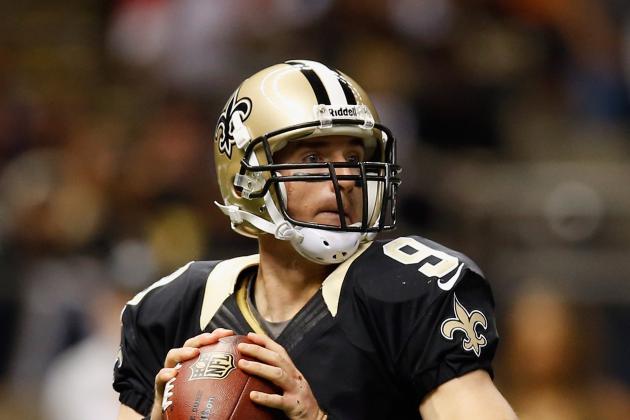 Chris Graythen/Getty Images
Brees stands at the top of our power rankings.
Drew Brees finds himself atop the rankings of quarterbacks in fantasy football. He has the weapons seemingly everywhere on the field and it becomes almost impossible for defenses to slow him down.
He threw for 5,177 yards last season and it made him the first player to throw for more than 5,000 yards for three seasons. Look for him to make that four after 2013. He threw for 43 touchdowns and tossed more than 40 for consecutive seasons. Again, look for that streak to continue in 2013 as well.
Between Marques Colston, Lance Moore, Jimmy Graham and Darren Sproles, it becomes a case of pick-your-poison for opposing defenses. Defenses can pick their poison, but we'd take Brees as the first quarterback off the board in the draft. That's why the Saints scored 24 points or more 13 times last season.
The other reason that Brees is so good is that the Saints' defense was so bad. The Saints allowed a gaudy 7,042 yards of offense and a next-to-last 28.4 points per game.
New Orleans needed to have Brees perform as well as he did in order to mask the defensive shortcomings. The Saints still finished at 7-9 despite all the offense and an 0-4 start.
Projections: 5,338 yards, 45 touchdowns, 17 interceptions