Ranking Every NBA Finals MVP Performance of the Past 20 Years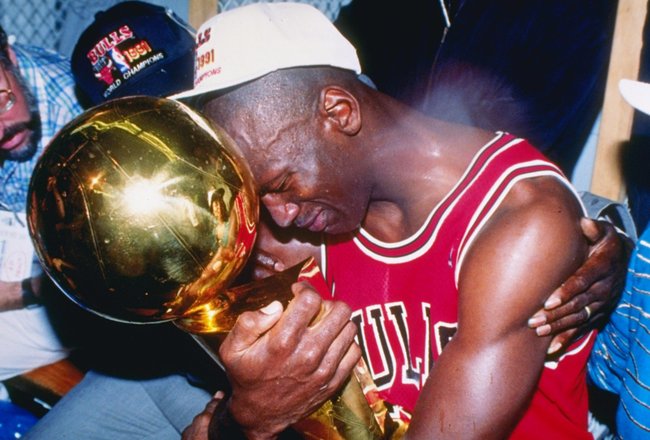 Michael Jordan won a record six NBA Finals MVP awards.
Ken Levine/Getty Images
The NBA Finals is the final hurdle between a basketball team and a championship ring. The magnitude of the moment inspires players to elevate their games to new heights, resulting in breathtaking performances and iconic moments. The great ones achieve immortality by leading their teams to a title and winning the Finals MVP award in the process.
Statistics are a useful tool for evaluating an MVP's performance, though they do not tell the whole story. Great players affect the outcome of games in a variety of ways that do not show up in box scores, and statistics often do not adequately account for specific game situations.
It is also important to examine a player's productivity in relation to the quality of his competition. I considered both the player's individual matchups in the Finals, as well as the overall capacity of the teams he faced.
Another factor worth contemplating is the level of talent each MVP had around him. It is more challenging for a great player to lead his team to a championship when he does not have other superstars to help carry the load.
20. Chauncey Billups, Detroit Pistons, 2005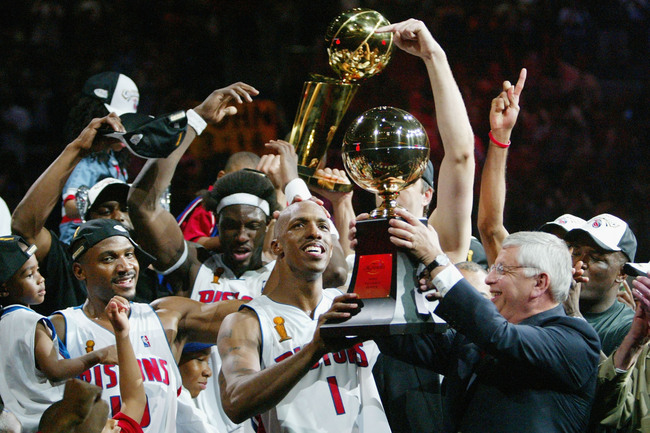 Chauncey Billups receiving the Finals MVP trophy from commissioner David Stern.
Elsa/Getty Images
The Detroit Pistons advanced to the conference finals six consecutive times in the mid-2000s and reached the pinnacle of success in 2004, defeating the Los Angeles Lakers in five games for their first championship since 1990.
Detroit was a physical team, built around an impenetrable defense anchored by Rasheed and Ben Wallace. The Pistons did not have a superstar, but relied instead on the collective effort of five all-star-caliber players.
All five Detroit starters averaged double digits in the '04 finals. Richard "Rip" Hamilton led the team with 21.4 points per game, though floor general Chauncey Billups walked away with the Finals MVP award. Billups averaged 21 points on 51 percent shooting and dished out 5.2 assists per game.
19. Tony Parker, San Antonio Spurs, 2007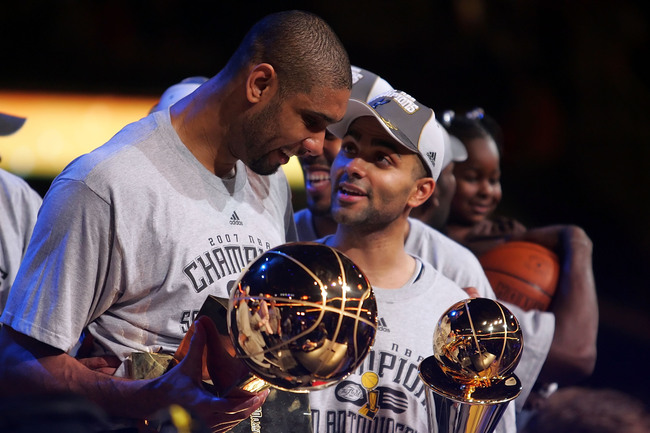 Tony Parker enjoyed a moment with teammate Tim Duncan after their third championship together.
Ronald Martinez/Getty Images
The San Antonio Spurs swept a far inferior Cleveland Cavalier team in the 2007 finals. LeBron James, just 22 at the time, had very little to work with. Cleveland's second and third leading scorers in the series were Drew Gooden and Daniel Gibson.
Tim Duncan was named Finals MVP in each of the San Antonio Spurs' first three championship seasons, but 2007 was Tony Parker's year. Cleveland had no answer for the speedy point guard.
Parker averaged 24.5 points, five rebounds and 3.3 assists against the Cavs. He shot a blistering 56.8 percent from the field and connected on 4-of-7 three-point attempts.
The Frenchman became the first European player to win the Finals MVP award. Duncan chipped in with 18.3 points, 11.5 rebounds and 1.3 blocked shots per game.
18. Paul Pierce, Boston Celtics, 2007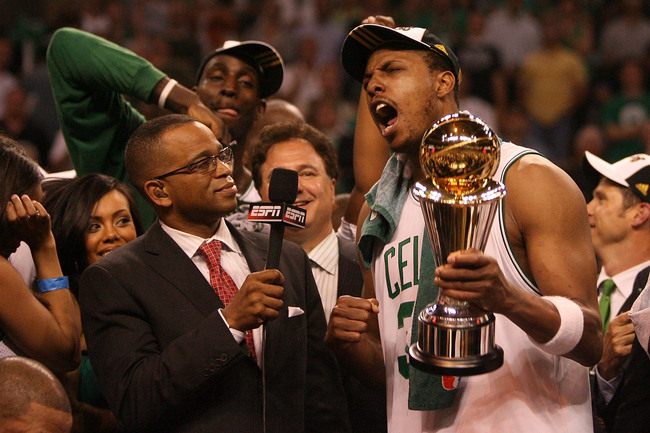 Paul Pierce rejoiced after receiving the 2008 NBA Finals MVP award.
Elsa/Getty Images
Kevin Garnett, Ray Allen and Paul Pierce did not take long to gel after joining forces as members of the Boston Celtics in 2007. Boston won a league-high 66 games in their first season together and secured the franchise's first championship since 1986 by defeating their arch nemesis, the Los Angeles Lakers, in the finals.
Paul Pierce averaged 21.8 points, 4.5 rebounds and 6.3 assists, while shooting 39 percent from behind the arc. Pierce was taken off the court in a wheelchair late in Game 1, then returned minutes later and connected on two momentous threes to lift the Celtics to victory. He scored 38 points in Game 5 and accumulated 10 assists in the decisive Game 6.
As spectacular as Pierce was, the MVP award could have gone to Garnett as well. KG averaged 18.2 points and 13 rebounds while anchoring the Celtics' defense.
17. Tim Duncan, San Antonio Spurs, 2005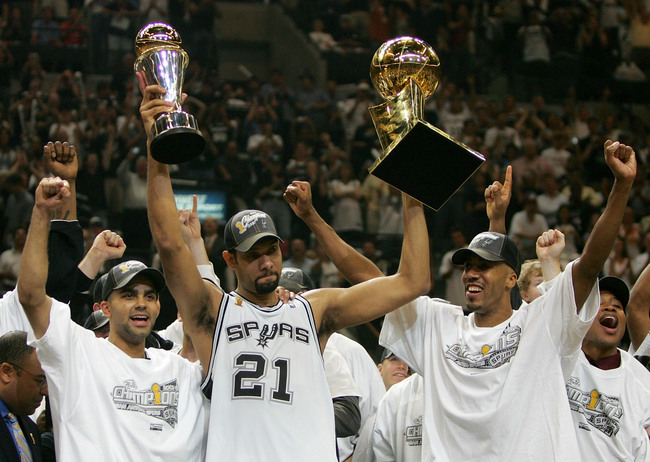 Tim Duncan celebrates with the rest of the Spurs after their 2005 championship.
Ronald Martinez/Getty Images
The 2007 NBA Finals was a battle between two of the best defensive teams in the league, the San Antonio Spurs and the defending-champion Detroit Pistons. The Spurs came out on top, winning Game 7 in San Antonio 81-74.
Tim Duncan managed 20.6 points and 14.1 rebounds against Detroit's Wallace brothers, Ben and Rasheed. He also blocked 2.1 shots per game.
His best performances came in Games 1 (24 points and 17 rebounds) and 5 (26 points and 19 rebounds). Little did Duncan know that it would take six years for him and his teammates to return to the finals.
16. Kobe Bryant, Los Angeles Lakers, 2010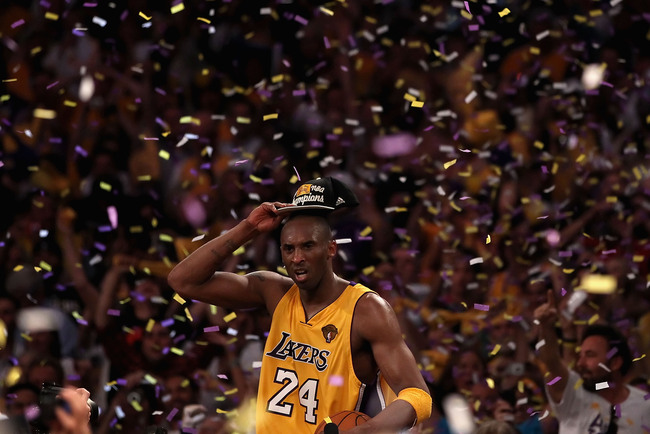 Kobe Bryant was on top of the world after winning his fifth championship.
Christian Petersen/Getty Images
The Los Angeles Lakers and Boston Celtics met in the NBA Finals for a record 12th time in 2010, with the Lakers avenging their 2008 loss to the Celtics by winning the series in a thrilling seventh game. Kobe Bryant earned his fifth title and second consecutive NBA Finals MVP.
The Black Mamba shot just 40.5 percent from the field, including 6-for-24 in Game 7, though still averaged 28.6 points against a stingy Celtics defense and found other ways to help his team. He grabbed eight boards per game and locked down Celtics shooting guard Ray Allen.
Despite his struggles in Game 7, Kobe scored 10 points in the fourth, giving him 23 for the game, and snatched 15 rebounds. Pau Gasol contributed 18.6 points, 11.6 rebounds and 2.6 blocked shots, and Ron Artest turned in 20 points for the Lakers in Game 7.
15. Tim Duncan, San Antonio Spurs, 1999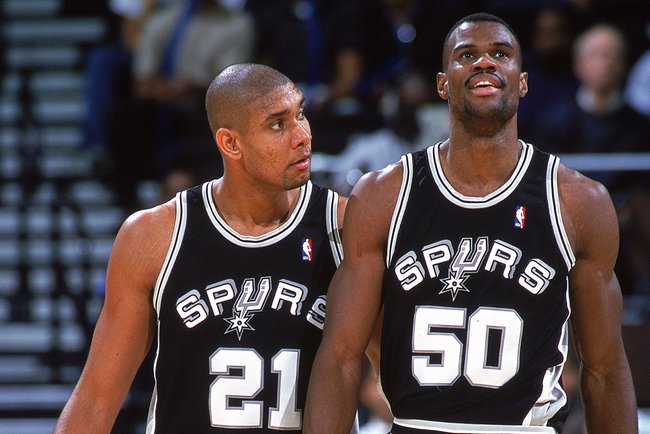 Tim Duncan and David Robinson were too much for a depleted Knicks team to handle in the 1999 finals.
Jed Jacobsohn/Getty Images
The San Antonio Spurs advanced to the finals in 1999 after earning the No. 1 seed in the Western Conference with a 37-13 record during the lockout-shortened 1998-99 season. Their opponent, the New York Knicks, made an improbable run after finishing eighth in the East and losing star Patrick Ewing to an Achilles injury in the second round.
The Knicks' depleted frontcourt was no match for the Spurs' twin towers, Tim Duncan and David Robinson. Duncan, in just his second season, had surpassed Robinson as San Antonio's go-to scorer and pounded the Knicks down low to the tune of 27.4 points on 53.7 percent shooting. He also added 14 rebounds per game.
San Antonio discarded New York in five games. Robinson delivered 16.6 points, 11.8 rebounds and 3.0 blocked shots, and Latrell Sprewell paced the Knicks with 26 points per game.
14. Dirk Nowitzki, Dallas Mavericks, 2011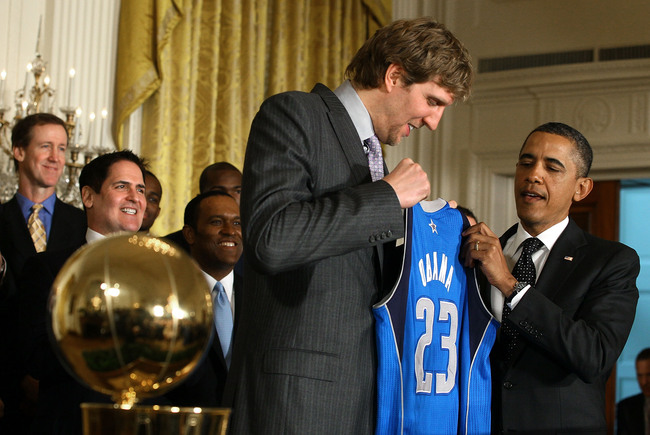 Dirk Nowitzki presented President Obama with a jersey during the Mavericks' trip to the White House.
Mark Wilson/Getty Images
Everything was going according to plan in the first season of the Miami Heat's "Big Three" era until Game 4 of the NBA Finals. LeBron James was the regular-season MVP. The Heat breezed past their first three playoff opponents, won two of the first three games in the Finals against the Dallas Mavericks, and appeared to be in control of Game 4 late in the third quarter.
Then the wheels fell off. James lost his nerve, and a more disciplined Mavs team came storming back behind the sensational shooting of Dirk Nowitzki. The German put on a clinic, hitting shots off one leg, fadeaways and off-balance jumpers from all over the court.
Nowitzki shed the label that he was soft by aggressively taking the ball to the basket. His driving layup with 3.6 seconds left won Game 2 for Dallas and he averaged 26 points and 9.7 rebounds for the series.
Nowitzki's shooting display was all the more impressive because he did not have a superstar teammate to share the burden with. Jason Terry was the Mavs' second-leading scorer with 18 points per game. Dwyane Wade led the way for the Heat with 26.5 per contest.
13. Michael Jordan, Chicago Bulls, 1996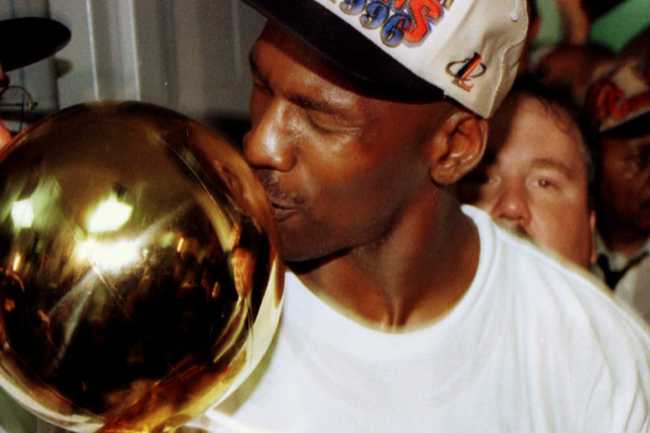 Michael Jordan's fourth championship had special meaning after his time away from the game.
Jonathan Daniel/Getty Images
The 1995-96 Chicago Bulls won a record 72 games and lost just one playoff game prior to the NBA Finals, where they met a Seattle SuperSonics team led by Shawn Kemp and Gary Payton. The Bulls jumped out to a 3-0 series lead before the Sonics knew what hit them.
Once again, it was Michael Jordan leading the way for the Bulls with 27.3 points 5.3 rebounds, 4.2 assists and 1.7 steals per game. MJ had to carry more than his usual share of the load, as his sidekick, Scottie Pippen, struggled throughout the series, shooting a dreadful 34 percent from the field.
Seattle stormed back to win Games 4 and 5. Then Jordan made sure that there would not be a seventh game, dropping 22 points and grabbing nine boards in the Bulls' Game 6 victory. Jordan's fourth championship held special meaning for him after his father's death and his time away from the game.
12. Hakeem Olajuwon, Houston Rockets, 1994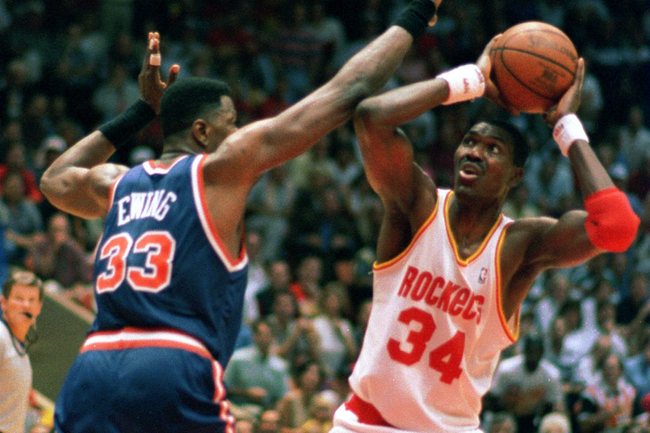 Hakeem Olajuwon outdueled Patrick Ewing in the 1994 finals.
Getty Images/Getty Images
The 1994 finals featured two of the greatest big men of their generation, Hakeem Olajuwon of the Houston Rockets and Patrick Ewing of the New York Knicks. Both centers were the No.1 pick in the draft (Olajuwon in 1984 and Ewing in '85) and the lone stars on their respective teams.
Olajuwon and his Rockets came out on top. The Dream scored 26.9 points per game, while holding Ewing to 18.9 points on 36 percent shooting. He outscored the Knicks center in all seven games of the series and chipped in 9.1 rebounds, 3.6 assists, 1.6 steals and 3.9 blocked shots.
It was a defensive play by Olajuwon that saved the series for Houston. He closed out on John Starks with feline quickness and got his fingertip on the Knick guard's potential game-winning three-pointer in the closing seconds of Game 6. Houston won 86-84 and went on to win Game 7.
11. Michael Jordan, Chicago Bulls, 1998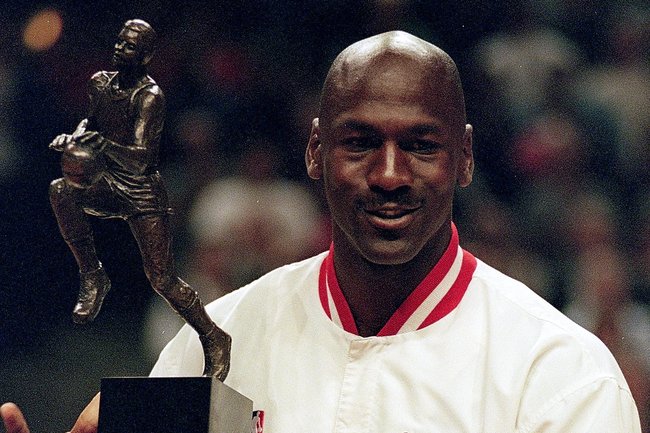 Michael Jordan won the regular season and Finals MVP awards in 1998.
Jonathan Daniel/Getty Images
1998 marked the end of the Chicago Bulls dynasty, and Michael Jordan and company went out on top, beating the Utah Jazz for their sixth championship in the 1990s. Jordan won his fifth regular-season MVP award and a record sixth Finals MVP trophies.
Chicago was tired after a grueling seven-game series against the Indiana Pacers, but Jordan would not be denied. He carried the Bulls at times, especially in the clinching Game 6, when an injured Scottie Pippen was limited to eight points.
Fittingly, Jordan secured the victory with a steal, followed by a pull-up 20-foot jumper over Bryon Russell, for his 44th and 45th points of the night, with 5.2 seconds remaining. The picture-esque follow-through on that shot has become the enduring image of Jordan's brilliant career.
10. Kobe Bryant, Los Angeles Lakers, 2009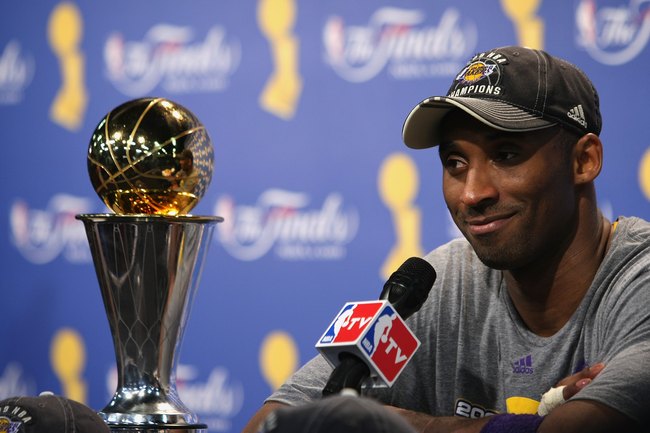 Kobe Bryant was all smiles after winning his first Finals MVP award.
Elsa/Getty Images
A knee injury to Kevin Garnett sidetracked an anticipated rematch of the 2008 Finals between the Boston Celtics and Los Angeles Lakers. Instead, the Lakers faced an Orlando Magic team centered around the young behemoth, Dwight Howard.
Kobe set the tone for the series with 40 points, eight rebounds and eight assists in Game 1. More than in years past, he trusted his teammates, delivering 7.4 assists per game, and they rewarded him with his first championship without Shaquille O'Neal.
Kobe averaged 32.4 points and 5.4 rebounds and went home with his first NBA Finals MVP award, which had been renamed the "Bill Russell NBA Finals Most Valuable Player Award" by commissioner David Stern a few months earlier.
9. Shaquille O'Neal, Los Angeles Lakers, 2002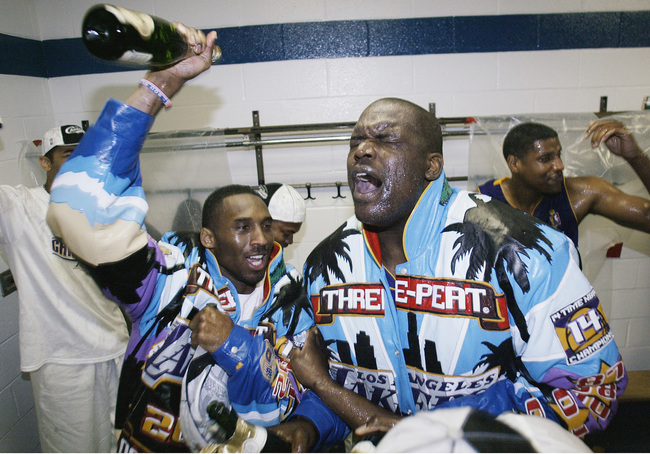 Shaquille O'Neal celebrates with Kobe Bryant after their third consecutive title.
Jed Jacobsohn/Getty Images
Shaquille O'Neal was unstoppable in the Los Angeles Lakers' sweep of the New Jersey Nets in the 2002 NBA Finals. The Diesel averaged 36.3 points, 12.3 rebounds and 2.8 blocked shots.
Only the quality of his competition prevented his performance from ranking higher on this list. Todd MacCulloch was the starting center for a mediocre Nets team that came out of a weak Eastern Conference.
Shaq also received more help from Kobe Bryant than he had in previous seasons, sparking a public feud between the two for alpha male status on the team. Bryant averaged 26.8 points, 5.8 rebounds and 5.3 assists in the finals.
8. LeBron James, Miami Heat, 2012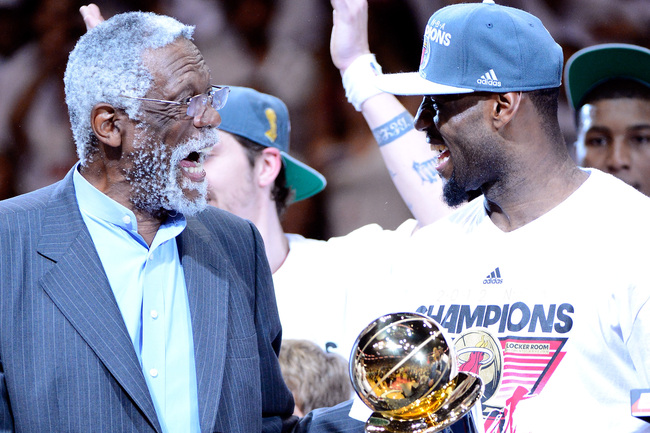 LeBron James received the Bill Russell Finals MVP award from its namesake.
Ronald Martinez/Getty Images
The Miami Heat's "Big Three" fulfilled their potential in their second season together, defeating the Oklahoma City Thunder in five games. LeBron James overcame the lack of confidence that plagued him the previous year and played the type of all-around ball that earned him his third regular-season MVP award.
James punished the Thunder in the post and covered the league's leading scorer, Kevin Durant, for much of the series. He turned in 28.6 points 10.2 rebounds and 7.4 assists per contest. Dwyane Wade and Chris Bosh added 22.6 and 14.6 points per game, respectively.
James had 29 points and 14 rebounds in Game 3 and willed the Heat to victory in Game 4 while playing through cramps in his legs. However, he saved his best for the decisive Game 5, serving up a triple-double with 26 points, 11 rebounds and 13 assists.
7. Tim Duncan, San Antonio Spurs, 2003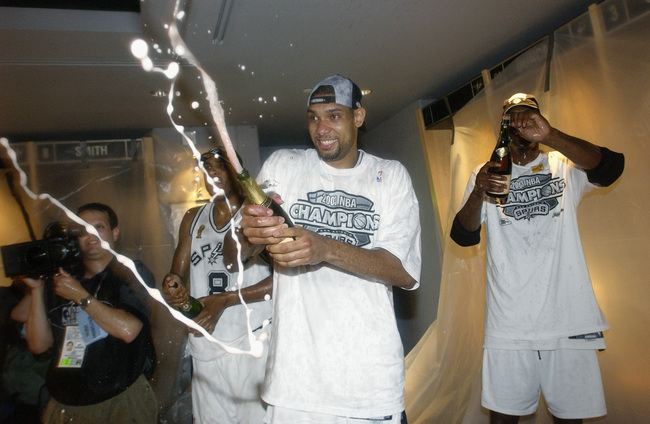 Tim Duncan popped champagne after the Spurs' second NBA title.
Ezra Shaw/Getty Images
The San Antonio Spurs dethroned the Los Angeles Lakers in the Western Conference before facing an inferior New Jersey Nets team in the finals. The series was rife with speculation that Nets guard Jason Kidd, who was in the last year of his contract, would sign with the Spurs in the offseason.
Tim Duncan had his way with Nets forward Kenyon Martin, scoring 24.2 points, grabbing 17 rebounds and dealing 5.3 assists per game. However, his biggest impact came on defense, where he blocked a remarkable 5.3 shots per game for the series.
Duncan had a huge Game 1, with 32 points, 17 rebounds and seven assists and nearly compiled a quadruple-double in the decisive Game 6, totaling 21 points, 20 rebounds, 10 assists and eight blocked shots. The victory served as a nice farewell present for Duncan's mentor, David Robinson, who retired at the end of the season.
6. Dwyane Wade, Miami Heat, 2006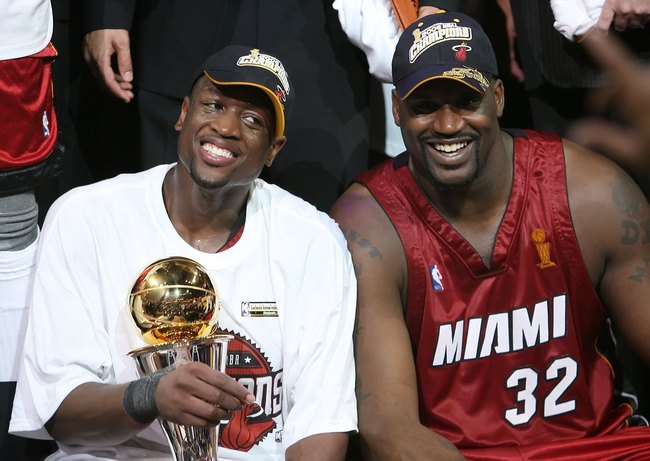 Dwyane Wade celebrated his first championship with teammate Shaquille O'Neal.
Ronald Martinez/Getty Images
The Dallas Mavericks had the Miami Heat on the ropes in the 2006 finals. Up 2-0, they had a 13-point lead with six minutes remaining in Game 3. Then Dwyane Wade did his best Michael Jordan impression and took over the series.
Wade scored 12 points in the final six minutes of Game 3, totaling 42 points and 13 rebounds for the game, and the Heat eked out a 98-96 victory. He followed that up with 36, 43 and 36 points in the next three games, all Heat victories.
The young shooting guard averaged 34.7 points for the series, over 20 points more than Miami's second-leading scorer, Antoine Walker (13.8). Wade also contributed 7.8 rebounds and 2.7 steals per game. Shaquille O'Neal added 13.7 points and 10.2 rebounds.
5. Hakeem Olajuwon, Houston Rockets, 1995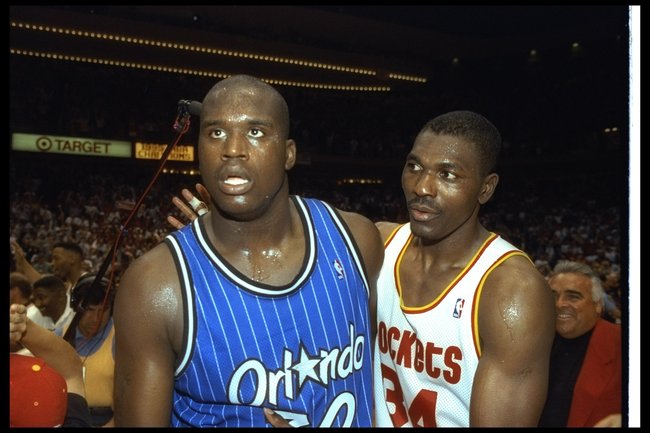 Hakeem Olajuwon got the best of Shaquille O'Neal in the 1995 Finals.
Getty Images/Getty Images
If there was still any doubt that Hakeem Olajuwon was the premier center in the NBA after he took down Patrick Ewing and the New York Knicks in the 1994 finals, the Houston Rockets big man put it to rest the following season. Olajuwon embarrassed regular-season MVP David Robinson with a series of "Dream shakes" in the conference finals. Then he set his sights on the league's leading scorer, Shaquille O'Neal.
Shaq's Orlando Magic were the No. 1 seed in the Eastern Conference and were favored against the Rockets in the finals. The series took an ominous turn for Orlando when forward Nick Anderson missed four free throws in the closing minute of Game 1. Olajuwon won the game by tipping in a missed finger-roll by Clyde Drexler with 0.3 seconds remaining.
Olajuwon followed that up with 35 points and 15 rebounds in Game 3, including a memorable three-pointer in Shaq's face. The Dream averaged 32.8 points, 11.5 rebounds, 5.5 assists, two blocks and two steals, compared to Shaq's 28 points, 12.5 rebounds and 6.3 assists in the Rockets' four-game sweep.
4. Michael Jordan, Chicago Bulls, 1997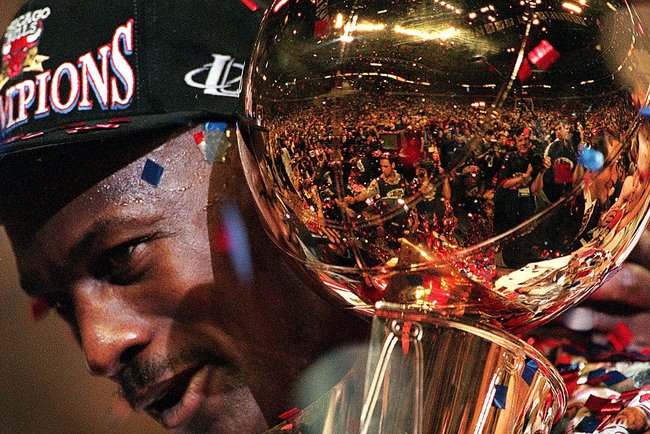 Michael Jordan with his fifth championship trophy.
Jonathan Daniel/Getty Images
Michael Jordan was so weakened by flu-like symptoms that he could barely make it up and down the floor in the pivotal Game 5 of the 1997 finals. Yet, somehow, His Airness played 44 minutes and dropped 38 points on the Utah Jazz, including 15 in the fourth quarter.
He also held shooting guard Jeff Hornacek to seven points on 2-of-11 shooting. MJ hit a three with 25 seconds remaining to give the Bulls the lead for good before collapsing into Scottie Pippen's arms.
Jordan also won Game 1 with a jumper at the buzzer and put up 39 points and 11 rebounds in the series finale, Game 6. It was a pass from MJ that led to the series-winning shot by Steve Kerr with five seconds remaining.
3. Shaquille O'Neal, Los Angeles Lakers, 2001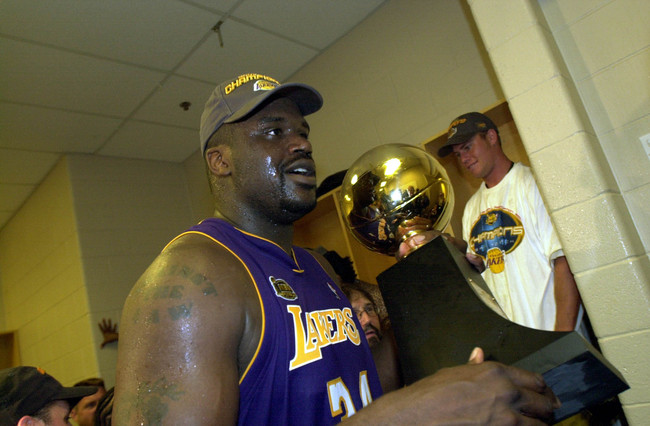 Shaquille O'Neal won his second NBA Finals MVP in 2001.
Ezra Shaw/Getty Images
The 2001 finals pitted the most dominant force in the game, Shaquille O'Neal of the Los Angeles Lakers, against four-time and current Defensive Player of the Year, Dikembe Mutombo of the Philadelphia 76ers. It was no contest.
The Diesel plowed through Mount Mutombo for 44 points and 20 rebounds in Game 1, the only game the Lakers lost in the entire postseason. Then Shaq flirted with a quadruple-double in Game 2, amassing 28 points, 20 rebounds, nine assists and eight blocked shots.
Shaq averaged 33 points, 15.8 rebounds, 4.8 assists and 3.4 blocked shots over the five-game series. Kobe assisted with 24.6 points, 7.8 boards and 5.8 dimes, and Allen Iverson scored 35.6 points per game in a losing effort, including 48 in the Sixers' Game 1 overtime win.
2. Michael Jordan, Chicago Bulls, 1993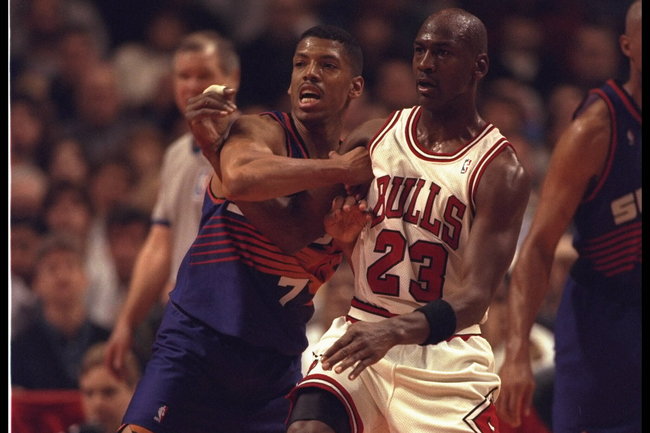 Kevin Johnson and the Phoenix Suns could not contain Michael Jordan in the 1993 finals.
Jonathan Daniel/Getty Images
The 1992-93 Phoenix Suns were one of the best teams over the past two decades not to win a championship. Led by regular-season MVP Charles Barkley and all-star point guard Kevin Johnson, the Suns won a league-high 62 games. Unfortunately, they ran into Michael Jordan in the finals.
Of Jordan's six finals, his performance in 1993 may have been the most spectacular. With Phoenix threatening to even the series at two, MJ scorched the Suns for 55 points in Game 4, tying Rick Barry for the second-most points in a finals game. (Elgin Barry had 61 points and 22 rebounds in Game 5 of the 1962 finals.)
Phoenix rallied to win Game 5 and held the lead late in Game 6. Jordan scored all nine of the Bulls' points in the first 11 minutes and 55 seconds of the fourth quarter. So when he drove to the hole with seconds remaining and the Bulls trailing by two, the entire Suns' defense collapsed on him. MJ passed to Horace Grant, who kicked it out to John Paxson for the championship-winning three-pointer.
Jordan averaged 41 points, 8.5 rebounds and 6.3 assists in the six-game series. His good friend Barkley put up 27.3 points, 13 rebounds and 3.5 assists for the Suns.
1. Shaquille O'Neal, Los Angeles Lakers, 2000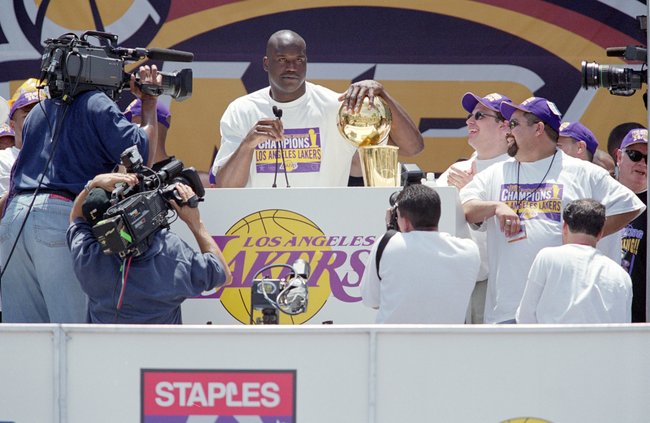 Shaquille O'Neal was the center of attention after the Lakers' championship in 2000.
Jeff Gross/Getty Images
Basketball fans from future generations who want to witness the potency of Shaquille O'Neal need only watch the 2000 NBA Finals. Tired of the criticism over his lack of a championship, Shaq pummeled Indiana Pacers big men Rik Smits and Dale Davis.
Kobe Bryant, still just 21 years old, had not yet approached his prime. The young shooting guard averaged 15.6 points per game in the finals. Shaq carried the Los Angeles Lakers on his own, pouring in 38 points on 61 percent shooting, snatching 16.7 rebounds and swatting 2.7 shots per game.
Shaq dropped 43 and 19 on the Pacers in Game 1. Helpless to stop him, Indiana coach Larry Bird implemented the Hack-a-Shaq strategy, sending the big man to the line 39 times in Game 2. Shaq made 18 of those free throws and finished the game with 40 points and 20 rebounds. He closed out the series with 41-point, 12-rebound performance in Game 6.
Keep Reading