5 Free Agents the Detroit Pistons Must Avoid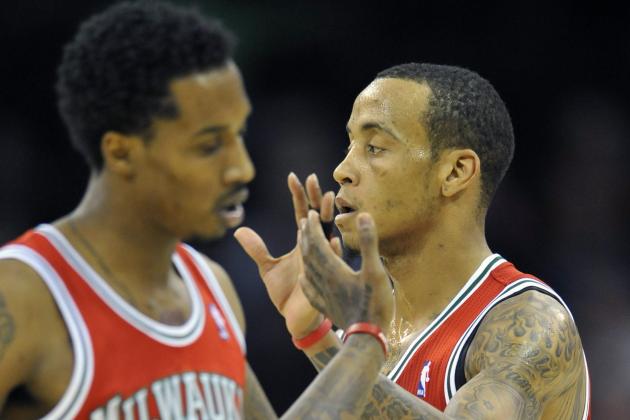 USA TODAY Sports
The Pistons must avoid high-scoring guards Monta Ellis and Brandon Jennings.
The Detroit Pistons will have over $20 million in cap space this summer, and their front office needs to be careful not to repeat the mistakes they made in 2009.
Similar to the summer of 2009, the 2013 free agent class is filled with good, but not great players. Beyond Dwight Howard and Chris Paul (who have shown no interest in playing in Detroit), there are very few All-Star caliber players available to the Pistons.
The Pistons have several good young players on the roster already, and there will be temptation to sign a big-name player in order to become a playoff team. Joe Dumars needs to have patience this summer and make sure to use their cap space on the right player, not just someone who fans will recognize.
Begin Slideshow

»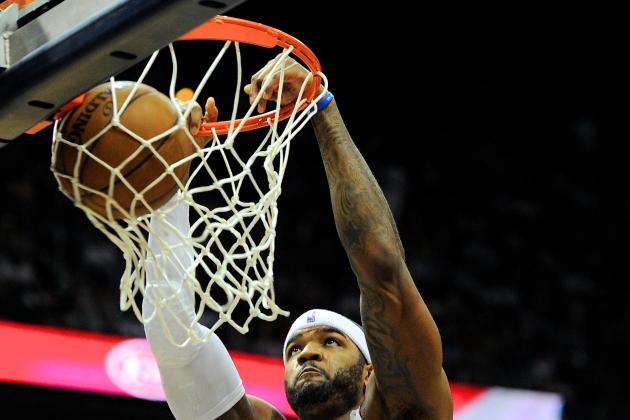 Dale Zanine-USA TODAY Sports
Josh Smith is a highlight machine, but he isn't a great fit for the Pistons.
Josh Smith is the third-best player available in this free-agent class. He is an elite athlete and has the talent to be a difference-maker on both ends of the court.
For the Pistons, however, Smith is not a great fit for the roster.
Smith's natural position is power forward; the Pistons' best two players, Greg Monroe and Andre Drummond, both play in the post. Smith can play small forward at times, but Smith shot just 30.3 percent from behind the arc this season, and the Pistons are already a poor shooting team.
If the Pistons plan to keep both Monroe and Drummond, there is just no room for Smith.
With only a finite amount of cap space, they have much more pressing needs on the wing and at point guard. They can't afford to give a max contract to a third starting-caliber post player when there are huge question marks at the other three positions.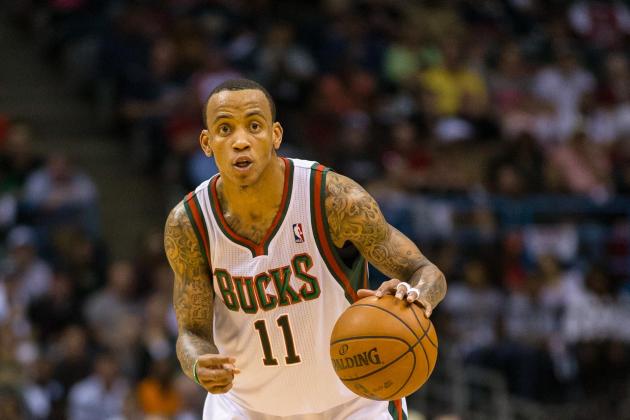 Jeff Hanisch-USA TODAY Sports
Monta Ellis is undersized and inefficient.
Monta Ellis has proved in his eight NBA seasons that he is one of the best off-the-dribble scorers in the league. Despite his small stature, Ellis has an incredibly quick first step and has the ability to hit pull-up jumpers or finish at the rim.
While the Pistons desperately need to find a wing scorer, Ellis is not the way to go. He is a shooting guard in a point guard's body, and the Pistons already have two combo guards on the roster.
Also, Ellis has the talent to score in bunches, but he is terribly inefficient. Last season, he had a PER of just 16.3, and he has never been above 19 in his career.
The Pistons need to improve offensively and have an opening at shooting guard, but they do not need to spend $10 million or more (he made $11 million per season over his last contract) on a player who played in just 15 playoff games in eight seasons.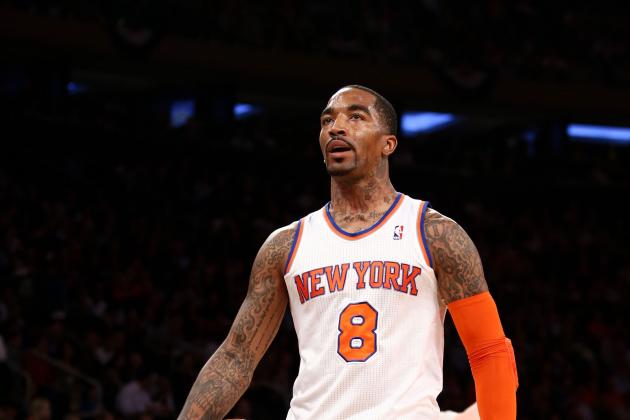 USA TODAY Sports
Smith is too inconsistent to deserve a big contract.
After years of failing to live up to his enormous potential, J.R. Smith put together the best season of his career in 2012-13.
He was the second-best player for a New York Knicks team that won 54 games, averaging career highs in points (18.1) and rebounds (5.3). He also showed consistent effort on the defensive end, something that had been a huge knock on him in the past.
Then in the playoffs, Smith showed teams why it is so risky to rely on him.
His scoring dropped to 14.3 per game, and both his field-goal and three-point percentages dropped significantly (nine and eight percent, respectively) from the regular season. Throw in his suspension for elbowing Jason Terry in the head, and it gave any team interested in signing him pause.
The Pistons do have a hole at shooting guard and badly need wing scoring, and Smith has the ability to score from the outside or at the rim. However, his inconsistent play in the playoffs and his off-court distractions make him far too risky of a signing for the Pistons.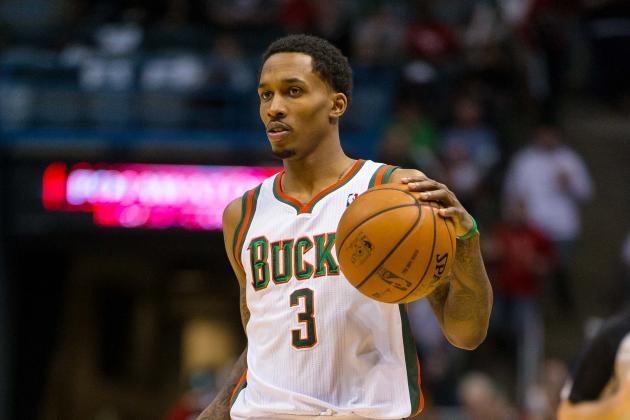 Jeff Hanisch-USA TODAY Sports
Brandon Jennings has not proven that he can lead a team.
If the Pistons don't believe that Brandon Knight can be their point guard of the future, they need to find a young player to grow with Monroe, Drummond and the player they select with the No. 8 pick in the draft. At just 23 years old, some people believe that Brandon Jennings could be that player.
If the Pistons are looking for a true point guard, Jennings isn't their guy. He has averaged 17 points per game throughout his career but just 5.7 assists. And in his 11 playoff games, his assists average dropped to 3.7.
Last year, young point guards Steph Curry, Ty Lawson and Jrue Holiday signed contracts averaging over $10 million per season. With his age and scoring numbers, Jennings will expect a similar deal.
For a player who has never averaged more than six assists per game, has a career field-goal percentage of 39.4 and is just an average defender (opposing point guards posted a 16.7 PER against him this season, per 82games.com), it would be hard to justify paying Jennings that kind of money.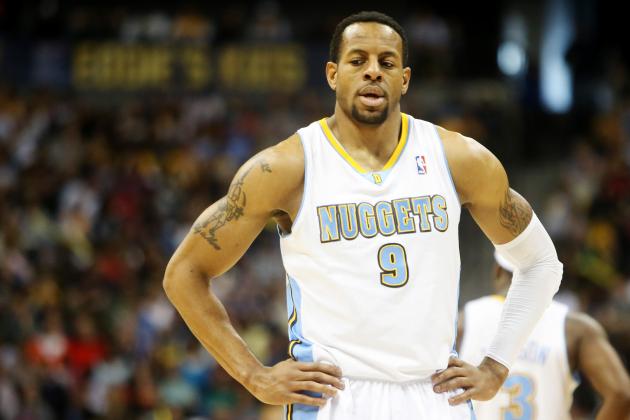 Chris Humphreys-USA TODAY Sports
Andre Iguodala is a valuable player, but he will fit better on a championship contender.
Last summer the Denver Nuggets traded for Andre Iguodala, one of the best wing defenders in the entire NBA. His scoring has dropped in recent years, but he has still proven to be a very good passer and rebounder (he averaged over five assists and rebounds this season).
Iguodala is the kind of player that every NBA team would like to have. Not only can he defend elite small forwards like LeBron James and Kevin Durant, but he can contribute offensively while not needing to score 20 points a night.
The problem with Iguodala for the Pistons is his age. Signing him will likely take a four-year contract worth over $10 million per year. He is just 29 now, but would be 34 at the end of such a contract.
Iguodala relies on his athleticism on both ends of the court, as he isn't a great shooter (he has shot just 32.9 percent from beyond the arc in his career). With his scoring already declining, it is safe to say that he will not be as valuable of a player in four years as he is today.
If the Pistons were poised to compete for a championship in the next two seasons, signing Iguodala could easily be justified. But the team has a core of players in Monroe, Drummond and Knight who will all be 23 or younger at the beginning of next season (the player they draft in June will be as well).
Signing Iguodala would improve the Pistons immediately, possibly enough to get them to the playoffs. But he will be well past his prime when they will be ready to contend in the Eastern Conference.
They need to use their cap space on a younger player who can develop with the rest of the roster.