Seattle Seahawks vs. Atlanta Falcons: 10 Players to Watch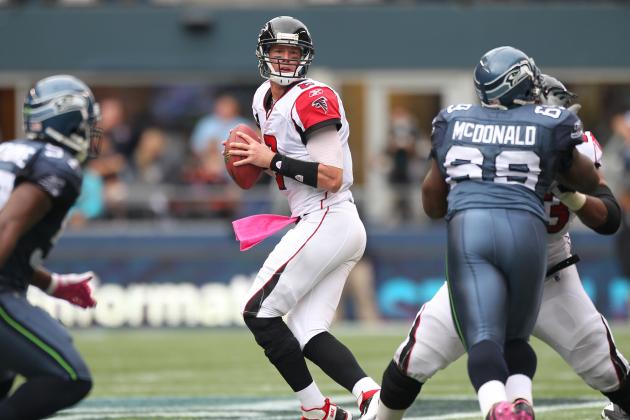 Otto Greule Jr/Getty Images
The pressure is on the entire Atlanta team, but Matt Ryan will be the center of attention
We do get to have one game that is a fresh matchup for the 2013 divisional playoffs. It has the Seattle Seahawks continuing their hot streak and starting to get a bandwagon going with their physical play. They are coming into this game full of confidence to continue this run, but they draw a team that has the most pressure going into the playoffs.
Regardless of what team you look at, no team needs a playoff win more than the Atlanta Falcons. Despite the accolades of five straight winning seasons, including being the first seed twice, they haven't won a playoff game, which has been well documented. The pressure is all on them to finally prove their legitimacy as a worthy contender.
Seattle really matches up with Atlanta well, but they are going to have to counter a loud Georgia Dome where Atlanta has been nearly unbeatable in over the past few seasons. Seattle has the intangibles to pull the upset with a great running game along with an elite defense, but can it beat the most consistent team in the NFC?
I'm going to break down five players on each team to watch for the most. It will be similar to what I did last month for the Giants vs. Falcons game. Instead of previewing obvious key match ups, I'll discuss star players and key role players.
Begin Slideshow

»
Otto Greule Jr/Getty Images
Lynch has been nearly unstoppable this season.
When you look at Seattle's offense, you may be impressed by Russell Wilson and his athletic ability but the offense's success revolves around Marshawn Lynch. Lynch has put together back to back strong seasons, after being constantly criticized about struggling with his consistency.
Lynch had nearly 1,600 yards this season and went over a hundred yards in 10 games this season. You hear about Adrian Peterson breaking records, but there are running backs like Lynch that have really put together an overall fantastic season. The threat of Lynch running makes the play action more effective for Wilson and it makes the entire offense function more efficiently.
Even though this isn't an occasion where the Seahawks don't need to keep the Falcons offense off the field, they need to get Lynch going. Seattle's defense can hold their own, but my issue is if Seattle can't score on Atlanta if Lynch doesn't have a big game. Atlanta has an under appreciated secondary that may not have gaudy pass defense numbers, but they know how to create turnovers and play much better at home.
When you look at how many great quarterbacks like Peyton Manning, Drew Brees and Eli Manning struggle against Atlanta on the road, it has to concern Pete Carroll. Seattle's game plan has to be to avoid 3rd and long, while continuing to pound the ball on a Falcons run defense that hasn't stopped many running backs this season. If Lynch can continue his "Beast Mode" streak, the odds of Seattle pulling the upset become much more realistic.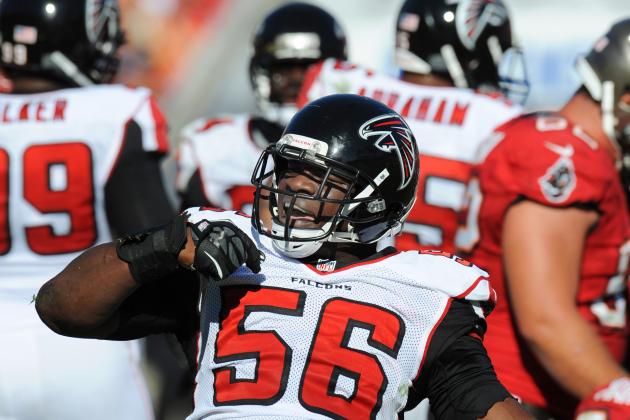 Al Messerschmidt/Getty Images
Weatherspoon continues to raise his game, then uses his infamous celebration on a weekly basis.
When it comes to 4-3 outside linebackers, it doesn't get much better than Sean Weatherspoon. Despite missing three games, Weatherspoon still grew into the Falcons leader and has become the star of the Falcons defense. His speed, size and hard hitting coverage skills has made him the complete package for the Falcons to put their trust in.
When he came back from the injury, it was clear that the Falcons got their swagger back and the results showed immediately starting in Week 12 against Tampa Bay. He was a major reason in helping to hold Doug Martin to just 50 yards on 21 carries. Then after Jimmy Graham had seven catches for 146 yards with two touchdowns when he was hurt, he only had four catches for 59 yards when Weatherspoon returned from injury.
He is a difference maker, but there hasn't been a bigger time when the Falcons needed Weatherspoon to play at a high level. With Marshawn Lynch running as hard as ever and Russell Wilson being a threat, they'll need his speed to be all over the field.
When the Falcons drafted Weatherspoon in 2010, it was games like this that they needed him for his speed. He may be an outside linebacker, but he is the most dependable linebacker on the Falcons roster. This is a game where we'll see how good Weatherspoon truly is because he hasn't gotten full recognition yet from around the league. This could very well be his game where people fully recognize how good he is.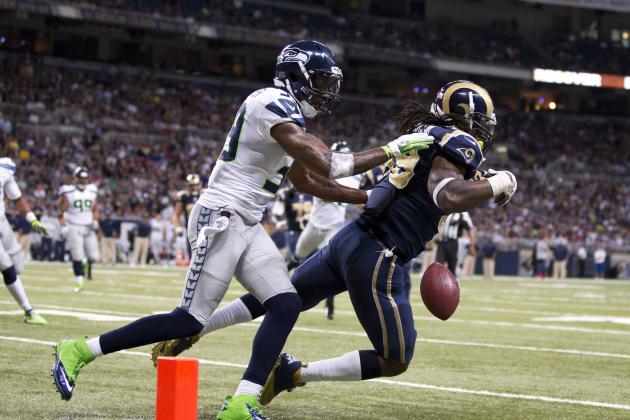 David Welker/Getty Images
Browner's physical ability has given wide receivers' games they would like to forget.
I'm impressed by Brandon Browner's size and his ability to get right into the face of a wide receiver. He doesn't shy away from contact and his 6'4" length makes him a physical specimen. Despite Browner's size and talent, Richard Sherman has become the shut down cornerback of the team.
The issue with Browner is that his aggressiveness has made him prone to double moves. It has been a problem on a few occasions and quarterbacks do tend to throw his way. Now Browner has responded from adversity with performances against teams with great receivers. His performances against Green Bay and Dallas stand out with how well he played against the likes of Dez Bryant and Jordy Nelson.
Similar to Weatherspoon, this is the biggest test of his career. No wide receiver duo is on the level of Julio Jones and Roddy White. With Roddy White, you have to deal with how good his route running is along with his ability to catch anything thrown to him. Then you have Julio Jones, who has the speed and physical stature to give Browner fits.
After the four game suspension ended, it's clear that Browner has been playing with a chip on his shoulder after the unfortunate suspension. After constantly trash talking with Pierre Garcon, it will be interesting to see if Browner tries that stunt on two star receivers like White and Jones. We all know how good Richard Sherman is, but now it's Browner's time to show that he can hang with two stars at wide receiver.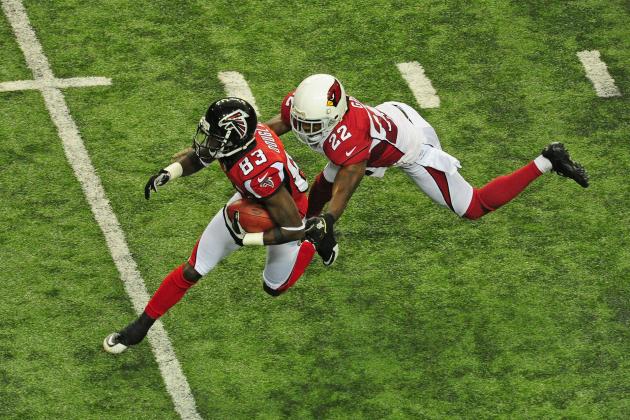 Scott Cunningham/Getty Images
Douglas' speed has made him an x-factor for the past few seasons, which could mean more targets.
For the past two seasons, when you break down a big Falcons game it seems like the same x-factor comes up. Harry Douglas always has flashes of explosiveness and gives the Falcons another weapon to use. The issue is when you have a core like Julio Jones, Roddy White and Tony Gonzalez it makes opportunities limited for Douglas.
The reason why Douglas being an x-factor is higher than ever is because the Falcons haven't faced a secondary as good as Seattle's in the past two seasons. With their cover corners, you'll see Douglas get targeted more than the usual two or three times.
With Marcus Trufant on the down side of his career, Douglas' speed could be a game changer if they leave him alone in coverage with Trufant. His issues deal with cornerbacks that play physical since he's very lanky and his route running isn't on the level that it should be.
He has his faults but similar to Jacquizz Rodgers, he is valuable in the passing game. His explosiveness is something that has to be accounted for. His stats may not be great with just 38 catches for 396 yards and one touchdown, but in a game that could get pass heavy, he'll get his opportunities. The Seahawks could have a problem on their hands if they forget about him.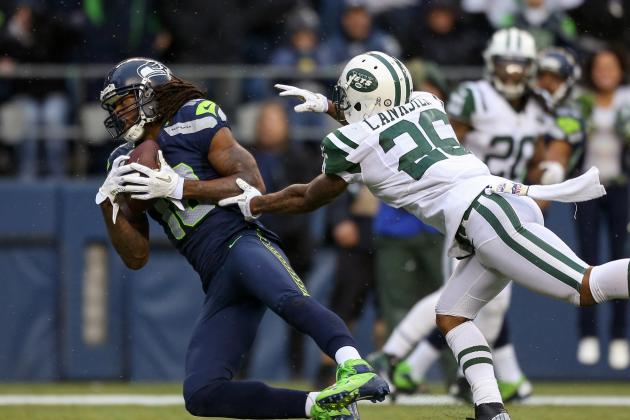 Otto Greule Jr/Getty Images
Rice needs to be more involved with the offensive game plan.
It's very odd to watch Sidney Rice on the Seahawks. It may seem like ages ago, but it was in 2009 when Rice had over 1,300 yards receiving. We've seen countless wide receivers have one hit wonder seasons, but Rice has always been a player with so much talent.
He gets the perception of being a receiver that tends to fade out of games, which is shocking considering his size and athleticism. Also let's not forget how much Seattle paid him to be the No. 1 receiver in the offense. I'm aware of the Seahawks having a run first offense, but Rice didn't have one game over a hundred yards, which is pretty alarming.
This game is going to be close and it's going to be a game where Russell Wilson will have to make plays with his arm. He hasn't been able to do that over the past month due to blowouts and catching a break against an injured Robert Griffin III. This is a game where I see that the Seahawks could very well be behind in the fourth quarter and will need to pass consistently.
Everyone knows that Rice can be a threat and can make big plays, but he needs to be more consistent. This isn't a game where he can get away with just having one catch like he did last week. It will be tough going up against the combination of Asante Samuel and Dunta Robinson, who both have had bounce back seasons. It will be a challenge but Rice will need to be productive in this game.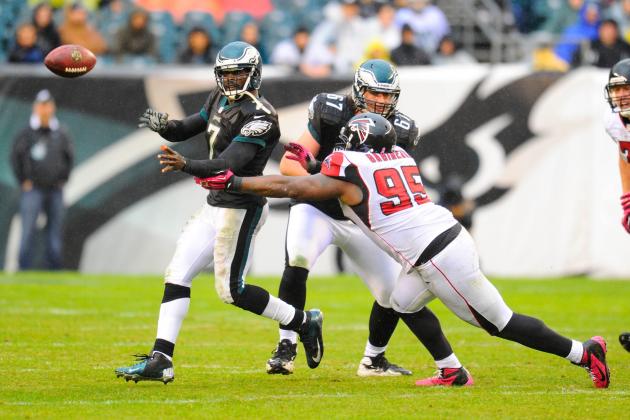 Dale Zanine-USA TODAY Sports
Babineaux has been one of the most under appreciated interior lineman in the NFL for years.
It has been an odd year for Jonathan Babineaux, but it has been a rejuvenated season for him after an injury plagued 2011 season. Since 2008, he has been the best interior lineman for the Falcons that constantly causes havoc in both the opposing team's running game and passing game. Injury slowed him down last season, but since he is 31 it could have been his last season in Atlanta this year if he wasn't productive.
With his ability to play at defensive end to go along with 3.5 sacks and eight tackles for a loss, he has been one of the top defensive players for the Falcons this season. With the team's struggles against the run, Babineaux has taken the role to play right defensive end on first downs to help stop the run.
They still have some issues, but the run defense has steadily improved with the change on first downs. He has proven to be versatile this season and has accepted his role with Mike Nolan knowing how dependable he has been for the franchise.
While the Falcons have faced the likes of Doug Martin and LeSean McCoy, they haven't faced a power runner quite like Marshawn Lynch. Similar to Weatherspoon, this is a game where Babineaux is going to be part of a front seven that has to limit Lynch's opportunities to get to the second level. Whether he's at defensive end or defensive tackle, look for Babineaux to be in the middle of everything on Sunday.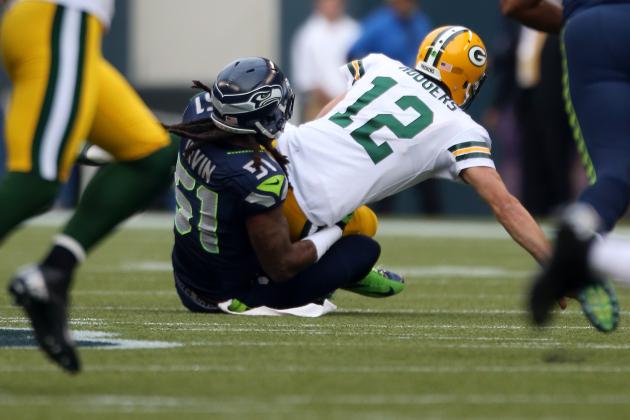 Otto Greule Jr/Getty Images
Irvin has shown flashes of Pro Bowl ability as a pass rusher.
When Bruce Irvin was drafted in the first round, many people were critical of that pick. He was considered to be a reach by many that was very raw and needed time to fully develop. Instead he's been a mild surprise with eight sacks this season and has given Seattle a boost in its front four.
The issue with Irvin is that he's very undersized at only 248 pounds and is being put in a role as a 4-3 defensive end. That is why he's only been mostly a third down player and a backup to Chris Clemons. With the major injury to Clemons, who's been their best pass rusher all season, this leaves Irvin in a starter role.
With Irvin being undersized and now in a starter role, this leaves him a target for teams to run towards his way. The Redskins had success with Alfred Morris and many people were quick to notice how they continued to run whatever side he was on the field. Even though Atlanta's running game is nowhere near as good as Washington's running game, they still have potential to cause some damage
Also with holding his own in the running game, Irvin will be called upon to get pressure to help out Seattle's secondary against Atlanta's passing attack. He's going to rotate going up against Sam Baker and Tyson Clabo, who are both solid tackles.
This is going to be a tough test for Irvin, but there is optimism within the Seattle franchise that he is going to be a star. I'm skeptical if he's ready to be a 30-to-35 snaps defensive end especially in a playoff game, but he has shown glimpses of being a star.
Rob Carr/Getty Images
Rodgers has become more than just a speed back.
In the offseason, the buzz around Atlanta other than having new coordinators was using Jacquizz Rodgers more in the offense. They saw him as a player that is explosive and can do so many things with the ball in his hands. With Dirk Koetter implementing the screen pass more in the game plan, Rodgers has been productive.
His rushing numbers don't blow you away at just 94 carries for 362 yards with one touchdown, but the offensive line hasn't opened many holes this season. Rodgers has had his moments on the ground, but it's been in the passing game where he has done most of his damage. It's not only from the screen game, but it's beating linebackers in coverage that has given Matt Ryan another target to throw to.
I'll always respect and remember Michael Turner for having a great career with the Falcons, but he's clearly finished. That is why Rodgers has become a player to watch because he's more likely to turn a three yard gain into a 12 yard gain. He'll make defenders miss tackles and he'll move the chains more than Turner.
With Seattle having a great defense, especially with its secondary, you'll see Matt Ryan be cautious throwing deep. I'm expecting Rodgers to see a lot of work and possibly catch at least five passes. I'm sure they'll try to run the ball as well to make sure they aren't completely one dimensional. The numbers may not be great, but Rodgers is going to be more used than Turner on Sunday and more relied on to make plays.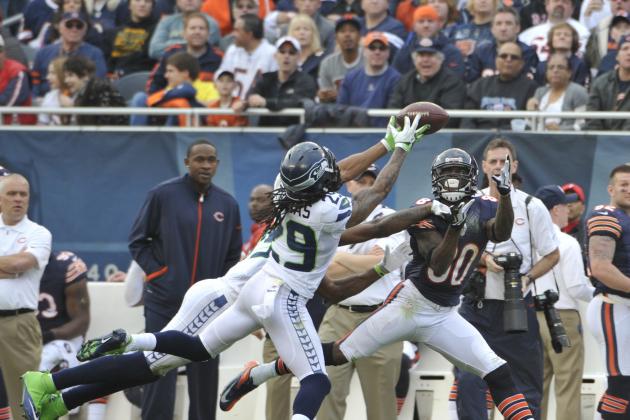 David Banks/Getty Images
Thomas ball skills to go along with his hitting has made him one of the best safeties in the league.
With Troy Polamalu injured and Ed Reed's play declining, there seems to be a lack of great safeties. If I had to choose the best safety in the league right now, it would be Earl Thomas. It's rare to see a safety that has so much range with his coverage abilities along with his tackling that always seems to make players go backwards.
When Thomas plays, it really draws comparisons to Polamalu. He may not freelance as much, but he is so deceivingly fast and rarely misses an assignment. He has been the most valuable player on the Seattle defense, to me. You could argue Richard Sherman, but to me Thomas has become the leader in the secondary despite only being in his third season.
The NFC West may be a great division, but it's lacking in the star quarterback department. They have been tested though including going up against Tom Brady, where Thomas had five tackles, two passes defended, and one interception. They may play in a weak offensive division, but the Seahawks secondary is legitimate and Thomas plays a big part in that.
Scoring off a pass of over 40 yards this season seemed like an every other week tradition of Julio Jones. Jones is a major threat and it'll be up to Thomas on numerous occasions to make sure he doesn't break another pass deep. He'll also have to deal with Tony Gonzalez, who is going to give Thomas all he can handle. For my choice of being the best safety in the league, he'll need to play like it to help the best secondary in the league try to stop the Falcons aerial assault.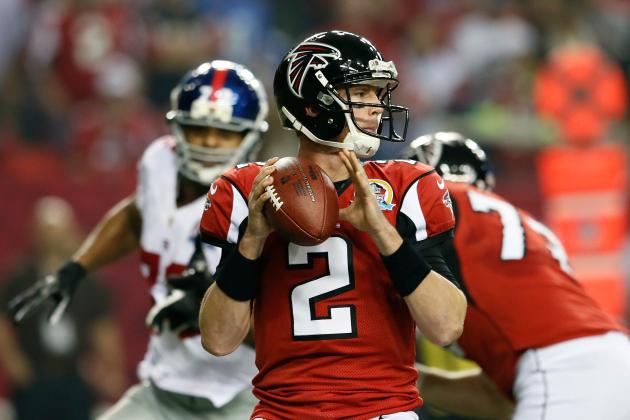 Kevin C. Cox/Getty Images
Ryan has put together an MVP caliber season, but now comes a new challenge he has yet to win in.
I've said that there will be some predictable choices and I've saved the best for last.
Everyone knows how much pressure is on Matt Ryan going into this game. He has underperformed in every playoff game and has been heavily criticized for that. Despite his great numbers in 2010 and 2011, this has easily been Ryan's best season while eliminating his weaknesses.
After his rookie season, he went through some bad phases despite the solid to spectacular numbers. In 2009, he tended to force the ball to Tony Gonzalez too much which led to a decrease in completion percentage. In 2010, he forced the ball too much towards Roddy White and that got Ryan into trouble at times. Then last season, he really struggled throwing the deep ball and there were major questions about his arm strength.
He overcame those obstacles and put together his best season yet. Now, here comes the next obstacle: the playoffs. Once again, he'll be going up against the hot team that has a great defense that knows how to get to the quarterback. It'll be up to Ryan to know when to take sacks because there were times when he threw interceptions while getting hit in the process.
He has grown into one of the best quarterbacks in the league and has really improved in all aspects of his game. I know people have standards on what truly is an elite player, but if he can lead Atlanta to victory, then it's safe to say that he cemented himself as an elite quarterback. It will be a very stiff test for him, but Ryan has delivered all season and hasn't shown signs of stopping.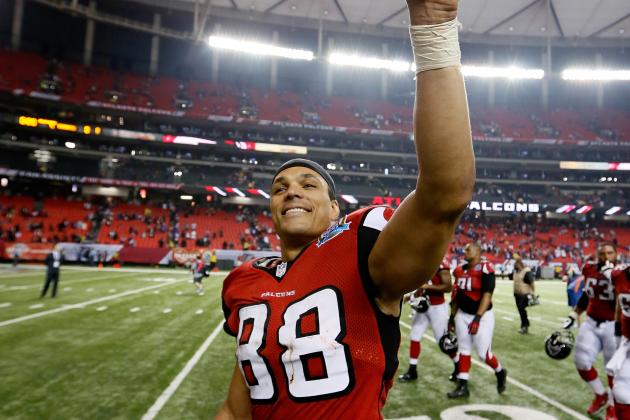 Kevin C. Cox/Getty Images
Gonzalez will finally get his first playoff win.
With San Francisco and Green Bay getting more buzz, there is no denying that this game is going to be a battle. It'll be very interesting to see how Seattle can play in a loud dome on the road. If Seattle can win, then I think that puts everything to rest on their road woes.
I'm pretty split on this game because Seattle really does match up well, but Atlanta is too good to lose. With all the pressure on them, they have the home crowd and they've been unbeatable in the Georgia Dome this season (minus the meaningless loss to the Bucs in Week 17).
Seattle has a great future and they are going to be a threat for years to come, but the passing game is going to let them down when they need it most. Some of the blame will go on Russell Wilson, but he's going to need a few upgrades in the passing game next season. Marshawn Lynch should have a productive game, but eventually the game will be a quarterback battle.
With Clemons out, I expect Ryan to put together a solid game without taking too many hits. I'm not expecting a huge game, but he should be efficient and make enough throws to his weapons to win. It won't be a flashy win for Atlanta but with the defense making timely stops on third down along with the passing game moving the chains, Atlanta will pull this game out to get the playoff "monkey" off their back.
Atlanta 23, Seattle 16

Allen Strk is a columnist on Bleacher Report. You can read more of my work at TJRSports.com covering the NFL, NBA, and MMA. You can follow me at @Allen_Strk on Twitter or e-mail questions/comments at AStrk19@gmail.com.