10 Players to Watch for During New York Giants, Atlanta Falcons' Game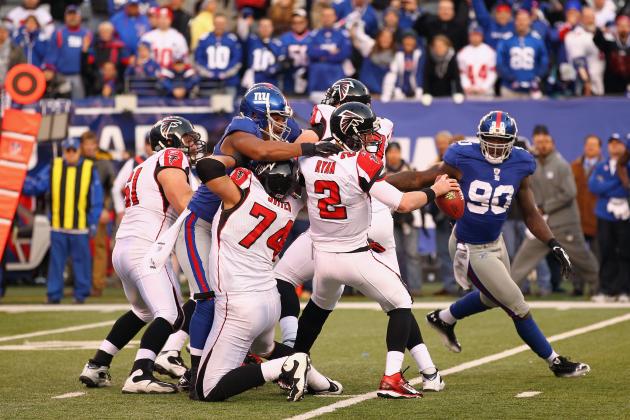 Al Bello/Getty Images
Will the Giants be all over Matt Ryan and the Falcons again?
The rematch of last year's NFC wild card game will be happening this Sunday with major playoff implications. The New York Giants vs. the Atlanta Falcons game could not be more intense. New York needs to keep on winning to keep their NFC East division lead. Meanwhile, Atlanta still needs a few wins to clinch the first seed. And they have not forgotten about their playoff loss last year.
Each team's records may be far apart, but everyone knows that New York is more than capable of beating Atlanta.
You cannot say there is a better receiver duo in the NFL than Roddy White and Julio Jones or Hakeem Nicks and Victor Cruz. Obviously the Giants pass rush sets them apart from Atlanta, but Atlanta's secondary evens things out. The defenses will allow scoring, but they also cause plenty of turnovers and are unpredictable with their alignments. The two teams are more alike than people realize — except one major thing: January.
In January, the Giants rise to the occasion every year while the Falcons have faltered on a nearly regular basis dating back to 2008. Sunday's match up is a chance for Atlanta to prove they can beat a legitimate contender.
Here are ten players to watch who will be either positive or negative game changers in Sunday night's game.
Begin Slideshow

»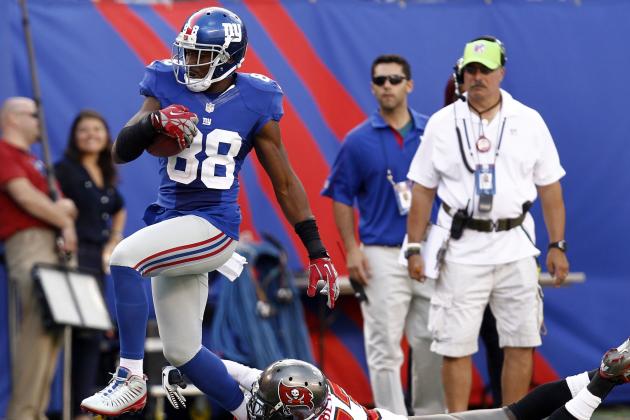 Jeff Zelevansky/Getty Images
Can Nicks have a similar game to his career day against Tampa Bay in Week 2?
I have always been high on Hakeem Nicks as a top receiver in the league. Nicks has the size, speed, toughness, hands and route running to be an elite receiver. Despite his talent, he has not put together a true elite season.
The injuries have affected him over the years but even when healthy he fades away at times. Nicks is a fantastic player and can dominate in any game, but I'm still not sure about his health. You know Victor Cruz will put up numbers, but will Nicks be ready this game? He is going to be called upon more than expected in this game against a talented Atlanta secondary.
Nicks will be seeing an old foe in Asante Samuel for most of the game, which could benefit him. Samuel is still a top corner in the league, but he is known for biting on double moves too often. Samuel is too aggressive at times by gambling on come back routes, which leads to a blown coverage by him. With Nicks speed, we could see that happen for a huge play.
Nicks has started to play better. It is only a matter of time before he explodes for a 100 yard receiving game.
This could be that game.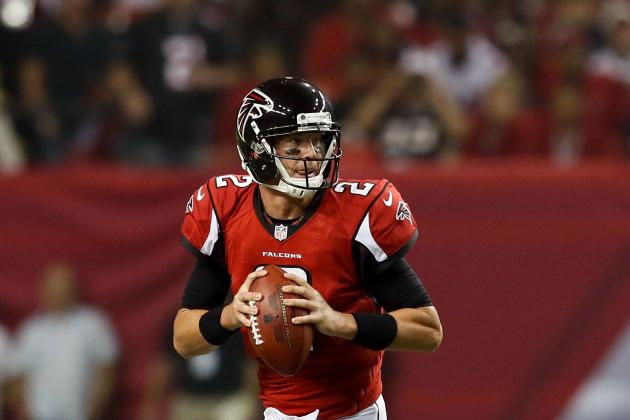 Kevin C. Cox/Getty Images
Ryan will be on the move to avoid the vicious Giants pass rush.
It may be an easy choice, but Matt Ryan has a lot riding on this game. Unlike Eli Manning, Ryan is still on the chase for having to prove himself. He has all the regular season credentials that make you want to say he's up there with the best in the league, but he has the playoff record that makes you cringe.
It's a common theme and will have to wait until January to see if Ryan can shake off the past. Until then, he has another pivotal regular season test on Sunday. In the last playoff loss, the game falls squarely on Matt Ryan. Unlike the first two-playoff games in the Ryan era, the defense actually played well against the Giants.
The offensive line was overmatched but Ryan did not do anything noteworthy and could not make anything happen. With the weapons he has offensively, it was ridiculous to see them score zero offensive points. There is no way that Ryan can be going into this game without remembering the beating he took.
Ryan had a great start to the season but has cooled off in the past few weeks. After heavy MVP consideration, he's fallen off and has not been the same. The yardage total remains the same, but he's not throwing many touchdowns lately and the turnover rate is higher. Atlanta's highly advertised explosive offense has not been really explosive in the past few games, which has been a cause of concern.
This is a judgment game for Atlanta and it falls squarely on Ryan. He's usually terrific at home and you would expect him to have another great game at home, but with the recent struggles and New York's pass rush it could be another tough game for Ryan. Ryan could silence critics with a strong performance here for at least a few weeks until January hits. Atlanta needs Ryan to play turnover free and convert third downs on a consistent basis to beat the Giants.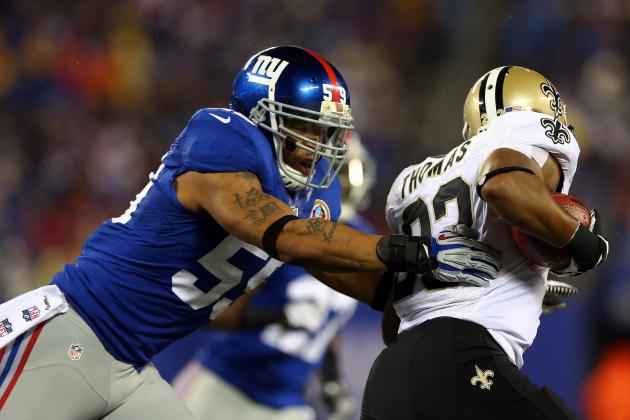 Elsa/Getty Images
Boley will be key for the Giants to limit Gonzalez & Rodgers.
It's going a bit unadvertised but this is the return to the Georgia Dome for Michael Boley. Even though he's not a star, Boley is a key player and has made it clear in interviews that he doesn't miss Atlanta before the Giants won the Super Bowl.
Boley looked like a solid prospect in 2006 and 2007 but a poor year in 2008 had the organization giving up on him. They let him walk and Boley signed with the Giants. He hasn't really improved from the player he was in Atlanta but he's made more plays.
Boley has always been a playmaker; it's just that his liabilities get exposed far too often. He's pretty undersized for an outside line backer and he struggles in stopping the run because blockers can push him around. He's always been solid in coverage and is an underrated blitzer when given the opportunity. His speed is what makes him a starter in the league and is always someone you want to know where he is when you are passing.
Other than his return to Atlanta, Boley gets the tough role of trying to cover Tony Gonzalez. Gonzalez has been outstanding this year and still plays at a high level. Boley will have his hands filled along with having to worry about Atlanta's sparkplug Jacquizz Rodgers. Rodgers is a huge threat whenever the ball is in his hands with his shiftiness and speed that can give any linebacker nightmares.
Boley has a lot of pressure coming into this game with so many responsibilities. He has to cover a Hall Of Fame tight end, along with being one of the main players to make a play against the screen. Atlanta has had so much success using the screen pass this year and it will be up to athletic players like Boley to make a tackle before the play blows up. He's definitely someone you have to look out for with all the roles he's going to be put in being the best linebacker on the Giants against a pass happy team.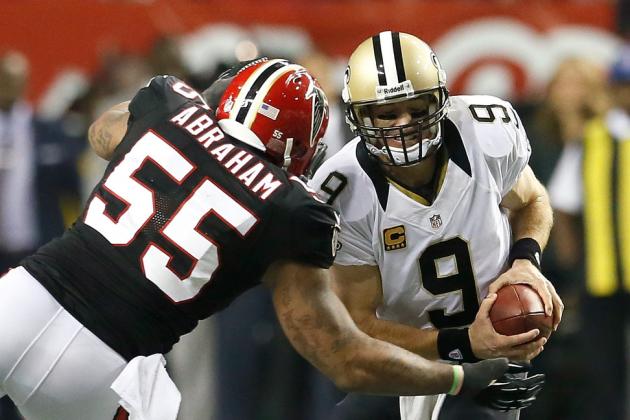 Kevin C. Cox/Getty Images
He may be 34, but Abraham is still terrorizing quarterbacks.
The resident one man wrecking machine in Atlanta is still playing at a high level. John Abraham may be 34 but he's still the same passing threat that makes offensive coordinators game plan for him.
If you watch every Falcons game, there is no denying that Abraham has taken a few games off where you will only see him impact a few plays. He has games like against New Orleans in Week 13 where he'll have 5 hurries and 1 sack but then he has games like last week against the Panthers when you saw him getting pushed around. His motivation has not always been there despite being a premier pass rusher for so many years. He's getting older and he knows that he needs to save his best for the playoffs.
When I was at the wild card game last year, I got to see the facial expression on a few Falcons players in the fourth quarter. Nobody stood out more than Abraham, who was on the verge of crying. He knows that his time to win is running out and has shown his frustrations when things do not go his way. The playoff loss still has to hurt, which is why Abraham is even more of a key player than he usually is.
I'll be shocked if you don't see Abraham impact the game. This game has major implications and Abraham does not let go of missed opportunities. Other than Tony Gonzalez, there is not a player on the roster that is more desperate to win than him. He's been a non-factor in some games, but he's made a major impact in more than a few which is why he has already 10 sacks this year. He's still the same threat and he'll be needed to frustrate Eli Manning on a team that still struggles to get consistent pressure on quarterbacks.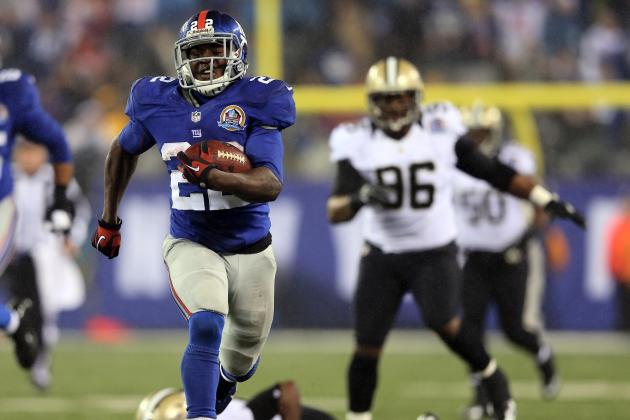 Elsa/Getty Images
Wilson had his breakout game last week and will get more opportunties now.
When the Giants originally drafted David Wilson, it was a good pick but I wasn't sure how he was going to fit. The Giants were in need of a running back, but they needed a power back. Ahmad Bradshaw has always been the speed back in New York, which is why it looked confusing when they drafted David Wilson. It has taken some time for Wilson to adjust, but he's always had glimpses of big play potential.
His kick off returns have been explosive this year, but their has been always a concern with his fumbling issues. After fumbling in the first game of the year against Dallas, Wilson has been in the doghouse at times this year.
Wilson got an opportunity and took the most of it. Granted, he did it against the worst defense in the league in New Orleans, but this was a Saints team that was playing in a must win game to possibly get a wild card spot.
With Bradshaw possibly out for Sunday's game, Wilson may get a bigger role and will get at least 15 carries. With the Falcons run defense struggling this year, the Giants should emphasize Wilson in the game plan to run the ball.
The Giants want to be balanced because throwing 40 or more passes against the Falcons will lead to a few interceptions.They need to keep it within one possession because going pass heavy after being down two possessions or more leads into Mike Nolan's genius of blitz schemes and disguises in coverage to force turnovers.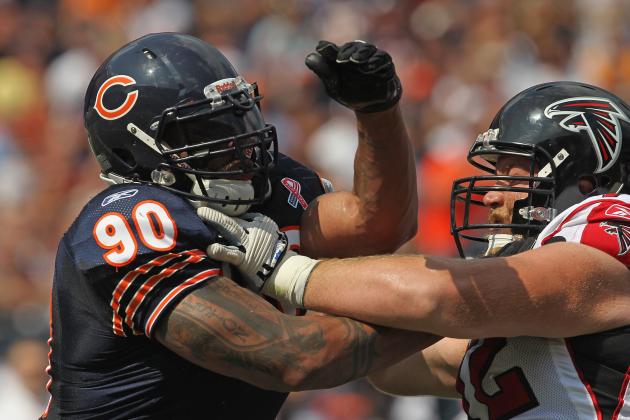 Jonathan Daniel/Getty Images
Baker has rebounded from a poor 2011 season.
A year can do wonders for just about anybody. Just look at Sam Baker, who was riding the bench at this time last year being replaced by undrafted Will Svitek. Just about every Falcons fan out there was ready to see Baker get cut and never seen again in a Falcons uniform.
Instead the organization gave him one more year to prove himself. They blamed his struggles on back injuries from the past and were ready to give him one final shot.
Baker has made the most of that opportunity by playing every game this year and being one of the better blockers on an average offensive line. Baker has gone up against fierce competition such as Elvis Dumervil, DeMarcus Ware and Trent Cole among others. He's been solid through out the season and not getting manhandled by bull rushes like he was on a consistent basis last season.
Some may say with Atlanta's soft schedule, he's been fortunate to go up against softer competition as usual. That could very well be true, which is why this will be his ultimate test. He'll be blocking Jason Pierre Paul on a consistent basis, who is one of the toughest match ups for any tackle to block. He may not have the stats that he had last season with only 6.5 sacks this year, but he's still a matchup nightmare that forces penalties just as much as he makes plays in the backfield.
Baker will also likely get Osi Umenyiora, who is still a threat as a pass rusher. With Baker blocking Ryan's blind side and the Giants known for causing fumbles by blind siding quarterbacks, Baker is going to be an integral part of how Atlanta moves the ball on Sunday through the air.
He'll most likely get the best pass rusher on the field every down, so look for Baker to prove that last year is fully behind him or he will be exposed for still being unreliable against the best teams in the league.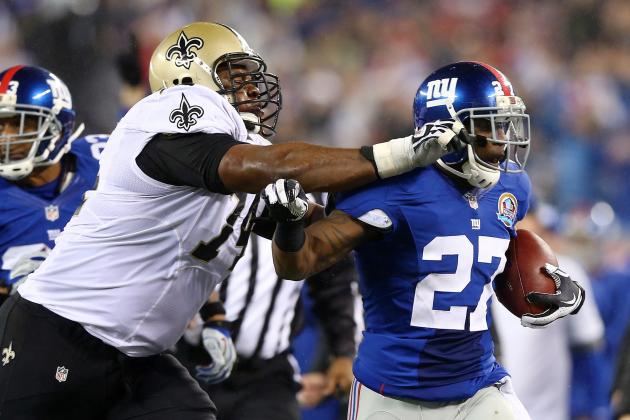 Elsa/Getty Images
Brown has been a big surprise for a Giants secondary that needed someone to step up.
Another player that has stepped up is Stevie Brown. After Kenny Phillips went down with an injury, it seemed that the Giants were doomed with their safety situation. Antrell Rolle has always been overrated and leaving him in one on one coverage seems to be an instant completion for a first down. Kenny Phillips did not make many highlight reel plays but he was solid and really beaten deep in coverage.
Rolle is a great run defender that can tackle with the best of them, but it is Stevie Brown that has been the true difference maker in coverage. Brown continues to fly around the field by jumping routes and disrupting pass players that seem destined for a big gain. The way he reads the quarterback's eyes for a player that was supposed to be a special teams player at best is remarkable. He's pretty much supplanted Kenny Phillips from the starting lineup with his play and who could blame Tom Coughlin with that move.
Similar to Sam Baker, this is going to be an ultimate test for Brown. The Giants have not faced a passing attack quite like the Falcons this year. Some may say the Saints, but the Saints don't have the caliber of receiving options that Atlanta has.
Roddy White and Julio Jones have already been mentioned as one of the most dynamic duos in the league that constantly put pressure on the safeties because they are not afraid of going in the middle or deep. Also who can forget Tony Gonzalez when he's still a matchup nightmare for teams in the middle of the field.
Brown has had a fantastic year but this will be a major test for him to make plays. Atlanta is never afraid to throw intermediate and deep routes in the middle of the field so Brown and Rolle better be prepared. Brown will have his opportunities with his better coverage skills than Rolle but he has to watch out for the threat of Atlanta's skill players with their speed, strength, and willingness to make catches in traffic.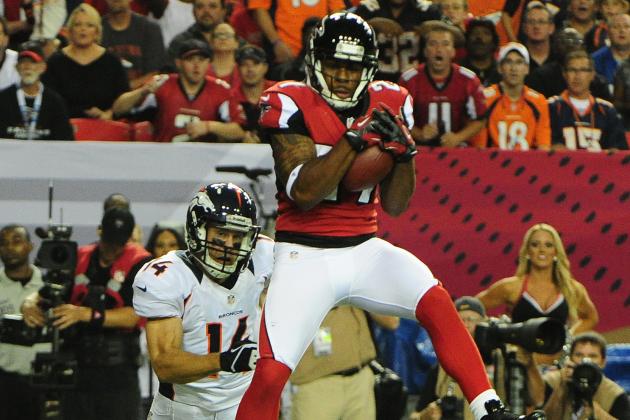 Scott Cunningham/Getty Images
Similar to Brown, McClain has been a major surprise and difference maker for Atlanta in the secondary.
He may not have the same impressive stats as Stevie Brown, but Atlanta has their version of a surprise defensive back that nobody saw coming. After the heart breaking injury to Brent Grimes in Week 1, it seemed like another year was coming where the Falcons were going to struggle at nickel back.
After trading for Asante Samuel, it seemed like Atlanta was finally going to have a great cornerback trio with Samuel, Grimes, and Dunta Robinson playing nickel. That lasted for about one week in the regular season, as Grimes tore his Achilles against the Chiefs. After Christopher Owens received a concussion and Samuel hurt his shoulder in the late 1st quarter against the Broncos on Monday night football, Robert McClain got his opportunity.
He intercepted a deep pass thrown by Peyton Manning immediately after coming in and has not looked back. McClain has been the nickel back for most of the year and has been a major upgrade compared to the past nickel corners over the years. McClain is fast and is always around the ball when it's thrown near him. What impresses Falcon fans the most is how good of a tackler he is for his size. He rarely misses tackles and has made his fair share of third down stops for Atlanta this year.
The reason why McClain is going to be a player to watch is how well he covers Victor Cruz. Cruz lines up in the slot for most of the game and is going to draw coverage with McClain. It was as recent as last week that displayed how Cruz abuses nickel corners like Elbert Mack on that touchdown against the Saints where he put a simple juke on him to get by him. McClain is going to see a lot of action through out the game and better be ready for passes his way.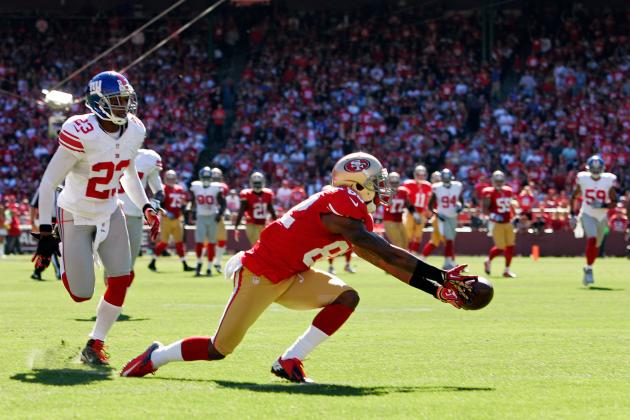 Brian Bahr/Getty Images
It has become a weekly theme of Corey Webster getting burnt in coverage.
It has been no secret that Corey Webster is having his worst season. It comes at a very odd time since Webster is in his 8th season. Webster has never been a shutdown corner, but he's been the most dependable cornerback the Giants have had in years. That was Webster's moniker until this year, where he has become a liability.
It started in Week 1 when Webster was being torched by Kevin Olgetree in the season opening defeat to the Dallas Cowboys. Then it kept going on with quarterbacks like Josh Freeman, Andy Dalton and Robert Griffin III were consistently throwing his way. His play has improved over the past few weeks but that does not hide the fact that this has been his worst season in a long time.
Webster is still considered the Giants number one cornerback because they do not have anyone on the roster that is suitable as a replacement to be a top cornerback. Until then, they have to rely on Webster to regain his 2009 to 2011 form. It seems as if Webster has lost a step and cannot stay in man coverage anymore whether its against speedy or physical receivers.
He will be called upon to cover a top receiver on just about every play. This is a matchup that has to get Matt Ryan excited with how Webster has played his season. It will be interesting to see how Webster does especially against Julio Jones, who has put together a nice highlight reel of catching passes over 30 yards this season. If the Giants are going to repeat, they desperately need Webster to regain his form and stop being targeted by opposing quarterbacks on a consistent basis.
Scott Cunningham/Getty Images
Despite having nearly 1000 receiving yards this season, Julio has only one 100 yard game at home this season.
When someone is right near 1,000 yards on the season at Week 15, there is no way he can be considered a bust. Julio Jones has had a great season making numerous plays with his speed, strength and athletic ability. He's been as good as advertised and continues to develop week by week.
The one complaint that people have, other than giving up five picks for him, is his lack of production in the Georgia Dome. Julio has only 22 receptions for 317 yards and no touchdowns inside the Georgia Dome compared to 41 receptions for 680 yards and 7 touchdowns on the road. I'm not sure if there is a proper explanation for the odd stats but it has proven that he has not produced at home this season.
With Roddy White currently a game time decision, Julio will be called on to make more plays than ever. He has all the tools to be an elite receiver but it hasn't come all together yet. It usually doesn't happen until the 3rd season or if you are the only dependable player to throw to in the offense like A.J Green. These are only slight knocks on Julio that will disappear as time goes on.
The Falcons rushing attack continues to be nonexistent and they haven't shown any signs of being existent anytime soon. This team will have to pass to win this game for the most part and it will be on Julio Jones to stretch the Giants secondary. The Giants are 27 against the pass and have one of the weaker cornerback duos in the league.
This is a game that will be looked at come January to see if Julio has history in delivering in big games. This is where he has to have a productive game and not become an afterthought, which has been the case during home games this season.
Elsa/Getty Images
Manning will win in another pivotal December game in his career.
The ten players that I mentioned before will be players that need to elevate their games for this one even more. They have major roles whether it is stepping up from past decent games or silencing critics such as myself. In terms of a final prediction, it is not an easy decision to make.
It is rare that the Falcons lose at home and the defense always rises to the occasion in the dome. They play with more energy and tend to force more turnovers. It won't be easy for the Giants at first unless they can get the running game going, which is a possibility. A lot of my faith in Atlanta rides on Roddy White and William Moore. People tend to forget about Moore, but he's playing at a Pro Bowl level and has formed a great safety partnership with Thomas DeCoud that is considered one of the best safety tandems in the NFL.
If I had to predict who is going to play, I'll say Roddy plays even though he will be more of a decoy than actual playmaker. I'm going to say Moore is going to be out, which is a huge loss because Chris Hope looked lost last game. Regardless if they play or not, I'm going with the Giants in this game. When it comes to must win games, it's nearly impossible to beat the Giants. Every game here on out is a must win for them to keep pace on winning the NFC East.
I'm going to pick the Giants to win 31-28 on a last minute drive from Manning to give Lawrence Tynes the opportunity to kick the game winner. If Roddy White is not able to play, my pick will be 31-17. I'm expecting a few turnovers in this game and some big plays, but right now the Giants are getting momentum and have far more on the line. This is a huge game for Atlanta but I just do not see them matching up well and then all the talk will begin on Monday about how overrated they are.
Allen Strk is a columnist on Bleacher Report. You can read more of my work at TJRSports.com covering the NFL, NBA, and MMA. You can follow me at @Allen_Strk on twitter or e-mail questions/comments at AStrk19@gmail.com.