NFL Playoff Picture: Worst-Case Scenario for Every Team in the Race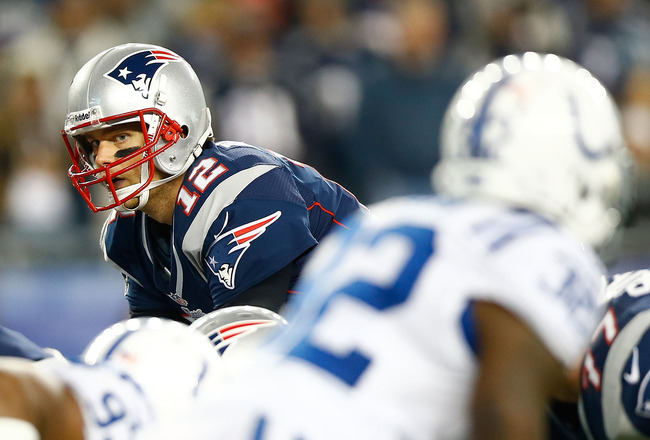 Jared Wickerham/Getty Images
Let's be optimistic for a second. With 25 teams sporting at least four victories, there are still a ton of NFL squads out there in the playoff hunt.
Now let's be pessimistic from here on out.
Each one of these teams faces a unique nightmare scenario they should hope and pray will never materialize the rest of the season. If these situations come to fruition and rear their ugly heads, it will spell disaster.
Here's the worst case scenario each contender must avoid as the 2012 playoff picture starts to take shape.
Patriots 7-3: Tom Brady Injured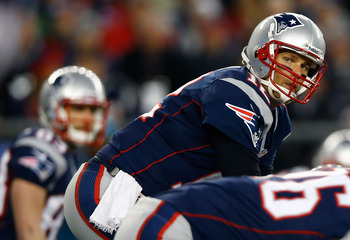 Jared Wickerham/Getty Images
The injuries are starting to pile up on offense for the New England Patriots.
Aaron Hernandez and Logan Mankins are two star Patriots who have missed games to injury this season. Now, stud tight end Rob Gronkowski may miss the rest of the regular season with a broken forearm.
New England can keep winning without these aforementioned players. However, if superb quarterback Tom Brady suffers a devastating injury, the Pats Super Bowl dreams go up in smoke.
Brady is simply too valuable in Foxborough.
Jets 4-6: The Locker Room Self Destructs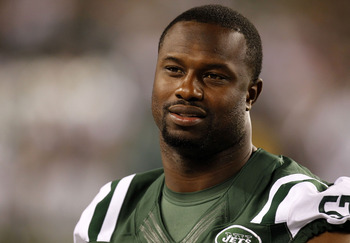 Jeff Zelevansky/Getty Images
The New York Jets locker room is becoming more drama filled with each passing week.
First, Manish Mehta over at the New York Daily News penned an article that saw an anonymous Jets teammate call polarizing backup quarterback Tim Tebow "terrible." Then, after New York's Week 11 win over St. Louis, Bart Hubbuch of the New York Post reported that abrasive linebacker Bart Scott tried to lead a mutiny against the New York media in the locker room.
Last season, the Jets season imploded, partly due to similar player problems (see: Holmes, Santonio). If these issues keep popping up, lightning could strike twice for Rex Ryan's team.
Bills 4-6: The Defensive Line Disappoints
Thomas B. Shea/Getty Images
On paper, the Buffalo Bills have one of the fiercest defensive lines in the NFL.
But in reality, that hasn't been the case thus far in 2012. Star end Mario Williams has 5.5 sacks this season, a disappointment for a guy making a whopping $50 million in guaranteed money. Other first-year Bill Mark Anderson has been even more disappointing, tallying just one sack after he had 10 with New England. Chan Gailey needs his defensive line to set the tone for a defense that has struggled plenty of times this season.
If pass rushers like Williams and Anderson continue to disappoint, the Bills won't come close to making the playoffs.
Dolphins 4-6: Ryan Tannehill Tanks the Rest of the Year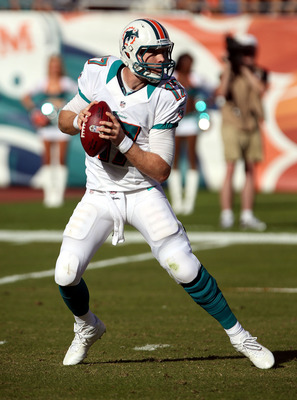 Marc Serota/Getty Images
It appears Miami quarterback Ryan Tannehill has hit that proverbial rookie wall. In the Dolphins last three games (all losses), Tannehill has thrown two touchdowns and five interceptions.
With Matt Moore sitting on the bench, it appears coach Joe Philbin is sticking with Tannehill, as the Dolphins try to get back on track. That could be a dangerous move.
If Tannehill doesn't break through to the other side of the rookie wall, Miami doesn't break through that playoff wall.
Ravens 8-2 : The Defensive Injuries Come Back to Haunt Them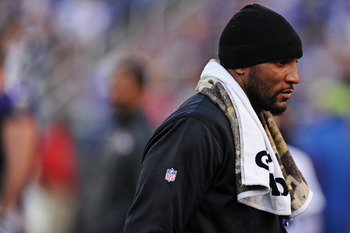 Patrick Smith/Getty Images
It's been a case of so far, so good for the Baltimore Ravens defense.
Despite losing defensive stars Ray Lewis and Lardarius Webb for the year, the Ravens keep on rolling at 8-2. However, there's going to be a point where the new-look Ravens defense will be tested.
It will definitely come in the playoffs, where Baltimore could run into quarterbacks like Peyton Manning, Tom Brady or Matt Schaub. That's where the losses of Lewis and Webb could prove too much for the Ravens to overcome.
Steelers: 6-4: Big Ben Is Broken for Good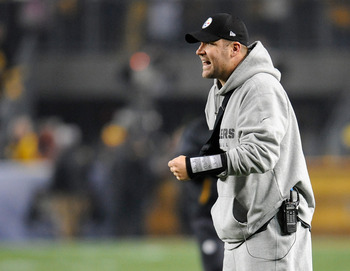 Joe Sargent/Getty Images
Ben Roethlisberger missing games to injuries has become a yearly occurrence for the Pittsburgh Steelers. The star quarterback is expected to miss at least one more game (Week 12 against the Browns) with shoulder and rib injuries.
And now, backup quarterback Byron Leftwich joins Roethlisberger on the mend with fractured ribs of his own. The Steelers have managed to survive injuries to stars like Antonio Brown, David DeCastro, James Harrison and Troy Polamalu.
However, if Big Ben misses an extended period of time down the stretch, that could be the straw that breaks the Steelers' backs.
Bengals 5-5: Cincinnati Can't Beat Baltimore or Pittsburgh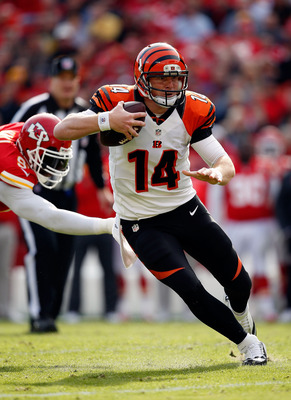 Jamie Squire/Getty Images
At 5-5, the Cincinnati Bengals have vaulted themselves back in the playoff picture.
But their struggles against AFC North rivals Pittsburgh and Baltimore continue. The Bengals are 0-2 against the Steelers and Ravens so far this season.
Last year, the Bengals managed to make the playoffs, despite going 0-4 against these teams. Usually, teams who struggle within their division don't make the NFL playoffs. The Bengals either need to win their rematches against the Steelers and Ravens or hope they luck out again this season.
Texans 9-1: The Pass D Collapses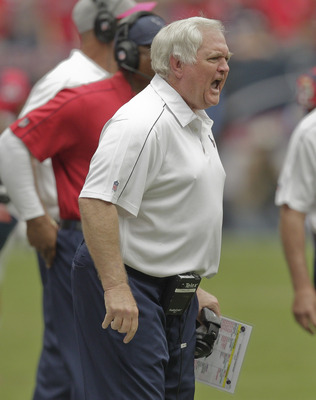 Bob Levey/Getty Images
The Texans may have the AFC's best record at 9-1, but their vaunted defense is starting to show cracks, specifically in the secondary.
A few weeks ago, Packers quarterback Aaron Rodgers threw six touchdowns in a Green Bay rout over Houston. Then in Week 11, Jaguars veteran backup quarterback Chad Henne torched the Texans for 354 yards and four touchdown passes.
Don't think opposing offensive coordinators haven't taken notice of this recent development with Wade Phillips' defense.
It looks the Texans kryptonite could be a quality passing offense.
Colts 6-4: Andrew Luck Keeps Playing Like a Rookie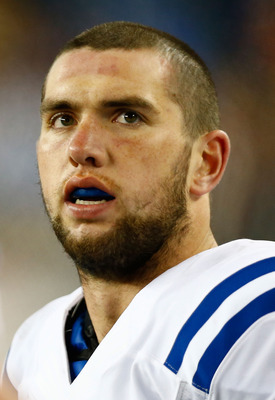 Jared Wickerham/Getty Images
In several games this year, Colts quarterback Andrew Luck has looked like a seasoned veteran.
And then there are times like against the Patriots where fans are reminded that Luck is just a 23-year-old rookie. Against New England, Luck had over 300 yards passing. But he threw three costly interceptions and lost a fumble.
If the feel-good Colts are going to complete their improbable playoff run, they're going to need Luck to play more like that seasoned veteran and less like that rookie learning this whole quarterback thing on the fly.
Titans 4-6: Jake Locker Disappoints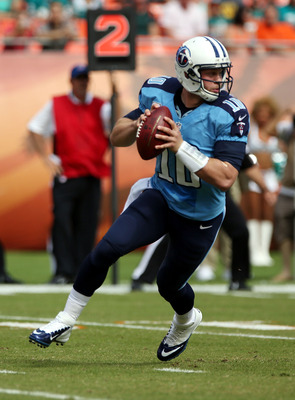 Marc Serota/Getty Images
Titans running back Chris Johnson has stepped up his game recently.
Tennessee quarterback Jake Locker needs to follow suit if the Titans are going to make the playoffs. Matt Hasselbeck had a decent run replacing Locker when he was nursing an injured shoulder, but that didn't last too long.
Locker is the man for the Titans, and he needs to take the pressure off CJ2K, while keeping opposing defenses honest. If Locker struggles, it could have a domino effect.
In that scenario, defenses could swarm on Johnson, causing the Titans offense to flatline, along with the team's faint playoff hopes.
Broncos 7-3: Too Much Pressure on Peyton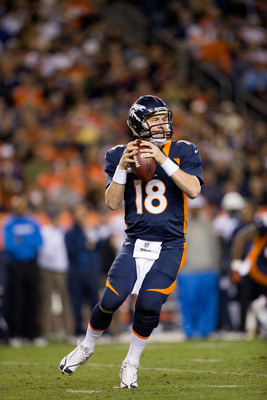 Justin Edmonds/Getty Images
With Broncos running back Willis McGahee expected to miss almost the rest of the year with a torn MCL, Denver is officially going to go as far as Peyton Manning will take them.
Most Broncos fans are likely very comfortable with that proposition. However, there is a dangerous element involved here.
While No. 18 has certainly had a renaissance season in the Rockies, don't forget that he's 36 years old and had a staggering four neck surgeries in a two-year period. The Broncos are one bad hit to Manning from seeing their Super Bowl aspirations dashed.
Of course, that scenario would derail almost every playoff team. But that's the reality Denver faces.
Chargers 4-6: The Chargers Are Still the Chargers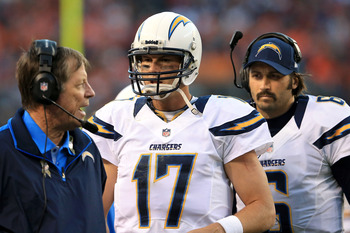 Doug Pensinger/Getty Images
The Chargers need to forget they're the Chargers for the rest of the season.
For the past season and a half, San Diego has been a bunch of bumbling underachievers. Head coach Norv Turner has done nothing to change the public sentiment that he should've been canned last spring.
Star quarterback Philip Rivers continues to play underachieving football under center. And the Chargers overall have been too sloppy and undisciplined in all three phases of the game.
If San Diego actually took a step back to realize they're a talented team with an upper-echelon quarterback, they might get back on track. But odds are the Chargers will still be the Chargers and will continue to underwhelm.
Giants 6-4 :Eli Manning Loses His Elite Card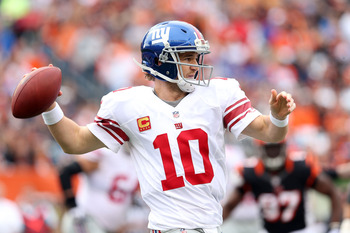 Andy Lyons/Getty Images
Last season, Giants quarterback Eli Manning shut up a lot of the critics who said he wasn't elite.
Recently, some of those critics have been reemerging. In the Giants past three games against the Cowboys, Steelers and Bengals, Manning has been unimpressive.
It's gotten to the point where some are speculating whether or not a "dead" arm is hindering Eli. At the moment, Manning gets a pass for his struggles; winning two Super Bowl MVP awards will do that for your career. But if this "dead" arm doesn't spring back to life, the Giants' chances for a repeat title will be D.O.A.
Cowboys 5-5: Tony Romo Bombs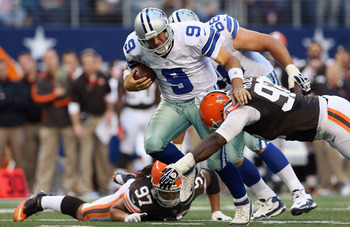 Ronald Martinez/Getty Images
Cowboys fans are always faced with the uneasy scenario that one bad Tony Romo mistake-filled game could ruin everything.
There are games where Romo looks every bit like an elite quarterback, like in Week 1 against the Giants. And then there are games where he absolutely stinks up the joint, like in the Week 8 rematch where he threw four interceptions.
There's no denying the talent the Cowboys possess on both sides of the ball. But at the end of the day, Dallas' hopes rest on Romo's right arm.
If that arm is throwing too many interceptions or fumbling away the ball at the wrong time, Cowboys fans don't need to be reminded of what happens.
Redskins 4-6: KO to RGIII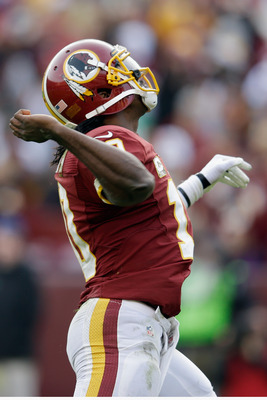 Rob Carr/Getty Images
It's no secret that Washington's very faint playoff hopes fall squarely on electric rookie quarterback Robert Griffin III.
And it's also no secret that RGIII has taken his fair share of big hits this season. Mike Shanahan already got a small taste of what life without RGIII would be like when he was knocked out of action against the Falcons.
It's nothing against Kirk Cousins, but RGIII is the rookie quarterback Shanahan and all Redskins fans need under center, not the former Michigan State Spartan.
Packers 7-3: Charles Woodson and Clay Mathews Don't Return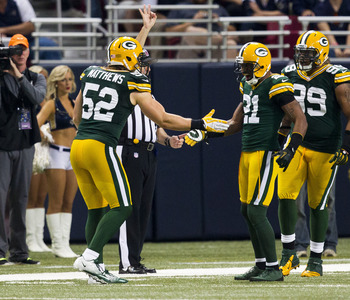 David Welker/Getty Images
Packers fans already know what stud quarterback Aaron Rodgers brings to the table.
But as last season proved, Rodgers can only take Green Bay so far. The Packers need a healthy defense if they're going to get back to the Super Bowl.
If Charles Woodson and Clay Mathews, the Packers two best defensive players, can't fully recover from their respective injuries, Green Bay will be in trouble.
Bears 7-3: Jay Cutler Never Returns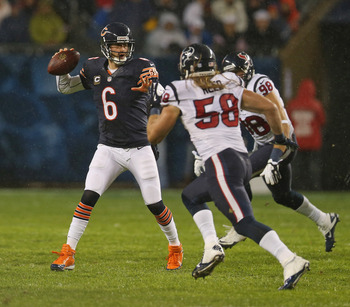 Jonathan Daniel/Getty Images
Lovie Smith and the Bears don't need to be reminded of how badly their season fell apart after quarterback Jay Cutler was knocked out last year.
Life without Cutler hasn't been any better so far in 2012. With Cutler missing the past game and a half with a concussion, Chicago's offense has done virtually nothing.
Jason Campbell has proven to be just as ineffective as Caleb Hanie was last year in the backup quarterback role for Chicago. There's no doubt Bears fans are praying for Cutler's speedy recovery.
Vikings 6-4: Percy Harvin Misses the Rest of the Season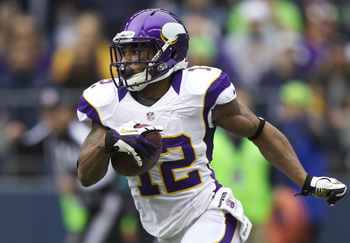 Stephen Brashear/Getty Images
Adrian Peterson is doing an outstanding job carrying the Minnesota Vikings offense.
Odds are, though, he'd appreciate someone taking some of the weight off his mighty shoulders. If the dynamic Percy Harvin can return from his ankle injury, it will help. Harvin is a former Florida Gator skill player who creates mismatches with his versatile style. That's the exact same description of New England's Aaron Hernandez, who's nursing an ankle injury of his own.
The difference is that the Patriots offense can survive long stretches without Hernandez. The same can't be said of Minnesota sans Harvin.
Lions 4-6: Stafford And/or Megatron Fail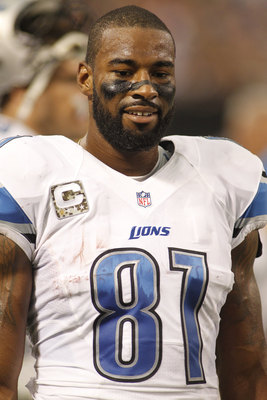 Andy King/Getty Images
Once again, it's looking like the Detroit Lions playoff fate rests on the explosive passing combination of Matthew Stafford and Calvin "Megatron" Johnson. The running game is virtually nonexistent, the defense keeps playing inconsistent football and players like Titus Young are proving themselves unreliable.
Therefore, Stafford and Megatron must keep working their magic. However, if either player struggles or gets hurt, Jim Schwartz's team won't be making a return trip to the playoffs.
Falcons 9-1: Matt Ryan Doesn't Take the Next Step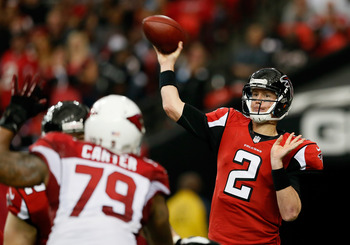 Kevin C. Cox/Getty Images
As good as Matt Ryan has been under center in his Falcons career, let's not forget that he still hasn't won a playoff game.
It's going to be on Ryan to lead his Falcons to playoff success. With so many offensive weapons around him, if Atlanta's offense stalls in key spots down the stretch, the blame will fall on Matty Ice.
Falcons fans are hopeful that Ryan's woeful five-interception game against Arizona in Week 11 was merely an aberration, not a sign of things to come.
Bucs 6-4: The Offense Slows Down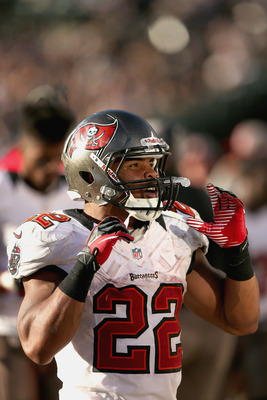 Ezra Shaw/Getty Images
Much of Tampa Bay's recent surge has been attributed to its explosive offense.
Lost in this is the fact that the Bucs have the league's worst passing defense in terms of yards surrendered per game (312). The point is that Tampa's playoff hopes rest with the offense.
If Bucs rookie running back Doug Martin hits the wall, oft-injured tight end Dallas Clark goes down or quarterback Josh Freeman reverts to his ugly ways of 2011, then that will spell bad news for Greg Schiano's young team.
Saints 5-5: The Defense Doesn't Improve at All
Ezra Shaw/Getty Images
The New Orleans Saints are getting absolutely no help from their defense.
The Saints rank dead last in yards allowed per game, a staggering 462.8 clip. Make no mistake, Drew Brees and the Saints offense have been downright unstoppable at times.
However, they can only do so much. At some point, Steve Spagnuolo's much-maligned defense is going to have to put up some resistance to opposing offenses.
Because as New Orleans learned against the 49ers in last year's playoffs, the arena football mentality (lots of offense, no defense) can only take you so far in the NFL.
49ers 7-2-1: The Quarterback Controversy Becomes a Distraction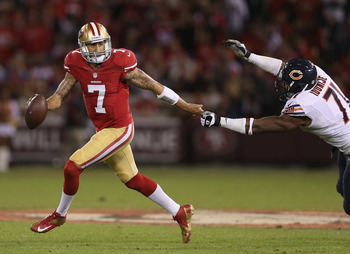 Ezra Shaw/Getty Images
Don't look now, but the 49ers suddenly have a quarterback controversy on their hands.
Some fans are calling for second-year quarterback Colin Kaepernick to start the rest of the season after his impressive Week 11 outing against Chicago. Others think that veteran Alex Smith has earned the right to keep his job when he returns from his concussion, given how well he played last season.
Quarterback controversies always have the potential to divide locker rooms and force players to pick sides.
It will be interesting to see how the 49ers respond to the team's biggest quarterback battle since Steve Young and Joe Montana.
Seahawks 6-4: Marshawn Lynch Breaks Down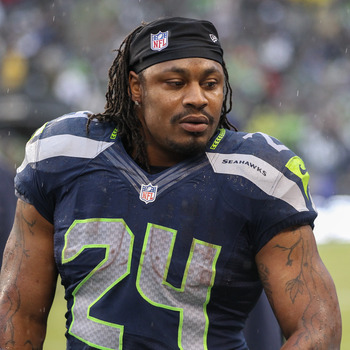 Otto Greule Jr/Getty Images
Pete Carroll better hope his stud running back, Marshawn Lynch, keeps filling up on Skittles.
Given how much of a workload Lynch has gotten so far this season, he's risking the chance of wearing Lynch out. Through 10 games, Lynch has carried the ball 212 times.
From a physical standpoint, Lynch is certainly very capable of being a workhorse running back. But it may be in Carroll's best interest to keep Lynch as fresh as possible, as Seattle keeps aiming for a playoff spot.
Cardinals 4-6: Kevin Kolb Can't Come Back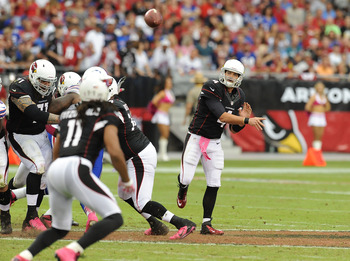 Norm Hall/Getty Images
The quarterback situation for the Arizona Cardinals is a total mess at the moment.
John Skelton was recently benched for rookie Ryan Lindley, who didn't play any better in Arizona's Week 11 loss to Atlanta. This may seem weird to hear, but the Cardinals need Kevin Kolb back ASAP.
He's certainly no Kurt Warner, but Kolb was the starter for three of the Cardinals four victories. The other win came in Week 1, when Kolb came off the bench to fuel a comeback win over Seattle. Kolb needs to return from injury and get Arizona back on track.
Because neither Skelton, nor Lindley have gotten the job done for the reeling Cards.
Keep Reading