New England Patriots: 5 Predictions for Week 2 Matchup vs. Cardinals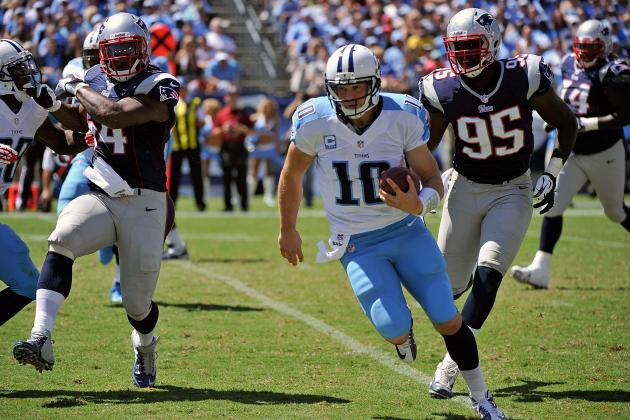 Frederick Breedon/Getty Images
Chandler Jones (95, right) and the Pats D kept Jake Locker and the Titans scrambling for answersin Week 1.
The New England Patriots steamrolled the Tennessee Titans in Week 1, cruising to a 34-13 victory on the shoulders of QB Tom Brady, RB Stevan Ridley and a young, hard-hitting defense.
The next step for the Pats is to duplicate their success in their Week 2 matchup against the Arizona Cardinals.
The Cardinals lost their QB John Skelton to a low ankle sprain in Week 1, and his status vs. the Pats is in question. They have an offense anchored by steady RB Beanie Wells and elite WR Larry Fitzgerald, one of the best playmakers in the game.
They've also got a good defense, highlighted by an aggressive front seven that managed to keep Seattle Seahawks rookie QB Russell Wilson off-balance for most of Week 1.
Week 1 was an unmitigated success for the Pats: they played well on both sides of the ball and stayed healthy. But every week in the NFL brings new challenges.
Here are a few predictions about what might unfold at Gillette Stadium on September 16.
Begin Slideshow

»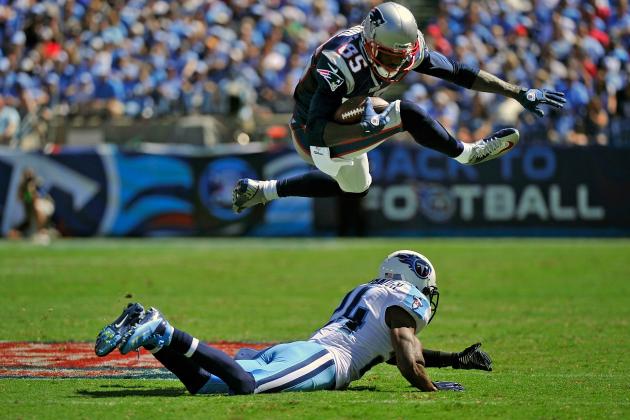 Frederick Breedon/Getty Images
Brandon Lloyd was leaps and bounds ahead of any big-play receiver the Pats had last season.
Brady faked one handoff to Ridley, then another to WR Wes Welker on an end-around before dropping back, eyes fixed in the middle of the field.
Titans safety Michael Griffin, playing over the top in a Cover-2 zone, bit on the double play-action, leaving WR Brandon Lloyd wide open just short of the end zone. Brady, seizing the opportunity, threw a bullet, leading Lloyd perfectly.
Lloyd, unfortunately, had slowed up just a little on his route, and had to turn around awkwardly in order to make a play on the ball. The ball flew just out of his reach, grazing his outstretched palms on the way to the turf.
It was a missed opportunity, and one that Lloyd clearly regretted.
He atoned with five catches for 69 yards, none better than a second-quarter shoestring sideline grab that went for 27 yards.
But that missed hookup in the first quarter was both a colossal tease of Brandon Lloyd's talent, and a sign of the sky-high potential of the Brady-to-Lloyd connection.
Next week, we'll see the full power of that pairing unleashed.
It's true, Lloyd is at best the third option on an offense that features two of the top-five TEs in football in Rob Gronkowski and Aaron Hernandez.
It's also true his Week 2 matchup with Cardinals CB Patrick Peterson pits him against one of the best defensive backs in the league.
Still, Lloyd had success against Peterson last season as a member of the St. Louis Rams. Lloyd racked up 10 catches for 154 yards and a touchdown in two games against the Pro-Bowler.
Lloyd will get his opportunities next game, as Arizona's front-seven will look to pressure Brady and clog the middle of the field against the Pats TEs.
And this time, when the big play is there to be made, expect Lloyd to make the most of his opportunity.
Prediction: Lloyd totals six catches for 106 yards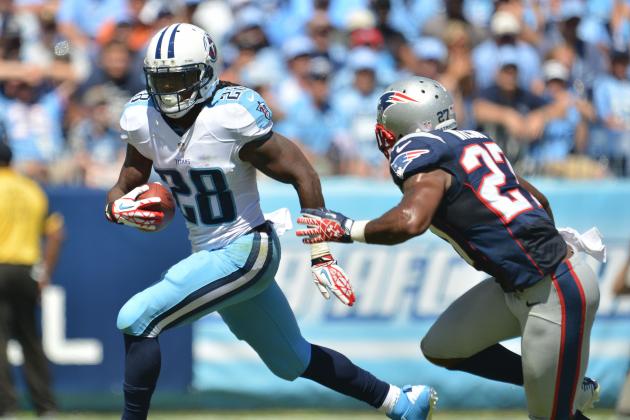 Don McPeak-US PRESSWIRE
The Pats D did a great job keeping Chris Johnson in check in Week 1.
Arizona Coach Ken Whisenhunt's play-calling philosophy stems from his days as the offensive coordinator of the Pittsburgh Steelers.
In other words, ground-and-pound will be the name of the game in Week 2.
Though WR Larry Fitzgerald is the centerpiece of the Cardinals offense, the Pats should be primarily focused on stuffing bruiser Beanie Wells.
Wells, who was compared to Jim Brown in his draft-day scouting report, is a physical, downhill runner. He can shake off first contact with ease, and requires sure tackling to bring down.
For the first time in years, "sure tackling" seems like something the Patriots defense is capable of providing.
In Week 1, the Pats did a great job of tackling in the open field: they wrapped up ball-carriers and consistently got their pad levels low to gain leverage.
They've got a defensive line that holds the point of attack beautifully, particularly DT Vince Wilfork, who dominated the interior all game. Rookie DE Chandler Jones also played well against one of the top LTs in the league in Michael Roos.
They've also got one of the best run-stuffing linebacking corps in football. Captain Jerod Mayo, monster Brandon Spikes, and talented rookie Dont'a Hightower looked like a wrecking crew against speedy Titans RB Chris Johnson.
In fact Johnson, who is just a year removed from a 2,006 yard season, totalled only four yards on eleven carries.
The Pats D will do it again in Week 2, as Beanie Wells will become the next running back to struggle against the Pats' stout front-seven.
Prediction: Wells is held to 15 carries, 37 yards against the Patriots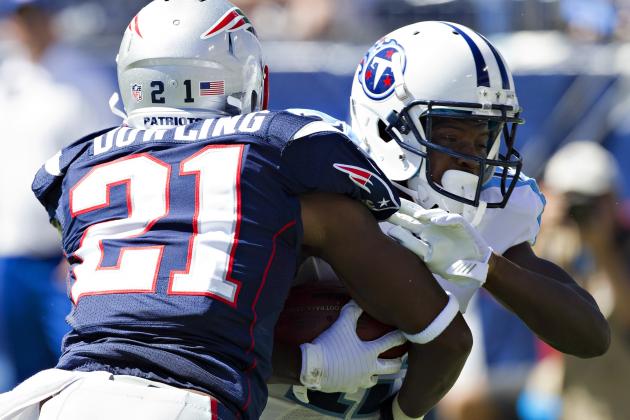 Wesley Hitt/Getty Images
Ras-I Dowling struggled in the first half, but played well as the game progressed.
The Pats defense forced two turnovers on Sunday, but it could just as easily have been four.
There was the third-quarter play in which Titans QB Jake Locker overthrew his target and CB Devin McCourty, playing a deep-zone, charged the ball and just missed an interception.
There was also a vicious sandwich hit by Jerod Mayo and S Tavon Wilson on WR Nate Washington, which jarred the ball loose. S Patrick Chung recovered the ball and ran it back across the field before being tackled by Locker. The play was later overturned when the pass was ruled incomplete.
What these plays demonstrate is the Pats' new-found capacity to make game-turning plays on defense.
We'll see New England's new-found aggressiveness in full force in Week 2, when the defensive front gets a chance to go up against a weak Arizona O-Line (ranked 26th in the NFL by FootballGuys).
With Chandler Jones, Jermaine Cunningham, and the linebackers getting pressure on mediocre QB Kevin Kolb, the secondary will have a chance to ballhawk.
We've yet to see how the cornerbacks fare against an elite receiving threat in Fitzgerald, but they'll likely hold up fine against Early Doucet and the rest of the pass-catching corps.
Look for big games from some of the newcomers and young guns in the Pats secondary.
Prediction: Steve Gregory, Ras-I Dowling, and Kyle Arrington all make INTs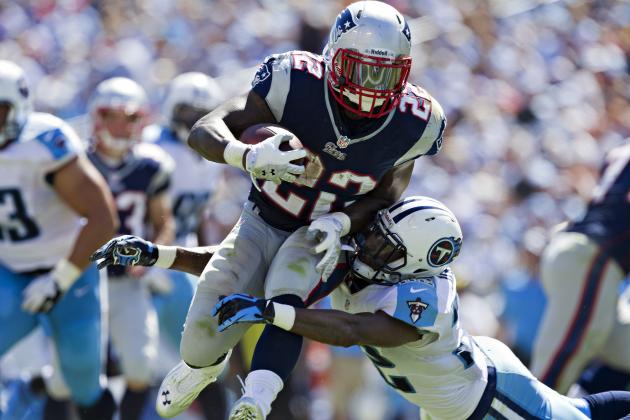 Wesley Hitt/Getty Images
Stevan Ridley will look to have another strong performance in Week 2.
Here's Stevan Ridley's line from Week 1: 21 rushes, 125 yards, one touchdown. Not bad for his first day as a featured back.
Soon they'll be calling him "The Talented Mr. Ridley."
Ridley ran decisively, kept his pads low, didn't shy away from contact, and showed explosiveness in the second level. Essentially, he displayed everything teams look for in a runner.
For sure, he's a lot more dynamic than BenJarvus Green-Ellis.
It remains to be seen whether Ridley's performance was a breakout game or the product of solid blocking and a Titans D that struggles against the run.
Here's a fun prediction: Ridley will top 100 yards again in Week 2.
New (and old) Pats' offensive coordinator Josh McDaniels values a balance in play-calling more than his predecessor, Bill O'Brien, did. He'll call Ridley's number again another 20 or more times in Week 2.
Though the Cardinals front-seven is one of the best in the game (featuring LBs Paris Lenon and Daryl Washington and linemen Darnell Dockett and Calais Campbell), they'll be too keyed-in on Brady to focus on Ridley.
That will open up draw plays, screens, and off-tackle runs for the second-year back.
He may not make it to 100 yards simply by rushing, but Ridley will get over the century mark in all-purpose yards by the end of the game.
Prediction: Ridley racks up 20 rushes for 85 yards, and adds two catches for 18 yards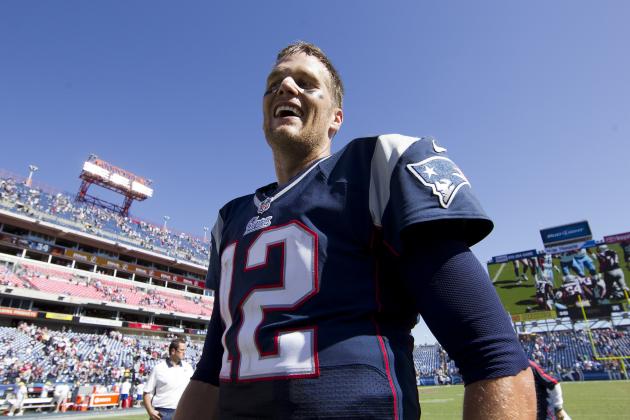 Wesley Hitt/Getty Images
Brady will be smiling again after a decisive win against the Cardinals in Week 2.
The Pats won't put up 30 points again in Week 2, as the Cardinals front-seven will outplay the Pats' offensive line.
Still, they'll score enough to win decisively, because the defense will show up strong again in Week 2.
The Cardinals will likely rely on a grind-it-out, low-possession strategy to keep the Patriots offense in check. That strategy might have worked on the Pats D last year, when they consistently struggled to get off the field on third down.
But it won't suffice against the aggressive New England defense anymore.
Mayo, Spikes, and Hightower will take away the run game for the Cardinals, forcing them into a one-dimensional strategy. That's rarely a recipe for success in the NFL, especially when your offense revolves around one player.
With the Cardinals looking to get Fitzgerald involved early and often, the Pats pass-rush will have time to get to the quarterback. They'll frustrate Kolb and pressure him into making big mistakes.
Finally, Pats fans will get to watch a defense that is able to capitalize on those mistakes.
Prediction: Pats Win Their Home Opener, 28-10