Miami Dolphins: Misguided Love Affair with Ryan Tannehill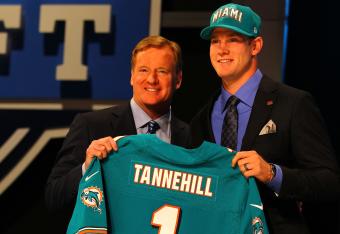 Al Bello/Getty Images
What's the deal with the recent hubbub surrounding the newest Miami Dolphin, Ryan Tannehill? I don't understand the love affair some have with the former Texas A&M quarterback.
Is it just because he is tall (6'4"), big (220 pounds), and has a good arm? All of those are indeed important (some would say necessary) aspects of any potential QB.
Is it because he has brains (three-time All Big-12 Academic) to go with that brawn? Or is it something else?
Is it just as simple as him being the next guy in line?
Let me say this first. I am not a football draft guru. I cannot tell you how to properly assess a quarterback's footwork in a five-step drop, how to best attack a Cover-2 defense, or what it means to say someone "can make all the throws."
I have no personal knowledge of Ryan Tannehill, the person or the player. So do not infer that I am making any evaluations based on my study of film or scouting reports.
I believe all that we need in order to properly understand (read: predict) the future is to study the lessons of past history. The history of the NFL has taught us that NFL GMs and executives follow two simple rules: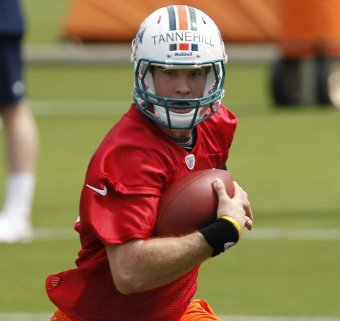 Joel Auerbach/Getty Images
1) Get yourself the top quarterback. If that fails, then…
2) Get yourself the next quarterback.
Time and time again, NFL teams have sought to solve their quarterback problems by spending premium draft picks on an arm that is asked to forever change the course of the franchise, and the game.
I don't need to list all the names here, but all of us know that many times those picks are successful, and many times they are not. I want to go beyond that.
Everyone remembers this past NFL draft was a "Two-Quarterback Draft" with Andrew Luck and Robert Griffin III selected, respectively, by the Indianapolis Colts and Washington Redskins. All other QBs this year can be put into the "Other" category.
In reality, it seems that each year is labeled numerically as a 1, 2, or 3-quarterback draft. What about that next tier of quarterbacks?
What about the QBs who aren't heralded as the very best at their position? How have they fared in their NFL careers?
I took the liberty of researching this issue and here is my prediction for Dolphins fans: Ryan Tannehill is not the answer.
How many games will Ryan Tannehill start for the Miami Dolphins?
I looked at all the QBs taken in the first 2-3 rounds of the NFL draft, going all the way back to 1998. It's not fair yet to assess the players from the 2011 draft, as there just hasn't been enough time.
I chose 1998 as a starting point for a few reasons. One, the top of this year's draft brings back many memories of the Peyton Manning-Ryan Leaf debate from the '98 draft class.
Second, that year signaled a change in how the pro game was going to be played, from an offensive point of view.
We were one year away from the birth of The Greatest Show on Turf, and the start of some of the most outstanding offensive production of all time.
Here is the raw data, separated by how many QBs were initially considered being in that first elite tier, along with the highly drafted quarterbacks (in bold) who were a part of that next tier:
3 QB Drafts

1999

2004

2006

Tim Couch (Round 1, Pick 1)

Donovan McNabb (1/2)

Akili Smith (1/3)

Eli Manning (1/1)

Philip Rivers (1/4)

Ben Roethlisberger (1/11)

Vince Young (1/3)

Matt Leinart (1/10)

Jay Cutler (1/11)

Daunte Culpepper (1/11)

Cade McNown (1/12)

Shaun King (2/50)

J.P. Losman (1/22)

Kellen Clemens (2/49)

Tavaris Jackson (2/64)

2 QB Drafts

1998

2002

2005

2007

2008

2009

Peyton Manning (1/1)

Ryan Leaf (1/2)

David Carr (1/1)

Joey Harrington (1/3)

Alex Smith (1/1)

Aaron Rodgers (1/24)

JaMarcus Russell (1/1)

Brady Quinn (1/22)

Matt Ryan (1/3)

Joe Flacco (1/18)

Matthew Stafford (1/1)

Mark Sanchez (1/5)

Charlie Batch (2/60)

Patrick Ramsey (1/32)

Jason Campbell (1/25)

Charlie Frye (3/67)

Kevin Kolb (2/36)

John Beck (2/40)

Drew Stanton (2/43)

Brian Brohm (2/56)

Chad Henne (2/57)

Josh Freeman (1/17)

Pat White (2/44)

1 QB Drafts

2000

2001

2003

2010

Chad Pennington (1/18)

Michael Vick (1/1)

Carson Palmer (1/1)

Sam Bradford (1/1)

Giovanni Carmazzi (3/65)

Drew Brees (1/32)

Quincy Carter (2/53)

Marques Tuiasosopo (2/59)

Byron Leftwich (1/7)

Kyle Boller (1/19)

Rex Grossman (1/22)

Tim Tebow (1/25)

Jimmy Clausen (2/48)

Colt McCoy (3/85)
You may take issue with how I split some of the tiers, like 2005, but if you remember that year's draft, Smith and Rodgers were considered head and shoulders above the rest of the QBs in that draft. Rodgers slipping all the way to 24th in the first round was not considered a real possibility, until it happened.
Overall, I think the names speak for themselves. There were by my count 27 quarterbacks taken over those 13 drafts, who would otherwise qualify as "second tier" players.
Only one selection from those 27 can be called franchise-changing (Brees). That's a success rate of less than 4 percent. Believe me, when a team takes a QB in the first or second round, they are expecting success, franchise-changing success at that.
In fact, the success rate for the elite QBs (15 out of 25 in this sampling) is still a somewhat mediocre 60 percent, but that is a huge improvement over the second-tier draftees.
Now, admittedly some of the second-tier QBs listed have had their moments (Culpepper, Campbell) and some may have more moments still ahead of them (Kolb, Freeman, Tebow).
But when an NFL team invests one of its top picks into a quarterback, the assumption is that there will be several years of stability and productivity ahead of that player.
The evidence simply says that spending an early-round pick on a QB outside the elite, first tier is a wasted investment. From Cade McNown and J.P. Losman to Patrick Ramsey and Kyle Boller, the NFL draft has consistently shown us that if you are not an elite QB, you are not worth owning.
The course of history is not going to change for Ryan Tannehill, a converted wide receiver with only 20 starts to his name. And yet, the Dolphins are betting that Tannehill will buck the trend, and become the next Drew Brees. That simply is a bet I wouldn't make.
This article is
What is the duplicate article?
Why is this article offensive?
Where is this article plagiarized from?
Why is this article poorly edited?

Miami Dolphins: Like this team?