New England Patriots: 7 Bold Predictions for Pats' 2012-13 Season
Ezra Shaw/Getty Images

The New England Patriots are coming off of a season in which they overachieved and were a mere play or two away from becoming Super Bowl Champions despite deploying a defense every week ranked 31st in the league. However, after winning their fifth AFC Championship in 11 seasons, Tom Brady and the 2012-13 Patriots are a team that will go under no one's radar. Here are seven bold predictions for the 2012-13 New England Patriots.
Begin Slideshow

»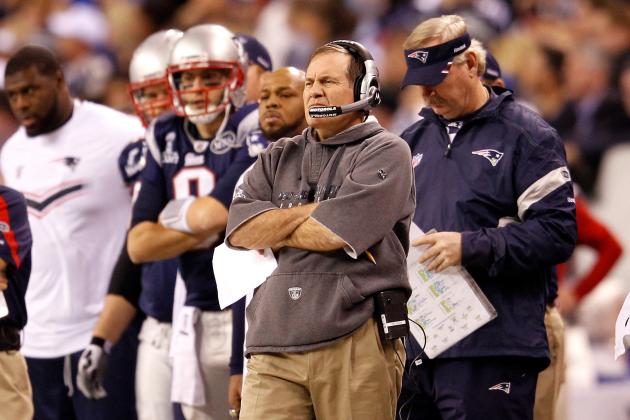 Rob Carr/Getty Images
Belichick Will Once Again Lead the Patriots to a Successful Campaign
The Patriots head into the season with some tough opponents, but for the most part, every tough AFC matchup on the schedule is paired with an easy one the week before. The toughest AFC opponent on paper would seem to be the Houston Texans on December 10 on Monday Night Football. The Texans are a legitimate threat to New England's hold on the AFC crown this season even after losing defensive end Mario Williams via free agency.
Other than their bout with Houston, the only game that jumps out is the Baltimore Ravens on September 23. The Ravens will be looking for revenge after narrowly missing out on a trip to the Super Bowl against New England this past February. However, if New England's defense is as improved as it looks like it could be on paper, the Patriots should sneak past Baltimore, even without Lee Evans in the lineup to give them a chance.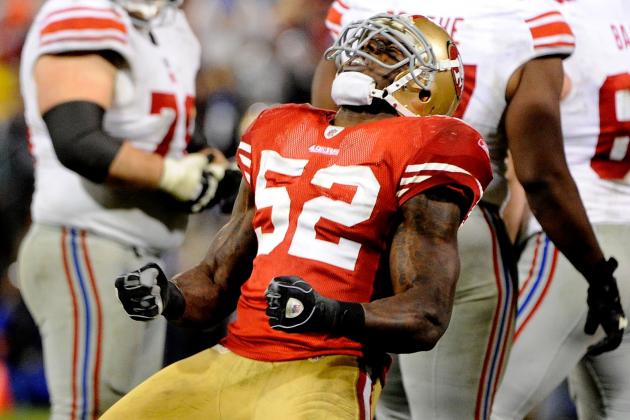 Thearon W. Henderson/Getty Images
Patrick Willis and the 49er's Will Be No Push-Over
Building off my last statement that the Patriots will not lose a game in the AFC all season, the Patriots will not lose a game to the NFC before squaring off with the San Francisco 49ers on December 16. The Patriots face just Arizona, Seattle and St. Louis of the NFC West before their matchup with San Francisco.
However, the Patriots second quest for perfection since 2007 will be ended on this night as the 49ers win a low-scoring game in which Brady is consistently bothered by the players like Justin and Aldon Smith. Look for a motivated Randy Moss to hit the field in his second return to New England since being traded in 2010.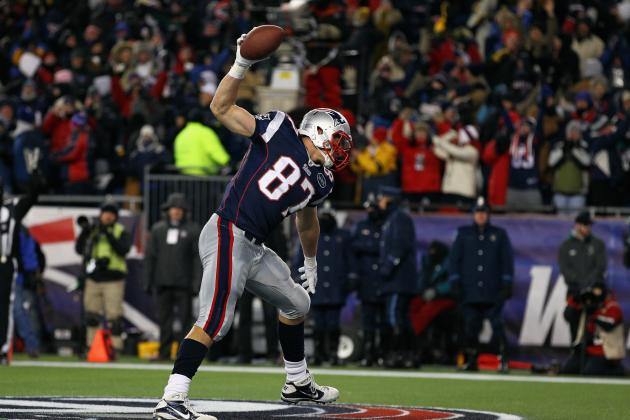 Al Bello/Getty Images
Gronkowski May Be Spiking Less
Rob Gronkowski has set the world on fire with his statistics through his first two seasons, especially last year in which he had 17 touchdown receptions on 90 catches. So much attention is going to be diverted to Gronkowski this season that, by no fault of his own, his production is going to go down. The mantra of the Patriot offense has always been to hit the open man, and in many cases this year, that is going to be someone else.
The coverage shades that Gronkowski, Aaron Hernandez and Brandon Lloyd may draw could very well make a player like Jabar Gaffney the beneficiary. Brady will not constantly force balls in to Gronkowski now that he has legitimate threats lining up on the outside. Gronkowski may play just as well as he did last year, but teams are not going to let themselves be embarrassed by him anymore.
Jim Rogash/Getty Images
Vereen Could Add Another Dimension to the Patriot Offense
Just a year ago, running back Shane Vereen was a second-round pick by Bill Belichick out of the University of California, Berkeley. During his rookie year, he was rarely utilized, only seeing significant playing time against the Kansas City Chiefs in November. That being said, one thing is for certain, Belichick selected Vereen ahead of Stevan Ridley for a reason, and it was not to sit the bench.
Then, there is Danny Woodhead. Woodhead exploded onto the scene in New England in 2010, gaining 926 yards, and averaging over seven yards a touch. However, once teams got tape on him, his production went way down. In 2011, Woodhead was only able to squander 5.34 yards per touch and gained just 508 yards, despite playing in one more game than he did in 2010. That is a significant decrease.
Vereen could add explosiveness to that third down role that Woodhead was close to having in 2010. Chances are he is going to get the opportunity to prove that in 2012.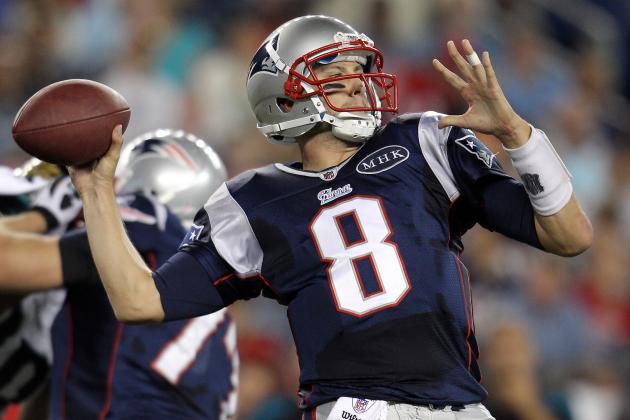 Elsa/Getty Images
Hoyer Would Love a Chance in His Contract Year
With the exception of the tearing of his ACL in 2008, Tom Brady has never missed a game since becoming the starter in New England despite many documented injuries. At some point, maybe due to a less-experienced left tackle like Nate Solder, Brady is going to get hurt. Brady is a tough player, but chances are he is not going to go his whole career while only missing a game in one season. With the exception of rare cases such as Brett Favre or Peyton Manning, that does not happen.
Hoyer would love a chance to show the league what he's got heading into an offseason in which he will become an unrestricted free agent. At the same time, the situation could work against Hoyer. Instead of a team being curious about his talent, he could show them that he does not have much of it. Either way, Hoyer could get the opportunity he has been looking for in 2012.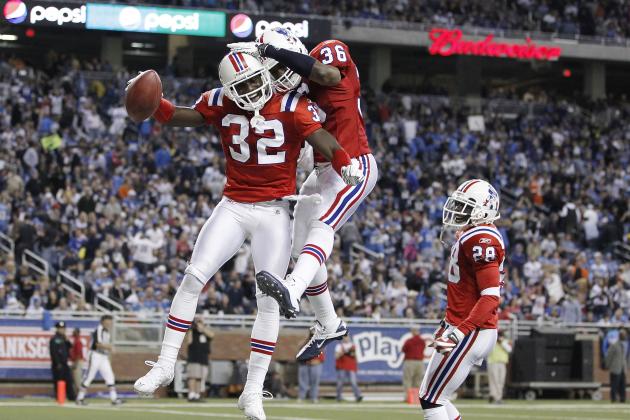 Gregory Shamus/Getty Images
McCourty Will Look to Re-Gain His Swagger in 2012
Devin McCourty was the whipping boy of Patriot fans worldwide last year after a stellar rookie season in which he was voted to the Pro Bowl and Second-Team All-Pro. He was so out of position so often on plays, that it is hard to believe there was not something physically limiting him such as a hip or groin injury. As is usually the case with the New England Patriots, rarely do you have any idea what a player's true health status is.
Assuming McCourty is healthy again in 2012, I would expect for him to return to the play-making form he displayed in 2010 and once again be among the NFL leaders in interceptions.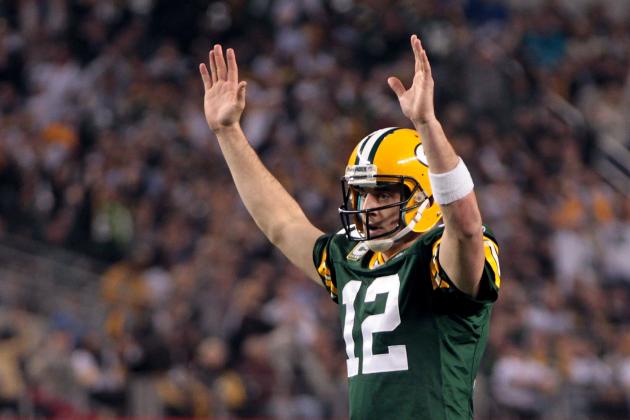 Jamie Squire/Getty Images
Rodgers Could Lead Green Bay Back to the Promiseland
Since the New York Giants won the Super Bowl, the 2011 Green Bay Packers will be lost in history. However, it is important to remember it was the Packers who were fighting for an undefeated season all year until a late season, surprise loss to Kansas City. Aaron Rodgers is still arguably the best quarterback in the league, coming off an MVP season and a Super Bowl championship the year before. They are well-stocked to make another run at a title in 2012.
New England, whose juggernaut of an offense will never be in question, and whose defense should be able to finally hold their own again this season will stand solid. What was once a Favre vs. Bledsoe Super Bowl, could very well become a Brady vs. Rodgers Super Bowl in this latest rendition.
Patriots 30, Packers 23.