Mario Williams Delivers Music to Buffalo's Ears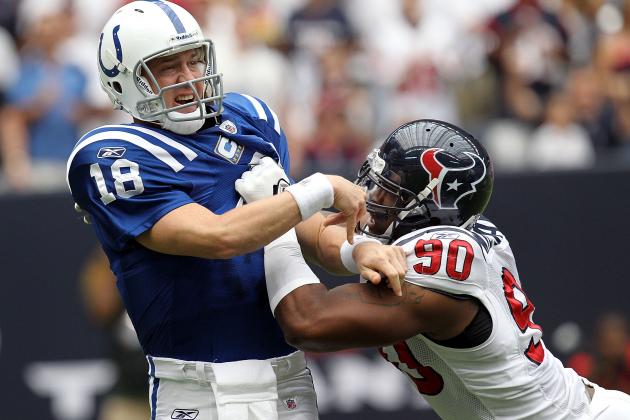 Ronald Martinez/Getty Images
Super Mario has a done deal in Buffalo. Now it's Peyton's turn to close his.
The following slideshow is a recap of the days leading up to the signing of free agent defensive end Mario Williams by the Buffalo Bills.
It all began on Tuesday, March 13, when Bills general manager Buddy Nix and defensive coordinator Dave Wannstedt flew by private jet to pick up Williams at his home in North Carolina.


Begin Slideshow

»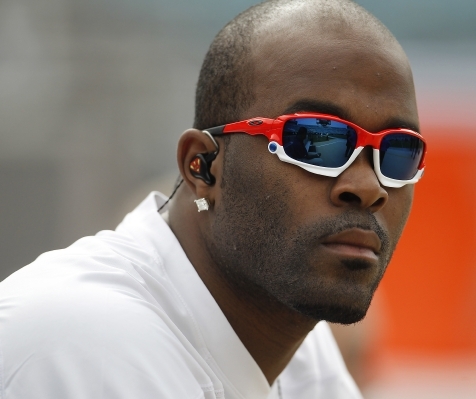 According to Mario Williams, he felt loved the moment he landed in Buffalo. - YNN
The waiting is the hardest part.
Every day you get one more yard.
You take it on faith, you take it to the heart.
The waiting is the hardest part.
Tom Petty
Rock 'n' roll musician Tom Petty wrote the words to a song called "The Waiting" back in 1981, but for 48 hours last week, the classic anthem was a silent refrain for each and every fan of the Buffalo Bills.
With superstar pass rusher Mario Williams in town for two days and two nights, the town known as the Queen City came to a standstill, as the team's front office tried in vain to get Super Mario to sign on the dotted line.
Don't let it kill you baby, don't let it get to you.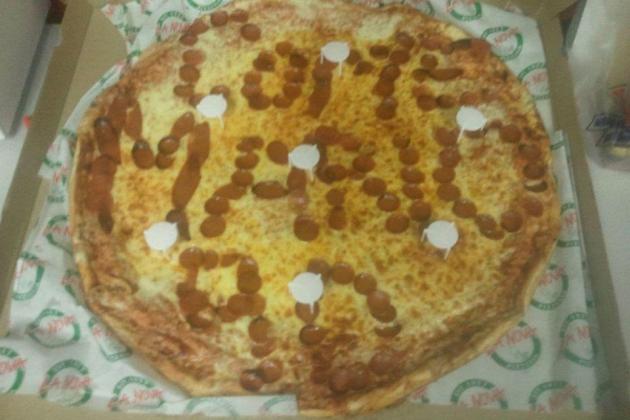 A pizza shop wanted Williams so bad, it created a large, cheese pie with a message on top. thepenaltyflagblog.com
Twitter posts in Buffalo lobbied for Williams, strangers cheered him and the Bills wined and dined him.
But as the hours slipped into days, the smiles turned to frowns and bargaining began to set in.
I'll be your bleedin' heart, I'll be your cryin' fool.
Don't let this go too far.
Williams' fiancee was treated like a queen when her plane touched down at Buffalo-Niagara Airport.
Even pizzas were made with Mario's name on them, which forced a chuckle from the big guy.
But all the while, his sports agent urged him to stay patient. Tom Condon felt bad for Williams, but he had his hands full in Tennessee, where he was representing his other high-profile client, Peyton Manning.
Condon could not be in two places at once, so he told Williams to relax, see the sights and keep his intentions to himself.
Every day you see one more card.
You take it on faith, you take it to the heart.
The waiting is the hardest part.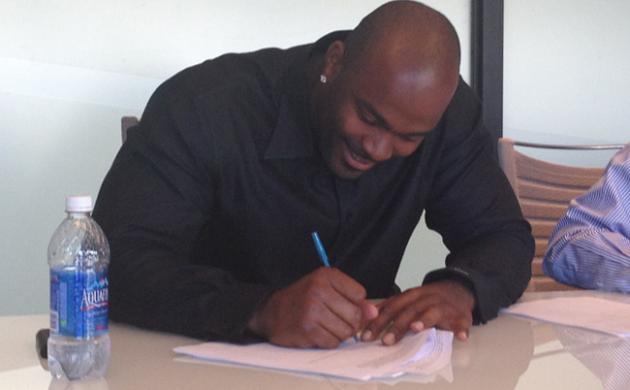 Williams admitted to having a bad case of trembling hands, as he put pen to paper. BuffaloBills.com
But finally, on a unseasonably warm, late winter's day, Bills Nation got its answer.
Williams awoke that morning with his mind made up and by Thursday afternoon, he electrified western New York with a thundering "Yes."
He then expressed his thoughts at an afternoon press conference.
"You don't get many chances like this, and opportunities to come in and be the guy, who can help the team get across the hump. And that's definitely what I'm here for."

Mario Williams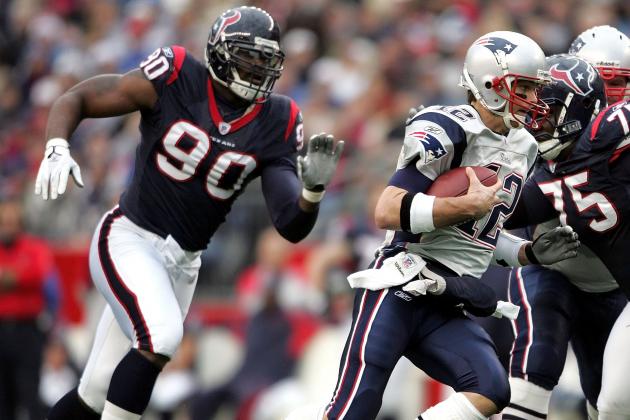 Elsa/Getty Images
Williams has always played in the AFC, but now he can chase Tom Brady twice a year.
For Williams, the wait was well worth it, as he accepted an offer that easily makes him the highest-paid defensive player in NFL history.
By today's standards, the check is large: The terms of the deal include up to $100 million over six years, with $50 million of that guaranteed.
Like Don Corleone in The Godfather, Bills General Manager Buddy Nix made Williams an offer he couldn't refuse. And the giant pass rusher accepted it with gratitude.
He also licked his chops, as he envisioned himself bearing down on AFC East signal-callers:
"I've played against good quarterbacks and I'm looking forward to playing against these quarterbacks and chasing them down a little bit. I'm so excited, man. There's so many people to thank and it's been a long couple of days and I'm tired. But it's definitely worth it."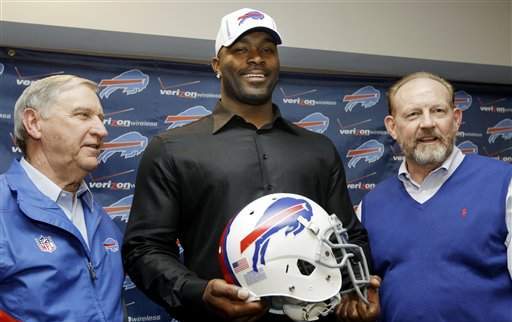 Buddy Nix and Chan Gailey did not leave Mario's side from moment he arrived. WIVB.com
Mario will certainly sleep better than he did on Tuesday night and Wednesday.
But the same can not be said for Nix and the Bills.
Nix joked about spending a large chunk of the club's savings on the two-time Pro Bowler:
"Our number one goal all along was to sign Mario... Remember when we said that we'd be out of the business by Friday? Well have you seen his contract? We may be out of the business."

Bills GM Buddy Nix
For Buffalo, Williams' signing marks the biggest free agent acquisition in franchise history.
For head coach Chan Gailey, however, it fills the team's greatest need and puts the Bills one step closer to their main objective:
"We talk about being champions. There is no other goal and he just helps us take one more step to reach that goal. Now you've got to go out there and do it."

Bills Head Coach Chan Gailey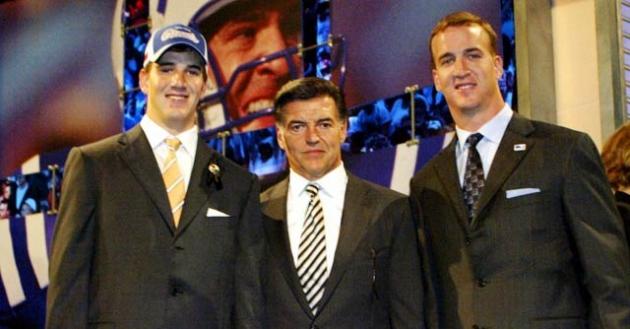 Super Agent Tom Condon represents Mario Williams and the Manning brothers.
Was that so hard, Bills fans? Like your team, you must be relieved. But why did it take so long?
As I suggested Wednesday, Williams' decision may have been placed on hold because the "Peyton Manning sweepstakes" took precedence.
Williams' stalling had nothing to do with Manning's status as a four-time NFL MVP. Instead, it was due to the simple fact that Manning and Williams share the same agent.
Prior to Mario's signing, a Bills fan responded to my Wednesday column with frustration, claiming that Williams' two days of indecision was insulting. He felt "taken advantage of" and believed that Williams was being selfish. He also felt that Mario's postponement of a decision was "a big, embarrassing slap in the face" to the Bills and their fans.
I countered by using receiver Robert Meachem as an example of selfishness. The Bills reportedly had the former New Orleans free agent signed, sealed and delivered Tuesday night. But they were left holding the bill at a restaurant in Buffalo. Following dinner, Meachem suddenly spurned Buffalo to accept a larger offer from the San Diego Chargers. Imagine how the Bills felt. They paid for Meachem's meal and he flies the coup, for a team that did not even meet with him.
In responding to my reader, I also reiterated my hunch that Mario was simply waiting to get an update on Manning's interest in Tennessee.
If Peyton rejected Tennessee's offer on Wednesday, all bets may have been off for Buffalo, and Williams could have been on the next flight out to Nashville.
Ultimately, Peyton should be the one to thank for Mario's cancellation of a trip to Tennessee that he had scheduled.
While Manning's visit extended into the late evening hours, Williams took a physical with the Bills and toured Buffalo.
Don't it feel like heaven right now?
Don't it feel like something from a dream?
Yeah I've never known nothing quite like this.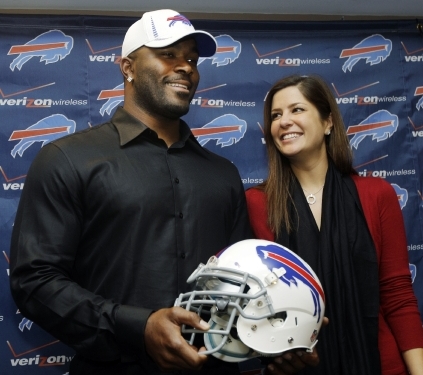 Williams and his fiancee Erin Marzouki were all smiles at his press conference.
Williams was reportedly humble through the whole process in Buffalo and according to fellow Bleacher Report columnist Josh Cembellin, he took time to study his surroundings.
Williams said:
"I couldn't say no...They told me when I got here that you're gonna see why people live here and stay here...and it's not what everybody says. In the two days of being here, I think it was necessary to actually digest all of that and to see things. So when I came here with an open mind, I wasn't just here and then, 'I'll see you later, on to the next.' All I heard was hearsay. So, I had to take my time, be open-minded and make my decision for myself."
It proved that Williams did not listen to critics of the area, and instead, targeted a place like Buffalo because it is well known for embracing its own.
"From day one, it's been nothing but love here...Until you actually get here and see what's here and what's in front of you, and see the fans and everything that this great city has to offer...It definitely got the message across."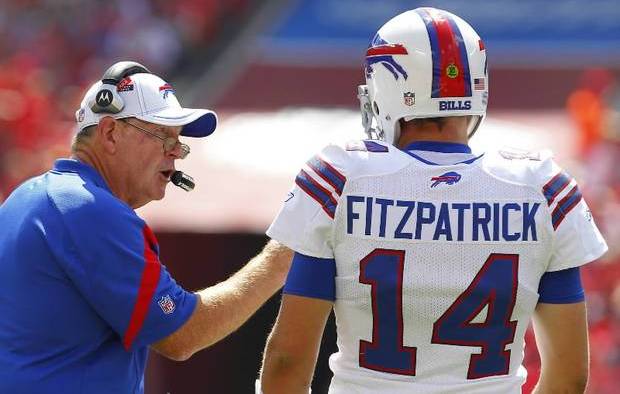 Gailey allows QB Ryan Fitzpatrick to improvise. He expects the same from Mario Williams.
Bills head coach Chan Gailey also got his message across to the 27-year-old Williams.
In speaking to Mario at a dinner Tuesday night, Gailey described how he enjoys giving his players the freedom to utilize their strengths.
According to wide receiver Stevie Johnson, the coach "doesn't care what you do or how you do it, as long as you beat your man,"
"Just go do what you do and it'll make us better," Gailey told the 2006 No. 1 overall draft pick.
"It's not how many sacks... It's how can I help the team?" Gaily said.
Williams responded that he is not a vocal guy, but wishes to hold himself accountable, while maintaining the same standards that are expected of his teammates:
"I just wanted to be somewhere where I felt like we've got guys that are completely honest, from the players to the top. [I wanted to be] somewhere where I could fit in and feel comfortable."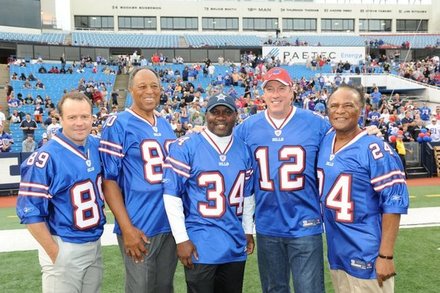 Steve Tasker (89), Thurman Thomas (34) and Jim Kelly (12) all still reside in Buffalo, NY.
Mario Williams expressed a special thank you to 93-year-old Bills owner Ralph Wilson Jr., who opened up his pocketbook just two years after his induction into the Pro Football Hall of Fame.
He also gave thanks to another Bills Hall of Famer who did his part to recruit the pass rusher; Former quarterback Jim Kelly invited Williams to his suburban home and asked Mario to accompany him and his friends on some "hunting adventures."
Don't it feel like tonight might never be again?
We know better than to try and pretend.
Baby no one coulda ever told me 'bout this.
I said yeah, yeah...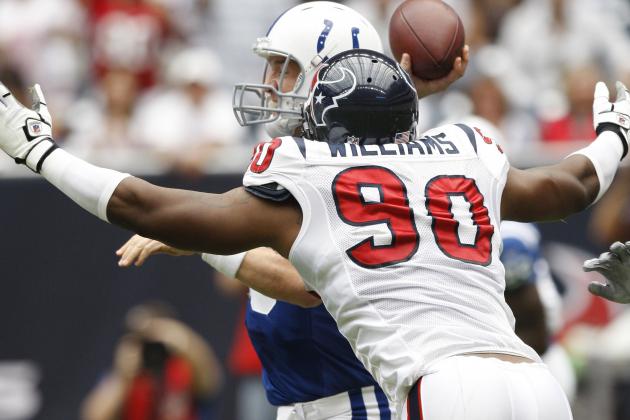 Bob Levey/Getty Images
If the Titans get their man, Peyton Manning will see more of Mr. Williams in the AFC.
Meanwhile, the world still waits on Peyton Manning.
This writer has not changed his opinion:
I believe Manning is very close to accepting Tennessee's offer, despite reports that Denver and San Francisco have a chance.
If he does, he would return to the place he went to college, to an area where his wife was born and raised, and to a team that has promised him an opportunity to work in its front office upon retirement.
It may be an offer Peyton can't refuse and one that Mario may have learned of late Wednesday night.
If Williams got the inside scoop that Manning was leaning towards Tennessee, his waiting was over and Buffalo's too. The only thing he had left to do was introduce himself to the Bills' faithful:
"It's almost like a college atmosphere. This is what people bleed and breathe and live, so I'm really happy for the opportunity to be a part of it. I had to duck and dodge a little bit, but it's great. That's what you want. You know, you want a fan base that's like that."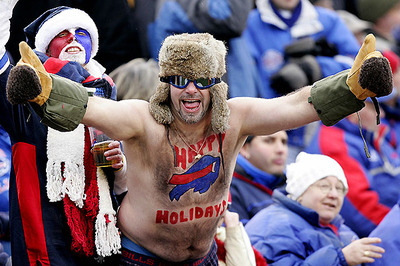 Christmas came early for Bills fans, who are ready to embrace Super Mario.
Williams later added an interesting tidbit to his story.
He said that he spent quality time in the cities of other teams that courted him, but he had never seen Buffalo in depth, including a time he visited three years ago, when the Bills hosted the Texans:
"My old [defensive line] coach, Bill Kollar, used to be here [in Buffalo] and he told me, 'my ears lie to me, but my eyes don't.' I heard so much about this city and it's not fair, for the simple fact that there's great people here and there's caring and compassionate people that definitely have your back."
There were those that made me feel good,
But never as good as I'm feeling right now.
Baby you're the only one that's ever known how,
To make me wanna live like I wanna live now.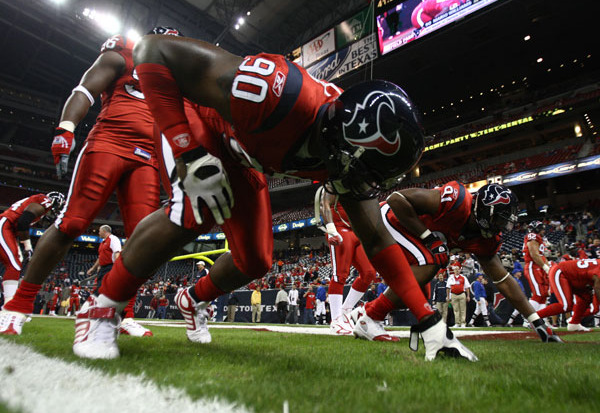 Mario will team with Kyle Williams and Marcell Dareus to form a formidable D-Line.
Buffalo clearly has Williams' back, but the team has to get used to being in the spotlight.
After Thursday's press conference was pushed back nearly two-and-a-half hours, the Bills communications staff apologized for the wait, but GM Buddy Nix may have said it best, when he took to the podium: "I want you guys to remember. Good things come to the people that wait."
And at 6'6," 283 pounds, Mario Williams certainly fits the bill, to push Buffalo closer to its ultimate goal.
As Tom Petty sang:
Every day you get one more yard.
You take it on faith, you take it to the heart.
The waiting is the hardest part.
Joe Versage is a NFL Correspondent at Bleacher Report. He previously covered the Buffalo Bills, Washington Redskins and Baltimore Ravens as a television beat reporter. Follow him on Twitter at: @dcjoev.