NFL Free Agency: Possible Destinations for Quarterback Jason Campbell
February 25, 2012

Thomas B. Shea/Getty Images
The NFL offseason has so far been full of some intriguing storylines. Not the least of which is the potential destination of a certain quarterback as the result of some likely controversy with his team from last season.
No, not Peyton Manning. Jason Campbell. Duh.
The seven-year pro has had a rough past couple of years. In 2010, his first season with the Oakland Raiders, Campbell was benched in favor of backup Bruce Gradkowski after just one-and-a-half games. Campbell was reinstated as the starter a few games later and finished out the season—in part because of an injury that Gradkowski suffered.
Despite guiding the team to its first non-losing record since 2002, Campbell did not exactly have the backing of then-coach Tom Cable. But when Cable was fired and Hue Jackson was hired to replace him, Campbell's future as the Raiders starter looked a bit more secure and solidified.
Fast forward to Week 6 of the 2011 NFL season, when Campbell suffered a severe fracture of his right clavicle. Not surprisingly, he did not play another down for the rest of the year.
Worse, however, than a broken collarbone on Campbell's throwing side was the Raiders trade for the semi-retired Carson Palmer. A former protégé of coach Jackson while with the Cincinnati Bengals, Palmer was firmly named the No. 1 starter for the remainder of the Raiders season.
Jackson rested Oakland's playoff hopes squarely on the shoulders of Palmer, a clear sign that Campbell would quickly and soon be forgotten were he ever to return to full strength. As such, despite having guided the Raiders to a solid 4-2 start to the season, Campbell became the invisible man in Oakland.  
After two seasons of not exactly warm hospitality from the Raiders franchise, Campbell embarks on this offseason as a free agent searching for a new home.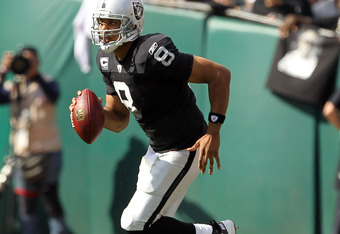 Ezra Shaw/Getty Images
Given his injury last year, one can only assume that Campbell will regain his arm strength quickly. He is still young enough, at 30, to provide some team with a handful of competitive seasons at an above-average level. So while several analysts explore which teams will court the services of Manning, who himself was out of commission for all of 2011, the teams that have a bit less money under the salary cap may want to pursue Campbell as well, or instead.
One of the top possible destinations for Campbell is the Chiefs, who had their own quarterback carousel last season. They began 2011 with Matt Cassel as their starting QB but finished the year with Kyle Orton under center, after claiming him midseason off waivers from the Denver Broncos.
Orton, himself, is a free agent this offseason, and the Chiefs have admitted that they are interested in retaining the seven-year quarterback. During his three starts with Kansas City, Orton posted an 85.4 quarterback rating, guiding the team to two victories. He clearly still has the ability to lead an offense.
But the Chiefs might be interested in reuniting Campbell with current quarterbacks coach Jim Zorn, who guided Campbell when he was the head coach of the Washington Redskins. Campbell experienced his most successful seasons under Zorn's tutelage. A reunion would be a potentially magical if not comfortable one for Campbell.
The Chiefs need someone who can run the show and play mistake-free football. Campbell is renowned for being a game manager, so he fits in nicely with Kansas City's running game. Coming off an injury-plagued season, Campbell's asking price should not be too steep for the Chiefs to bid on.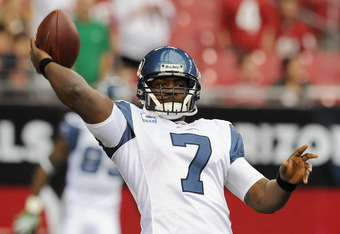 Norm Hall/Getty Images
Look for Kansas City to make a strong push for Campbell.
The Seahawks struggled mightily last season after the departure of former starting quarterback Matt Hasselbeck to Tennessee. The incoming Tarvaris Jackson did not fare all that well in the Pacific Northwest, chipping in mediocre season numbers: 60.2 completion percentage with 14 touchdowns, 13 interceptions and a 79.2 quarterback rating.
The Seahawks had a fairly weak offensive performance all around, but the passing game was especially disappointing. The wide receiver corps was young and rather inexperienced, and Jackson was unable to find consistent chemistry with any of them—even veteran Sidney Rice, who also signed on with the 'Hawks after leaving the Minnesota Vikings.
Campbell would fit in nicely in Seattle, a team that proved to be strong in the running game behind the likes of Marshawn Lynch and Leon Washington. Campbell would also be reunited with one of his former favorite targets in Oakland, tight end Zach Miller. The two developed a nice rapport in 2010.
It'd be a longer possibility, but Campbell could definitely make some noise with Seattle, should they opt to pursue him.
To say that the Cardinals had a tough time filling the quarterback position last year would be an understatement. Three different quarterbacks saw playing time during the season: Kevin Kolb, backup John Skelton and backup backup Richard Bartel.
Collectively, they stunk it up, with offseason acquisition Kolb leading the way.
The Cards will look to find more consistency and durability at the quarterback spot. Kolb missed a number of games due to various nagging injuries, but worse, he was unable to perform at the high level that was expected of him coming in. As such, it has been reported that his role as the starting quarterback may be in jeopardy heading into 2012.
If the Cardinals are truly going to provide Kolb with some competition heading into training camp, they might consider bringing in Campbell to fight for that spot. Campbell has a strong arm, and his deep-passing ability would mesh well with wide receiver threats Larry Fitzgerald and Early Doucet.
Furthermore, Campbell's penchant for connecting with tight ends would work with the outstanding veteran Todd Heap in tow.
Arizona may not take a risk on another quarterback coming off of injury, but they should consider Campbell as a possibility if they are truly not sold on Kolb.
Washington Redskins

It would be somewhat interesting to see the Washington Redskins look to acquire Jason Campbell, the quarterback who they selected in the first round of the 2005 draft. Campbell had a successful few years as the Redskins' starting quarterback, passing for over 3,000 yards in both 2008 and 2009. In those two seasons combined, he tossed 33 touchdowns against 21 interceptions.
He was on the verge of a stellar career with Washington. However, the team as a whole did not produce, and Campbell's record as a starter in three-plus seasons was 20-32.
'Skins fans are probably up in arms still of how things went down, in hindsight. Campbell was run out of town after Washington brought in veteran Donovan McNabb. Unfortunately, McNabb floundered in his lone season in D.C., and the team has not recovered since.
Last season, the Redskins juggled two quarterbacks, Rex Grossman and John Beck. Both signal callers flopped. Grossman started 13 games, tossing 25 interceptions to go with six lost fumbles. Beck, on the other hand, fared only slightly better in his three starts, compiling a 72.1 quarterback rating to go with two touchdowns and four picks.
Washington could use some stability under center. Grossman has proved nothing in his career to lead teams to believe he can run an offense consistently. Campbell would certainly bring experience and the ability to play error-free football the way that Grossman is unable to.
The 'Skins would be fortunate to have the opportunity to redeem themselves with Campbell; and Campbell might find comfort in the confines of an organization that he found success with early in his career.
Oakland Raiders
The Oakland Raiders have made it clear that Carson Palmer will be the starting quarterback in 2012. His $12.5 million salary in 2012 is obviously hard to get rid of, and it's even more impossible to have him be the team's backup quarterback.
But one thing is certain from last season: Palmer did not do enough to get the Raiders to the playoffs. And there is evidence that the Raiders were clicking better with Campbell under center, as they were seemingly cruising to a 4-2 record before he went down for the season.
It's practically impossible that the Raiders would hang onto Campbell as a backup QB, however. It really makes no sense to the organization to throw down that much money at the quarterback position, with two quality starters on the roster.
Furthermore, Campbell will not likely want to sign with a team that has so clearly lost interest in him so quickly.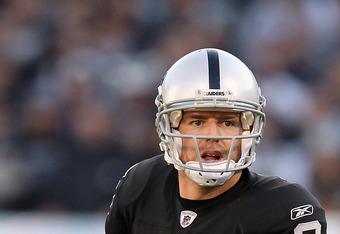 Ezra Shaw/Getty Images
But make no mistake: Palmer was brought to the Oakland by former head coach Hue Jackson. And now that Jackson is gone, new head coach Dennis Allen can truly assess how invested the team is in Palmer. Is it possible that Campbell could sign a one-year contract and wow the coaching staff in training camp? Enough to warrant the potential to be the starting quarterback of Allen's offense?
Likely not. Probably not. Definitely not.
But you never know. The Raiders seemed to have some success with Campbell manning the offense. It wouldn't be a bad thing if he found his way onto the roster as a free agent.
After all, the Raiders could do much worse. Two words: Kyle. Boller.

Follow me on Twitter: @nathanieljue