Dwight Howard: Expect Orlando Magic C to Become Free Agent
February 1, 2012

Brett Deering/Getty Images
Dwight Howard is the NBA's favorite trade topic for the past year, but the superstar center will not be dealt before the trade deadline because the Orlando Magic are not getting any good offers.
Clearly the NBA's best center, Howard is in the final year of his contract and will command a hefty ransom. As such, the three-time Defensive Player of the Year will have to agree to a sign-and-trade with the club who acquires him.
The bad news for the Magic is no team is giving them serious offers for Howard. 
The 6'11" Howard made a list that included the Magic, Los Angeles Lakers, New Jersey Nets and Dallas Mavericks as teams with whom he would sign long-term deals.
Other teams that D12 has flip-flopped on include the Chicago Bulls (via the Chicago Tribune), Boston Celtics (via the Boston Herald) and Los Angeles Clippers (via Sheridan Hoops).
This doesn't even include the Golden State Warriors or New York Knicks, who have inquired in trading for Howard's services, teams not on Howard's list of teams with whom to sign an extension.
Despite this huge interest, two reasons exist as to why Howard will become a free agent instead of being traded.
The first reason is teams are not providing good or serious trade offers.
The Lakers would have to part with both Pau Gasol, Andrew Bynum and draft picks to obtain Howard. The big problem is Lakers owner Jim Buss told to Los Angeles Times he's not trading both Gasol and Bynum for Howard.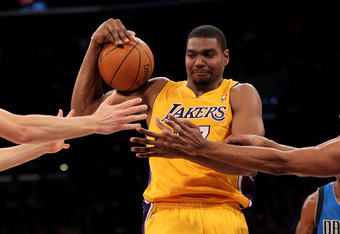 Stephen Dunn/Getty Images
Would just one All-Star plus players like Metta World Peace (Ron Artest) and picks be enough? No.
Moving on to the Nets, they have the young and offensively potent Brook Lopez to offer, but the 23-year-old center is out with a broken right foot. Kris Humphries and MarShon Brooks might also be part of the package, but that's still not enough for Howard, as they are role players. 
The Mavericks obviously don't have the pieces to trade for D12 either. They will never part with Dirk Nowitzki, who is also on the decline. Vince Carter (35), Lamar Odom (32), Jason Kidd (almost 39) and Jason Terry (34) are all past their primes and the Magic need youth.
The Bulls have the most to offer for Superman. All-Star caliber big men in Joakim Noah (26), Carlos Boozer (30) and Omer Asik (25) are available.
However, the Magic would probably really want Luol Deng, who is the Bulls' second-best player. Plus, the Bulls will probably ride out the season with the team they have to maintain chemistry.
The Clippers were a curious possibility for Howard, as point guard sensation Chris Paul and power forward Blake Griffin is there. Obviously, those two are off limits.
What the Clippers have left to offer are aging assets like Chauncey Billups (35), Caron Butler (31) who the Magic can't build around. Young center DeAndre Jordan is a possibility, but the Clippers signed him for over $40 million this offseason, so he's probably in their future plans.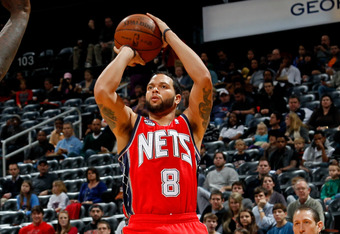 Kevin C. Cox/Getty Images
Possible trading chips like shooting guard Eric Gordon and center Chris Kaman are already with the New Orleans Hornets via the Paul trade. With that said, don't expect the Clippers to make a serious offer.
A Celtics trade would never work. Kevin Garnett (35), Ray Allen (36) and Paul Pierce (34) are all on the downside of their careers while Rajon Rondo (25) is someone the Celtics would want to build around. There could be a third team involved, but Howard would not have much to work with in a depleted Celtics squad.
The Warriors strongly want D-Howard on their roster, even though he won't sign long-term with them. Their offer of Monta Ellis, Andris Biedrins and Ekpe Udoh will not cut it. While Ellis is a great player, he can't defend well. Plus, Biedrins and Udoh are bench players.
New York was rumored to be interested in Howard, but the Knicks acquiring D12 is mostly chatter by Stephen A. Smith. While Tyson Chandler and Amar'e Stoudemire would be intriguing, the Knicks signed both big men to long-term deals.
If the Knicks unloaded Chandler and Stoudemire, they might have difficultly attracting big-time free agents as they will not trust the New York to honor their contracts.
With that said, reason No. 2 is Howard would have more of an advantage going one of his choice teams in free agency.
Teams like the Nets and Mavericks with little to offer for Howard wouldn't have to give up any important piece if Howard were a free agent. The Lakers wouldn't have to give up Gasol and Bynum either.
Plus, teams like the Bulls who haven't used the amnesty clause yet might exercise that clause to make room for Howard's max contract.
Wherever Howard goes in free agency, most likely Nets point guard Deron Williams will follow. Williams has made it no secret he wants to play with Howard, and both could sign with the same team and make that club instant title contenders.
A Lakers' lineup of Howard/Williams/Bryant with or a Mavs version of Howard/Williams/Nowitzki would rival the Miami Heat's current Big Three as they would battle for NBA supremacy.
With teams not willing to give the Magic enough and Howard not willing to sign long-term extensions with most teams, don't be surprised if D12 lands into free agency.
Bob Bajek is an NBA Featured Columnist. He is also a freelance reporter and can be followed at Patch.com and Twitter.