Denver Broncos and New York Jets Need Peyton Manning at Quarterback the Most
January 24, 2012

Andy Lyons/Getty Images
Rarely has a hall of fame quarterback been put on the market when he still has a few years left. Joe Montana left the 49ers so that Steve Young could get some time behind center. Peyton Manning may be stuck in the same position.
Time says that the 49ers made the right call, and most would agree that given Andrew Luck's pedigree and the fact that the Colts have basically gone back and are starting from scratch, there is probably no more room for No. 18 in Indianapolis. Montana went ahead and had several good years for the Chiefs, and somebody out there is hoping that Manning can do the same for them.
Of course, the biggest concern is whether or not Manning will be healthy, and for this argument I am going to assume that he will be ready to play and have another two to three good years left in him. 
The next big question is whether or not the Colts decide to pay the $28 million to be able to trade him. Although the Carson Palmer trade was a horrible trade for the Raiders, given Manning's stature and ability it would be safe to assume that if the Colts were to trade Manning, he'd get a similar trade in return. So, are a first- and second-round draft pick worth $28 million? I don't know.
Whether the Colts sign and trade Manning or just release him, the next question to ask is where does he fit best?
Many teams are in the hunt for quarterback like the Washington Redskins, Miami Dolphins and maybe the Cleveland Browns. One of them will probably come away with Robert Griffin III, and it's possible that the Dolphins are the leading candidate for Matt Flynn—given that his coordinator from Green Bay just got hired as Miami's head coach.
The one thing that differs in this discussion when talking about guys like RG3, Flynn and Manning is that the first two QBs are likely to be with their team for another decade or so (if they work out) and they will build a team around them. Manning, on the other hand, is a win-now kind of guy. You shouldn't go out and build a team around him; he needs a team that is ready to do some damage this year.
For that reason, I don't think he'd be a great fit for the Dolphins, who, with a new coach, should be building for the long haul. The same with the Browns. The Redskins could be an answer for him, and they are desperate for a decent quarterback. However, I feel they'd be best to try for RG3.

The Cardinals have also expressed interest, and while I am sure Manning could help them out (and a pairing with Larry Fitzgerald would be nice), I don't see the Cardinals instantly turning into a great team with him.
Now, the one team I am leaving off that has been in the rumor mill for Manning's services is the New York Jets. This seems like a perfect fit not only for what Manning can do on the field, but also off of it. Rex Ryan and Mike Tannebaum have a huge problem with their locker room today, and only a big shake-up will help them turn things around. Obviously they need help at quarterback as well.

With a guy like Mark Sanchez in New York, it will be very hard to fix the quarterback situation with a new draft pick or in free agency. They can't draft one of the elite QBs, and any other drafted quarterback will take time to develop, and take time away from Sanchez developing. The only free agent who would be worth debating is Matt Flynn, and I don't think that would be a great option for many reasons.

So, how do the Jets fix their locker room and their quarterback situation? Get Peyton Manning.
If the Jets get Manning, Sanchez will have no argument as to who should be the starter. This is the only way they fix their quarterback problem without cutting Sanchez altogether.

Manning walks in and instantly the locker room changes. Santonio Holmes shuts up knowing that he has one of the best ever throwing him the ball, and that hard-nosed defense knows they have a true leader on offense, and the Jets are one of the strongest and most balanced teams in football.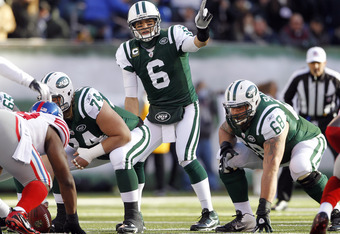 Rich Schultz/Getty Images
Not to mention the secondary benefit, and that is putting Sanchez and his ego in check and making him sit on the bench and learn his trade from one of the best ever. No doubt in two to three years, Sanchez will be a better quarterback if he is still on the Jets. He will be humbled and a much smarter player, if nothing else.
The one team nobody is talking about, but who I think needs Manning as much as the Jets is the Denver Broncos. Yes, I know they have Tim Tebow, and that is exactly why they need a guy like Manning.

John Elway and John Fox know that Tebow has a long way to go before he is an NFL-caliber passer, and if you read between the lines, they are still not satisfied with their personnel at the quarterback position, which is why the guaranteed Tebow the starting job going into the preseason. If they had any confidence in him at all, they would have offered him the job going into the season.
It doesn't take a genius to know Tebow is still miles away from being at the level he needs to be. However, the Broncos are handcuffed to him because of all the national press he is getting and the local love from the Denver faithful. If Fox and Elway were to make a move for any other quarterback in the NFL, they would be crucified, and no other marginal free agent wants to go to Denver because they know they will not get a fair shake.
So, how do Elway and Fox fix their conundrum? Bring in Manning. The Broncos were good enough to get to the playoffs despite having a quarterback that couldn't complete half of his passes. They have a pretty good defense, a strong running game and, with Demaryius Thomas, a big deep-threat receiver who could pair well with Manning.
Like with Sanchez, Tebow needs to be humbled and to have the chance to learn how to play the position at an NFL level. Like Sanchez, Tebow needs time on the bench. He has a lot of work ahead of him if he wants to be considered an NFL quarterback.

If you bring in Manning, you give Tebow two to three years to learn his mechanics, read defenses and learn how to sit in the pocket and make accurate throws. With Manning, Tebow will have the best teacher and the one thing he needs most: time. 
Who knows where Manning will end up, but I know this: the two teams that need him the most are the Denver Broncos and the New York Jets. Both teams have good defenses, both teams have recently made runs into the playoffs and both teams have quarterbacks who need to be kept in check. With one of the all-time greats, both teams would have a real chance at success, and who knows, Tebow or Sanchez might soon become the next Aaron Rodgers.