New York Jets: The Education of Rex Ryan and Mark Sanchez
January 21, 2012

Rob Carr/Getty Images
Well, well, well. Rex Ryan finally speaks.
I got so frustrated with him at the end of the season when it became more and more evident that he was completely oblivious to what was going on with his team's offense. 
From the minute Ryan indicated that they would air it out more in 2011 and Brian Schottenheimer saw that Ryan wouldn't be hands on, Schotty tried to do what had been handcuffed in 2010—turn Mark Sanchez into Drew Brees 2.0. 
It now comes out, in a WFAN Radio interview with Mike Francesa (h/t ESPN), how complex and wordy Schotty's play-calling was. The plays were so complex, that even Ryan couldn't always follow them. That's not fair to a developing quarterback. This is where Rex, being in those offensive meetings this year, would have really been helpful. I bet he would have told Schotty to simplify things. 
The reason Drew Brees and Sean Payton can run that complex play-calling is because there has been continuity in New Orleans. It takes a while for everyone to learn that type of system. Mark was at an automatic disadvantage with a wide receiving corps that had major turnover in 2011. The receivers had to learn all that verbiage too. Of course, there was miscommunication.
It all makes sense now. 
I think Ryan is somewhat intimidated by offense in general. But he shouldn't be. He just needs to look at things a new way. His stock in trade is coming up with creative defensive schemes to stymie the likes of Peyton Manning and Tom Brady. He has been very successful at it.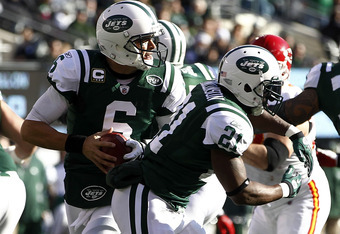 Jeff Zelevansky/Getty Images
He needs to start looking at his OWN offense with that eye and instead of analyzing how to beat it—tell the offensive coordinator what to do to shore up against the kind of defense Ryan would play against it. And then explain to Mark how opposing defenses are going to come after him so he has a better grasp of strategic defensive thinking.
That could go a long way toward repairing what I think is a fractured relationship between Sanchez and Ryan. Forget the Santonio Holmes/Sanchez rift. I think the relationship that needs repair is between Ryan and his quarterback. 
It seemed to me this past year Ryan became too enamored with the idea of being Rex Ryan: Media Darling. But Ryan showed me something here. He took a pretty fearless inventory. He took to heart LaDainian Tomlinson's words that Ryan's constant bravado was inadvertently putting a target on his offense. Don't hand your enemy ammunition.
I think that sometimes Rex regards QBs as a necessary evil. His heart is really with the smashmouth, beatdown mentality of defense. But I think now he finally realizes that you go nowhere without a confident quarterback.  
Quarterbacks are different. They need special treatment and coaching. Not babying or coddling, but the kind of coaching that understands the position and its unique demands both mentally and physically. A quarterback whisperer. If you want proof, look no further than the turnaround Jim Harbaugh has done with Alex Smith.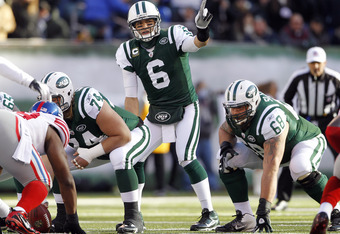 Rich Schultz/Getty Images
The rap on Smith was always that he was drafted too high. Overrated. Just a game manager. Sound like any New York QB you know?  No, not Sanchez. I'm talking about Eli Manning. No one remembers it now, but in the beginning, Eli used to get the same type of criticism Sanchez is taking now. He's not good enough. He can't get it done. He's not a leader in the locker room. He can't put the team on his back. Plus, Eli was constantly being compared to his older brother. 
You can't throw in the towel on Sanchez. You just can't.
It takes time with quarterbacks. He's only 25.  He survived one of the most brutal seasons of hits I've ever seen to say nothing of childish, immature players in the locker room undermining him at every turn. And he never complained. Kept working hard.
I think Sanchez felt adrift especially late in the season. Like Ryan didn't really have his back. The relationship between a head coach and his starting quarterback is arguably the most important ingredient to success in any football organization. Again, look at the transformation in San Francisco. 
I like Sanchez's current strategy of laying low. He has nothing to gain by responding to or explaining his side of the circus that's going on right now. 
But this public and fearless mea culpa of Rex's is a development I did not expect. I give him a ton of credit for it. 
Like it or not, Rex Ryan and Mark Sanchez's fates are tied together.  Ryan now needs to make it crystal clear to the entire team, and especially his quarterback, that he will never abandon the offense again.