10 Burning Questions for the Boston Celtics in 2011-12
Nick Laham/Getty Images
A strike-shortened season poses many questions for all of the NBA's teams, including the Boston Celtics. With such uncertainty surrounding the Green Team and just how good they can be in 2011-12, there seems to be an inordinate number of burning questions the Celtics need to answer in the new season.
Here are 10 of them.
1. Will a Shorter, but More Compressed Season Help or Hurt the Celtics?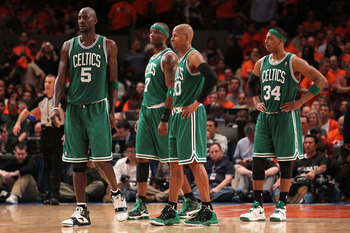 Nick Laham/Getty Images
On the surface, a shorter 66-game NBA regular season should benefit a Boston Celtics team with some aging superstars. However, when you take into account the fact that those 66 games are being squeezed into a four month window, suddenly a shorter and more compact schedule may hurt Boston.
The Celtics' slate features numerous back-to-back games, something that has historically hurt them in the Big Three era. It could damage them again this season, especially since veterans like Kevin Garnett, Paul Pierce and Ray Allen aren't getting any younger.
2. How Much Do the Aging Big Three Have Left?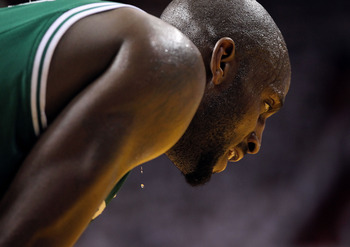 Mike Ehrmann/Getty Images
Speaking of Kevin Garnett, Paul Pierce and Ray Allen, the major question focused around the Boston Celtics' aging superstar trio is just how much they have left in their collective tank. With Garnett (35), Pierce (34) and Allen (36) well on the back ends of their Hall of Fame careers, this is very likely their last hurrah together.
But do they have enough left to make it count? It's going to be very tough, as the competition is as stiff—and exuberant—as it's been in years in the Eastern Conference.
Miami's own Big Three of LeBron James, Dwyane Wade and Chris Bosh are in their prime, as are New York's Carmelo Anthony and Amare Stoudemire. And Chicago's star MVP Derrick Rose is just 23 years old.
Getting the best of those teams—and Father Time—may prove too tall a task for Boston's Big Three to overcome.
3. Will Paul Pierce's Heel Injury Linger?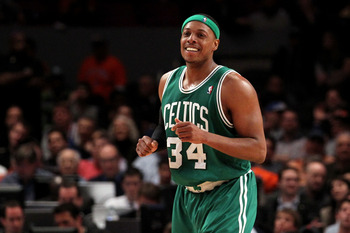 Nick Laham/Getty Images
Even before the season officially tipped off on Christmas, the Boston Celtics were dealt another significant blow via Paul Pierce's heel injury. Pierce missed the opening game against the New York Knicks and is unofficially "day to day."
Even if Pierce is able to return after a few days of rest, the Celtics could be in big trouble if his injury lingers or he re-injures it at some point this season. Boston better hope Pierce can kick the heel injury long-term because it's true that the Truth remains the Celtics' best scorer.
4. Will Brandon Bass Make Celtics Fans Forget About Big Baby?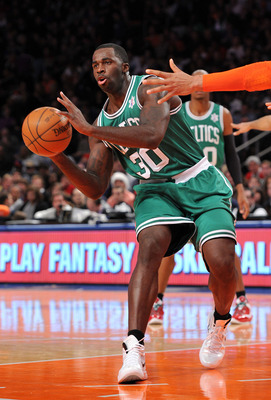 Christopher Pasatieri/Getty Images
Even though it was only one game, forward Brandon Bass looked awfully good in his Boston Celtic debut. Bass was an absolute spark plug off the bench against the Knicks on Christmas Day, scoring 20 points and pulling down 11 rebounds—five of which came offensively.
While it's unrealistic of Celtics fans to expect Bass to match this productivity on a regular basis, it is realistic of them to believe that Bass will make them forget about former Celtic Glen "Big Baby" Davis really soon.
Think of Bass as a more productive version of Big Baby, sans the baggage. Ironically enough, both Bass and Davis played their college ball at LSU.
5. How Will This Celtics Bench Hold Up?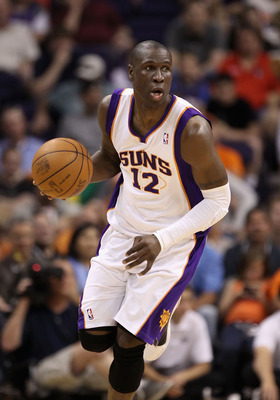 Christian Petersen/Getty Images
There's strong sentiment around the NBA that the Boston Celtics still boast one of the best starting lineups out there. However, there's also sentiment that there's a significant drop off in talent when you get to Boston's bench players.
The bench players Doc Rivers will rely on to spell his starters this season include new Celtics Brandon Bass, Keyon Dooling, Chris Wilcox and Mickael Pietrus, among others. Each aforementioned player has certainly had flashes of brilliance in their NBA careers.
But currently and collectively, the Celtics' bench doesn't exactly strike fear into the hearts of the Eastern Conference's other elite teams. It's going to be up to those newest Celtics to change that perception if Boston is to advance deep into the postseason.
6. Will Rajon Rondo Have Hurt Feelings over the Botched Trade?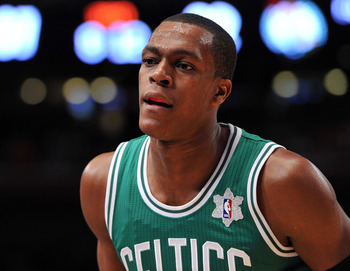 Christopher Pasatieri/Getty Images
By now, everyone's well aware that Celtics president of basketball operations Danny Ainge tried unsuccessfully to trade his star point guard Rajon Rondo for fellow star point guard Chris Paul in the shortened offseason. Now it will be interesting to see if Rondo—who has a history of being a sensitive player—can still excel with the Celtics despite the fact that Ainge attempted to ship him out of Boston.
If the opening game is any indication, then Rondo has already moved on. Rondo torched the Knicks for 31 points and 13 assists on Christmas Day.
Then again, we're talking about a player who went in his shell mentally after some ribbing from President Obama, and threw a tantrum before a playoff game against the Heat last season, so Rondo's state of mind will be something to keep an eye on in 2011-12.
7. Will Rajon Rondo Improve His Shooting?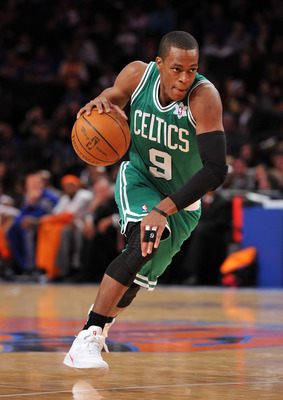 Christopher Pasatieri/Getty Images
It's perplexing that, for as electrifying a facilitator that Celtics point guard Rajon Rondo is when he's in the flow of the game, he's just as poor of a shooter from both the field and free-throw line. It seems like everyone's aware of Rondo's shooting woes, from the most die-hard Celtics fan to the President of the United States.
For his career, Rondo is just a 24 percent three-point shooter and 62 percent free throw shooter. If Rondo can improve on those numbers in 2011-12, then the Celtics suddenly add another dangerous dimension to their offense.
8. Can Jermaine O'Neal Hold Up for an Entire Season as Center?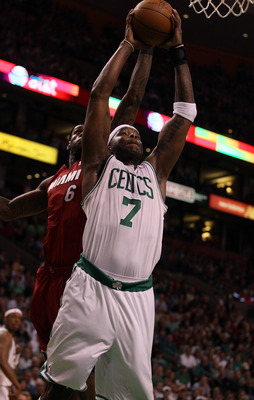 Elsa/Getty Images
I seriously doubt that Celtic big man Jermaine O'Neal will make Boston Celtics fans forget about former center Kendrick Perkins. However, if Boston's frontline wants to hold its own through a rugged season, they're likely going to need O'Neal to stay healthy.
Last season, O'Neal actually played pretty well down the stretch for the Celtics. The problem was that O'Neal only played in 24 games, as he spent much of the season nursing injuries.
If the injury bug bites O'Neal again, that could spell disaster. Veteran Kevin Garnett's body may be unwilling to hold up long-term at the center position in O'Neal's potential absence. And rookie JaJuan Johnson's game may be unable to hold up down low at this point in his career.
9. Can These Celtics Return to the NBA Finals?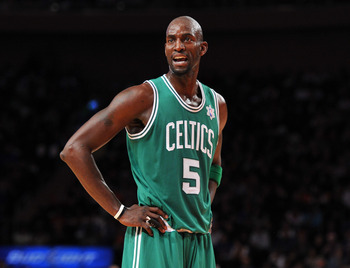 Christopher Pasatieri/Getty Images
This could very well be the Boston Celtics' last hurrah with the Big Three trio of Kevin Garnett, Paul Pierce and Ray Allen leading the way. It would be nice for Celtics fans to see this core group make one last NBA Finals appearance.
However, that's asking a lot, considering the number of road blocks the Celtics will need to hurdle in the Eastern Conference. The discussion for Eastern Conference supremacy has to begin with the Miami Heat, but it doesn't end there. Other trendy picks include the Chicago Bulls and New York Knicks.
Plus, Orlando will remain a threat as long as Dwight Howard is still taking up residence in the Magic Kingdom, while the Indiana Pacers bolstered their promising roster with the addition of David West in the offseason.
Expect the depth and breadth of quality teams in the East to dash Boston's dreams of a return trip to the Finals in 2011-12.
10. How Far Will These Celtics Make It?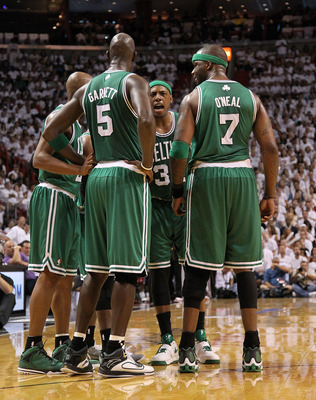 Mike Ehrmann/Getty Images
So if the Boston Celtics won't make it to the NBA Finals, just how far will they advance in the playoffs? Even without Kendrick Perkins (who was traded last season) and Jeff Green (who will miss the entire season to a very serious heart ailment), the Celtics still boast enough talent to make a lot of noise in the postseason.
It wouldn't surprise me to see Boston get as far as the Eastern Conference finals. However, getting past either Miami or Chicago that deep in the postseason will serve as the Celtics' downfall.
That's because, no matter how you slice and dice it, both the Bulls and Heat are simply better teams. You have two of the world's top five players (LeBron James and Dwyane Wade) playing together on one team, while you have the league's defending MVP (Derrick Rose) on another. The Celtics can't make those claims.
Keep Reading

Boston Celtics: Like this team?